Loot Anime is a monthly subscription box from Loot Crate, just for Anime and Manga fans! Every month you'll get $60 worth of figures, collectibles, manga, apparel, accessories and more.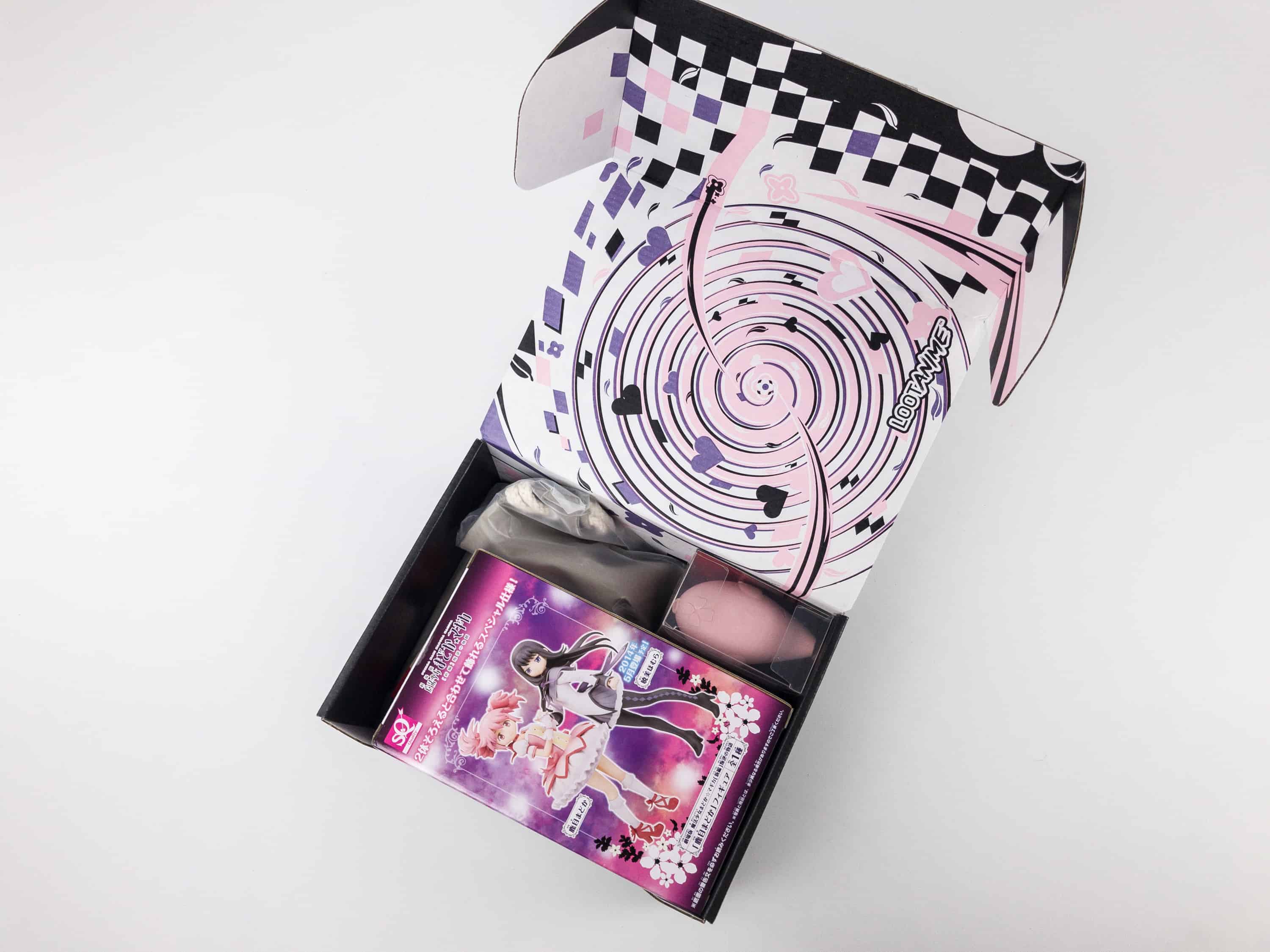 DEAL: Save 15% on any subscription plan when you use this link and coupon code HELLOSUBSCRIPTION15.   
This poster was illustrated by Renee Park.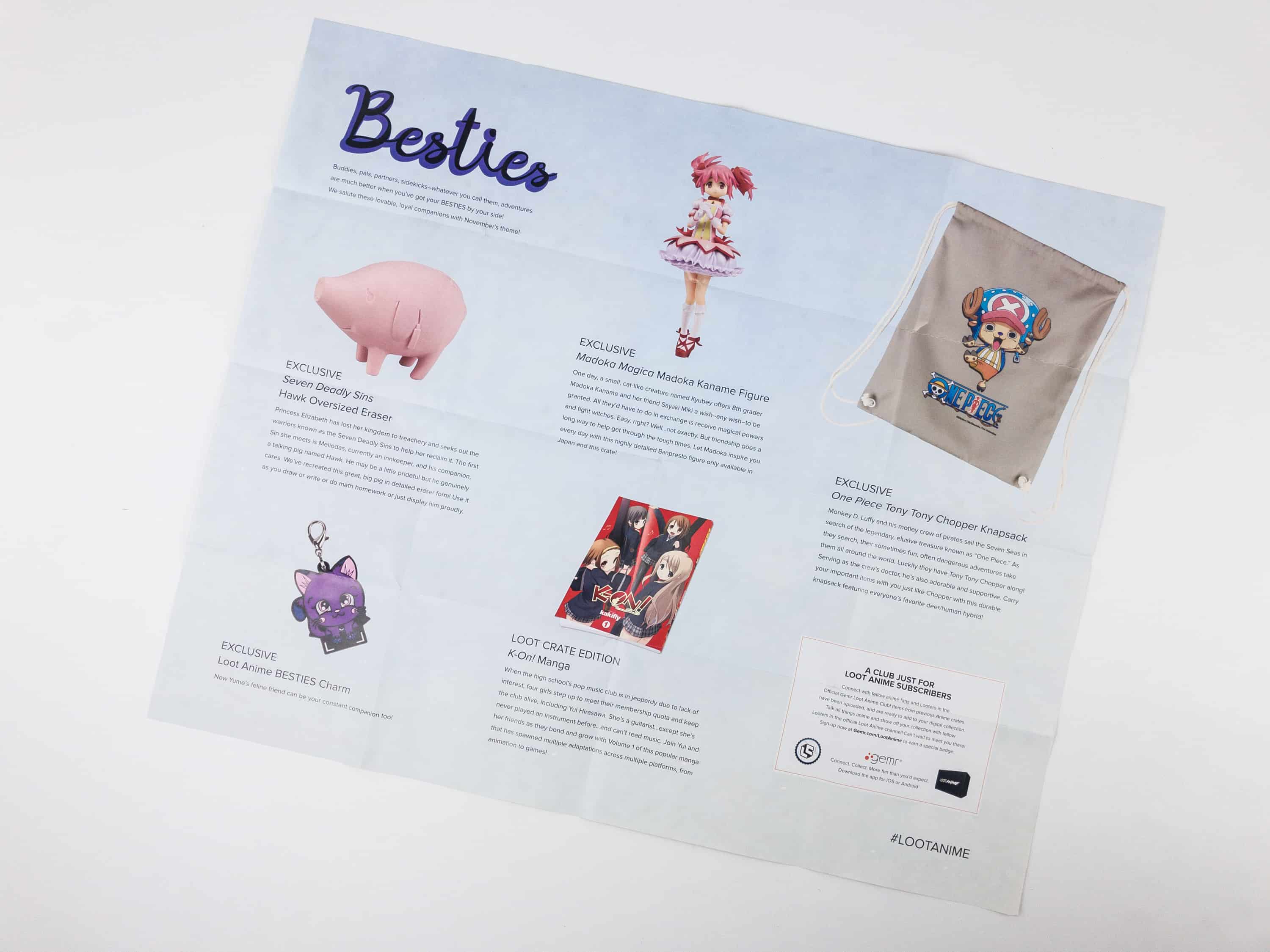 The back of the poster serves as the information sheet that shows a list of all the Anime goodies in this box.
Everything in the November 2017 Crate!
Loot Anime's theme of the month is BESTIES. 

The box looks cute, suited for this month's theme.
Loot Anime Phone Charm. Every Loot Anime box comes with a cute phone charm.
This month, it's Yume's feline companion/friend! It also comes with a dustproof earphone cap.
Also included in this month's box is a $10 gift card to VRV premium!
VRV is a streaming service where you can watch different channels including anime, animation, science fiction, fantasy, tech, and more. Crunchyroll is also available as a channel on this site!
Another coupon code included in the box is from Loot Crate.
K-ON Manga Vol 1. This is an exclusive Loot Crate edition!
K-ON!'s story revolves around five Japanese high school girls who join their school's Light Music Club. The manga follows the daily lives of each member and shows their interactions with each other, their teachers, friends and families.
The manga is about a group of girls who got their band on the verge of being disbanded. The girls, despite their personal circumstances, are determined to keep the band together.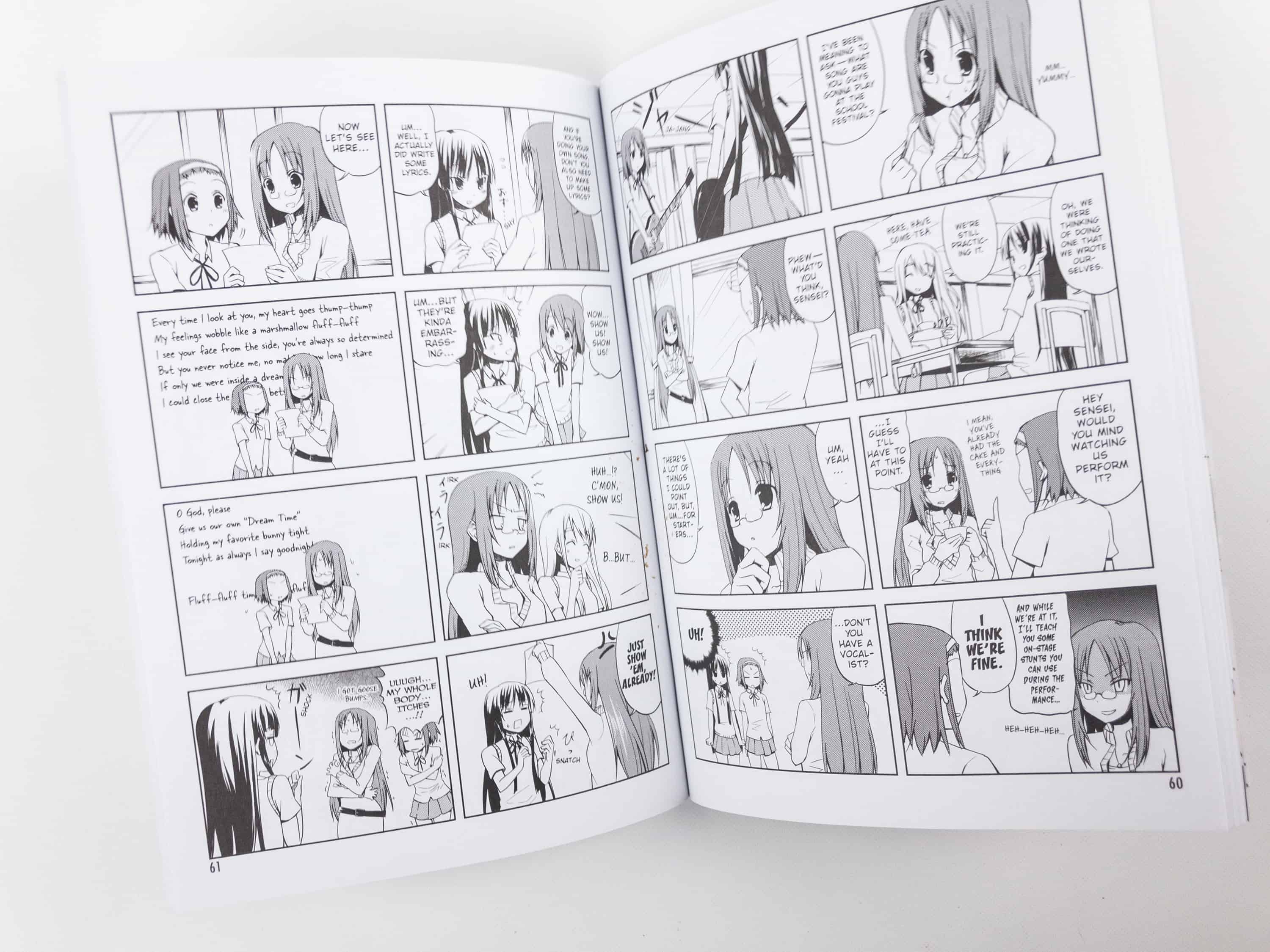 The manga is mainly about dealing with challenges positively, reaching for your dreams and the beauty of friendship. It's fun and entertaining!
Seven Deadly Sins Hawk Eraser. Its name is Hawk and it's not a bird but a pink pig from the popular manga titled Seven Deadly Sins.
"Apparently, the Seven Deadly Sins were the strongest and cruelest chivalric order in the kingdom, formed by seven brutal criminals who carved symbols of seven beasts into their bodies. Ten years ago, they were accused of plotting to overthrow the kingdom, and disintegrated after all the Holy Knights launched a general offensive against them."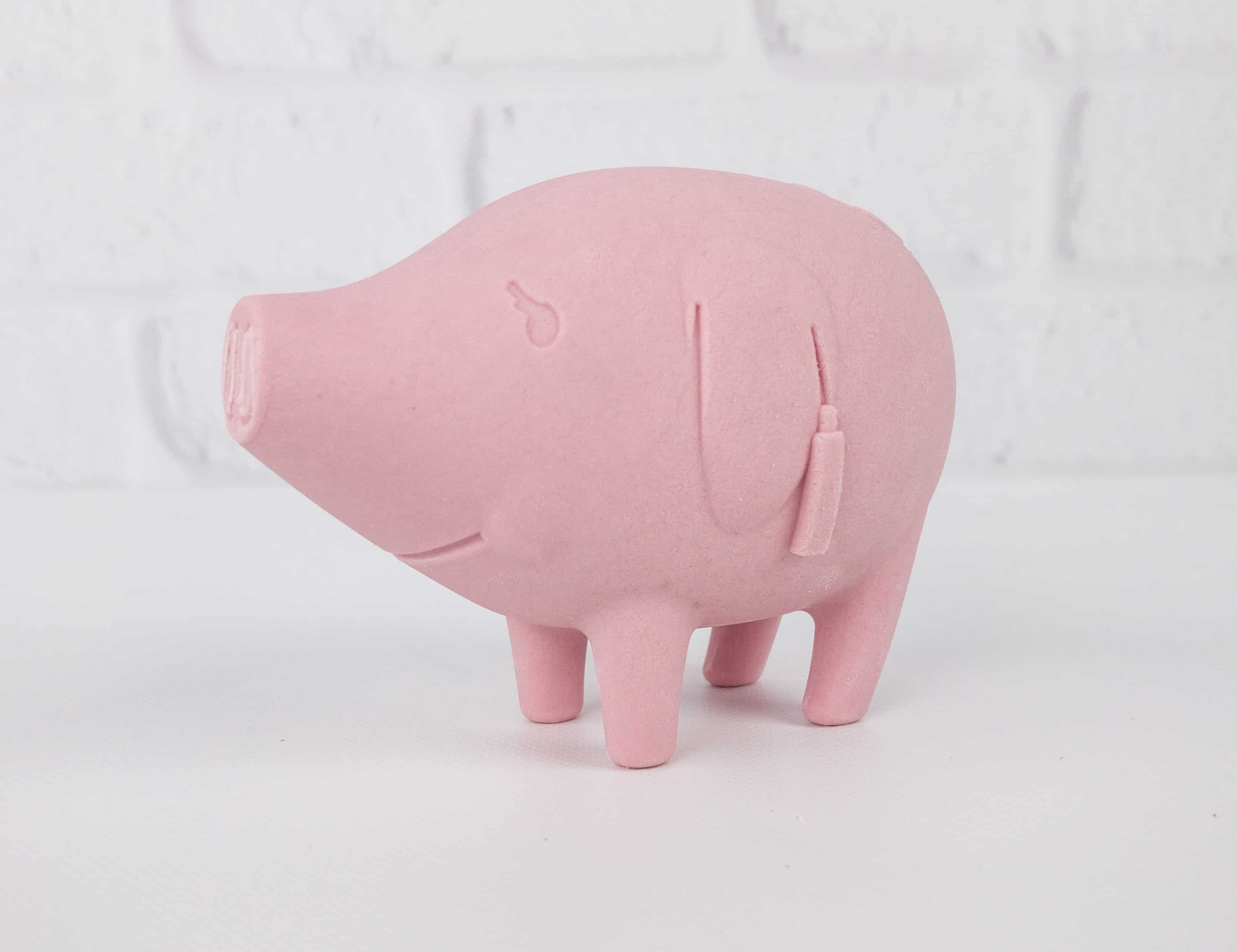 This eraser would be a cute drawing/writing companion, but it looks good for display too!
Look at that cute and curly pig tail!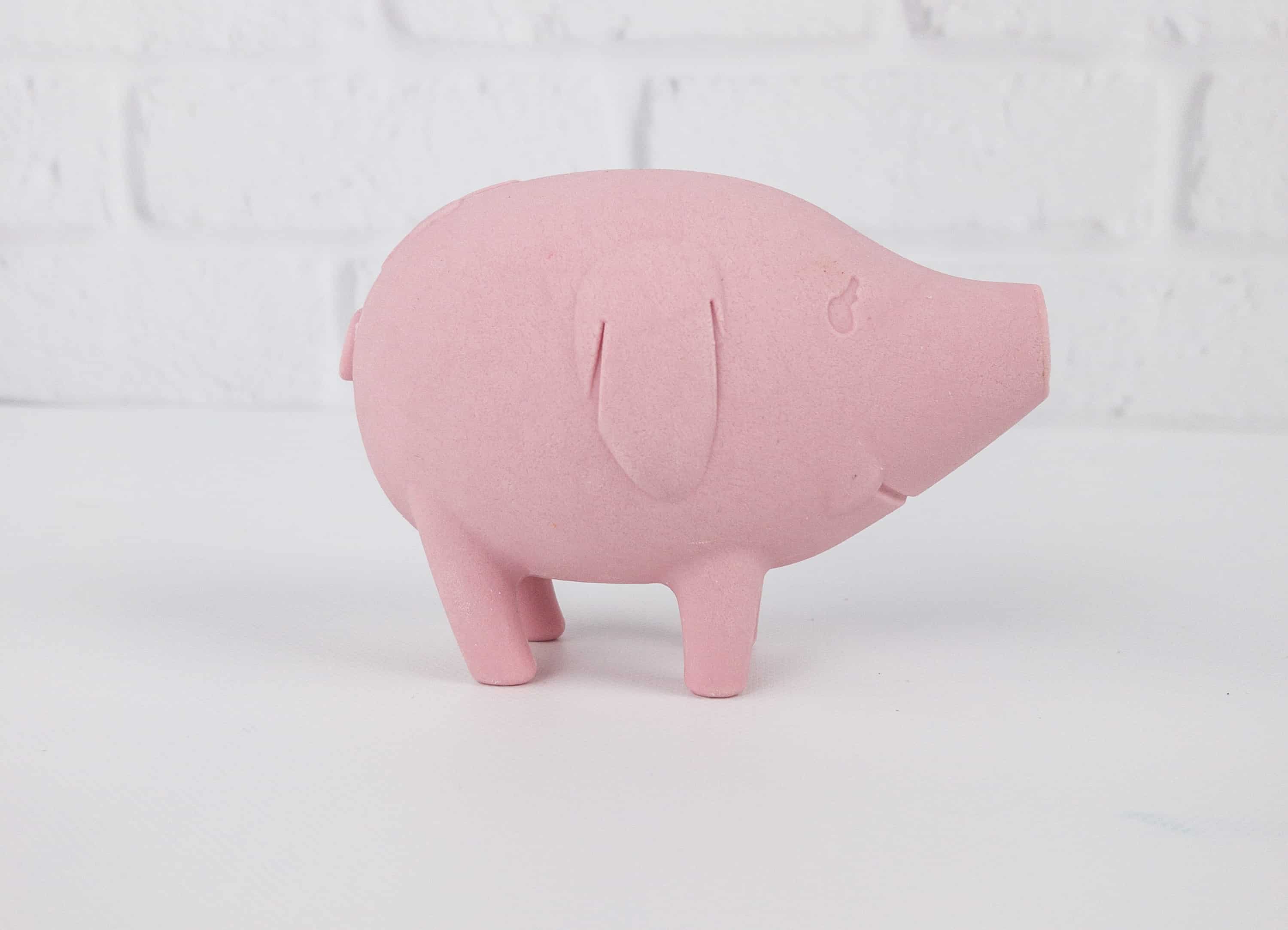 It's quite big!
Madoka Figure from Puella Madoka Magica by Banpresto ($34.47) This 7″ figure is Madoka, the main protagonist of a Japanese animated series titled Puella Magi Madoka Magica. It's available only in Japan and this crate!
At the back of the figure's box, we can see Madoka together with her good friend Homura Akemi.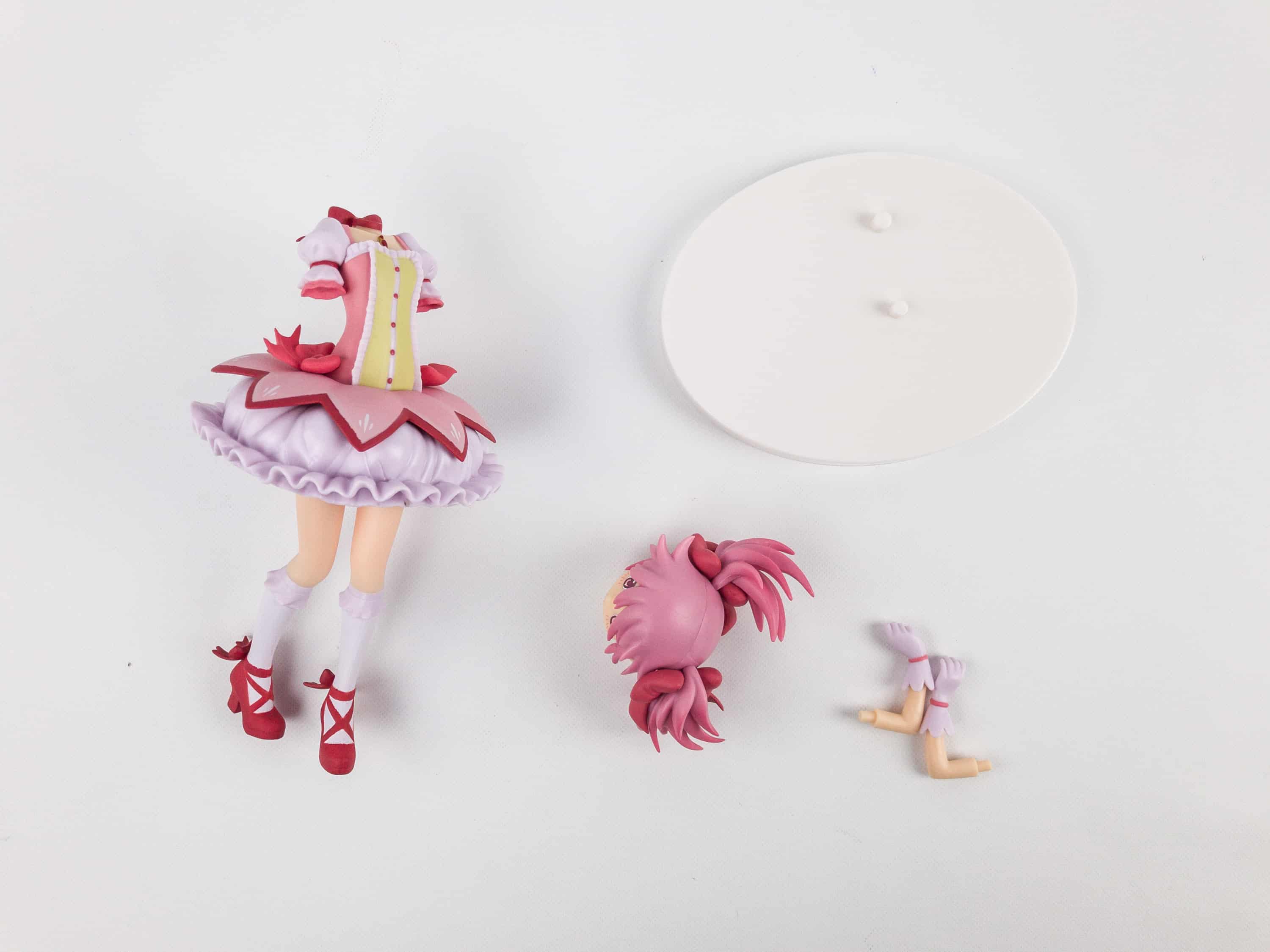 The figure came in three detachable pieces, plus a base.
Madoka wears a poofy pink dress with ribbons arranged at the neck, waist, and on the shoes. The middle of her torso is pale yellow with red buttons.
On the back, right under the white ruffles (at the hem of the dress), is a heart shaped hole. There is also a flower-like design on her waist, and under it is a white skirt accompanied by a petticoat of the same color. This figure is super detailed!
She also wears a pair of white gloves with pink trim, knee-high stockings, and dark pink heels.
Look at those pretty eyes!
I like how her hair was made to look like it's being blown away by the wind. Great job, Banpresto!
One Piece Tony Tony Chopper Knapsack. This cool bag features Chopper, a deer-human hybrid who serves as the doctor of Straw Hat Pirates.
This knapsack is durable, fun and dependable, just like Chopper!
The stuff we receive from Loot Anime are always licensed and high quality. I love this month's cute theme! My favorite item is definitely the Banpresto figure because the detailing is super impressive. This subscription is for die hard anime fans, and I think it is also going to be great for those who are looking to discover new anime they can add on their list of favorites.
What's your favorite item from this month's Loot Anime?