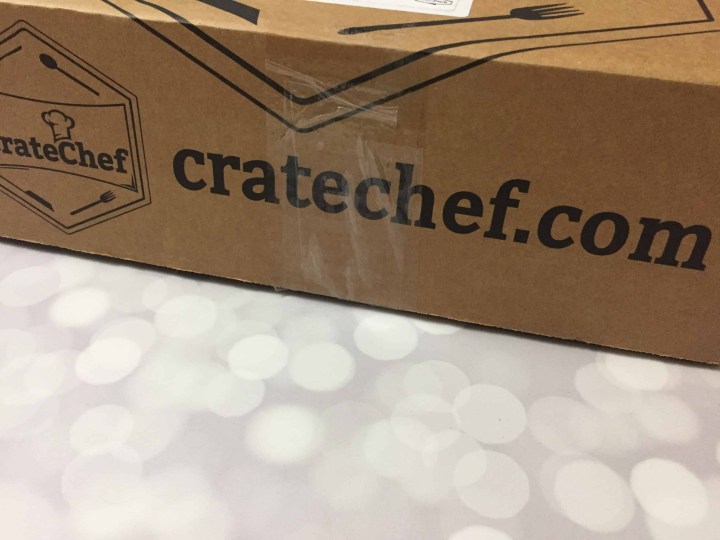 Crate Chef is a bi-monthly subscription box that brings your favorite chefs' top picks to you. Each month costs $45, and you'll get a specially curated box filled with a well-known chef favorite kitchen items, food products, as well as selected recipes.
Crate Chef now ships to Canada, and was looking for a crew of Canadian foodies to give their box a test-run; we'll be contacted at a later date to share our experiences on shipping speed, additional fees, etc etc! This box was previously reviewed but I wanted to give my own review!
DEAL: Save 10% off your first order with coupon code HELLO10.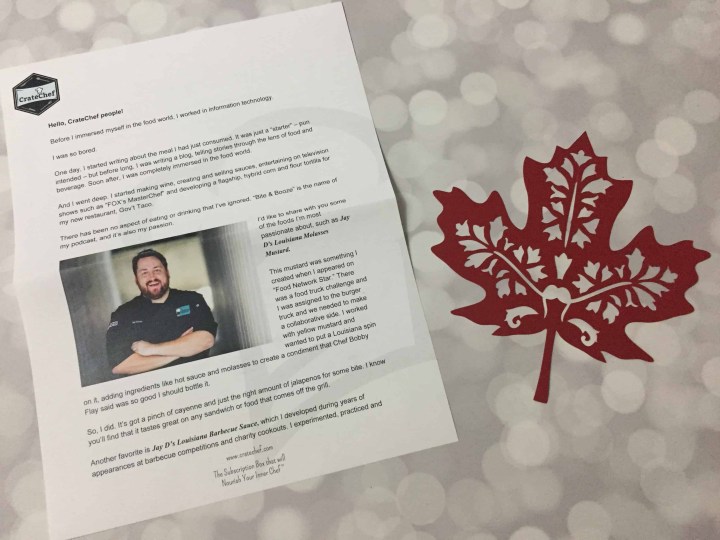 The Chef featured in this box was Jay Ducote from Louisiana. We were also sent a paper maple leaf, likely to commemorate the first Canadian shipments!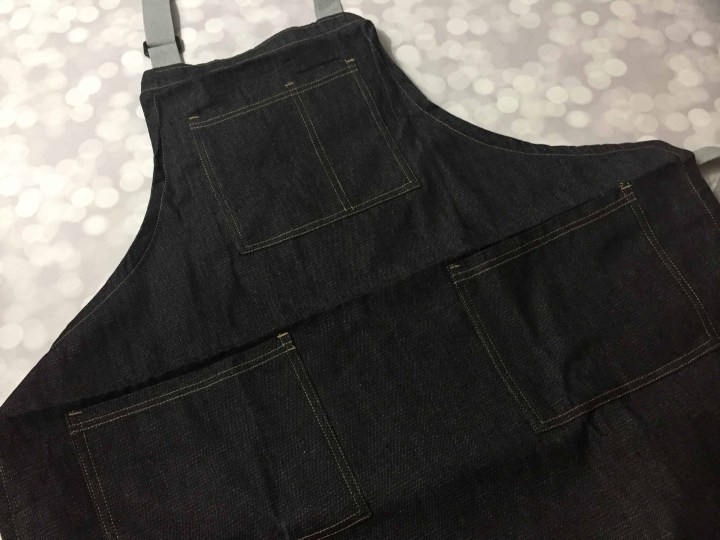 Denim Apron — I love the look of this denim, plus it's not too long and has lots of pockets!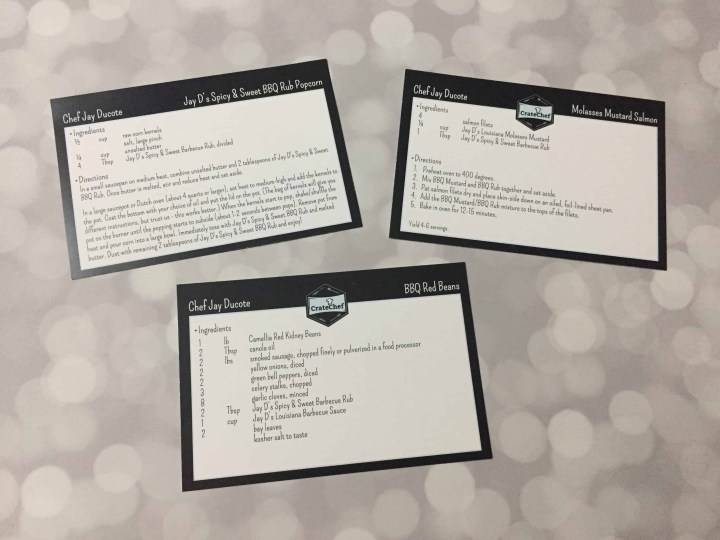 Recipes were included and they feature the ingredients in the box.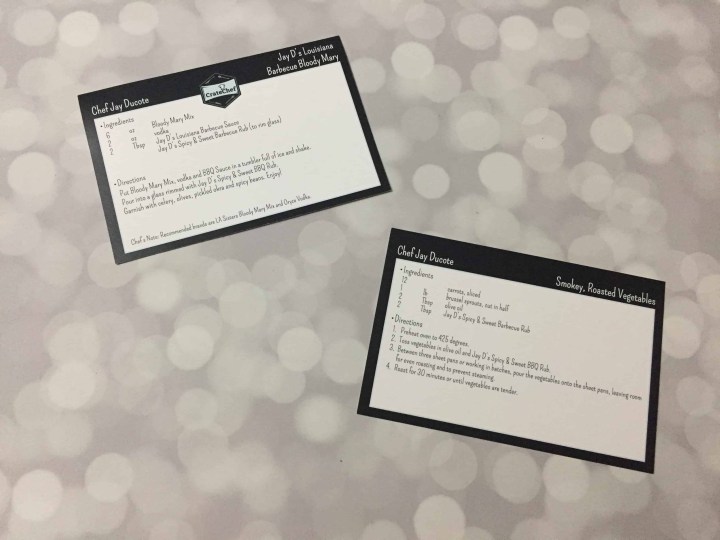 I'm the most excited for the roasted veggies.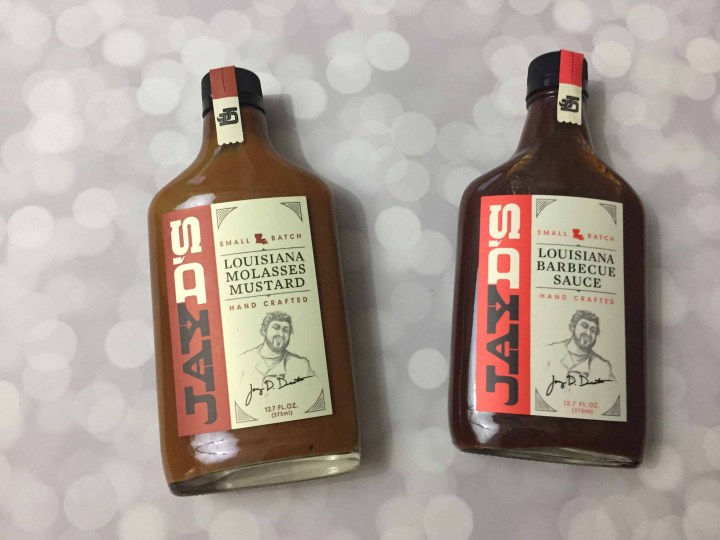 Jay D's Lousiana Molasses Mustard ($8) — The mustard is amazing. It has a southern heat to it (cayenne and jalapeno) but underneath it still has the familiar flavour of yellow mustard. I am definitely planning on making some epic sandwiches loaded with good ingredients and slathering this mustard on it.
Jay D's Louisiana Barbecue Sauce ($8) — The BBQ sauce is equally delicious and unlike the more sweet BBQ sauces I normally reach for. It's begging me to make pulled pork soon, and I definitely will oblige. Soooooo yummy. I think of the two, I prefer the mustard, but I'm seriously impressed with the quality of both.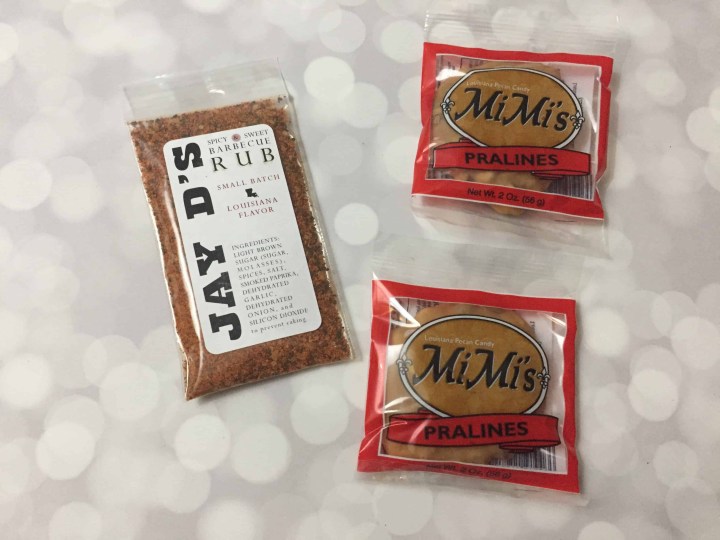 Jay D's Spicy & Sweet Barbecue Rub ($10 for 12 oz) — One of the recipes is for roasted vegetables using this rub, including brussels sprouts. I love doing roasted sprouts and sweet potatoes and so far have been using my own mish mash of spices, so this will bring them up to a totally new level!
Mimi's Pralines ($13 for 6) — I've never had a praline before! I didn't know they were made of fudge. These were sooooo delicious and very sweet, so I had fun sharing.
Wooden Spoon — Using a wooden spoon makes it easier to scrape all the food bits from the pan.
Camellia Brand Red Beans ($3.25) — I normally don't cook with dry beans so this is a new step for me. Soaking them overnight yields super soft beans.
The September CrateChef was a lot of fun to open. I have recently been binging Southern cooking YouTube channels and experimenting with cajun seasoning and other spices so this was a well-timed addition to my arsenal. I'm very pleased that CrateChef is able to ship to Canada now, and I didn't experience any issues like customs problems or delays.
What did CrateChef inspire you to cook?