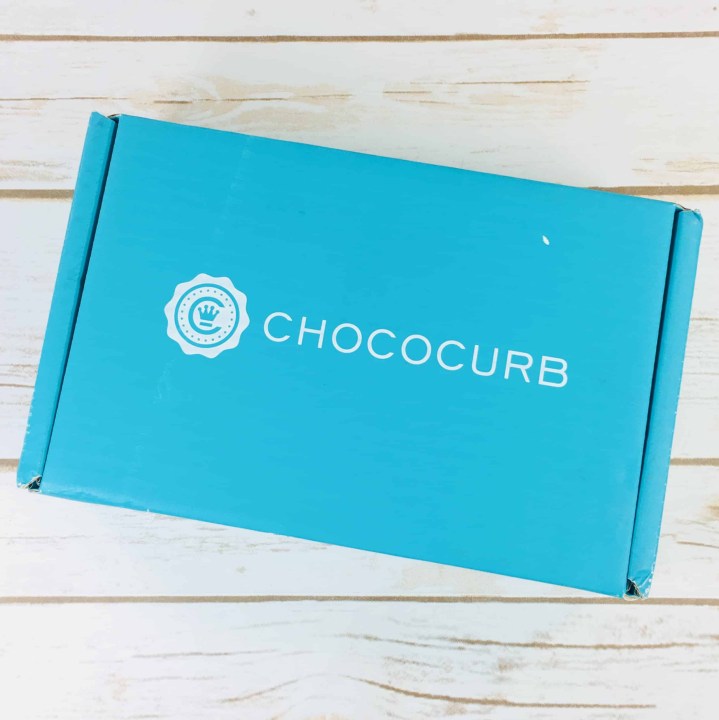 Chococurb is a monthly subscription containing extraordinary, premium, gourmet chocolates – this isn't your convenience store candy! These items can come from small, local chocolatiers or more established national brands. Every box will have something new, exciting, and absolutely delicious. You can choose from the Classic Box ($35), which has 5-7 items, or choose the Mini ($20), which has 3 items for smaller appetites. Shipping is free during the cooler months but expect to pay for FedEx shipping in the warmer months. I am reviewing the Classic Box today!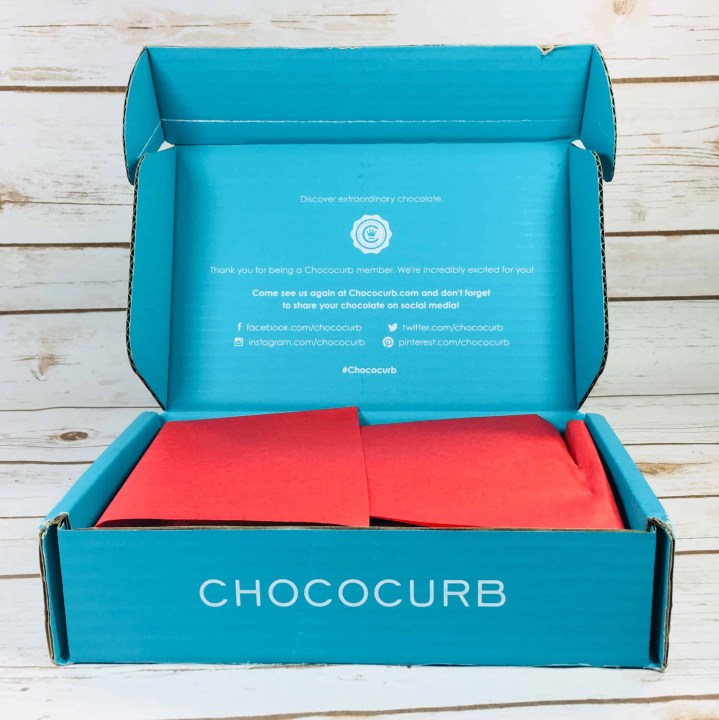 The presentation was simple, just a bit of tissue paper with the bars tucked inside.
Chococurb wants to help you discover chocolate that you will love so they have a short questionnaire that you fill out to let them know your preferences.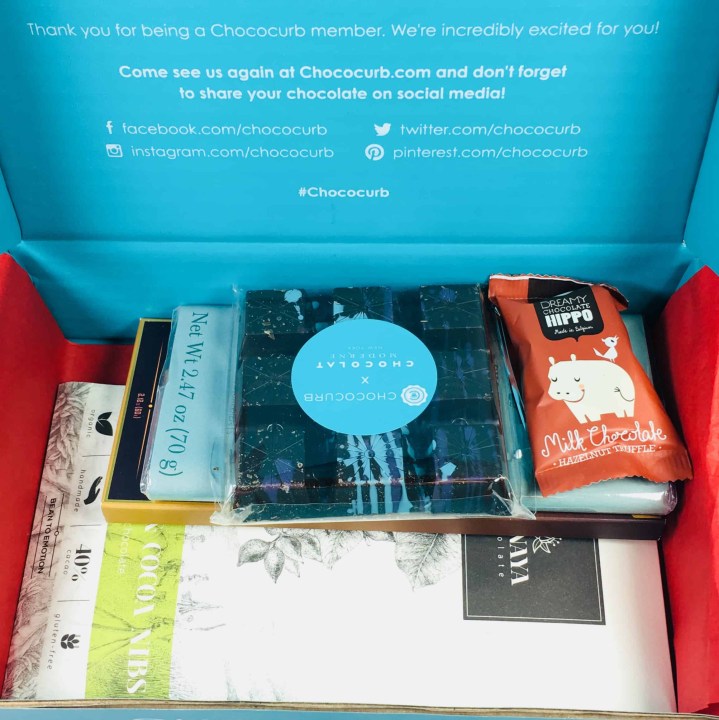 In the warmer months, my box was shipped via FedEx with ice packs and styrofoam to keep it from melting. This month, it showed up in my mailbox and everything was in perfect condition.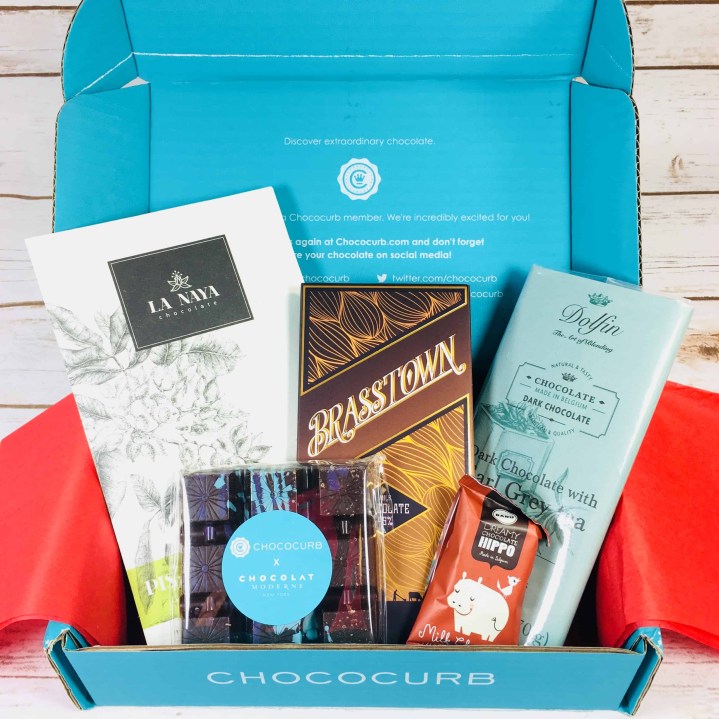 I received 5 different items this month and they all sound so yummy! I always enjoy the variety – white, dark, or milk chocolate; nuts, caramel, everything!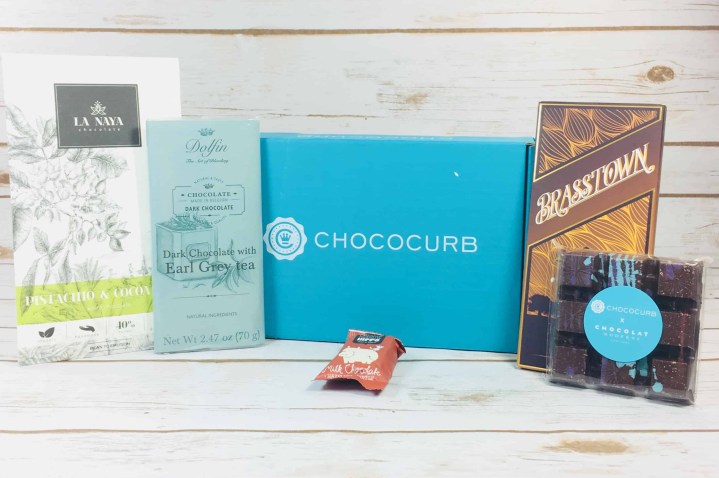 November 2017 Chococurb!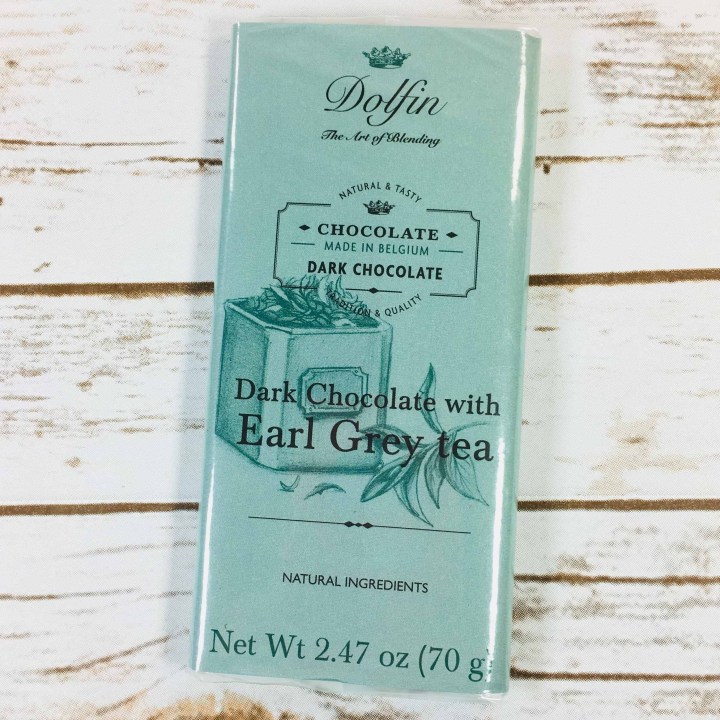 Dolfin Dark Chocolate with Earl Grey Tea "A black tea with a dash of bergamot, Earl Grey Tea is a European favorite that is carefully grounded and added to dark chocolate, a taste sensation!"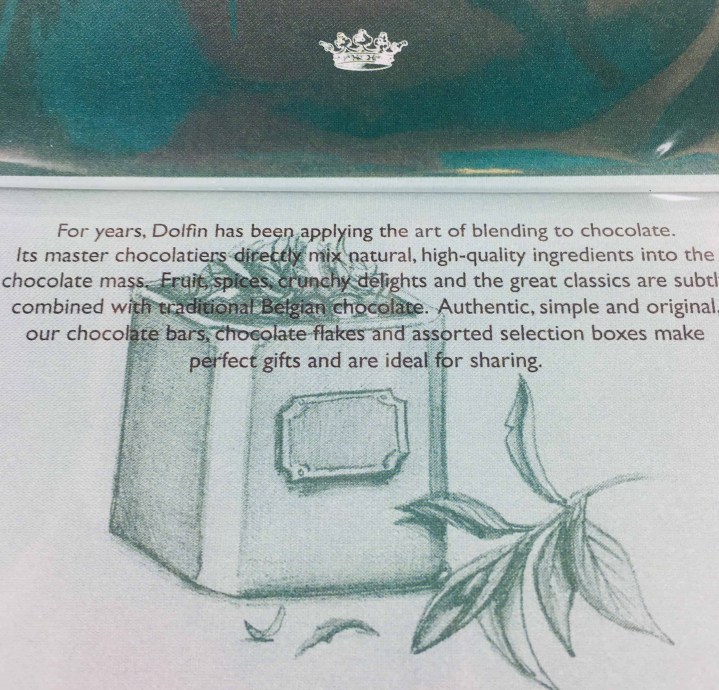 The wrapping job on this bar is very upscale. Maybe that's why it was selling for $20 a bar on Amazon? I linked to a different vendor instead!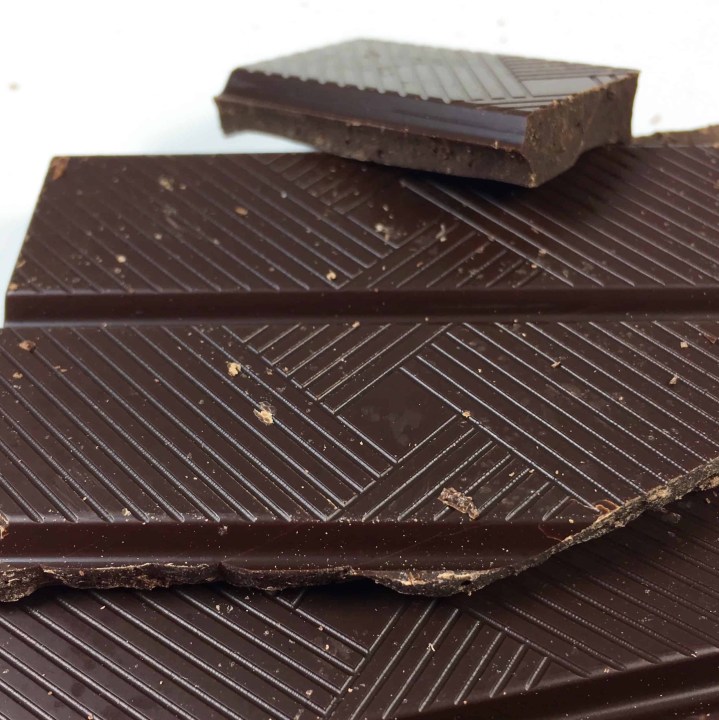 The dark chocolate is rich and tasty, while the ground up Earl Grey tea made for a weird consistency, and the flavor was rather strong. My tongue was numb by the time I finished my piece, but my husband loved it.
Brasstown Craft Chocolate 45% Milk Chocolate Bar "If you take Brasstown Milk Craft Chocolate and break it down to its basics, you will find the smooth, silky mildness of milk which subtly breaks down the density of the cacao, and innocently overwhelms your mind with softness and purity."
This has so much more flavor than my usual Hershey's Kiss milk chocolate! There's only 4 ingredients, yet I detected a hint of cinnamon, which just goes to show that cacao beans have a range of nuances that add to the flavor.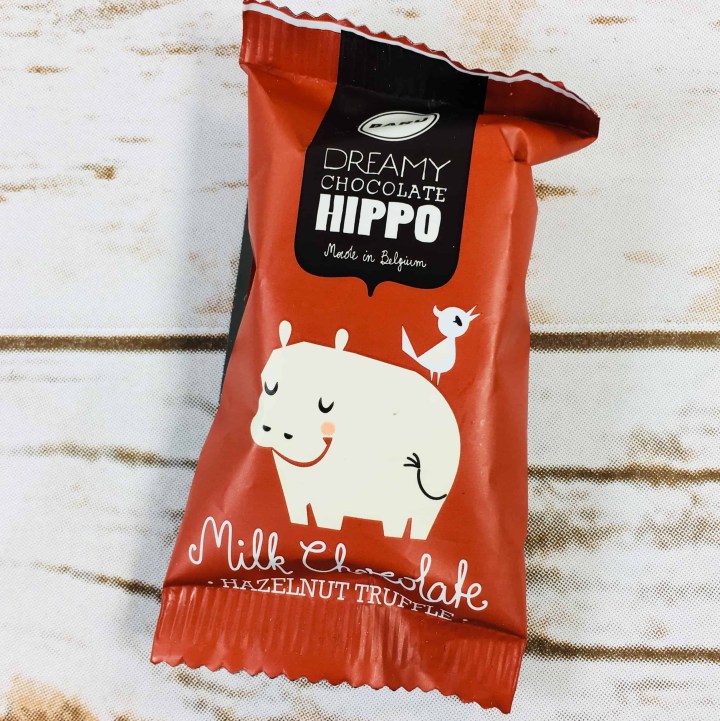 Baru Dreamy Milk Chocolate Hazelnut Truffle Hippo "Hippo shaped milk chocolates with a Hazelnut Truffle filling – all individually wrapped for freshness!"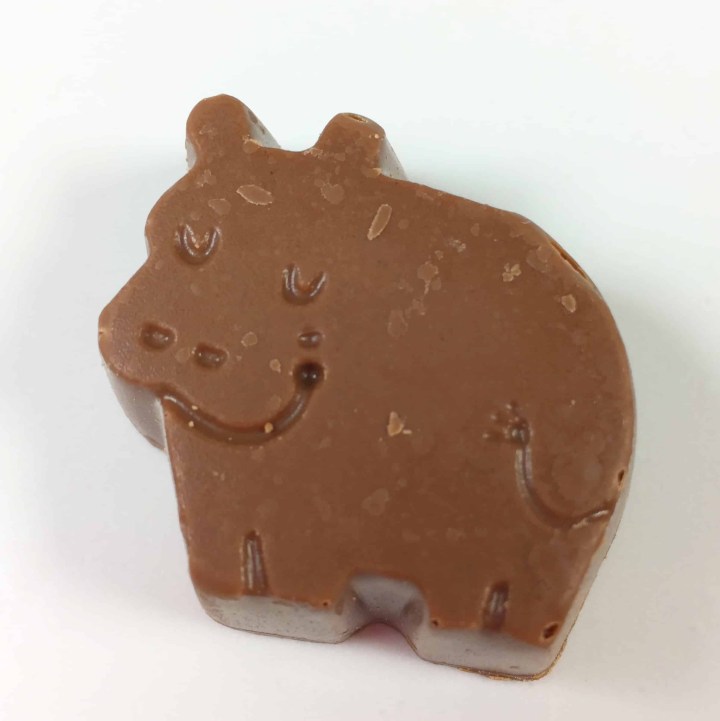 Aww, it's so cute! It's smiling at me!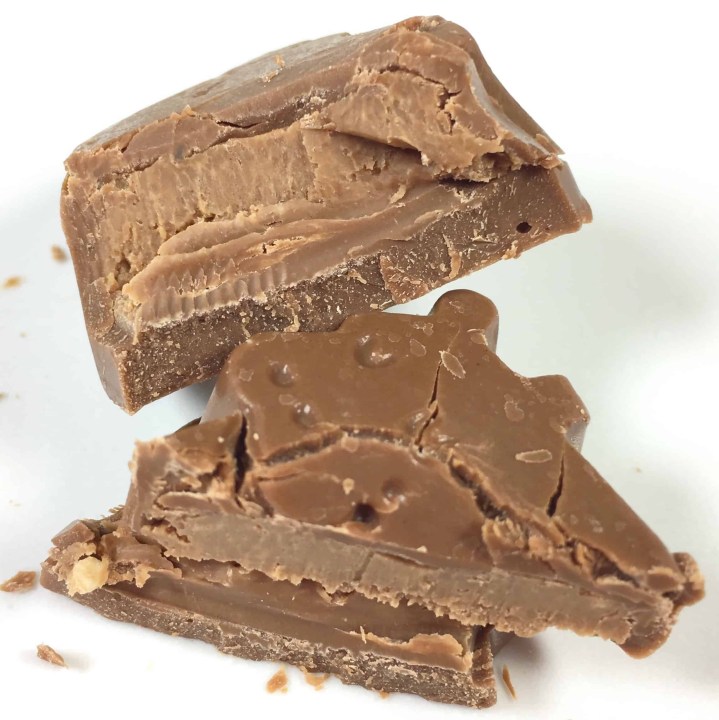 The inside was filled with super smooth chocolate with a hint of hazelnuts. This wasn't as strong as Nutella, but so absolutely delicious. Dreamy is right! Made in Belgium.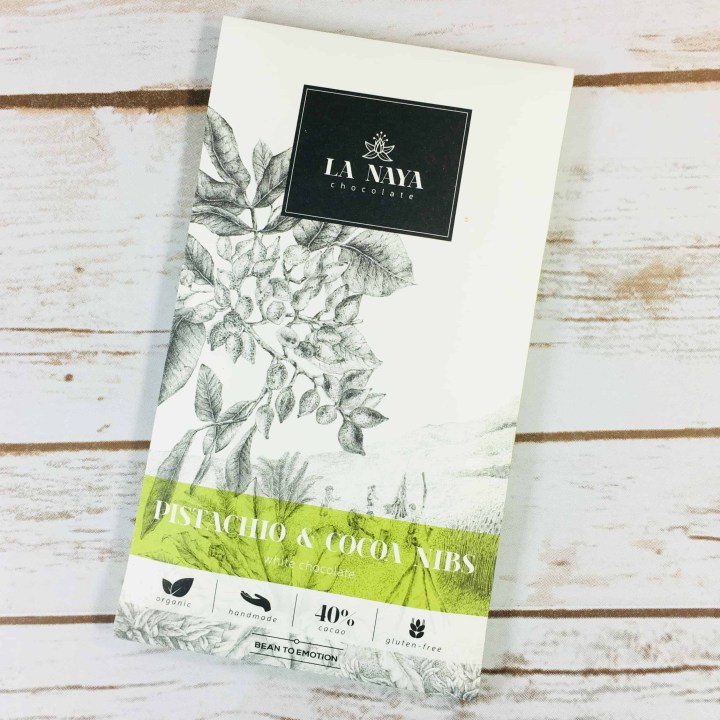 La Naya Chocolate Pistachio & Cocoa Nibs White Chocolate "Smooth, velvety to the touch pistachio cream was playing games with crisp cocoa nibs in the river of milk and to their surprise the perfect match was born."
This is a sophisticated take on white chocolate! It features bits of pistachio nuts in the chocolate, and crispy pieces of cocoa nibs are pressed into the back. This Lithuanian brand claims to offer "bean to emotion" bars and states this one sends you to "the centre of the universe." Not a bad trip if I say so myself!
Chocolat Moderne Kalamata Olive Avant Garde Bar "Kalamata olives, sea salt, and olive oil meets caramel and dark chocolate. This sounds strange, right? Not really. It's just a really, really delicious chocolate bar. Give it a try and don't miss out!"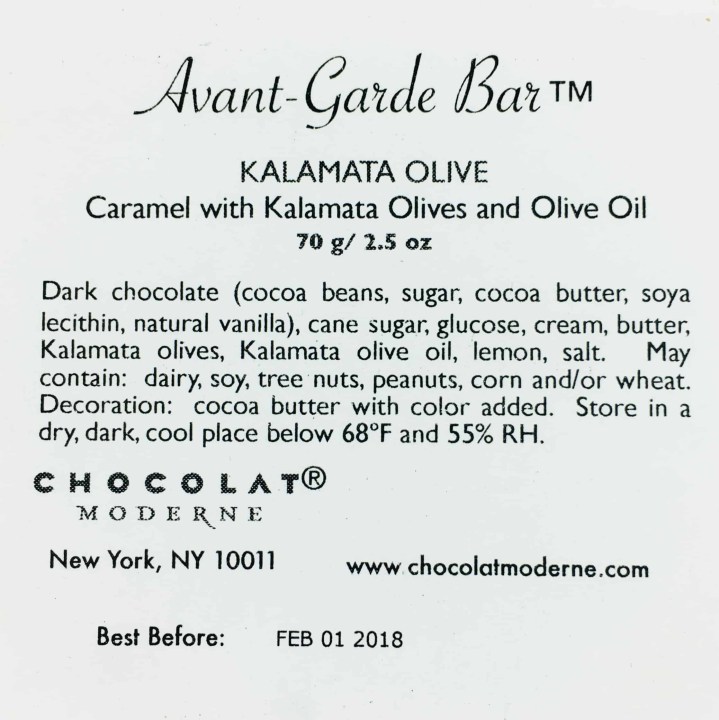 When I read the ingredients I freaked out a little. Kalamata olives? Those are salty and have such a strong flavor. I tried looking at it another way – olives are fruit, therefore I should imagine fruity pieces in my chocolate bar, and not think of it as a Greek salad topping.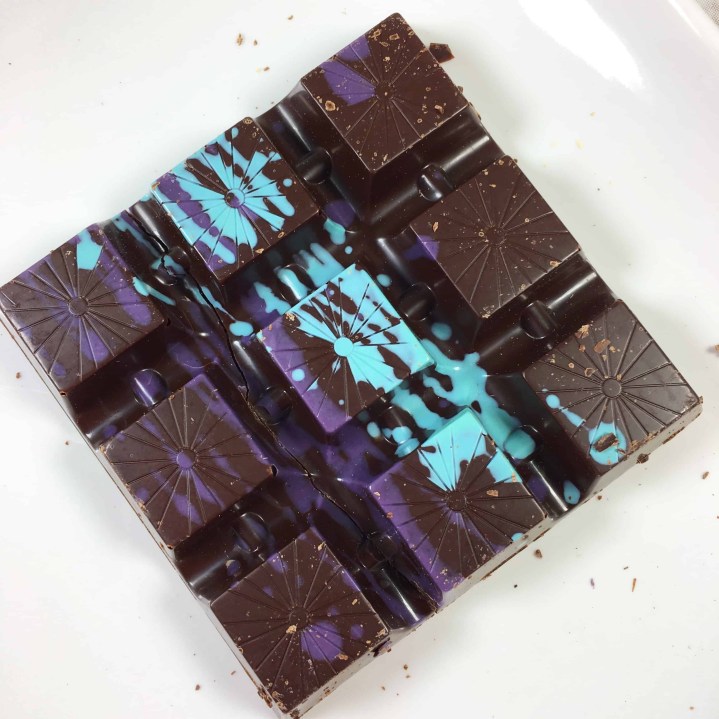 This pairing is a Chococurb exclusive flavor. I've tried a few Chocolat Moderne bars through this subscription and they have been phenomenal, some of the best I have ever eaten. They even look like little works of art!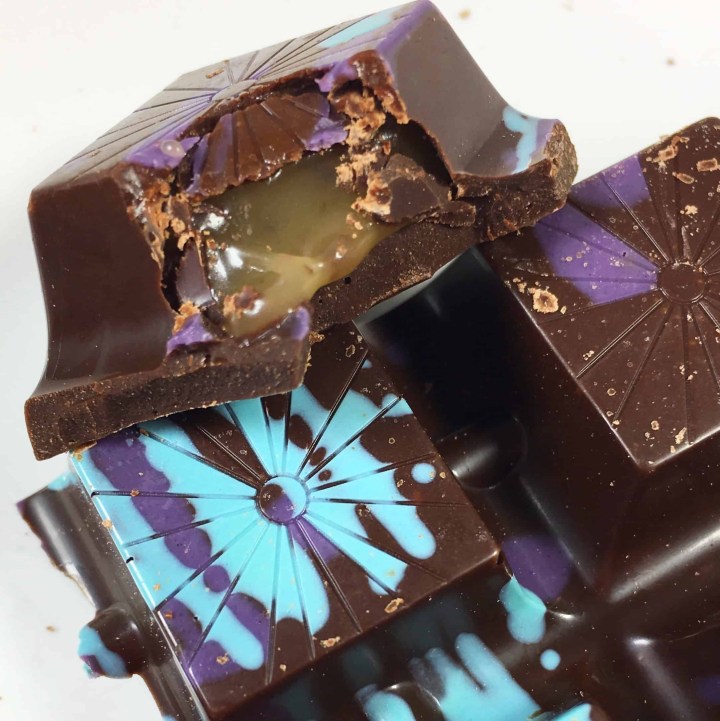 In the end I just thought it had a weird taste that I wasn't a fan of. The chocolate is delicious and the caramel is silky smooth, but then there's that odd flavor that just didn't agree with me.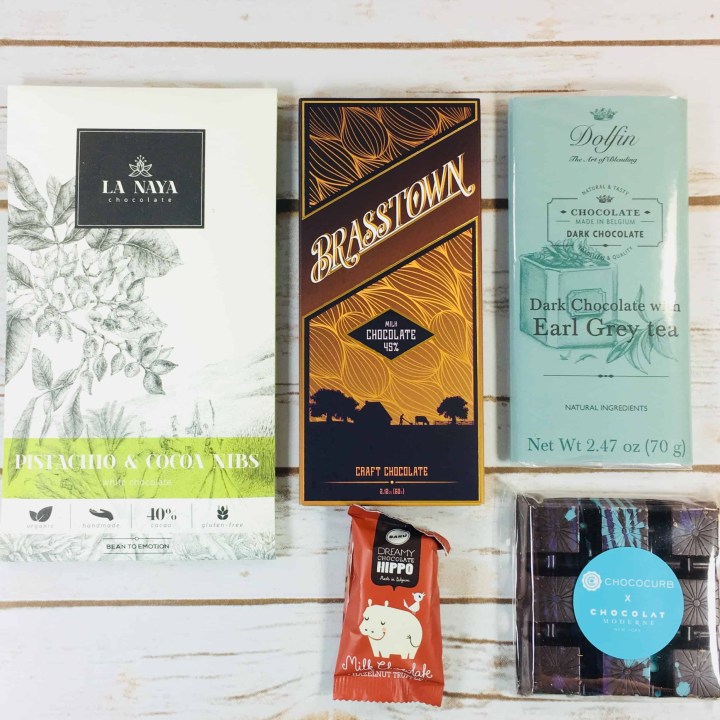 Chococurb is so good and full of uncommonly wonderful chocolates. I truly love getting this box since these bars are extraordinary and maybe not something I would pick out for myself – like a special present each month from me to me! I love chocolate and these bars are so satisfying that just a bit is needed to fulfill your cravings/sweet tooth/PMS needs. Check out the Chococurb website for some more excellent choices for all of your chocolate needs!
I have found my favorite monthly subscription box! Do you feel the same way too? Let me know in the comments!