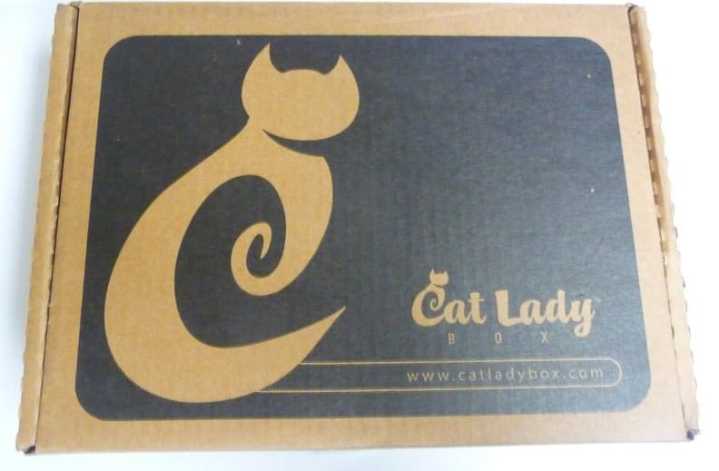 The Cat Lady Box is a monthly subscription box for those "crazy cat ladies." It is a box with cat-themed items for you and your cat, or you can order a box just for you. Each box could contain cat-themed shirts, jewelry, home decor, accessories, art, and more – all delivered in a box your cat can keep.
This month's box theme is Meowy Holidays.
My Furbaby Ginger and I love seeing this box come in the mailbox each month. It has  goodies for the both of us but she has first dibs!
TIP: Looking for a coupon code? Subscribe to notifications for CatLadyBox in the directory to get an email when the next one is released!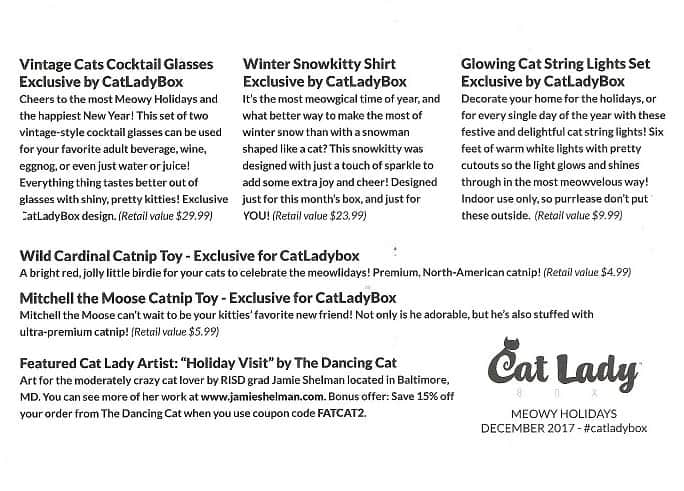 Each box comes with an insert to tell you what's in the box.
Let's see what treats we received this month!
My first item is a Set of Vintage Cocktail Glasses ($29.99). Purrfect glassware to ring in the holidays. The set included two glasses with prints of cats set in gold. I think they are too beautiful to use, so they will go in my display case. CHEERS!!!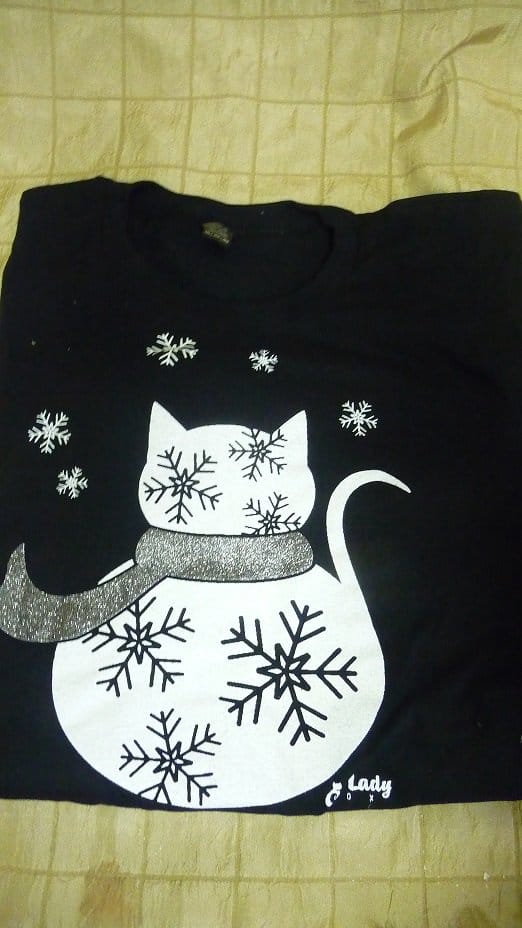 Also sent was a Winter Snowkitty Shirt ($23.99). I have to admit that Christmas is my favorite time of year. The only issue I have is that I live in area that never sees snow, so sometimes it doesn't feel like Christmas. Well this shirt made feel a bit more festive when I saw it. I actually wore this to work recently for part of our holiday team spirit. I got many compliments. The tee is very comfortable and soft. I like how there is just a bit of sparkle in the cat snowman scarf that just makes it so festive.  What do you think?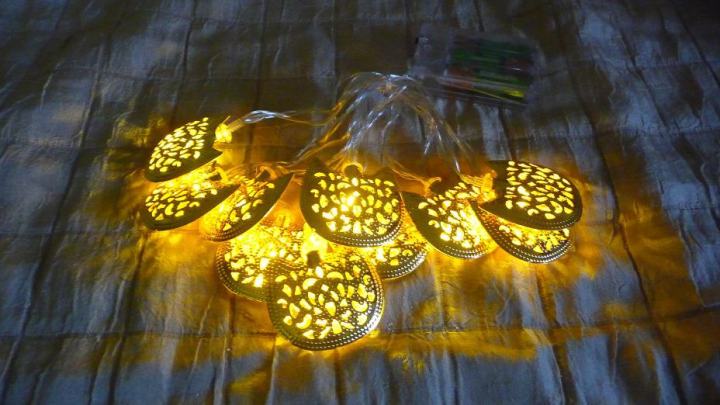 My next item is a set of Glowing Cat String Lights Set ($9.99). YES!!!! A new set of lights to add to my Christmas collection. The strand is 6 feet long and has beautiful cutouts attached tot he lights. These are meant for inside use only. Oh yeah they are battery operated!!. I like the soft glow that they give off. As my mom would say… "OOOOOHHHHHH PRETTIES!!!"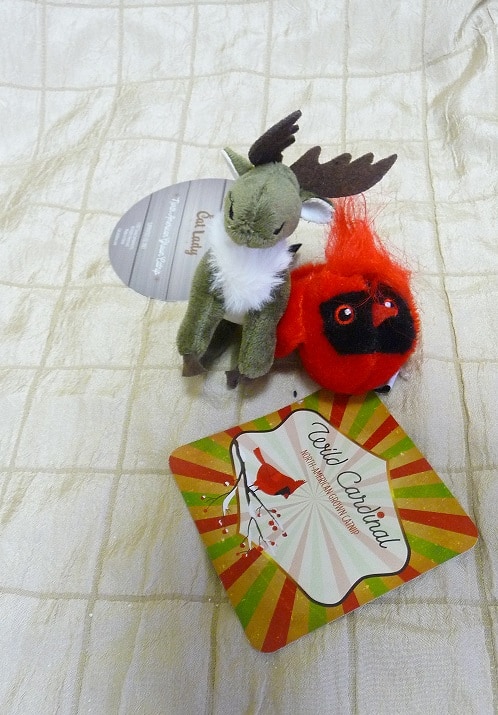 Ginger received new toys! Of course she was excited to sniff them out. She received a Mitchell the Moose Catnip Toy ($5.99) and a Wild Cardinal Catnip Toy ($4.99). New holiday toys for my special child. These toys are essential in making sure Ginger gets her daily dose of activity… and nip. LOL! Ginger's toy collection is growing so much. I think I may have to purge her toy box soon. Is there a place to donate cat toys?
On the back of the insert card is a Featured Cat Lady Artist. This month is "Holiday Visit" by The Dancing Cat. Jamie Shelman (a RISD Grad) is located in Baltimore. You can see more of her work at www.jamieshelman.com.
Ginger says to tell you all to be safe this holiday season. May your holiday be filled with the love of family and friends. Merry Christmas, Happy Hannukah, and Happy Boxing Day, which ever you celebrate.
What do you think of this month's box? Does your cat give 2 paws up?