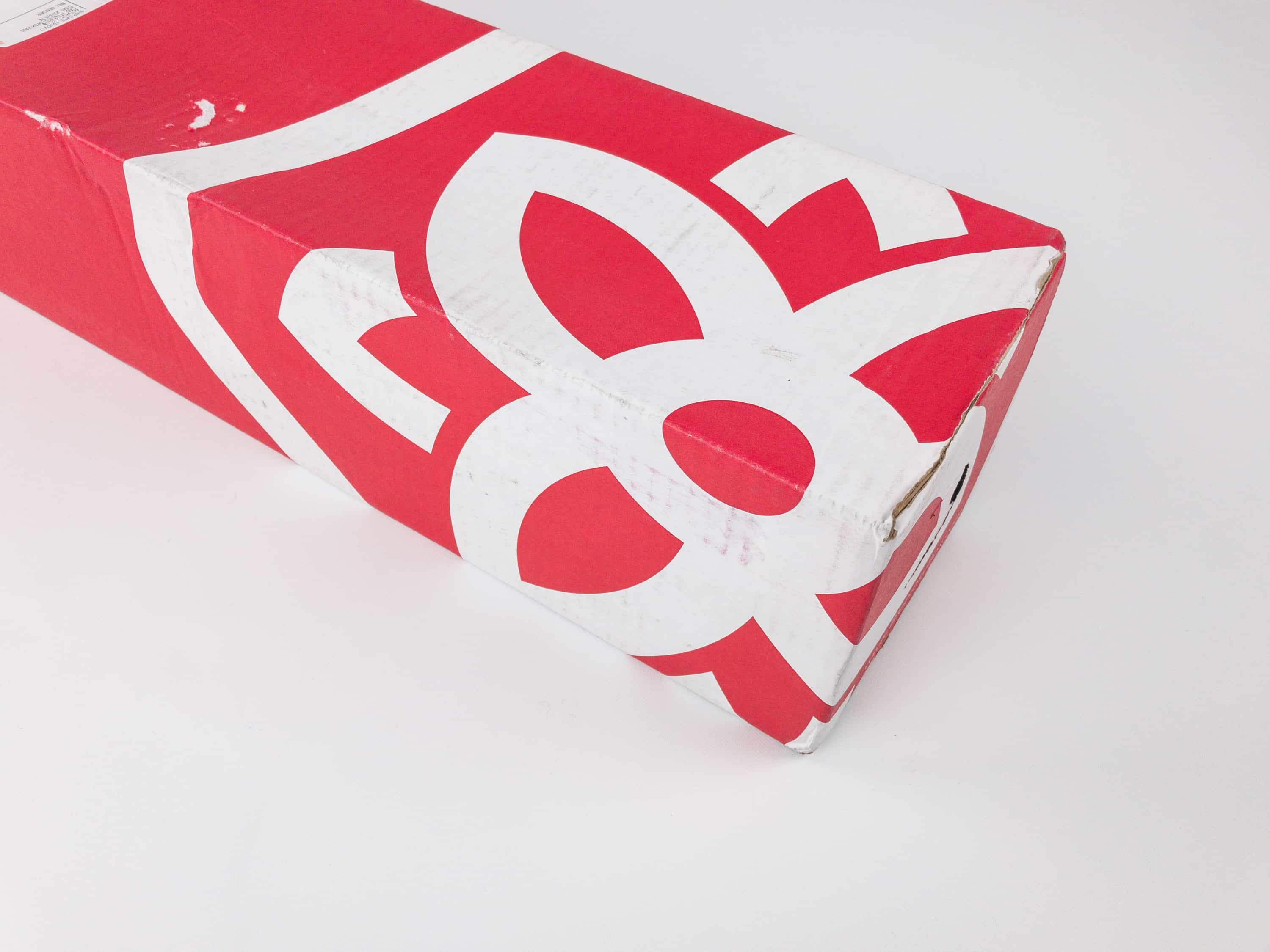 Bloomsy Box is a new monthly flower subscription box that sends monthly bouquets filled with the best blooms from around the world to your door in less than 48 hours.
They send single variety hand-tied bouquets (no mixed bouquets with unnecessary extras) with flowers that are sourced direct from suppliers in South America, Holland, Thailand and California meaning no middle-man mark-up to increase the price. Blooms are cut 2-4 days before they arrive at your door.
There are 3 sizes available, and shipping is included in each: small ($34.99), medium ($38.99), and large ($48.99).
The flowers arrived resting in a box appropriately shaped for shipping flowers. Both of our selections were the "large."
DEALS: Get $5 off when you subscribe to a month to month plan with coupon code BLOOMSYA5 OR get $10 off when you subscribe to a 6-Month Subscription. Use coupon code BLOOMSYA10.
Twines, a decorative ribbon, and a paper wrapper held the flowers securely bundled.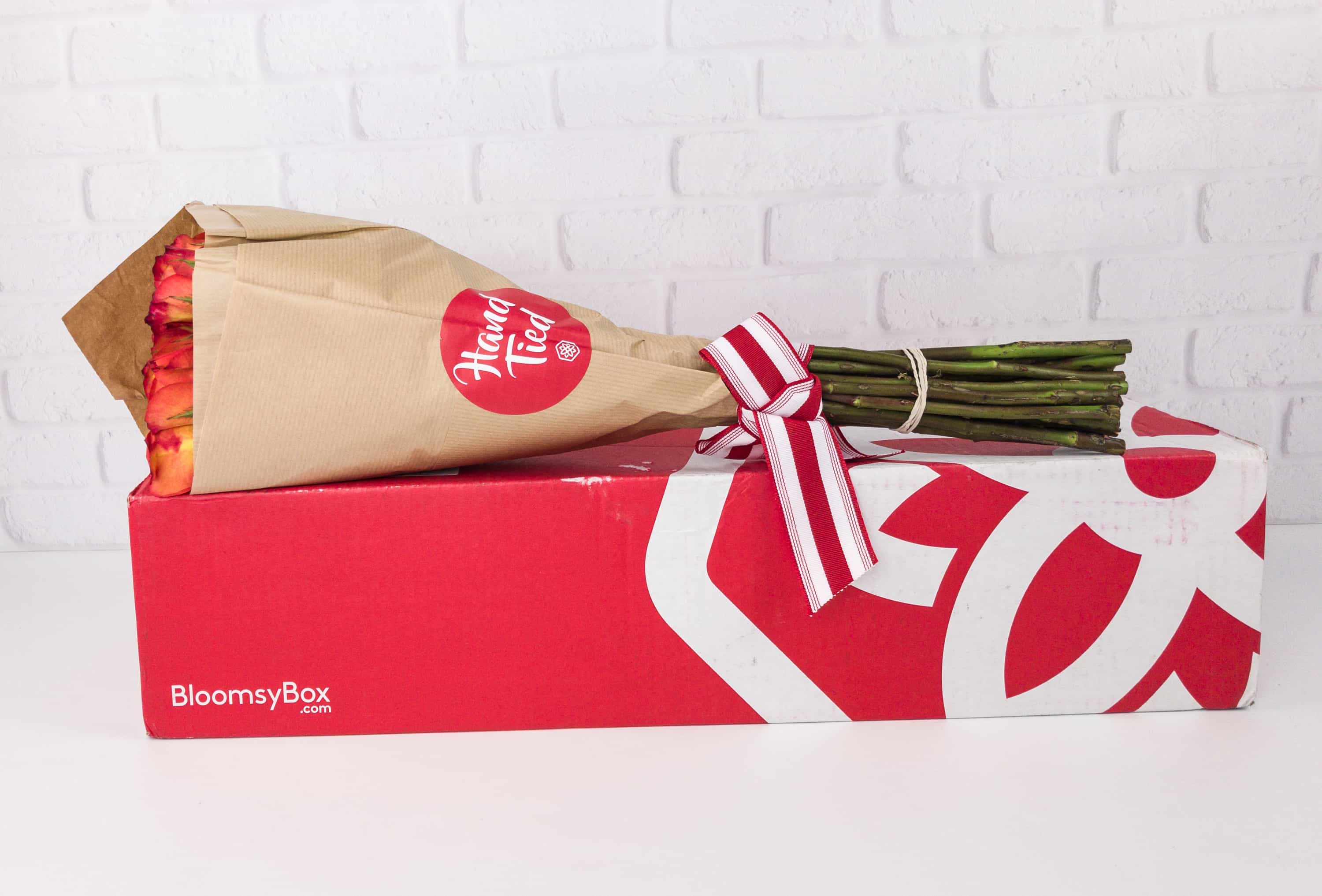 The wrapping paper was folded in such a way that it looked neat and presentable. I much prefer this style of wrapping to the clear, sticker-riddled foil used at retail flower shops.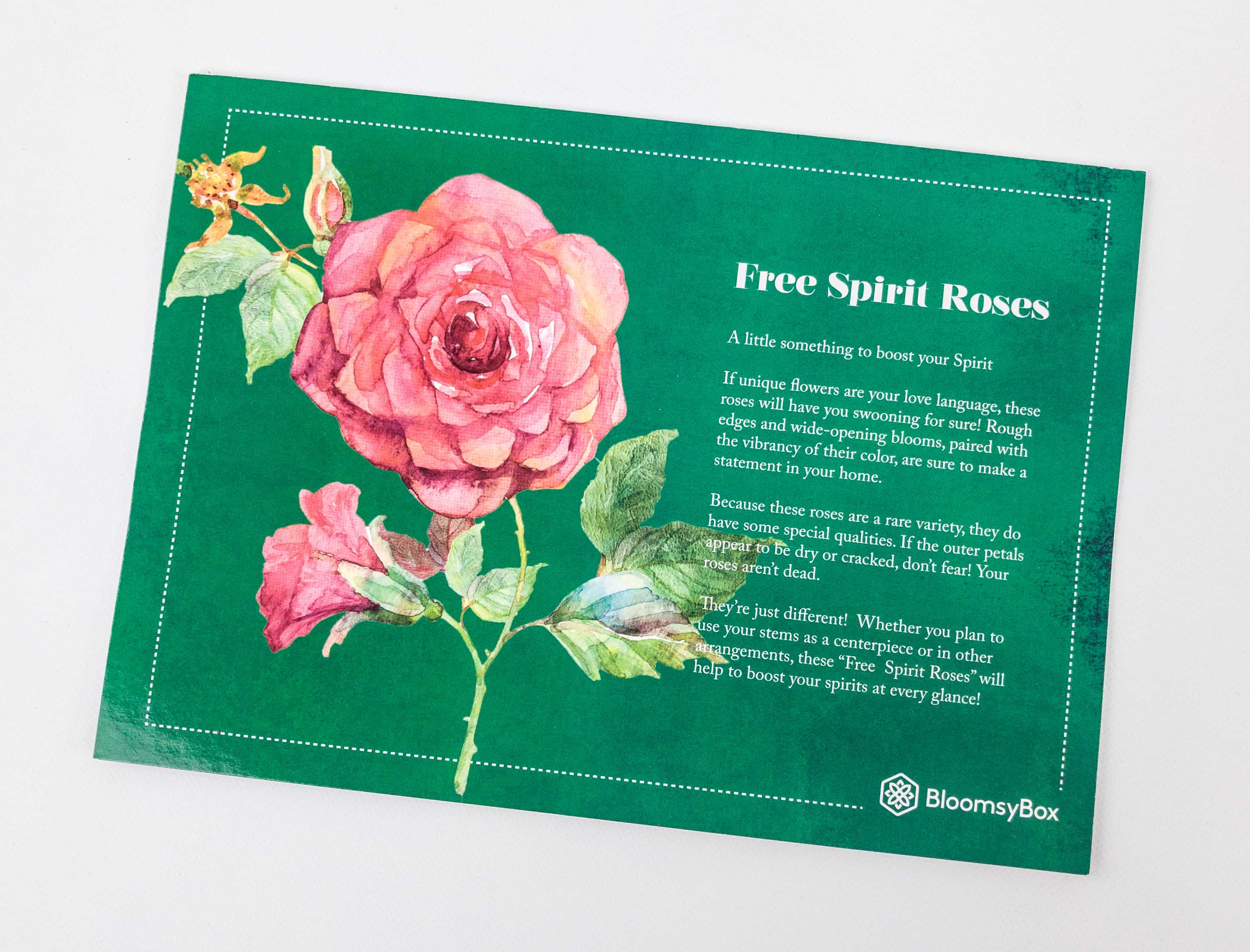 The enclosed card hints at the varieties you may have received.
It also has a visual guide to caring for your new flowers and prolonging their beauty.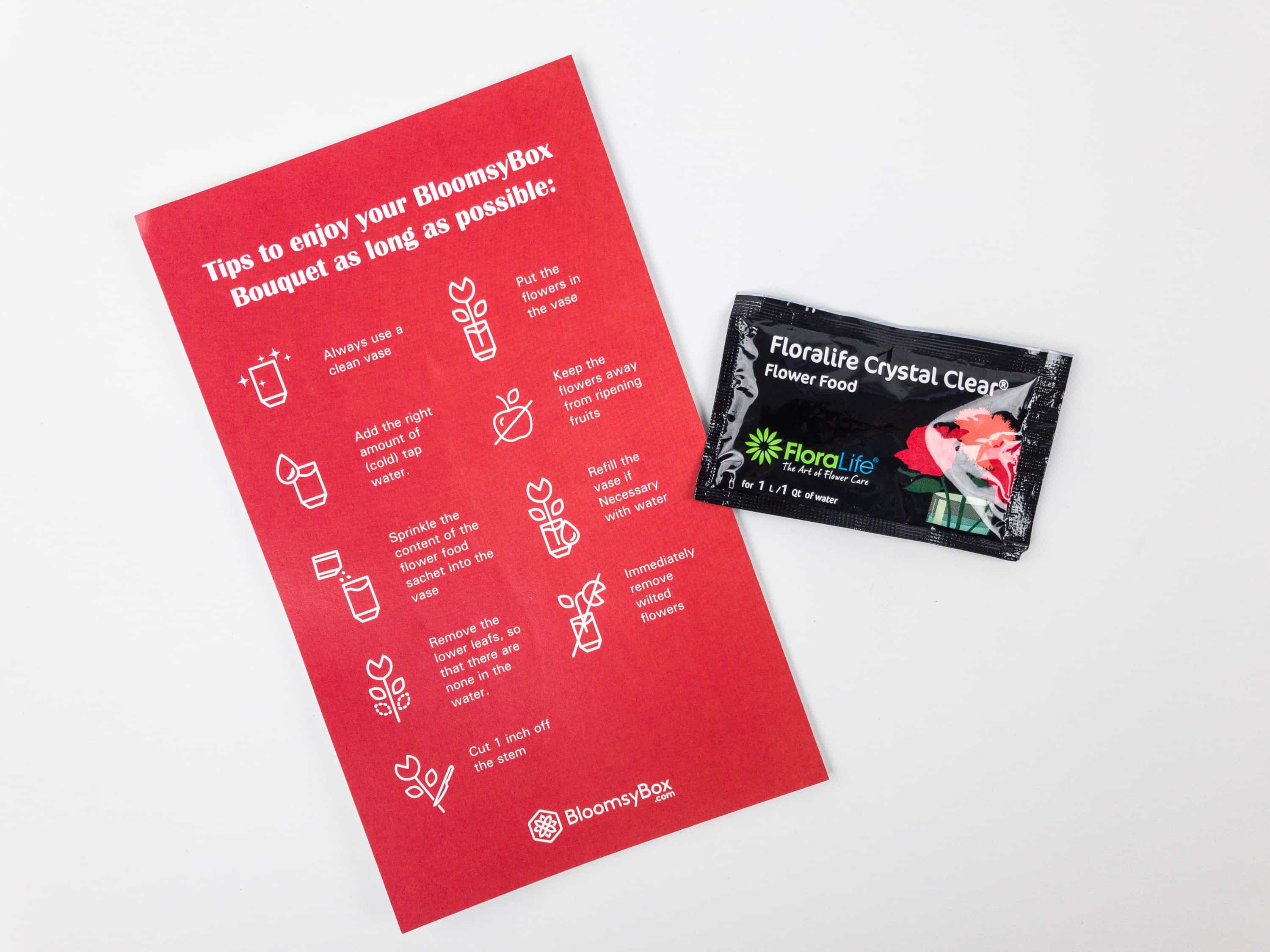 A packet of no-need-to-measure plant food is included.
Meanwhile, this info card explains further about BloomsyBox being Rainforest Alliance Certified.
Everything in my box!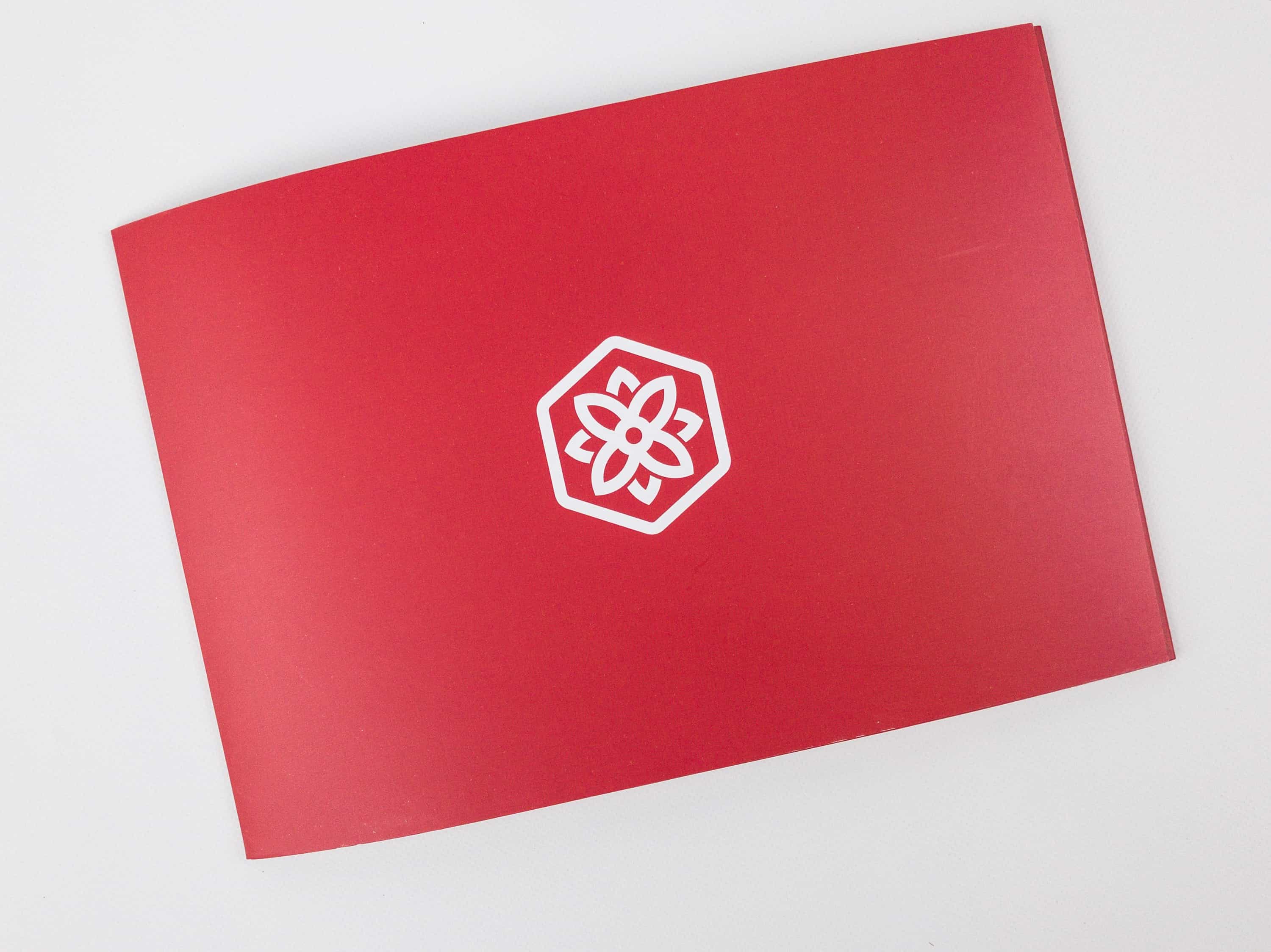 Also included in the package is this booklet.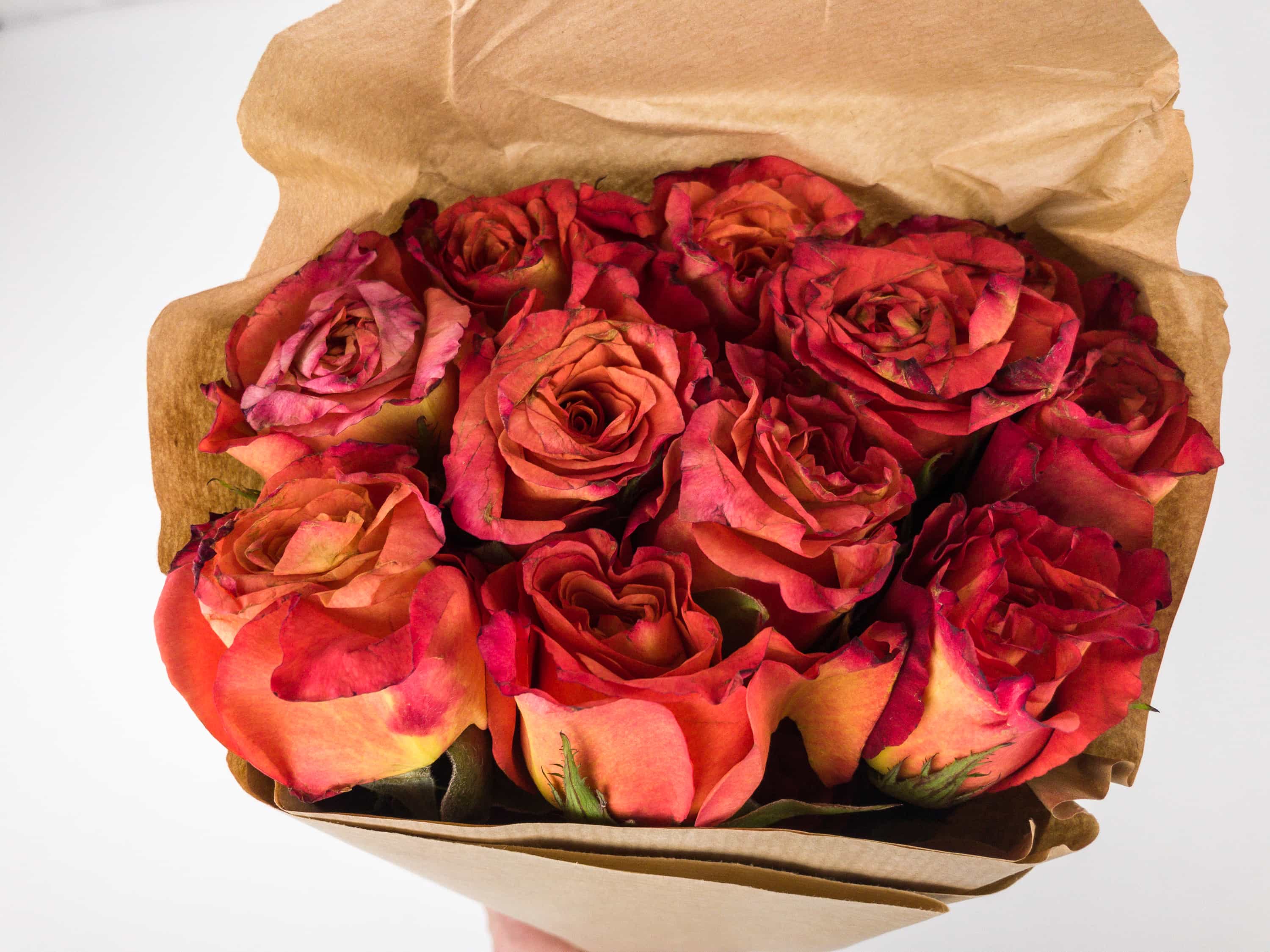 I really like the understated wrapper and the roses-only selection. I think the single-flower model enables the direct from producer distribution that provides fresher flowers at a better price.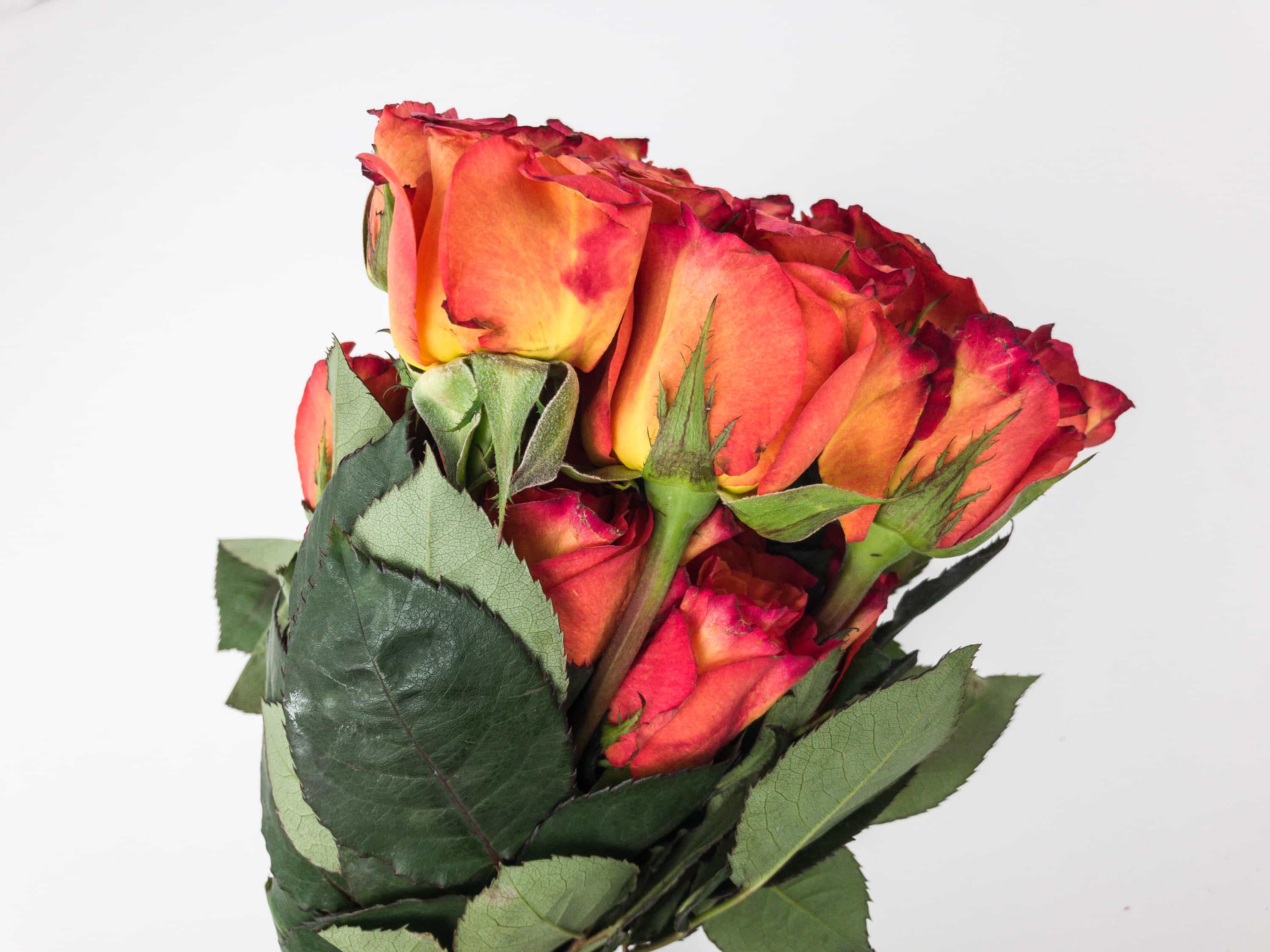 Our roses are orange with hot pink edges. They arrived in nearly full-bloom, with a few of the blossoms showing a little age. Still, they are all beautiful.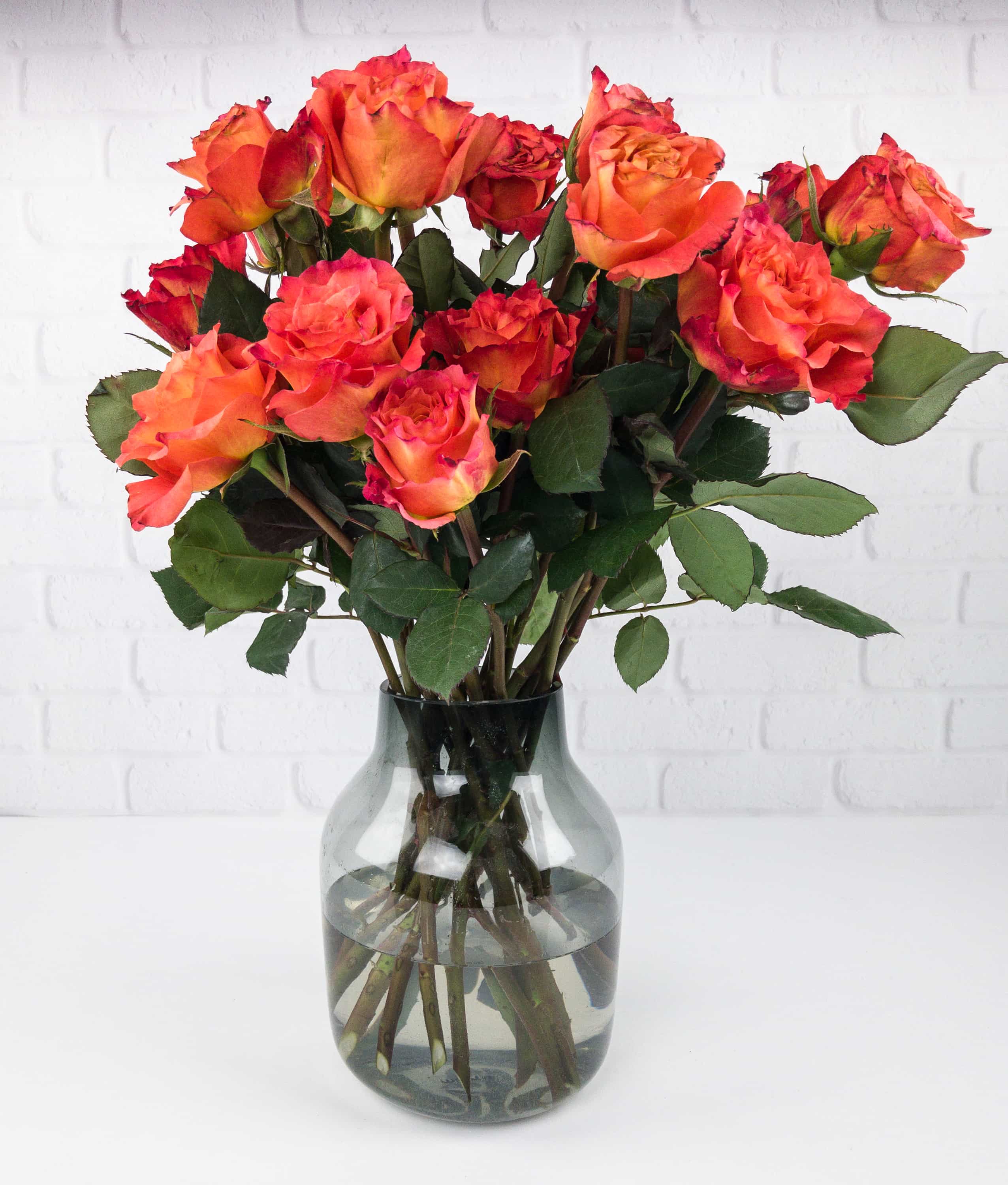 The dozen roses filled our huge vase. The long stems and foliage were in superb condition, giving us lots of flexibility in choosing cut and container.
The flowers really opened up once placed in the vase with Floralife flower food. It has been several days, and the blossoms are still as nice as they were upon arrival. I liked the warm tone of this selection. Roses often come in very cool colors, but this batch had a warm and welcoming glow.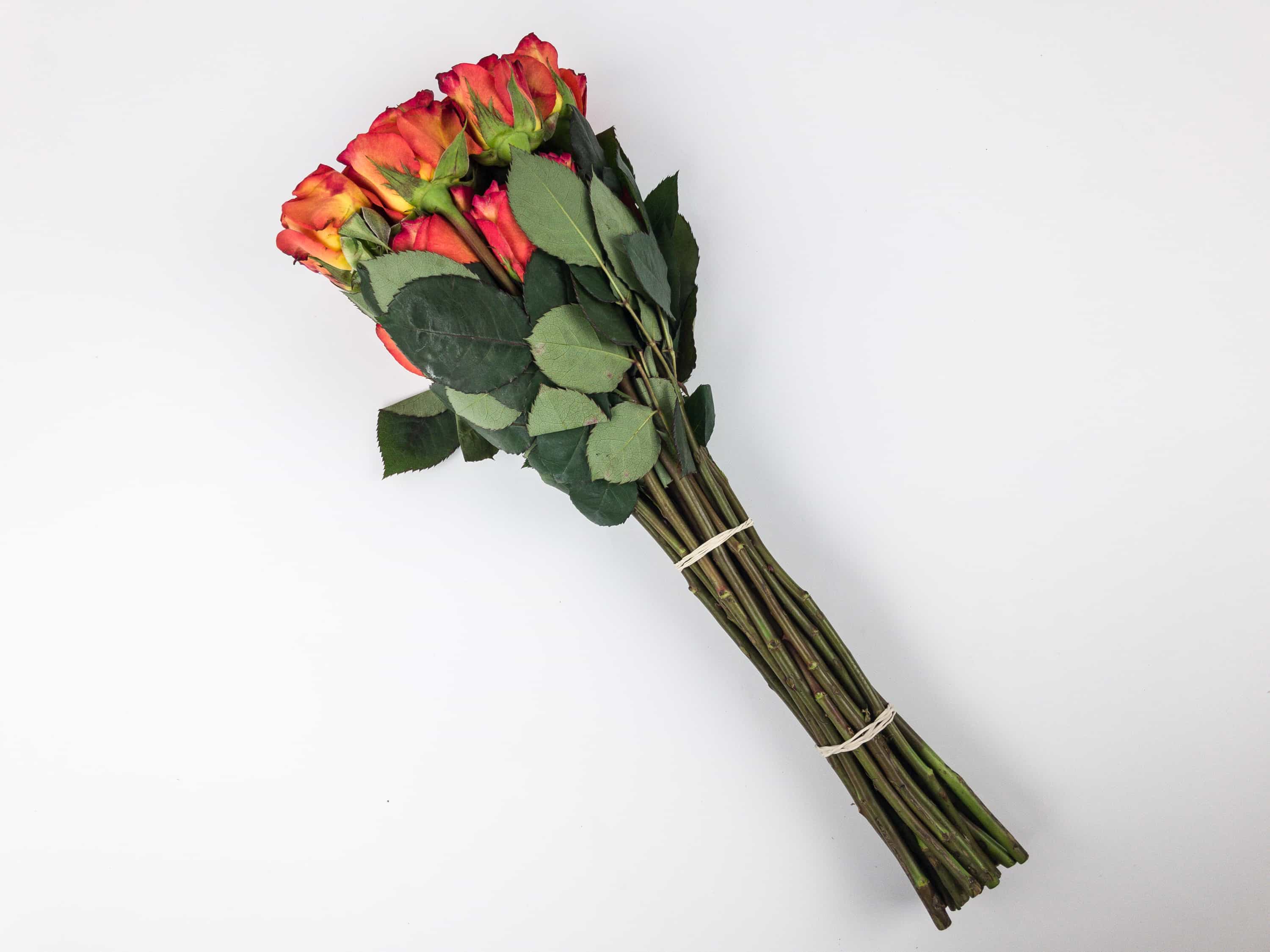 The flowers were in really good condition, with very healthy foliage.
I love how fresh the flowers and greens look.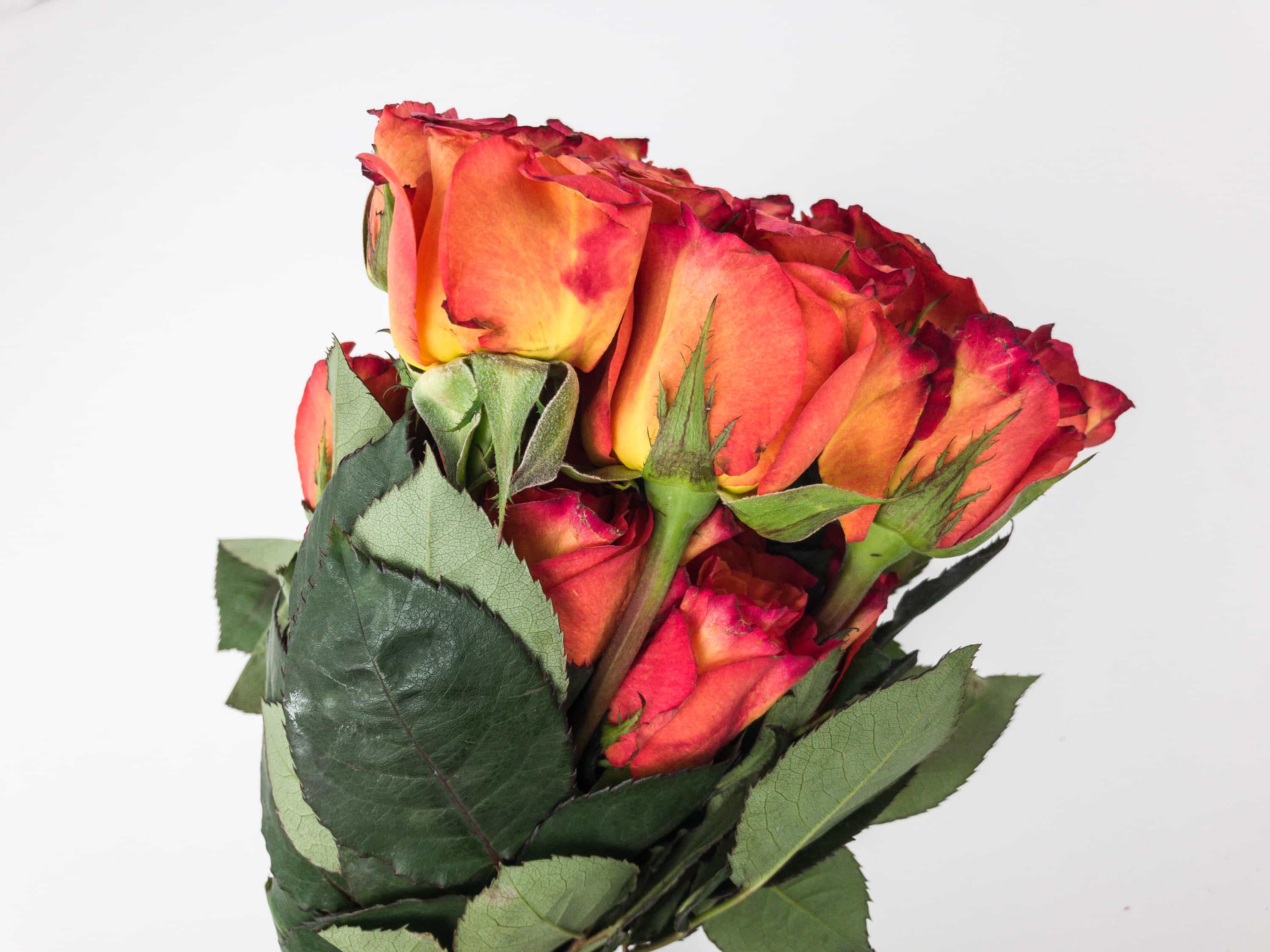 The blossoms were just beginning to open when we received our flowers.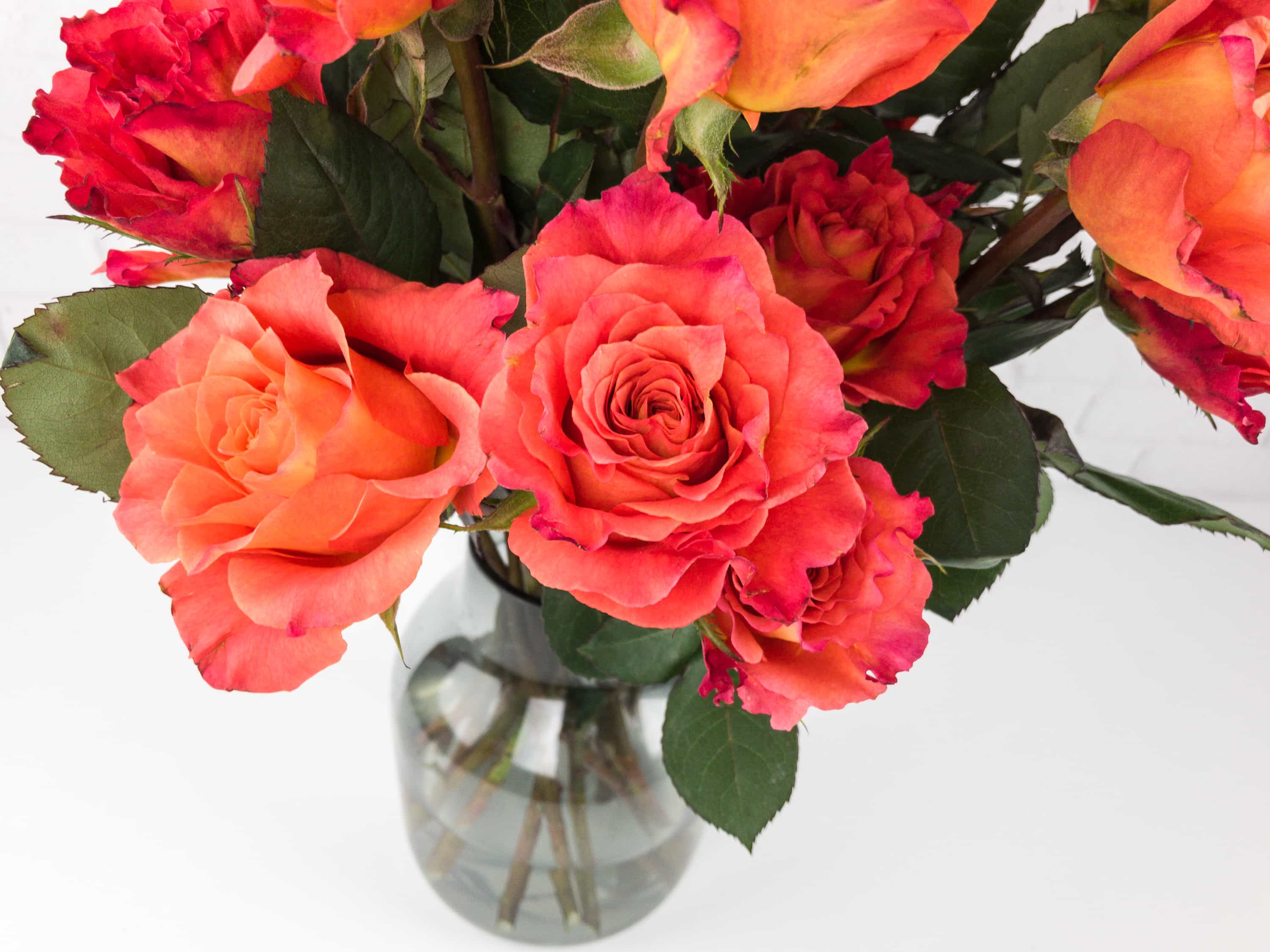 After several days, the blooms are all still intact.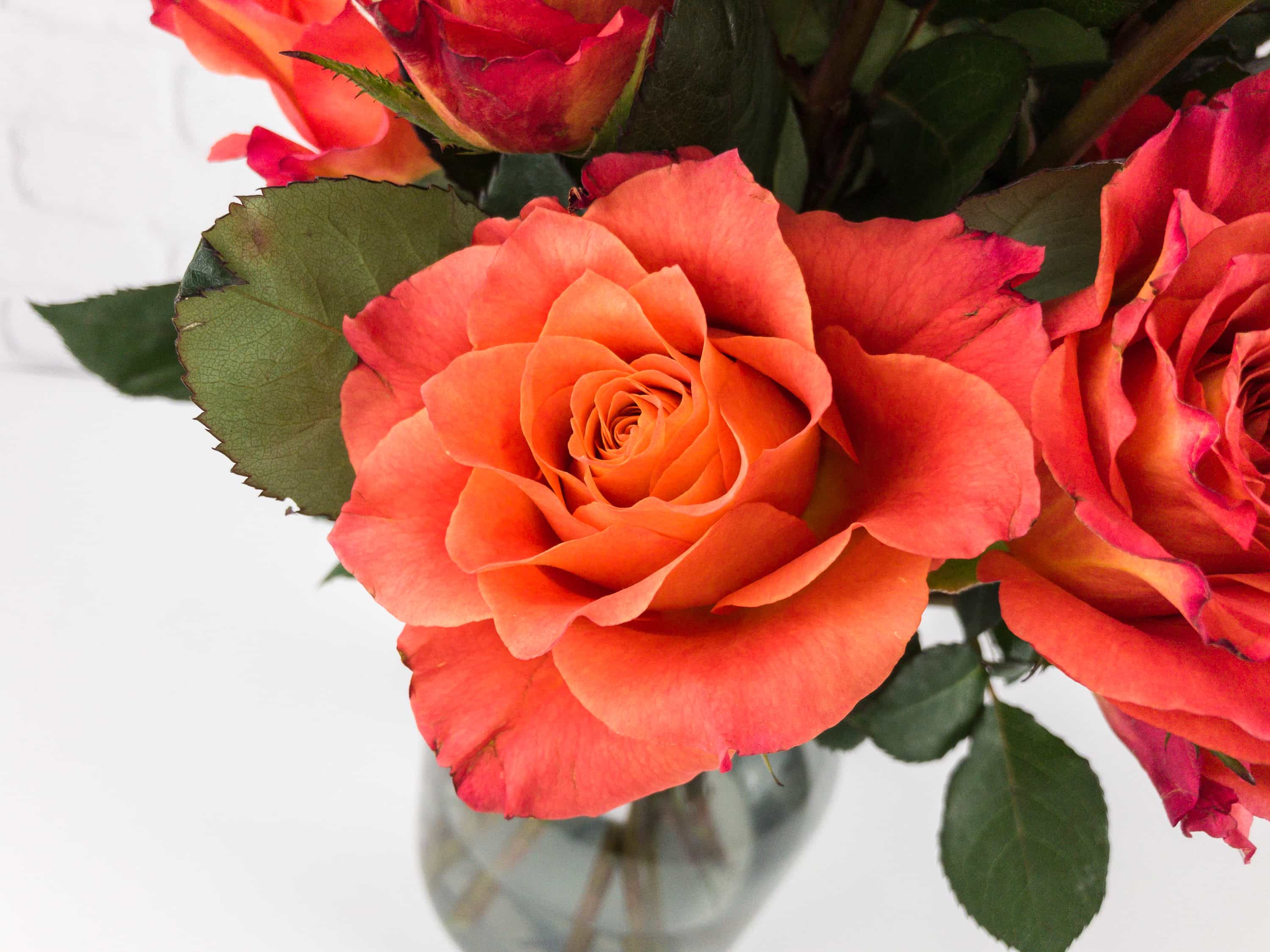 The flowers have opened quite a bit, but they are in good condition, having yet to lose a petal. The blooms are so beautiful! I love the orange-y pink color of them.
A close-up of the open bloom. The coloration is quite remarkable. When viewed head-on, the mature blossoms look nearly entirely orange. I really love to see flowers blooming!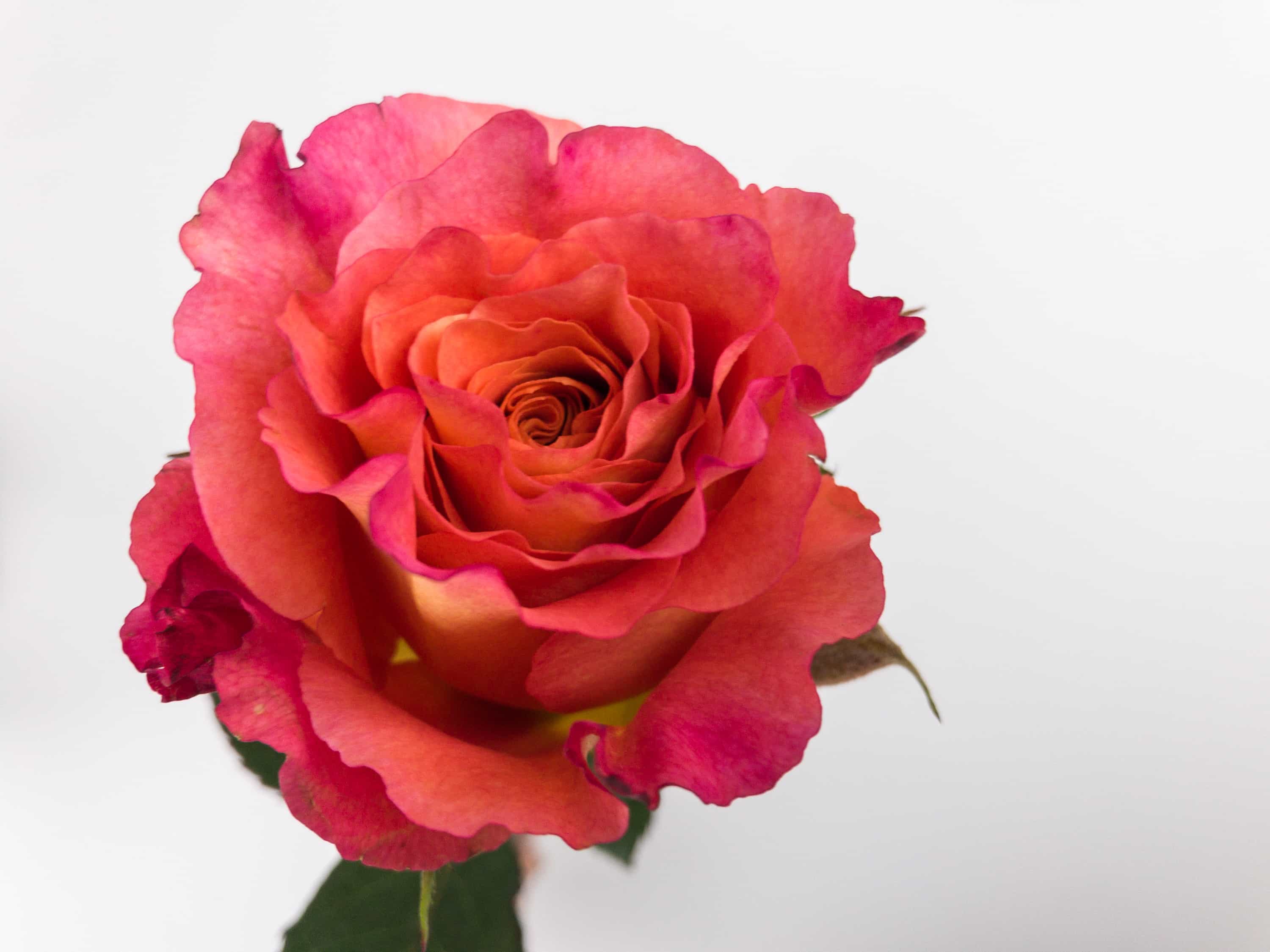 We very much enjoyed our BloomsyBox flowers. They were on par with any florist as far as quality, and the price is cheaper than many competitors (a quick google showed ProFlowers and 1800Flowers to offer similar bouquets for $60). The direct-from-supplier shipping and simple, elegant presentation were also big pluses! And the flower varieties are always beautiful and fresh, same as the foliage. It's great to have them around, as they don't just smell good but looks pleasing to the eyes too!
What do you think of this month's flowers from BloomsyBox?