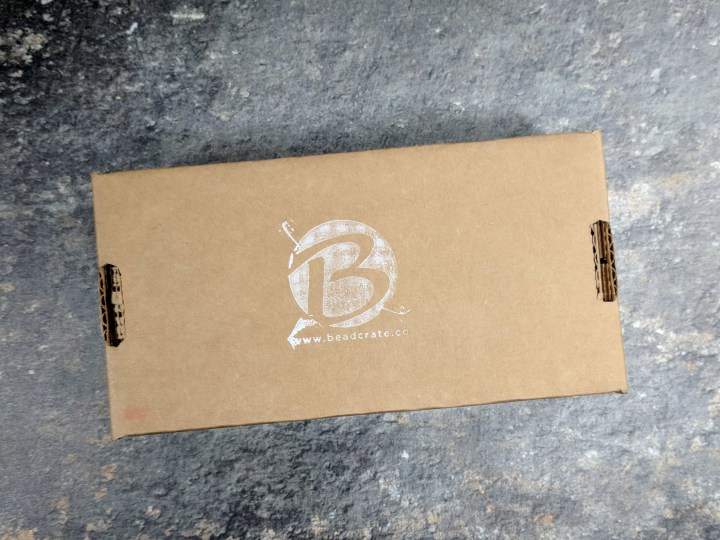 BeadCrate is a monthly subscription box for bead enthusiasts. Every month, you'll receive a curated collection of beads, findings, and other goodies to enhance your beading creations! There are three box sizes – Hobbyist ($7.99), Enthusiast ($15.99), and Collector ($35) [prices don't include shipping] to choose from. This is the Enthusiast Crate!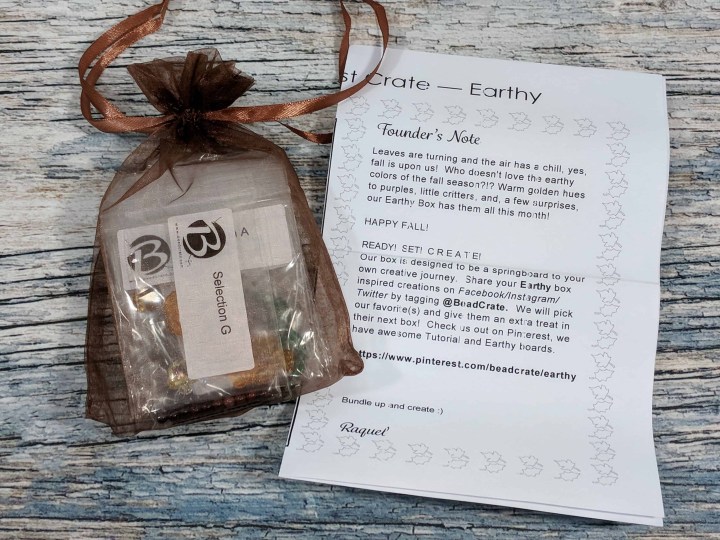 We also have a curator's note explaining the theme. This month's theme is Earthy! You can share your creation on their social media (Instagram or Facebook, don't forget to tag them!) for a chance to get a little surprise in next month's box.
The crate comes with a chart that tells you exactly what you're getting.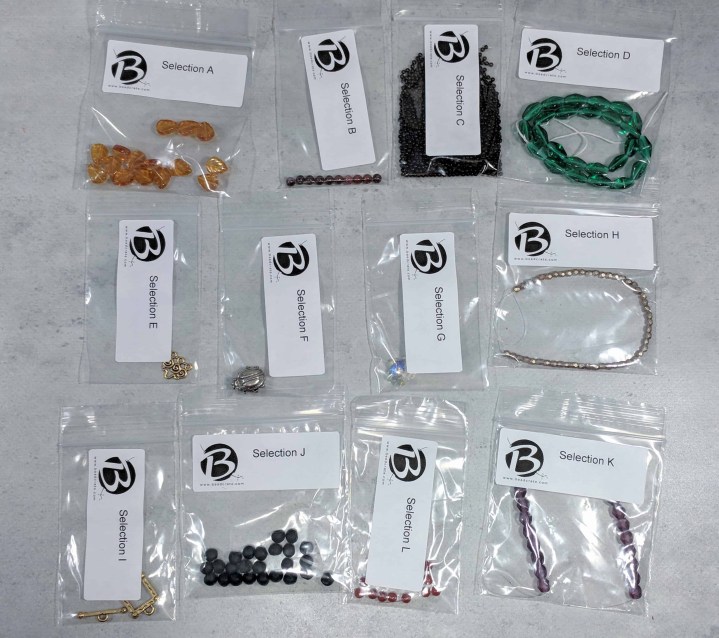 The beads always come neatly packaged inside individual well-labelled plastic bags inside a cute organza bag.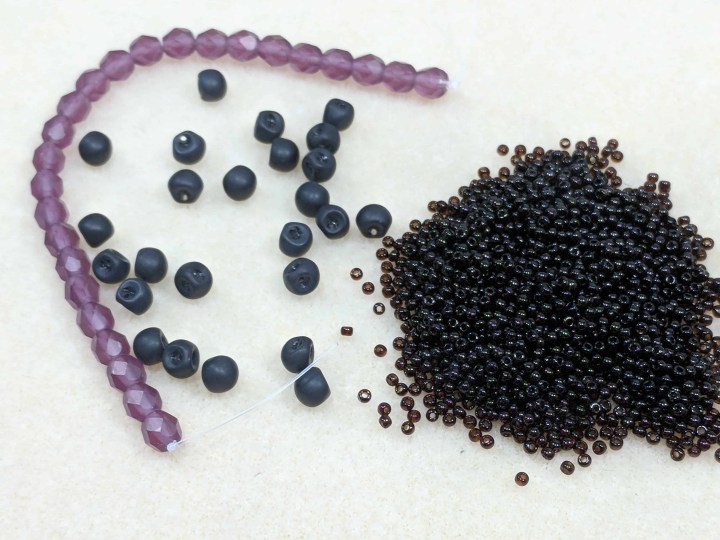 6mm Matte Amethyst Firepolished. I love purple and firepolished beads are always useful to add some sparks or a touch of color to a design. They are not overly shiny, so they are perfect for simple or elaborate pieces. They are nice when paired to bead caps or other metallic findings.
5x6mm Matte Jet Mushroom. They look like round beads that have been pinched. The hole goes through that pinched zone. At first, I didn't know what to do with them, but I thought they would look nice as a bottom component of a fringe. I was right (see my design)!
11/0 Toho Root Beer seed beads. If you read my previous reviews for this box, you know by now that I'm kind of afraid of seed beads! But I love the brownish subtone to these black beads and I loved working with them. Seed beads are nice for tassels, loom work design, and they are light enough that you can use a lot in a design, even for earrings.
12mm Quest Antique Gold 3 Hole Connector. This component is the one that inspired my design. I wanted to make chandellier like earrings, so I wish we would have received two of them. This link could be use to make a fringe focal for a necklace.
13x16mm Quest Antique Gold Toggle (Pewter). This is a great item to finish a project, be it a necklace or a bracelet.
13x18mm Quest Antique Silver Lady Bug. I love lady bugs! This one has the hole going sideways, and would look nice on a leather cord bracelet!
14mm Preciosa M.C. AB Flower. I can only see a snowflake, making this a lovely bead for this season! The AB coating makes it almost opaque.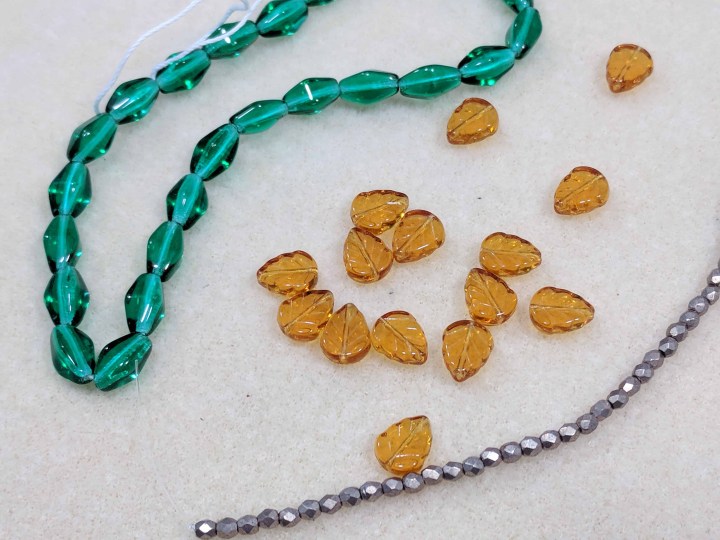 8x10mm Topaz Leaves. The hole goes from top to bottom, making it easy to turn them into dangles.
7x11mm Teal Lanterns. I love love love the color.
3mm ColorTrends Saturated Metallic Hazelnut. These are my favorite from this box. I love the color that is between copper and bronze. They give a nice contrast to the darker beads, and they are tiny enough to give just a bit of bling to this box.
4mm Round Red Brecciated Jasper and 4mm Carnelian Rounds. I love gemstones, and these are perfect for small design, like a stretch bracelet or earrings, and they would look gread together or seperate.
SOCIAL MEDIA BONUS
I usually share my design on my social media, so this month I received this lovely extra in my box.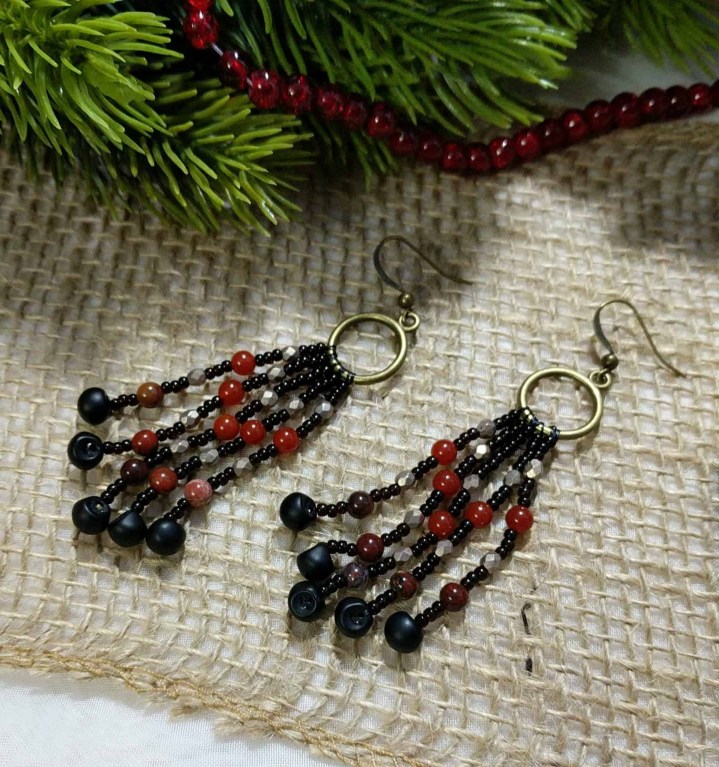 For this month's design, I used five different beads from this month's box and I created fringed earrings. The round bronze findings are toggle clasps components!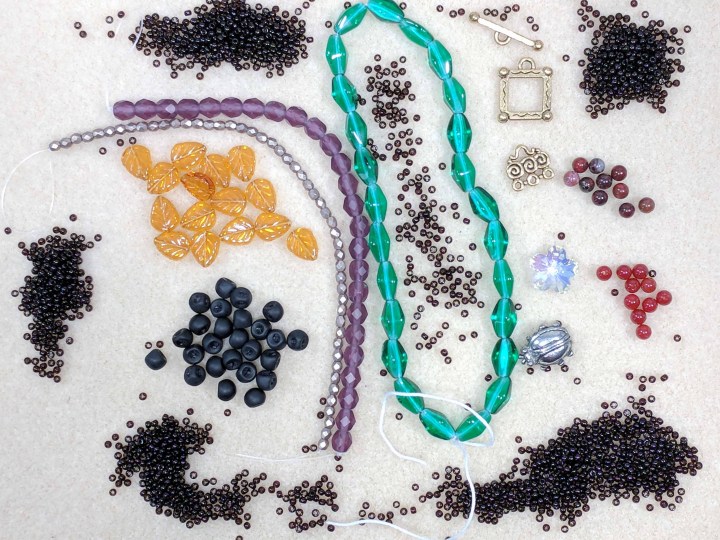 This month's box was lovely with the root beer seed beads, the gemstones and the metallic coated beads. I like that we also got some findings, which are always useful to have around to finish a project. The colors were fun to play with as well!
What do you think of this month's BeadCrate box?