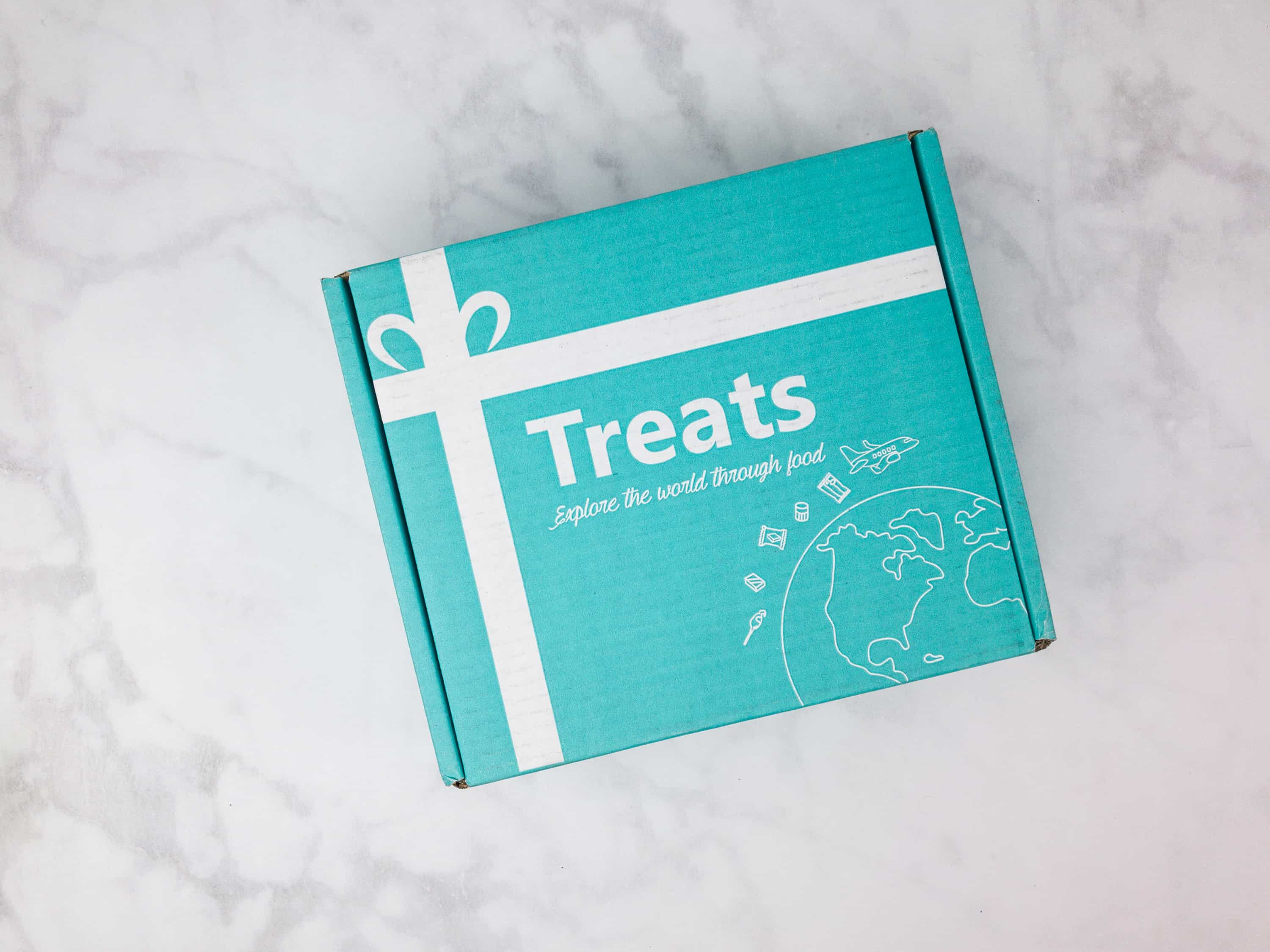 Treats is a monthly snack subscription full of snacks from around the world. You can expect to receive eclectic and interesting snacks that you've never sampled before (unless, of course, you've lived in the featured country recently)! The Standard Pack offers 4-5 snacks, while the Premium box offers 8-10. This, of course, is the Premium Box. It's quick to enroll, and you'll get your first box within a few days of when you subscribe.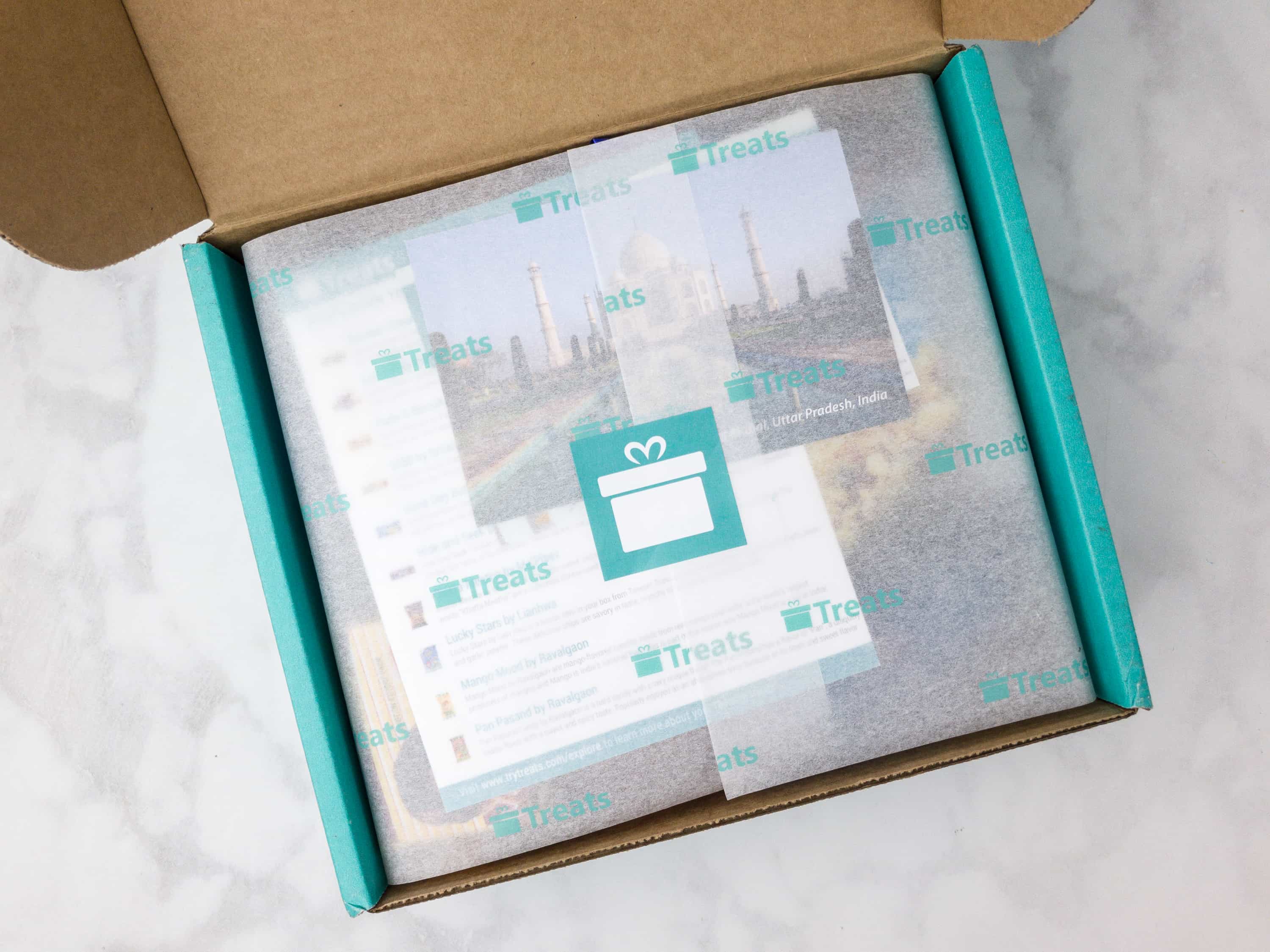 The packaging is simple and elegant. Tissue paper keeps the contents a secret until you are ready to dive in.
The box always includes a beautiful postcard welcoming us to this month's Treats destination. Usually it is a shot of one of the most iconic landmarks of the country. It doesn't get much more iconic than the Taj Mahal, which welcomes us to India!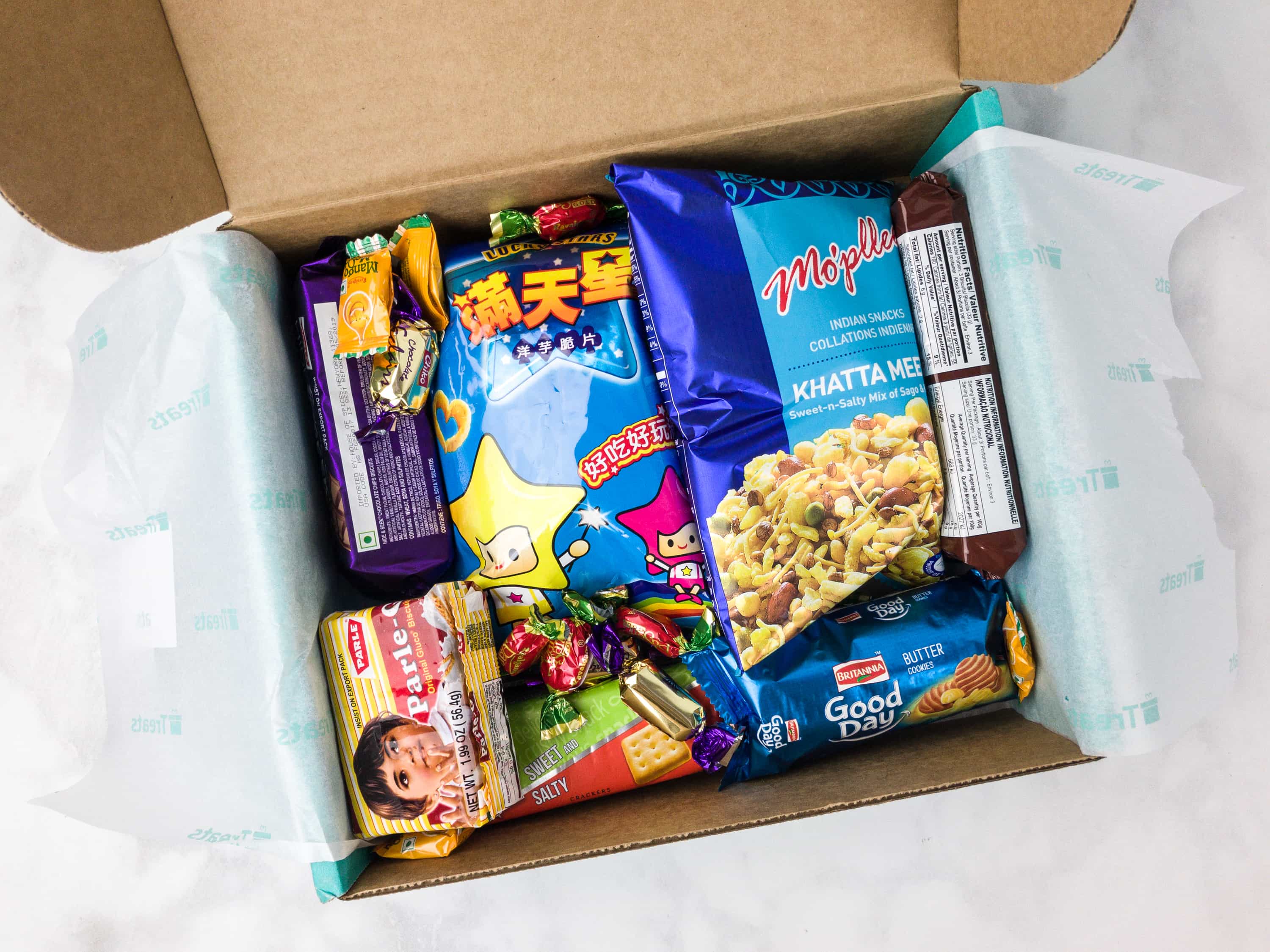 The box is filled to the top with goodies! Everything comes in its original packaging, often solely in the language of the featured country – sometimes it's just as much fun to see the unique package styling as it is to try the snacks! The box is always so full, that they don't need to use any extra packing material.
DEAL: You can save 15% on your first month with coupon code HELLO15.
What a treat, an Indian themed box! The introduction card tells a little about the snack culture and points out some of the flavors or snack styles that are popular or unique to the destination.
Treats now includes an additional card that gives even more info on the destination country and its culture. There is also a blatant giveaway of next month' s destination – looks like we are off to the UK!
There's also a recipe card for making traditional Indian Samosas at home! It's a fun idea, but it looks a bit involved for the ready-to-eat snack crowd likely to enjoy Treats.
There is also a handy info card that gives the name and maker of each treat, as well as a short description of each.The blurbs give you a sense of what to expect, but you'll have to check each treat's label (and possibly hire a translator) for more detailed info on ingredients and nutrition. Even with the card, the only way to truly appreciate everything is to taste it!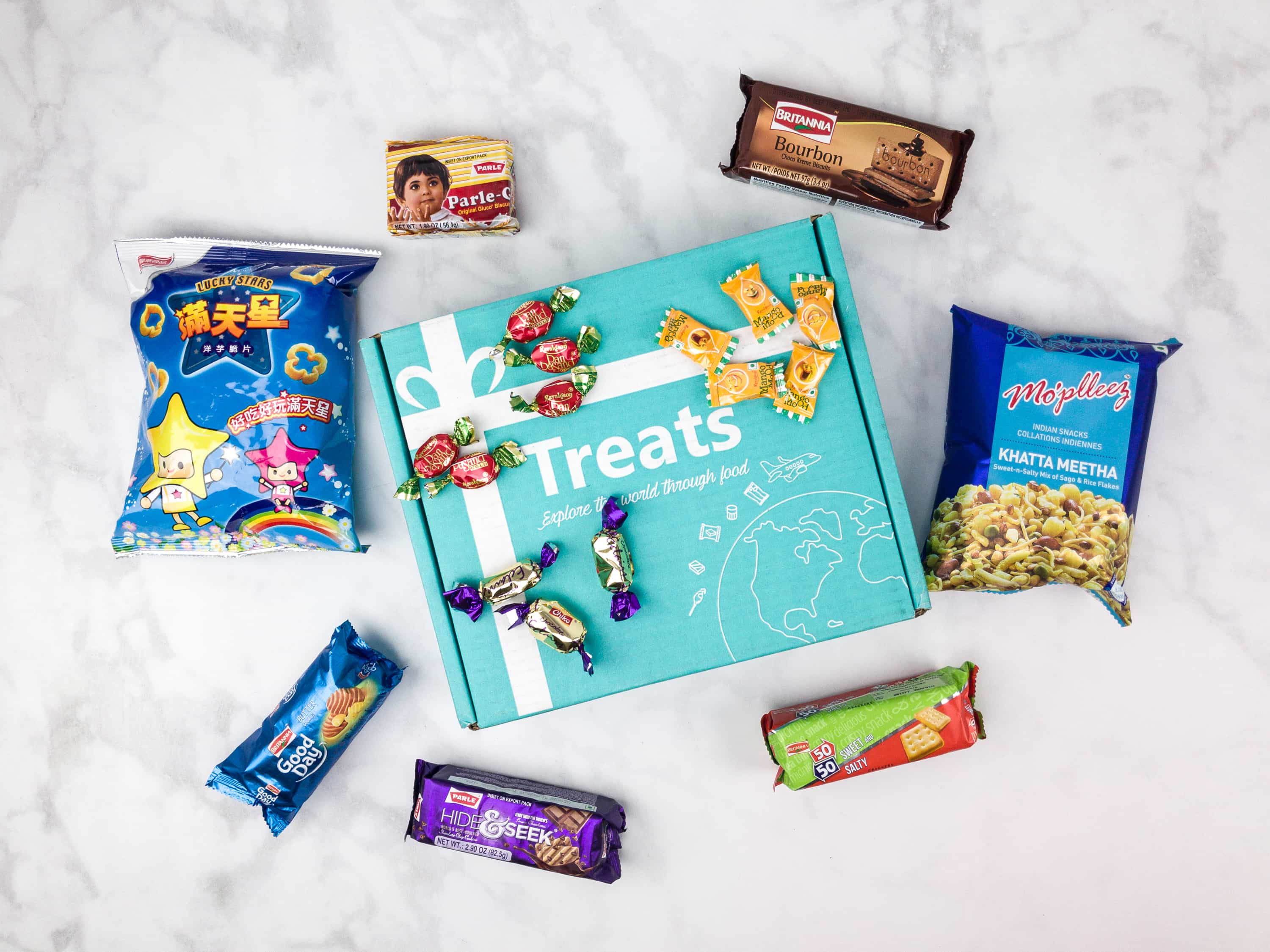 Everything in the box. The composition of each Treats collection depends on the local snacking culture, but there is usually a good mix of sweet and savory and individual and family packs. Because India is subject to blazing heat, we didn't see much in the way of chocolate, with crackers and cookies being heavily favored.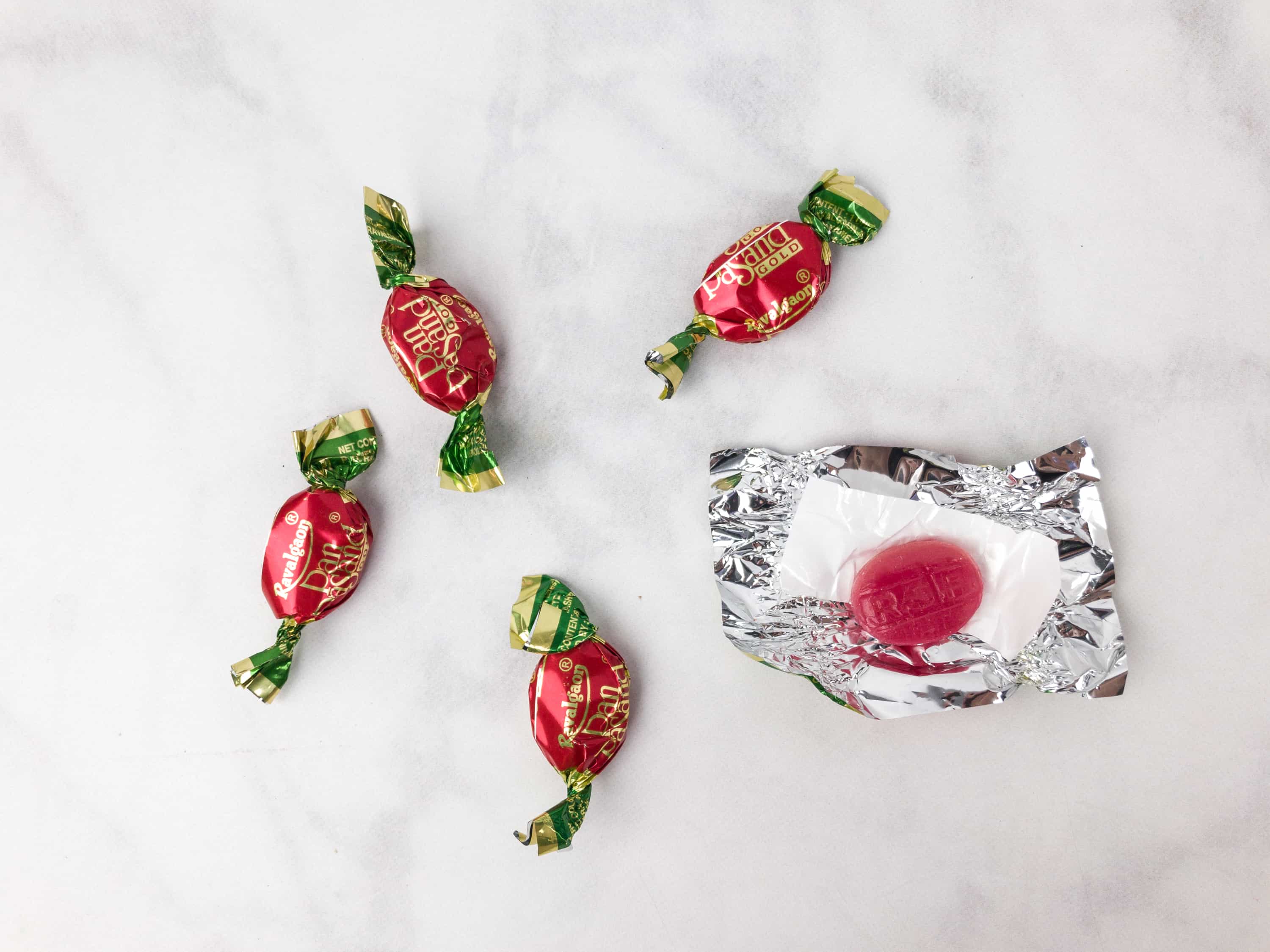 Pan Pasand By Ravalgaon: This hard candy looks very similar to strawberry flavored drops, but the flavor is quite unique. Unique to India, the Pan flavoring is very botanical and soapy, and the cologne like fragrance is as central to the experience as the flavor. At first, I thought it might be a rosewater flavoring, because that was the first scent I picked up. It quickly becomes very soapy. I found it interesting and nearly enjoyable, but the flavor is unlikely to become the next big fad.
Mango Mood By Ravalgaon: Mango hard candies made with real mango pulp. India is the largest producer of the fruit, so this candy is a perfect example of the phenomena of snack preferences following resource availability.
Cadbury Eclairs: An ode to a chocolate eclair, this is a chewy caramel with a chocolate center. India's climate is not well-suited to chocolate, so encasing it in a more durable confection is a very practical way to enjoy it.
5050 By Britannia: This cracker attempts to satisfy that common sweet and salty craving by combining the two in one biscuit.
It is a perfect hybrid of a cookie and a cracker, with both the texture and the flavor exhibiting characteristics of each genre. I'm not sure if I would reach for these with tea, but they are a good stand alone snack cracker or platform for toppings.
Good Day Butter Cookie By Britannia: This is a more traditional butter cookie. It is sweet and has the rich, creamery butter flavor you'd expect.
They are also crispy and crumbly, though the well-baked exterior holds them together until you start nibbling. They make an excellent tea time or dessert cookie.
Hide And Seek By Parle: In another successful bid to sneak a bit of chocolate into a warm weather compatible snack, these cookies have a healthy dose of miniature chocolate chips.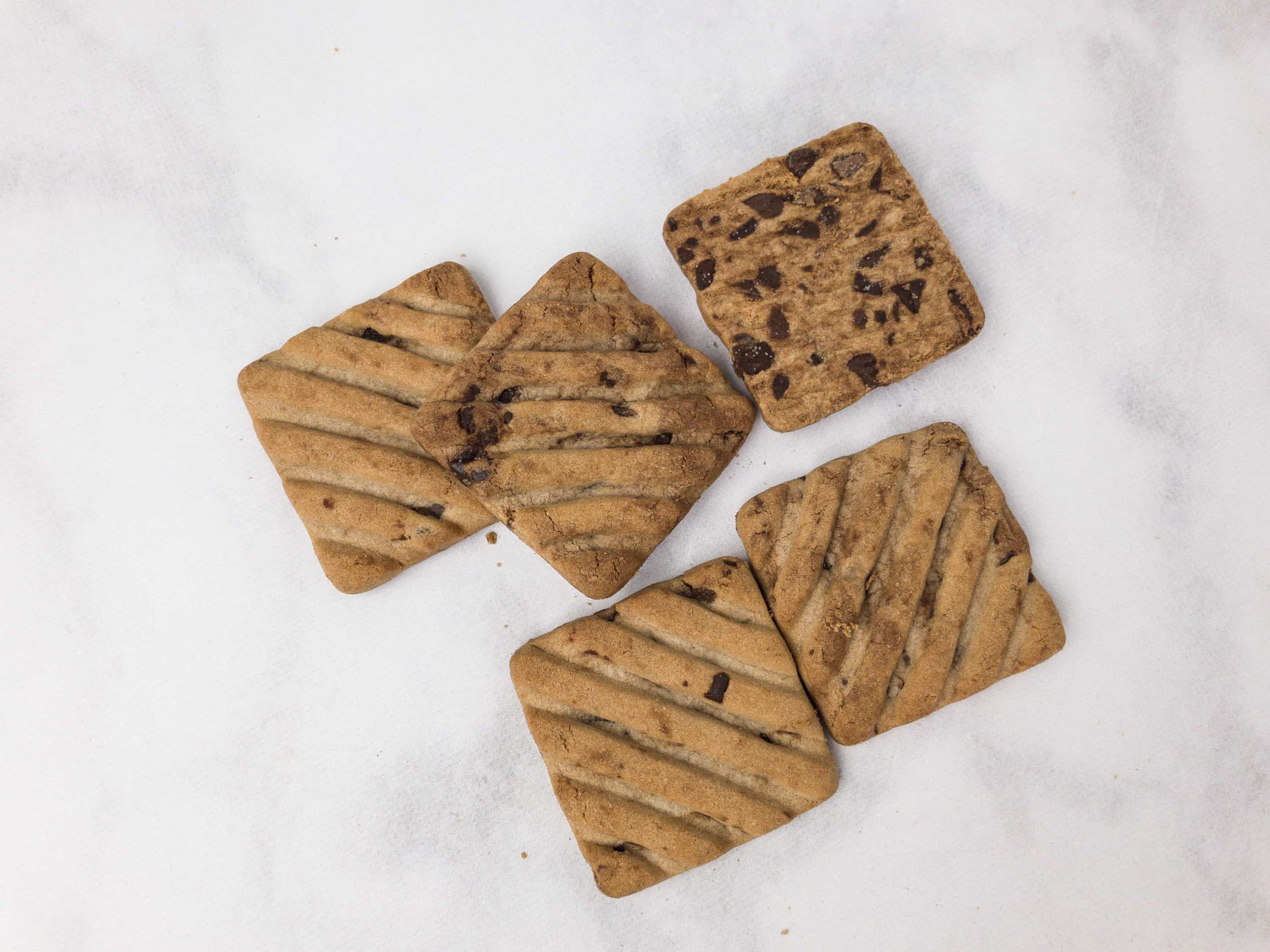 A peek at the underside shows the multitude of chips in each one. They are made in molded form, and I found that the ridges let you hold them in your palm (upside down) without melting the chocolate all over your hands. They are nice and crunchy, with a Crunchy Chips Ahoy type texture, though the molding seems to make them a little drier and denser and more cracker-like.
Bourbon Cream By Britannia: A chocolate sandwich cookie filled with chocolate flavored creme (or "kreme").
These are crispy, with a very deep chocolate flavor. I like the big sugar crystals sprinkled on top — you get a nice crunch and can taste the burst of sweetness every time you hit one.
Parle G Biscuits By Parle: These are heralded as the most popular biscuits in the world. I had never seen them before, but I imagine that dominating a category of foodstuffs in a country as populous as India pretty much guarantees you a spot high in the best-seller list.
Slightly sweet, these are an ideal tea biscuit or kid's snack. They have a very mild flavor and have a texture somewhere between a butter cookie and animal cracker, but with the flavor emphasis on the sweet.
Khatta Meetha By Mo'Pleez: This was my favorite item in the box! It is a mixture of sago palm starch and chick pea flour crisps, coupled with crunchy bits, peanuts and dried peas/lentils.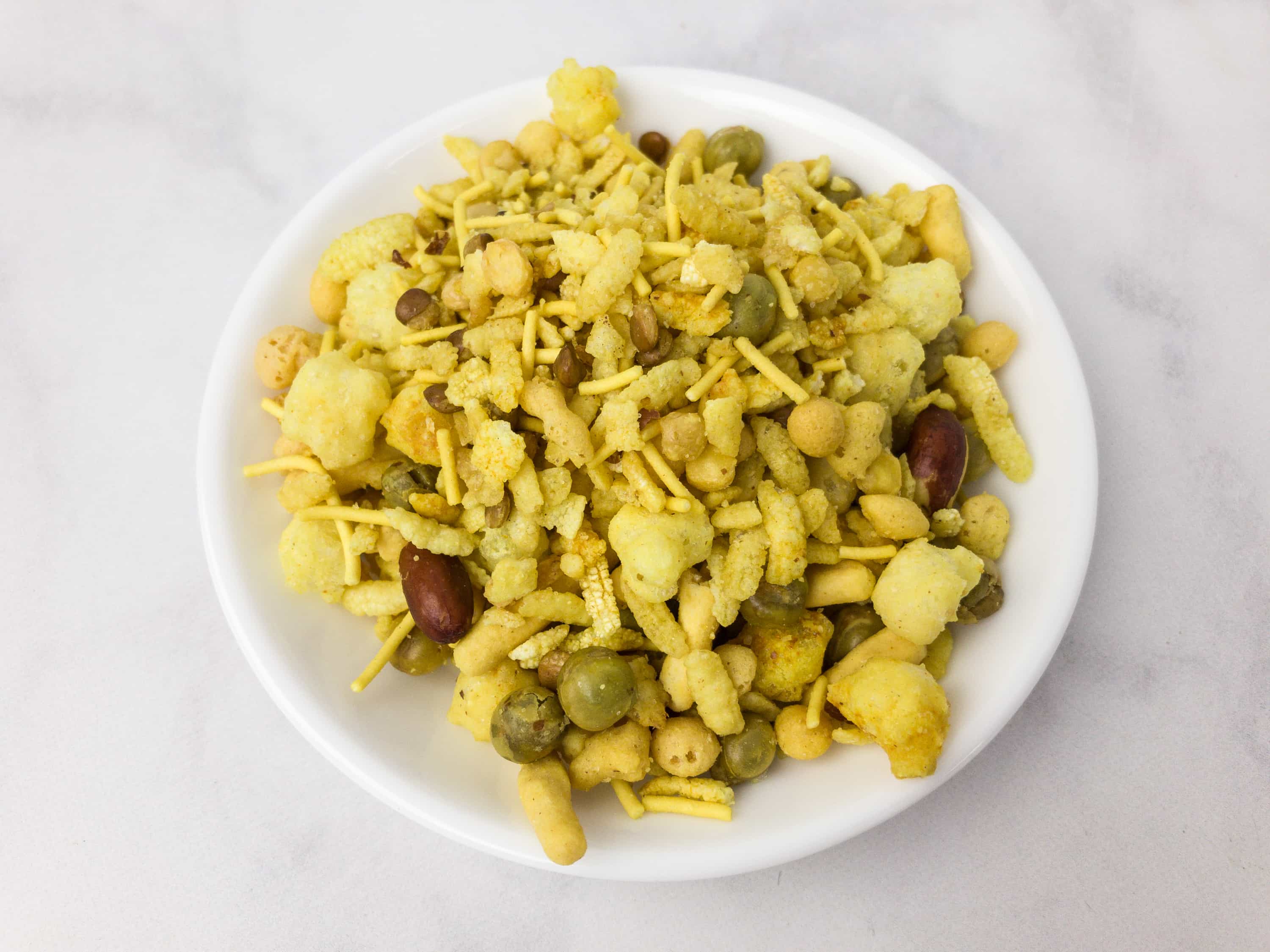 The color is a vibrant orange-gold imparted by a dose of turmeric (though it doesn't assert itself much in the flavor). The mix is surprisingly sweet, with a salty and tangy edge. A touch of spice lingers on the palate, making this a very satisfying snack. I love the mix of crunchy textures and the vinegary/sweet juxtaposition of flavors.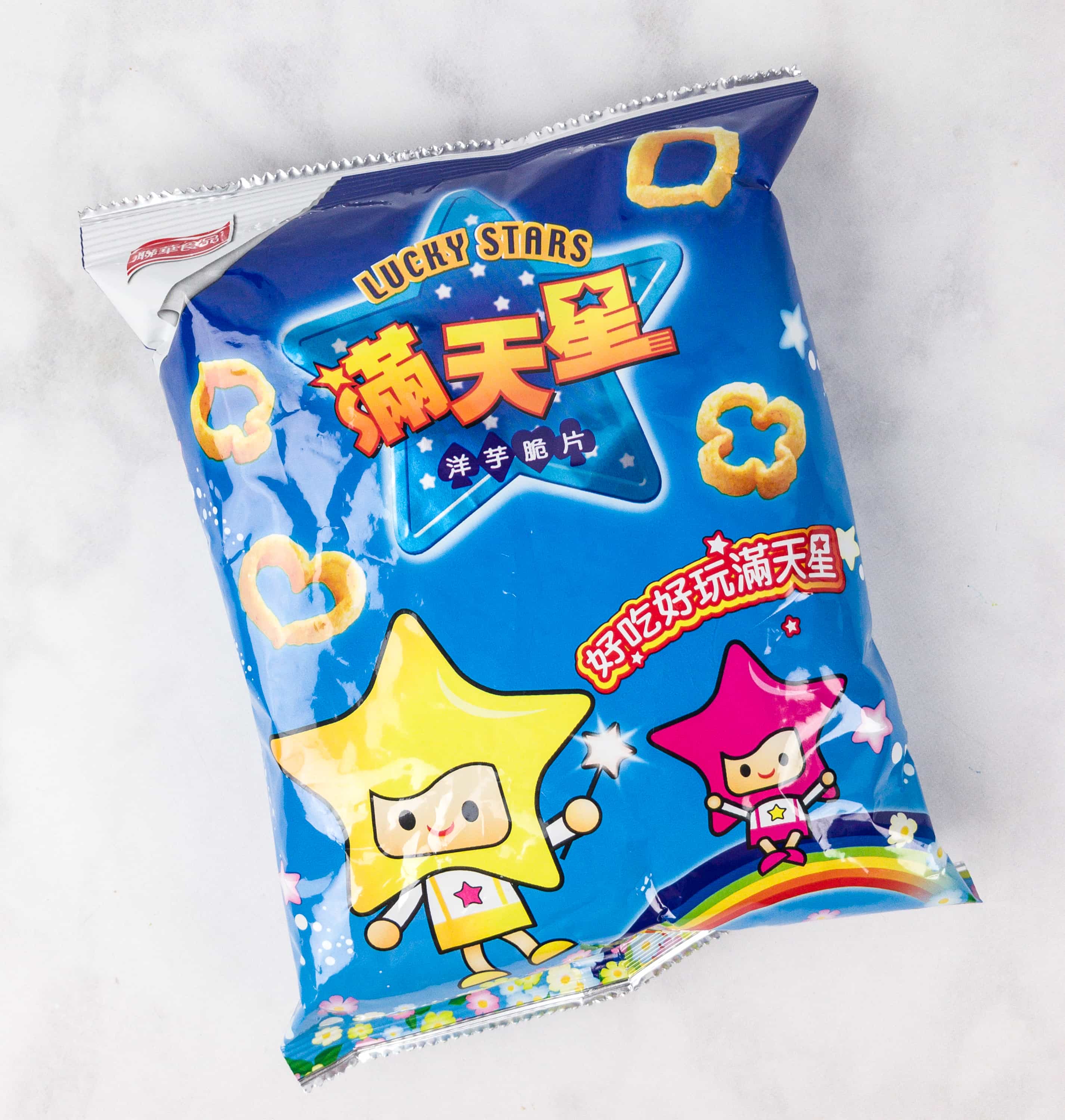 Lucky Stars By Lianhwa: This may look out of place in the box (the script leapt out at me, too), because it is. This is a bonus Taiwanese item. I approve of using yummy snacks as packing material!
Shaped like calamari bent into demented suits from a deck of cards, these little rings are crispy and hearty. They are very similar to wonton noodles, but they are a bit less greasy and covered with an umami and salty powder.
I really enjoyed this collection of snacks. It was very cracker and cookie heavy, but I consider that merely a reflection of the locale chosen as our destination. We had several multiple-serving packs in this box, but none were huge "family pack" size bags; they were shareable, but not huge. The overall volume of snacks was in line with other months, i.e., the box was full. Everything was very tasty (I even enjoyed the perfumed candies), and the surplus of cookies was great for a house with a toddler!
Have you tried Treats yet? What did you think of the box?