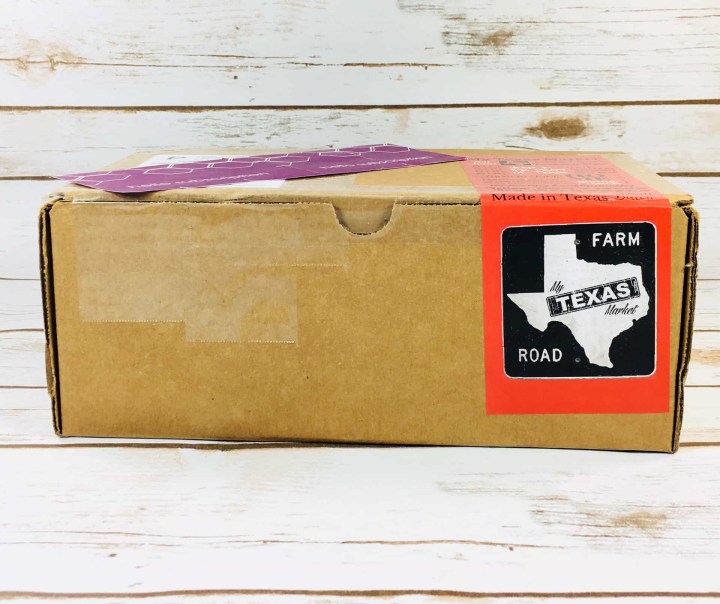 My Texas Market is a monthly subscription that sends a curated collection of small batch artisanal goods produced in Texas to your home. These are items you might find while browsing the local farmers market – and I occasionally DO spot some of these makers while on my rounds at the local FM near my home in Austin!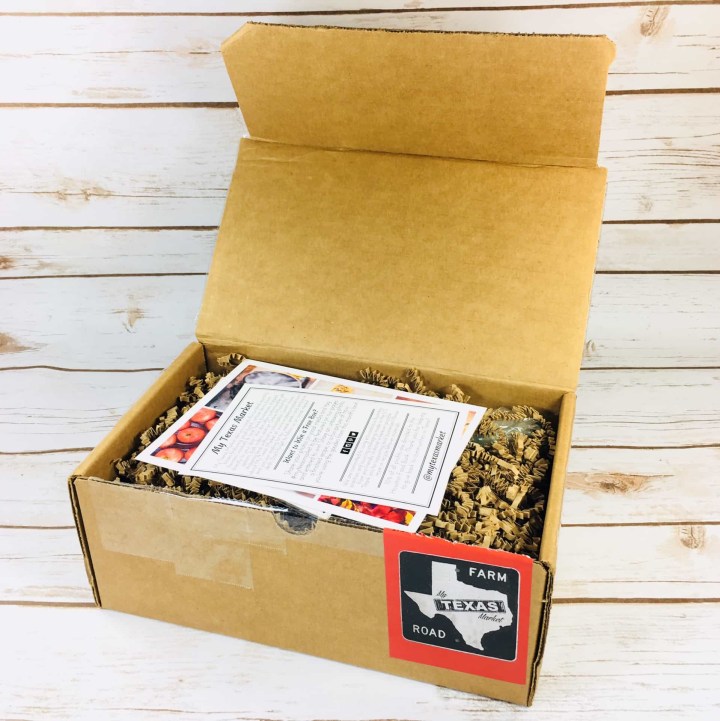 DEAL: Save 10% on your first box! Use coupon code 10FIRST.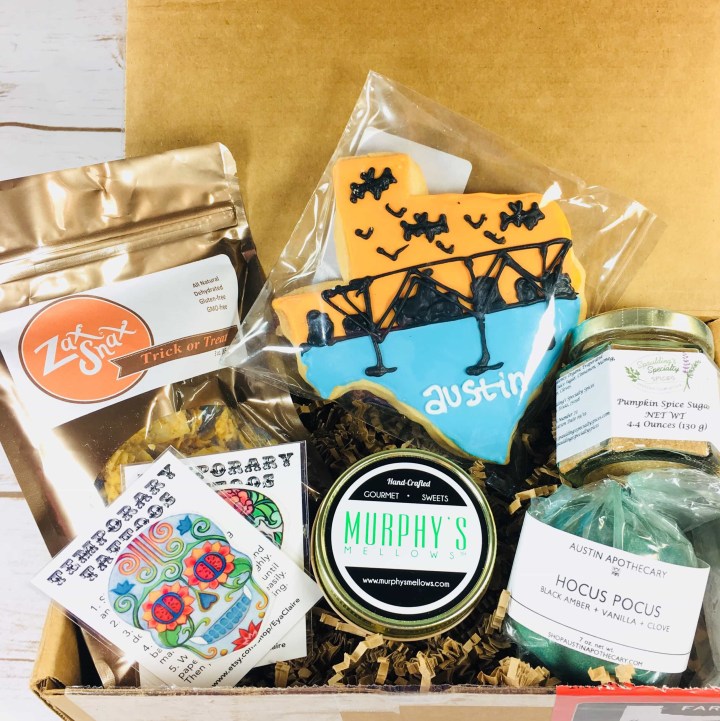 My items were snuggled in shredded brown paper and the glass items were wrapped in bubble wrap for safety.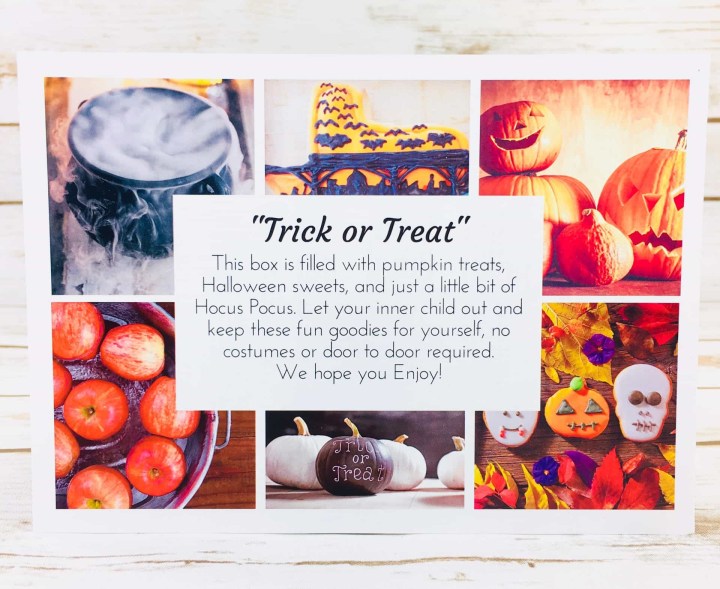 October's theme was Trick or Treat! The items all looked frightfully good!
The back of the card gave some info on the suppliers and products.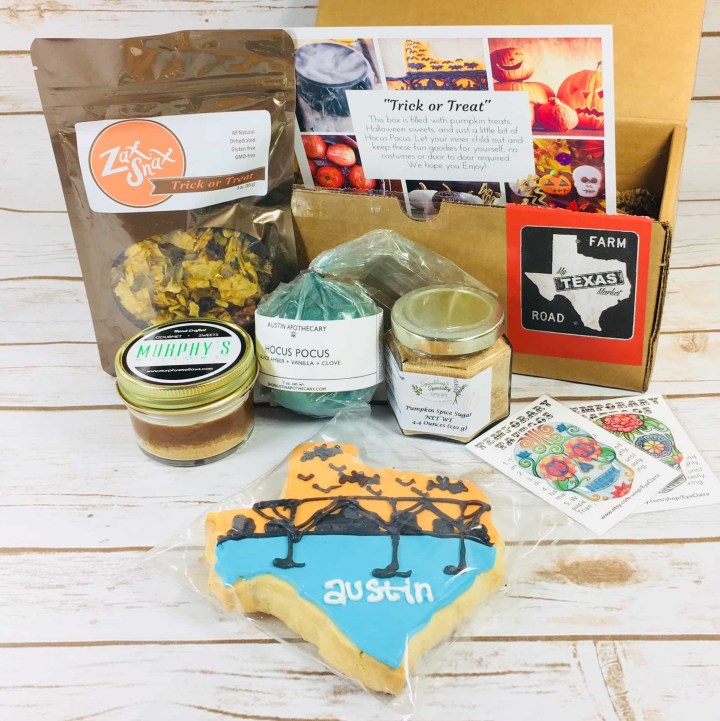 Everything in my box! I love how My Texas Market sources small batch, artisan goods from farmers' markets and local Texas businesses each month and gives 10% of their profits to the Houston Food Bank!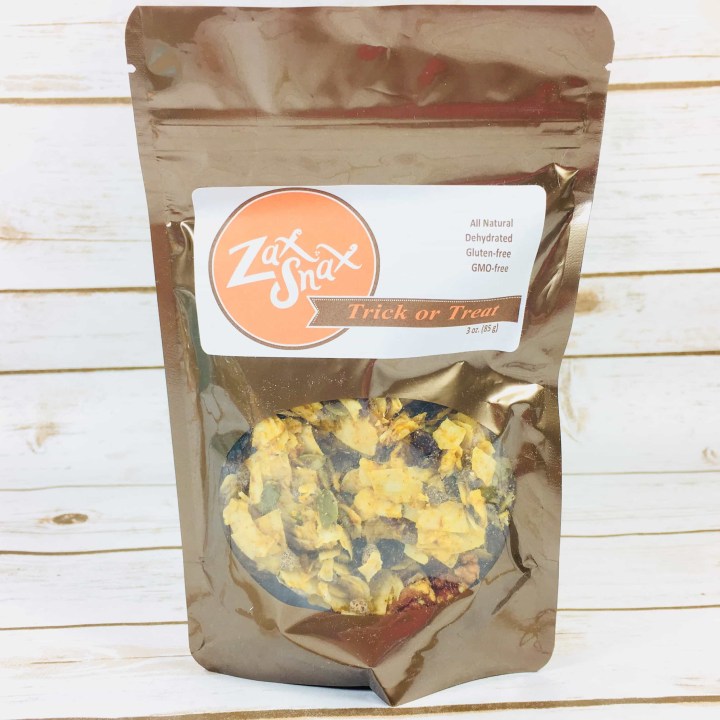 Zax Snax makes delicious snacks out of Tomball and Trick or Treat is one of the best I have ever tried!
Coconut chips, pecans, raisins, pumpkin seeds, and chocolate chips are dusted with cinnamon, sea salt, and nutmeg for a tasty combination that is just amazing.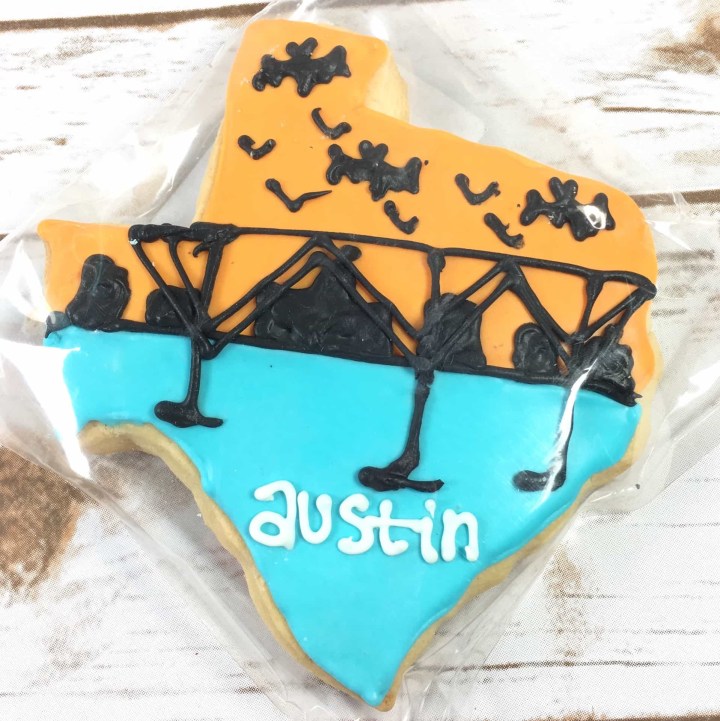 Baked by Amy's is an offshoot of the wildly popular and immensely delicious Amy's Ice Cream, who has several locations here in Austin as well as Houston and San Antonio. Our Girl Scout Troop even visited their factory! This Giant Shortbread Cookie features Austin's most popular winged creatures, Mexican Free-Tailed bats, flying out from under the Congress Street Bridge over Lady Bird Lake. Every evening near dusk crowds of people gather under the bridge to watch the bats emerge to eat their nightly fill of bugs. We've done this several times, and if you ever give it a try remember two things: it's stinky under the bridge, and bats poop while flying.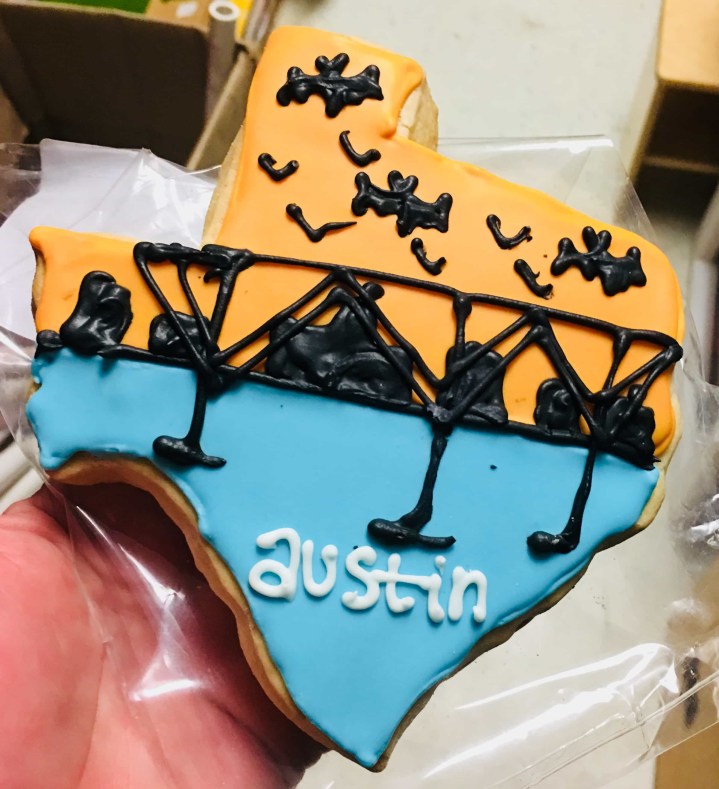 I shared this with my coworkers. We all agreed it was a piece of art and being Austinites we loved how beautiful it was. It tasted pretty good too!
I received a whole jar of Spaulding's Specialty Spices Pumpkin Spice Sugar. Evaporated cane juice sugar, organic cinnamon, nutmeg, ginger, and cloves give this a heavenly seasonal scent.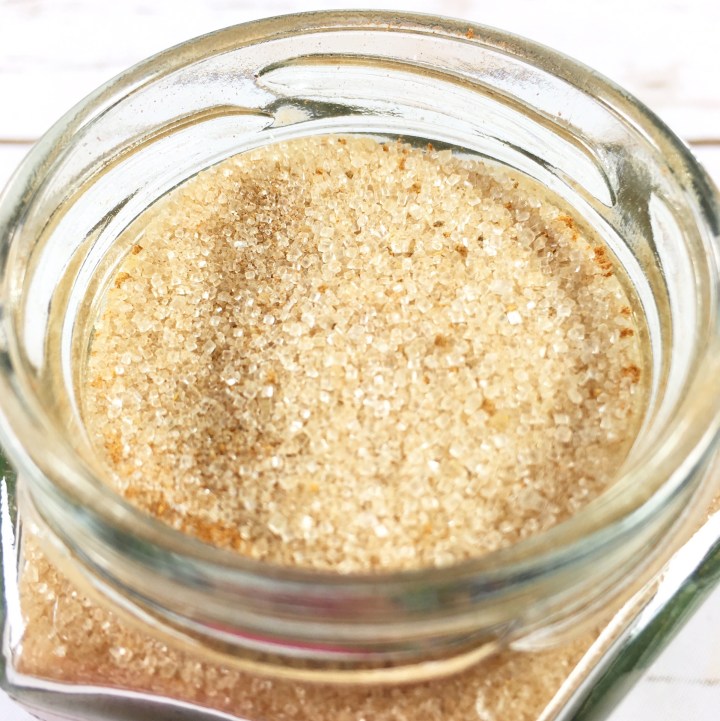 I used this spiced sugar to make cinnamon toast, but you can add it to coffee, tea, sprinkle on baked goods, top French toast, roll snickerdoodles in it, or whatever you can think of. From Dallas.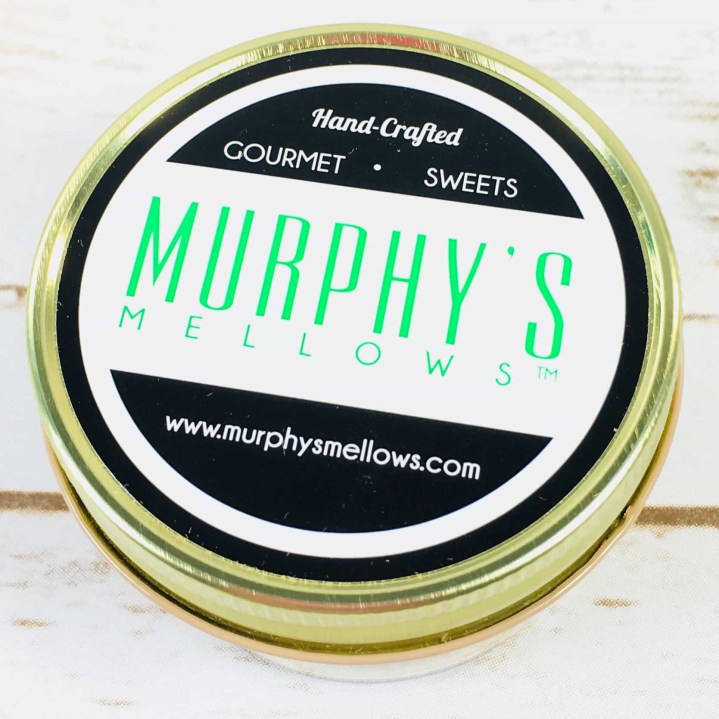 I'm really excited about this next one because it was made right here in Pflugerville, a suburb just north of Austin and my hometown for the past decade or two! Murphy's Mellows sent S'mores in a Jar in Caramel Apple flavor.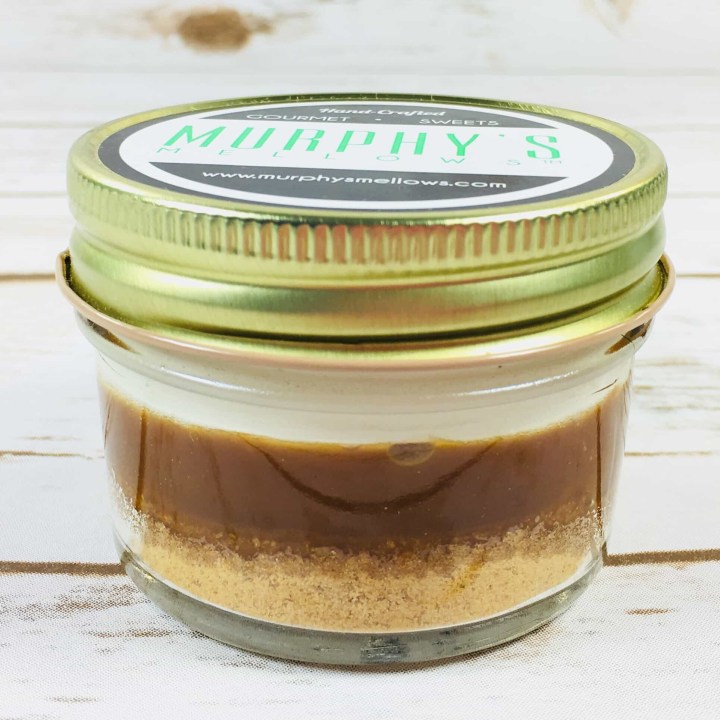 Graham cracker crumbs are on the bottom, followed by small batch caramel and apple marshmallow. Just heat for 8 seconds (remove lid first!) before digging in. The marshmallow was a little overwhelming, but then I don't really eat them anyways. The caramel, on the other hand, is the best I have ever tried. If they aren't currently selling it by the gallon, they should.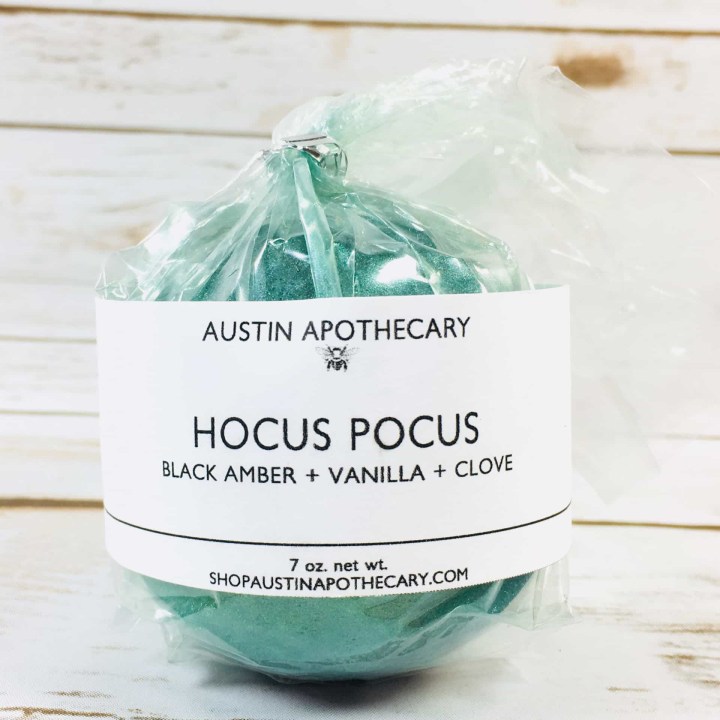 Austin Apothecary is an Etsy vendor who sells small batch organic skin care. I found several bath bombs but Hocus Pocus Bath Bomb isn't on their current list.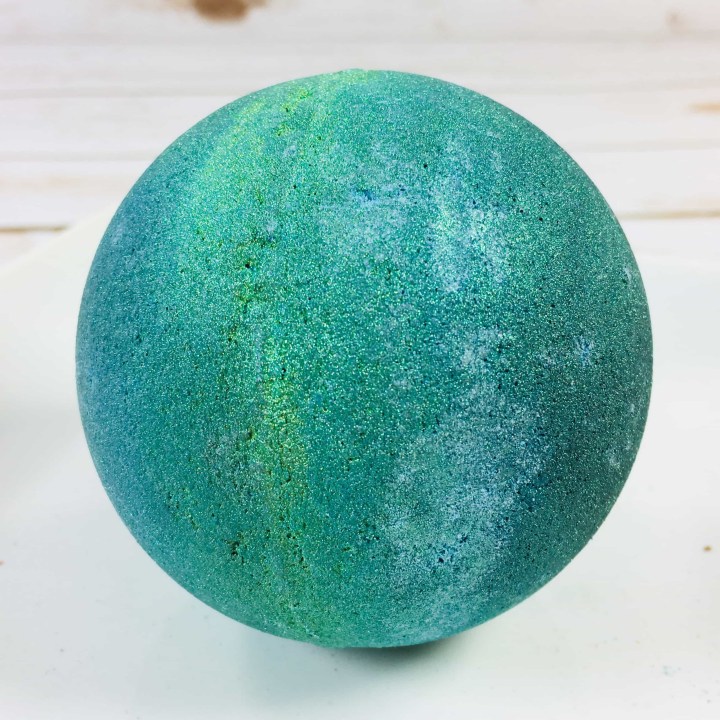 What a whopper! The scent is described as black amber, vanilla, and clove and it smells warm and a touch spicy.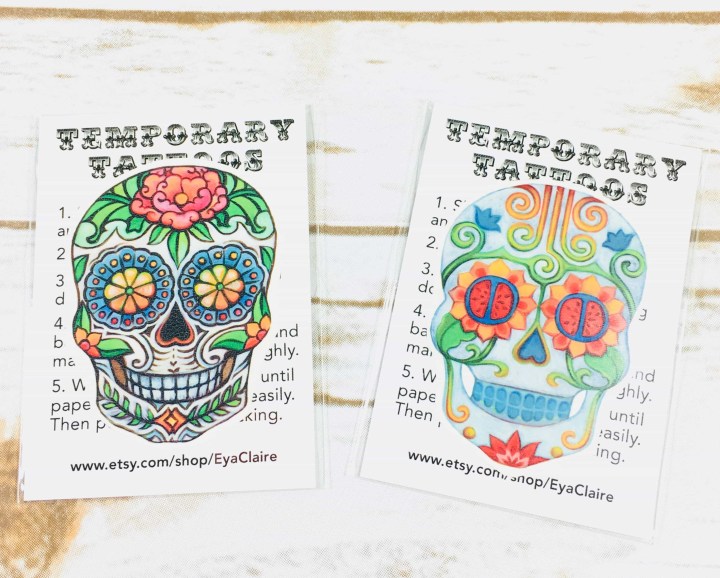 Art by Eya Claire Day of the Dead Temporary Tattoos were very colorful and totally cool for an October subscription box. I passed them along to a friend, since this day has special meaning to her. From Austin.
I always enjoy the products from My Texas Market. Yes, I live in Texas so I may be partial to our state's marvelous makers but these products really are fantastic, well-made, and, in the case of food, tasty. The October theme was perfect and the items matched the theme brilliantly. I'm always excited when I come across some of these vendors at the farmers market and love to tell them how I tried their product in my box. If you like to get products from some amazing producers or just want a little taste of Texas then give My Texas Market a try!
Have you tried My Texas Market? What did you think of this month's selections?