Tea Box Express is a monthly subscription box containing a brand-name, whole-leaf tea (either loose leaf or in a pyramid bag) plus 3-4 other tea related items, which may include infusers, measuring spoons, or food items like chocolate or cookies. It costs $25.50 for a monthly box, plus $6.49 for shipping. They offer 1, 3, or 6-month terms and each will automatically renew until canceled (or choose the gift option, which doesn't renew).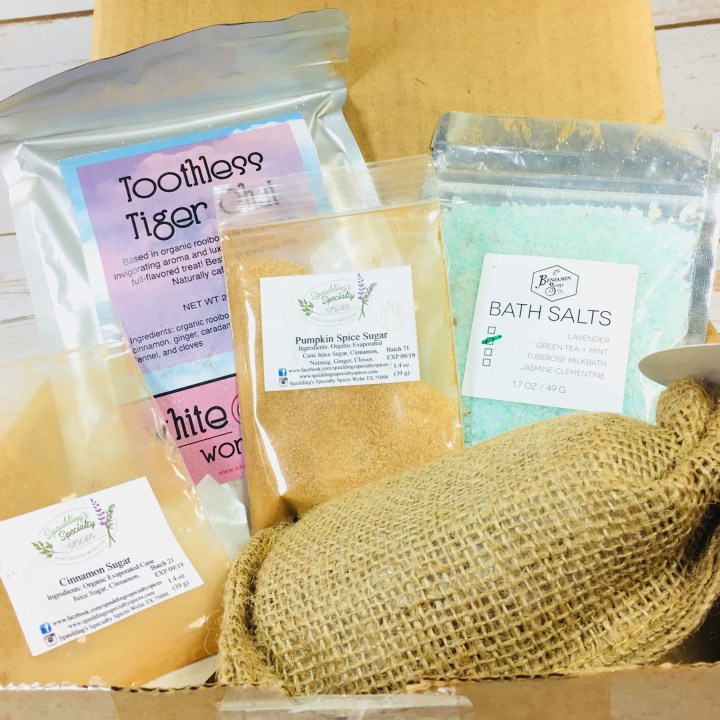 DEAL: Save 20% on your first monthly box! Use coupon code  HELLO20.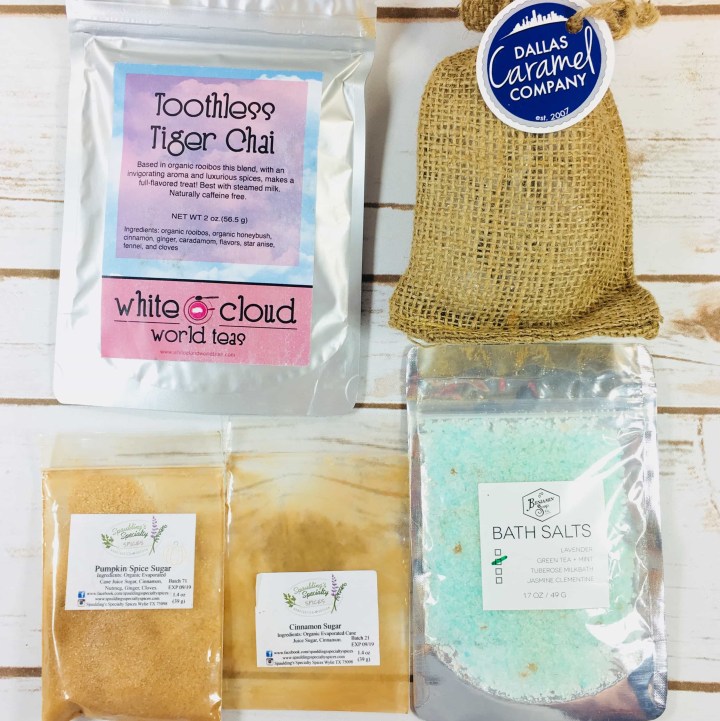 Everything in my box! I recognized each and every one of these brands this month since they are all from Texas! Tea Box Express featured all-Texan vendors for the October box and donated profits to the Rebuild Texas Fund for Hurricane Harvey Relief. As a Texan, I just want to say thank you to Tea Box Express for donating to this worthy cause, and for sending some awesome products from my state!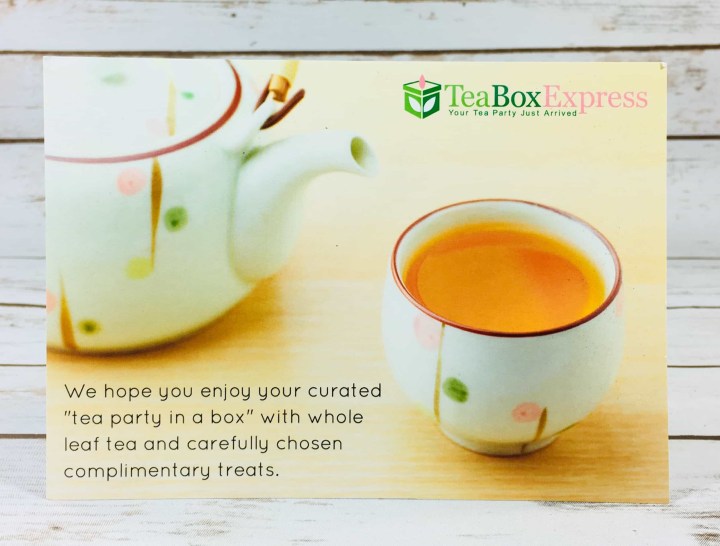 I received a card…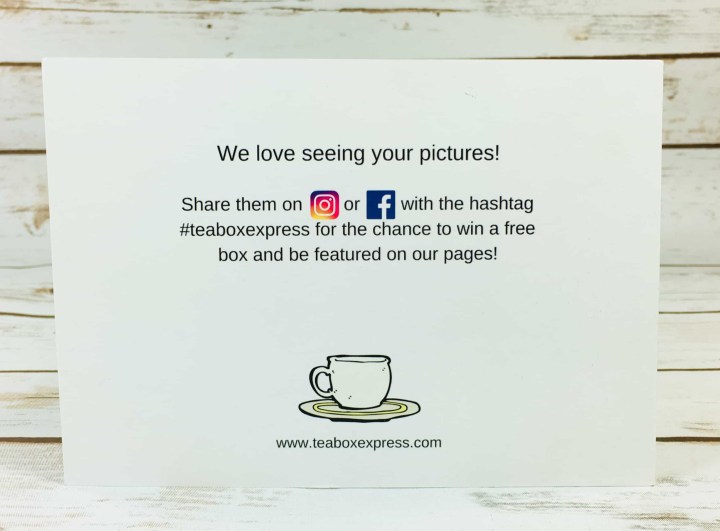 …with info on how to share your box photos on social media and possibly win a free box!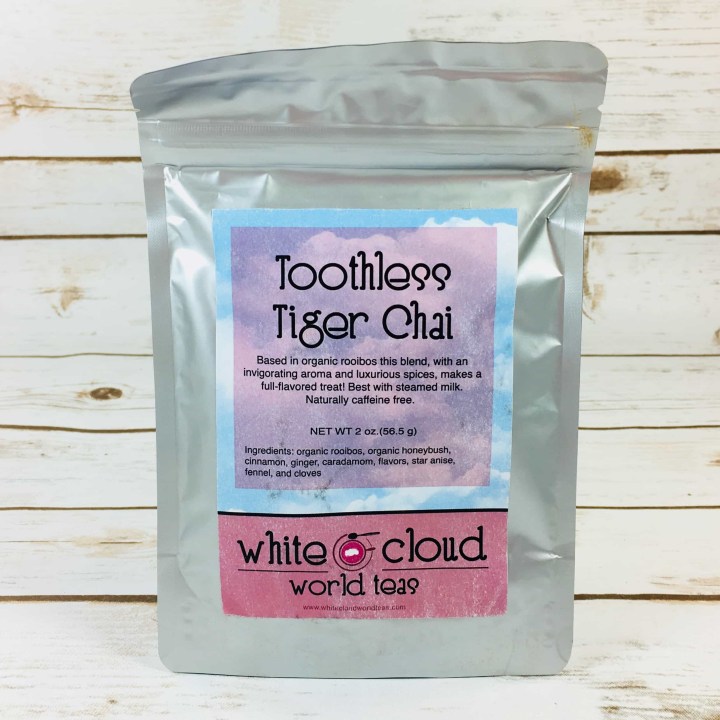 Toothless Tiger Chai by White Cloud World Teas is an herbal blend that uses rooibos as its base. Honeybush (a cousin of rooibos), cinnamon, ginger, cardamom, and other herbs and spices round out this mix.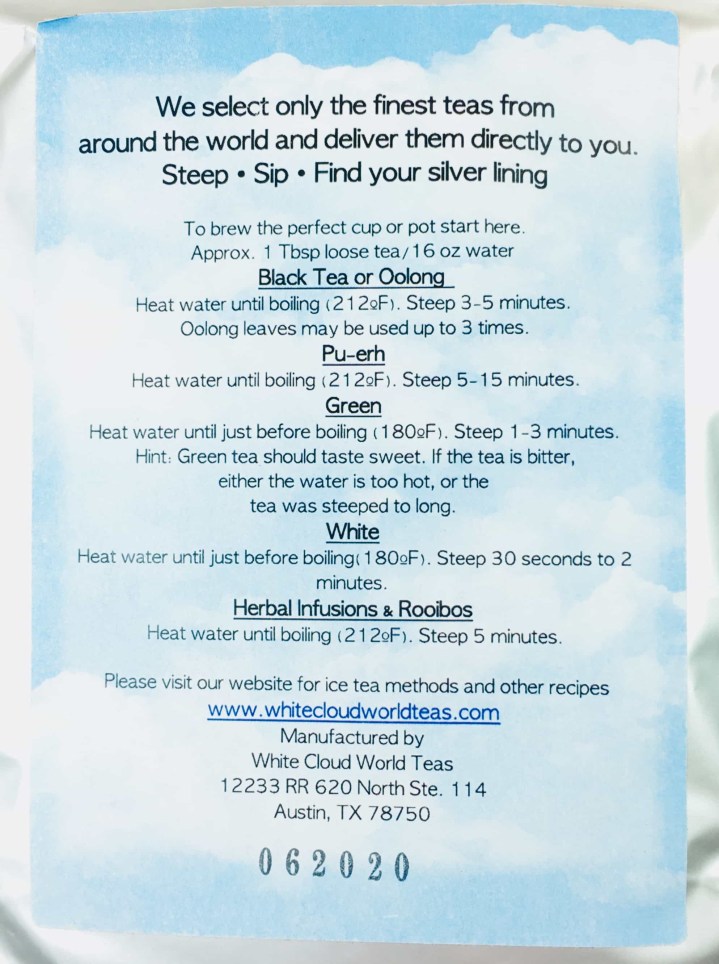 The back of the bag gave steeping instructions, which is helpful.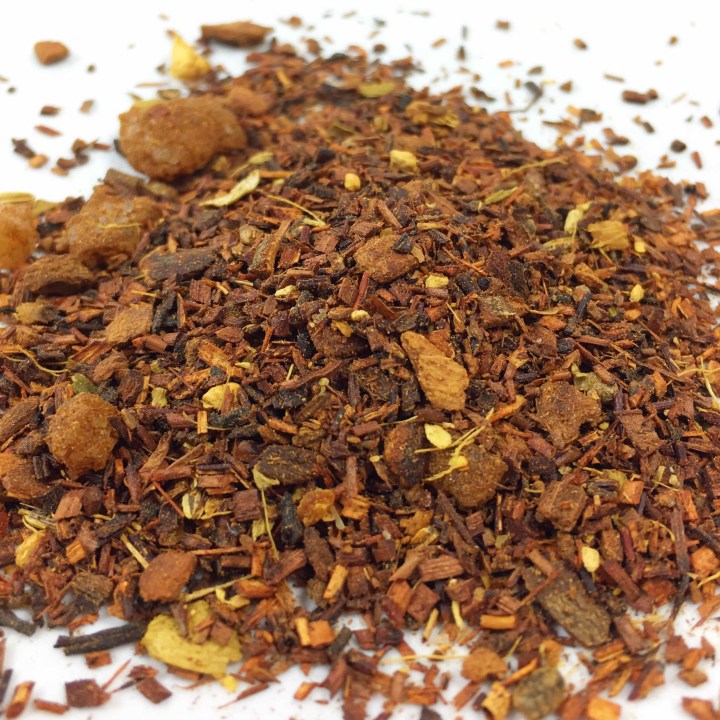 Look at the fall-like colors! It also smells really good. You can steep this as an herbal tea or simmer with the milk of your choice to make a more traditional, yet caffeine-free, chai latte. My daughter prefers her lattes iced, but on colder days hot is the way to go. From Austin.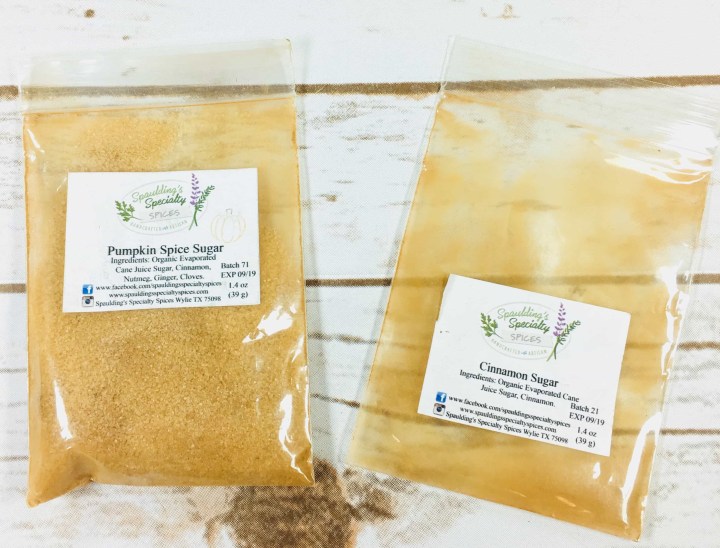 I received two packs of spiced sugars from Spaulding's Specialty Spices. Pumpkin Spice Sugar is made with organic cane sugar, cinnamon, nutmeg, ginger, and cloves and is wonderful on cinnamon toast. Sprinkle on French toast, in hot coffee, or roll your snickerdoodles in it before baking. Cinnamon Sugar somehow disappeared before it made it to my mailbox and left a dusting of cinnamon on all of my products. Use it in the same way as mentioned above, although since I've tried fancy spiced cinnamon toast I doubt I will ever go back to the old way. From Dallas.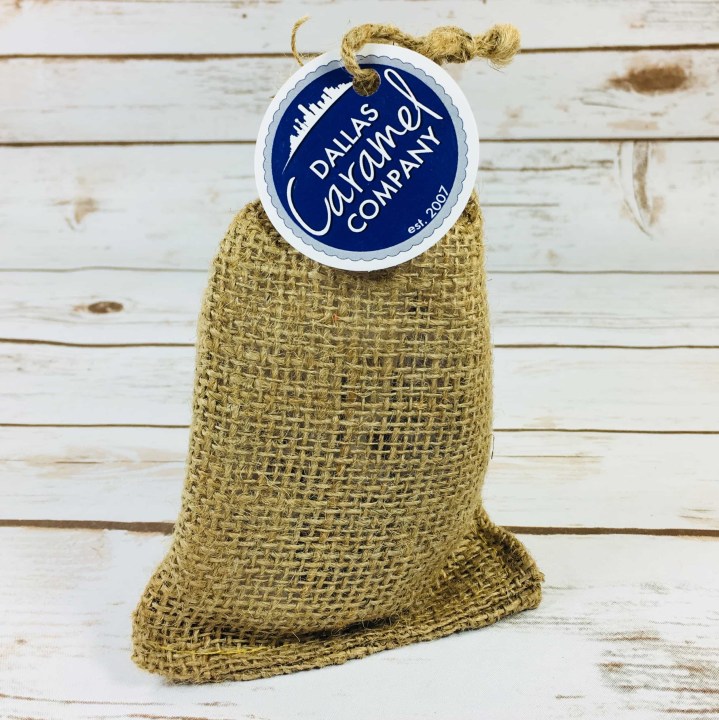 Dallas Caramel Company Fall Caramels came with a variety of flavors to celebrate autumn. (PS – if you can't get enough of these caramels, join their caramel-of-the-month subscription service!)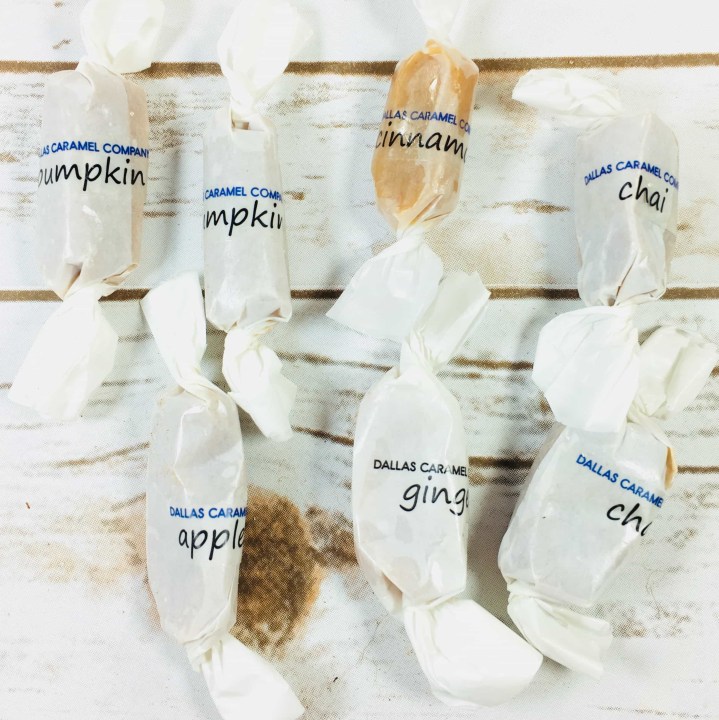 I found 7 individually wrapped caramels, including Chai, Apple Pie, Ginger, Cinnamon, and Pumpkin. These are some of the best caramels I have ever encountered! If you think they're pretty good, then check out their Texas Drunken Nut, they are out of this world! From Dallas.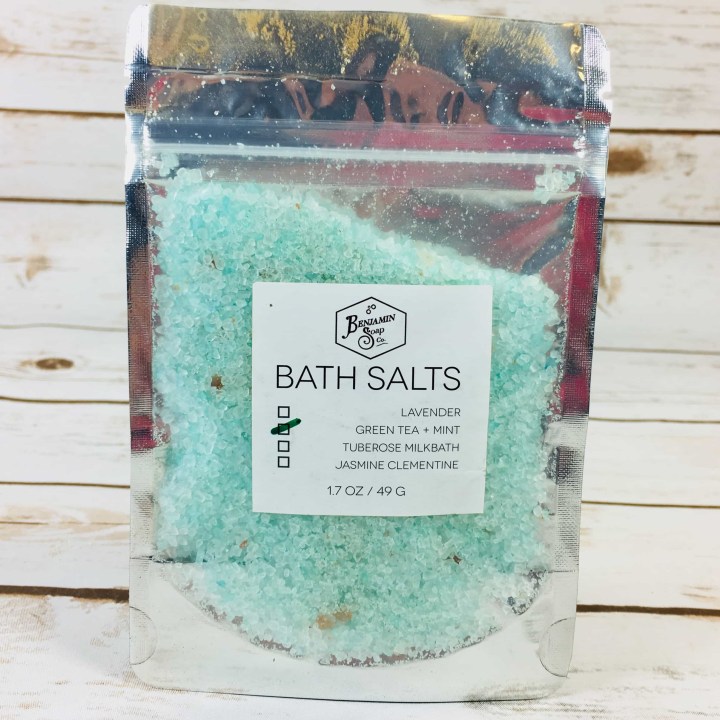 Benjamin Soap Co. Green Tea & Mint Bath Salts are made here in Austin and this scent is amazing, but then I'm partial to all things mint!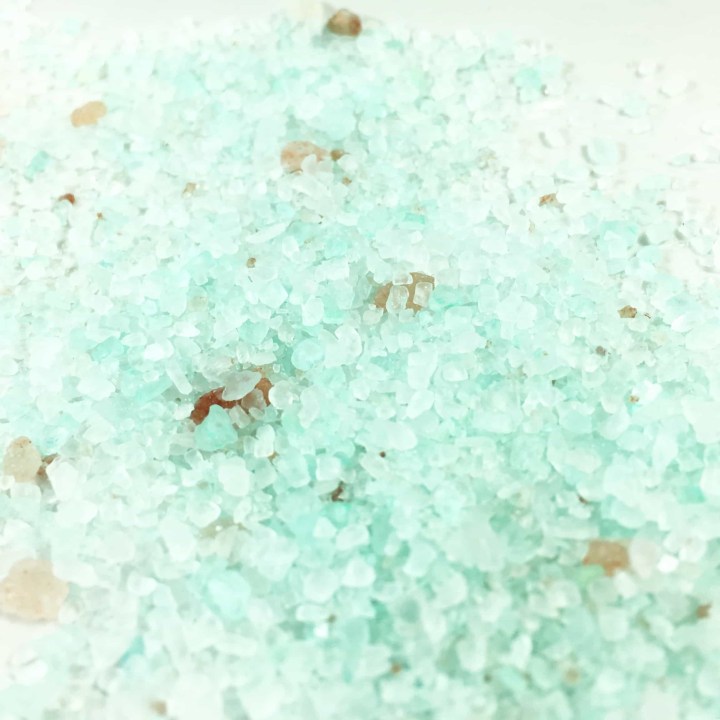 A blend of sea, Epsom, and pink Himalayan salts are combined with essential oils, matcha green tea, and organic peppermint leaves for a peppy fragrance that will WAKE.YOU.UP!!! I haven't even used them yet, I just take a big sniff when I need a pick-me-up and have it sitting on my desk at all times.
According to Tea Box Express' Instagram account, a fifth item, cookies from Kellie's Baking Co., should have been in the box. Maybe there was a problem at packing, which caused an item to go missing and another to be destroyed, I'm not sure.
Thank you so much Tea Box Express for helping Texans recover from Hurricane Harvey! I LOVED finding familiar and beloved brands in my box, and enjoyed the seasonal items as well as the awesome minty bath salts. Tea Box Express consistently features cute items and tasty treats, plus, TEA! This box impresses me with its curation and top-notch items and I look forward to enjoying my tea party in a box every month!
What do you think of Tea Box Express?