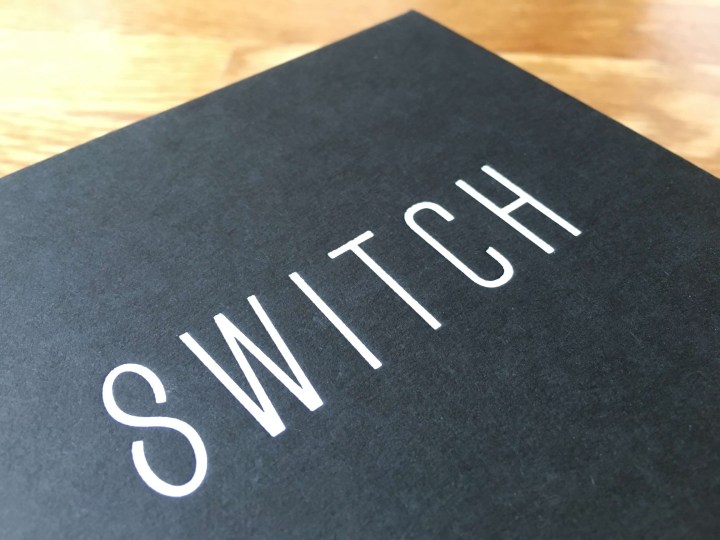 Switch is a jewelry subscription that lets you rent designer jewelry starting at $29 a month. You can wear the pieces for as long as you like, or switch them out for new piece(s) whenever you want. Shipping is always free. The jewelry, which includes pieces by Hermes, Alexander McQueen, and Celine, among others, averages $500, and includes necklaces, bracelets, and earrings. Jewelry is cleaned between wearers.
I have always admired fun statement jewelry on other women, but I can never bring myself to commit to a piece. Who wants to spend $500 on a piece of jewelry that you may wear only a few times before it goes out of fashion? But who wouldn't like having an amazing new piece whenever you go out? Not being an heiress or a tech entrepreneur, and having a firm frugality-is-golden Midwestern upbringing, I figured this kind of jewelry was out of reach for me. Enter Switch, which lets you have fun without the commitment. It's like internet dating for jewelry!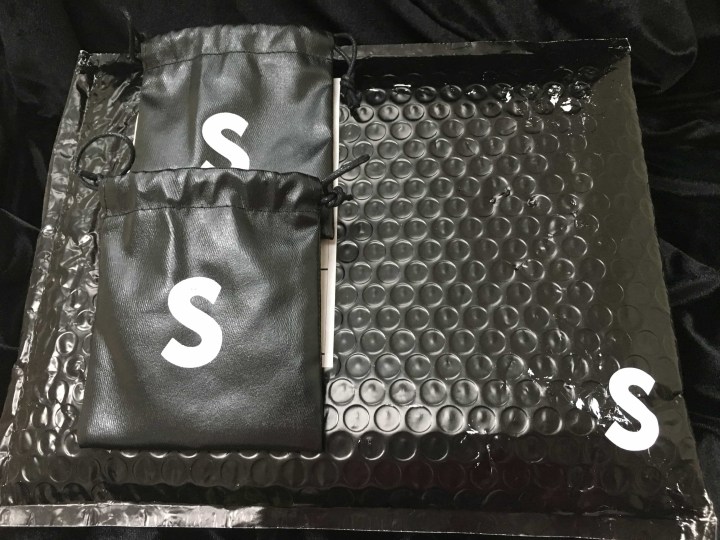 Sign-up is simple. You look through the collection and pick the pieces you like. The redesign of the website makes it easy to know which pieces are available. So, just like you're shopping, you pick what you want, put them in your bag, and check out. Shipping is free both ways. Wear it as long as you like, and send it back when you're ready for something new. I have the Black plan, which allows me to have three (!!!) pieces at any one time for $69 a month.
My jewelry came in the mail in just a couple of days. Switch recently redesigned its packaging, and it's all new and Switch-branded. Don't forget to save that black shipping envelope, though — you'll need it to send the jewelry back.
DEAL: Get half off your first month on any plan. Use coupon code HELLOHALF.
Switch is always changing up its inventory, so there's always something new and fun to select. This month, I went super-trandy with the Christian Dior Neon Lucite Bracelet ($250 retail value), the Coline Assade Detatchable Leaves Earrings ($622 retail value), and the Vanessa Mooney Mademoiselle Gold Knotted Tassel Necklace ($122 retail value).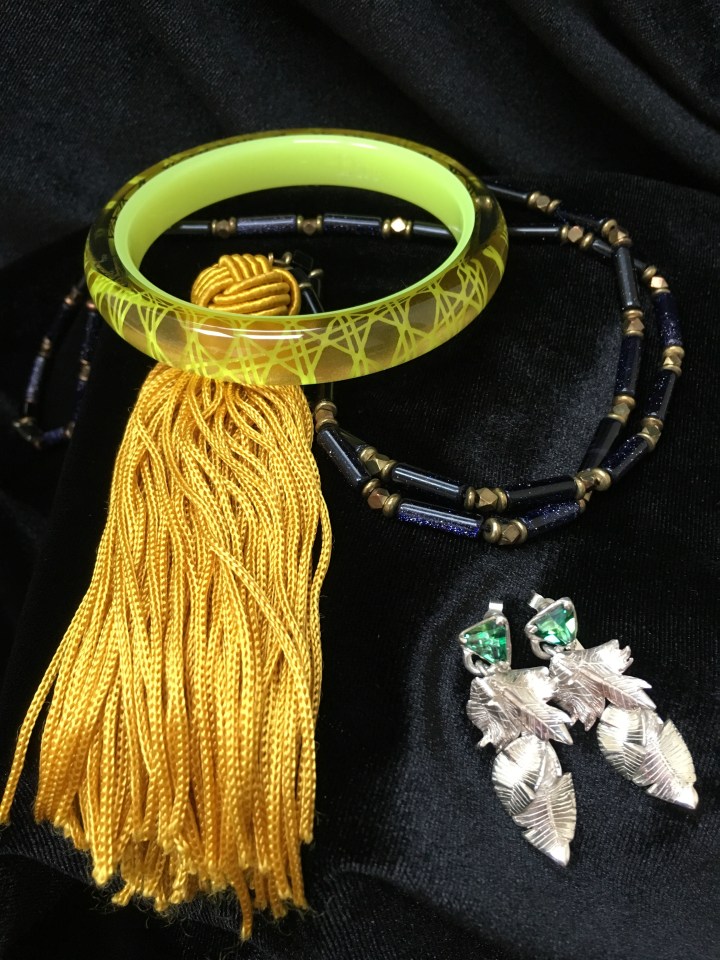 First up was the Christian Dior Neon Lucite Bracelet ($250 retail value).
This fun pop of color is an 8″ yellow bangle bracelet with a metallic stripe inlay.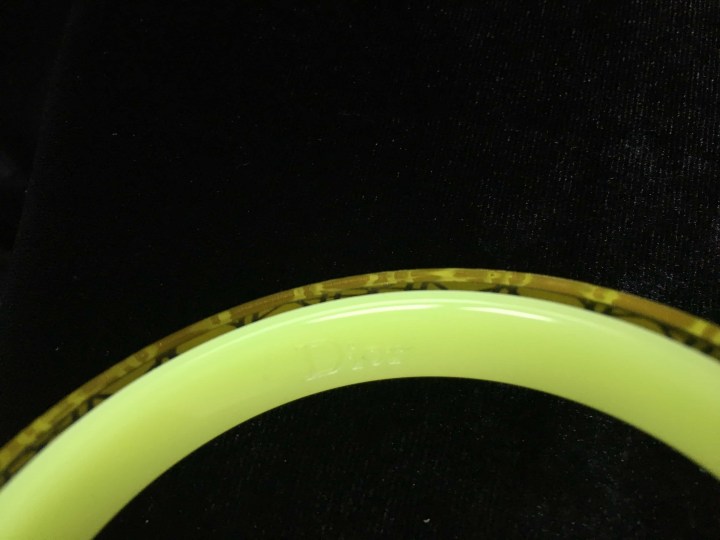 You can see the Dior logo on the underside of the bracelet. The yellow is so vivid it practically glows. The lucite is smooth and doesn't catch on your skin or sleeves.
I really liked this bracelet! It's modern and bright, but simple in design. It would be fun peeking out from under a blazer, or as a statement punch of color with jeans and a black tee. I thought it might look too green against my light skin tone, but it was fine. It would look great with darker skin tones.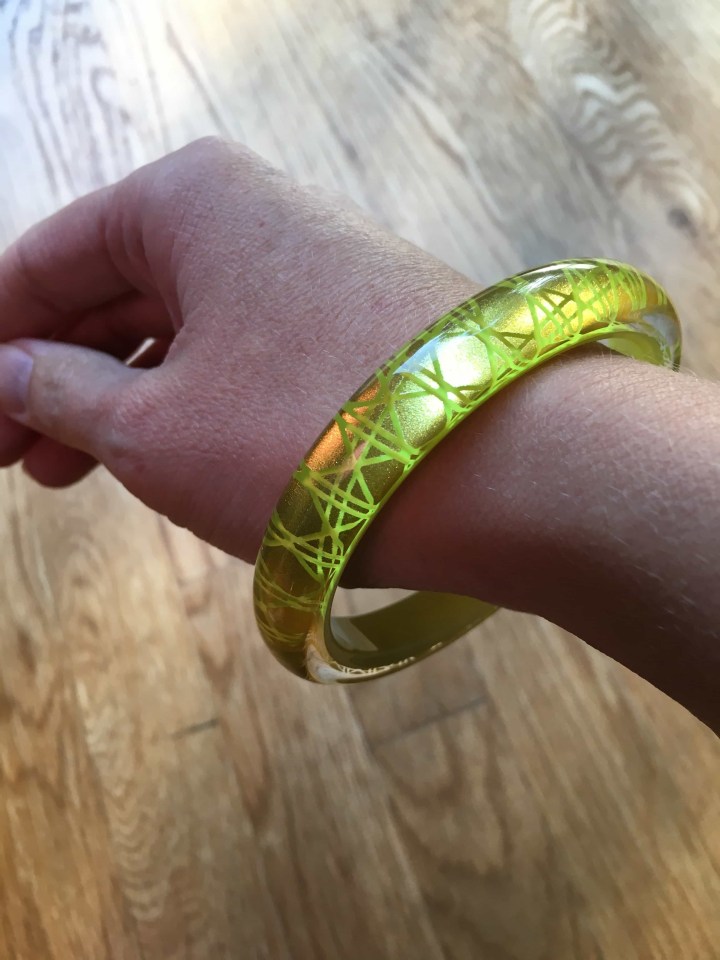 Next up is the Coline Assade Detatchable Leaves Earrings ($622 retail value).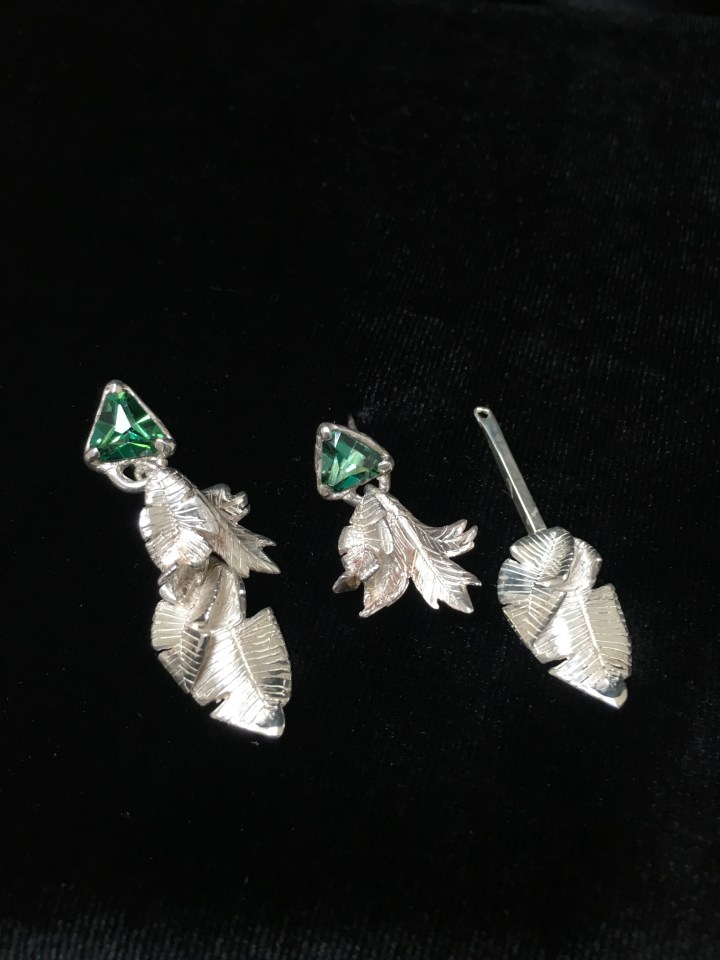 These earrings, one of Switch's newest pieces, are sterling silver and green topaz. The leaf motif is pretty, with a fun three-dimensionality of design and texture. The faceted green topaz triangles are bright and complement the design. The bottom "leaf" detaches if you want to wear it short, but I preferred the longer length.
In spite of their somewhat industrial design, these earrings are feminine and lighthearted. The leaf design has a little dreamcatcher-like styling to it, so you could wear it to complement or contrast with your outfit. You're probably not going to wear them to the office, but they'd be amazing at a weekend art show or with a cocktail dress.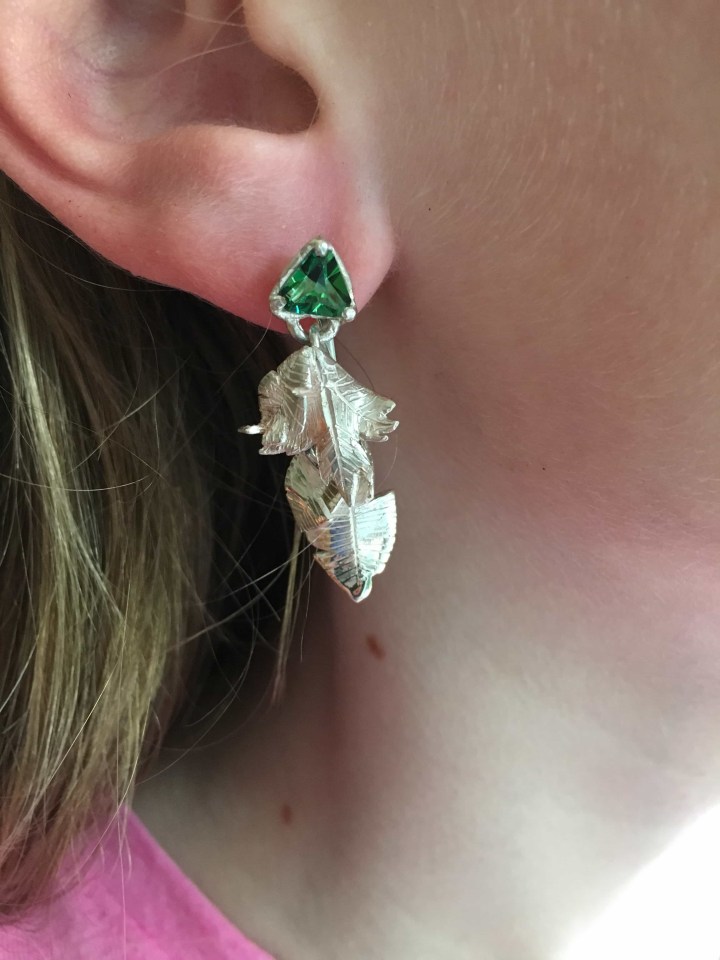 Last up isthe Vanessa Mooney Mademoiselle Gold Knotted Tassel Necklace ($122 retail value).
Tassel necklaces (and earrings, and bracelets) remain very on-trend this fall. Personally, I've always felt like I was wearing a curtain pull with a tassle necklace, but I decided to give this one a spin. The necklace is black and bronzey beads with a mustard-colored knotted tassle at the bottom. The total drop is about 18 inches. You can see the Vanessa Mooney logo on the tag; there is no catch on this necklace.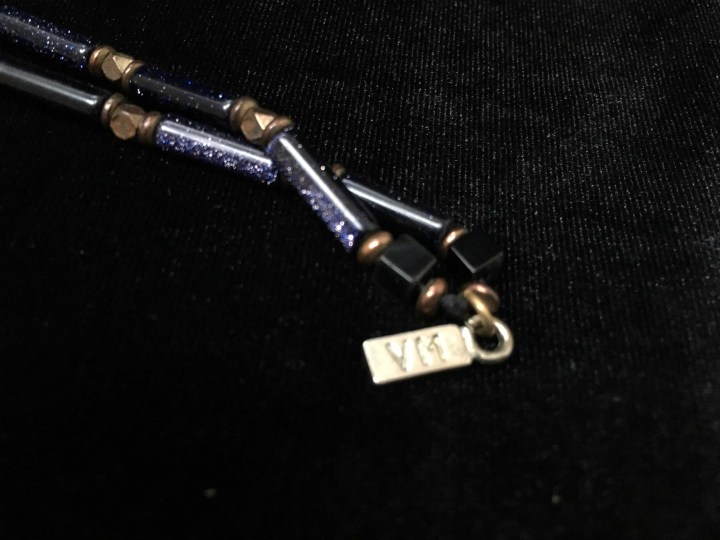 Well, I still felt like a decorative tapestry when I wore this to brunch last week, but I have to say, three other women had similar necklaces, so I was at least in good company. I think this trend is not for me, but that's the nice thing about Switch — back it goes, with no regret.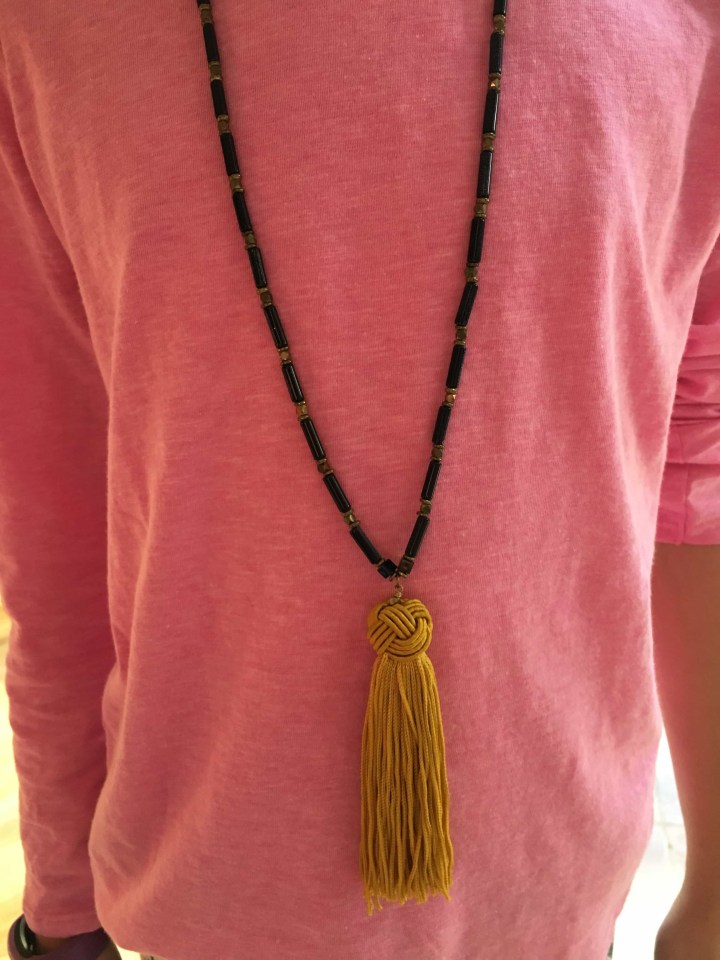 I enjoyed my trendy shipment this month! These pieces were fun to wear, and I'm excited to send them back and get something new. But if I'd fallen in love with something, members get a discounted purchase price to buy the item, which is great. And, each month you're a member, you get $10 toward a purchase. I have my eye on something for sure.
Overall, Switch is a really fun experience. I really like the variety of pieces available. I love the idea that I can go "shopping" for new jewelry anytime I want. Given the retail prices of the pieces (over $900 total in this shipment!), the $29-69/month is very reasonable value. With that money, I can either buy a new piece of jewelry every 1-2 years, or I can have a new piece whenever I want. For this kind of statement jewelry that may have a shelf life of your interest or that of the fashion world's, the economics really do weigh in favor of renting. I can't wait to get my next Switch!
Have you tried Switch? Which piece is next in your queue? Let us know in the comments below!