StitchyBox is a bi-monthly subscription box for counted thread embroiderers and cross-stitchers. There are two options, the Big Picture Box and the Detail-Oriented Box. With both styles, you'll receive a variety of threads from staples like DMC to specialty threads you may not have met yet. Boxes may also include embellishments, stitching accessories and other goodies, with a total value of about $35 per box. They also have a "Just the Threads" subscription.
With the Big Picture Box, you may choose between:
2 Fat 16ths (one 14-16 count Aida, one 28-32 count linen OR evenweave – your choice) OR
1 Fat 8th (Aida, linen or evenweave).
With the Detail-Oriented Box, you may choose between:
2 Fat 16ths (one 32-36 count linen, one 40 count linen) OR
Select 1 Fat 8th (either 32-36 count linen or 40 count linen)
Some updates just for November:
Sign up between now and November 15th for a new StitchyBox shipment subscription (main shipment only – signing up for an add-on does not apply), and you'll receive a free Stitchy Surprise Pack in December.
New Fat Quarter options are now available for US shipping addresses!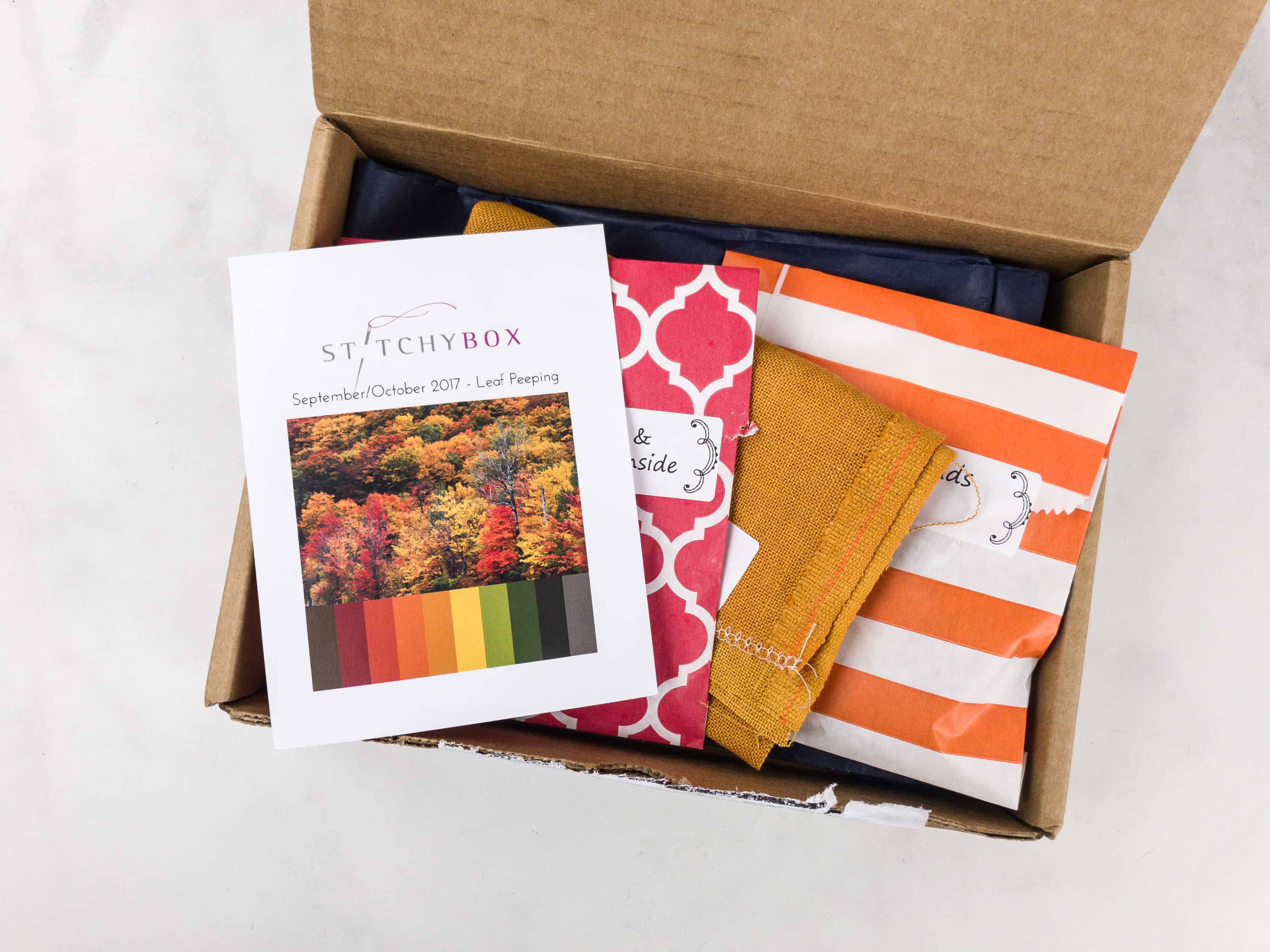 Stitchy Box also offers add-on subscriptions (also available stand-alone): Stitch It Up (XS charts), Bling It Up (bead & crystal), Buttoned Up, and Thread It Up, as well as limited edition chart designs and series.
This month the inspiration was Leaf Peeping. The palettes for 2017 are found in nature.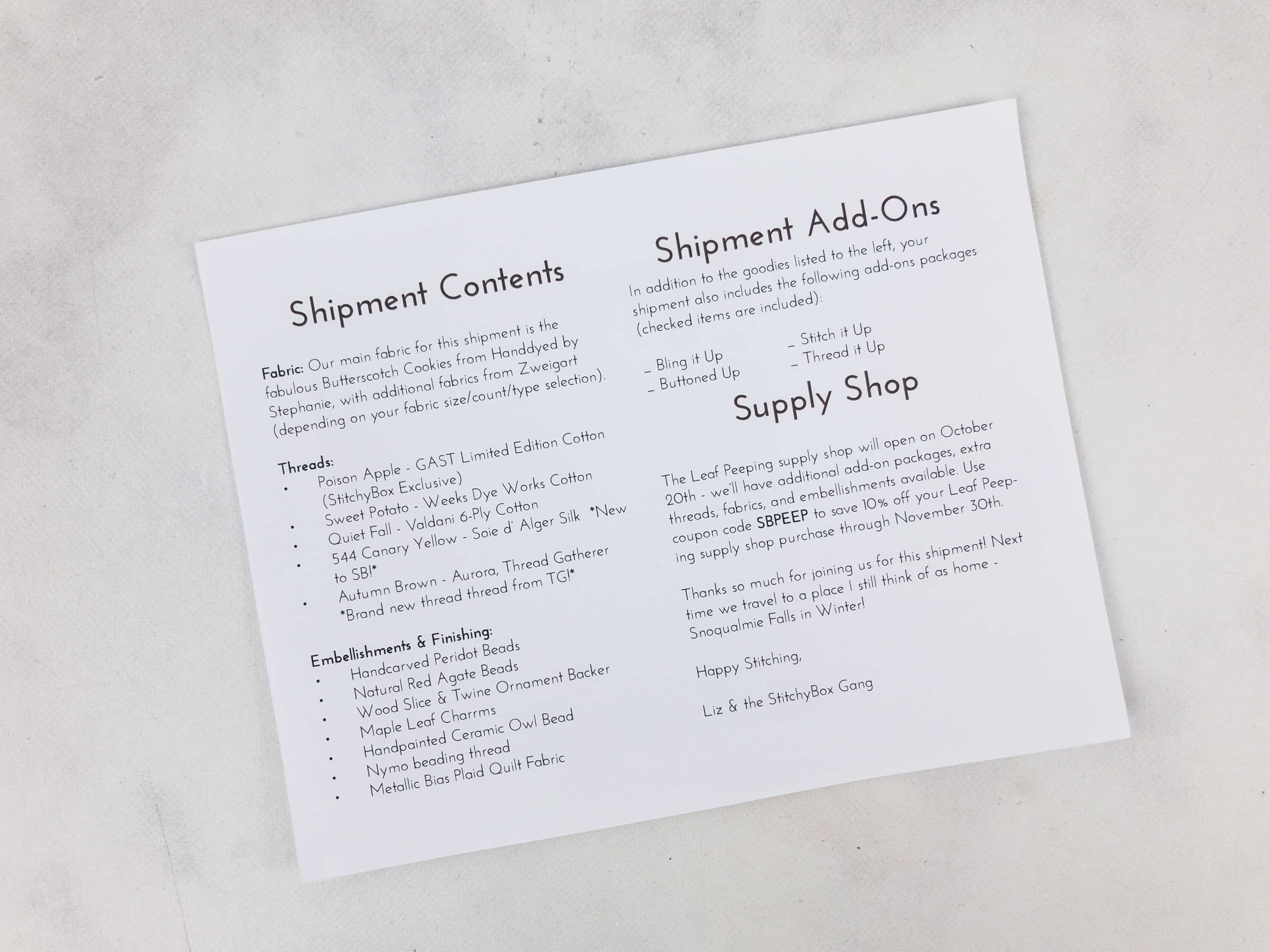 The information card gives a bit of details about each item, plus info about the supply shop (you can buy more of what you love, but usually only for a limited time – supplies are sometimes hand-dyed just for this box).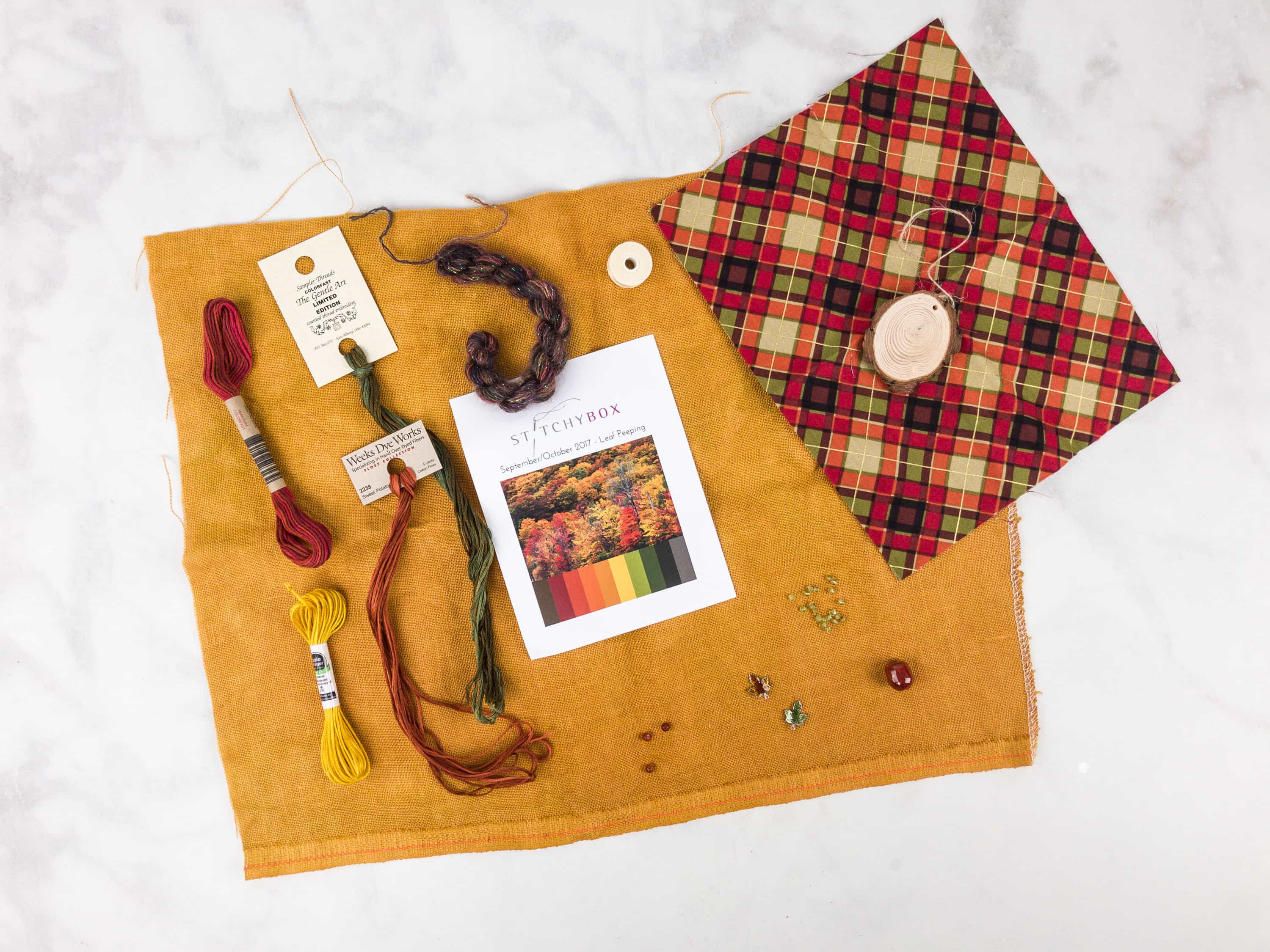 All the goodies this month!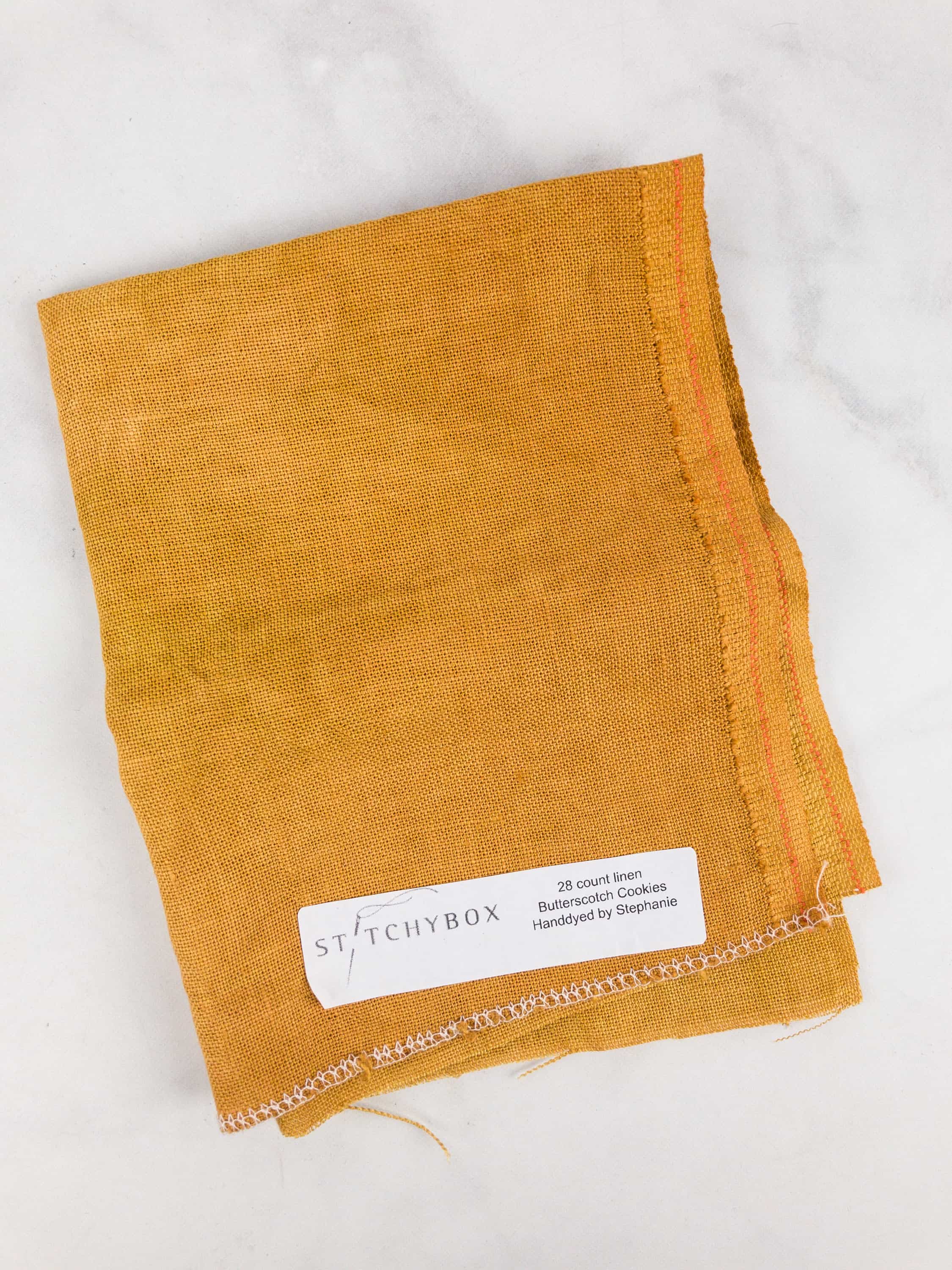 Hand Dyed Fabrics By Stephanie Butterscotch Cookies Fabric This month's main fabric is in dark gold, but as you can see in the photo, it also has an orange tint to it. Delicious!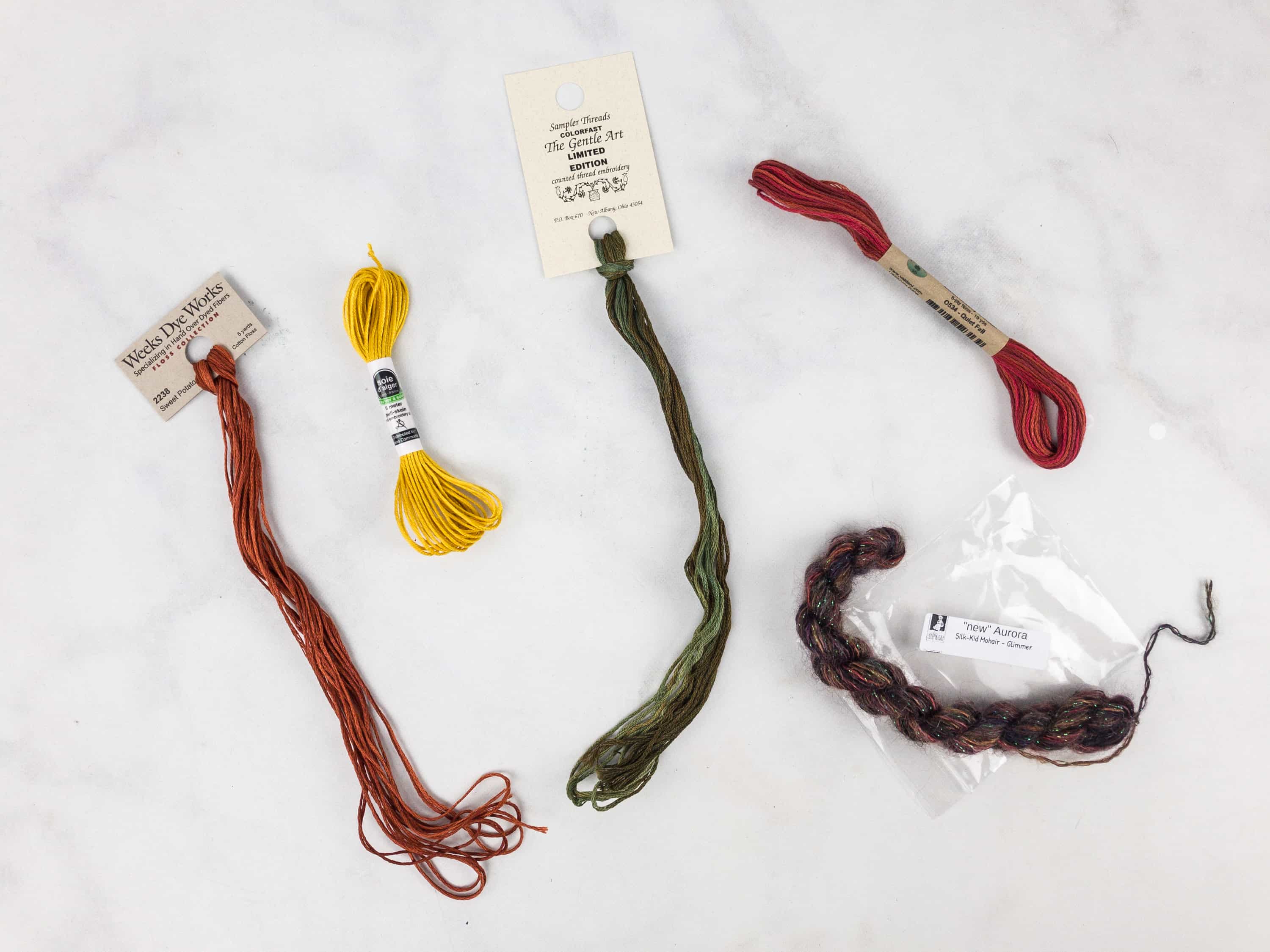 Weeks Dye Works Sweet Potato Cotton Floss ($2.50) Brown with a shade of orange.
Soie d' Alger Canary Yellow Silk Floss. A lovely bright yellow shade!
The Gentle Arts Sample Threads Limited Edition Poison Apple Cotton Floss ($2.40) If you're thinking of the Poison Apple used by the witch in Snow White… nope, it's not red. This limited edition thread is in olive dark green.
Thread Gatherer Autumn Brown Aurora Cotton Thread. This brown and black thread is just perfect for the season with iridescent glints snuggled in mohair.
Valdani Quiet Fall Cotton Floss ($2.99) Another perfect fall shade in reddish brown.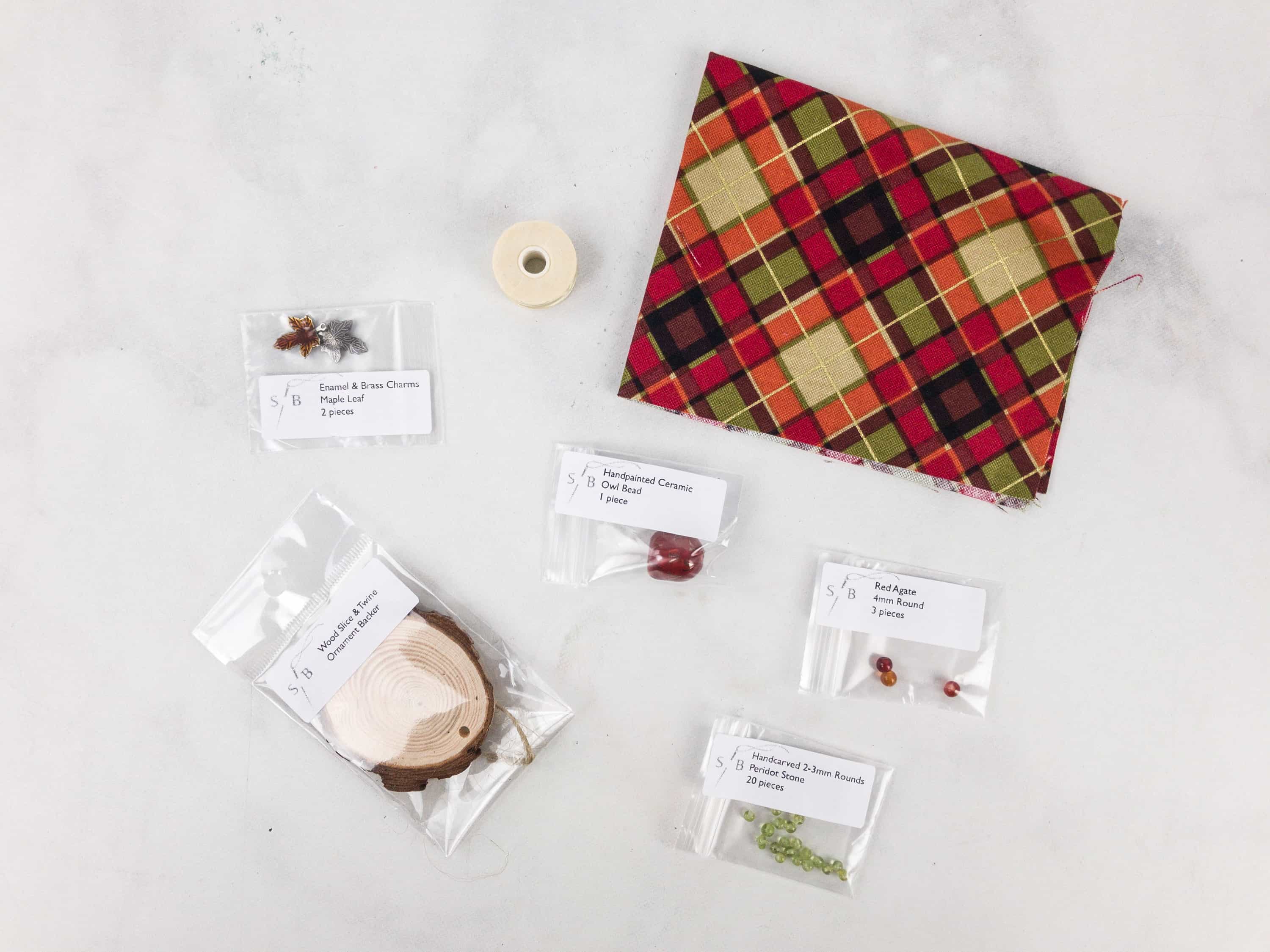 We were also sent a bunch of charms and accessories in this month's box, including Maple Leaf Charms, Nymo Beading Thread, Wood Slice And Twine Ornament Backer,, Metallic Bias Plaid Quilt Fabric, Natural Red Agate Beads, and Handcarved Peridot Beads. I like that they arrived organized in individual plastic pouches. These are all great for fall themes!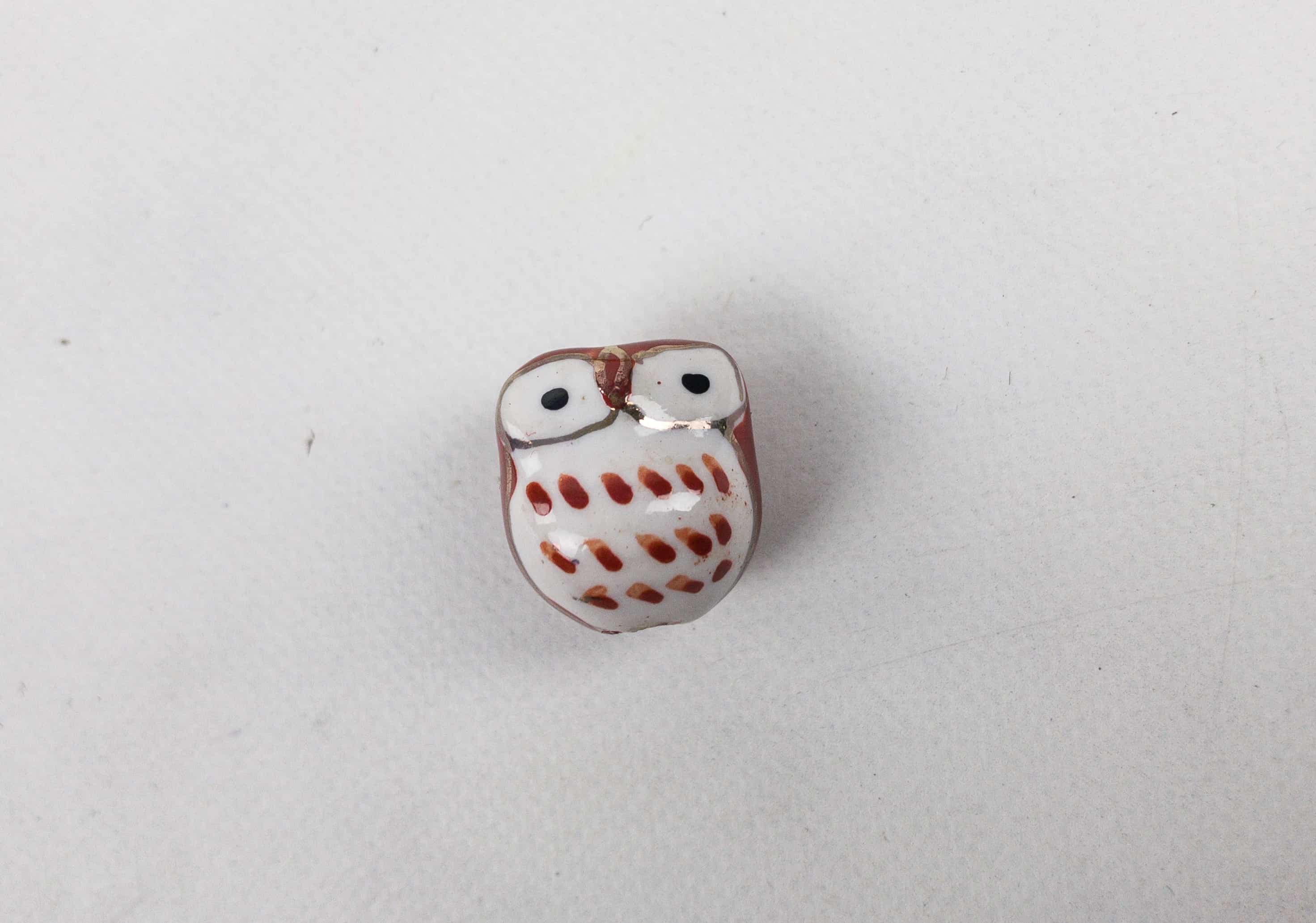 Last but not the least is this Hand Painted Ceramic Owl Bead. So cute!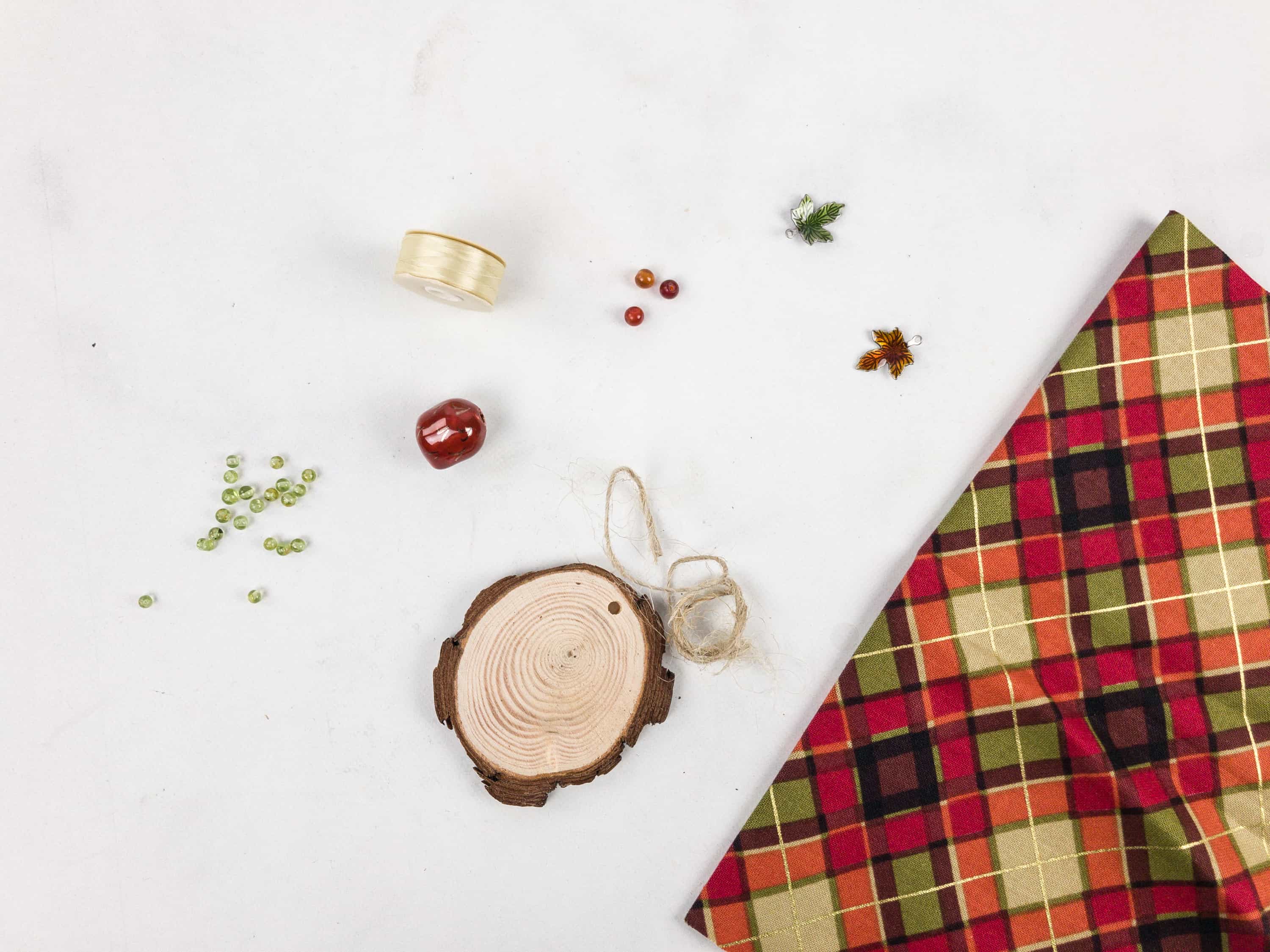 Here they are in all their glory!
I love the colors in this month's shipment! They captured the hues of autumn perfectly through the threads and the accessories. Everything is high-quality and versatile too. We appreciate that these items can be used in various embroidery and crafting purposes, but it would also be nice if they can include at suggested projects in line with the theme. Overall, it's still a great box especially if you're an avid embroiderer and you want a high-quality stash of materials regularly.
What do you think of this month's box?