Squawk Box is a monthly birdie care package of 4-6 bird treats, toys, and more delivered straight to your door. Because parrots, big and small, need a great amount of stimulation to thrive, Squawk Box will deliver a new selection of toys every month. Every crate is carefully curated to keep our feather friends happy and healthy!
The box is available in three sizes: Little Birdie (great for Lovebirds, Parrotlets, Cockatiels, Parakeets, Green Cheek Conure sized), Middle Birdie (great for Quakers, Conures, Senegals, Pionus, Timneh Greys, Caiques, some Mini Macaws & some small cockatoos), and Big Birdie (Macaws, Amazons, Cockatoos, Eclectus, and Congo African Grey sizes). The monthly subscription starts at $24.95 for the Little Birdie to $34.95 for the Big Birdie, with significant discounts for longer subscriptions. Knowing that parrots have a long life ahead of them, and that they will destroy everything around them, the longer subscription is definitely a must!
Also, for each Squawk Box ordered, a percentage goes to parrot rescues. Not only do you provide fun new treats to your own bird, but you help other parrots as well!
This review is for the Little Birdie. My assistant reviewer is Kiwi the lovebird.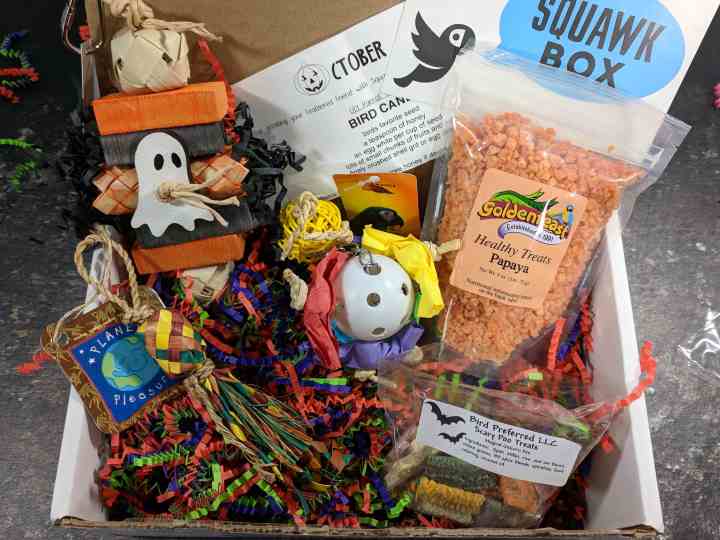 Everything is hiding under layers of Halloween colored paper squiggles, perfectly safe for the bird to play with!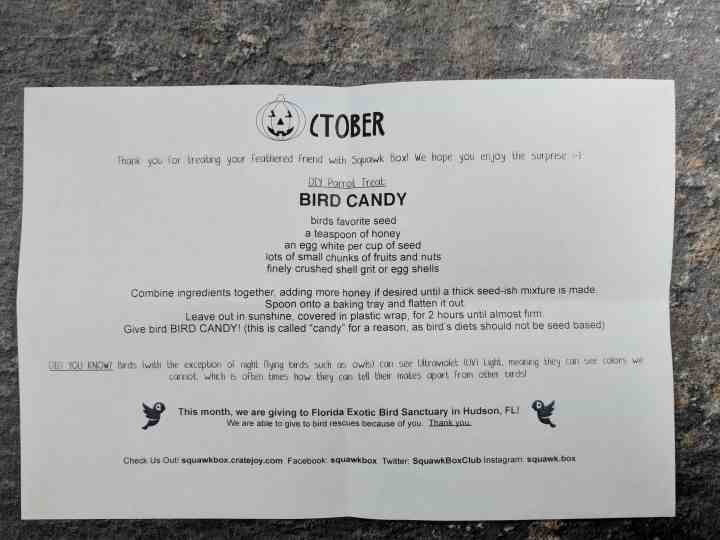 There is no information on the content of the box, but you get a nice DIY Parrot Treat, a Did You Know about how most birds can see Ultraviolet, and the Rescue of the Month. For October, part of the money from the sale of each Squawk Box goes to Florida Bird Sanctuary in Hudson Florida!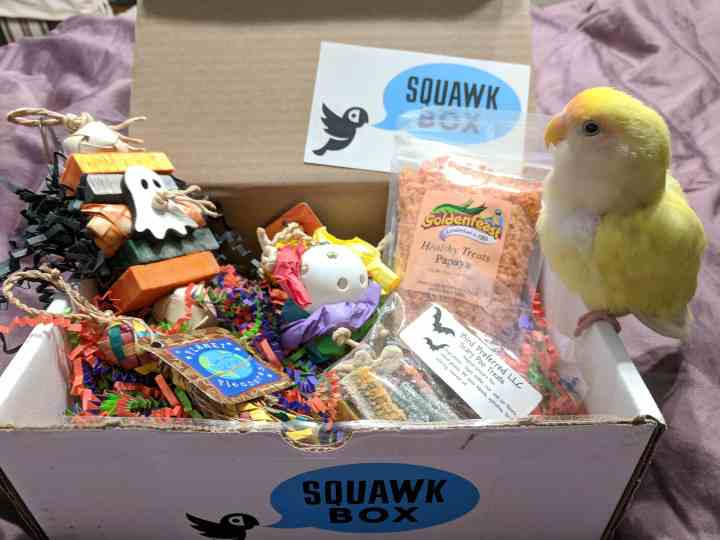 Don't be fooled by her cuteness. She dived in this box in no time, but barely let me take pictures of her with her new toys!
So blurry!
She likes her new toys!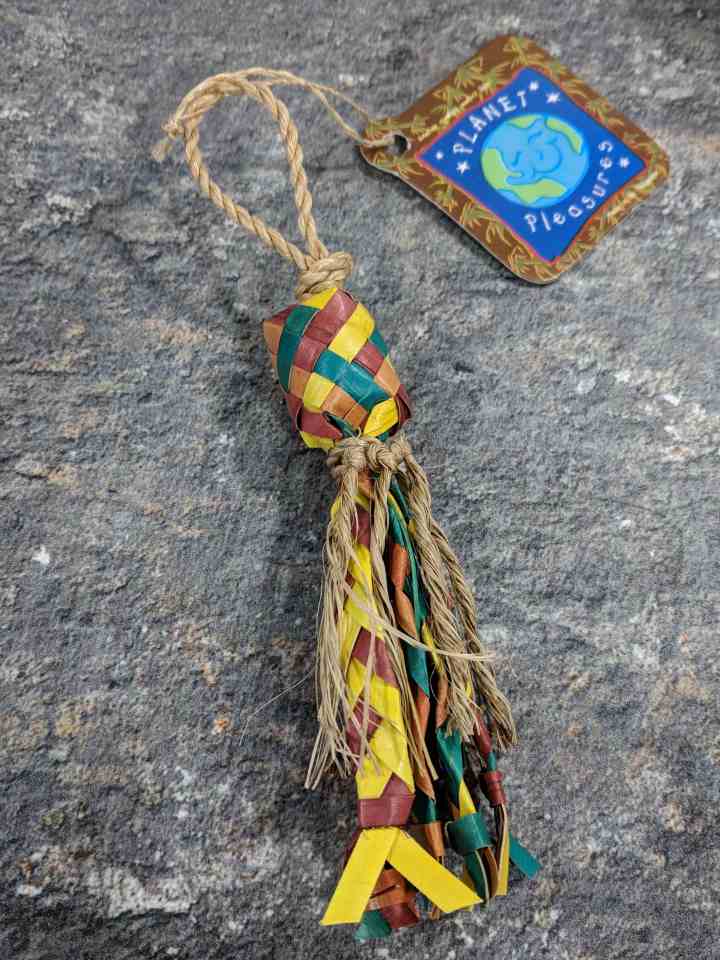 Planet Pleasure Bird Candy. Cute simple toy, it's made with all-natural palm leaves. If you have a chewer, this will keep it busy for a while. Kiwi prefers to have it close to her night tent so she can chew it at night instead of chewing her tent. She's also using it to scratch her neck.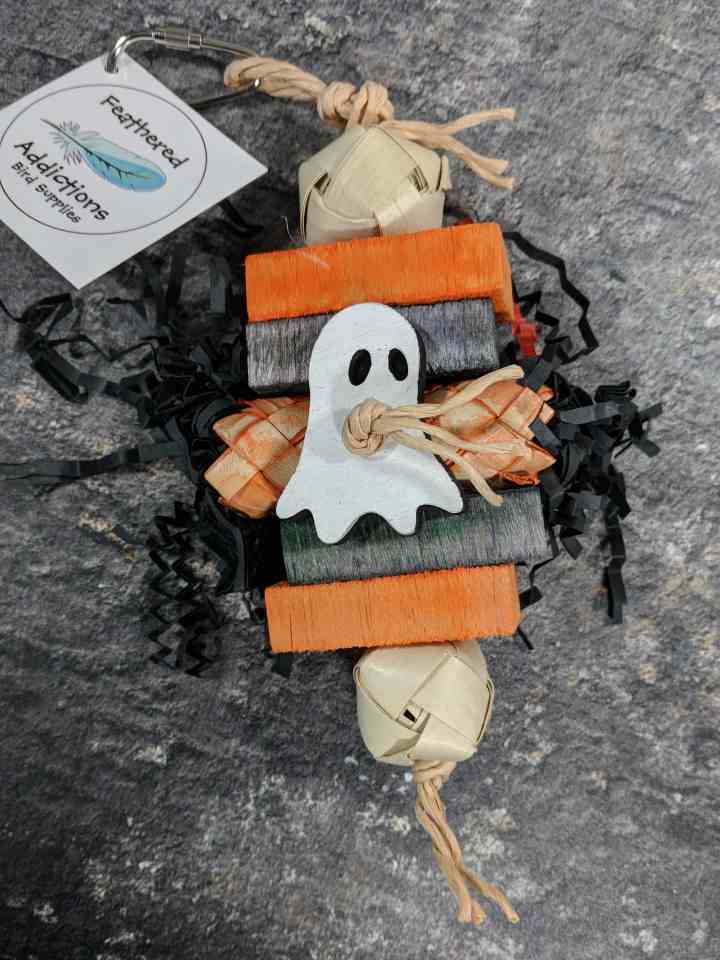 Feathered Addictions Halloween Stack. This is so cute! I love the little ghost, but Kiwi wasn't a fan of the black squiggles! She will get around eventually. In the meantime, she's trying to get to the orange finger trap without touching the black pieces of wood. You go Bird!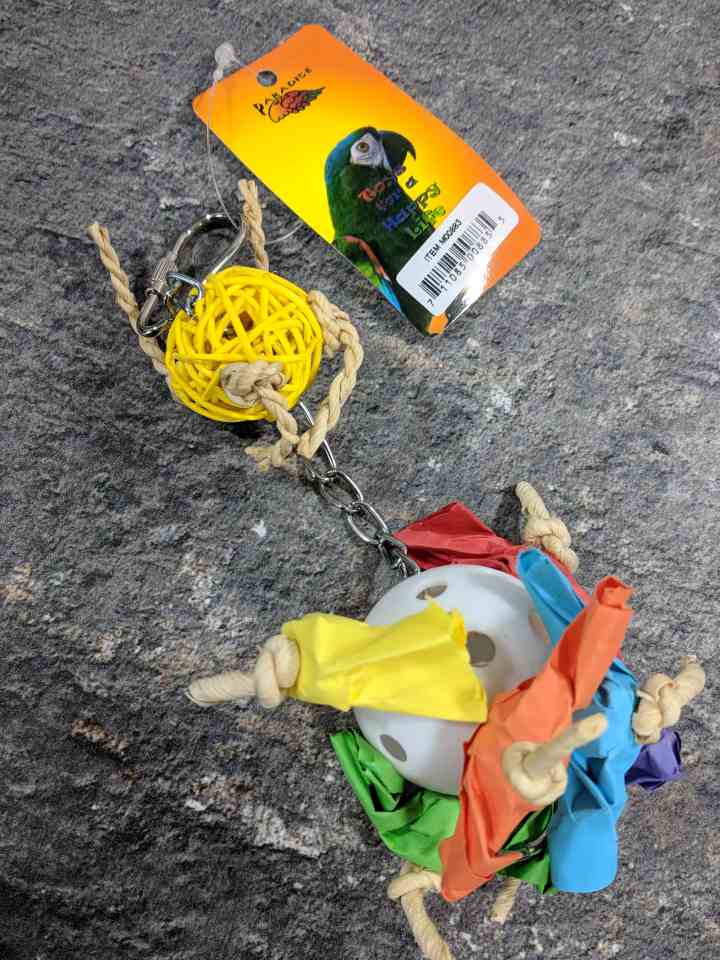 Paradise toy – Chew Ball and Candy. It's both a chew toy and a foraging one. The balls hang on top of each other, and the bottom one (white plastic) has hole big enough to put small seeds through them so you bird has to work hard and shake the ball to get them. Perfect seeds would be something like safflower, flax seeds or small sunflower seeds. I couldn't find out the name for this toy, but it's a variation of a toy Kiwi never wanted to touch. But then, it was the toy she zoomed in the box! She started to chew on the straw ball and on the colorful pieces of paper. There's a ring under the plastic white ball, so I think a bell was suppose to be there, but none were in the box. Lucky for Kiwi, I have plenty of extra bells in the house to turn this toy into the best toy EVAR!!!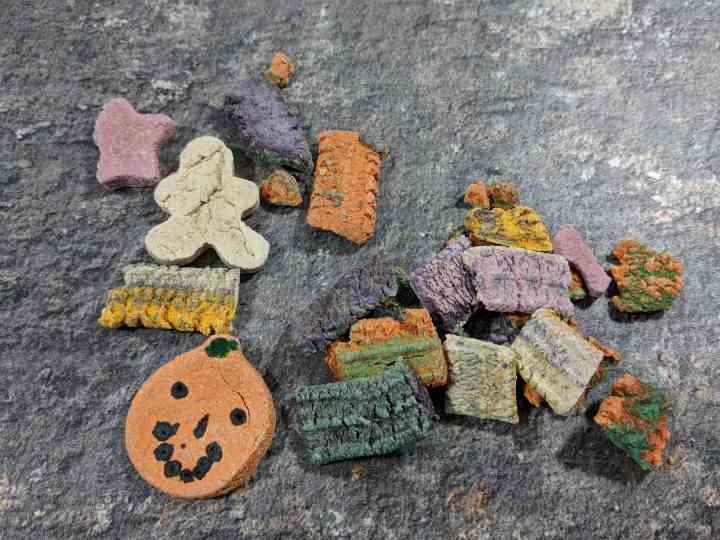 Bird Preferred LLC – Scary Poo Treats (Magical Unicorn Poo). Little cookies for your bird! Spelt, Millet, Rice, Oat flours, mixed greens, spirulina, and coconut oil. I like all the different shapes. Kiwi is quite suspicious of them, but they are so cute!
Goldenfeast Healthy Treats – Papaya. I like that they are not big chunks of papaya, as Kiwi would not even try it if it's too big. I like their taste, although it's a bit sweet so they should be given to your bird in very small quantity, as treats! They are tasty enough for the humans, and Kiwi likes to have a bit of my oatmeal before I get to eat, so I'll add some in it for her to give it a try! Such a sneaky human!
I was really surprised to see how much Kiwi enjoyed this month's toys. She is usually more into straw toys and bells (give her a simple bell, and she'll be yelling at it the whole day), and seeing her going for a paper toy was nice! After all these months susbcribed to Squawk box, she finally enjoys going through her box right away!
Kiwi and I love Squawk Box as it is great to discover new toys, and maybe new favorites. I'm impressed by the variety of toys available out there as Kiwi has been subscribed to Squawk Box for a while now and she hasn't received the same toy twice! It's fun to get a box of new toys and treats to discover, instead of spending countless hours at the pet store in front of a very limited selection to end up buying the same toy over and over again! And sometimes, your bird will surprise you by loving a toy you were sure it would hate!
Chirp!
What do you think of this month's Squawk Box?