SnackSack is a monthly subscription service that sends boxes filled to the brim with a combination of organic, non-GMO, gluten-free, all-natural, vegan and fair-trade snacks to your door every month!
UPDATE: SnackSack now offers two new subscriptions – SnackSack Vegan and SnackSack Gluten-Free! Regular SnackSack are still priced at $22 per month, while the new SnackSack Vegan and SnackSack GF will be available for $24 per month.
Plans are also offered in 6-month and 12-month options, plus they now ship to Canada!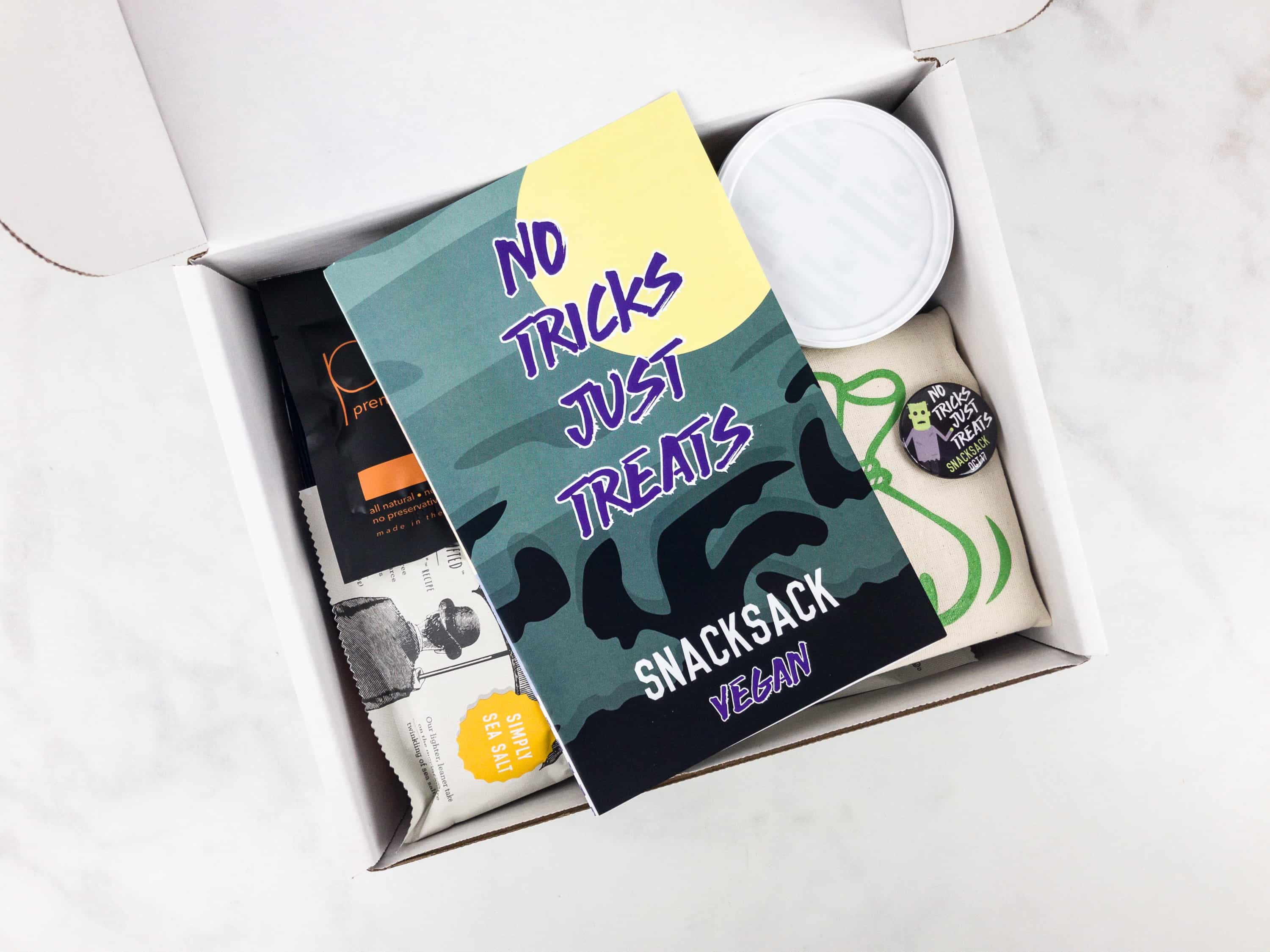 Everything arrives stacked neatly in the box. This is a review of the SnackSack Vegan.
DEAL: Get 10% off the entire lifetime of your subscription with coupon code HELLO or use coupon code HELLO20 to save 20% on your entire plan!
Each month the box arrives with a list of its contents. Snack Sack makes it easy to find the gluten-free, vegan, and non-GMO snacks at a glance. Snack Sack sends between 11-15 snacks a month and they now list a suggested retail price.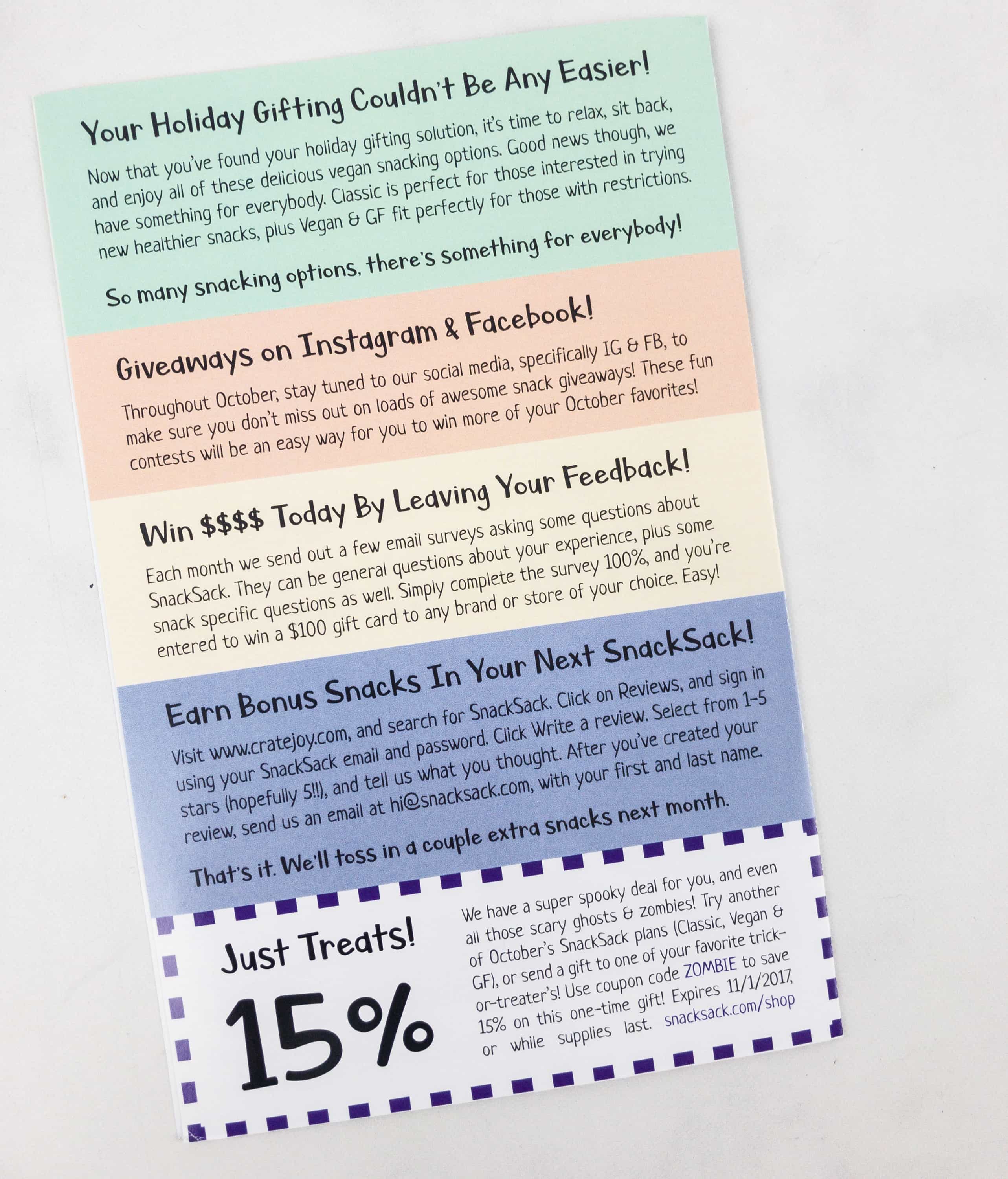 I love how, in addition to the plethora of snacks, the box includes coupons toward your next purchase.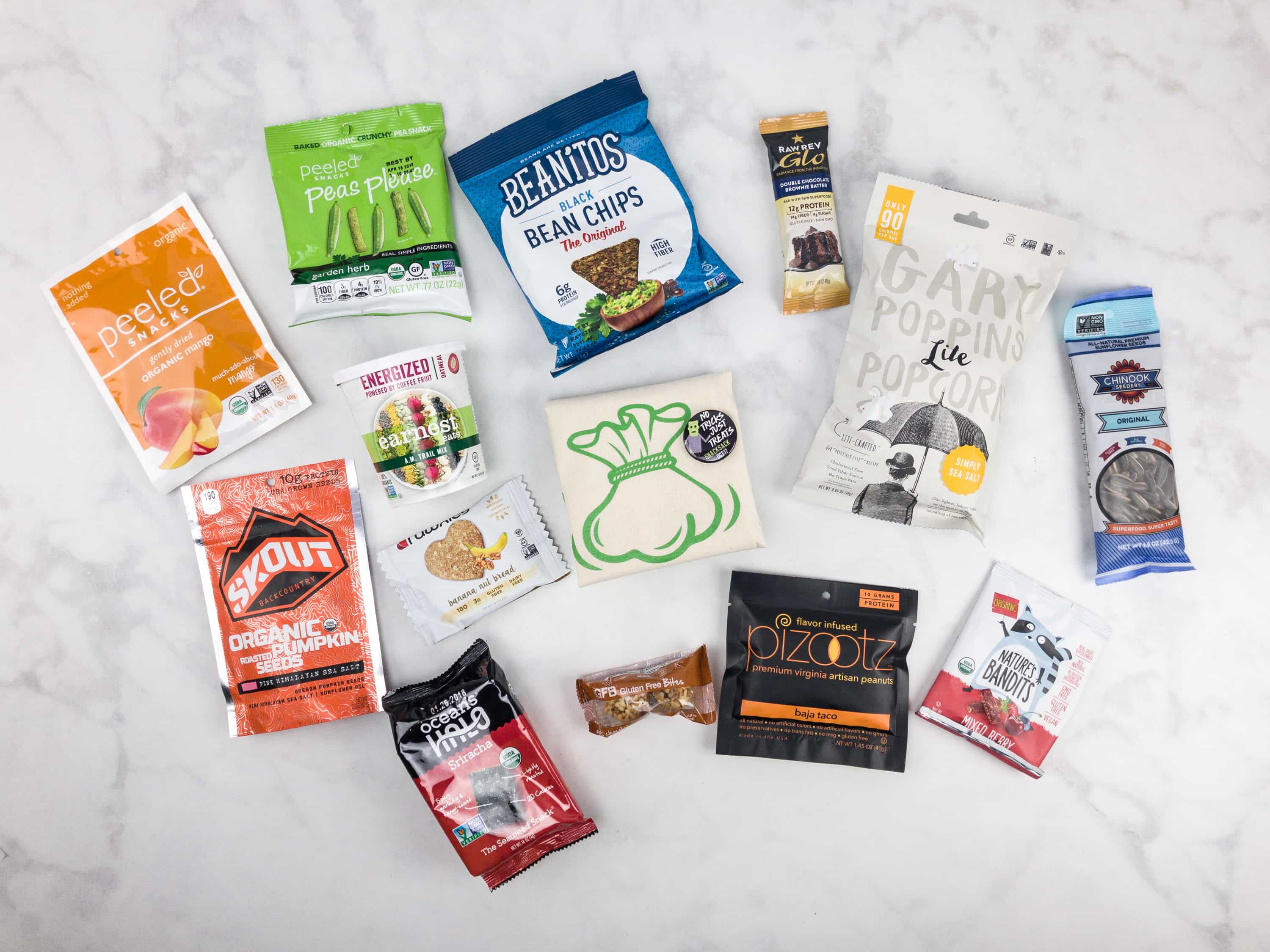 Everything in my box!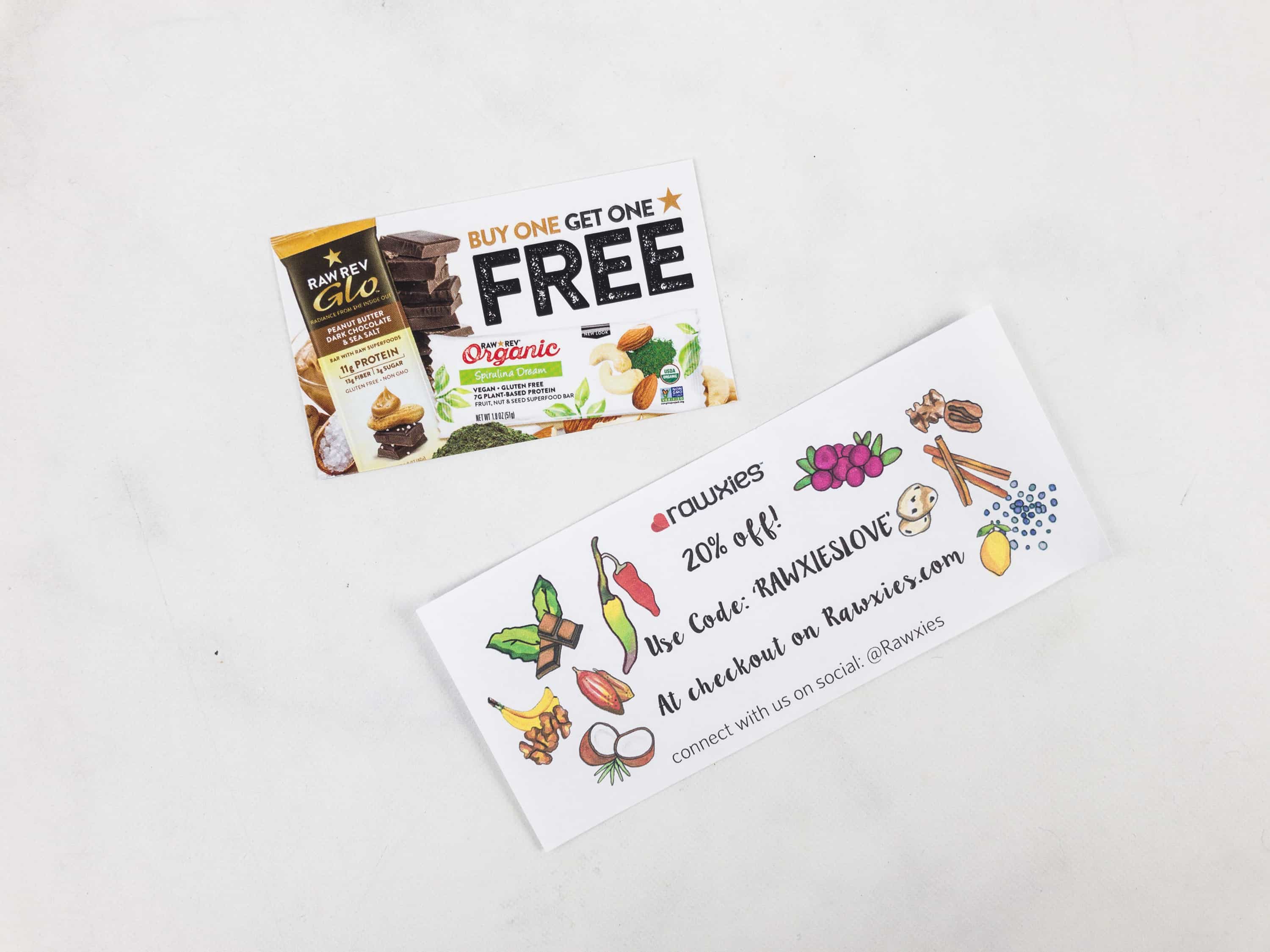 Also included in this month's shipment are coupon codes…
…and a SnackSack October 2017 Pin.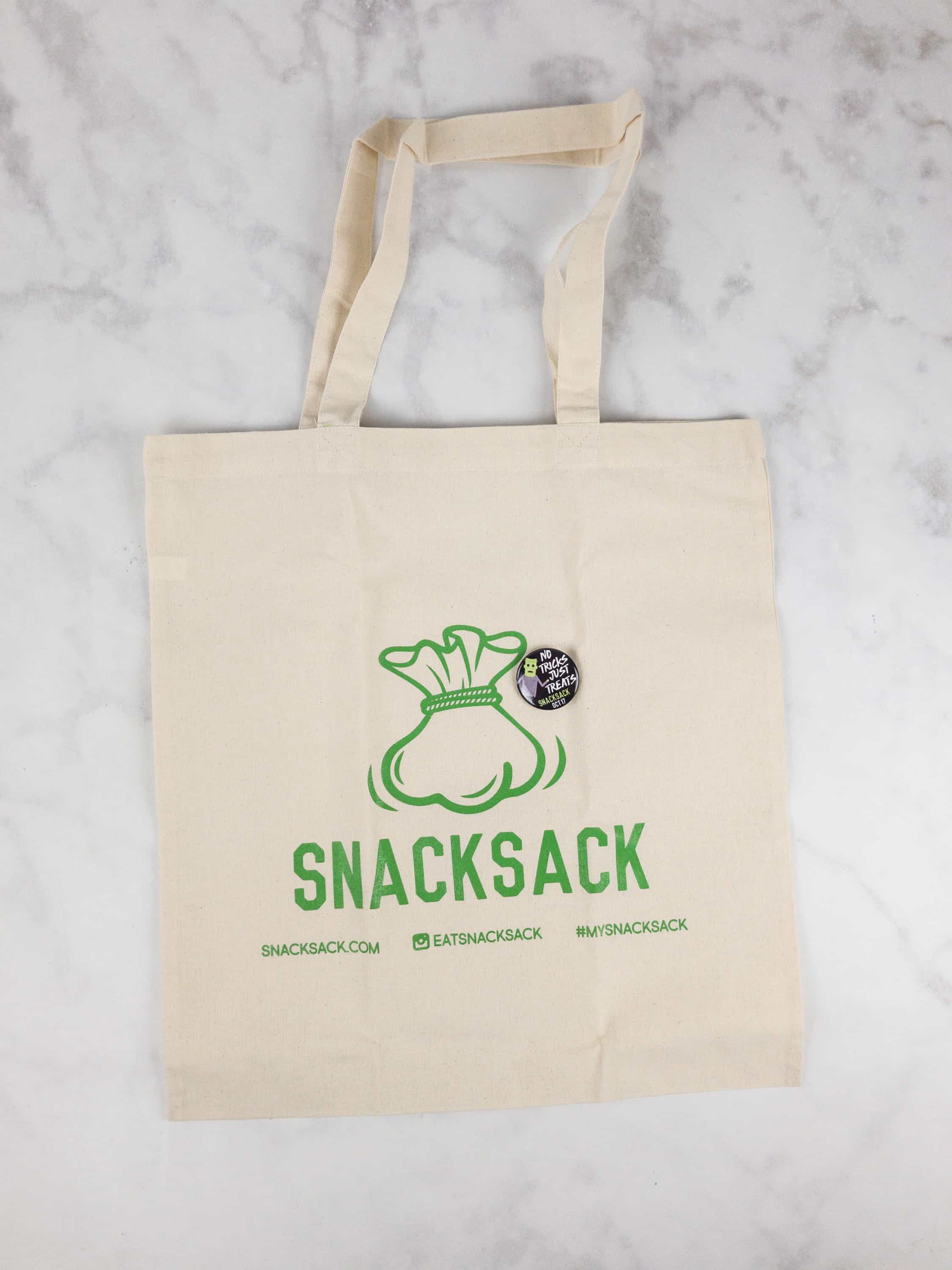 First, a SnackSack tote bag where you can stash all your snacks and treats!
Rawxies Banana Nut Bread Heart Bar ($1.89) This heart-shaped bar is a paradigm of a banana nut bread with fresh bananas, crunchy pecans and walnuts, and spices.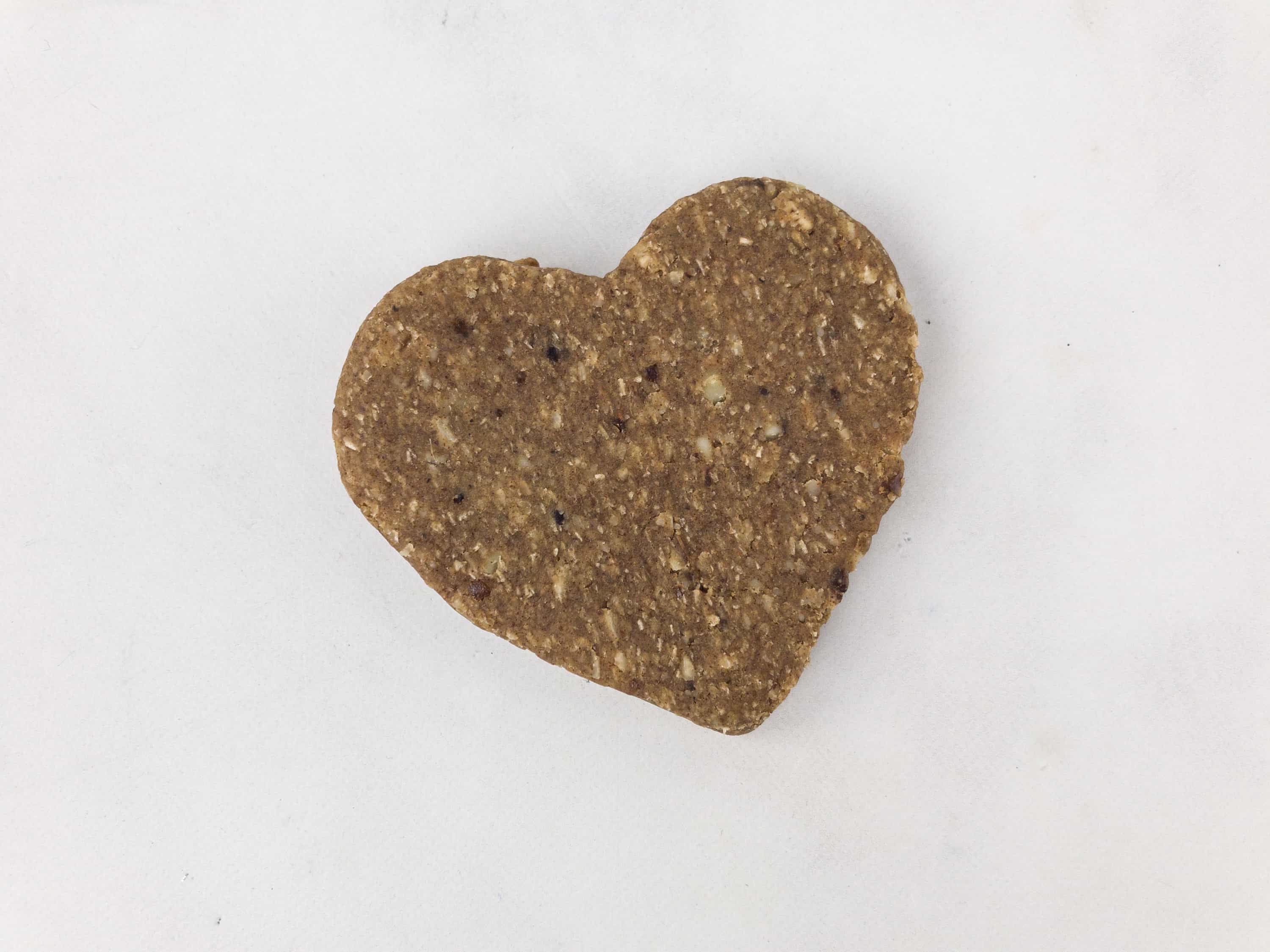 It's gluten, soy and dairy-free. It's really nutty and delicious. 
Beanitos Original Black Bean Chips ($1?) What a better way to chip is to have it from this superfood, beans! It's packed with rich, delicious flavor and amazing wholesome goodness from fiber and antioxidants.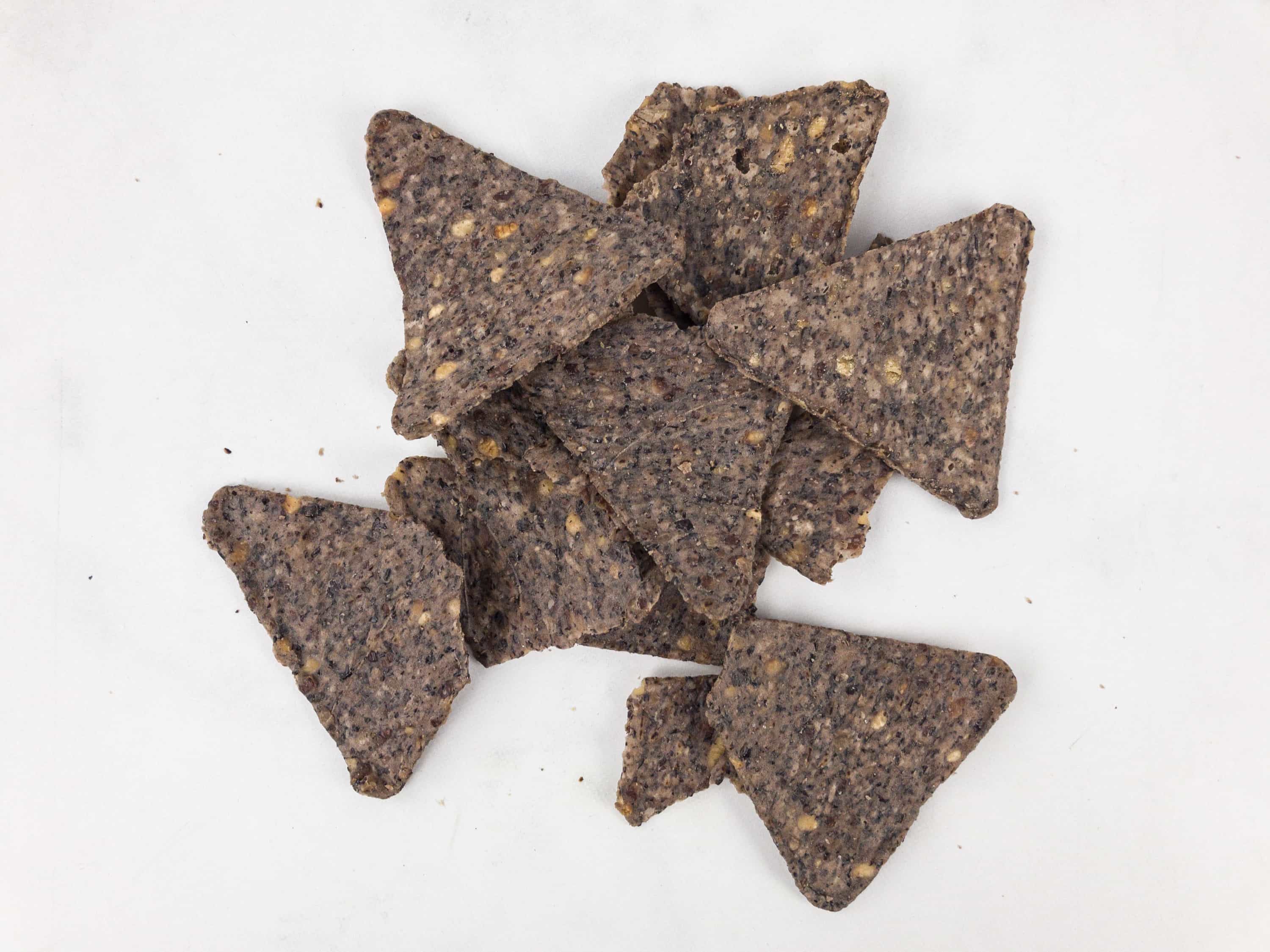 Like a regular chip, there are lots of possibilities on snacking with these, like healthy dips and other accompaniments that will still make it a healthy snack and give additional fun.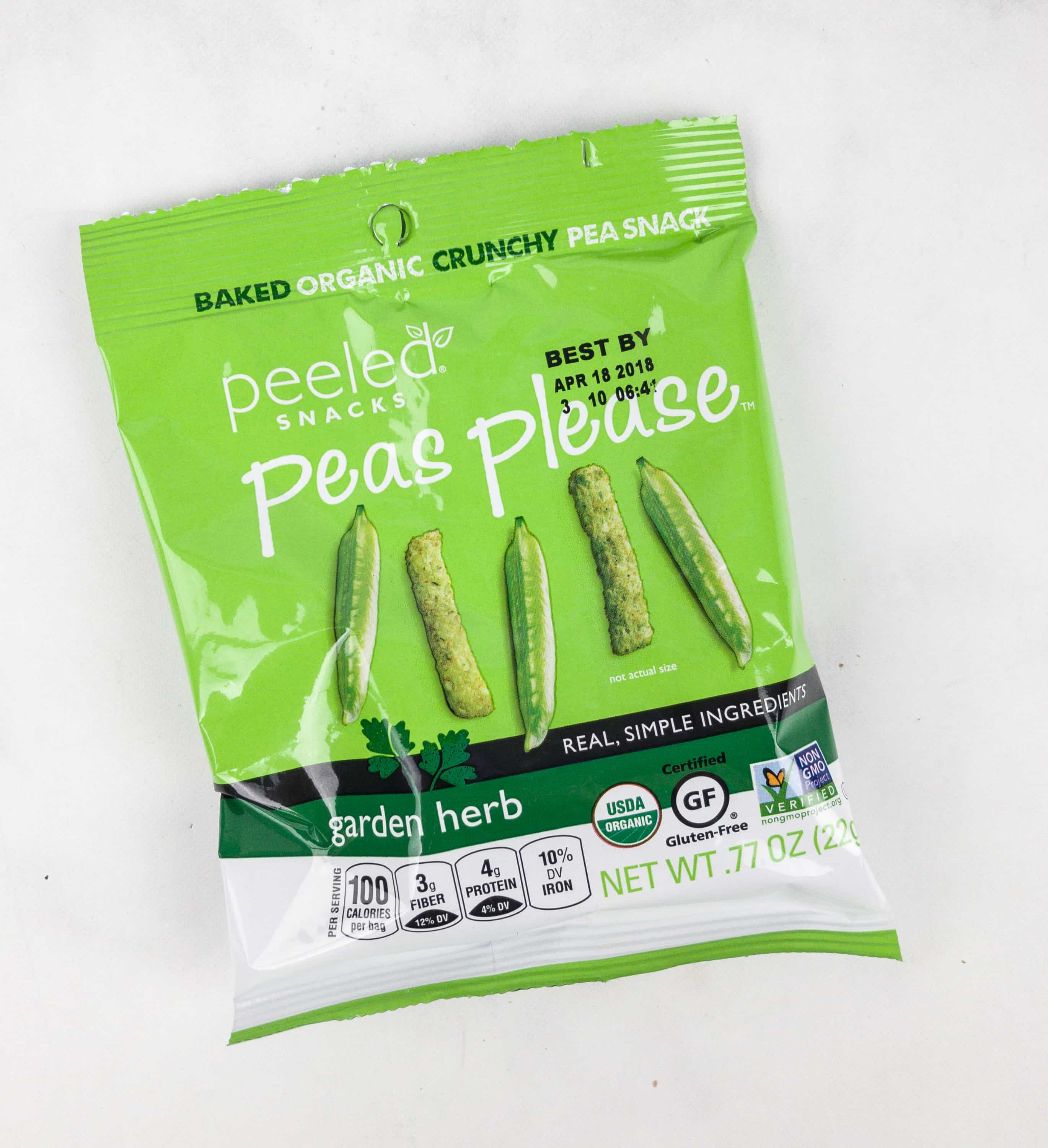 Peeled Snacks Peas Please in Garden Herb Flavor ($0.57) A close to nature, but still, a good tasting snack. This baked crunchy pea snack is the perfect treat for a healthy go-to snack.

It has a few simple ingredients, which are all certified real food, a good source of fiber and protein, and is great for sharing with family and friends. Also, it's USDA organic, gluten-free, and non-GMO.
Peeled Snacks Much-Ado-About Mango Fruit Picks ($4.57) Another great way to snack on some fruits without the worry of it getting spoiled or deteriorated, or not lasting any longer.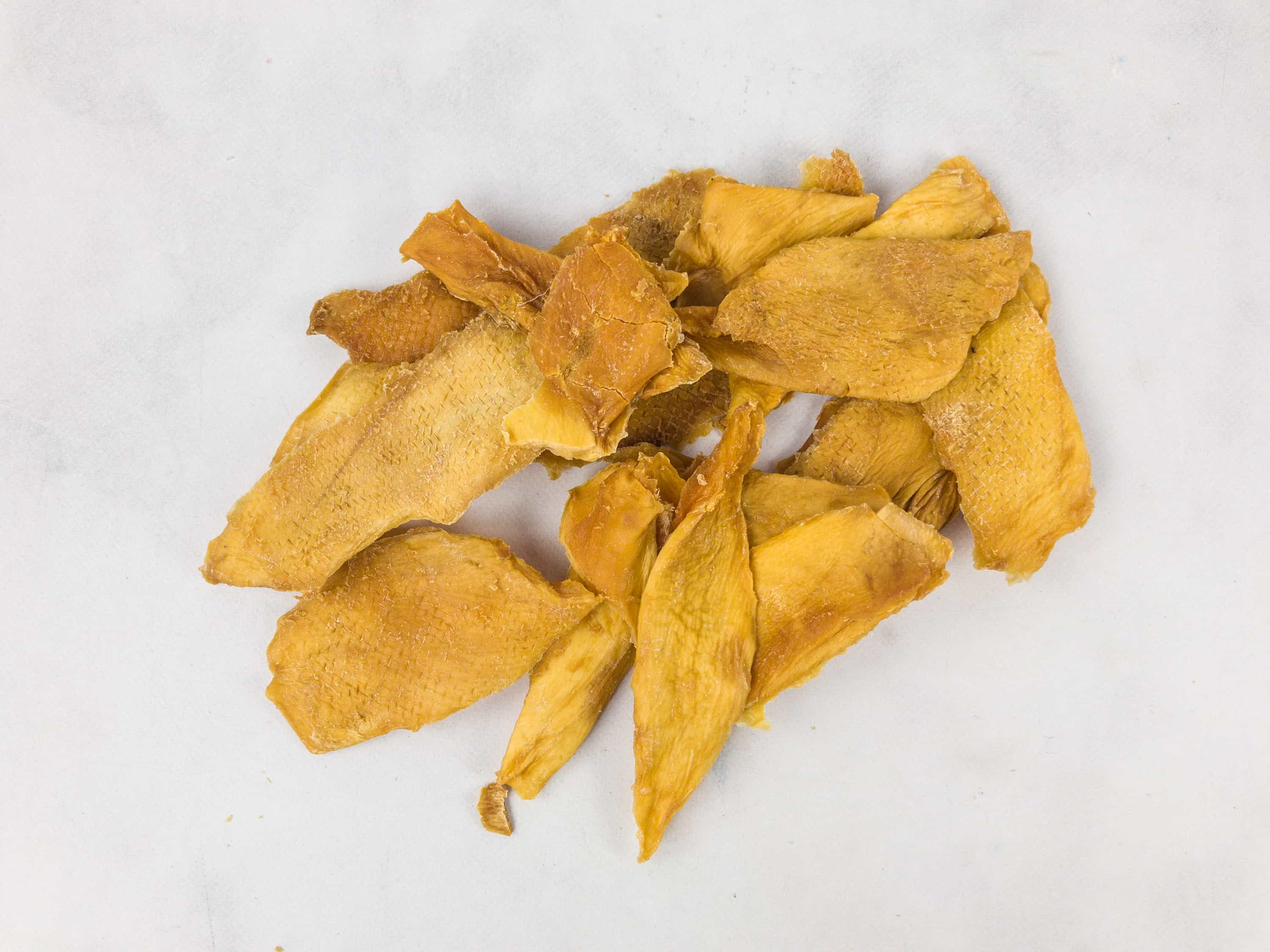 The mango is harvested at its peak, and dried to preserve their sweet, juicy flavors without any preservatives or fillers. And it's bursting with flavor, reminiscent of the tropical paradise.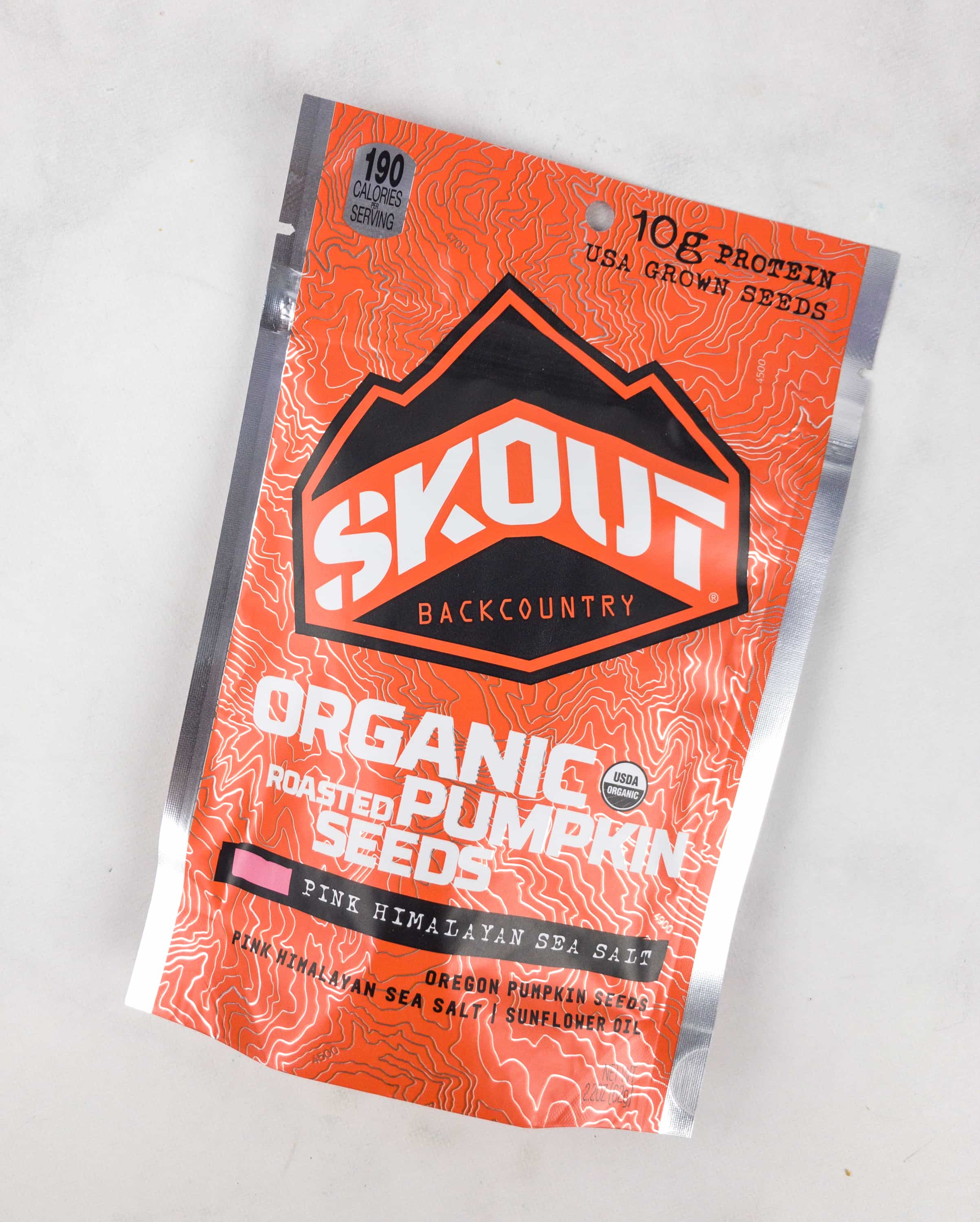 Skout Backcountry Pink Himalayan Sea Salt Pumpkin Seeds ($3.34) These pumpkin seeds flavored with Himalayan sea salt are packed with protein, iron, zinc and magnesium. And aside from the pumpkin seeds being an antioxidant superfood, the Pink Himalayan sea salt also comes packed with varying minerals.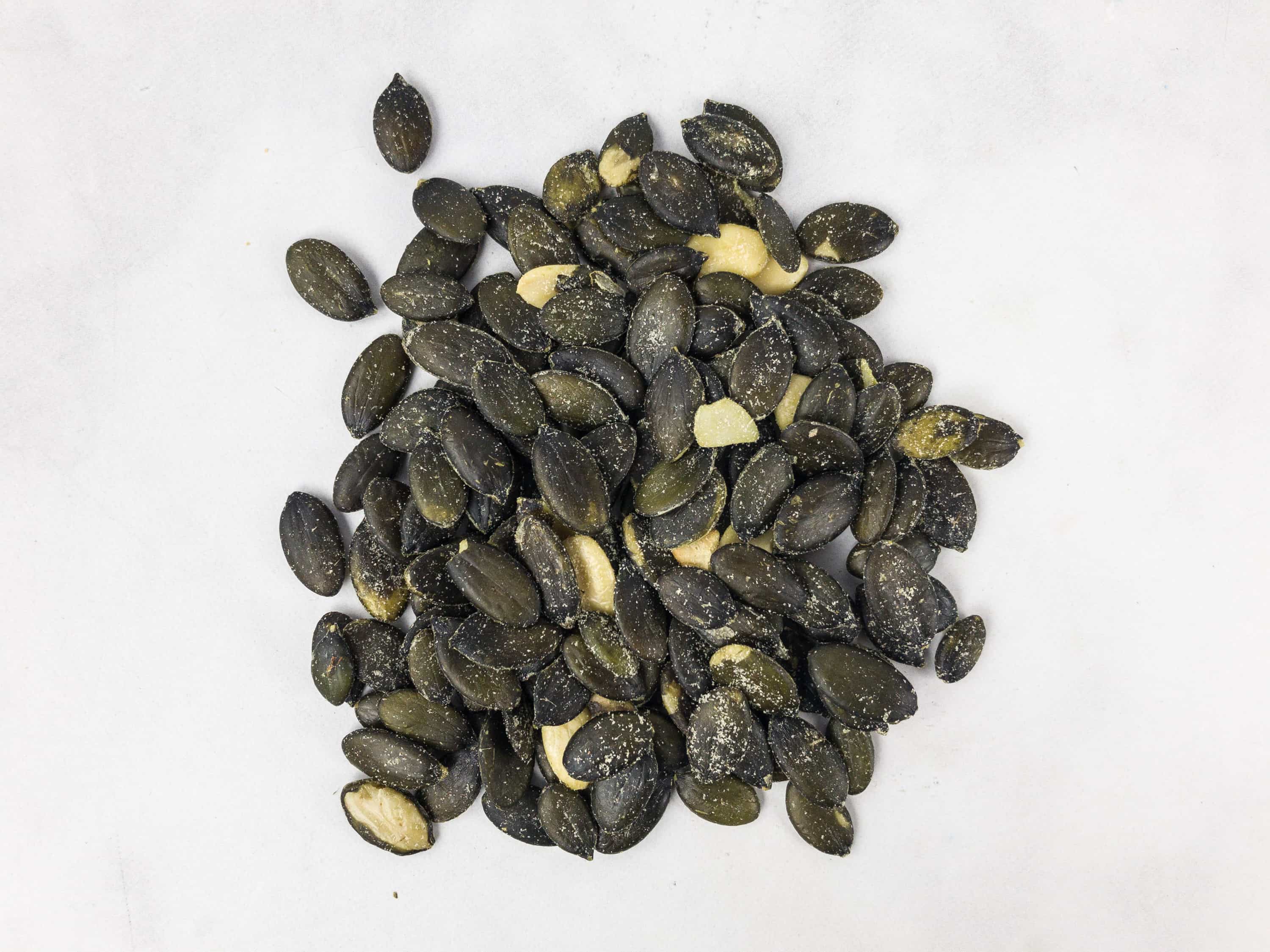 These are perfect go-to snacks after an awesome outdoor adventure or just enjoy snacking on these during work breaks, or even when you're just chilling at home. Eating these seeds will take some time as we still have to pry the pumpkin seed shell open, but these are roasted so I don't think there's still a need for that!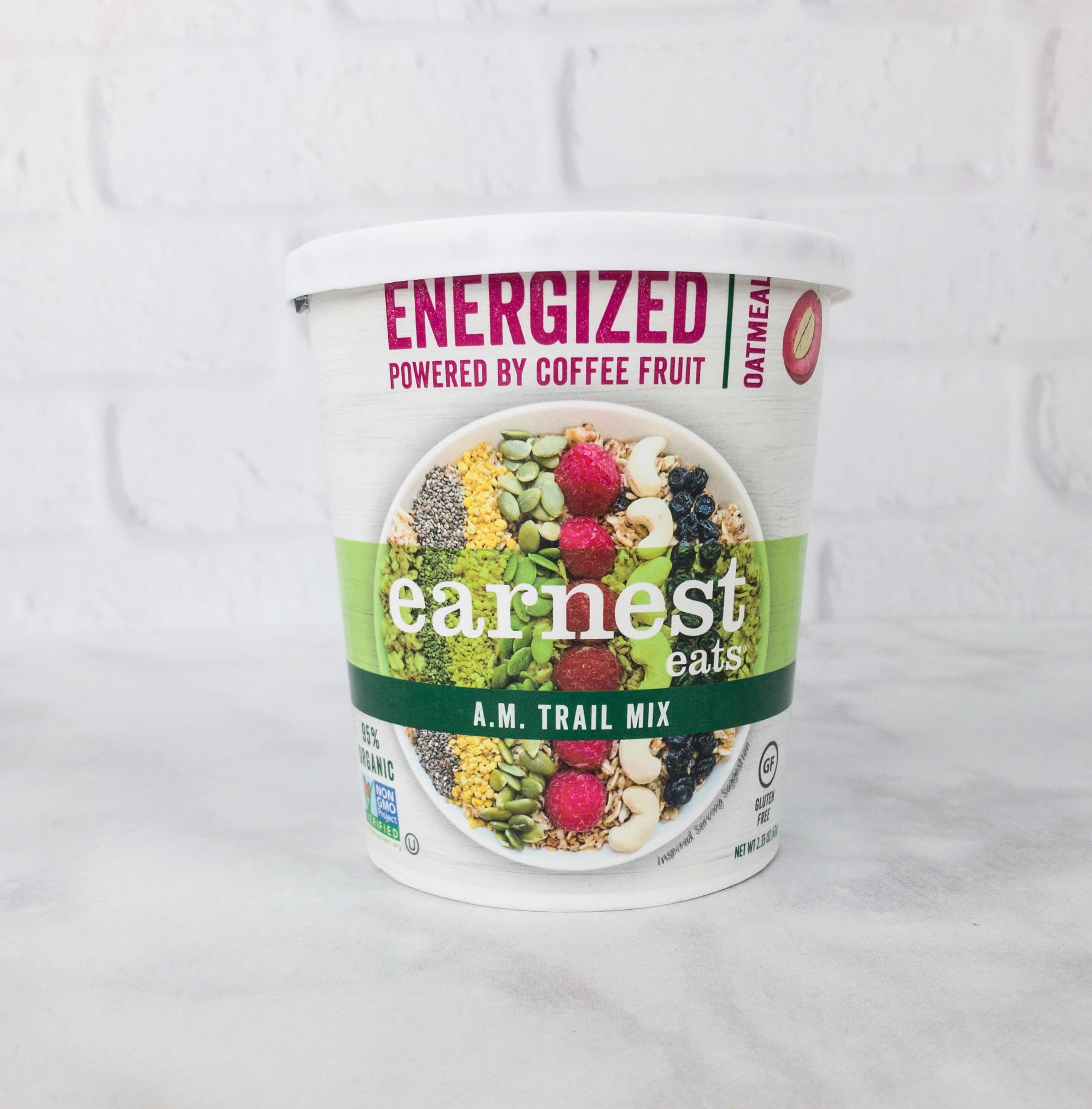 Earnest Eats Energized AM Trail Mix ($3.81) A trail mix for an easy and quick breakfast, snack or when you just feel like eating.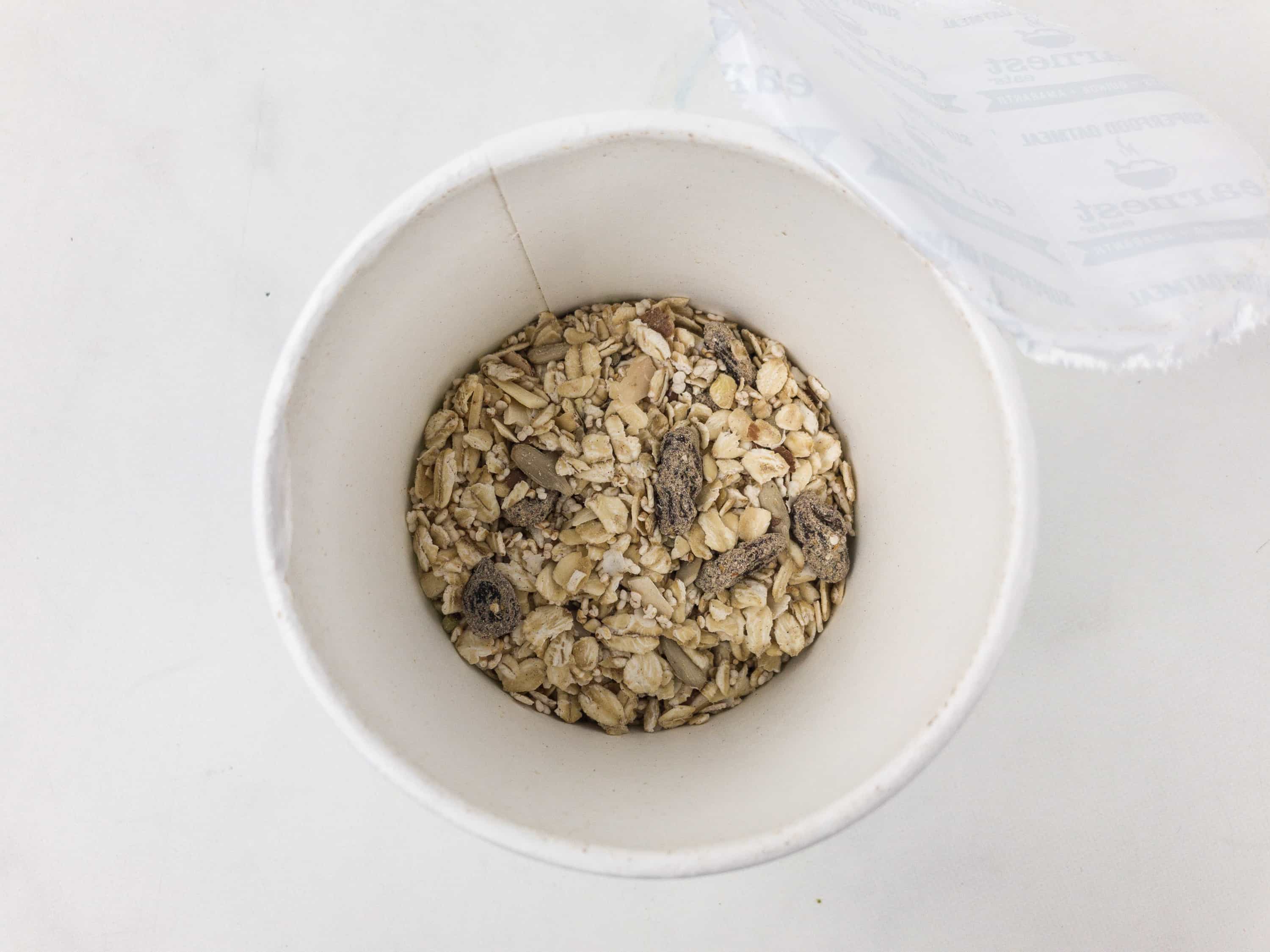 It's 97% organic, non-gmo in process, vegan & wheat-free. It's the perfect energy booster especially in the mornings.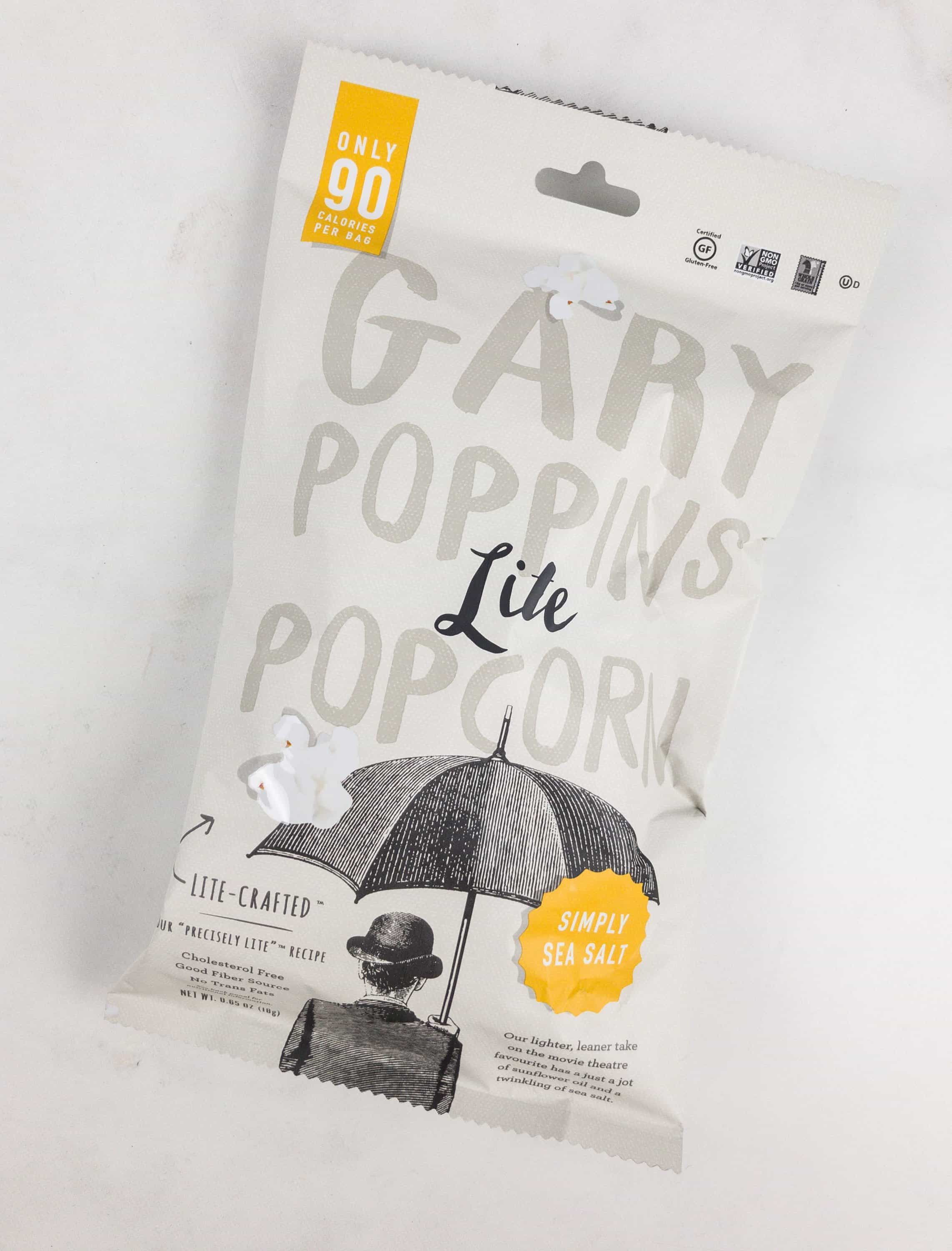 Lite Gary Poppins Simply Sea Salt Popcorn ($2.97) A kosher, non-GMO, whole grain, and gluten-free popcorn.
It's only 90 calories! It's lighter compared to the usual popcorn but it's tasty thanks to sunflower oil and sea salt.
Cosmos Creations Caramel Apple Crisp Puffed Popcorn ($0.65) This pack contains the perfect trio: apple flavor, puffed corn, and decadent caramel.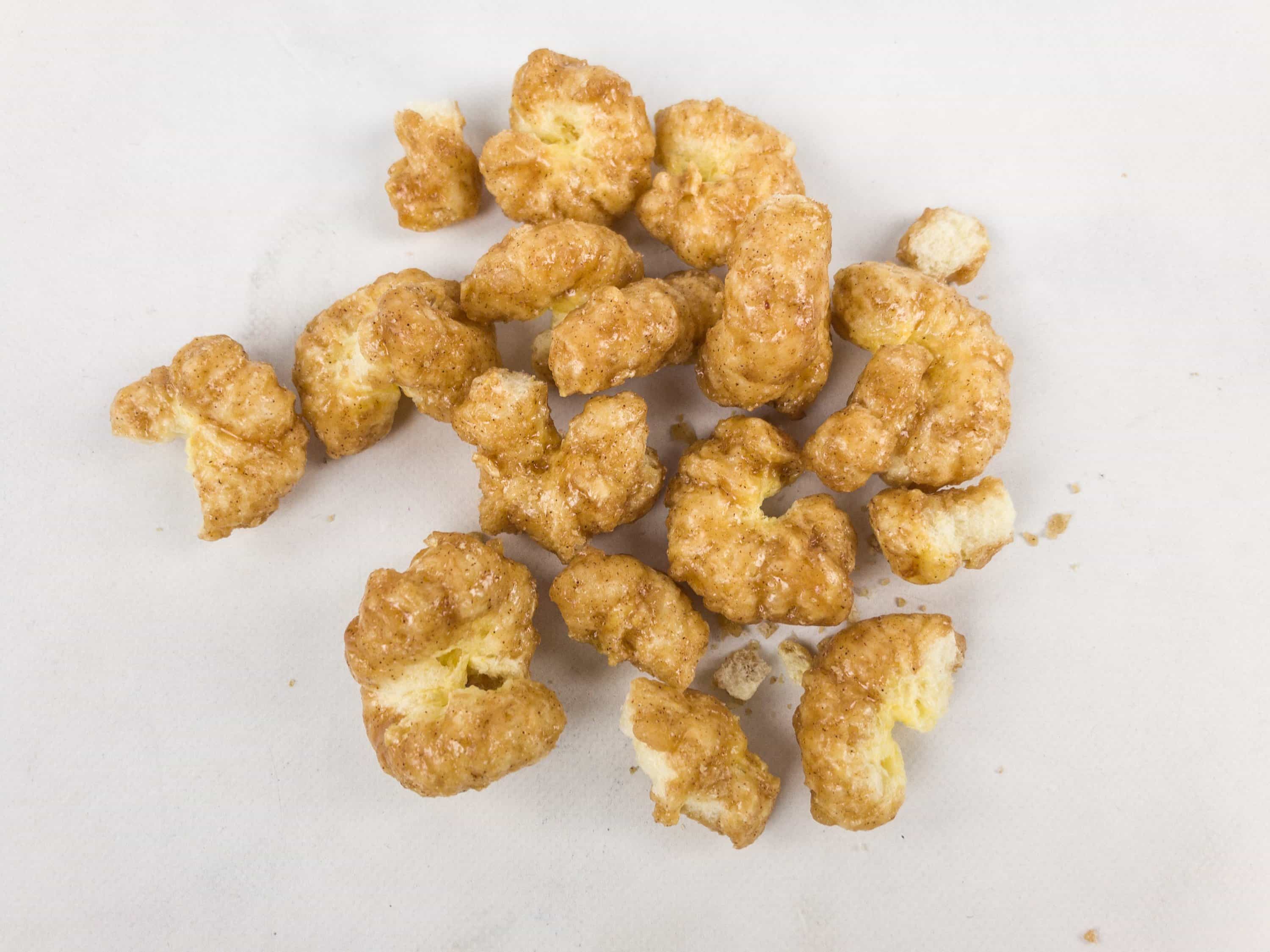 It's sweet and crunchy with a little tartness, and we can't get enough of it. Such a flavorful twist to a classic snack! Also, no kernels and hulls!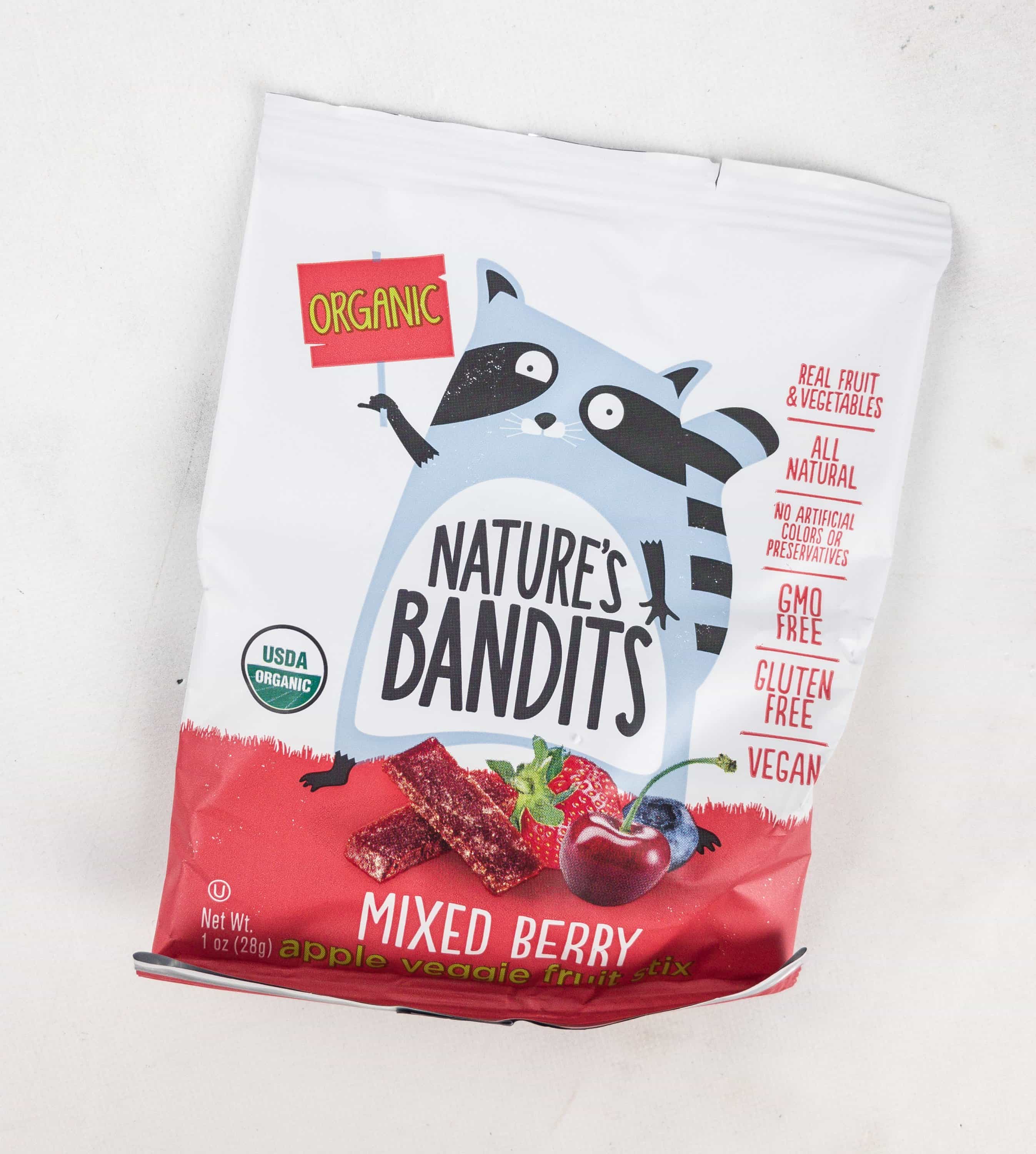 Nature's Bandits Mixed Berry Organic Fruit and Veggie Stix ($1.42) A pack of fruit and veggie sticks that didn't disappoint. These tasted so fresh and natural!
The kids loved chewing on them! It's certified vegan and it doesn't contain high fructose corn syrup, such a yummy guilt-free snack for the whole family.
Pizootz Premium Virginia Artisan Peanuts in Baja Taco ($1.99) We can't help but agree with Pizootz's suggestion, this pack of artisan peanuts indeed calls for a bottle of cold cerveza.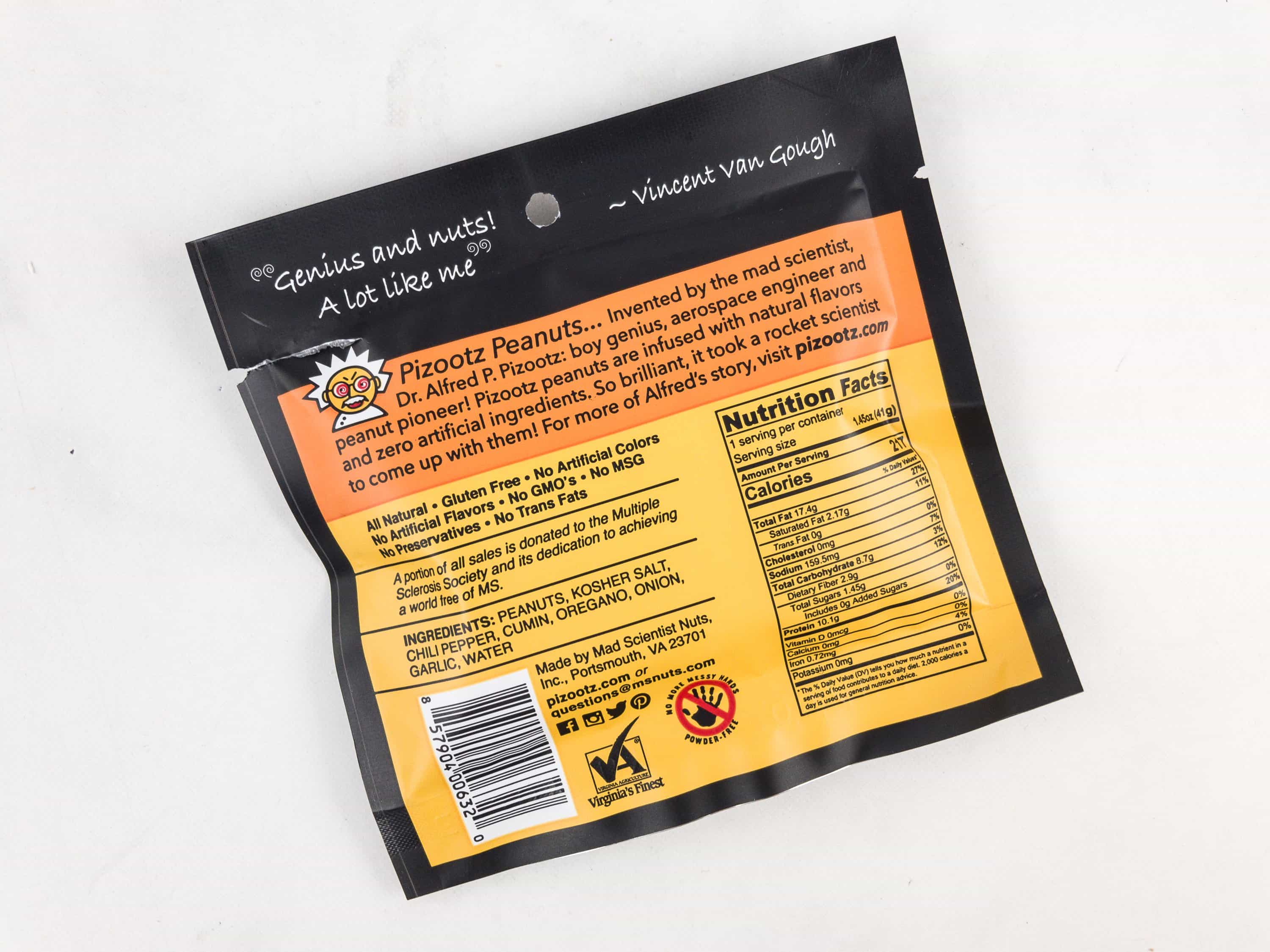 Ingredients include peanuts, kosher salt, chili pepper, cumin, oregano, onion, and garlic.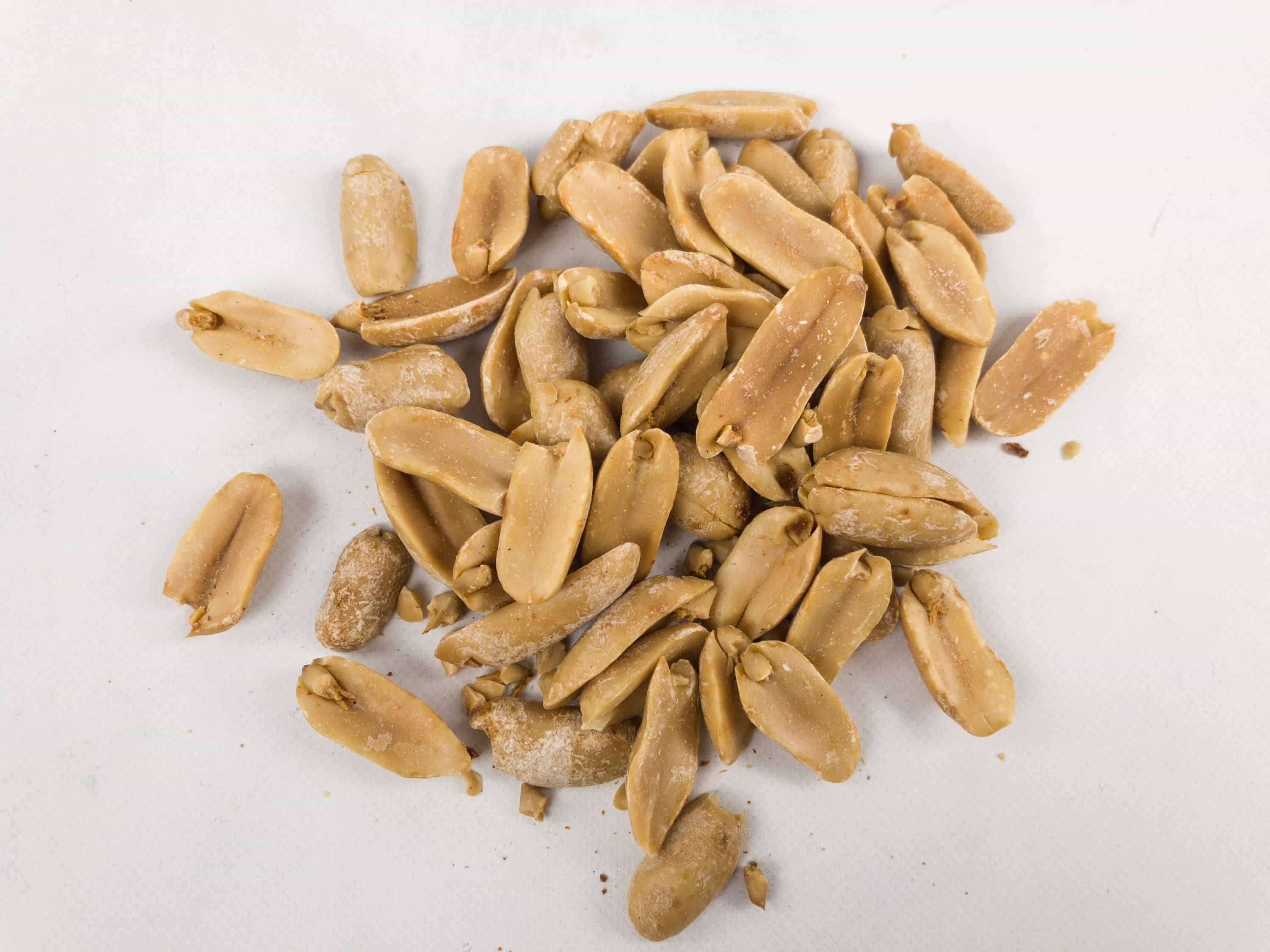 So flavorful and addicting, it's hard to resist eating everything in one go. Best of all, this peanut snack is all natural! No artificial colors and flavors, nor GMO, MSG, and other preservatives.
Chinook Seedery Non GMO Premium Sunflower Seeds ($0.65) A single serve pack of easily crack-able sunflower seeds.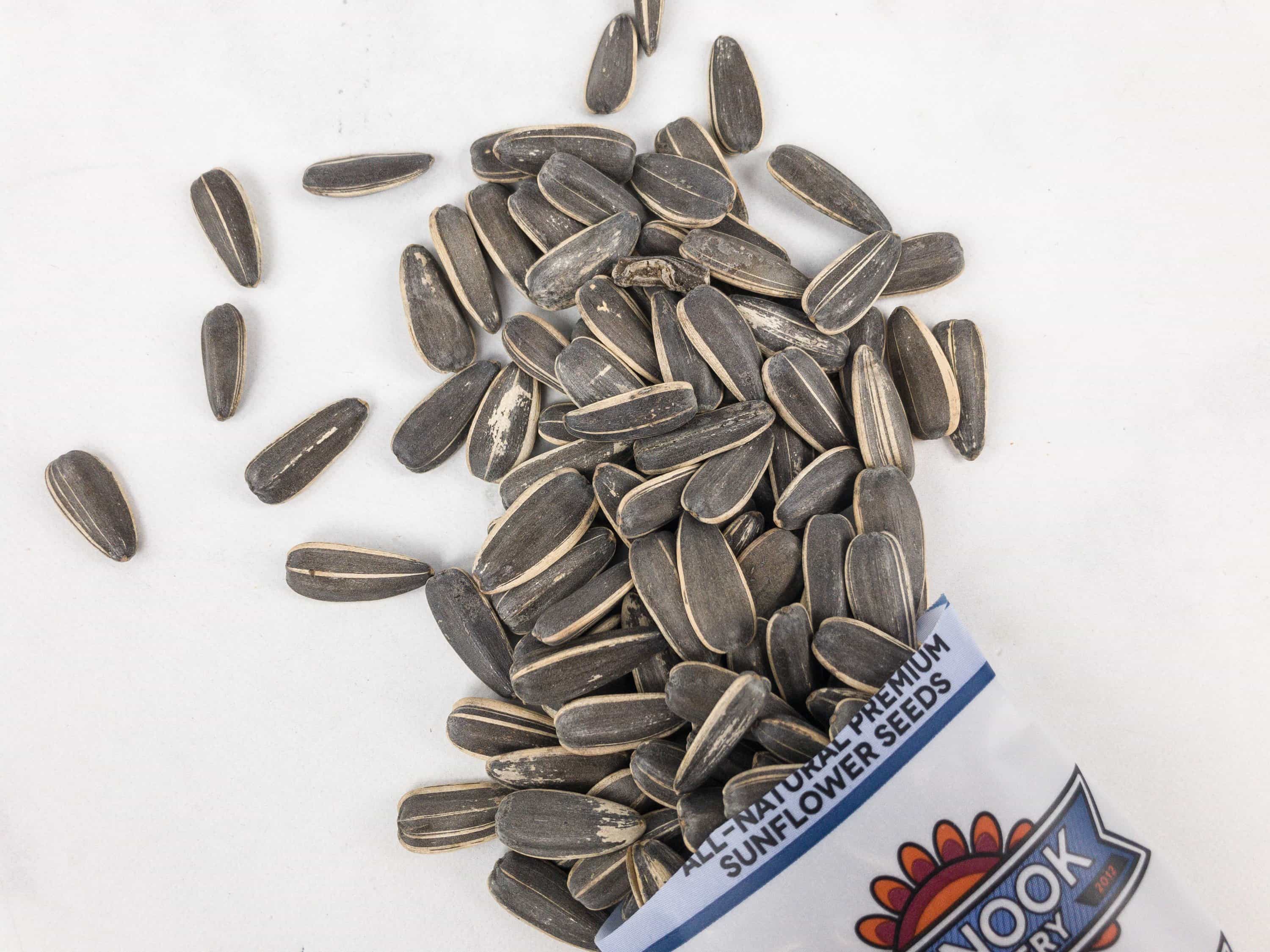 The seeds are huge, while the kernel is crunchy and brittle. I also like that it was flavored just right, not too salty but not stale either.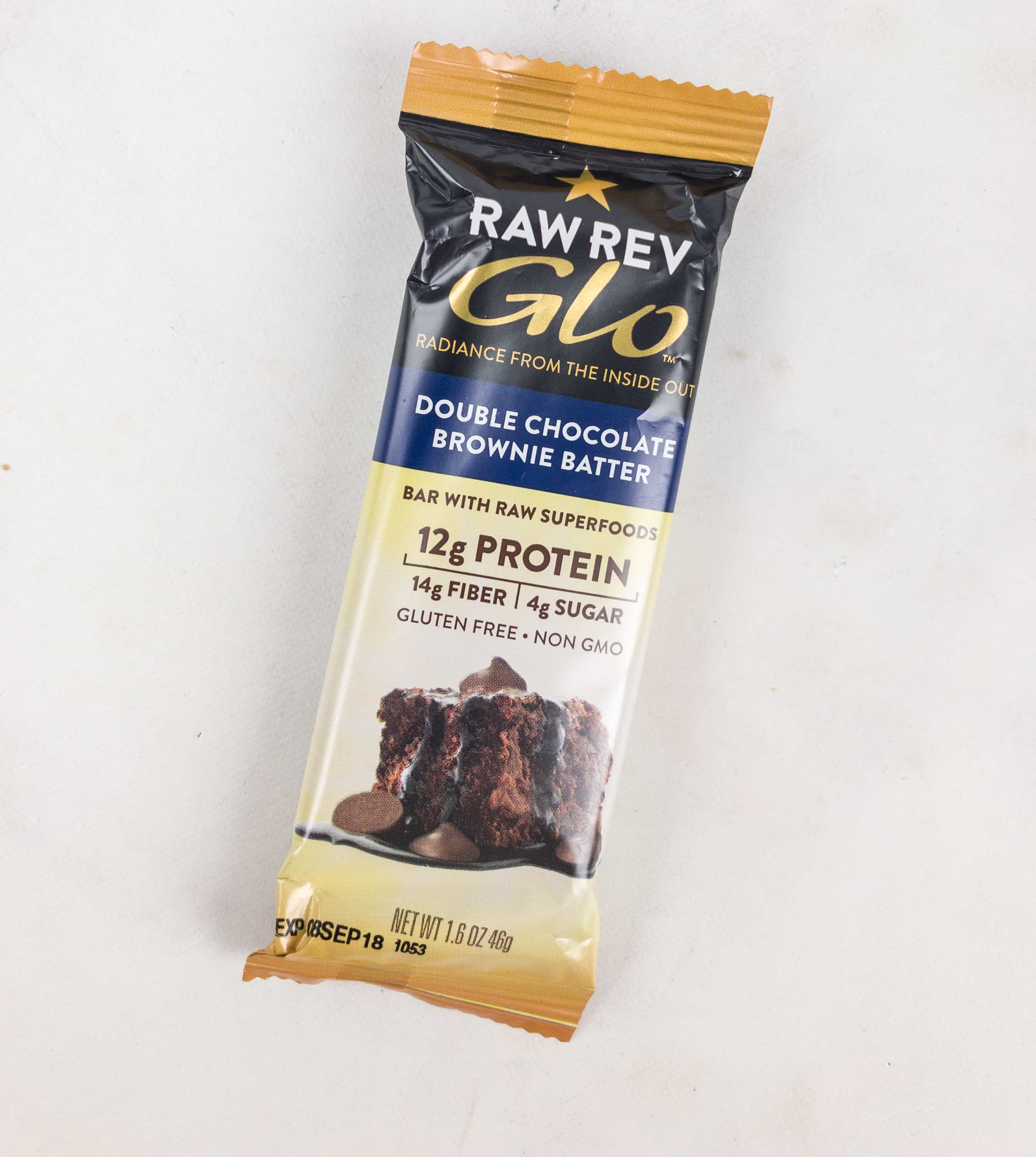 Raw Rev Glo Double Chocolate Brownie Batter ($1.83) So rich and chocolate-y!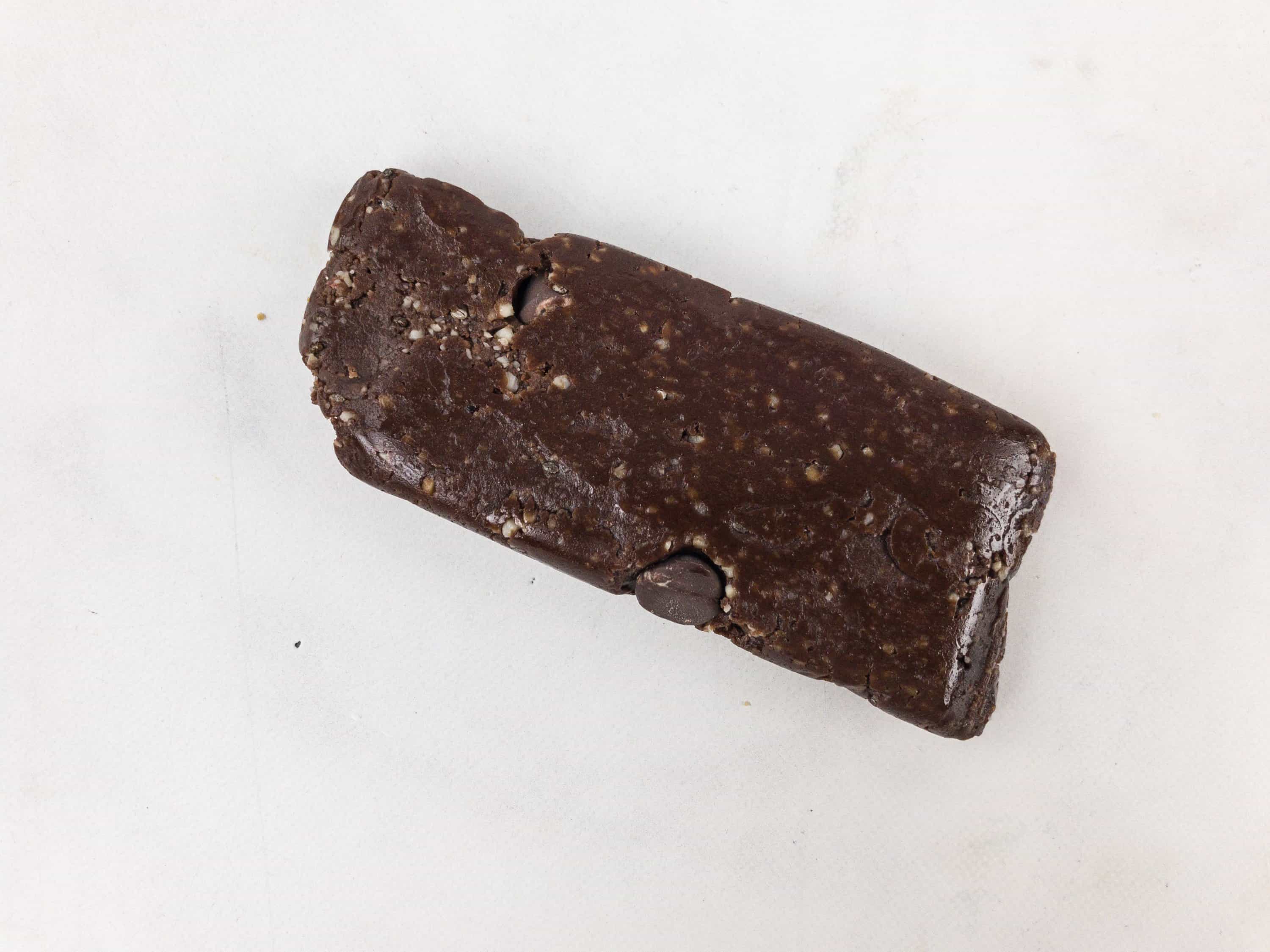 It tasted just like a freshly baked brownie, but it's definitely healthier since most ingredients used are organic. The bar contains Italian dark chocolate chips, raw cashews, raw organic virgin coconut oil, and organic cocoa powder processed with alkali, natural flavors, and sea salt.
Ocean's Halo Seaweed Snack ($1) These have a strong smell, but tasted very good. Spicy and garlicky with a hint of tangy and sweet, it's an explosion of flavors you'll enjoy if you can just endure the smell. It's high in vitamin B-12 and iodine too.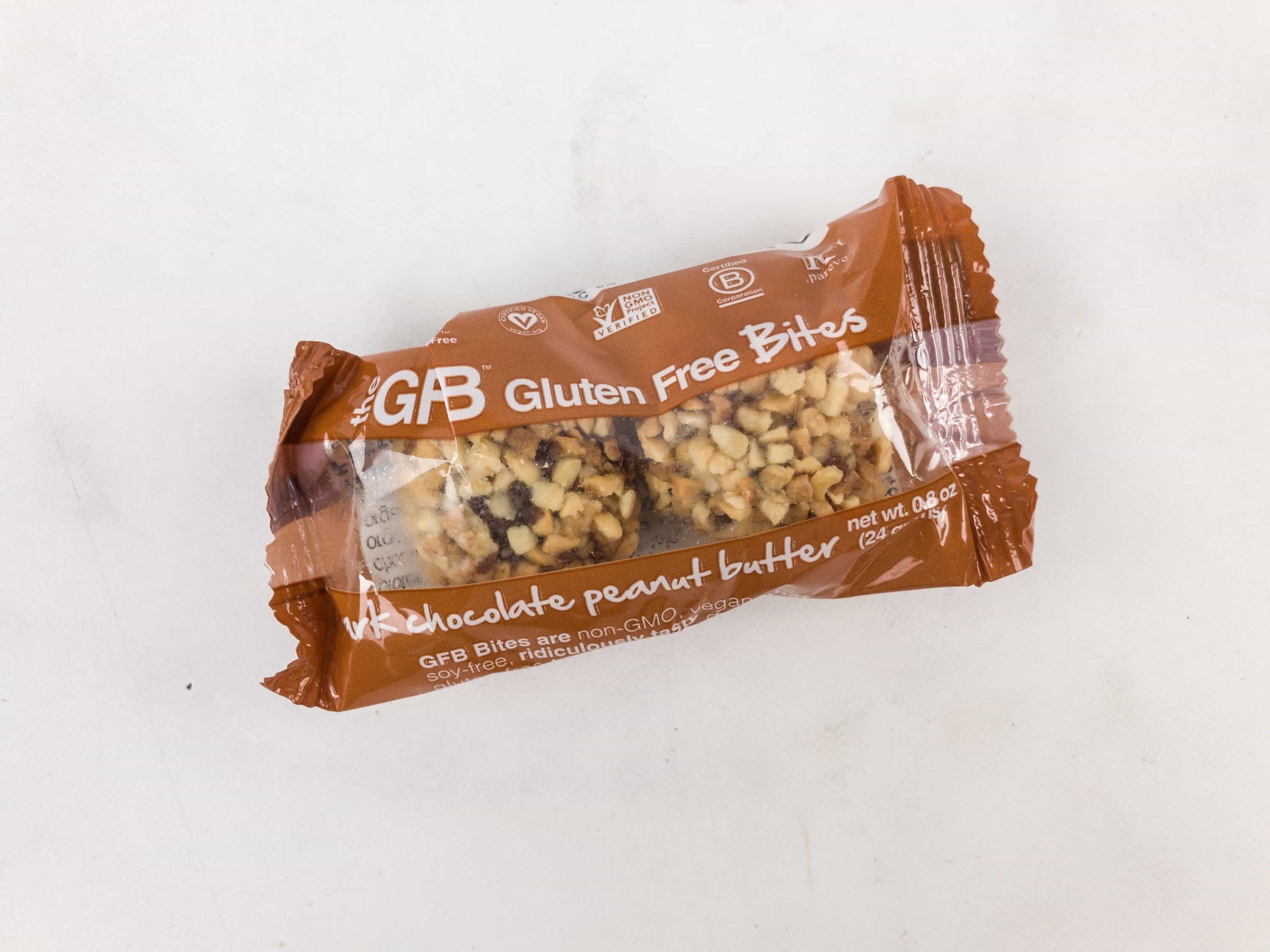 The GFB Gluten Free Bites Dark Chocolate Peanut Butter These dairy-free bites were so good, they're gone in a blink of an eye.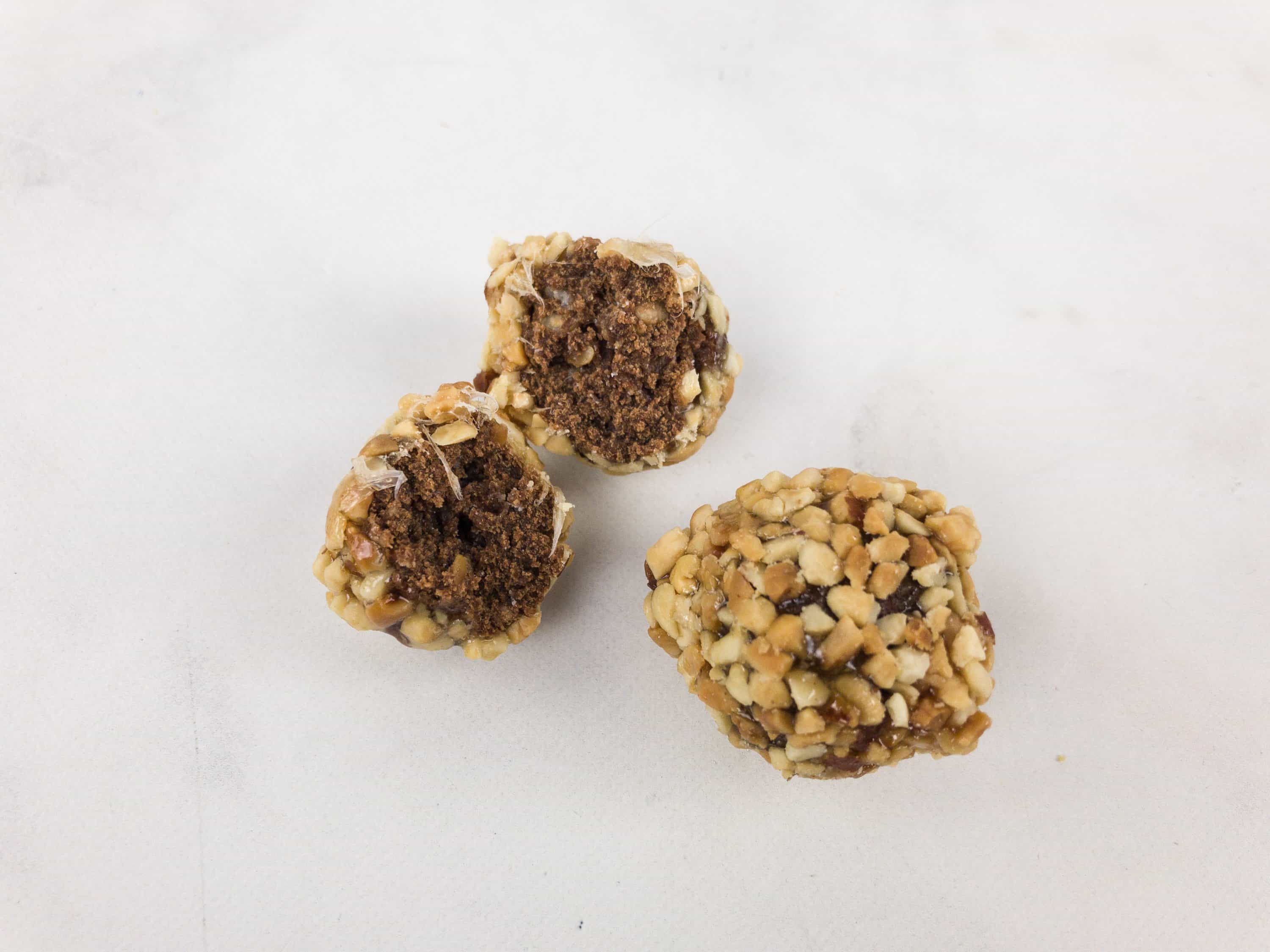 Dark chocolate and peanut butter tasted so good together, plus the texture of peanuts made it really enjoyable to chew.
Snack Sack is a wonderful way to refill your snack drawer with things you feel good about eating and for the kids too, minus the guilt. Everything is all-natural and leaves out the not so health-friendly ingredients, so you're sure that you get the value and the nutritional value from your snacks, and they're all yummy too! And for this box – everything is totally vegan!
Have you tried SnackSack yet?