Shades Monthly is a monthly sunglasses subscription box. For $20 per month, you'll get a pair of brand new and trendy shades for men or women. You will also receive themed items such as candy or other extras, and occasionally Shades Monthly will throw in a bonus pair of sunglasses. Members receive a monthly email where they can pick one pair out of five choices, or you can choose not to choose, and will receive the most popular pair, as voted on by the Shades Monthly members.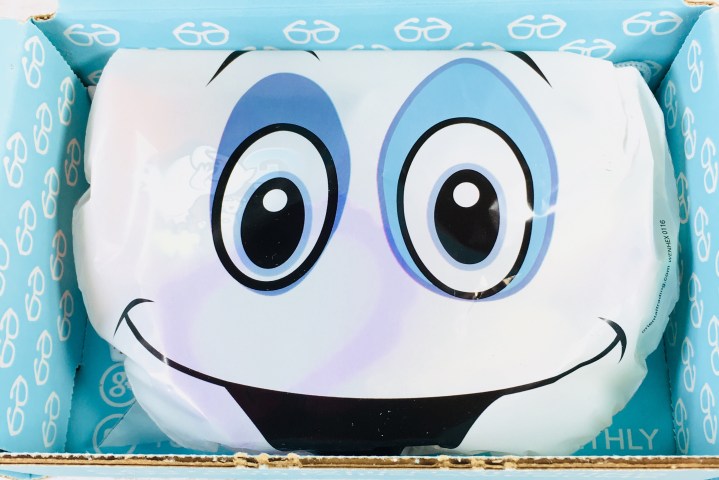 Wow, this box is smiling at me!
DEAL: Save 50% on your first month! Use coupon code SAVE50.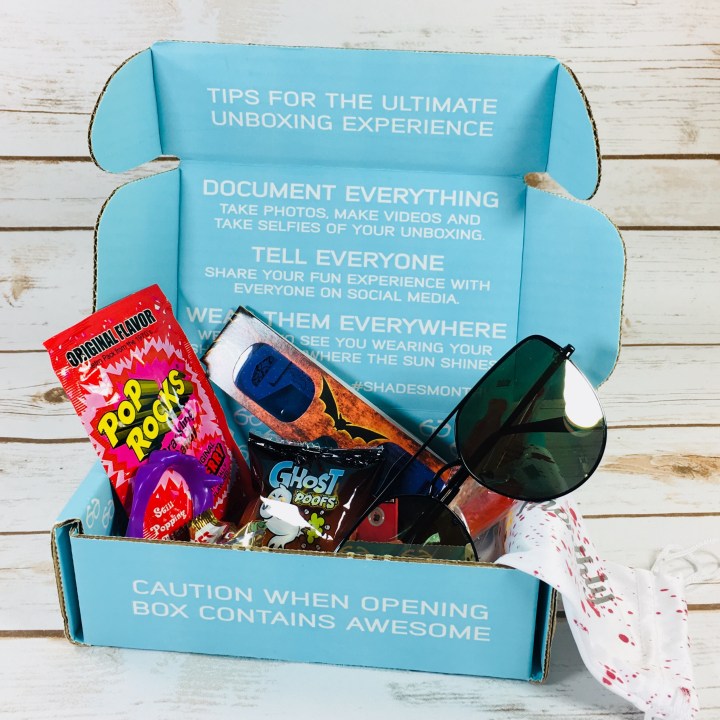 There was much more than just a pair of sunnies in this box!
I found a bunch of cards in the box.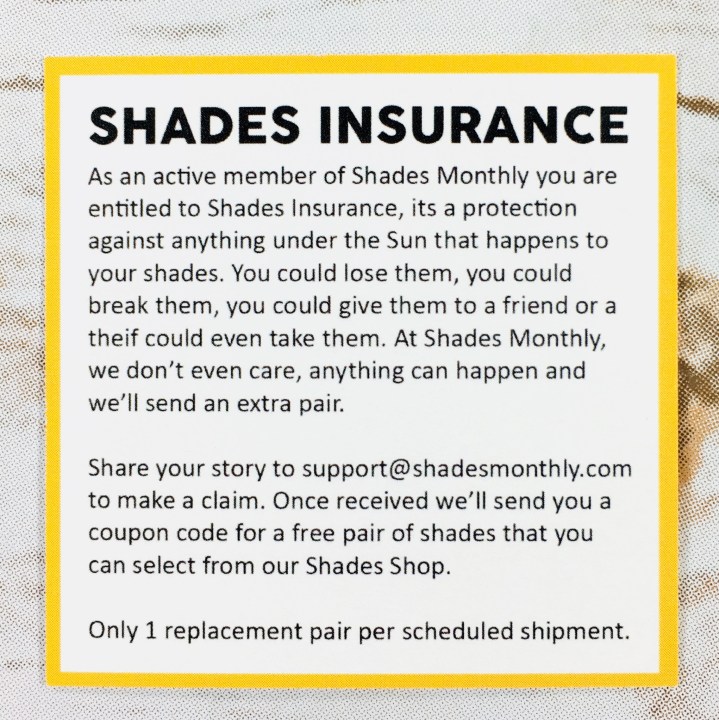 The first was Shades Insurance so you can get a free pair if something happens to the ones you already have.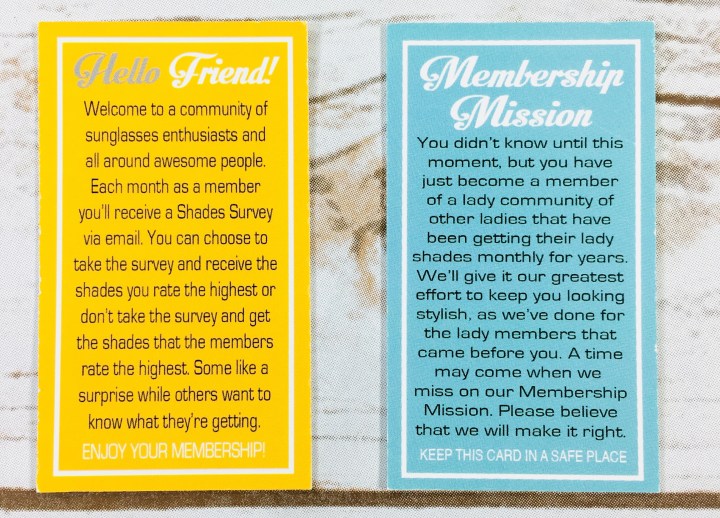 Next was a welcome card and the Membership Mission.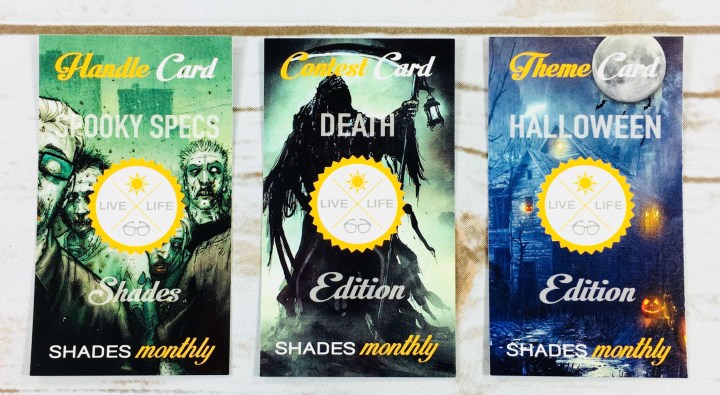 Finally I found some themed cards.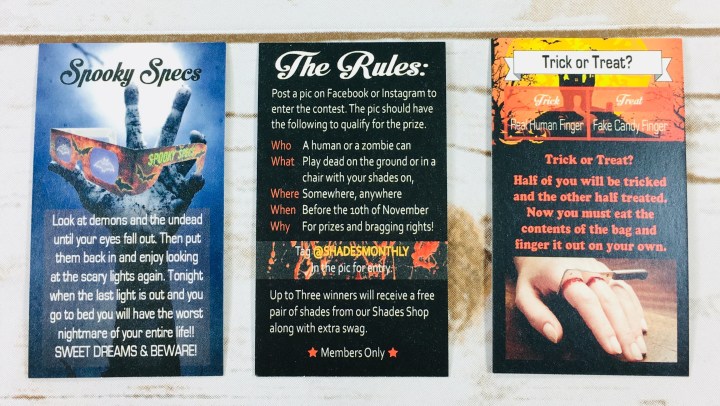 The first is called a Handle Card, the second is Contest Card, while the third is the Theme Card. Bet you can't guess this month's theme! JK, it's totally all about Halloween.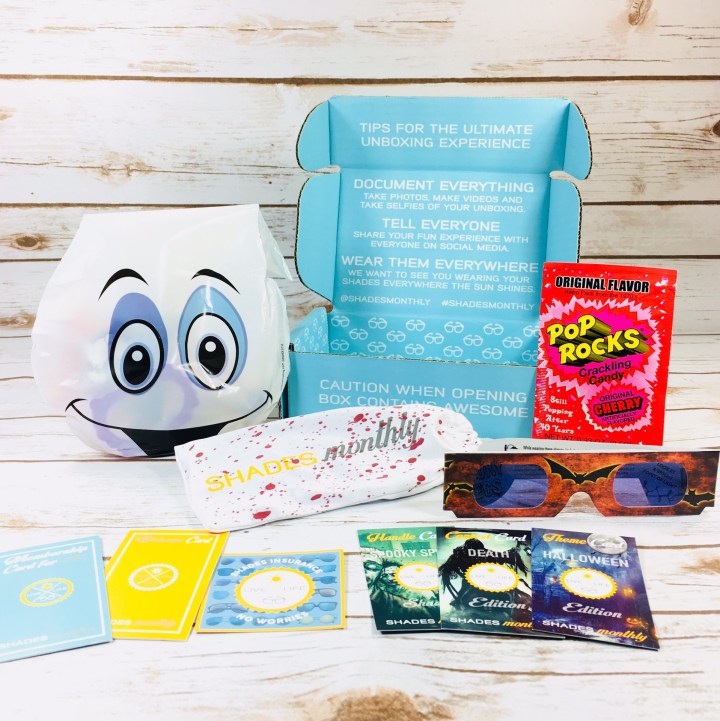 Everything in the box!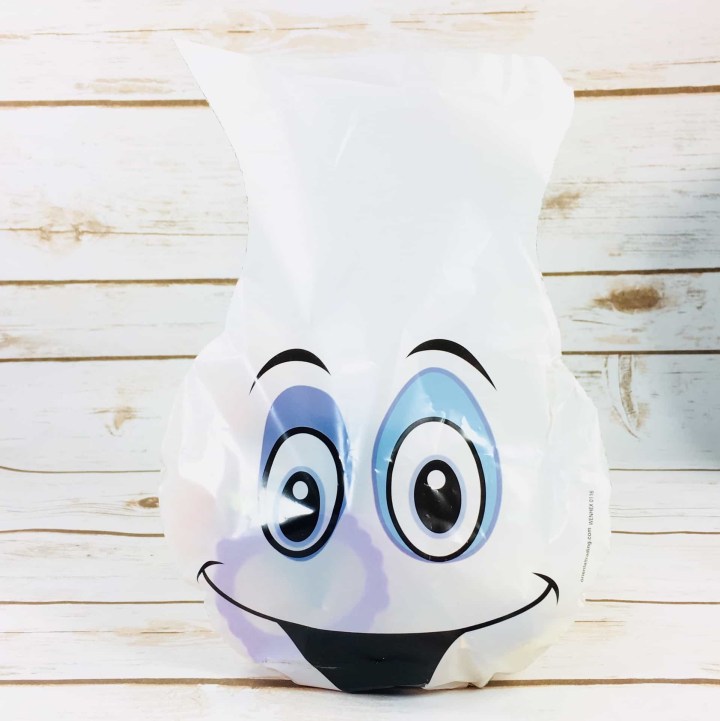 Yes, a Halloween treat bag!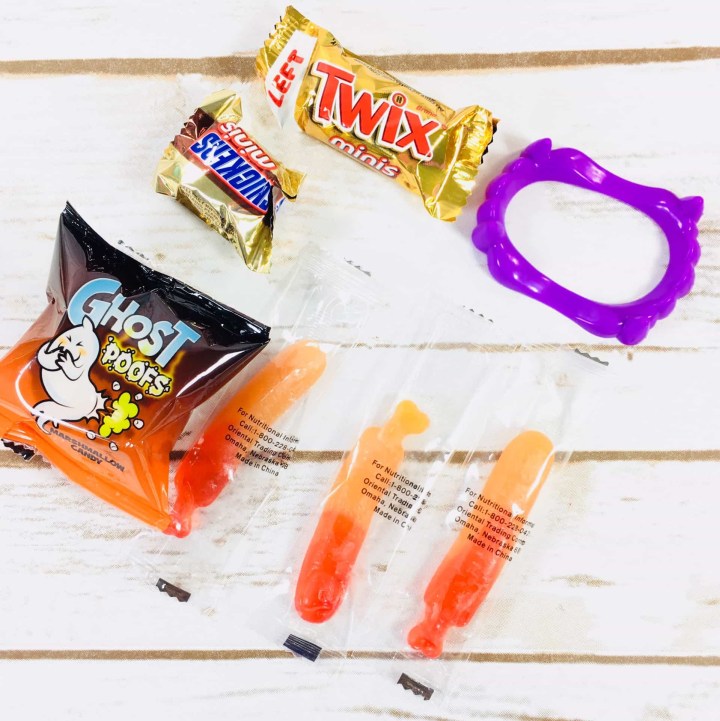 My daughter was so excited to see this stuff and I was happy to pass it along. Except for the Twix. That's all mine. Shades Monthly joked that some subscribers might receive a trick (a severed finger from an employee) or a treat (candy that looks like severed fingers.) Luckily, we received the treat.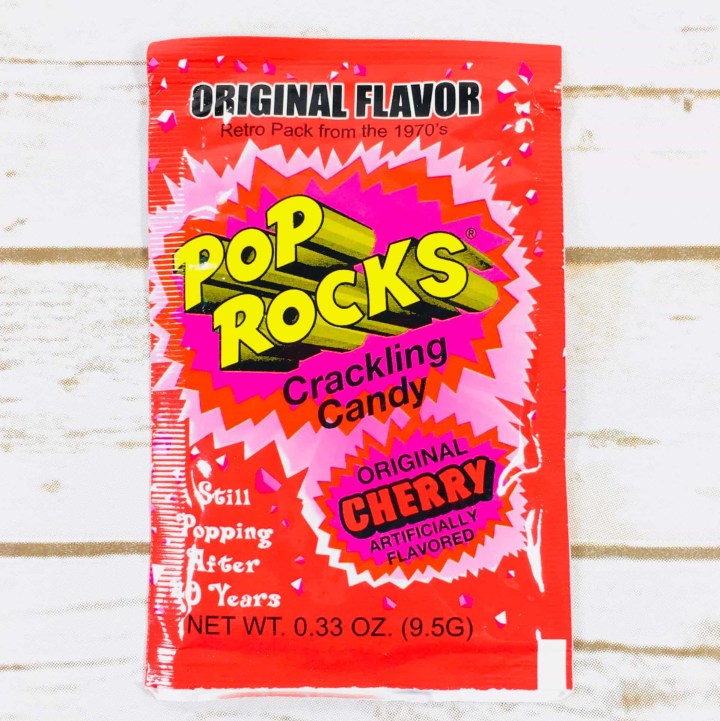 Pop Rocks have been around for ages!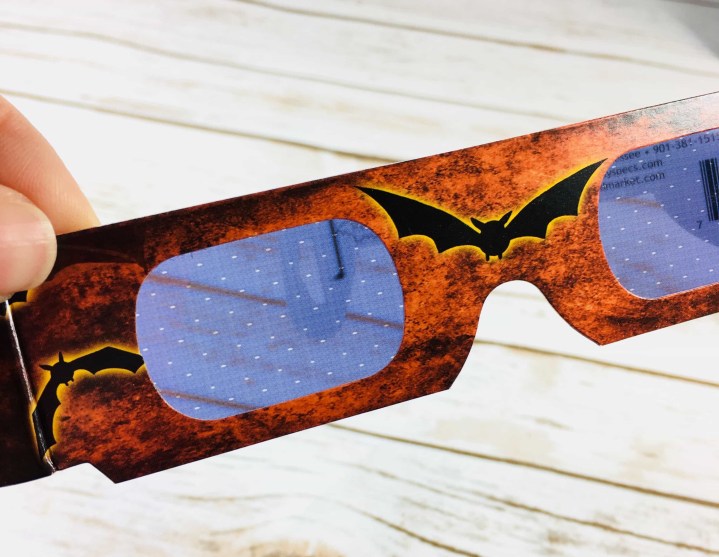 I also found a pair of Spooky Specs that will have you seeing bats everywhere you look. I didn't see them, but I live in Austin, so the real thing is usually flapping around in the evenings anyways.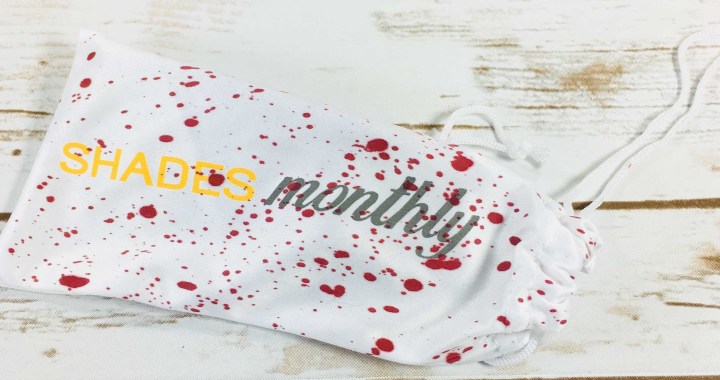 Each box contains a microfiber storage bag. This one is spattered with faux blood.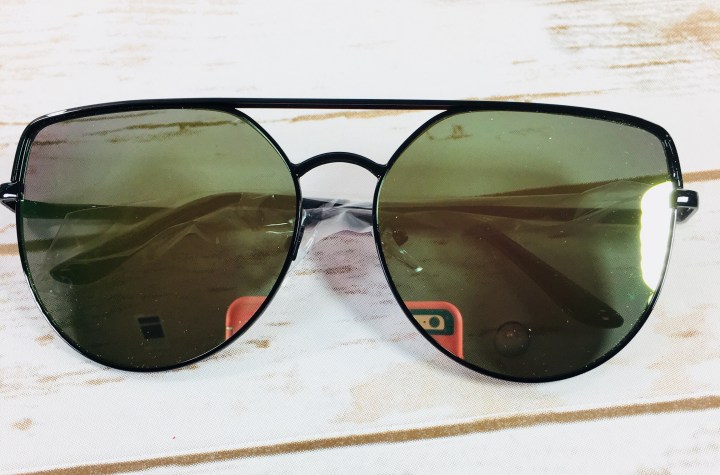 My shades! I received a pair of flat top aviators with mirrored reflective lenses. I couldn't find these on the Shades Monthly Shop page, but found them listed here. These would look great on Officer Poncherello from CHiPs!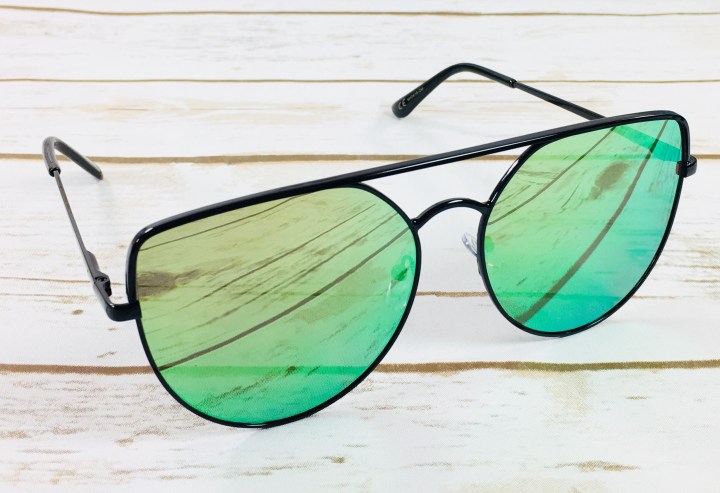 I didn't get a chance to vote on my shades and this is not something I would have picked for myself. They are huge, about half the size of my face, more or less. I wore them in my backyard and felt like they weren't the best at blocking the sun's rays. My daughter said they make me look like a cop. They are truly arresting.
Well, I sort of enjoyed my first Shades Monthly box! The presentation and theme were spot on and I like that they had a lot of fun with it, which made it fun for me, too. I think the quality of the glasses is not all that great, but then again, another pair will be here in 30 days. If you feel like the glasses are not your style, then you can always play your Membership Mission card and get another pair.
What did you think of the glasses? Let me know in the comments! In the meantime, drive safe my friends or Ponch might have to give you a ticket.