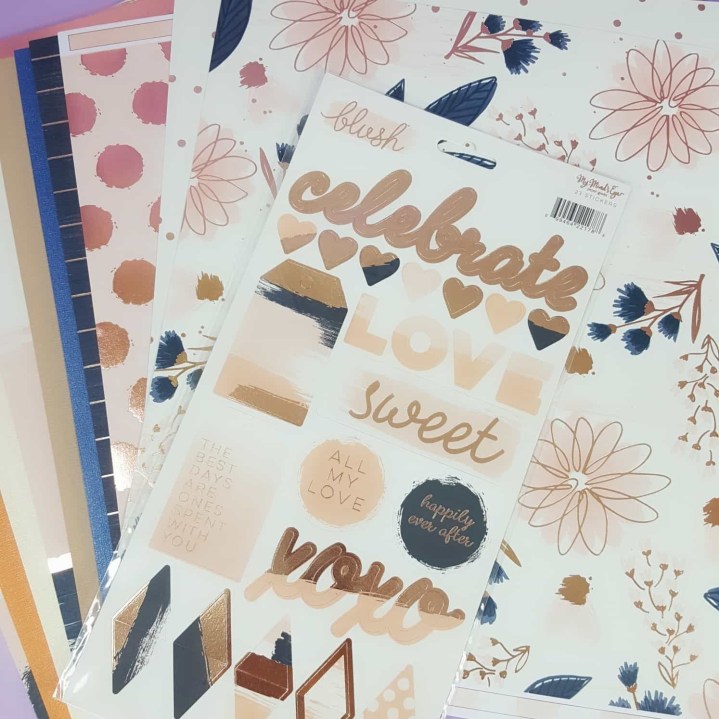 Scrapbooking Store is a monthly scrapbooking subscription uniquely designed & selected just for scrapbookers! Each month we receive a beautiful, themed scrapbook kit complete with 12×12 pages, stickers, cutouts, or other embellishments. Members can upgrade their subscription to receive 2-3 extra embellishments such as buttons, stickers, jewels, brads and more. This is the perfect subscription for avid scrapbookers since you can take their supplies and easily add from your own collection of embellishments and goodies.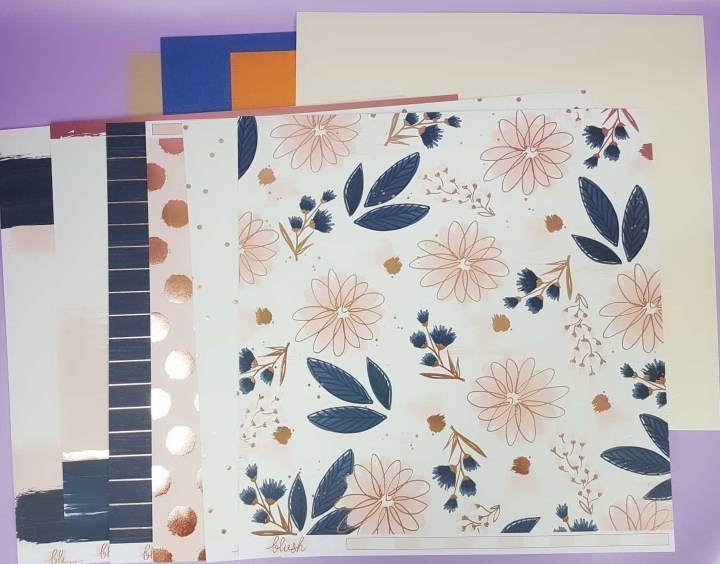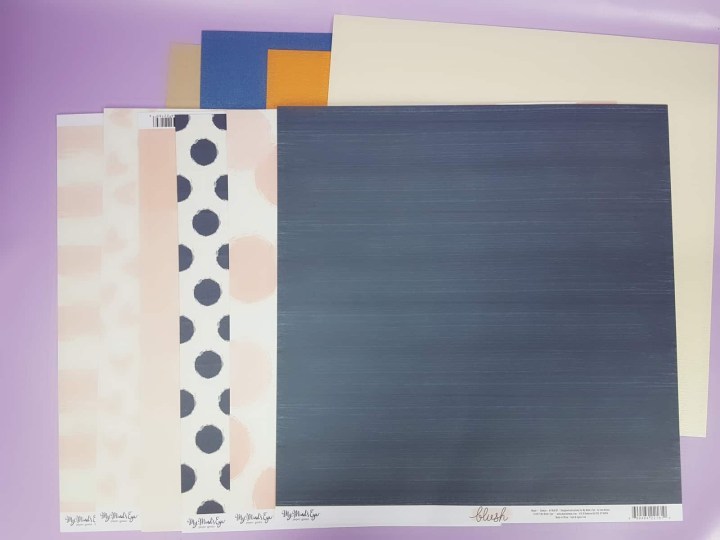 The papers come in a plastic bag and then all of the supplies are in a large cardboard envelope. The above pictures show the two sides of the papers. This month we got designer papers from the My Mind Eye blush collection with 6 – 12″x 12″ sheets, 4-12″x12″ solid cardstock sheets and a sheet of coordinating stickers.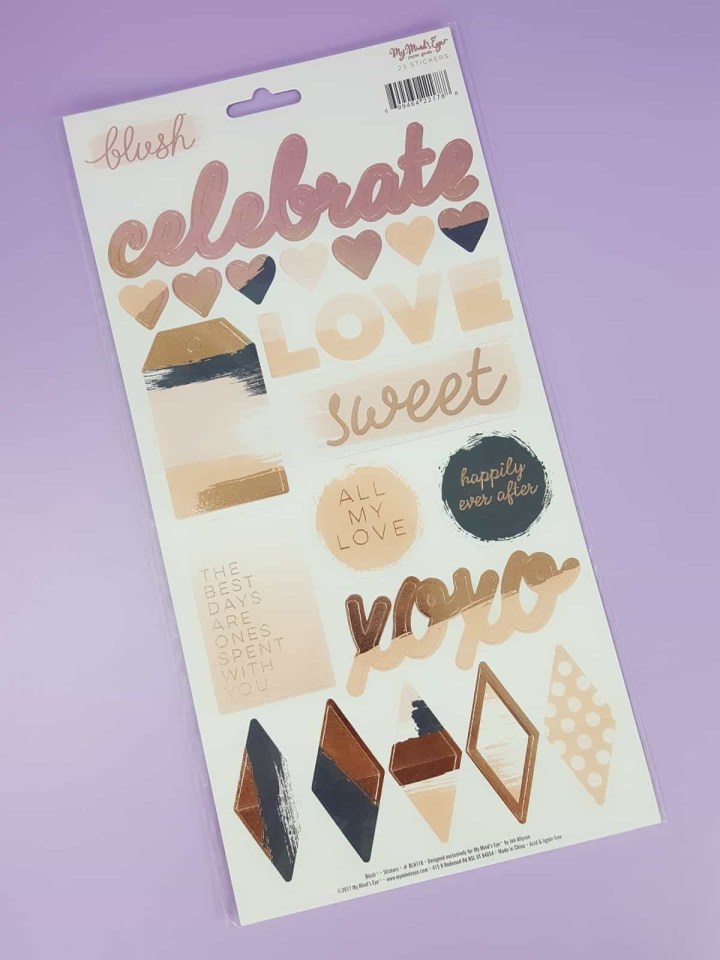 Here are the coordinating stickers that go with the collection.
On one side of the information sheet is an inspiration page and information about the layout. There was a lot of pink in this collection so I knew I wanted to use some of my pictures. With two boys I do a lot of boy colors so whenever I can use pink I'm stoked!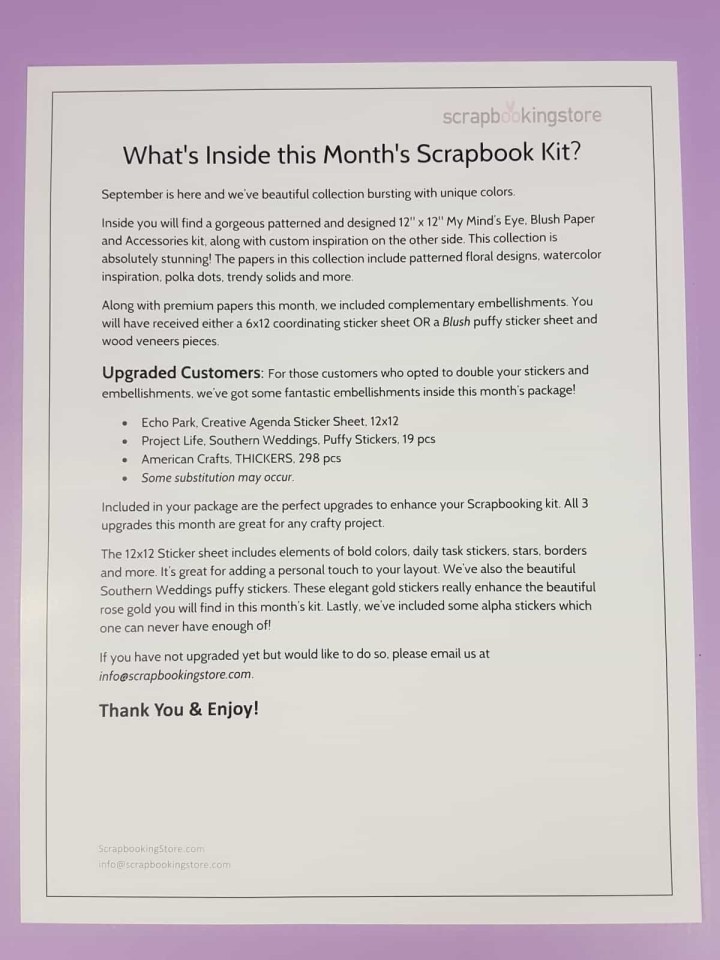 The back of the inspiration card shared the contents of the kit and what you would get if you got the upgraded package.
First page I created. I go to Disney a lot so I don't always want to use the normal Disney papers and since this was a training trip and just me I thought it was perfect to use with these papers.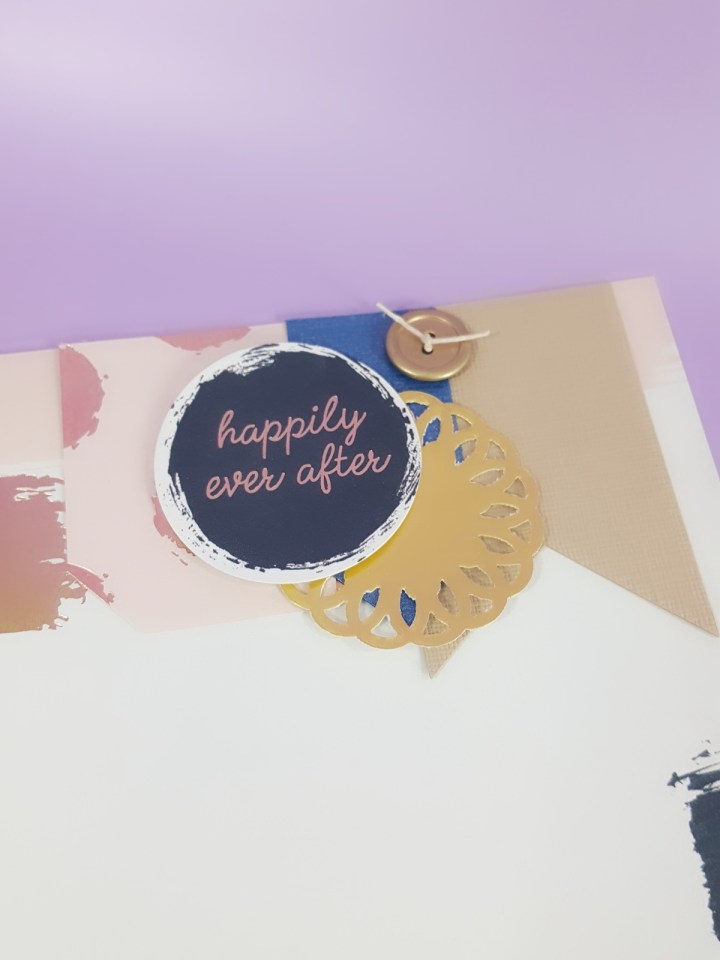 I used the stickers from the kit but also added some extra buttons and doilies from my stash. I'm obsessed with all the foiling on these pages.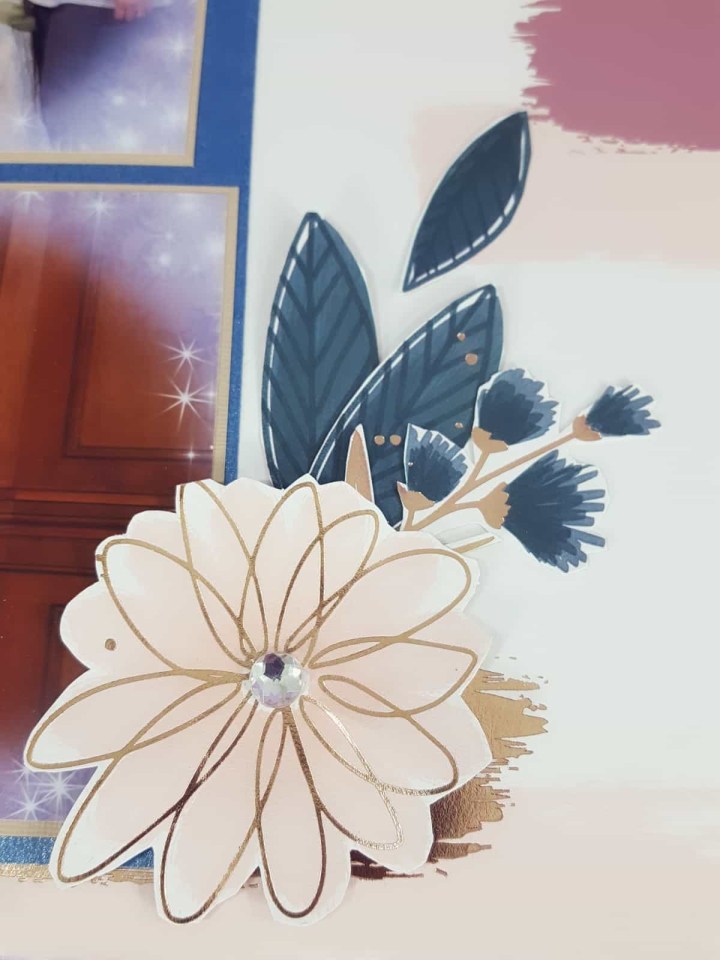 I liked the flower in the sample page but I did not want orange on this page so I cut this one out of one of the papers.  Just popped it up and added a rhinestone and it is perfect for the page.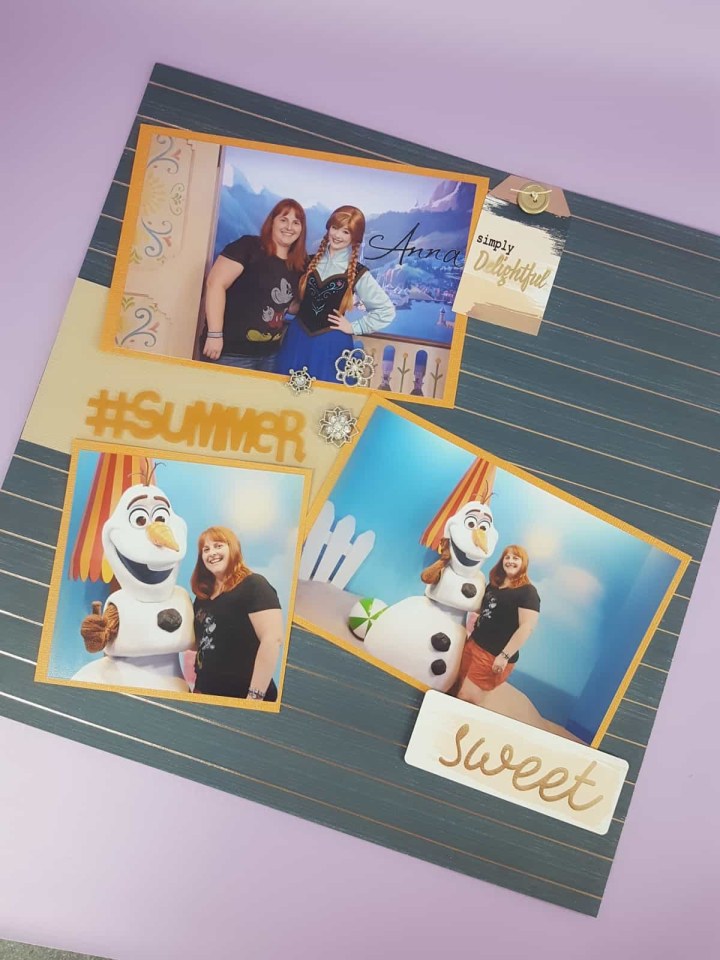 I didn't want to use orange on the first page since I knew I was going to use it on this one.  I love Olaf and getting to meet him was so fun. A simple page with my Frozen friends.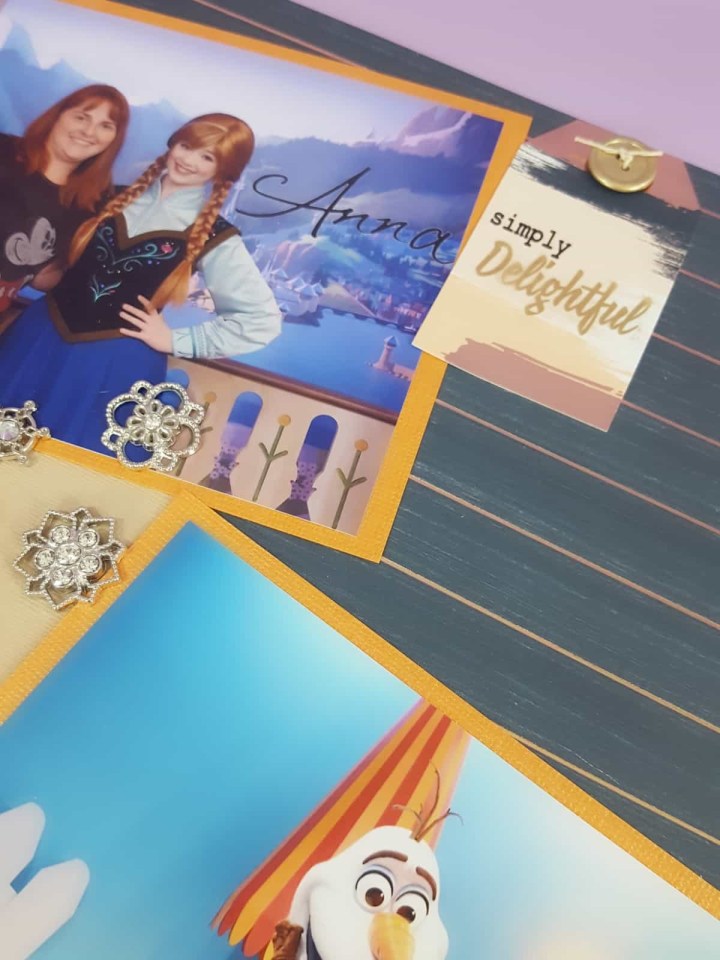 Hard to see but the lines are gold foiled and they really add so much sparkle to the pages.  The whole blush collection is so shiny and fun.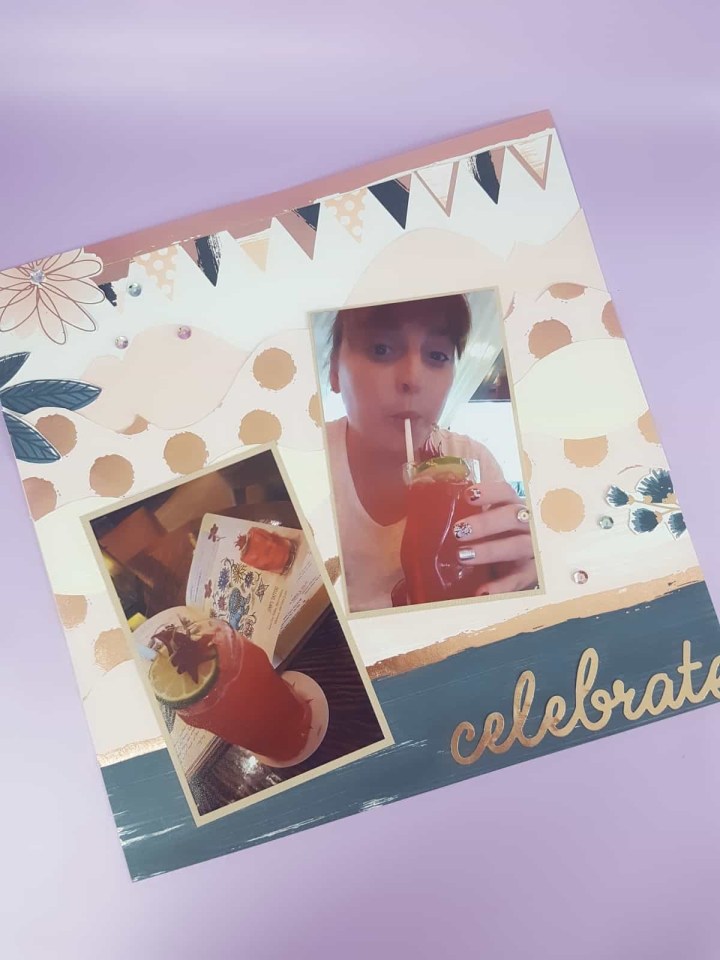 And my final page so far. When a drink has your name you have to get it. Right? When I stopped to get a snack and try out a new bar I looked at the drinks and saw one named Jenns Tattoo and I just had to have it. It was so good and one I'll be getting again.  More Rose Gold foiling on this page and I used some of my Kiwi Lane templates to get the curves lined up for the papers.  I did some more flower cut-outs to tie it into the other page and then more of the included stickers and some sequins.
Scrapbooking Store sent a blushingly beautiful pack this month. While their examples were for a wedding I went in a different direction with Disney but it totally works. The papers were again nice and thick and I'm already a fan of My Minds Eye so I knew they would be good. Foiling is very popular in crafting right now so these papers are very on trend and will look stunning in my scrapbooks.
Do you like to scrapbook? Do you have a favorite paper this month?