Scrapbooking Store is a monthly scrapbooking subscription uniquely designed & selected just for scrapbookers! Each month we receive a beautiful, themed scrapbook kit complete with 12×12 pages, stickers, cutouts, or other embellishments. Members can upgrade their subscription to receive 2-3 extra embellishments such as buttons, stickers, jewels, brads and more. This is the perfect subscription for avid scrapbookers since you can take their supplies and easily add from your own collection of embellishments and goodies.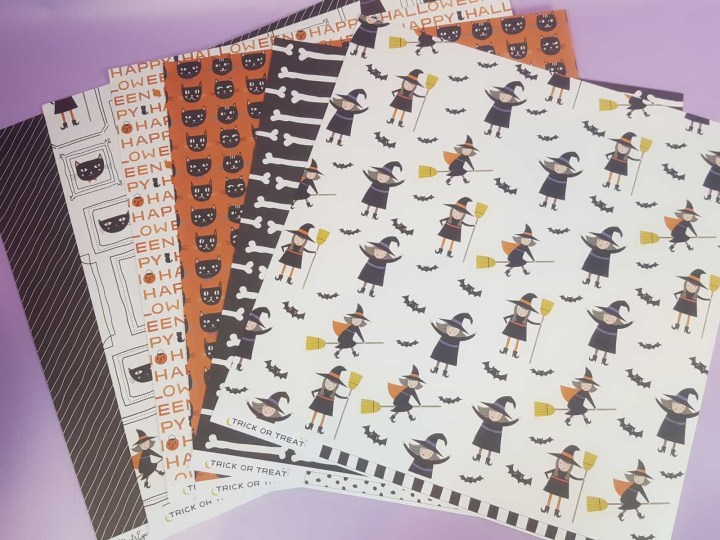 The papers come in a plastic bag and then all of the supplies are in a large cardboard envelope. The above pictures show the two sides of the pattern papers.
This month we got designer papers from the My Mind Eye Tick or Treat collection with 6 – 12″x 12″ sheets, 5-12″x12″ solid cardstock sheets (shown below) and a sheet of coordinating stickers.
They 12″x12″ solids cardstock are a combination of diamond textures and smooth.  They all are the perfect Halloween colors.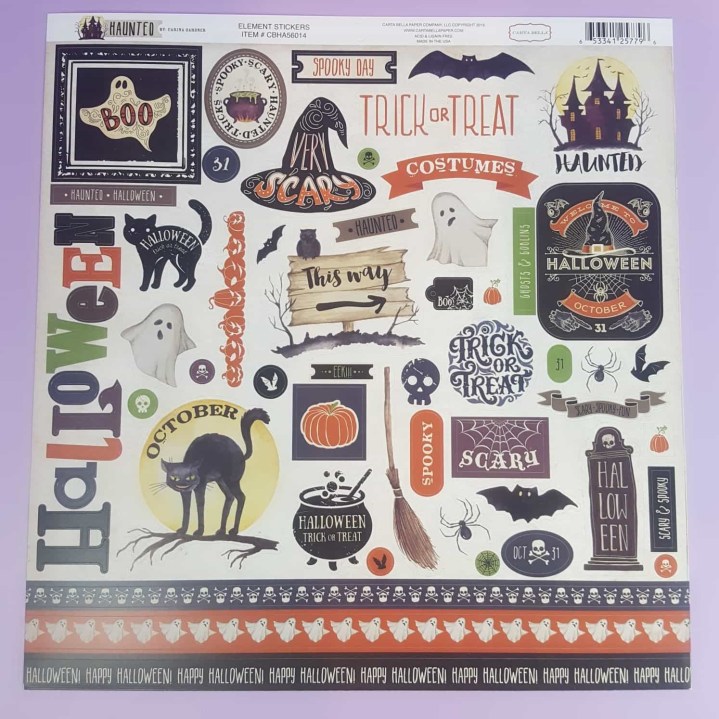 Here are the coordinating stickers that go with the collection.
On one side of the information sheet is an inspiration page and information about the layout. I LOVE Halloween and had so many pictures to pick for this one. I actually went on a scrapping trip with my friends and took multiple years and finally decided to do last years pictures.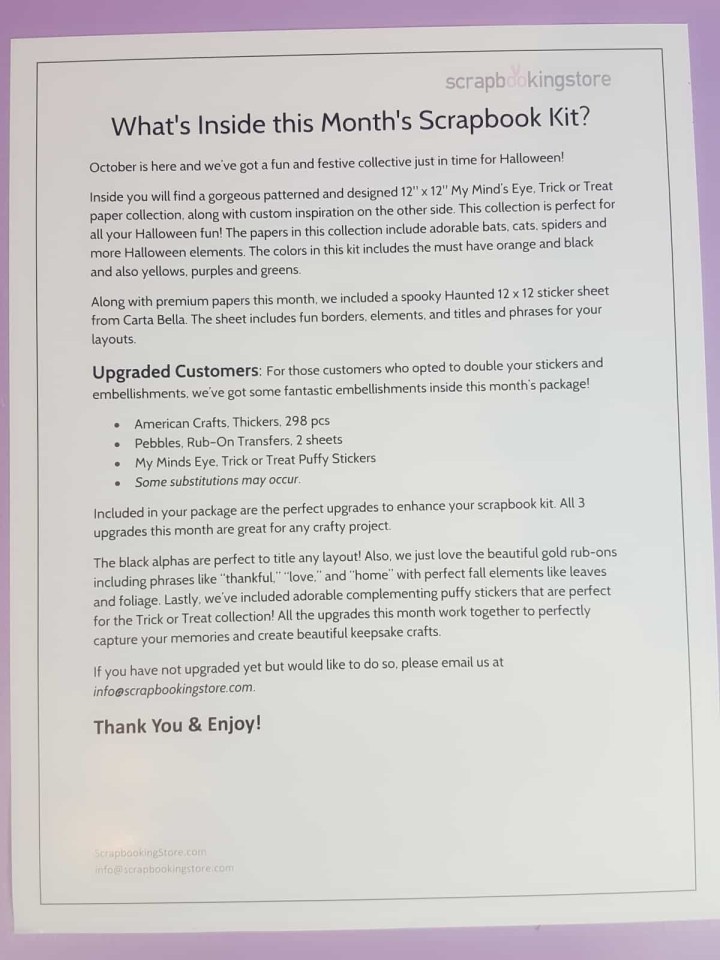 The back of the inspiration card shared the contents of the kit and what you would get if you got the upgraded package. I just get the regular package and then use extra supplies that I have here in my stash.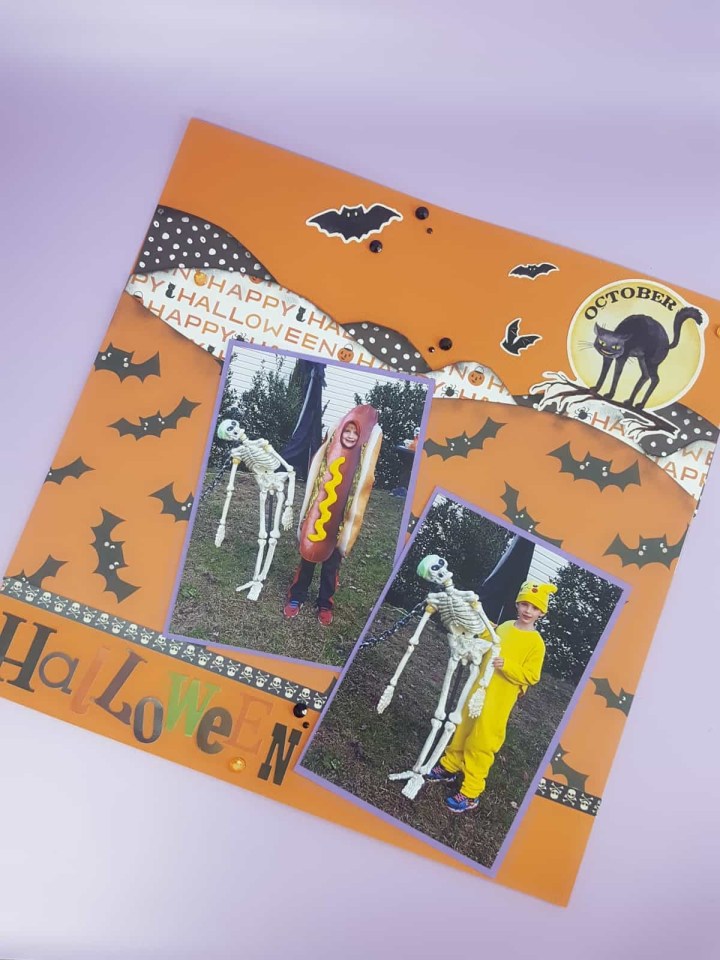 First up is my inspiration from the project guide.  I had all intentions of doing the yellow moon but it just didn't really work when I picked these pictures so I just modified and kept going.  I used the included papers and stickers and then added some rhinestones and cut the curve patterns with my Kiwi Lane templates.  The templates are a great way to use pattern paper and make then really stand out.  I inked the edges of the curves to get a more dimensional feel.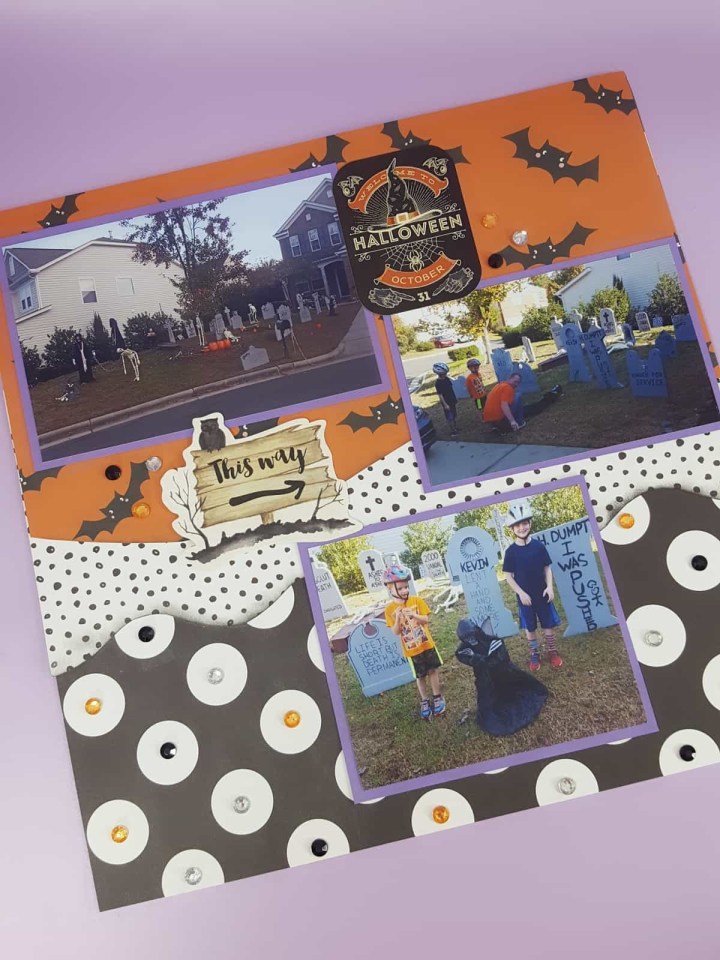 Here is the companion page to my first one.  I again used the included papers and stickers with my Kiwi Lane templates and rhinestones.  We do a huge layout for Halloween complete with a graveyard in my front yard.  I really liked the polka dots but they were just a bit too bright for me so adding the rhinestones broke up the larger circles.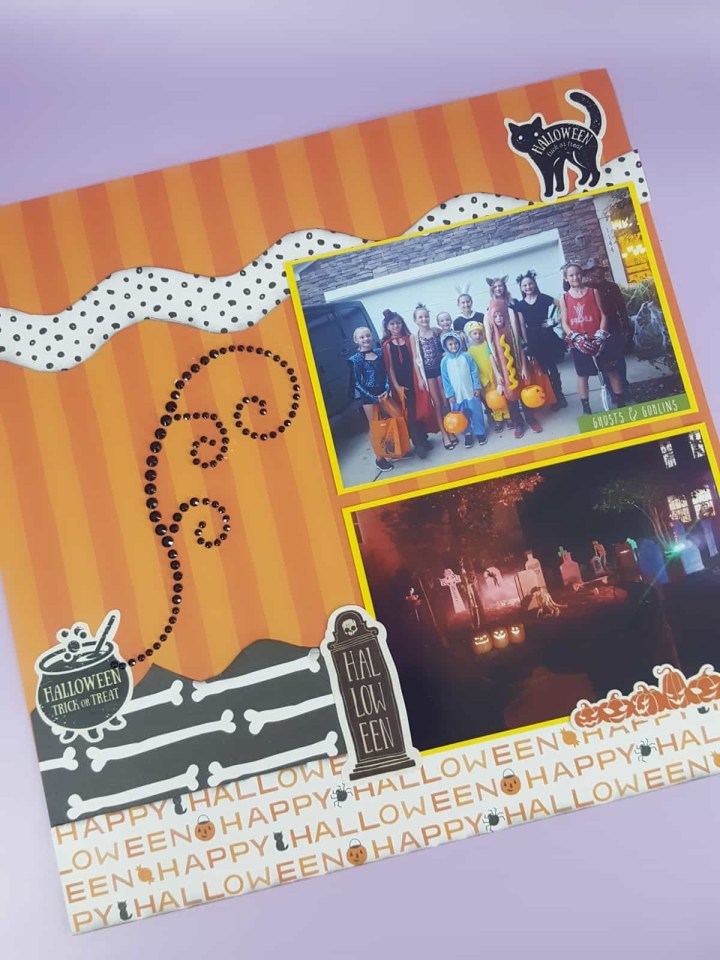 Another page using this month's supplies.  I again used my templates this time and added a retired enamel dot swirl from Stampin' Up.  I've had this swirl forever and when I was working on these pages I knew that it would work perfectly. You could create a similar look with individual dots but the pre-done swirl made it so much easier.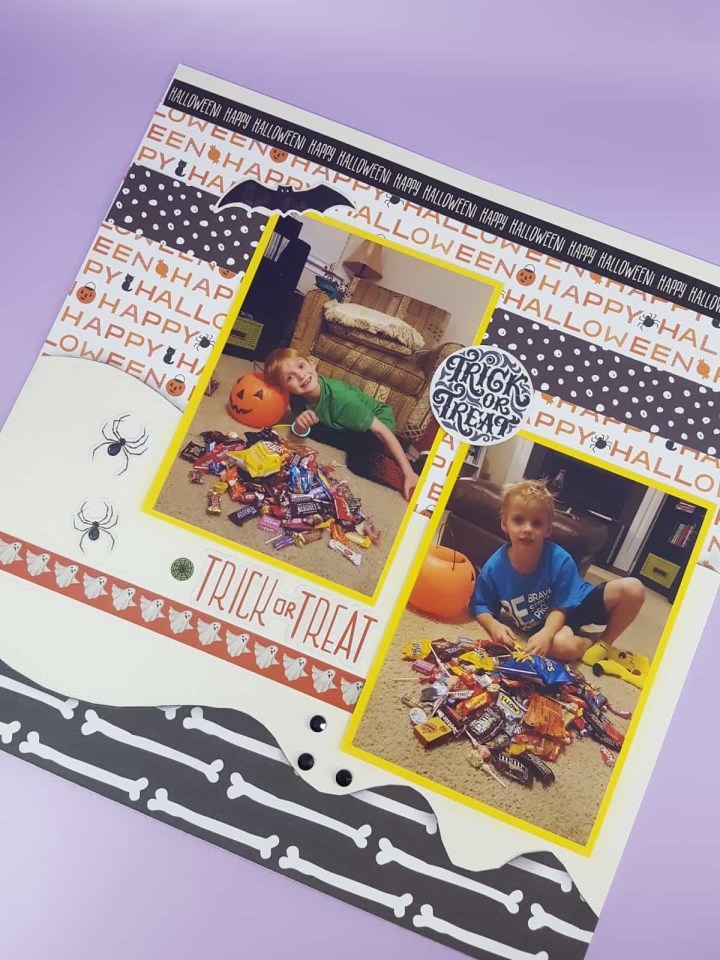 My final page for this packet and I used up the strips of the pattern papers that I had left and just added them to the solid papers.  Then I added some of the leftover stickers and rhinestones and popped out the pictures with the yellow borders.  So much candy and I'm pretty sure we got even more candy this year.
Scrapbooking Store sent a Spooktacular collection this month. I love Halloween as you can see from my pictures and this was the perfect October box to send.  So many great options and papers and the stickers worked together perfectly. I was also excited that the collection went along with my current scrapbooking obsessions in templates and rhinestones.  Since I scrapbook out of order it is easy for me to use the same techniques with multiple sets of pictures and then when they are sorted out through my books it doesn't look repetitive at all. It works perfectly!
Do you like to scrapbook? Do you have a favorite paper this month?