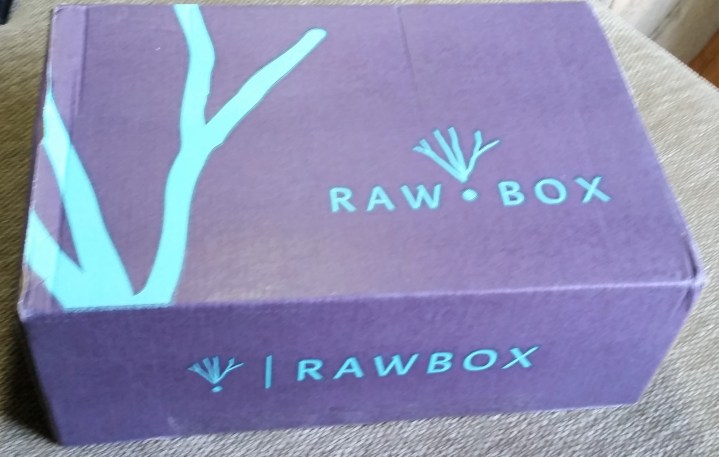 RawBox is a quarterly subscription box promising healthiest snacks and cleanest lifestyle products. The snacks are all raw and plant-based, free of gluten, wheat, dairy, soy, and many other common food sensitivity triggers. And the lifestyle items are chosen based on the same criteria. Although I don't follow a raw or vegan lifestyle, the snacks are so healthy and tasty that I love getting this box of snacks.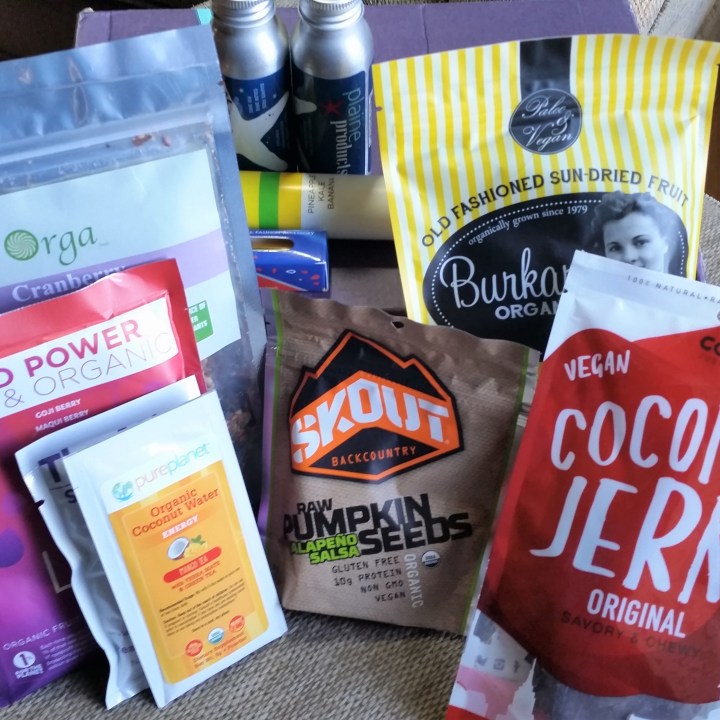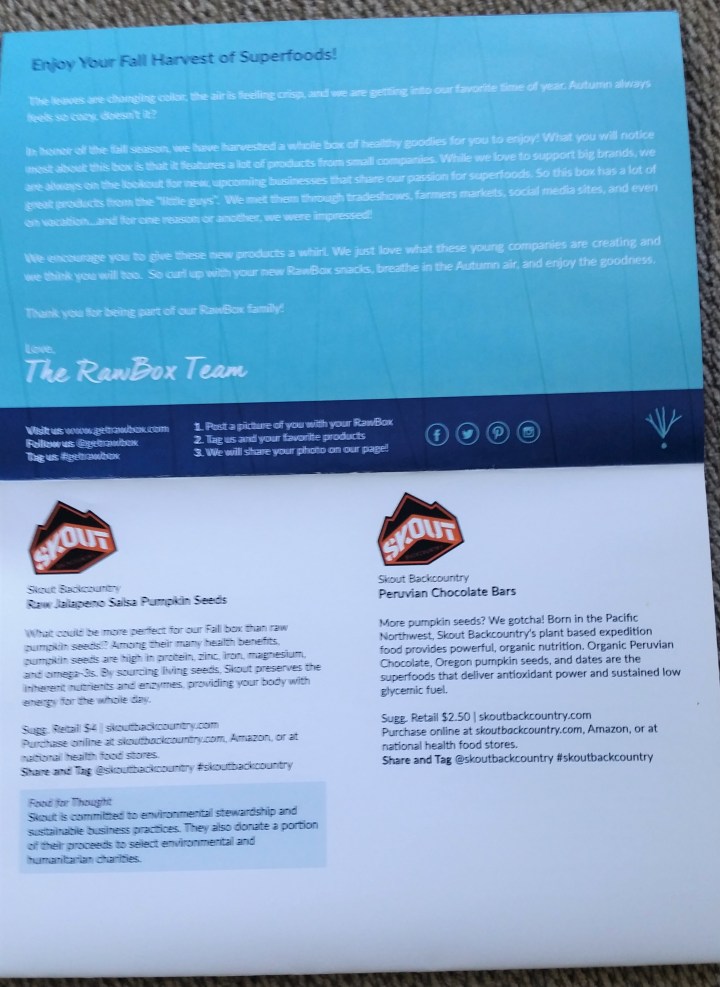 The theme for this quarter's box is "Enjoy Your Fall Harvest of Superfoods."
Not only does RawBox send a box chock full of tasty goodies, but they also provide a ton of information about each of the items. The information card is about 5″x16″ – way too big to photograph the whole thing… the photo above just shows two of the four panels… and each panel has information on both sides. The information card provides details about suggested retail prices, manufacturer information, purchase locations, and often some extra tidbits like tips for using or recipes.
DEAL: Save 15% on your first subscription! Use coupon code WELCOME15OFF.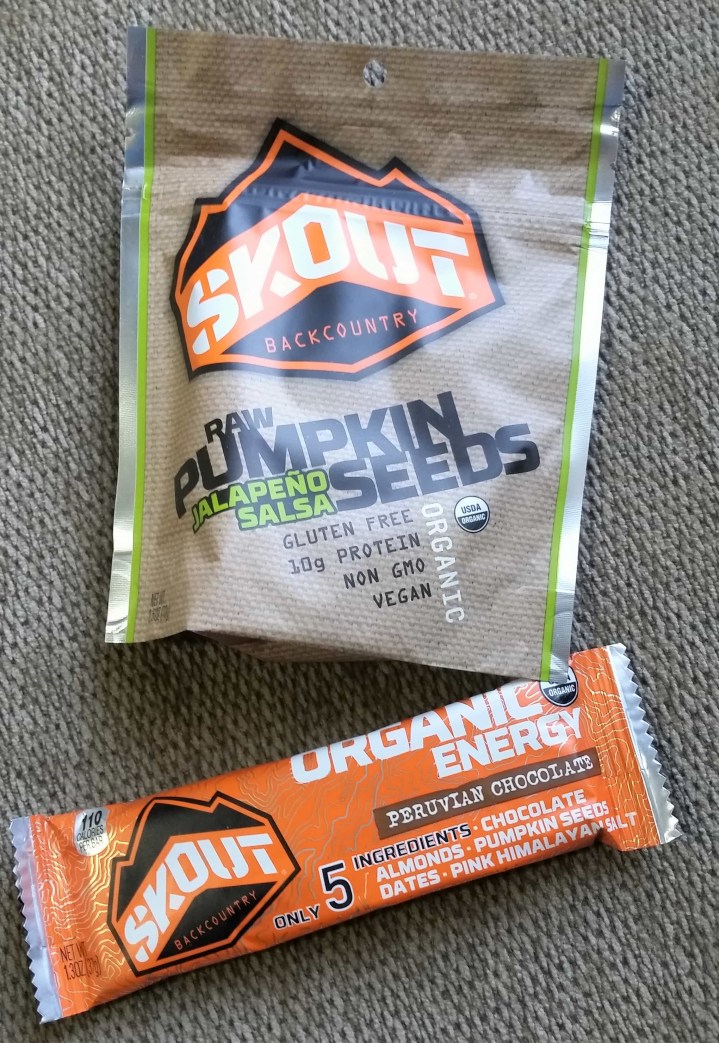 Skout Backcountry Raw Jalapeno Salsa Pumpkin Seeds ($4) and Peruvian Chocolate Bar ($2.50): I have tried these jalapeno salsa pumpkin seeds before and really like them. I'm a big fan of spicy snacks and these hit the spot. I hadn't tried the Peruvian chocolate bar before, but it is good too. It had a great dark chocolate flavor and a nice texture with the almonds, seeds, and dates. Plus who doesn't like just a pinch of salt with their chocolate?  This bar made a nice breakfast bar.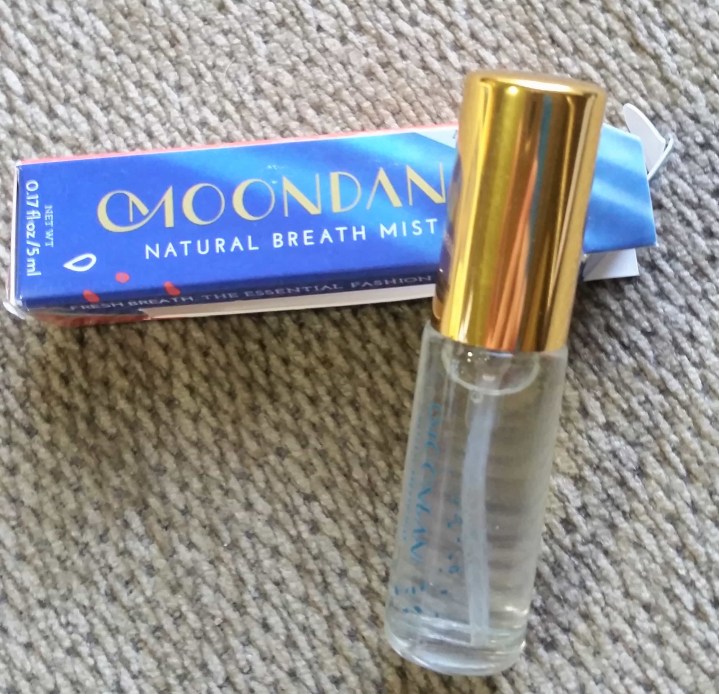 Moondani Natural Breath Mist ($8.50): In addition to snacks, RawBox generally sends a couple of lifestyle items.  This breath mist from Moondani is nice – it has no alcohol or sweeteners, and it's "flavored" with ginger and other spices, not mint, which makes it quite unique. I liked it and it got rid of coffee breath!
Plaine Products Shampoo & Conditioner ($10): This month's other lifestyle item is a set of travel-sized shampoo and conditioner, made from vegan ingredients and without harmful chemicals. These products have a light minty-vanilla scent which is pretty. Additionally, these little aluminum bottles are reusable – environmentally friendly!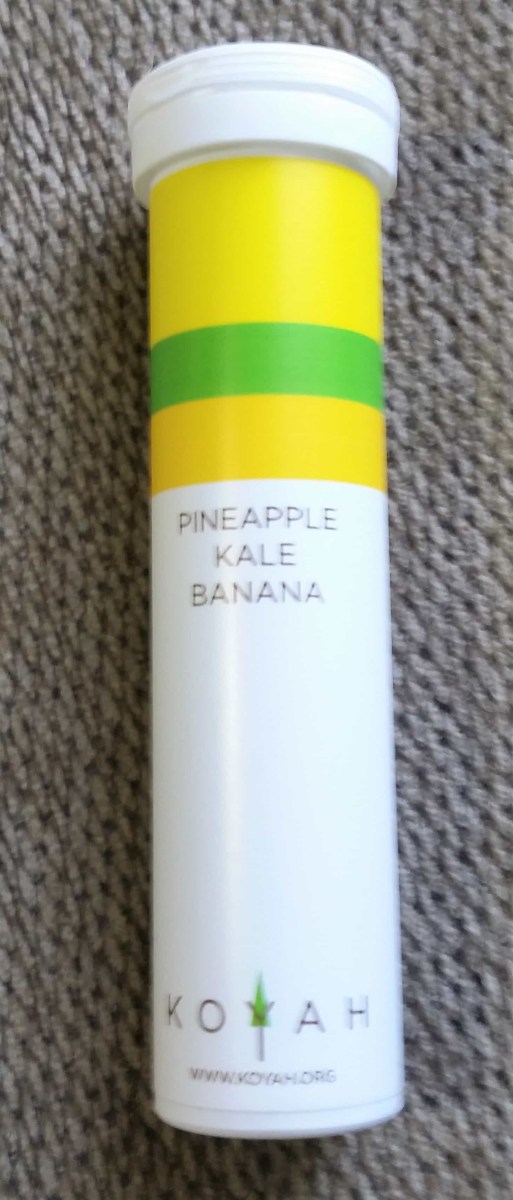 Koyah Pineapple Kale Banana Smoothie ($6): This little tube of smoothie is kind of like magic. I'm not sure why, but smoothies from a tube taste better than smoothies from a pouch often do. Or maybe it's because this smoothie has a lot of fruit packed into it – pineapple, banana, and kale – all freeze-dried and powdered. You simply add the tube's contents to water & shake. The information card recommended serving cold or even blending with ice (which I did). Delicious!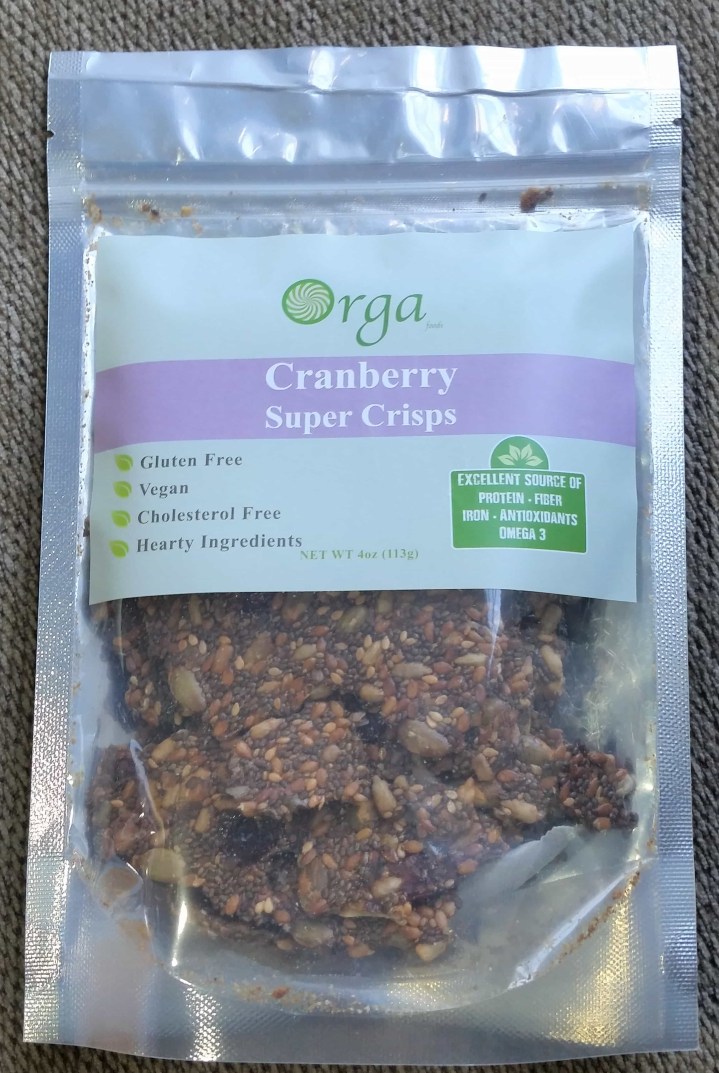 Orga Foods Cranberry Super Crisps ($7): I wish I could tell you what these tasted like, but my husband ate the whole package before I got any! That is actually quite a complement – he's not so much into raw and healthy snacks and usually just tests a bite or two of whatever I have on hand. These must have been really good! They are made with seeds (e.g., chia, sunflower, and more) and cranberry.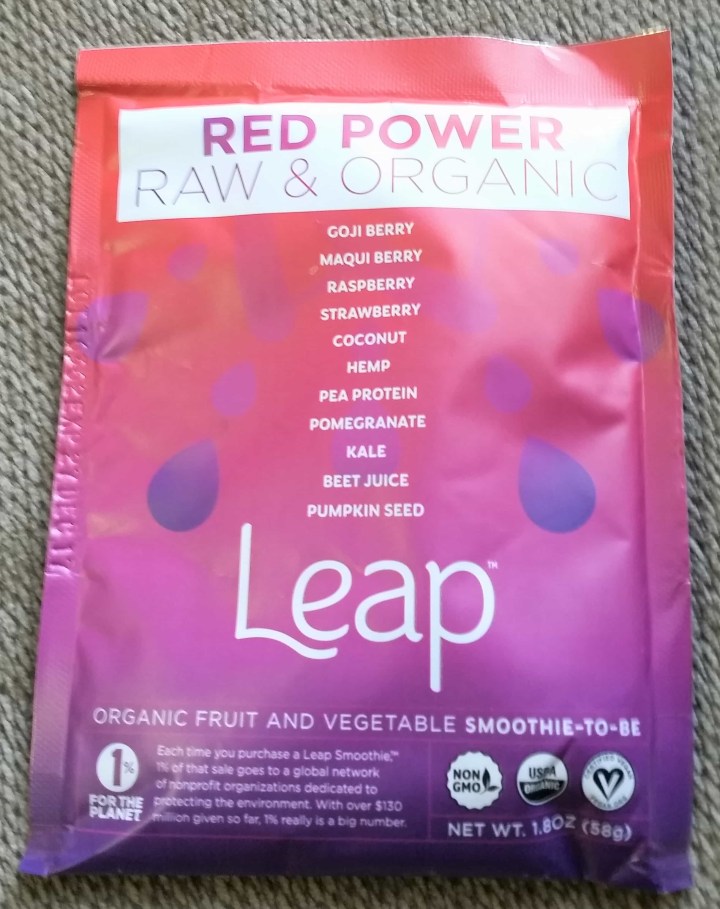 Leap Smoothies Red Power ($5): While I definitely like smoothies that come in tubes like the Koyah smoothie above, this Leap Smoothie was pretty good too. I actually made it into a smoothie bowl using the recipe that was included on the information card.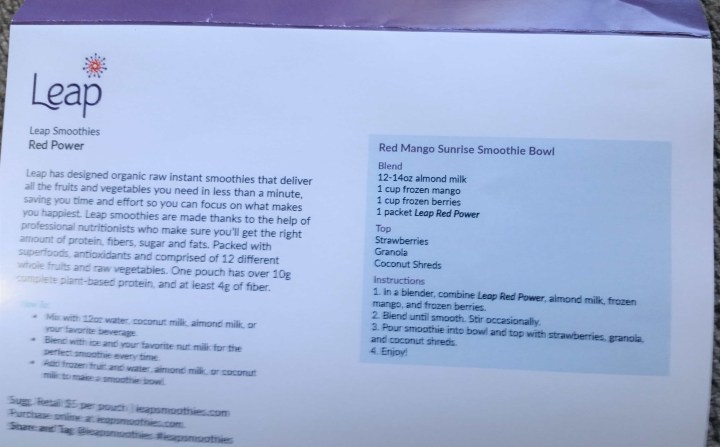 Here's a peek at that panel of the information card with the recipe. I have tried Leap Smoothie products before and I really love smoothie bowls.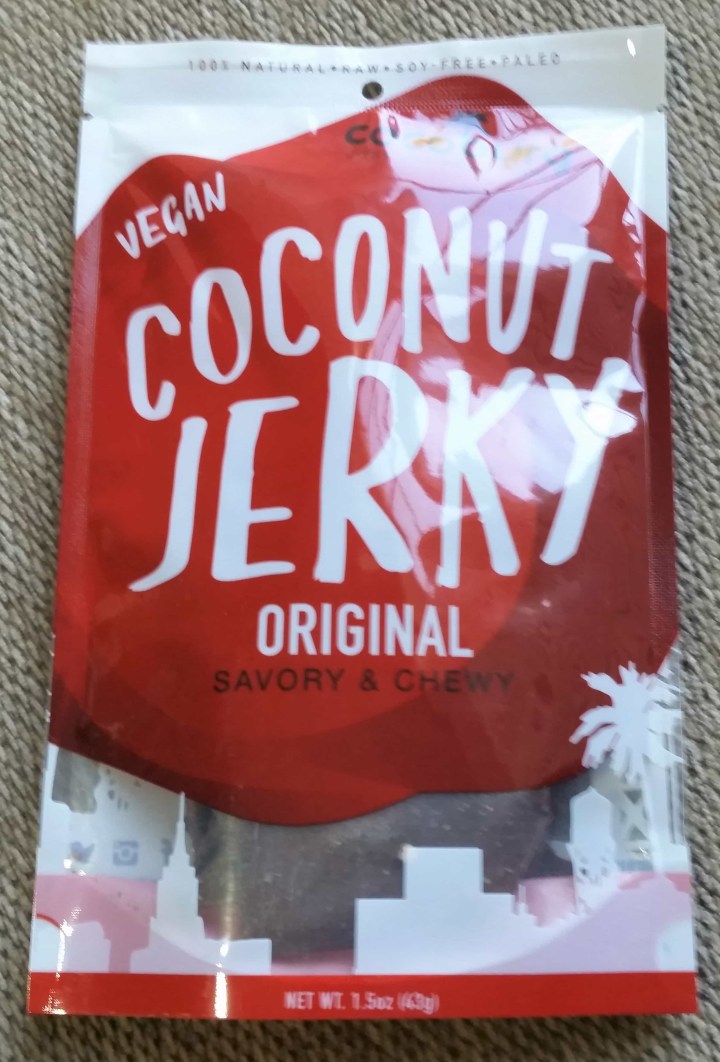 Cocoburg Coconut Jerky ($7): This product was the only real miss for me out of this quarter's box. Coconut has an underlying layer of sweetness that just doesn't taste good when mixed with savory, at least for me. If you were vegan, however, but wanted a meat-flavored treat, this may suit you just fine.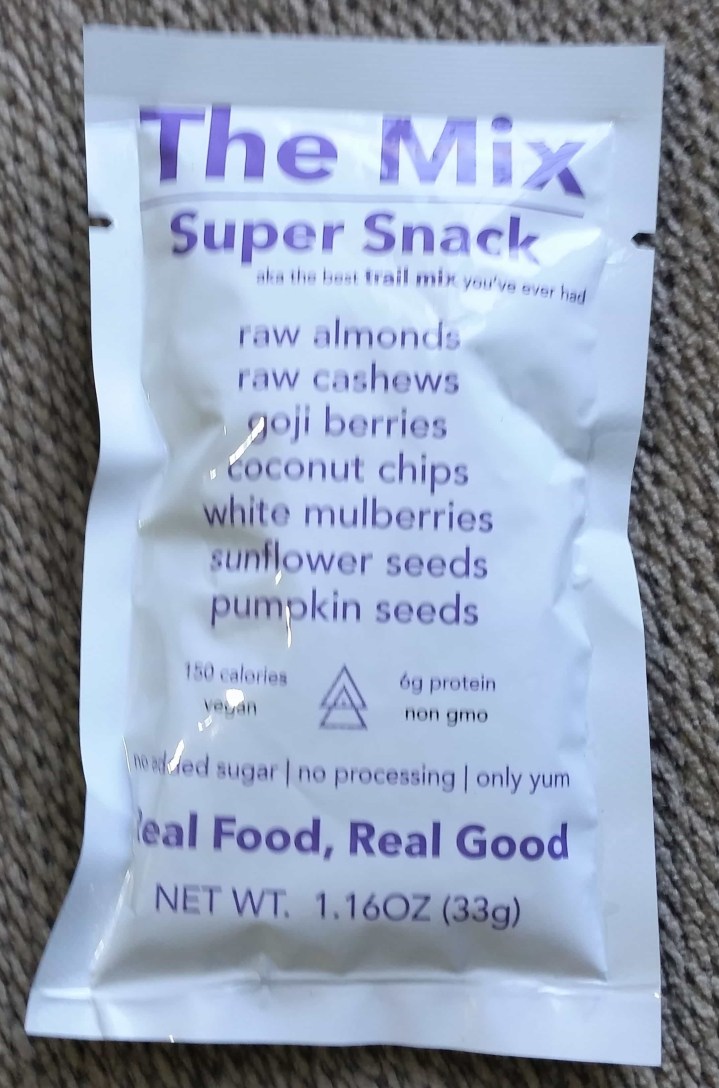 The Mix Super Snack ($4): Don't let the generic-looking label fool you – this little pack of trail mix is delicious.  The package front very clearly tells you what yummy ingredients are in the trail mix… and like the packaging, one nice thing about the mix is also its simplicity. Yum!
Burkart Organics Dried Fruit Mix ($10): I've had Burkart dried fruit before (peaches, I think) and it was delicious.  This mix is even nicer, as it's a mix of persimmon, peaches, and nectarines. Our favorite thing is to chop it up and eat it with oatmeal or yogurt. The fruit is a very nice quality and since there's no added sugar, it tastes just like fresh fruit… only dry!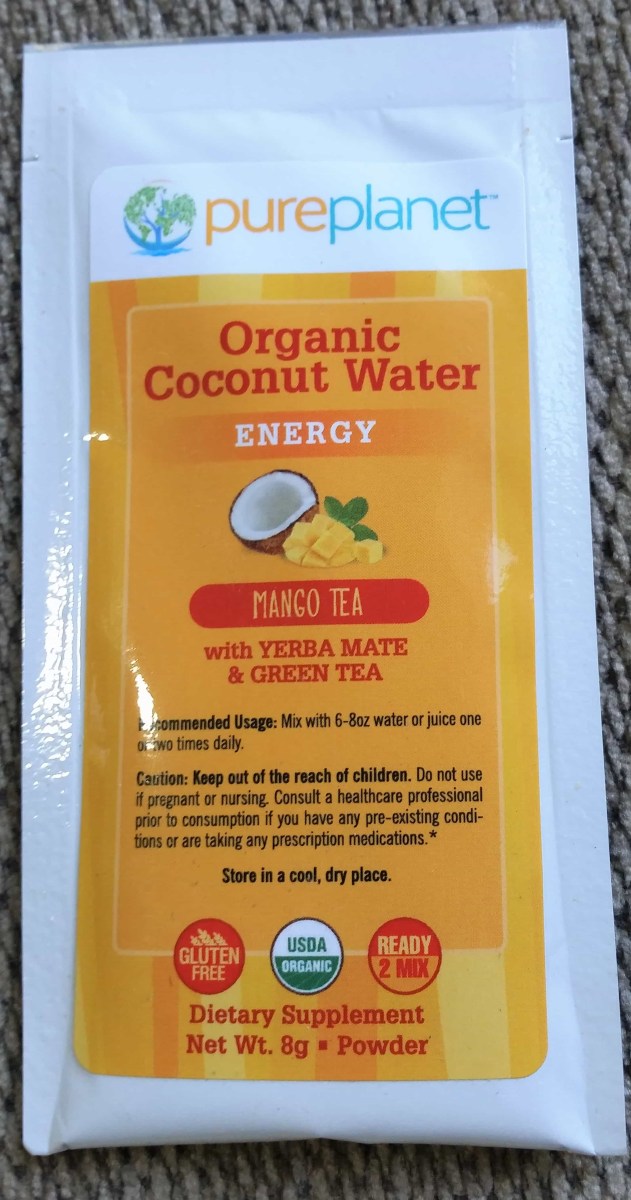 Pure Planet Organic Coconut Water ($2): I'm not much of a supplement drinker – but this packet has a nice, lightly sweetened mango flavor with a little bit of pick-me-up from the yerba mate.
Again this quarter I really enjoyed RawBox's offerings. Almost all of the snacks were a hit and the lifestyle items were things I will use. Whether you eat a vegan or raw food diet or you just like delicious, nutritious food, you should give RawBox a try!
What do you think of the Fall 2017 RawBox?