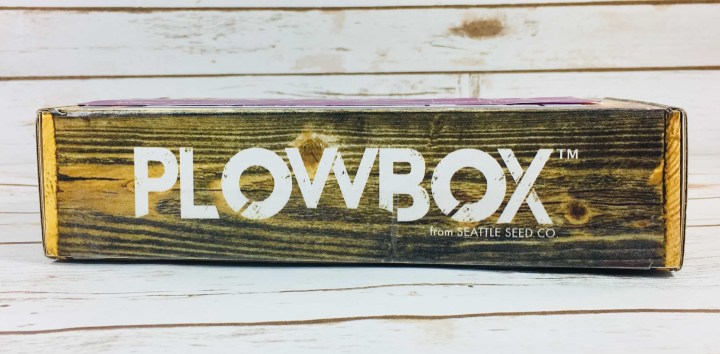 PlowBox is a quarterly gardening subscription box from Seattle Seed Co.! Every season you'll receive organic, seasonally & regionally appropriate seeds, a fun gift and extras, and expert planting advice! I'm reviewing the PlowBox Classic quarterly subscription ($45 a season) but you can also choose PlowBox Green (for microgreens, $14.95 a month) or a one-time gift box of goodies.
Each Plowbox contains 5-10 packs of certified organic, non-gmo seeds, appropriate for that season and your climate. In addition, each box contains planting instructions, tips and a relevant recipe to help you get started with confidence. Finally, every box contains gifts from our selection of unique, useful products and partner brands. PlowBox is an investment into a healthy lifestyle, and it also makes an excellent gift for the gardener in your life.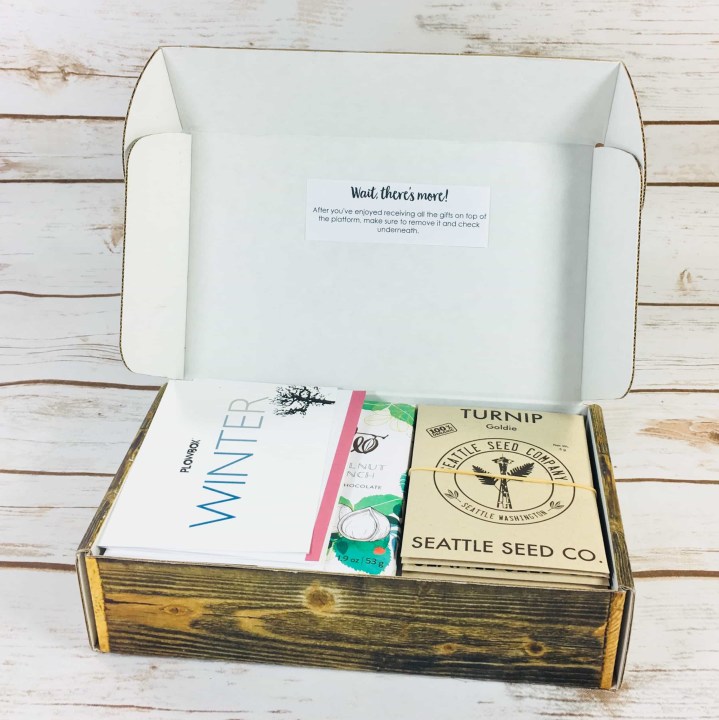 All of the items were packed tightly in the box so no shifting could occur during shipping.
DEAL: Save 20% on your first box! Use coupon code TRYPLOWBOX.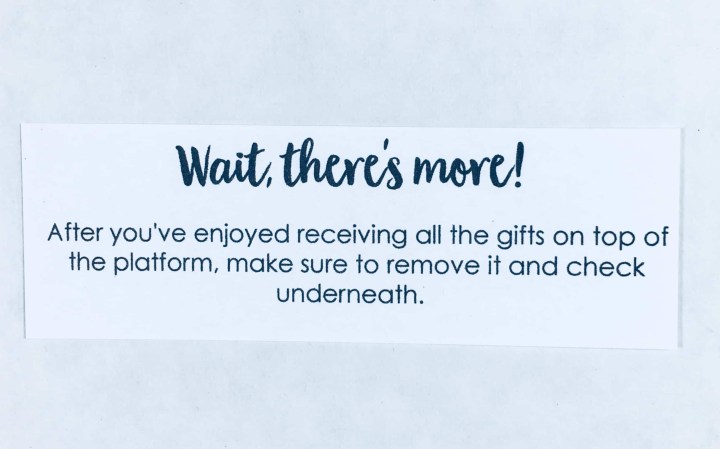 There was a note in the lid directing me to check under the enclosed platform for more items!
I thought the box itself was cute – it had a faux-wood look. I actually "awwed" when I saw the pretty green air plant! There are 5 different climates to choose from and I am reviewing the "Hot" selection. Keep in mind that your seeds and products may vary!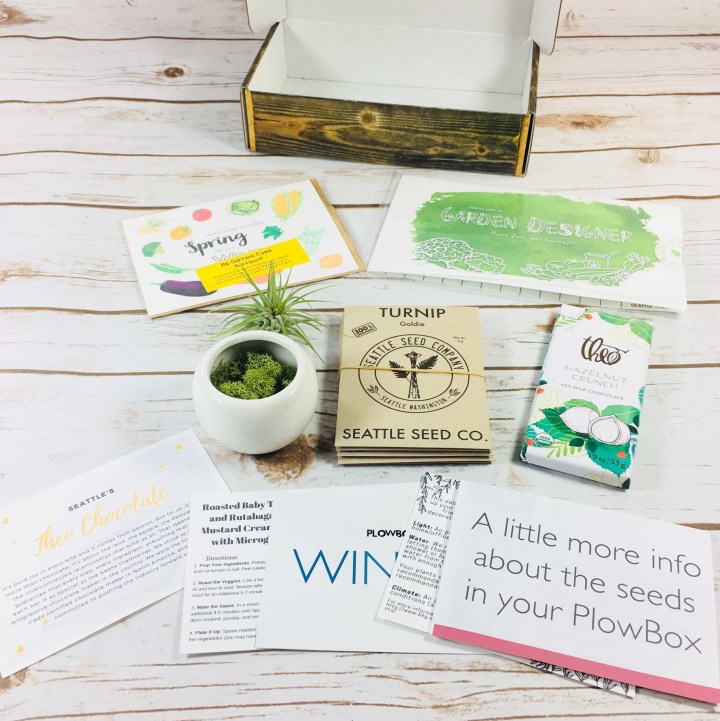 Everything in the box!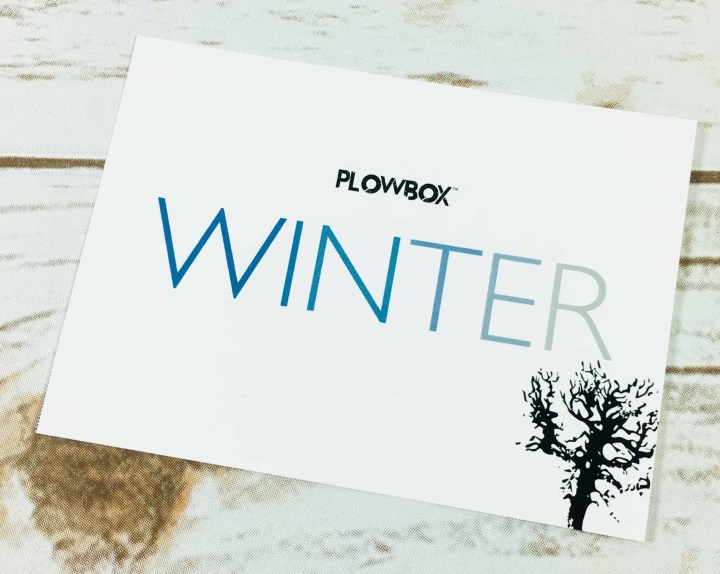 I received a card announcing the season.
I also found a folded brochure that contained a lot of information.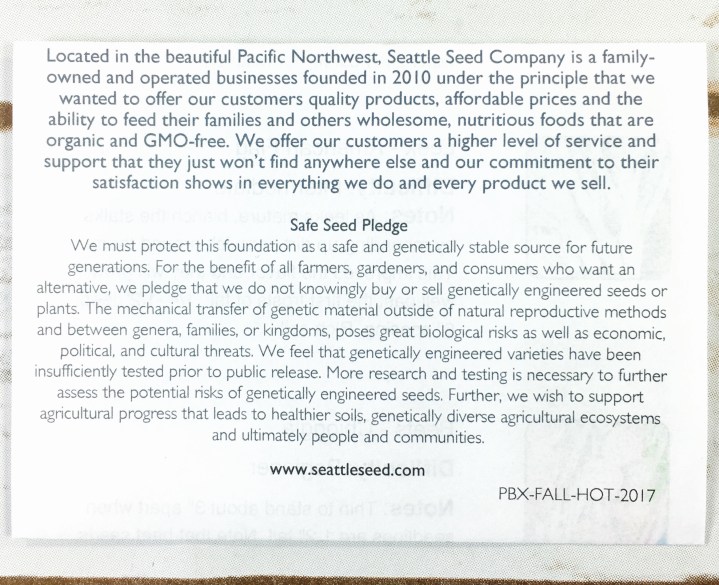 PlowBox sends only organic, non-gmo seeds. No Frankenfood here!
The note mentions the level of difficulty along with brief growing instructions. I would suggest going to a gardening website for more info on planting.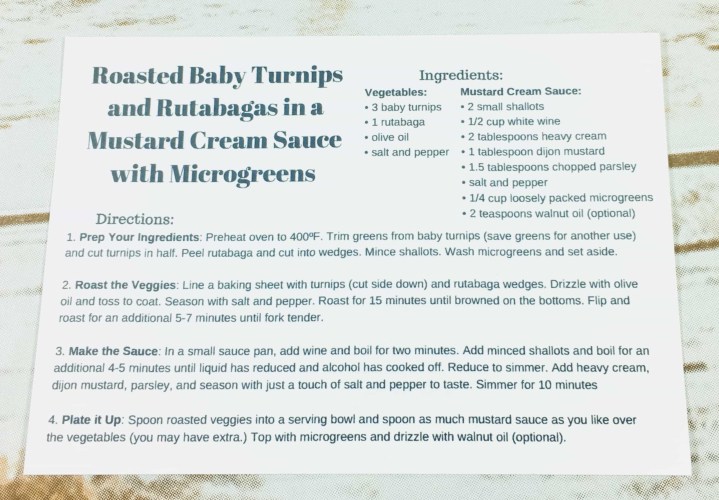 Finally, there was a recipe using the turnips and their greens, although it will take a while to grow the ingredients!
I received 5 different varieties of seeds. I am already imagining the salads, side dishes, and snacking possibilities! I've eaten baby turnips fresh from the garden and they are delicious!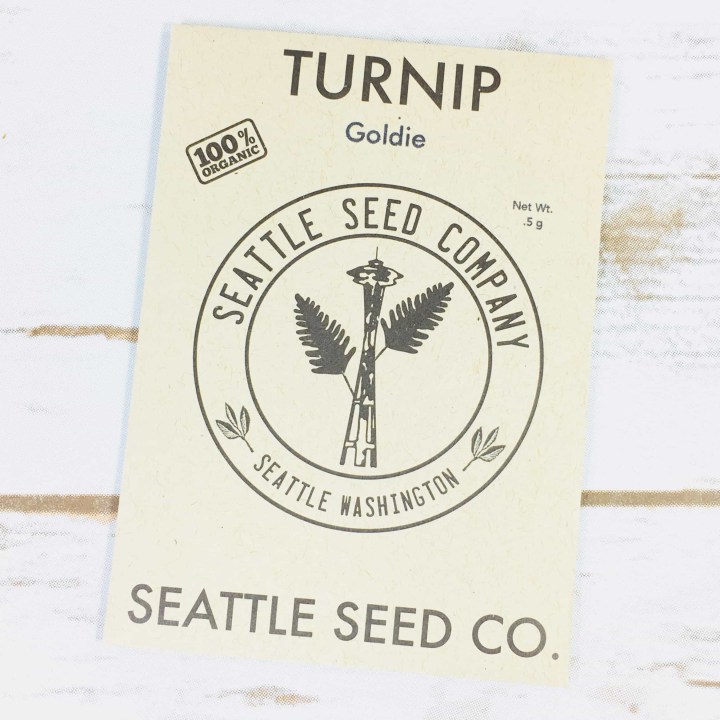 The seeds were in brown paper packets with the Seattle Seed Co. logo on the front. You can buy more seed packs for $3.25 each online ($16.25 in seeds are in this box.)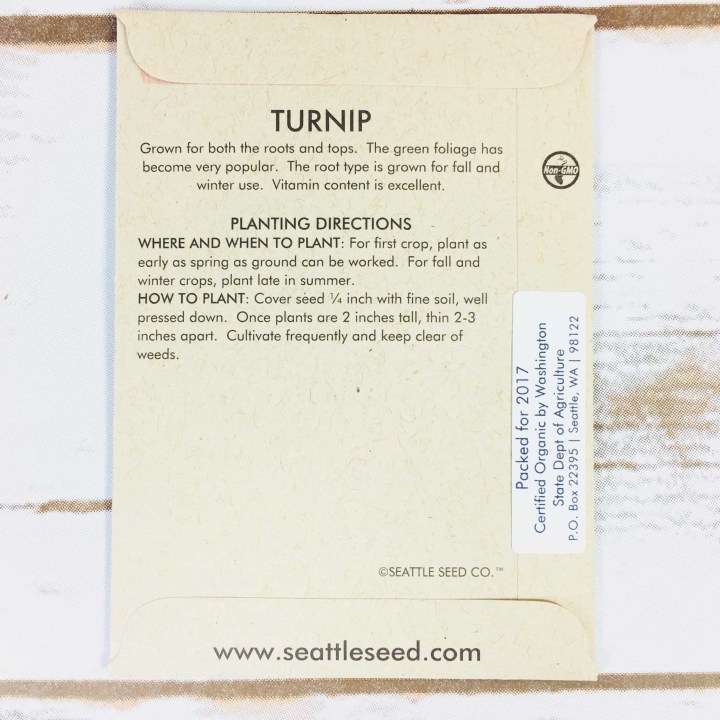 Growing instructions were listed on the back side of the pack.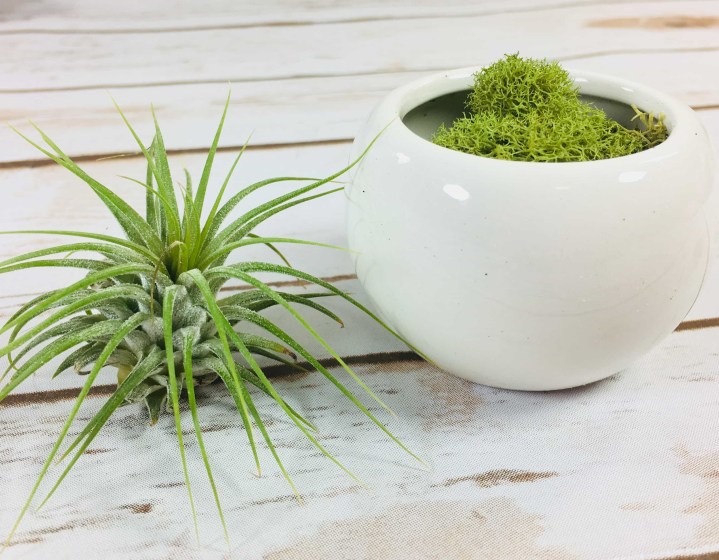 I received an adorable air plant along with a little pot with moss in which to place this tiny treat. You can find a similar product here. The color on this plant may change to purple and it's supposed to have a bloom at some point!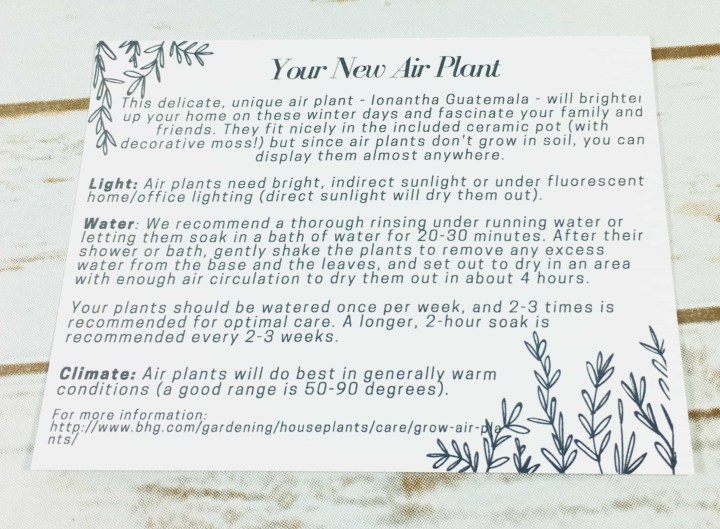 There were some easy care instructions included.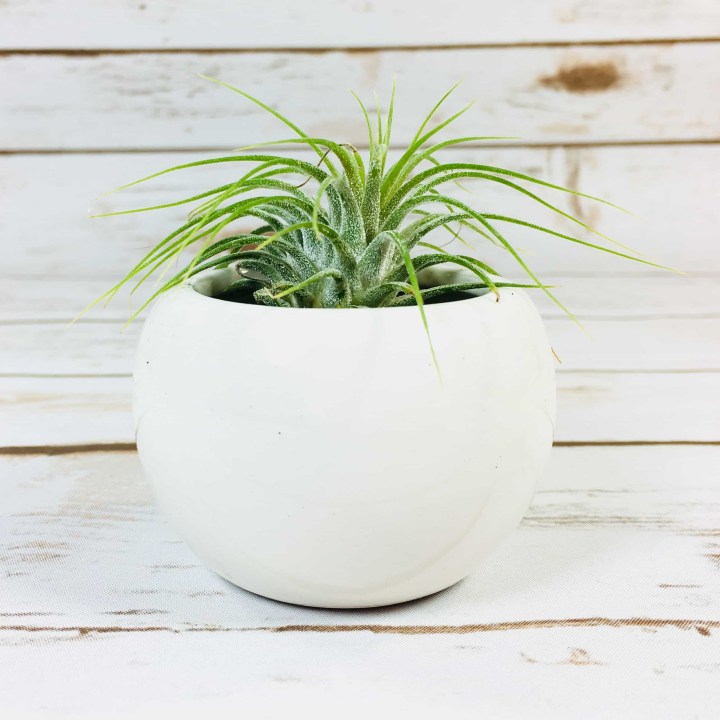 So cute!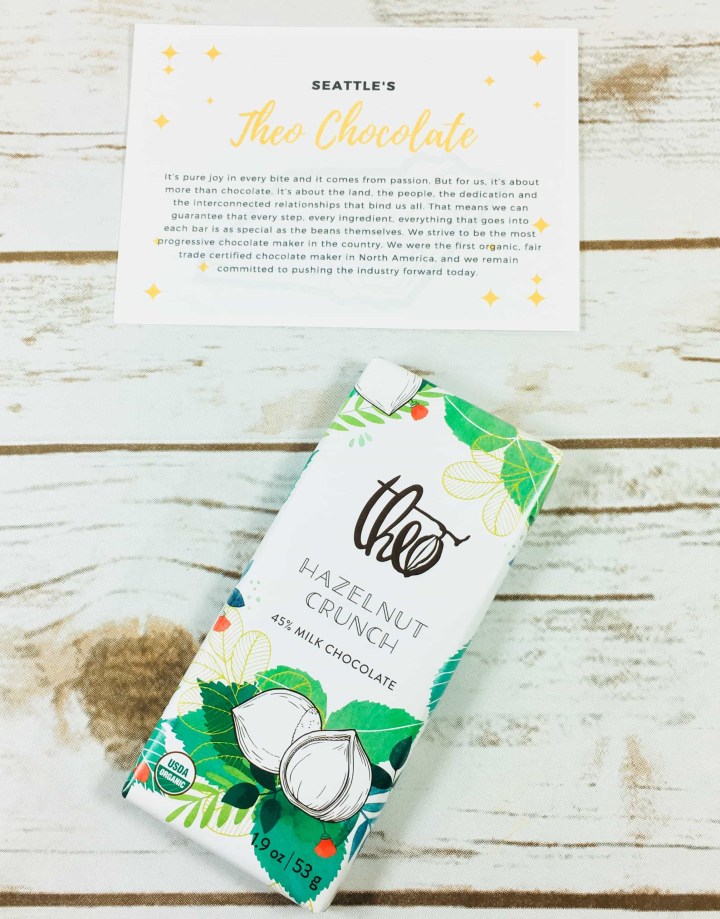 I also received a yummy treat – Theo Hazelnut Crunch Chocolate Bar. Organic chocolate and hazelnut brittle join hazelnut pieces and a touch of salt for a tasty combo that is very crunchy indeed.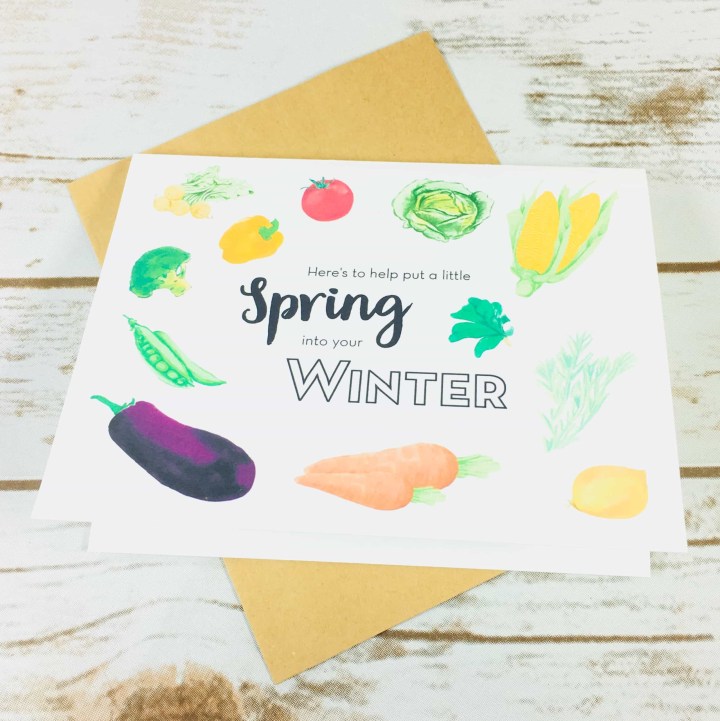 I received a card that is blank on the inside and, according to the note attached, perfect for regifting seeds, either those in the box or those you harvest yourself. It came with its own envelope.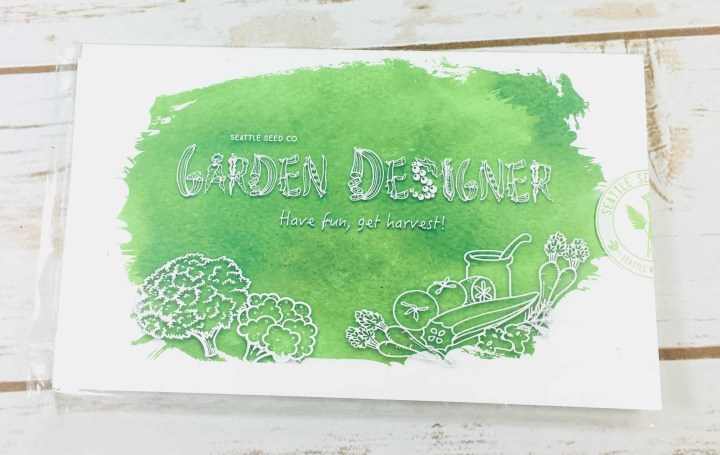 Oh, a garden designer! This is perfect for those dreary winter days when you're imagining your summer harvest from your spring plantings. Now you have the whole winter to plan for the next growing season!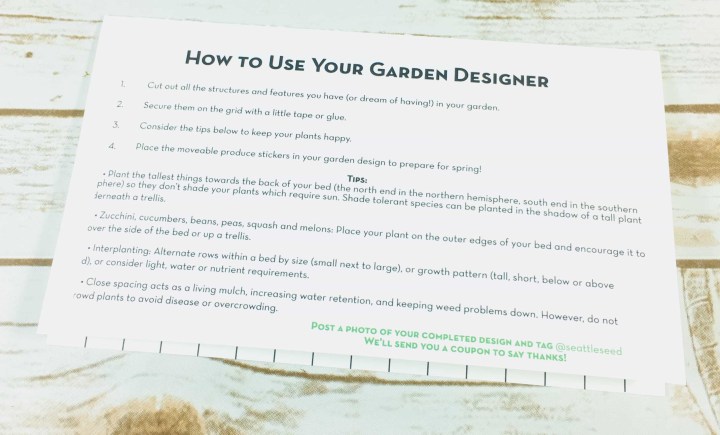 Directions were included on the back.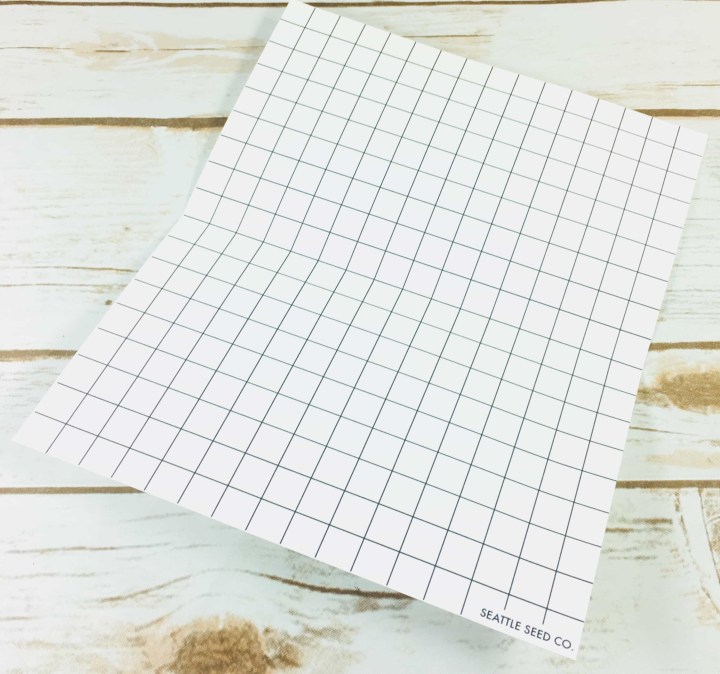 The inside of the card had a grid. You cut out the features that you want in your perfect garden (pictures shown below) and paste them to the grid.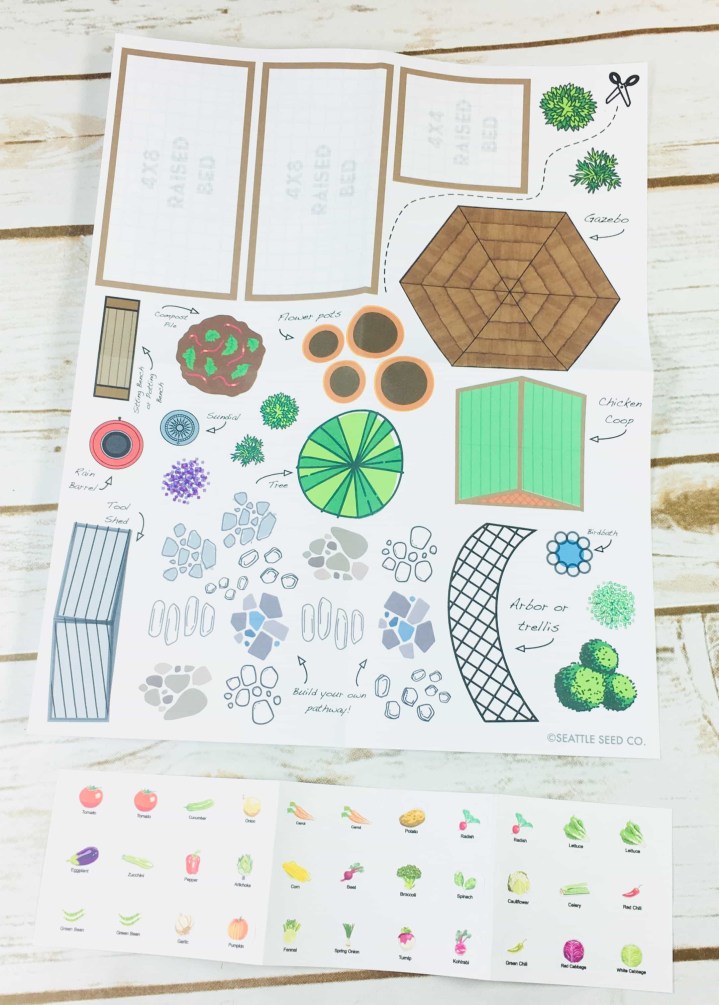 There were even little produce stickers included.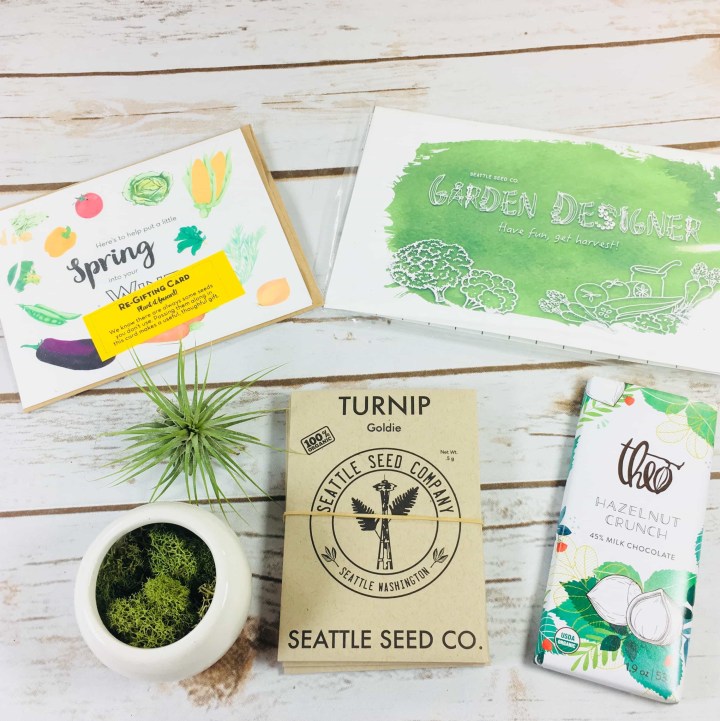 It's still fall but now's the time to start thinking about spring and I can do just that with my PlowBox! I'm looking forward to learning about my new seeds and planting my winter garden. My husband and I enjoy working on our small garden in the fall and winter, when the weather cools off, so this box was very timely. Sure, this box contains seeds but I also enjoy the additional items that contribute a sense of fun to what sometimes feels like a chore, although the payoff of garden-fresh vegetables is very worth the toil. If you like to garden then check out PlowBox and get to growing!