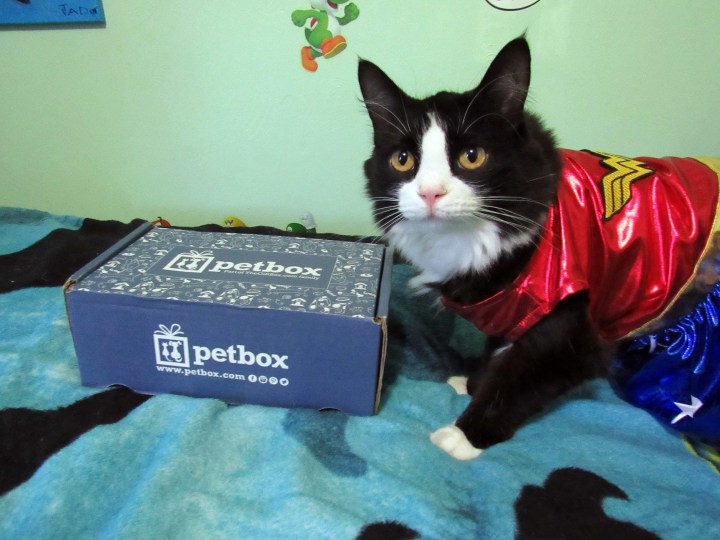 PetBox offers "Bite-Size" monthly cat and dog boxes starting at $9.99 per month with a yearly subscription or $14.99 monthly. Both options include free shipping! Expect to receive premium toys and treats in the cat box. A portion of every PetBox purchase is donated to rescue shelters.
The kitties knew something was up. They could smell catnip!
DEAL: Get 50% off your first month! Use coupon code HELLOSUB50.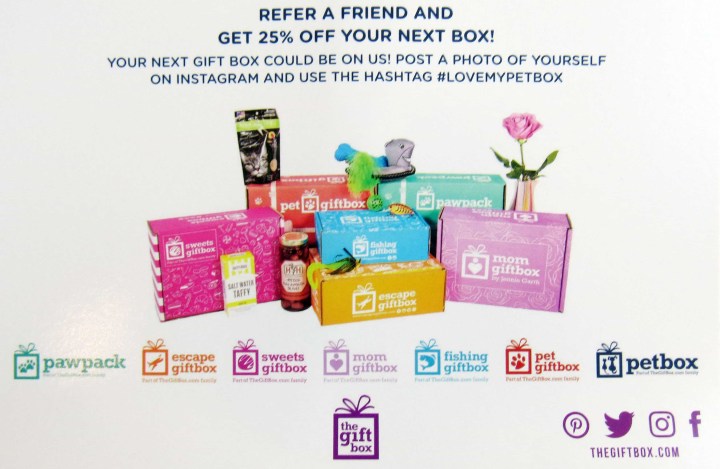 PetBox is part of The Gift Box family which also has a Pet GiftBox for Cats!
It's time to snack, play, and bond!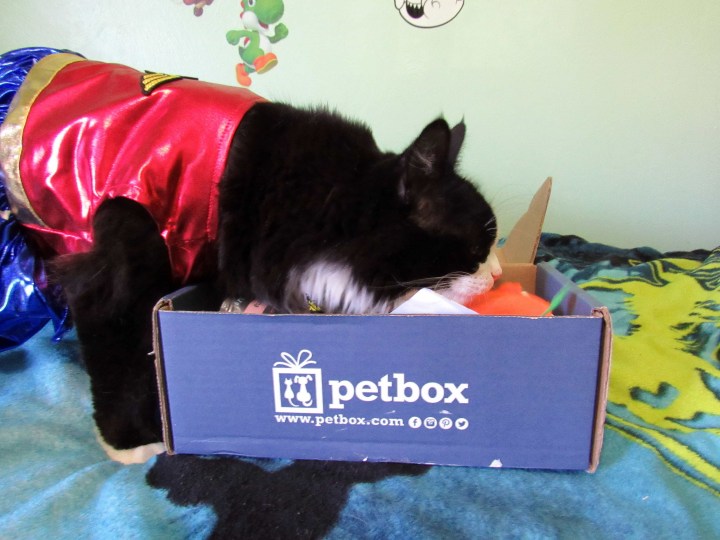 Sylvester the WonderCat is ready to start the review.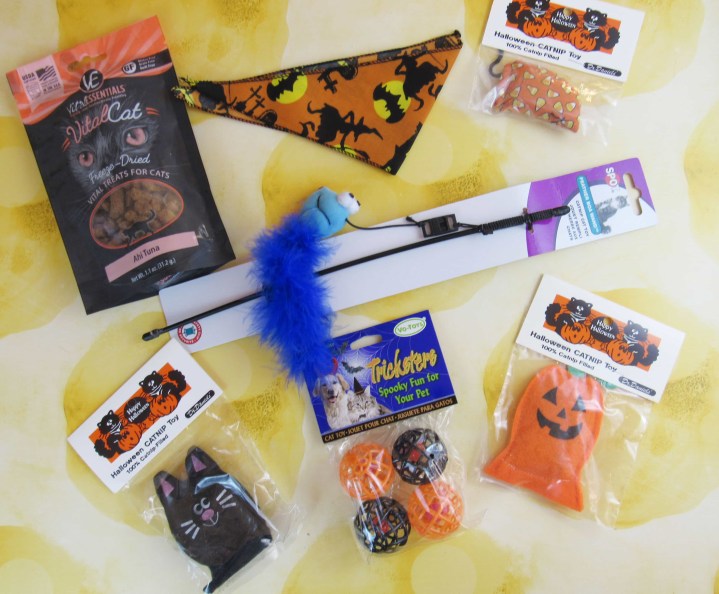 Here are the items in the October PetBox for cats. We were amazed by the number of items.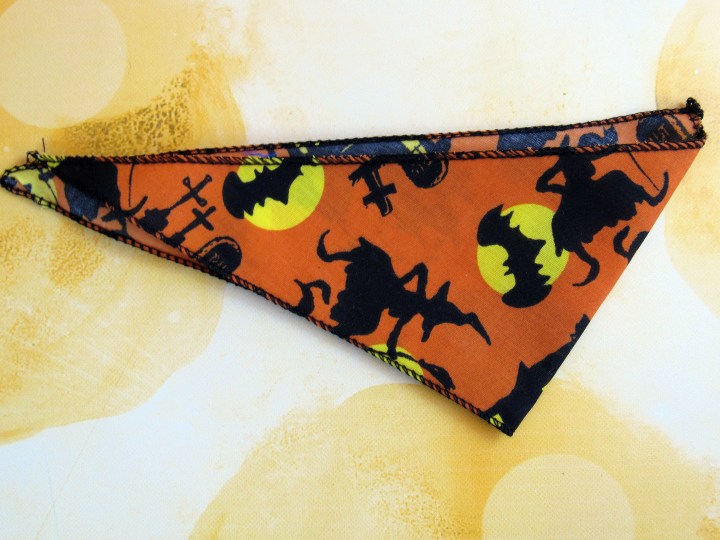 We received the most adorable Cat Halloween Bandana.
Our cats must have big necks. The only cat it fitted was Phoenix who is still a growing boy.
The Vo-Toys Tricksters 4 Pack Cat balls make fun noises and bounces. The younger kitties enjoyed running around after the balls.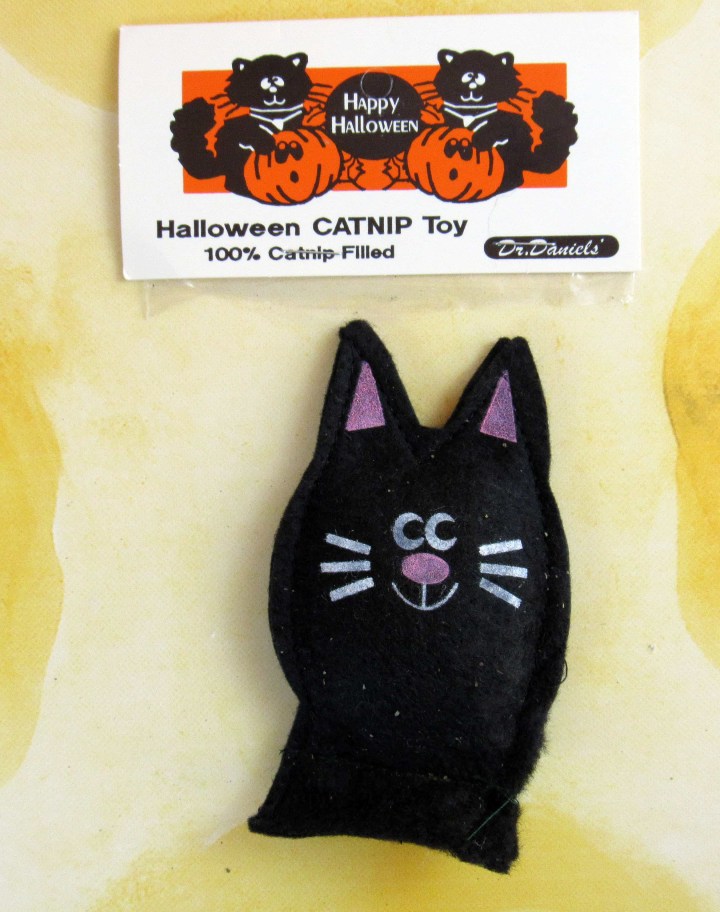 The Dr. Daniels' Black Cat Catnip Toy ($3.39) is full of 100% pure catnip. It reminds us of our black kitty.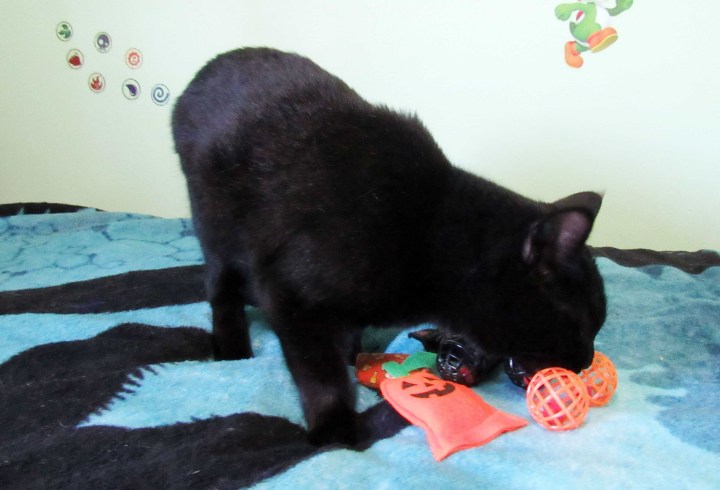 Midna is looking for the purrfect pumpkin.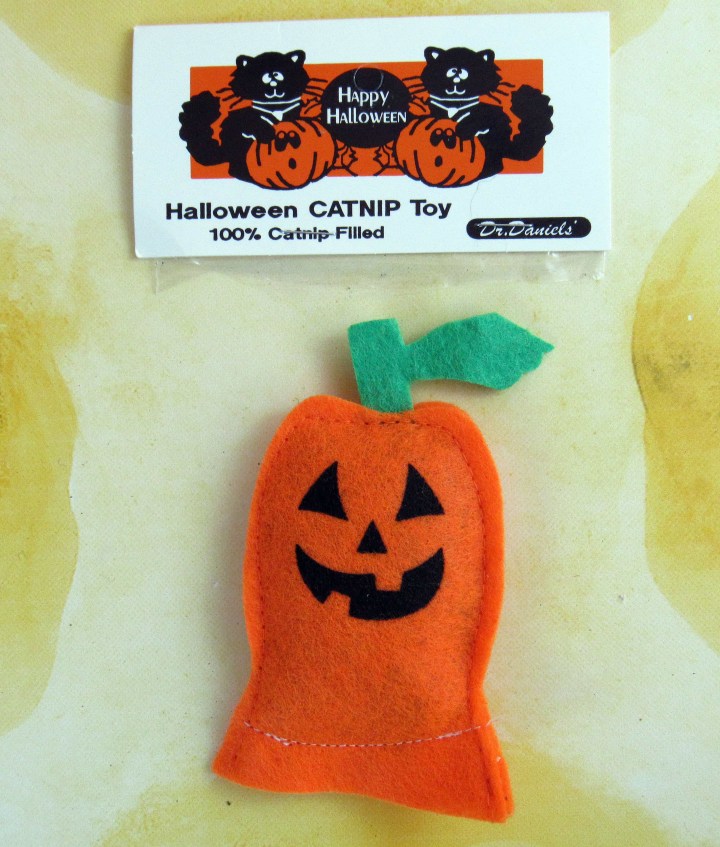 She is looking for the  Dr. Daniels' Pumpkin Catnip Toy ($3.39). The purrfect pumpkin is full of catnip goodness.
Whisker agrees. She is relaxing as she enjoys all the catnip toys.
The Made in the USA Dr. Daniels' Halloween Catnip Mouse ($2.69) is a treat for the cats to savor.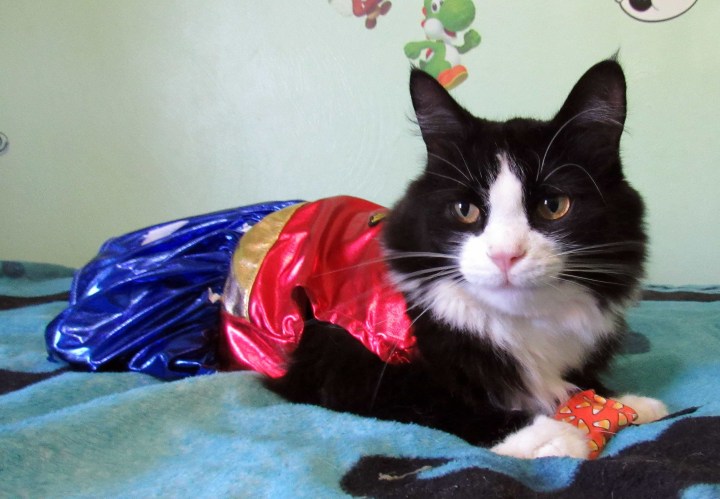 Sylvester the Wondercat found the purrfect mouse for his Halloween treat.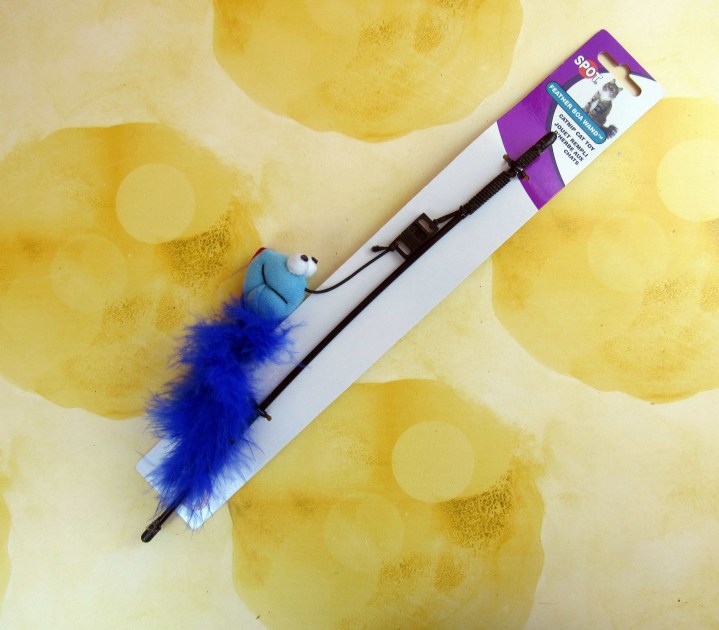 The kitties loved chasing the Spot Feather Boa Toy with Wand and Catnip ($3.36 Amazon). The interchangeable toy has an irresistible blue feather.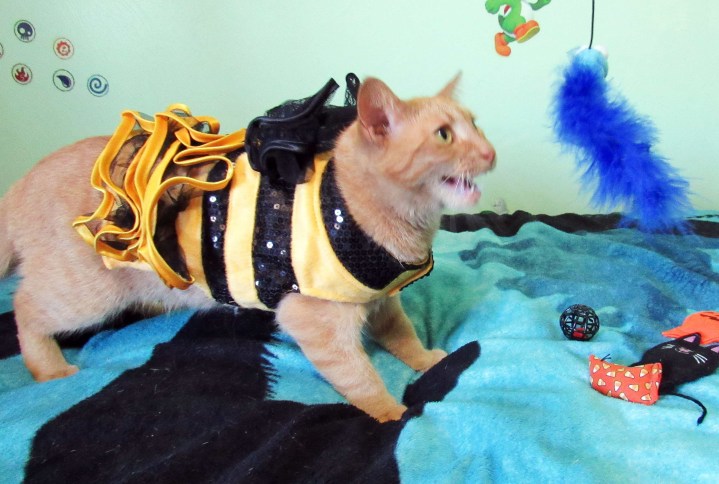 The fierce Tiger Lilly is buzzing at the Boa Toy.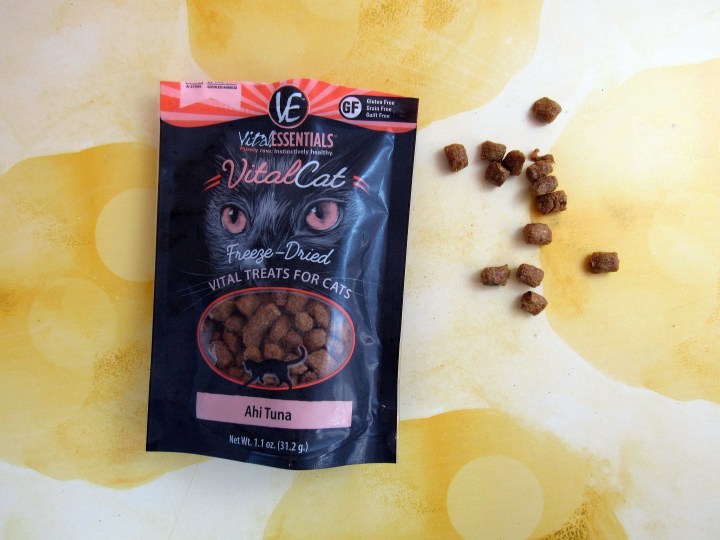 The kitties had mixed opinions regarding the Made in the USA Vital Essentials Vital Cat Ahi Tuna Freeze-Dried Treats (1.1 oz, MSRP 4.99, $4.45 Chewy). They either loved it or hated it.
It wouldn't be a cat review unless Sylvester is posing with the cat treat bag.
Here are more kitty pictures! Our biggest camera hams, Puss in Boots and Little Lamb are still on camera-strike. Other kitties were happy to help out with the review. J (age 9) helped me out by writing about the kitties.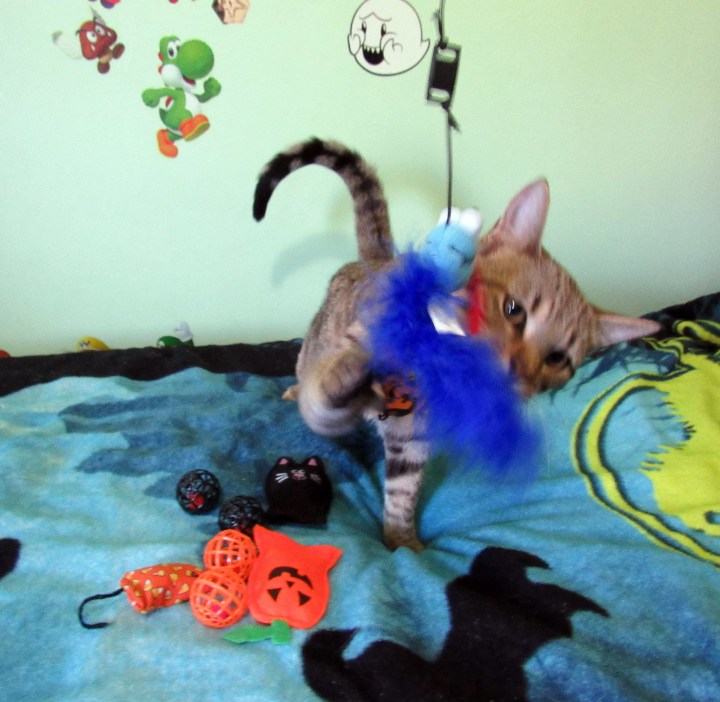 Phoenix, dressed as the fearsome bandana wearing Bobcat, is ready to collect his treats.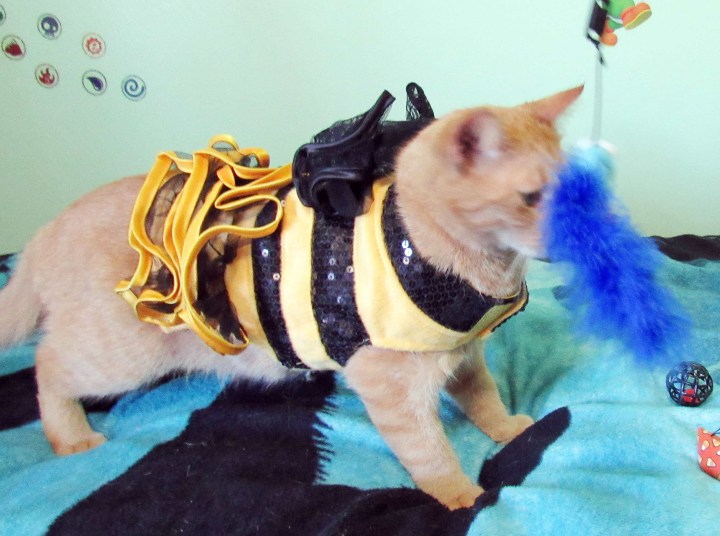 Tiger Lilly is being a sweet bumblebee.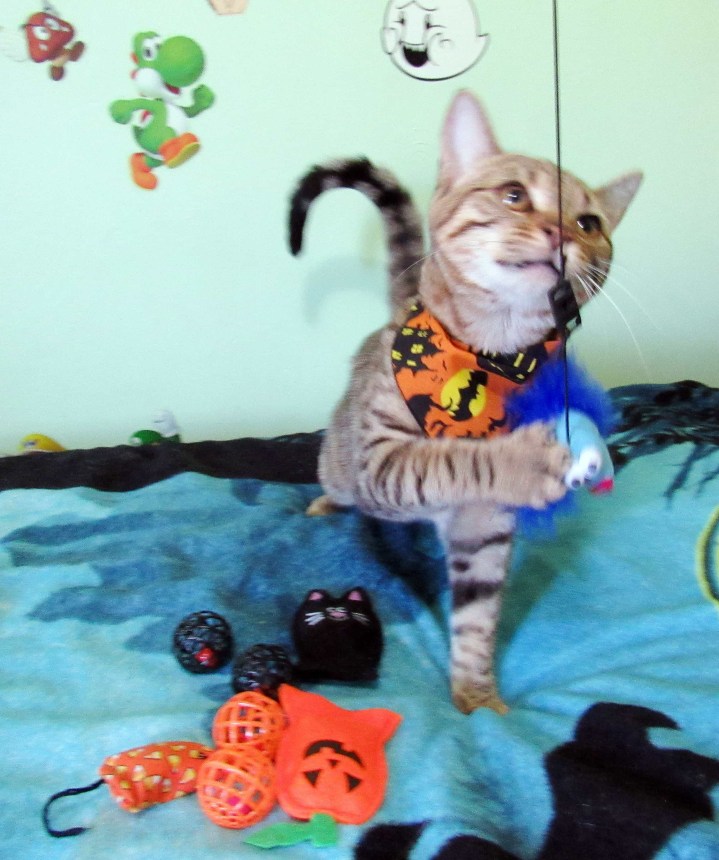 Phoenix finally caught the treat in the sky.
Sylvester is ready to pounce whoever comes near his kitty toys.
All the kitties enjoyed their October Cat PetBox. They were in a festival mood wearing their Halloween costumes while enjoying Halloween toys and a treat. They were enough toys and treats for every kitty. It's a wonderful inexpensive box for cat lovers.
What do you think of this month's PetBox for cats?