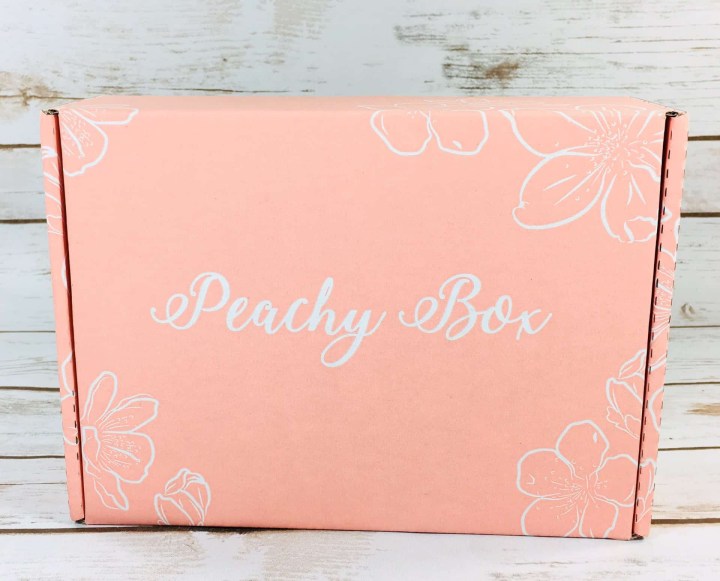 Peachy Box is a monthly themed subscription box full of cute, trendy items that you might find at Forever 21, Sephora, Paper Source, or Urban Outfitters. Peachy Box is $34.99 a month and features 6-8 beauty and lifestyle items. Shipping is free to the U.S.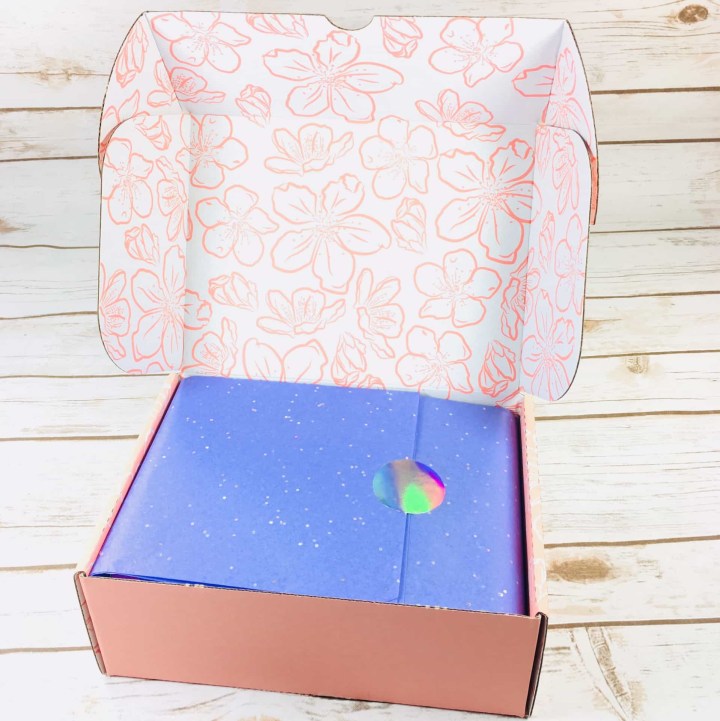 DEAL: Get 25% off your first box! Use coupon code HELLO. Cannot be combined with any other offers.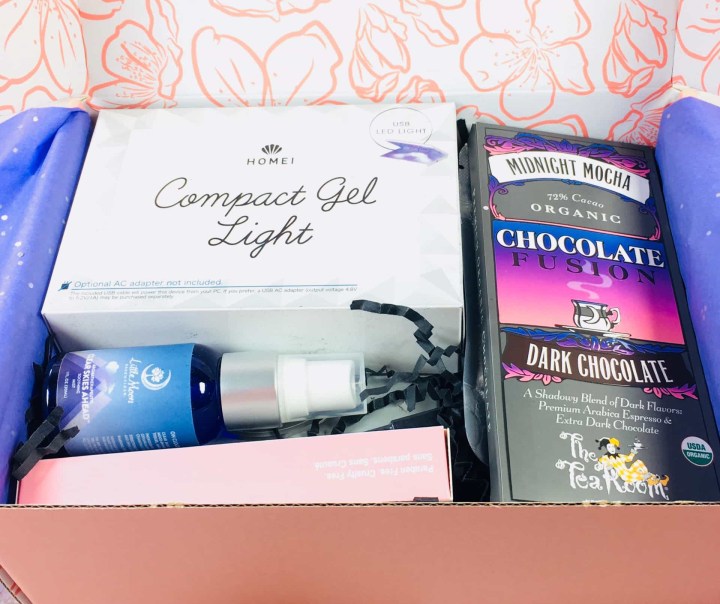 My items were nestled in black paper squiggles and sparkly purple tissue paper sealed with a shiny foil sticker. The presentation is always amazing with this subscription!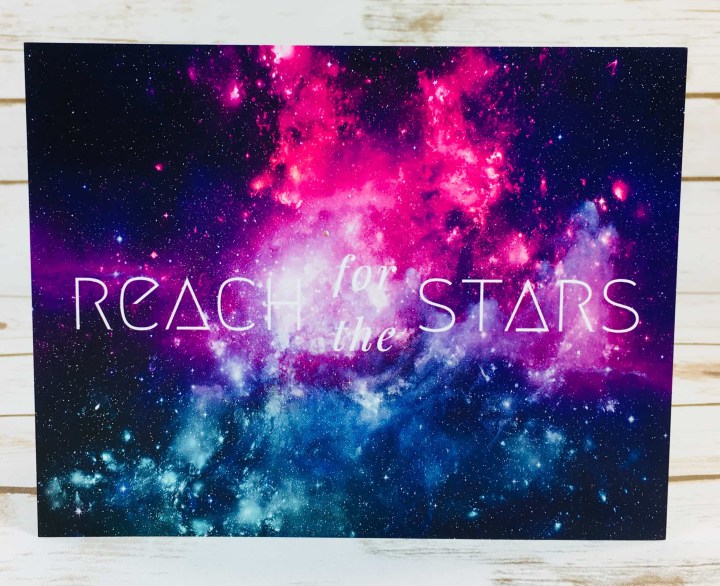 November's Peachy Box theme was Reach for the Stars! 
The product information card listed each item along with a bit of info and suggested retail price. Peachy Box does send a few variations, such as "one of four scents" or something along those lines.
Everything in my box! I think this is the first time I've received an edible item from Peachy Box. You can't really go wrong with chocolate.
The items in this box coordinate so well with each other!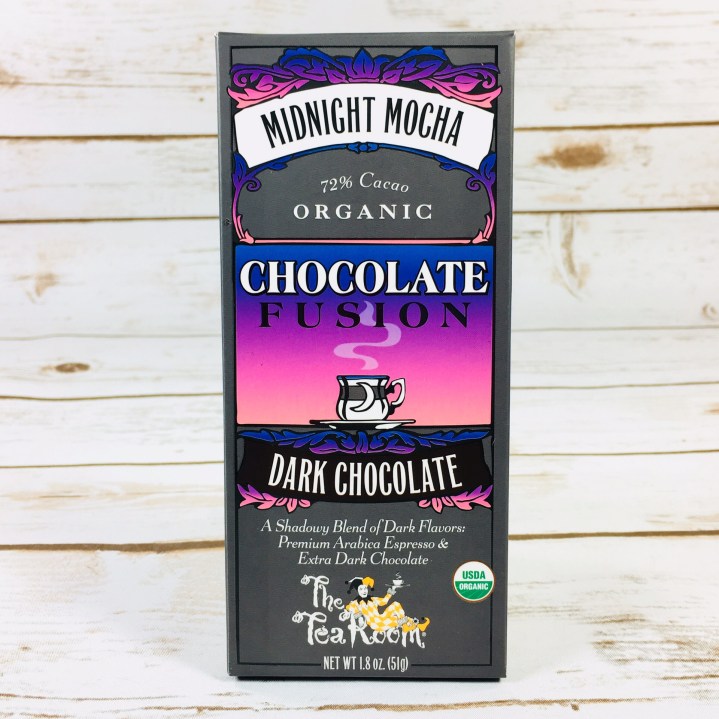 The Tea Room Chocolate Fusion Midnight Mocha Dark Chocolate Bar ($3.29) is hand-made using organic chocolate and organic Arabica espresso beans. The only other ingredients are organic cane sugar and organic cacao fat. Some subscribers will receive Bedouin's Mint.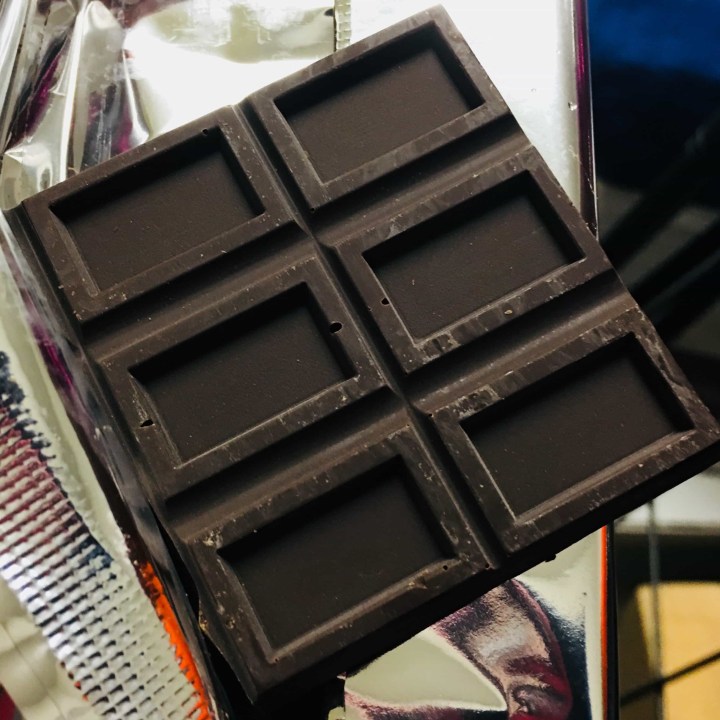 This bar has a satisfying snap to it when you break off a piece. I let it melt in my mouth and it was smooth and not overly sweet or overly coffee-flavored. This bar was just right. Goldilocks would approve.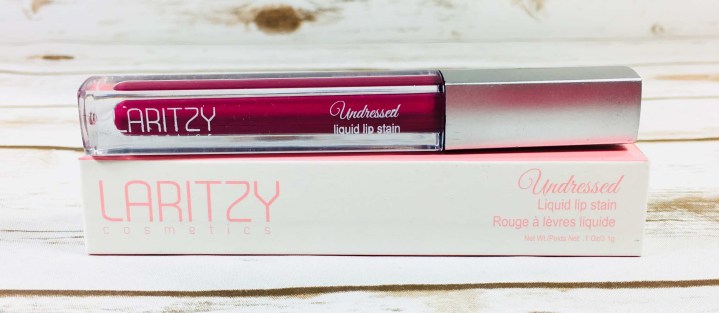 LARITZY Liquid Lip Stain in Deep Orchid ($20) is a matte lip stain that is vegan and cruelty-free.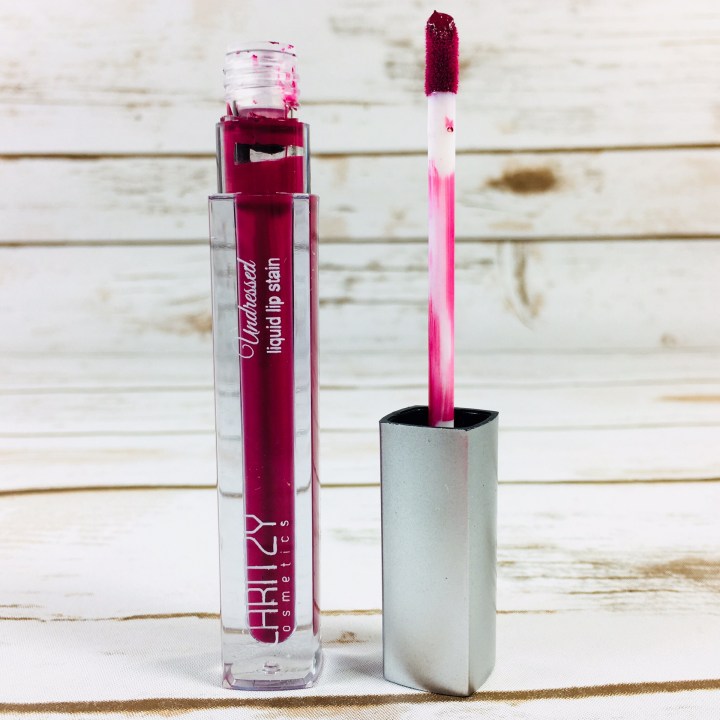 I was worried this color would be too bright for me but I used a little bit and spread it around with a lip pencil and it was fine! I swatched it on my arm (see below) and it stayed there for days, even through 4 showers! It didn't even last until lunchtime on my lips. It never felt completely dry on my lips, maybe that's why?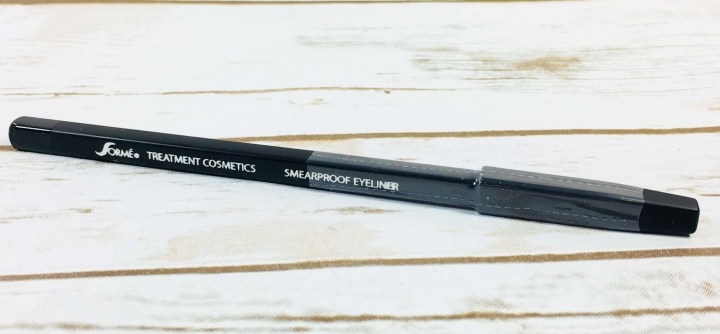 Sormé Cosmetics Smearproof Eyeliner in Black ($11.99) is cruelty-free and although I usually complain about receiving a black eyeliner, it goes well with the cool shade of the lip stain.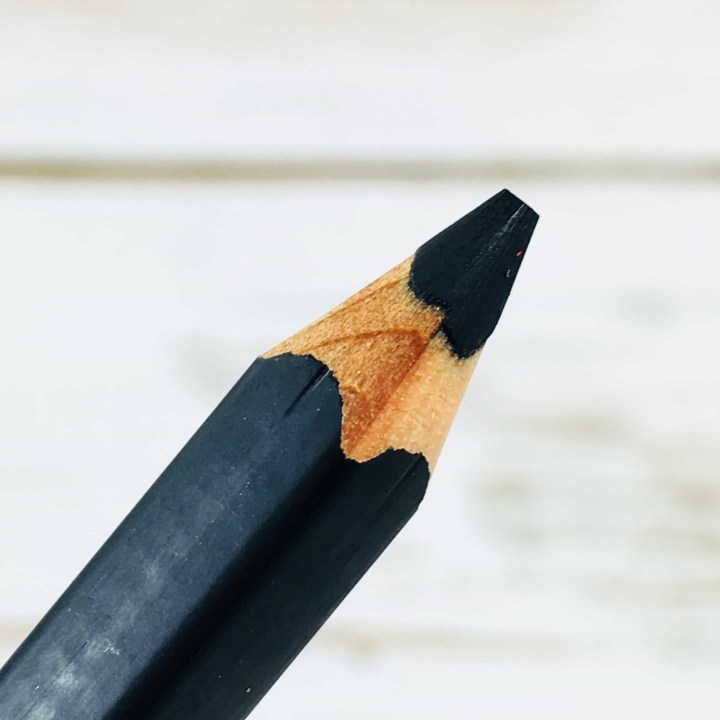 The shape was odd, since it's square, but I was able to sharpen with my standard sharpener. It went on smoothly but by lunch time, it was, sadly, smeared. This is actually a common occurrence for me, no matter the liner brand.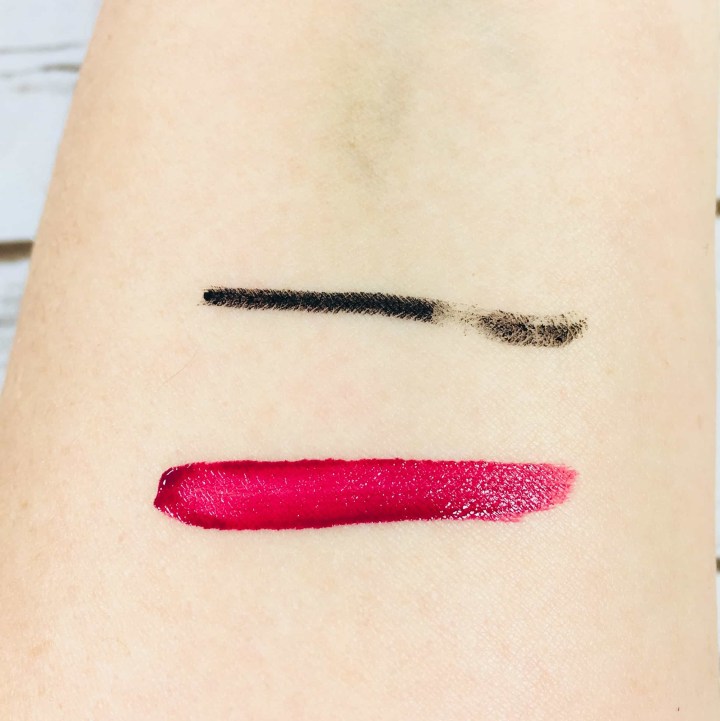 Here are both products swatched. The tip of the eyeliner broke, hence the reason I needed to sharpen before first using it on my eyes.
My daughter loves Spongellé so my Zodiac Collection in Air ($20) will make a nice gift for her. NOTE: Some subscribers will receive Fire, Earth, or Water. My daughter and I are both Air signs so this tuberose scented sponge is quite appropriate!
Spongellé body buffers have body wash built-in and last at least 15 showers. This scent is a white floral and is too strong for me personally, although I've tried the sponges before and love how nice they feel on my skin.
Little Moon Essentials Bath Salts in Lift-Off ($1.38) are more my style, since I prefer natural bath and body products.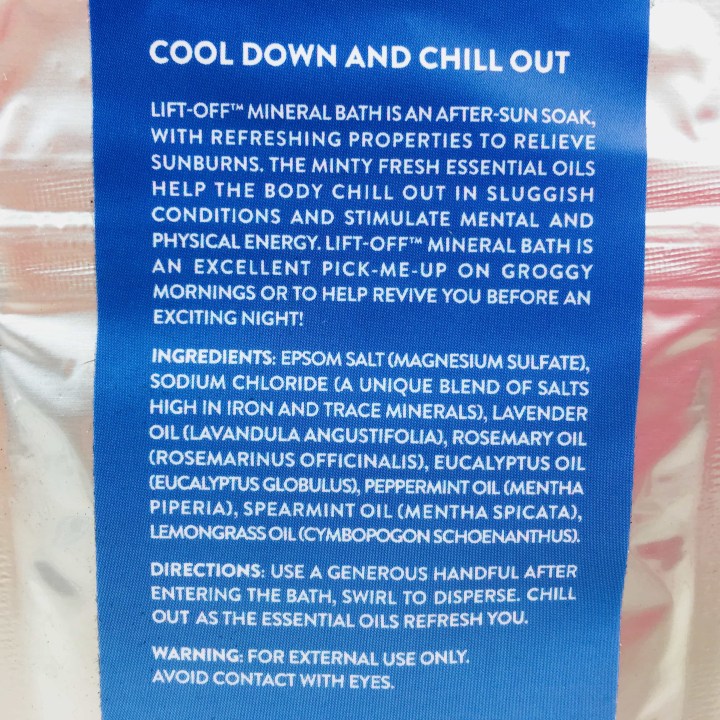 Epsom salts and essential oils, including eucalyptus and peppermint, give this a peppy scent that can revive your spirits and attitude, naturally.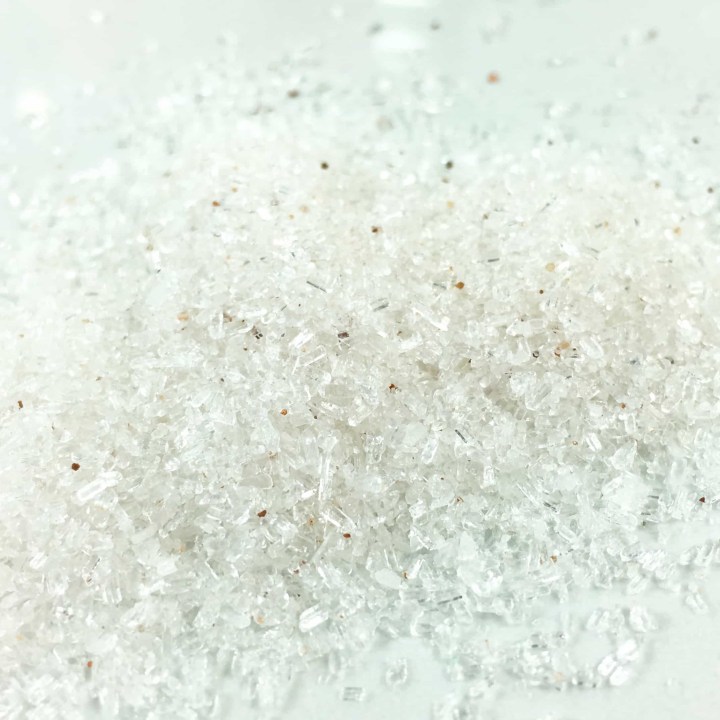 I love the refreshing scent!
Little Moon Essentials Clear Skies Ahead Soothing Mist ($5) is another all-natural offering from this brand that comes from Colorado. Distilled water and a few essential oils, such as lavender and ylang ylang, makes this safe to use on your face, or spray into a hankie and breathe deeply. Fleeting, like a shooting star, but sometimes a little is all you need to help relieve tension.
Homei Compact Gel Light ($47.64 + $19.61 shipping to U.S) I found links to this on HSN but it was sold out. It also had negative reviews so I am putting it to the test!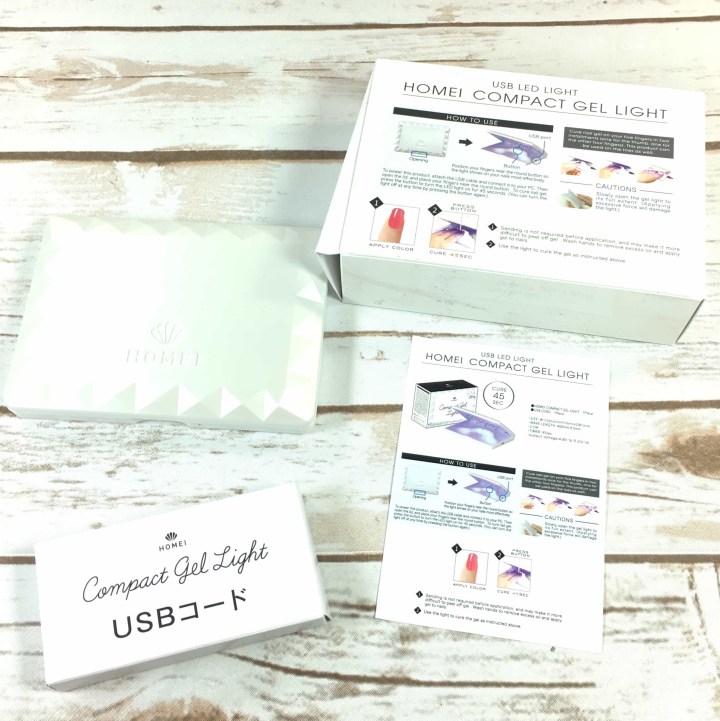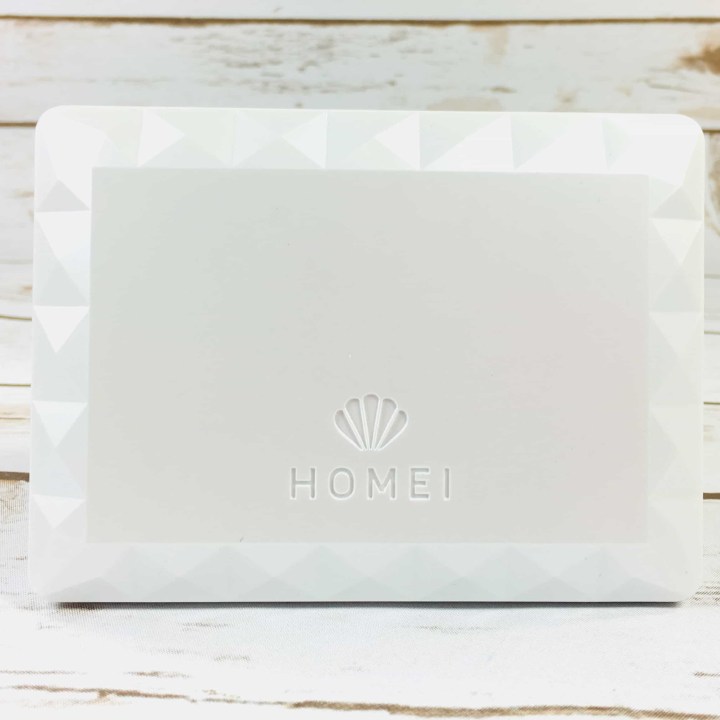 It's not very big, about the size of a deck of cards, and it came with a USB adaptor, so I could plug it into my computer to use.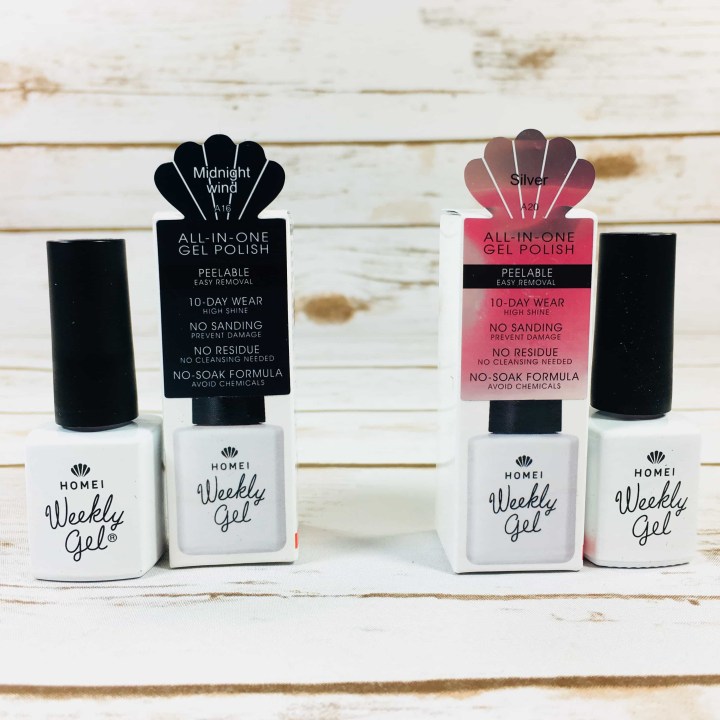 I received two Homei Weekly Gel Nail Polishes in the shades Midnight Wind (navy) and Silver ($10 each). I was kind of amazed, as these are the school colors of both the elementary school where I work, and my daughter's high school!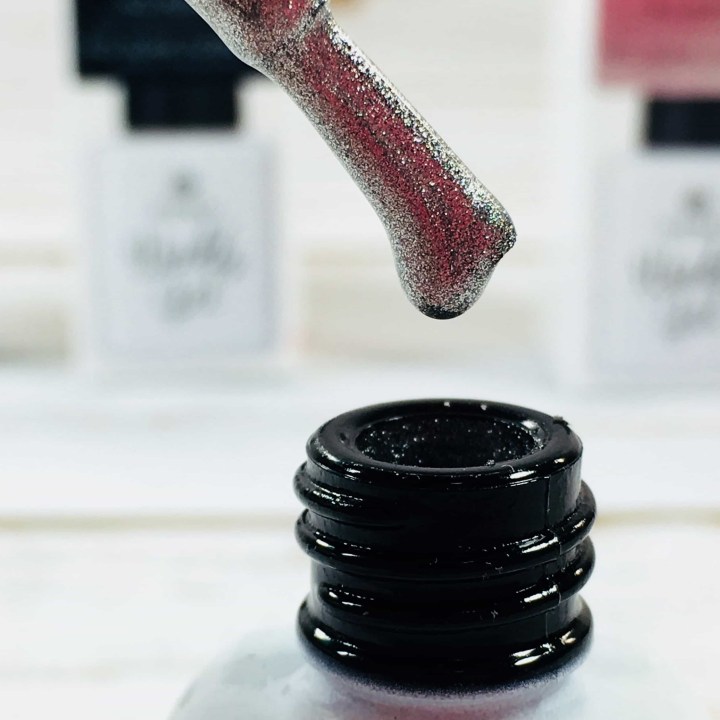 The silver was a glittery shade, while the navy was a gloss. Caution: This stuff is very stinky.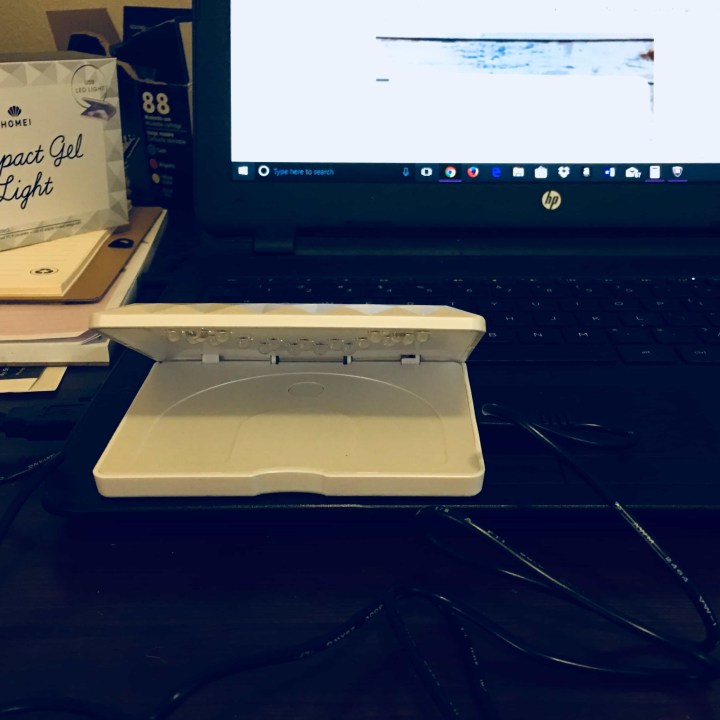 I attached the USB and plugged it into my laptop.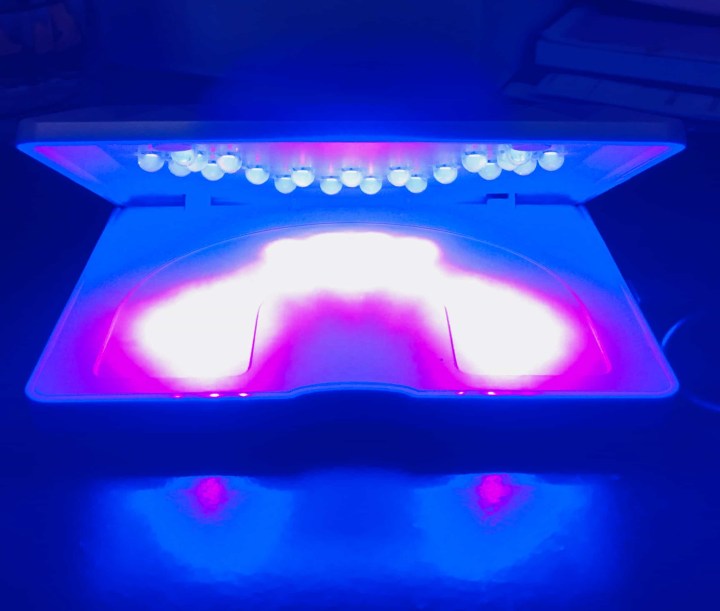 It was instantly ready for use, just push the button in the middle of the device.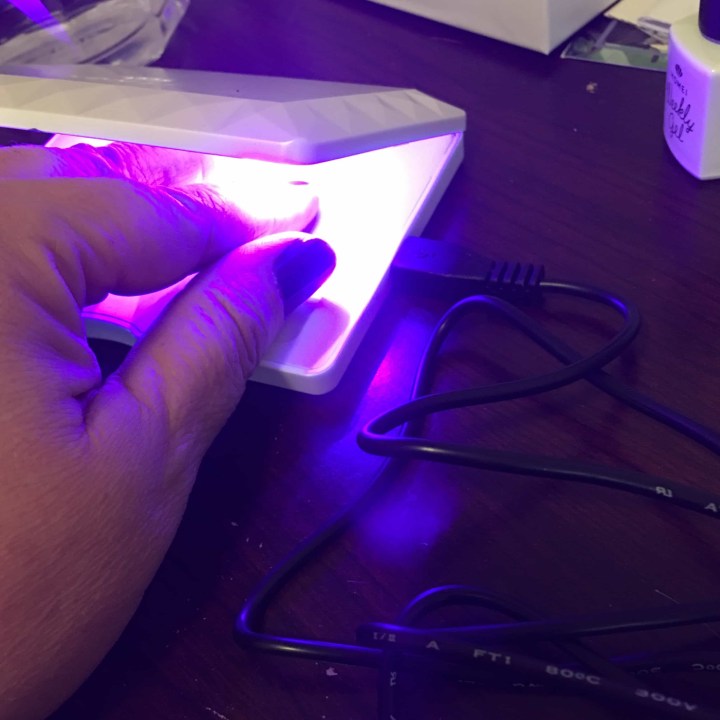 My thumb was missing out so I had to do a second session just for that one finger. The light automatically turns off when finished, around 45 seconds after you push start.
Not bad. You can still see my nail under the glittery polish. I also had some mishaps with the blue polish.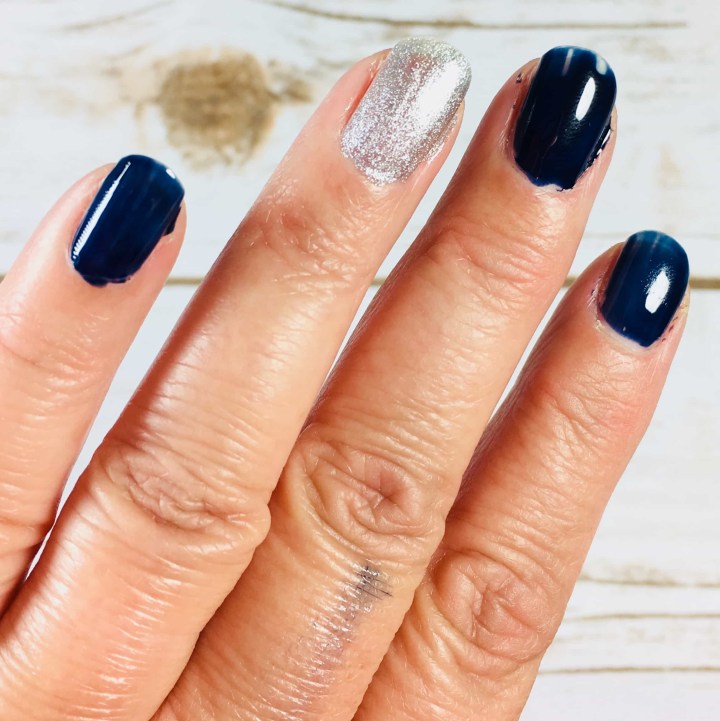 It got on my skin but wiped away quickly. My nails were pretty much done as soon as the light turned off, but for some reason the thumb on my second hand felt like it took longer to harden. After two hours it was still soft, and then it peeled off. In fact, when you're finished with this polish, you can peel it off all of your nails, although it's supposed to last up to 10 days.
24 hours later… Well, I've never had a salon gel manicure but this stuff isn't even as good as regular nail polish! The paint has completely peeled off one finger and partly peeled off of two others, while the thumb that never set is long gone. The only nails that look good are the silver ones. My daughter gets gel manicures and her nails look great for weeks. Total fail.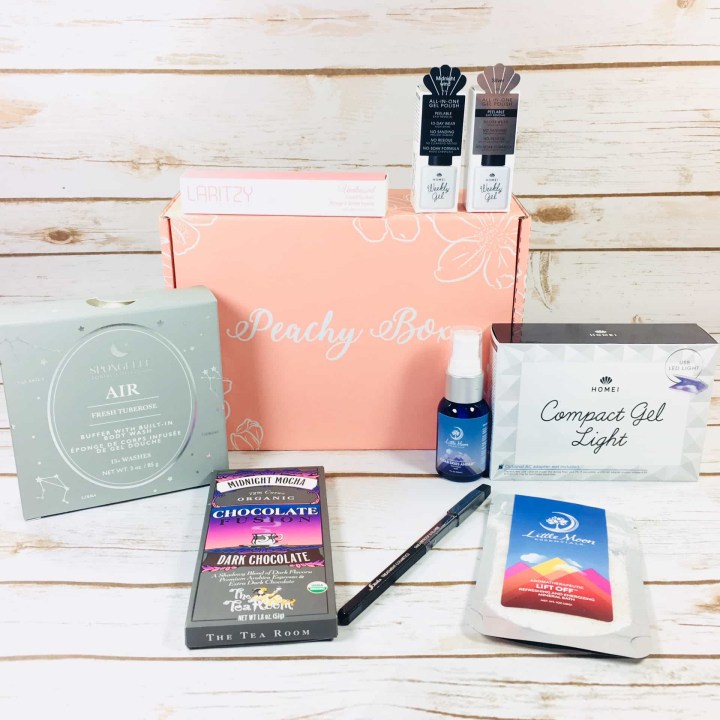 I enjoyed most of the items in my Peachy Box this month! I thought the items were adorable and they fit the theme perfectly. My November Reach for the Stars box had a value of around $125+, which is sky-high! My favorite items this month were the chocolate and bath salts, while my daughter will LOVE the sponge. The rest of the items fit the theme perfectly, but the nail polish and LED light are both destined for the trash.
What do you think of Peachy Box? Let me know in the comments!