Owl Crate is a monthly subscription of books and bookish items box. Each OwlCrate contains one new Young Adult novel, as well as 3-5 other bookish items all matched to the monthly theme. I love finding out all the new companies that Owl Crate uses to curate a perfectly themed box. Everything is always so spot on and I love them all.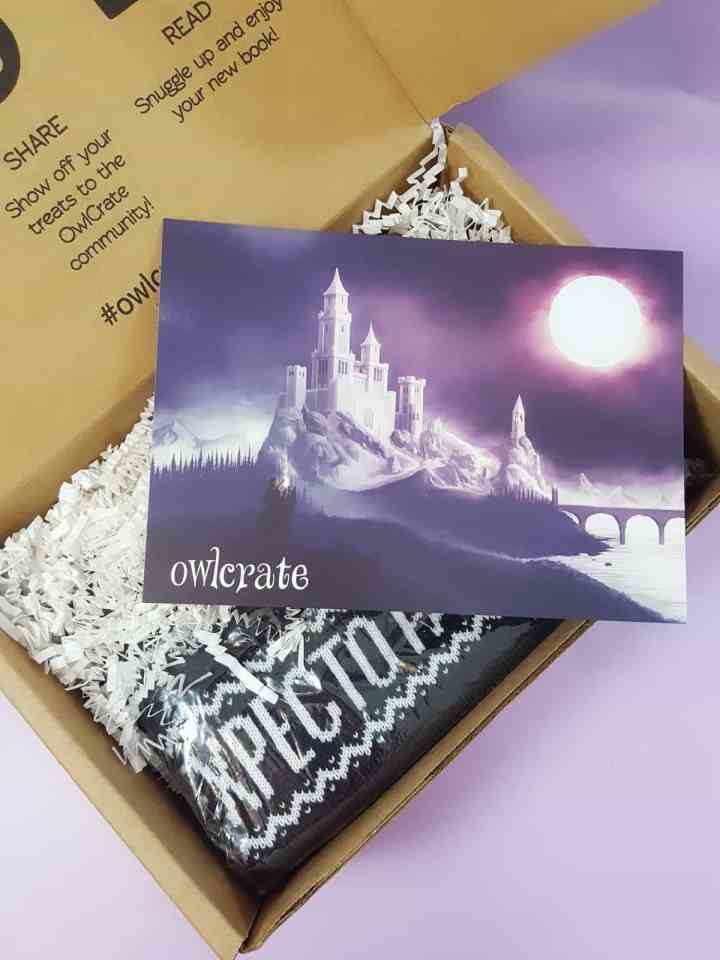 November's OwlCrate theme is Castles, Courts and Kingdoms. OwlCrate always has the best info card prints. One side is a print representing the theme and the other side is the information for the box contents.
The information card tells a little bit about all the items in this month's box along with little comments on why they were selected or other fun tidbits. The theme follows through even with the info. It is always decorated to go along with that month.

DEAL: Use coupon code HELLO15 to save 15% on your first subscription!
Limited time: Use code MERMAID15  to save 15% off your first order!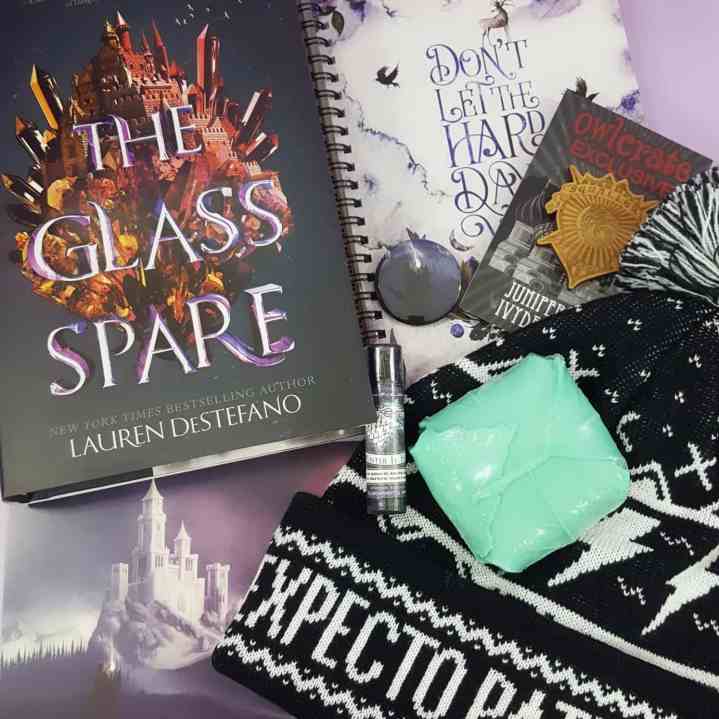 Everything in my November Castles, Courts and Kingdoms OwlCrate.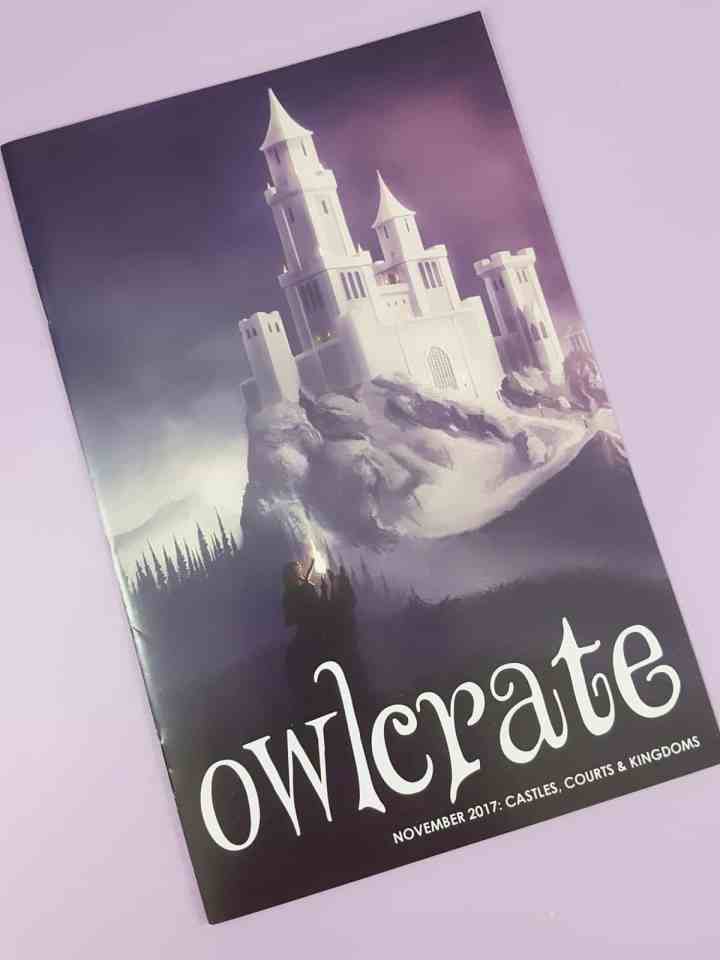 Yay!  We got the informational booklet again this month.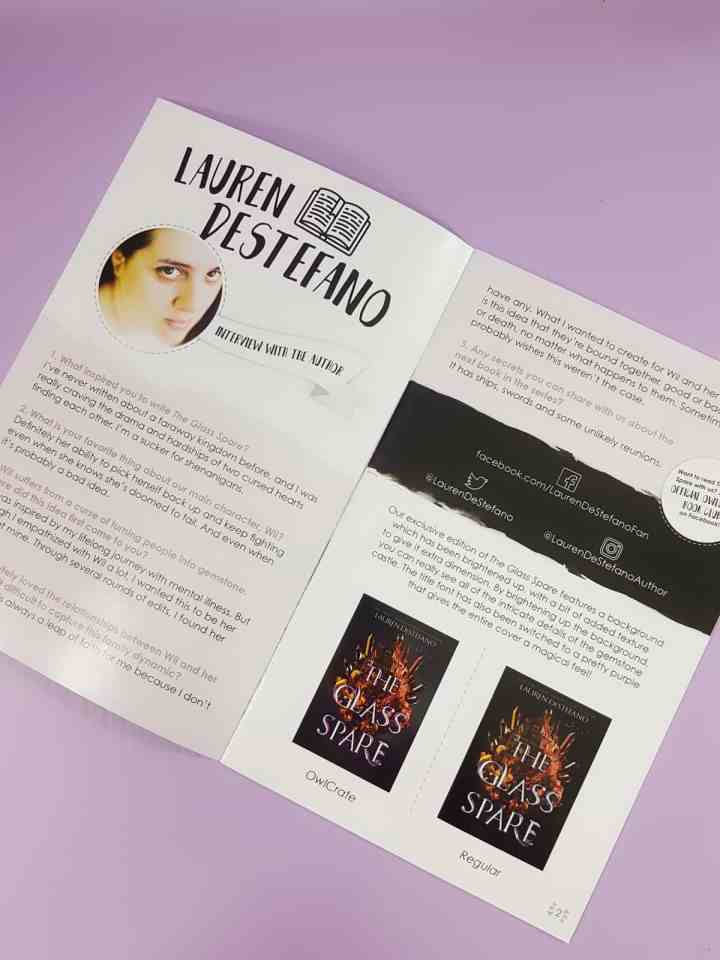 First up we get an interview with the author and a look at the difference between our exclusive cover and the original cover.
The Glass Spare by Lauren DeStefano ($10.70) – This looks to be a fun twist on the touch turning things to gold tale.  Wilhelmina turns everything she touches into a gemstone which leads her to a path of redemption and of course LOVE.
The first in a new fantasy duology, The Glass Spare is a gorgeously told tale of love, loss, and deadly power from Lauren DeStefano, the bestselling author of the Chemical Garden series. Perfect for fans of Shannon Hale and Renee Ahdieh.

Wilhelmina Heidle, the fourth child and only daughter of the king of the world's wealthiest nation, has grown up in the shadows. Kept hidden from the world in order to serve as a spy for her father—whose obsession with building his empire is causing a war—Wil wants nothing more than to explore the world beyond her kingdom, if only her father would give her the chance.

Until one night Wil is attacked, and she discovers a dangerous secret. Her touch turns people into gemstone. At first Wil is horrified—but as she tests its limits, she's drawn more and more to the strange and volatile ability. When it leads to tragedy, though, Wil is forced to face the destructive power within her and finally leave her home to seek the truth and a cure.

But finding the key to her redemption puts her in the path of a cursed prince who has his own ideas for what to do with Wil's power.

With a world on the brink of war and a power of ultimate destruction, can Wil find a way to help the kingdom that's turned its back on her, or will she betray her past and her family forever?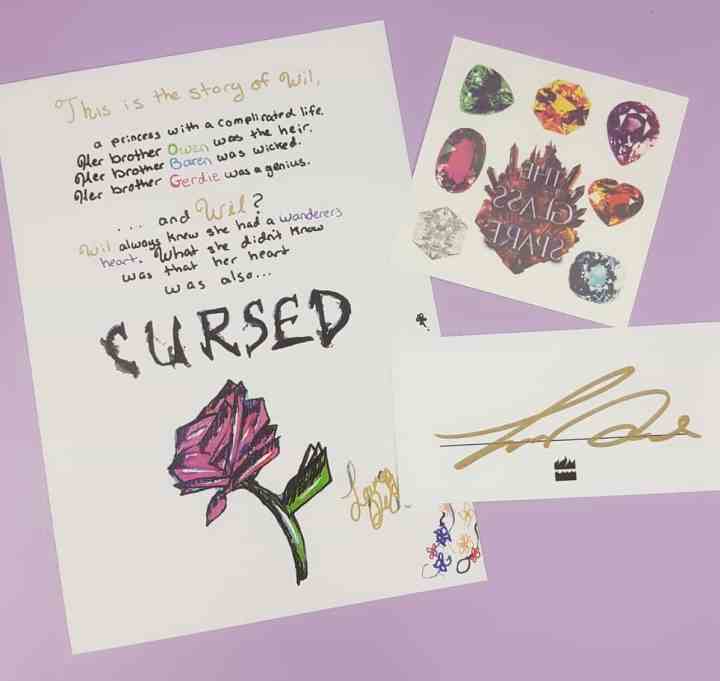 The book also came with a signed bookplate, a note from the author, and some gemstone temporary tattoos.
Don't forget that Owl Crate is now sending exclusive covers with their books (most months). There is a sticker that comes on the plastic bag that the book is shipped in but since I take the books out I decided that I would put the sticker on the inside sleeve. This way I will always remember where it came from and if I decide to look later why the cover is different then I see around.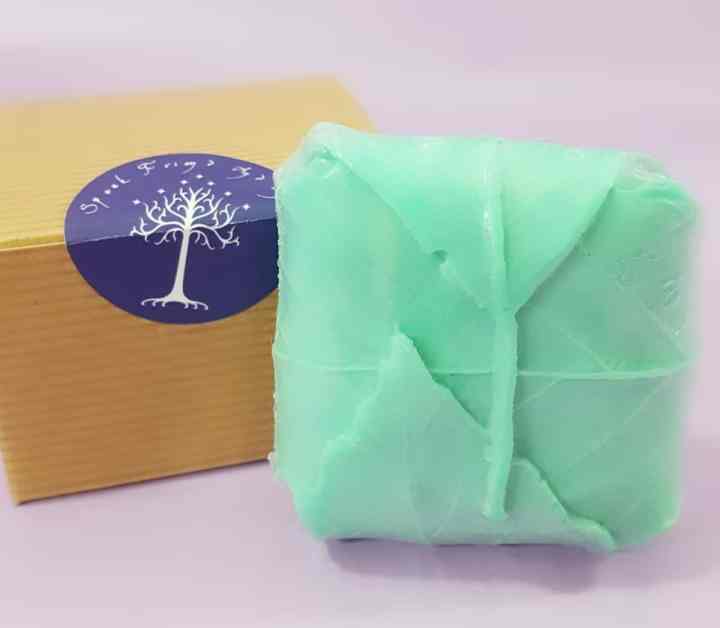 Elven Bread Soap by Fizzy Fairy Apothecary ($5.00) – This soap is so fun. It will make you feel as though you are accompanying Sam and Frodo on their journeys.
I love the look of the leaves folded over and how detailed the soap is. This is truly stunning.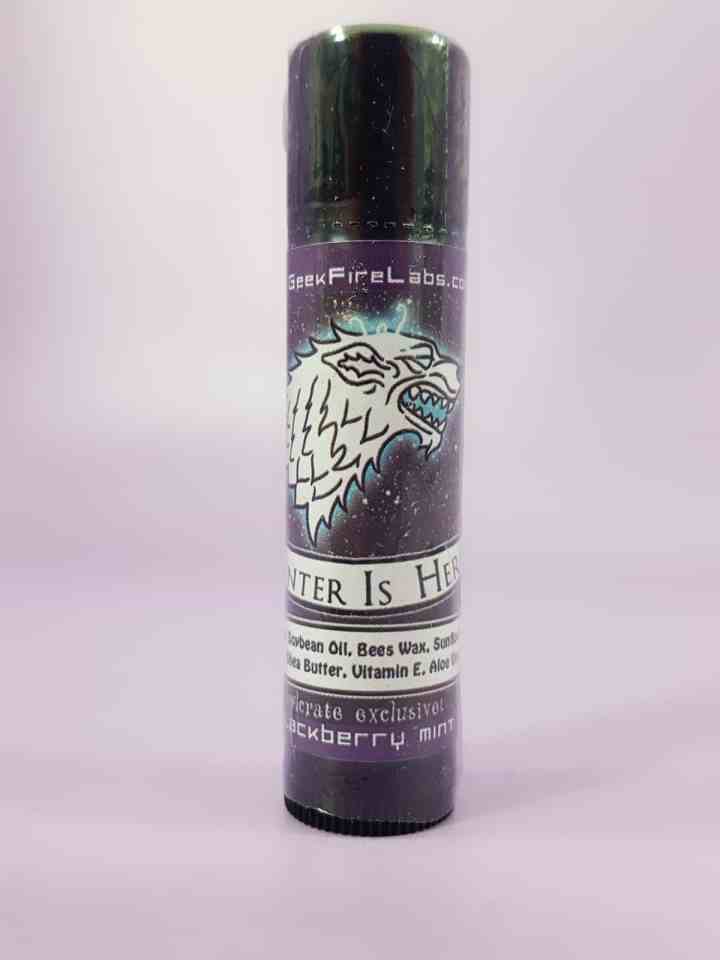 Game of Thrones inspired Lip Balm by Geek Fire Labs ($4.00) – I'm a lip balm junkie and this luscious blackberry mint Game of Thrones inspired balm is delightful. Since I'm in NC, winter isn't here yet but it is coming.
Exclusive Brooch designed by Juniper and Ivy Designs – This is inspired by Leigh Bardugo's Grishaverse and OwlCrate sent out three different stunning designs. I'm not sure of this book series but I love the brooch so I'm going to need to check them out.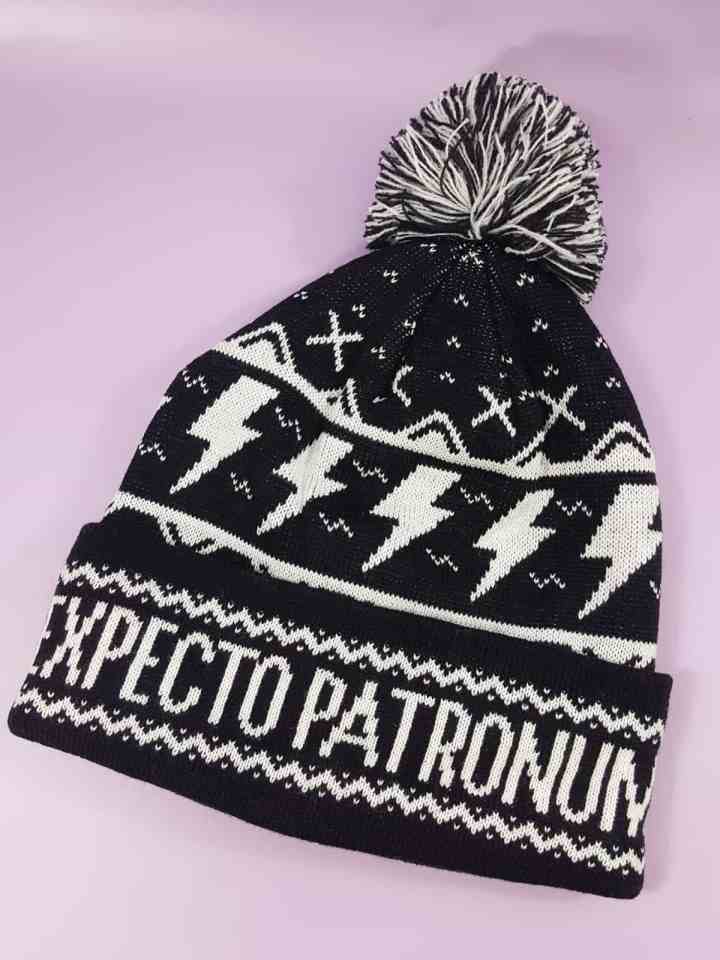 Expectro Patronum Beanie by Owlcrate – An exclusive beanie created by OwlCrate just for us. This AWESOME beanie will help me fight off both Dementors and cold mornings.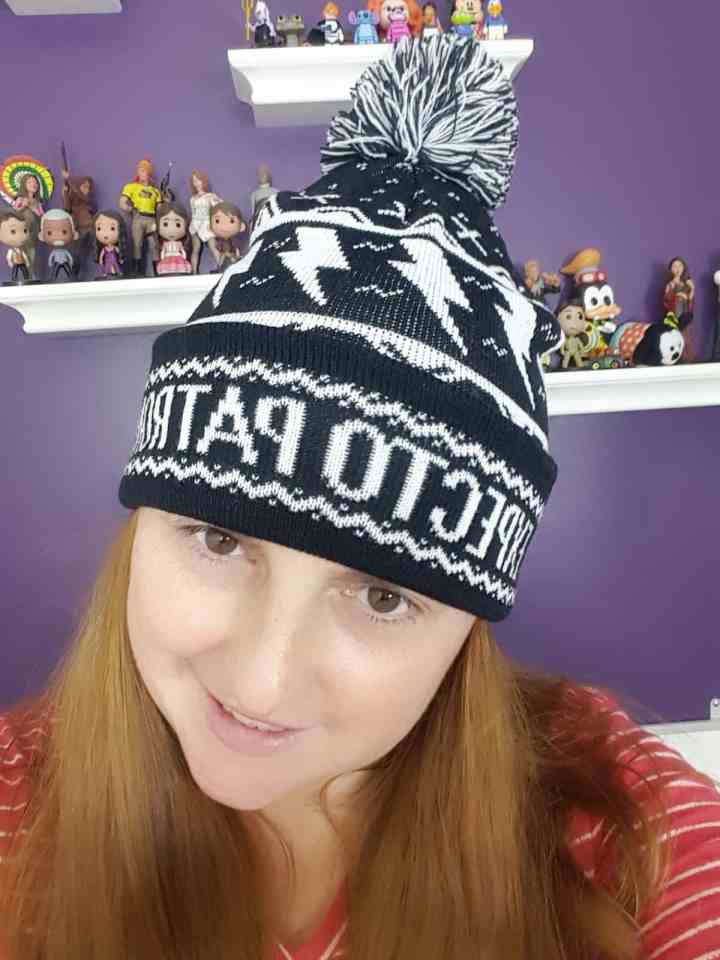 What do you think? Can I pull the beanie off? I'm really loving it and can't wait to wear it out and about.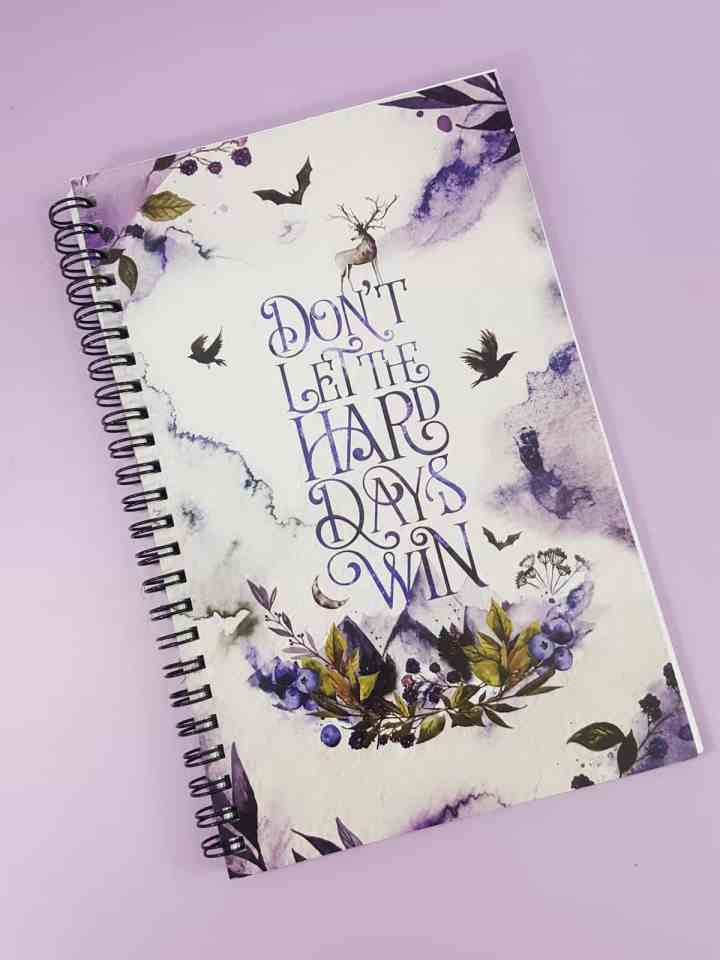 Notebook by Stellas Bookish Art – If you can't tell I love the color purple so you know I was beyond excited for this notebook. It is gorgeous and I love the quote from the Court of Mist and Fury.
What do you think? Owl Crate sent one of the best boxes for me this month. I LOVE every item in here and can't get enough of them already. The theme is spot on and the beanie is to die for. The perfect item for the cold winter months to come and from one of my favorite series so a win-win for me. I can always tell the time and thought that goes into each selection and it makes for a great big bright spot in my month every month. I just grin and smile and gush over every box but especially this one and how perfect it is for me. What did you think of this month? Is it one of your favorites?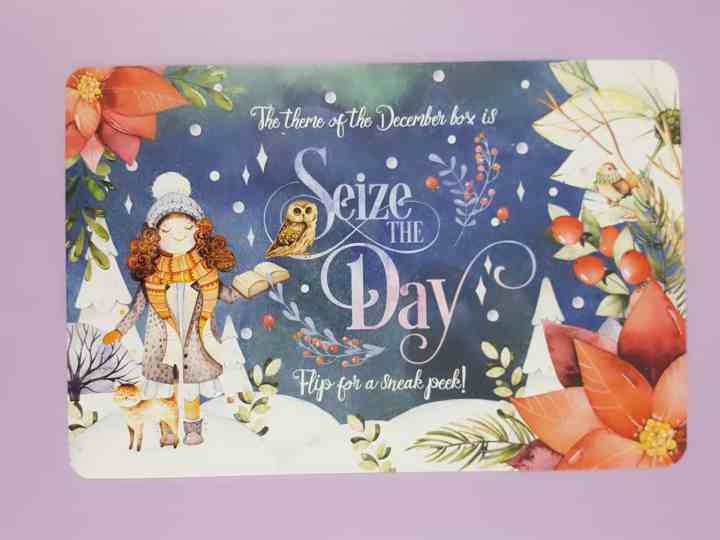 December 2017 theme is Seize the Day!
❄️ Our December book pick is a quirky contemporary novel all about the magic of theatre and finding friendship in unexpected places. It's an absolutely hilarious and heartwarming story that we know you'll love curling up with this holiday season! The book will also have a fun exclusive cover just for OwlCrate members, as well as a signed bookplate and letter from the author!
❄️ This box will be stuffed full of fun and useful items for book lovers! These goodies will get you pumped to tackle your to-be-read piles and start the new year off on the right foot! We can't wait to share more sneak peeks in the upcoming weeks; we've partnered with some very beloved businesses!
❄️ Items will be inspired by stories such as Harry Potter, The Perks of Being a Wallflower, Everything Everything, The Serpent King, Percy Jackson and more!
❄️ Boxes are available now! Visit owlcrate.com to order.
❄️ Graphic by Hey Atlas Creative
Each box will also include an item from Bookworm Boutique!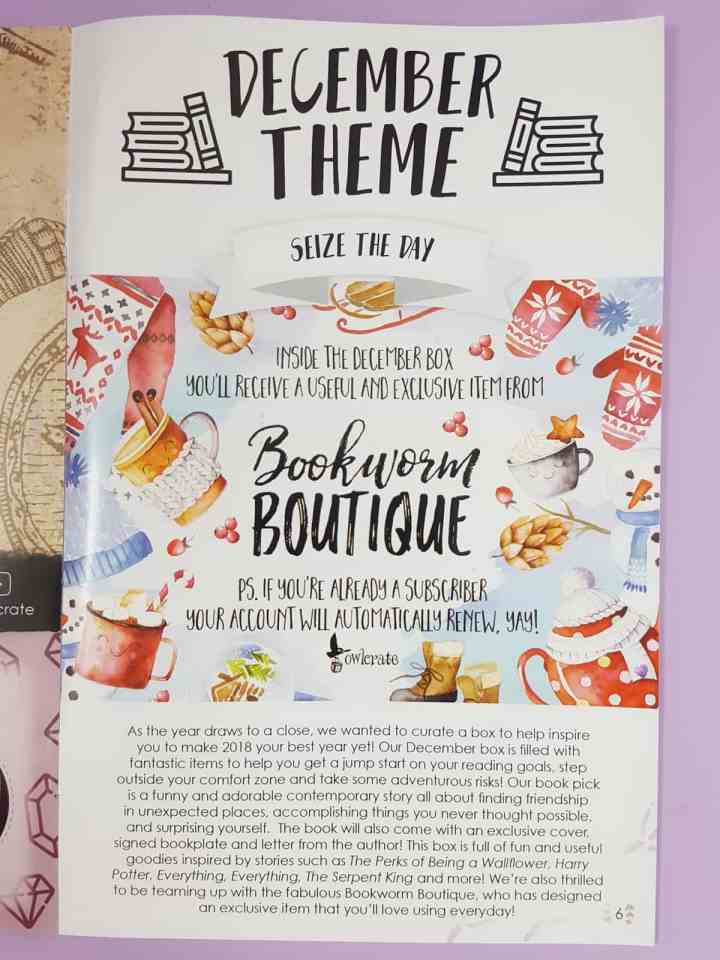 The back of the information booklet also tells us a bit more about the December box.
As the year draws to a close, we wanted to curate a box to help inspire you to make 2018 your best year yet! Out December box is filled with fantastic items to help you get a jump start on your reading goals, step outside your comfort zone and take some adventurous risks! Our book pick is a funny and adorable contemporary story all about finding friendship in unexpected places, accomplishing things you never thought possible and surprising yourself. The book will also come with an EXCLUSIVE COVER, signed bookplate and letter from the author! This box is full of fun and useful goodies inspired bu stories such as The Perks of Being a Wallflower, Harry Potter, Everything, Everything, The Serpent King and more! We're also thrilled to be teaming up with the fabulous Bookworm Boutique, who has designed an exclusive item that you'll love using everyday!
What did you think of this month's Owl Crate theme? Are you ready for next month's?