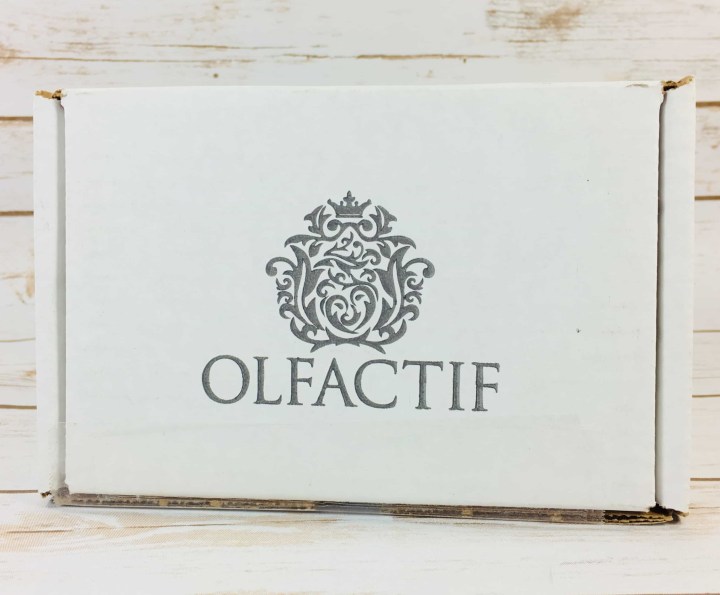 Olfactif is a monthly fragrance sampler subscription box that sends hard-to-find niche perfumes. Every month you'll receive 3 samples, with 2.5ml each, which contains up to 40 sprays of an independently designed perfume. Olfactif is $20 a month, or sign up for a longer subscription for a discount – prepay for a year and the price drops to $15 a box!
Member Benefits:
20% off full bottles of every featured scent
10% off all other full bottles
10% off all à la carte samples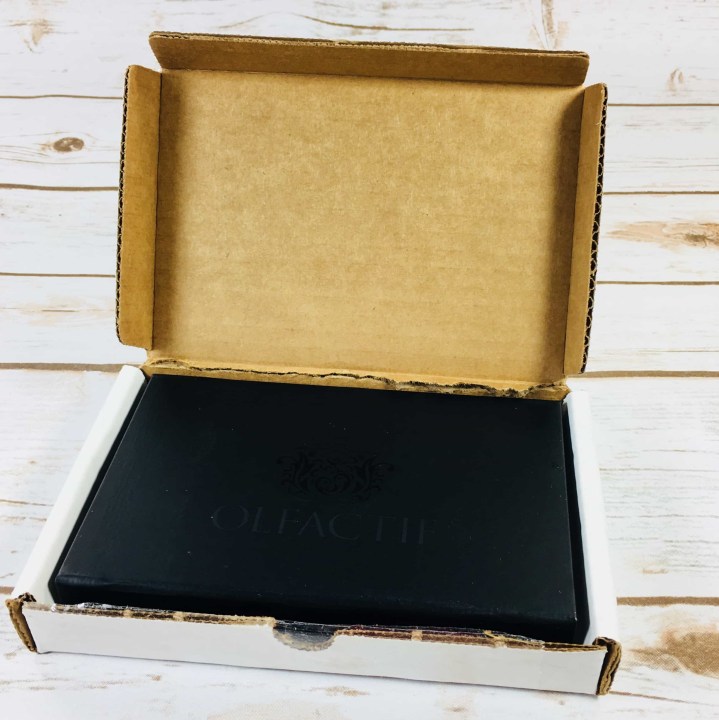 Olfactif sends their scents in a black box with a magnetic closure. Classy.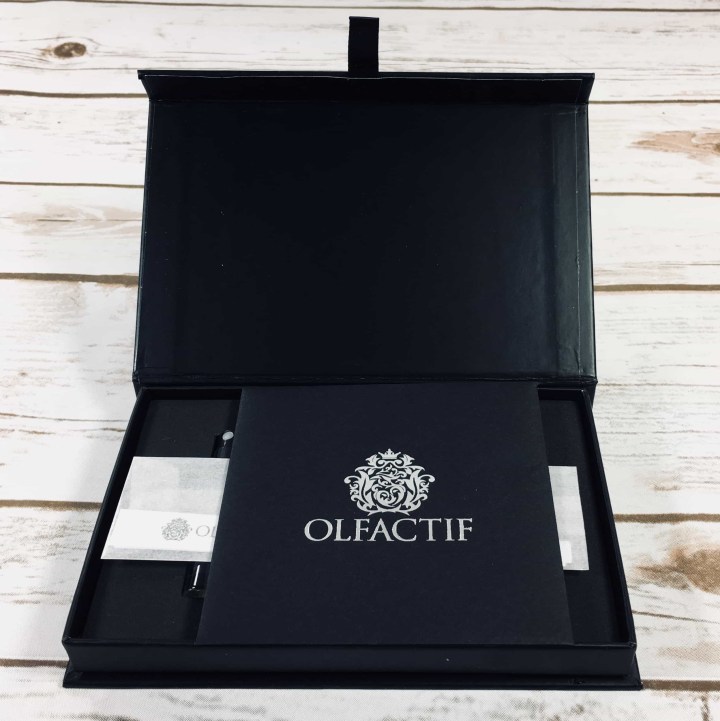 Olfactif focuses on niche fragrances – unique scents produced with higher quality and harder-to-find ingredients than you would encounter in a department store. They offer both a unisex scent sampler (for women and adventurous men) and a men's fragrance sampler with more masculine scents. You can check out our reviews of Olfactif Men here.
Everything in the box!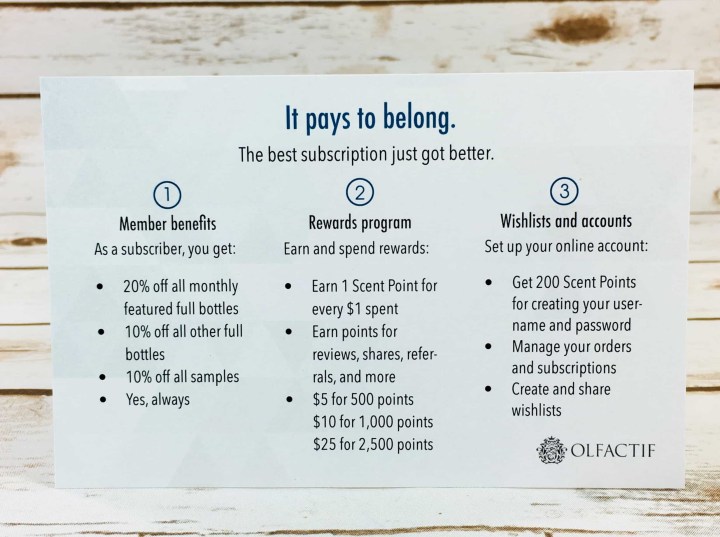 Olfactif recently made some changes. Member's save 20% off of a full-sized monthly featured fragrance, 10% off all other full-sized fragrances, and 10% off all samples. Olfactif has also introduced a rewards program so you can earn points when you review your scents, refer a friend, or make a purchase.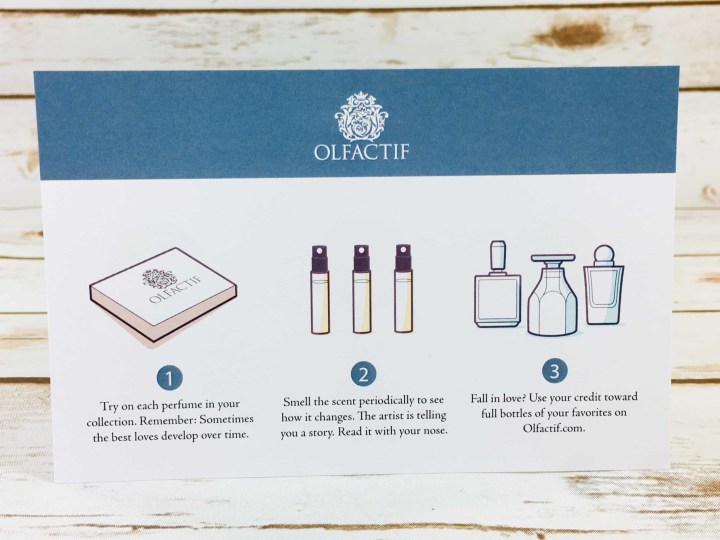 There was a card that tells a bit about the subscription.
Opening my Olfactif box is like opening a special present: the presentation is simple and elegant.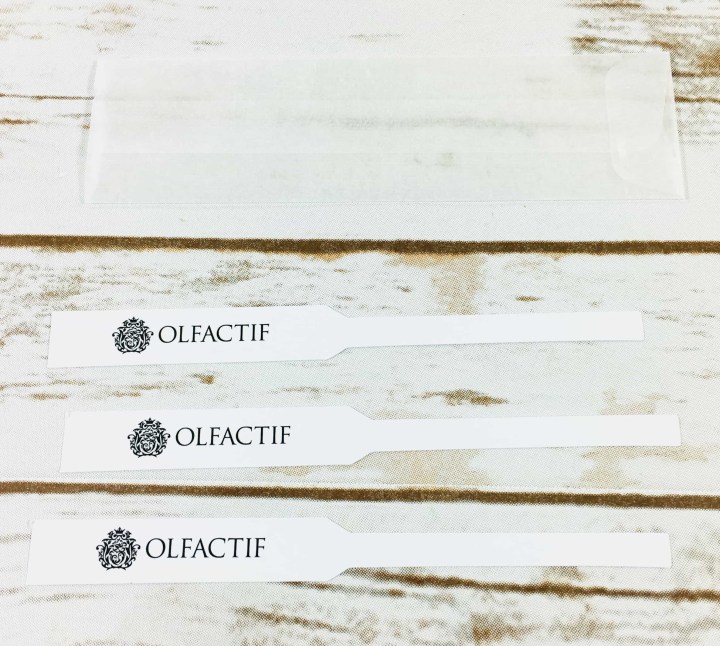 I received three testers so I could spray the scent and get a feel for it, however, the scents almost always smell radically different on my skin than they do on paper!
There was a beautiful embossed envelope that had 4 cards inside. Each scent has a card that offers suggestions on how best to appreciate the fragrances. Since scents develop over time on the body, don't assume your first experience will be your last! Spritz the fragrance on and smell it at different times to fully appreciate all that the artist intended to express through the scent.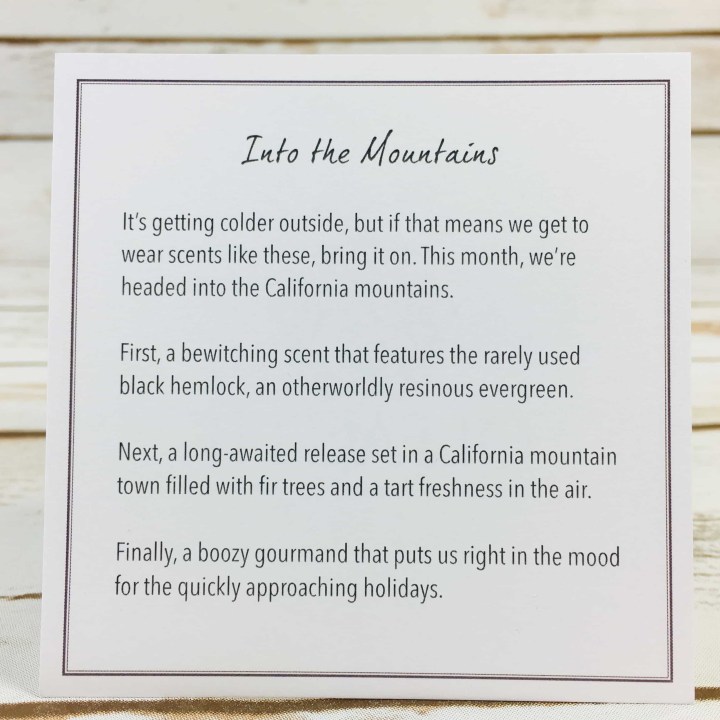 The unisex theme this month was Into the Mountains. These scents were inspired by the mountains of California!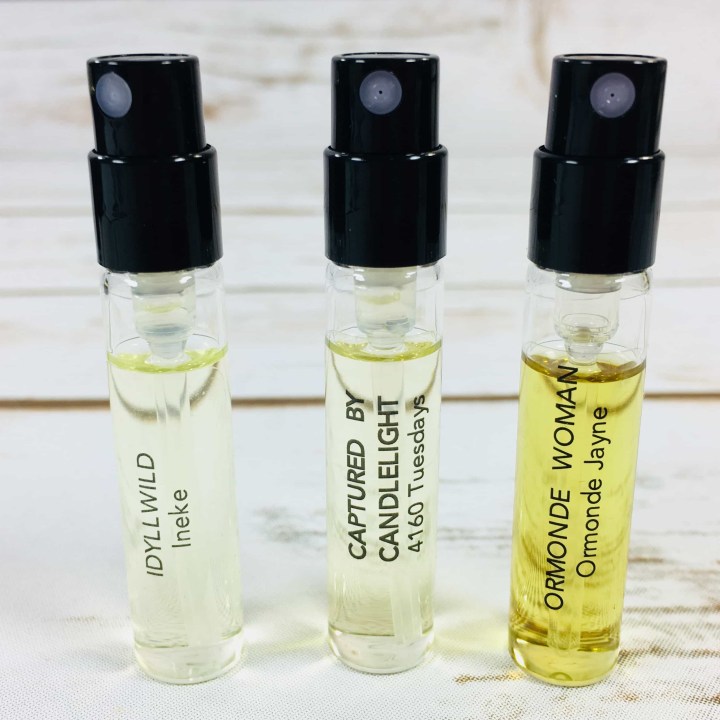 The three scents chosen this month are very different from one another and from mall perfumes. The information card gives the scent notes of each perfume, but keep in mind that fragrances may smell completely different on everyone due to our unique chemistry.
Olfactif November 2017 Unisex Into the Mountains (all prices listed are for full bottles, available for purchase from Olfactif):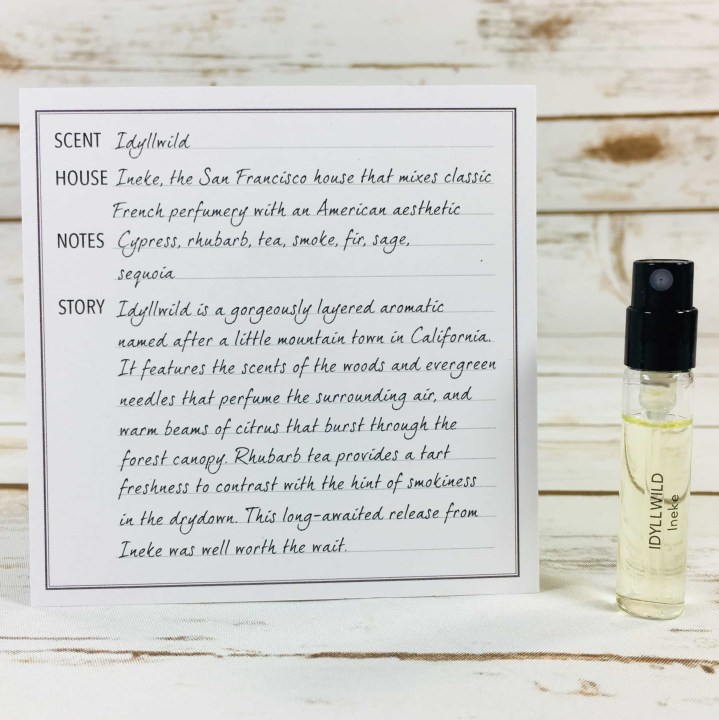 Ineke Idyllwild ($110 for 75 ml) I tried this scent first since I grew up going to Idyllwild with my grandparents, and my mom lives only an hour from there now (I'll have to take my kids on my next visit home!). Idyllwild is a woody aromatic scent that is a little green, a little woodsy, with just a hint of citrus. The predominant smell that I picked up was rhubarb, and it smelled like the real thing! The longevity and projection are not long or far with this scent, and I found myself sniffing my arm until it finally vanished for good.
4160 Tuesdays Captured by Candlelight ($90 for 50 ml) is an oriental vanilla scent but to me it was definitely in gourmand territory. It is inspired by a traditional English Christmas pudding, but I have my own American take on this classic. The fragrance is sweet, spicy, boozy, warm, and comforting and I absolutely love it. Imagine eating bread pudding, baked with brown sugar, cinnamon, and nutmeg, next to the fireplace. The pudding is still warm and smothered in brandy hard sauce, which is basically buttercream frosting with alcohol that has been "hardened" in the fridge. This is what Captured by Candlelight smells like to me.
Ormonde Woman Ormonde Jayne ($150 for 50 ml) is a chypre and was longest lasting of this month's scents. The notes include black hemlock, violet, and vetiver, and the effect was quite striking. It starts off warm with a touch of amber and some green notes. It was sweet but not sickly so. Is that leather? Hmm, a bit of powder. The first time I tried it it reminded me of spray starch! The base note lingered into the evening, and reminded me of the drydown from Midnight Fleur by Nest. Overall, this was a lovely fragrance and exactly what a niche scent should be.
I love getting my monthly Olfactif and am always happy to find it in the mail! I change my fragrance daily and may match it to the weather, my outfit, or how I am feeling in the morning so this subscription is perfect for people who can't commit to one fragrance or who are looking for something spectacular and out of the ordinary. I loved the theme and I am happy to say that none of the fragrances smelled like Pine Sol! They were warm and comforting without being overbearing. I enjoyed each one, but Ormonde Woman was one of the best I have ever smelled!
Have you tried Olfactif yet? Let me know what you think of this subscription in the comments!