Olfactif Men is a monthly unisex fragrance discovery subscription box with a masculine edge. You'll get 3 samples (2.5 ml each) in your box, each containing up to 40 sprays of an independently designed cologne or eau de toilette. Olfactif's focus is on niche fragrance, so you'll see different & unique scents, higher quality and hard-to-find ingredients.
Olfactif is $20 a month, or sign up for a longer subscription for a discount – prepay for a year and the price drops to $15 a box!
Member Benefits:
20% off full bottles of every featured scent
10% off all other full bottles
10% off all à la carte samples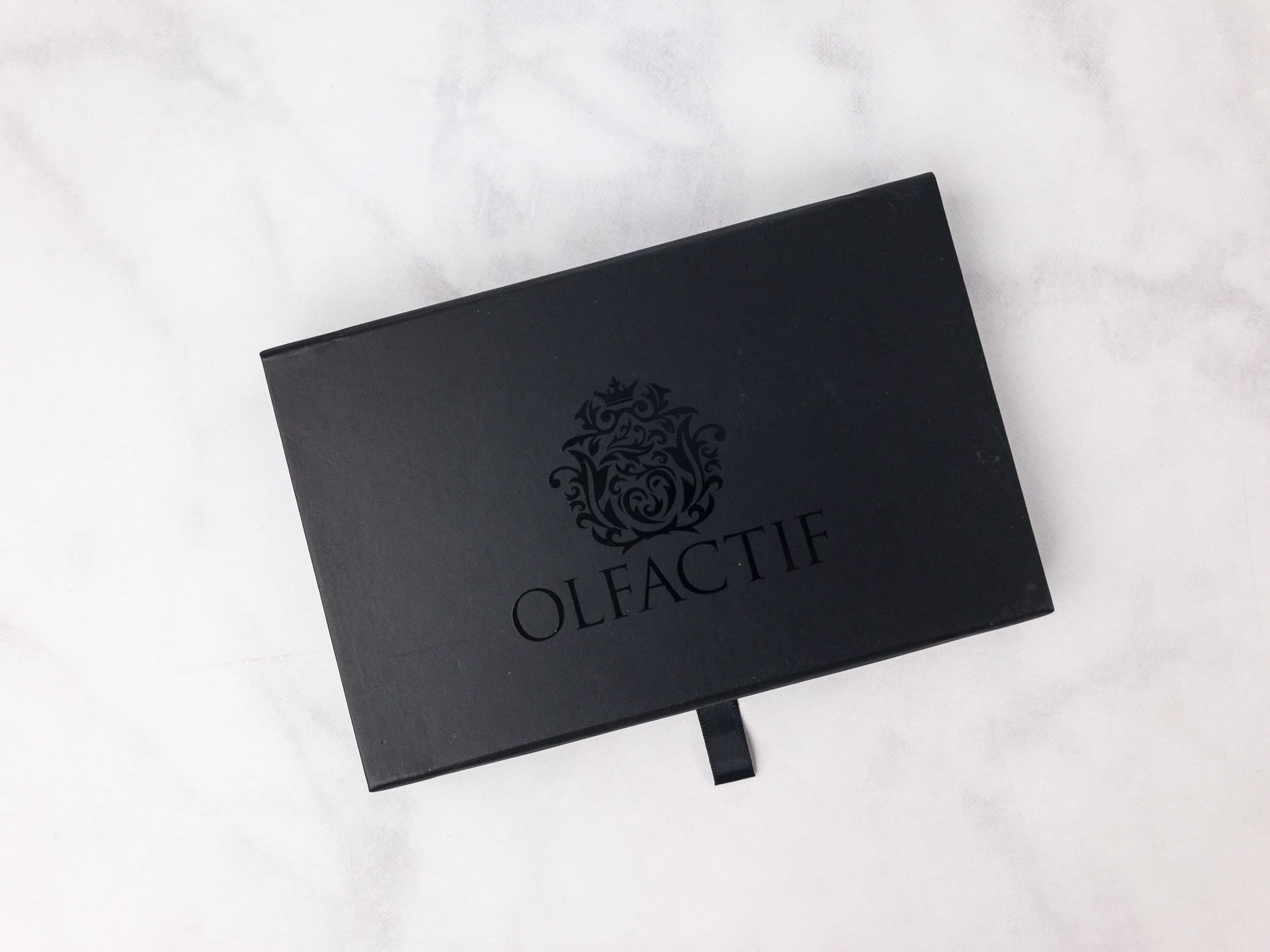 The regular Olfactif box is unisex meant to be worn by women and men who enjoy niche fragrances.  Because it features fragrances intended to be wearable by both sexes, it only occasionally indulges in the heartier scents typically associated with Men's fragrance.  The Men's box is centered around traditionally masculine fragrances, all from the niche world.  You will still see the same creative spirit and defiance of convention, but the focus will be on the yang.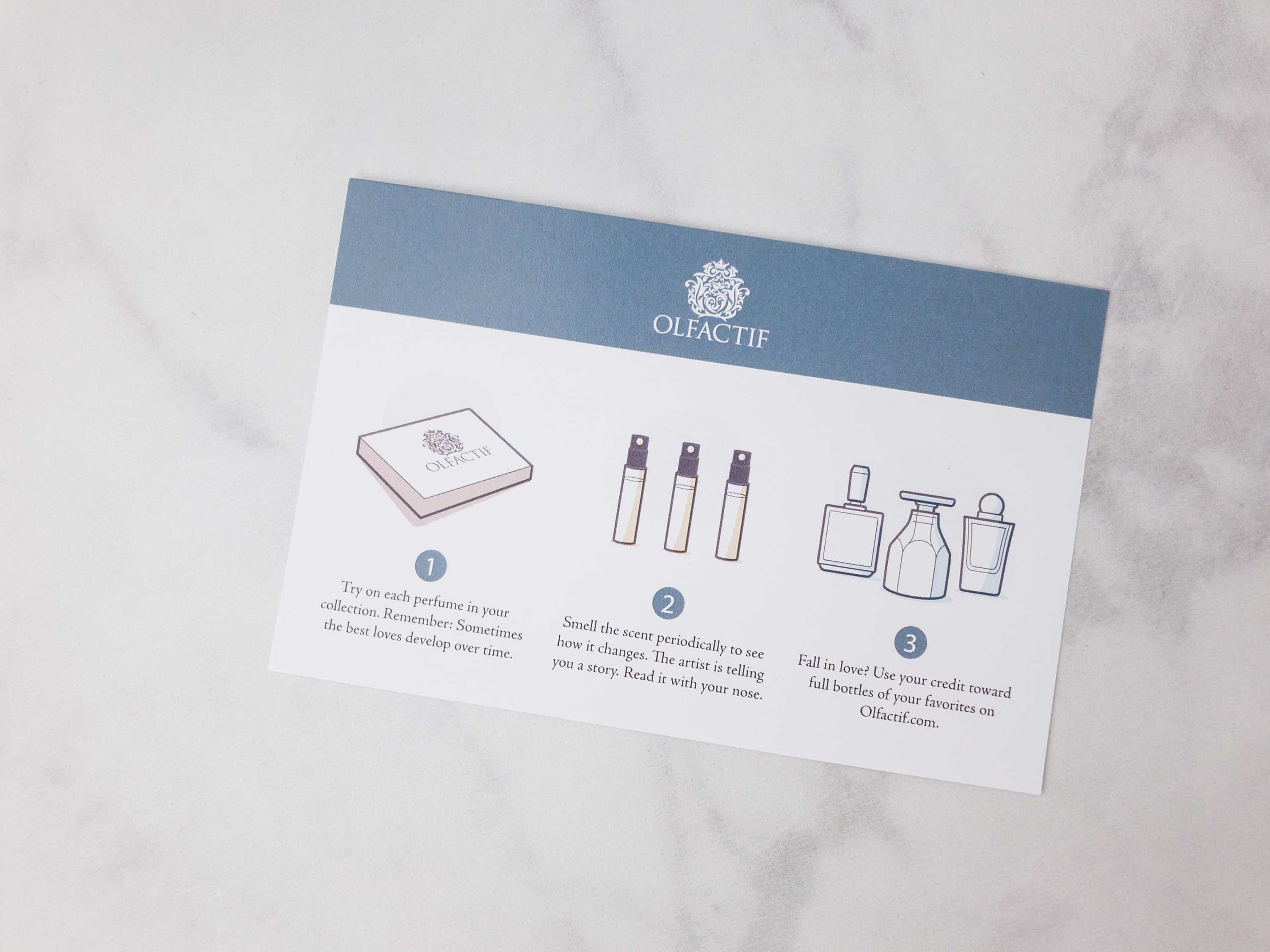 It makes the niche fragrance world approachable for more men by anchoring each selection with an unmistakably masculine element. The subscription works the same as the unisex one — your subscription price gets you a few great sample bottles (which actually hold quite a bit) each month, and it can be applied toward a full-size purchase in the online store.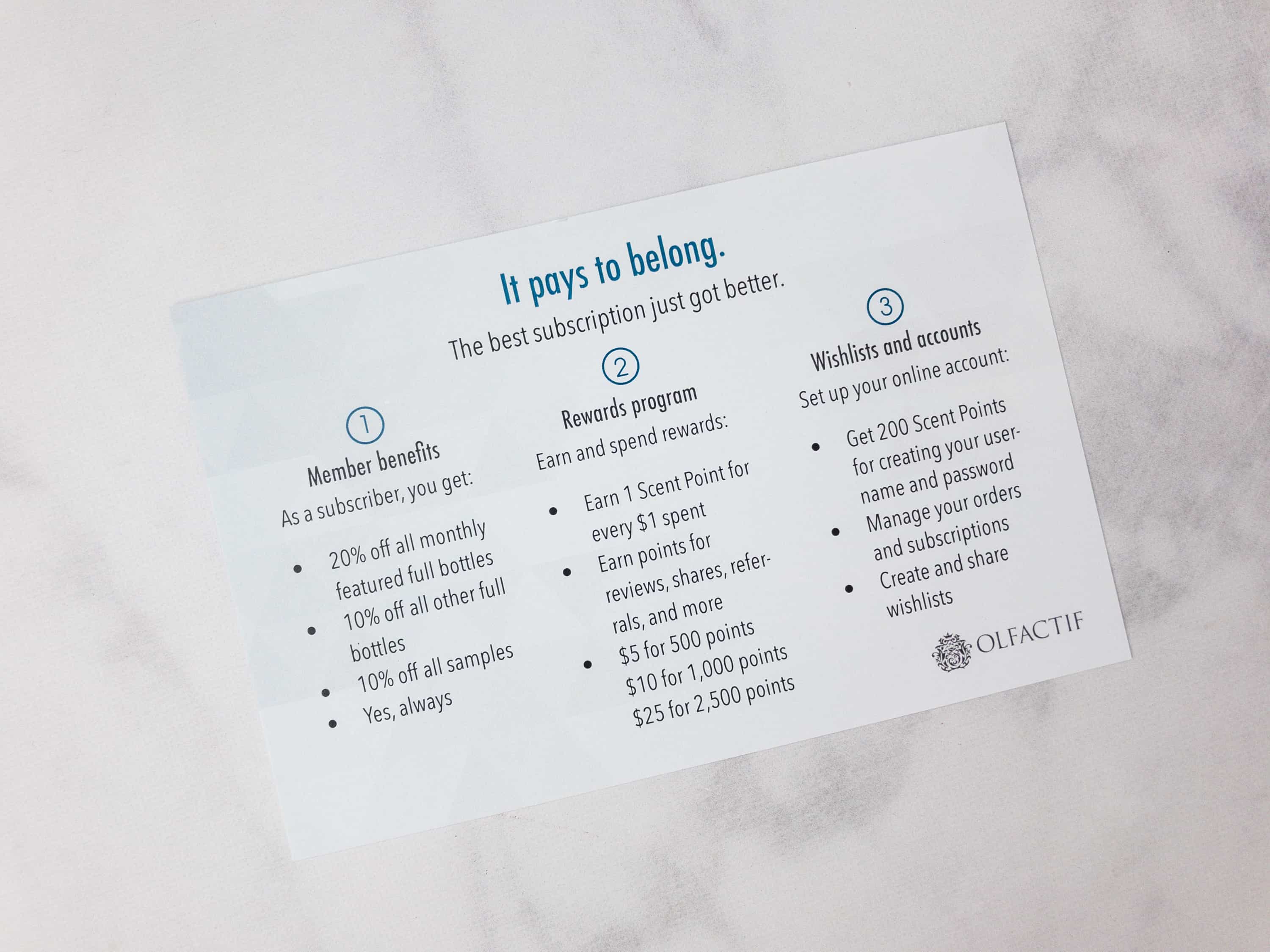 They've always just started a rewards program offering discounts and spendable "scent points."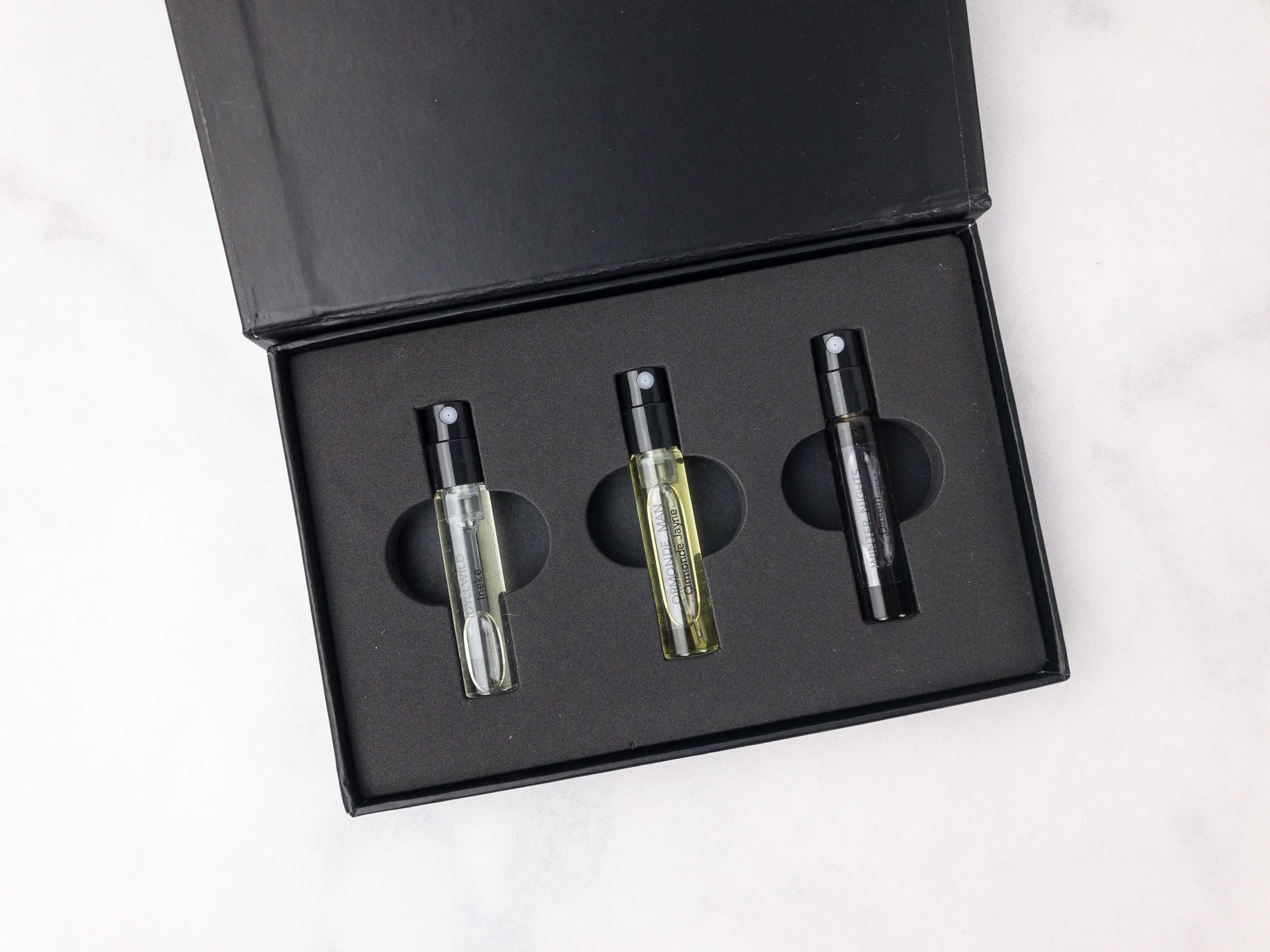 Olfactif Men's comes in the same cool packaging as their flagship subscription.  It is attractive and the flap retracts within the box when you pull the ribbon.  The information card for the fragrances is tucked inside.
Perhaps no material conveys importance as immediately as leather. In the soft interior of a new car, it tells us we are touching luxury. Wrapped around the pages of a book, it tells us we are touching valued knowledge. Even when weathered on the back of a horse, it tells us we are touching something that was made with care, perhaps generations ago. Leather is built to last.

Is it any wonder that we love its smell? Leather and suede have been markers of elegance for centuries, and so our appreciation of their scent is ingrained in us. Lucky for us, perfumers know all about that.
The box comes with three testers, but you'll want to give each scent a good wear to really get a sense of it.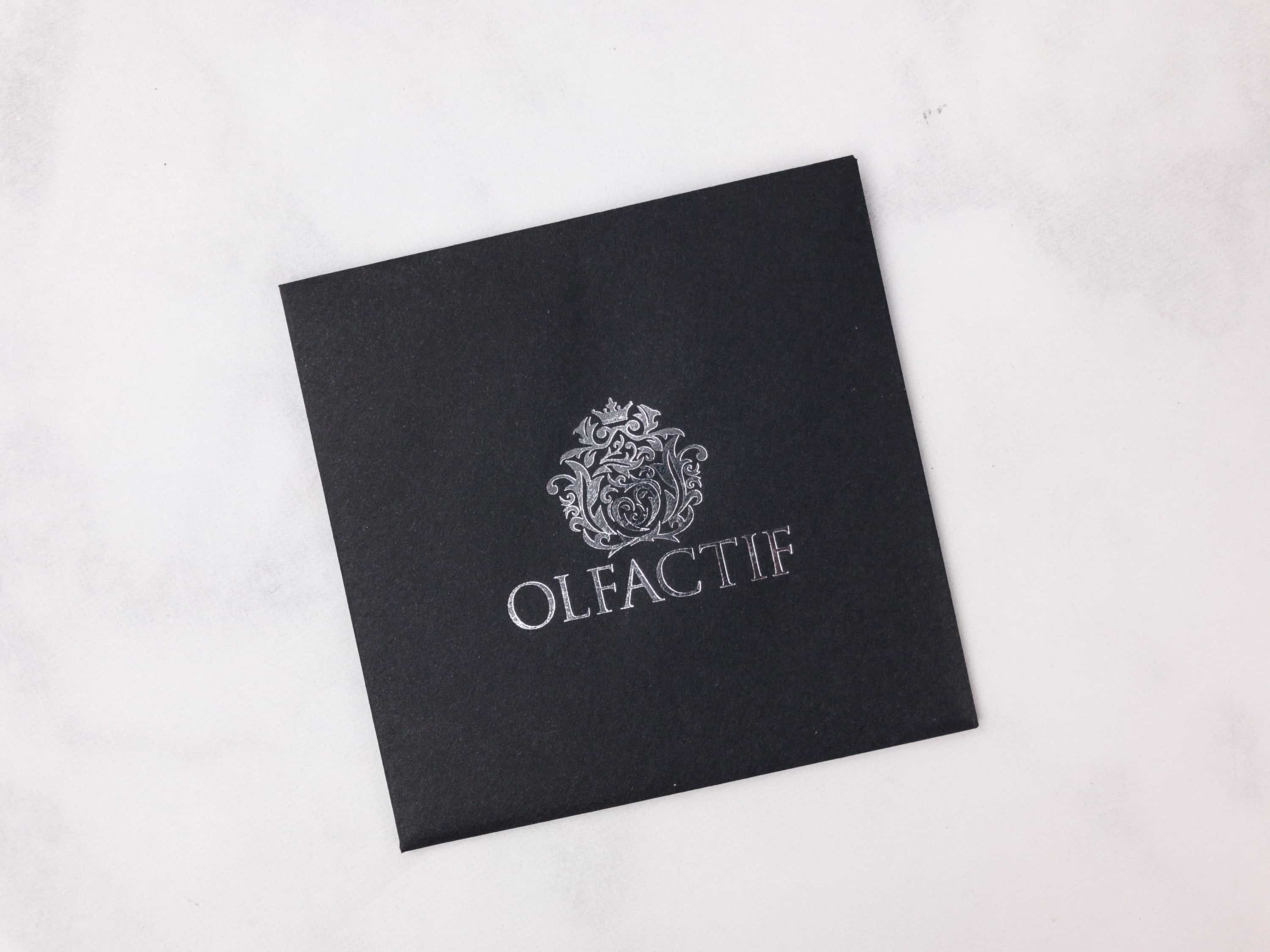 A cool embossed envelope contains the information cards on each scent. The fragrance notes detail the composition and philosophy behind each of the fragrances, but the prominence of each element changes as the scent ages on your body.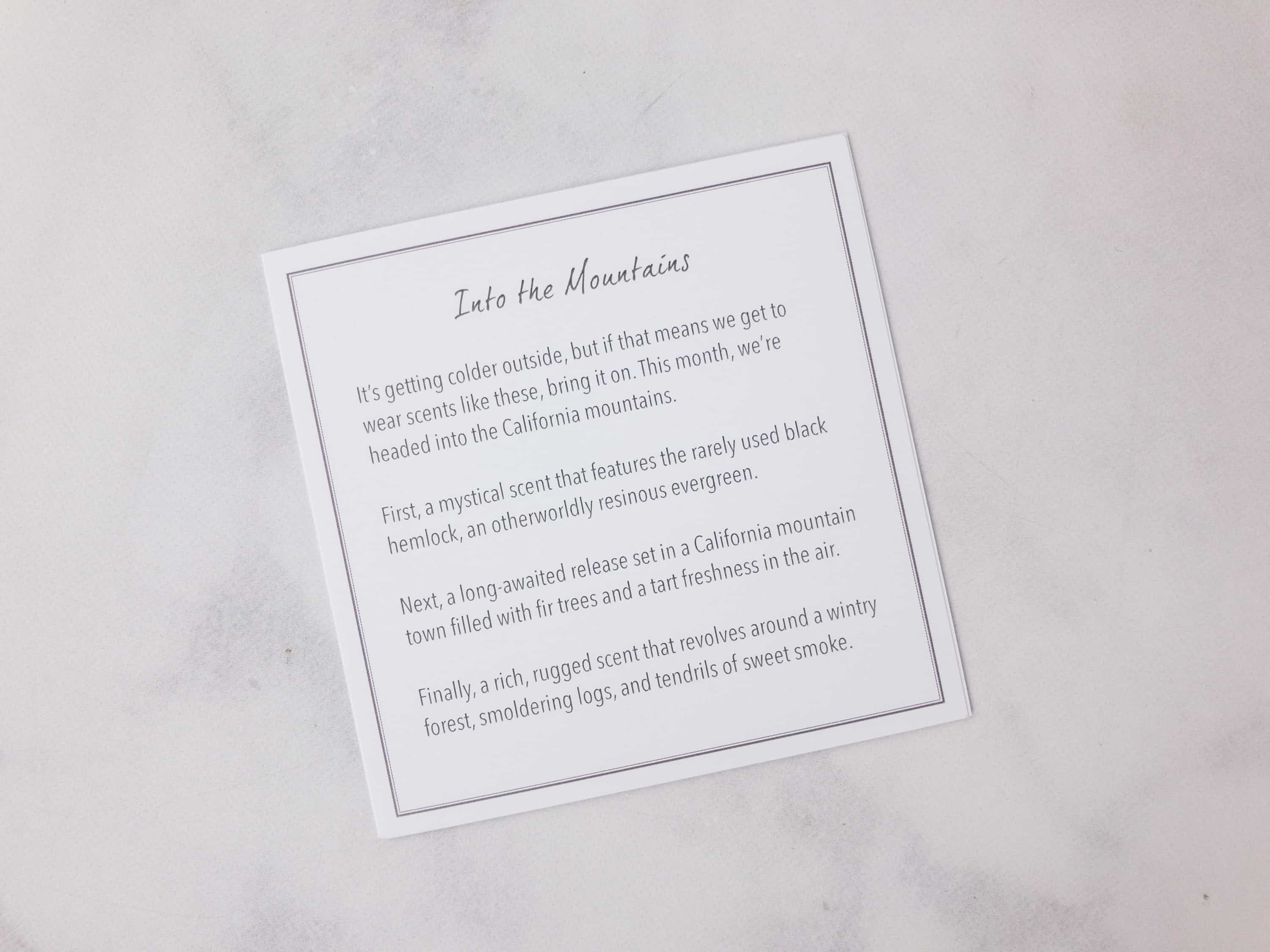 This month pays tribute to the California mountains, so we expect lots of evergreen and fresh botanicals.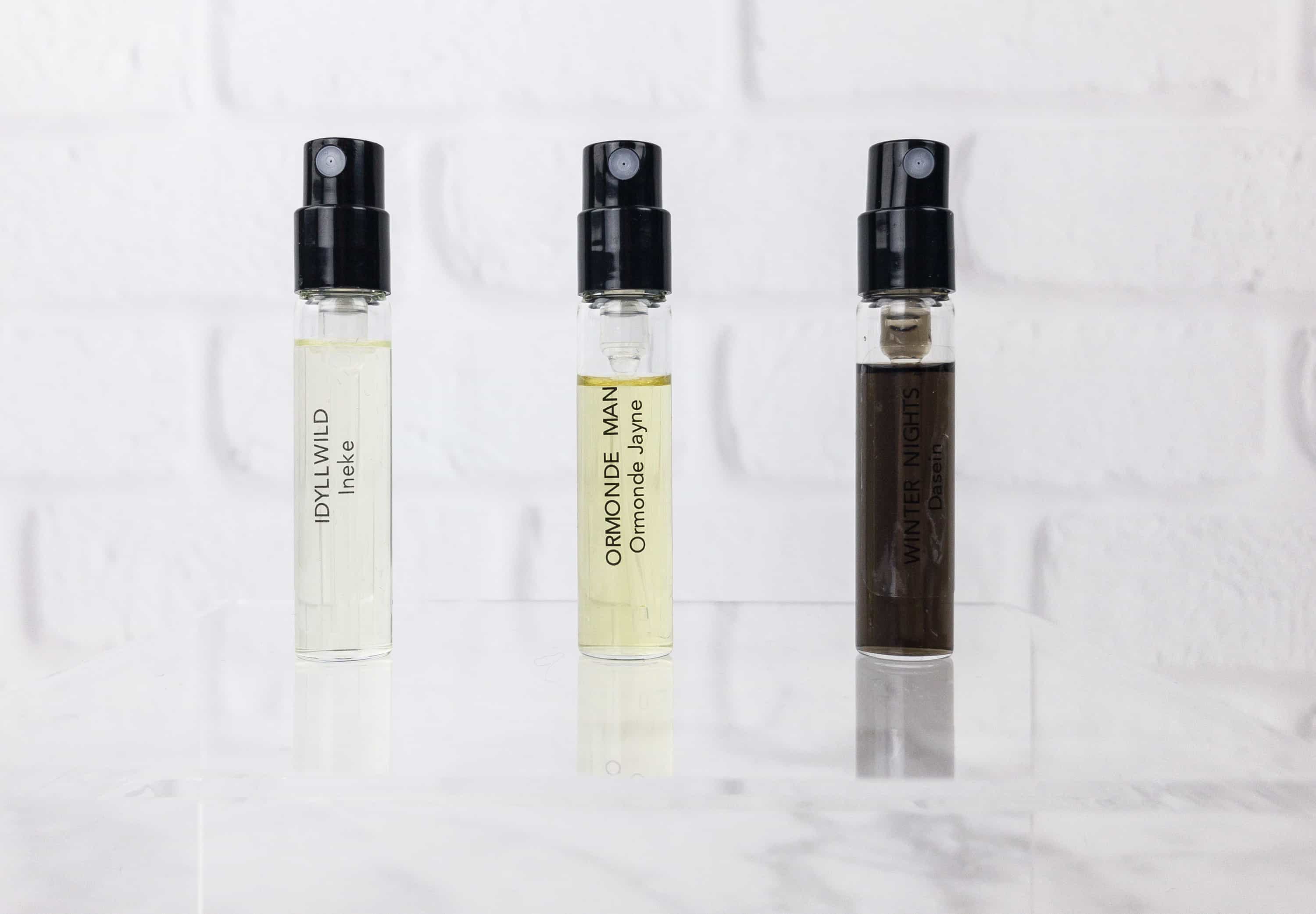 My three fragrances!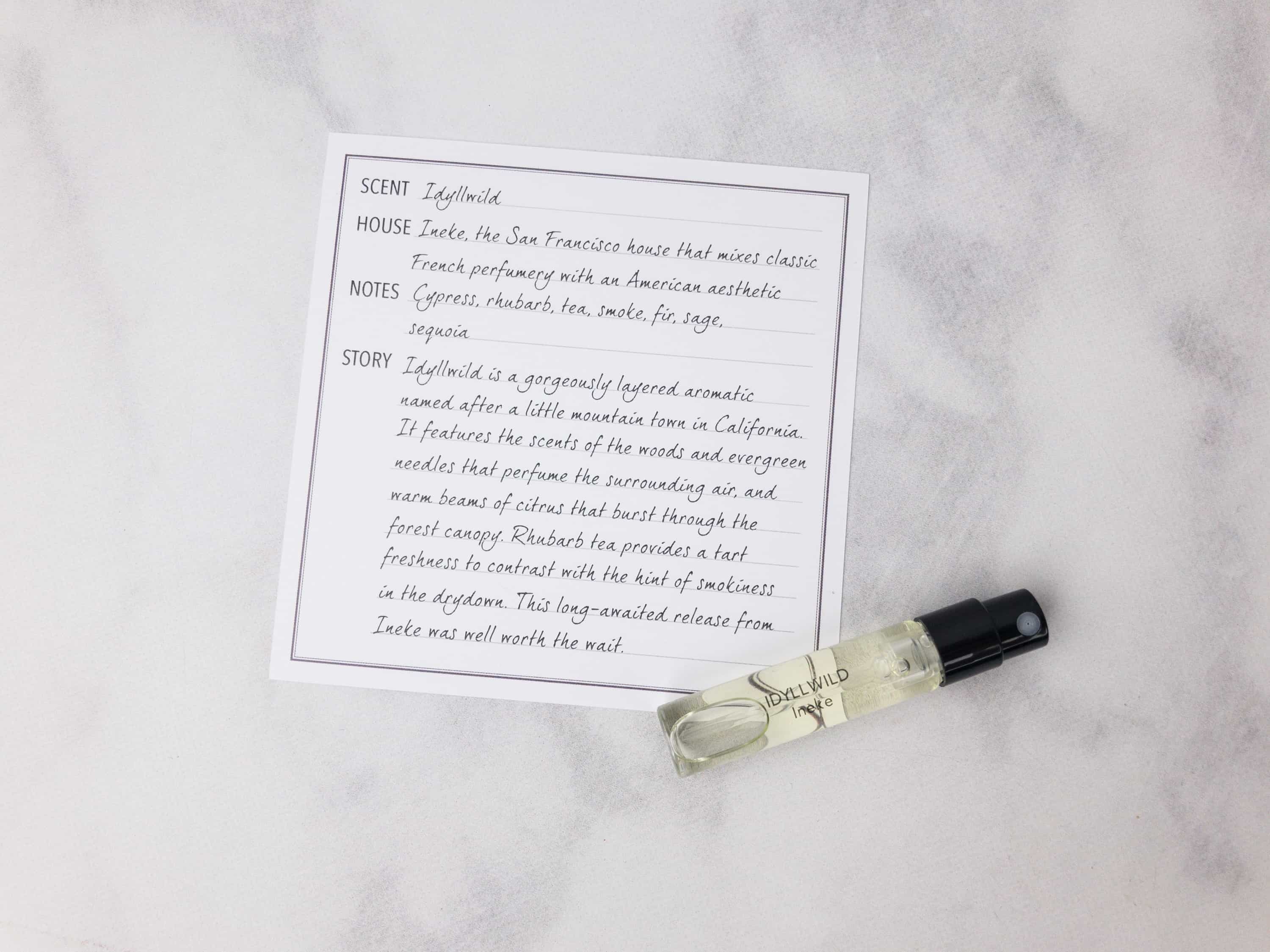 Ineke Idyllwild 2mL:  Rhubarb may be one of my favorite supporting notes in a fragrance. Here, it provides an inviting bridge between the warm and mellow notes of tea, cypress, and sage and the more vivid smoke and fir notes. This fragrance exudes a spicy playfulness that couples well with the broadness of the underlying smoke. As it drys down, the mid-notes fade into the back, accentuating the contrasting citrusy sweetness of the top notes and the dry, smoky, woodiness of the base notes.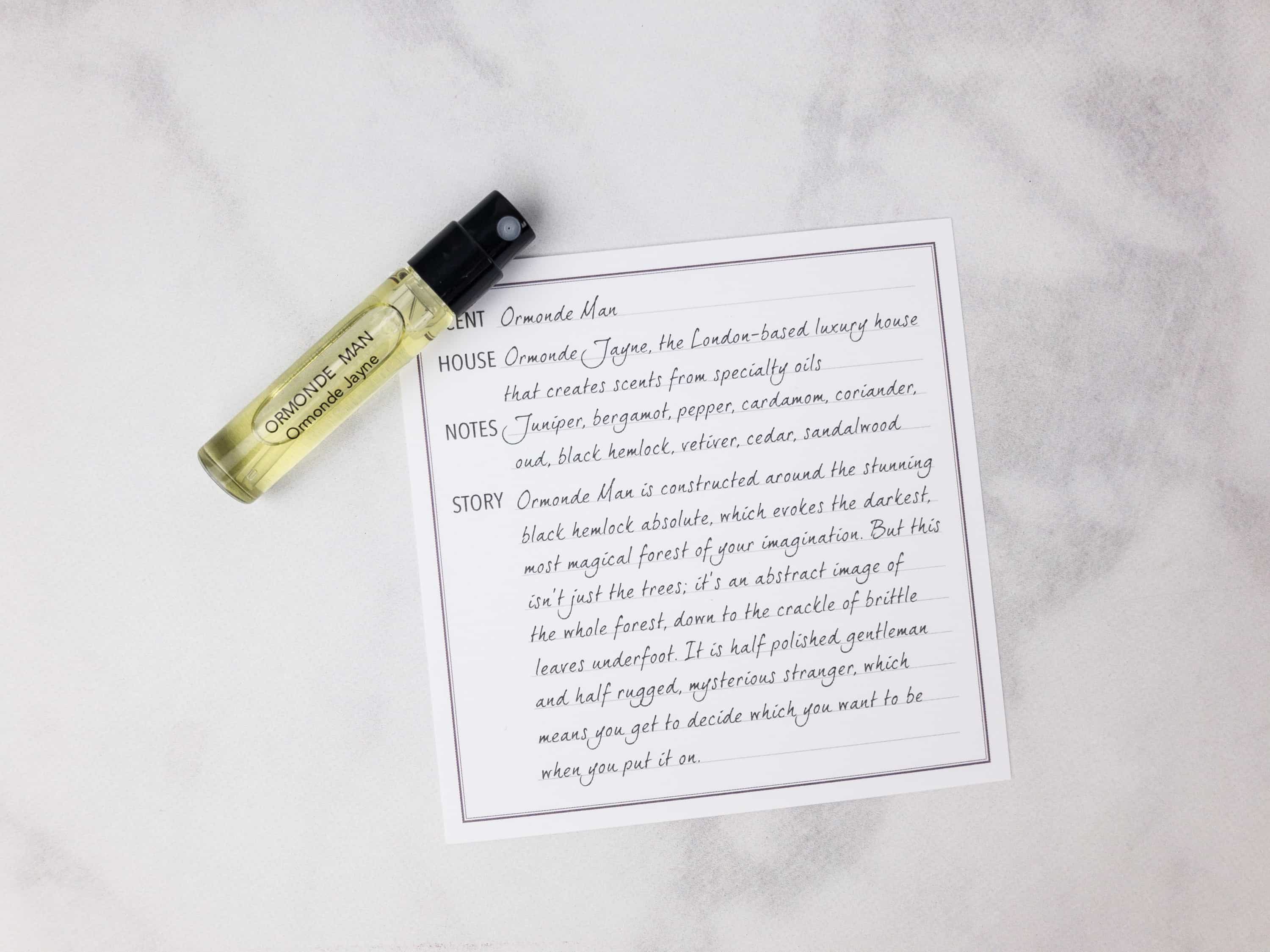 Ormonde Jayne Ormonde Man 2mL: The early life of this fragrance is dominated by the fresh, spicy astringency of juniper, with lots of mellow baking spice undertones – the cardamom and coriander create a cloying pungency, like gingerbread stripped of the cinnamon and ginger. These all fade, though, leaving a deep, yet hollow resinous character created by the black hemlock and dry cedar and sandalwood. The hollow is filled with the pleasant sweetness of vetiver and a remaining hint of bergamot. This fragrance has a gentle touch and mysterious warmth.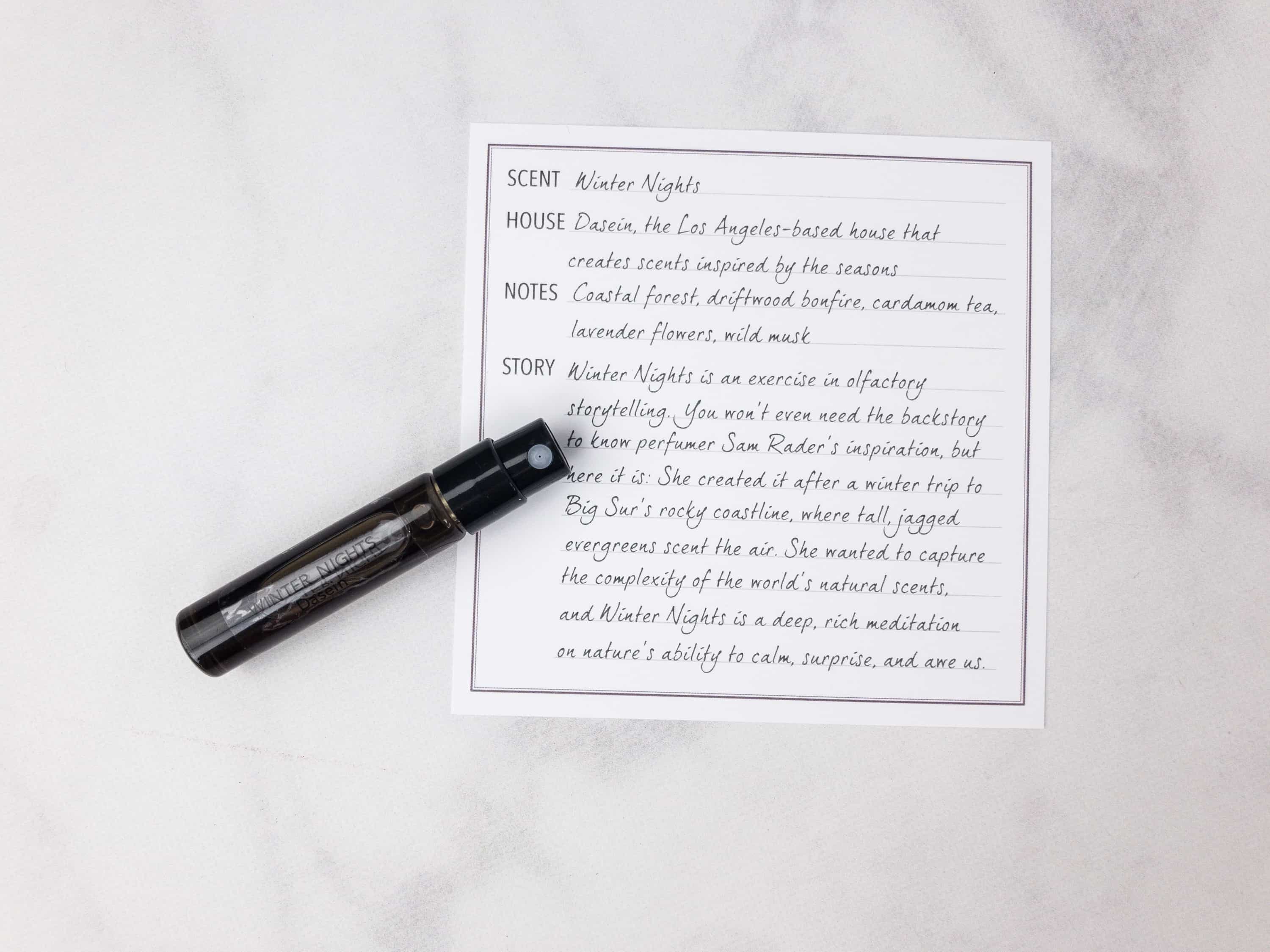 Dasein Winter Nights 2mL: This fragrance immediately catches the eye with an inky complexion. The scent is not nearly as dark as the appearance would suggest, and the driftwood bonfire note is surprisingly light on the smoke, opting for an uplifting warmth instead. It has the comforting warmth of sauna, alight with the scent of warm, dry wood. A mix of cardamom tea and lavender form a pleasant mid-range, but the dominant note is a lovely, sweet wild musk. It isn't overly deep or pungent, but has a leather and sunshine warmth, more comforting than animalistic.
I loved this trio of fragrances from Olfactif Men! Each has what should be a very aggressive core note, like smoke, hemlock, or musk, but the delivery is subtle and well-balanced with lighter notes. None overplays its pungency, instead creating beautiful medleys with poise, nuance, and indisputable masculinity.
Visit Olfactif to subscribe to the Men's box or find out more.