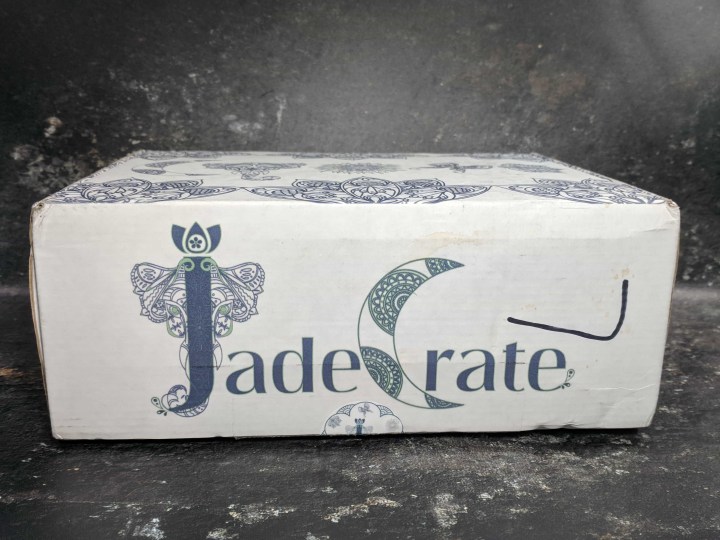 JadeCrate Boho Box Subscription is a new boho lifestyle subscription box. For $49.99 a month, you will receive 5 to 7 items chosen to bring boho style to your home, office, wardrobe and spirit. Items can range from edible organic treats, global fair-trade handcrafted home goods, artisan accessories, or all-natural skin products. A smaller version is also available for $25 a month and will include 3 items chosen from the same categories.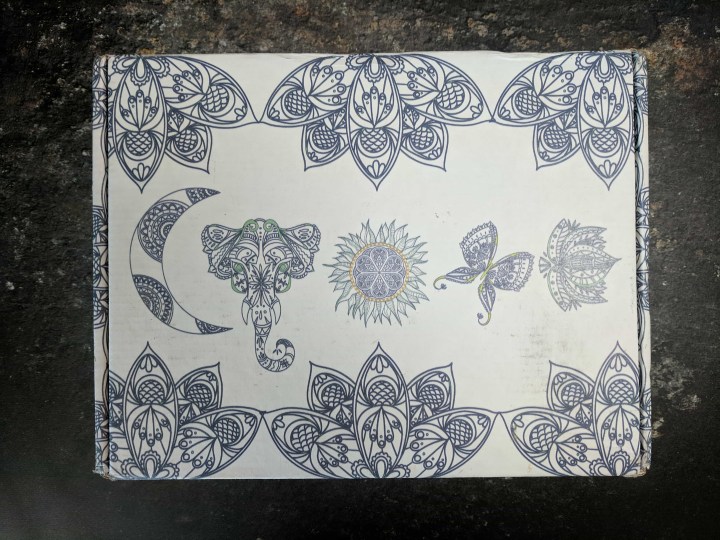 The box is gorgeous!
DEAL: Get 10% Off your first subscription order! Use coupon code J017NCNL OR 1QS7TZQGMEE0.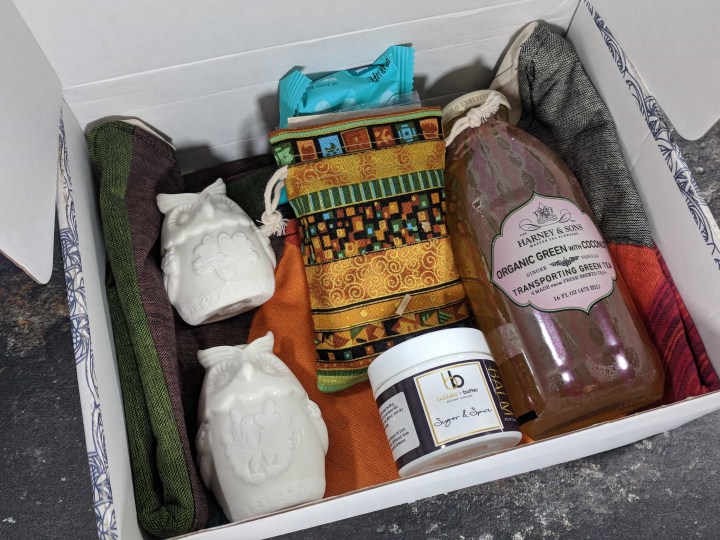 Everything was wrapped in layers and layers of bubble wrap, so nothing was broken in transit! The bottle of tea was also packed in two ziplock bags for added security.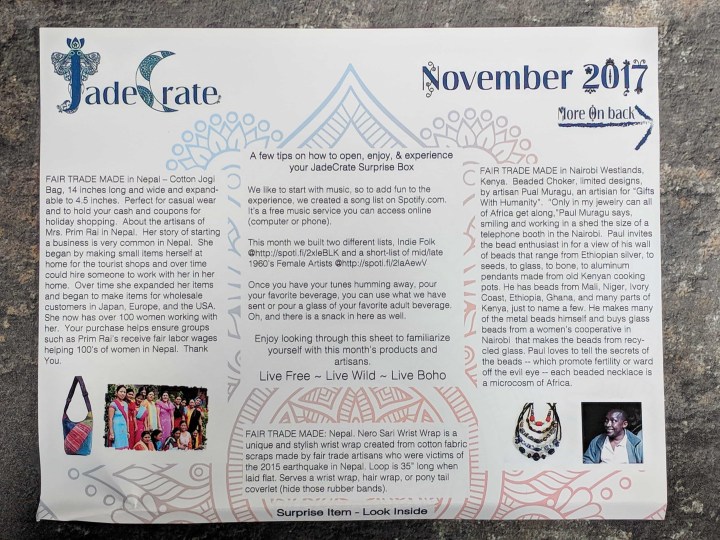 This month's card was different from last month as we get to know the artisan and organisation behind each item. Also, we get to enjoy two curated playlists while discovering this box!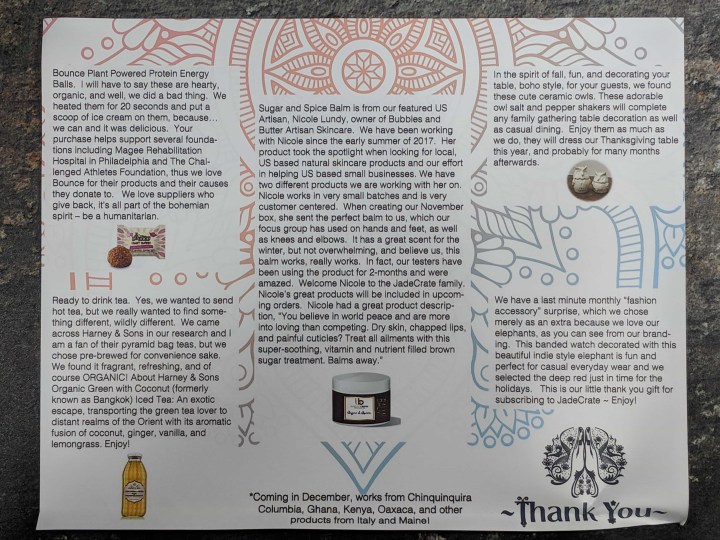 Coming in December's box, items from Chinquinquira Columbia, Ghana, Kenya, Oaxaca and from Italy and Maine!
Cottom Jogi Bag by Earth Divas ($10). This is a must in any boho wardrobe! Either for a fun night in town, as an overnight bag, or to head to the yoga class in style! The strap is wide, adjustable and doesn't dig in the shoulder. The patchwork style and color that I received makes me think of the 70's with flowy skirt and peasant blouse!
I love that the closure is a zipper, it'll keep my precious away from my curious bird! The Bag is large and big enough to fit in my laptop, a book and a notebook, and so on. There's a smaller side pocket inside the bag where you can stash your keys, phone or wallet so they don't get lost!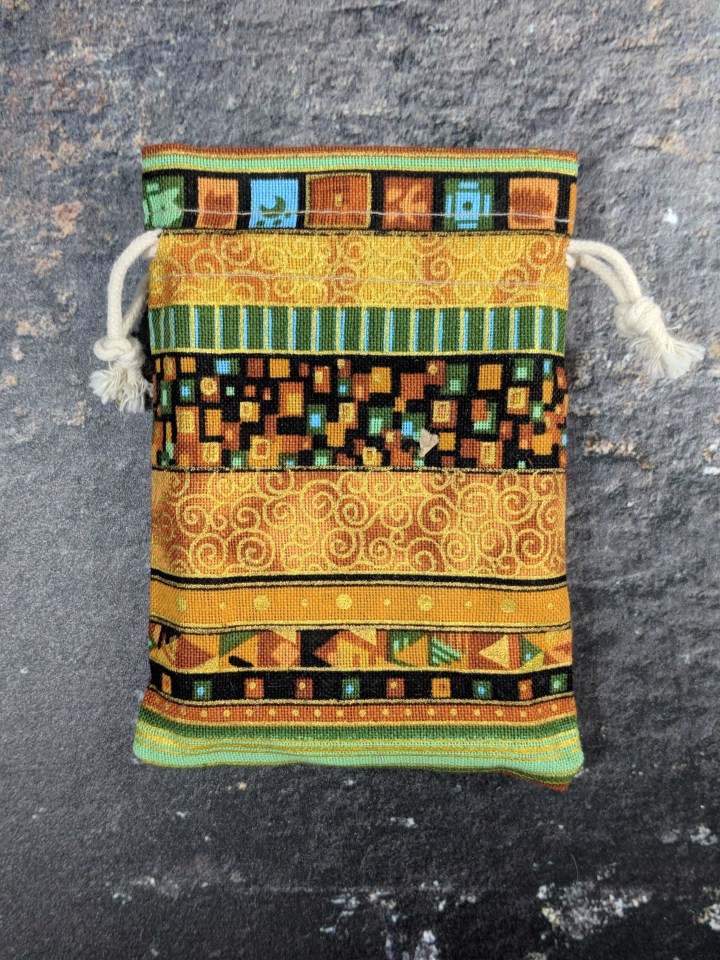 Right from the moment I opened the box, I was attracted by this cute bag.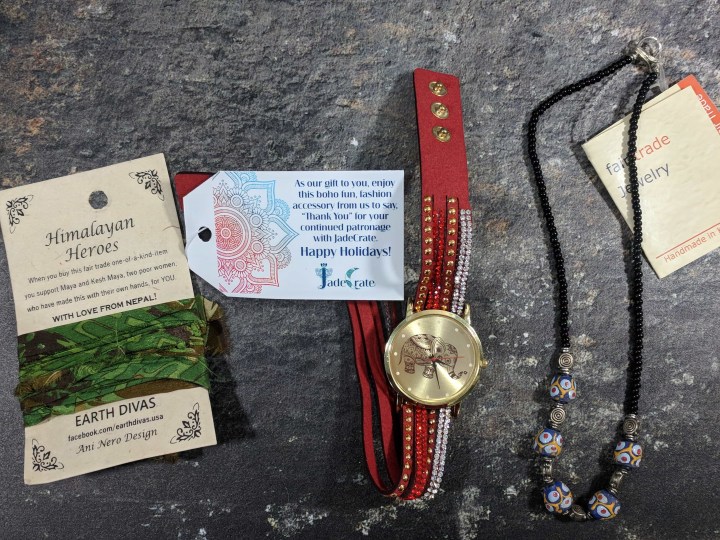 Inside, cute and fun goodies!
Nero Sari Wrist Wrap by Earth Divas ($4) . An accessory you can use to up your boho style! Made with recycled sari, it can be used to hide your ponytail elastic, as a wrist wrap and so on.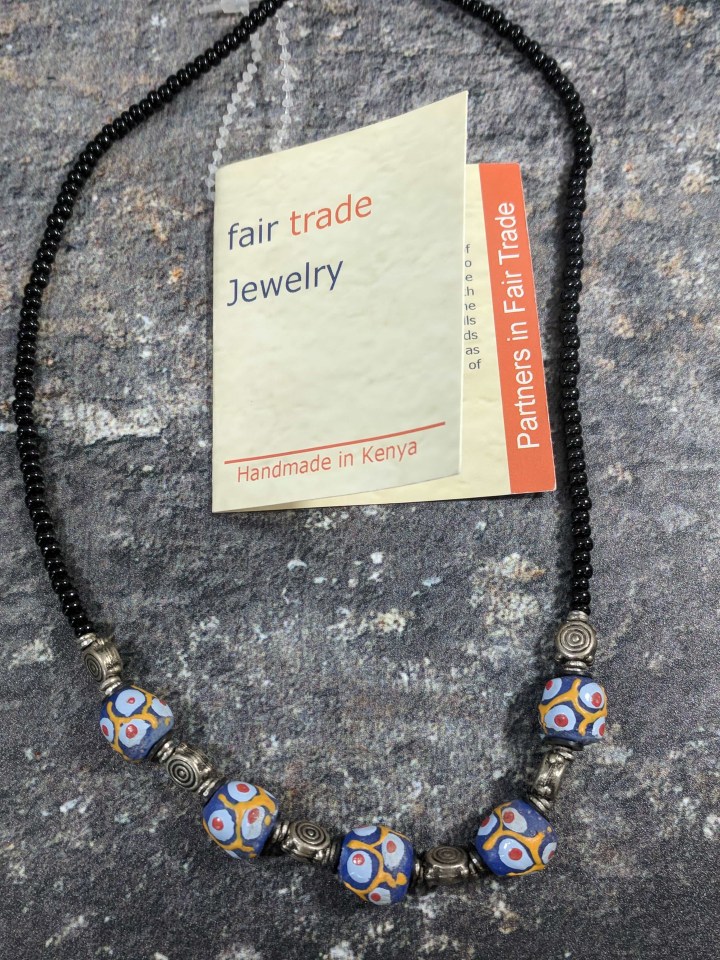 Kenyan Beaded Choker distributed by Global Crafts ($20 on amazon for similar design by the same organization). This is another fun item! Because it's handcrafted, no two beads will be the same and some flaws will show up (the closure on mine was to tight, but was easily fixed with a pair of jewelry pliers). I like how light it is, and the beads are warm on the skin, which is perfect with the weather getting colder by the day! This choker can be worn in any occasion!
Elephant Red Watch ($4). This is a bonus item to thank us subscribers! Last month we also received an elephant item, as the elephant is their favorite animal! Just look at the box, and you'll see the elephant is everywhere! I'm fine with getting an elephant item every month, it's a symbol of strength, power and chance!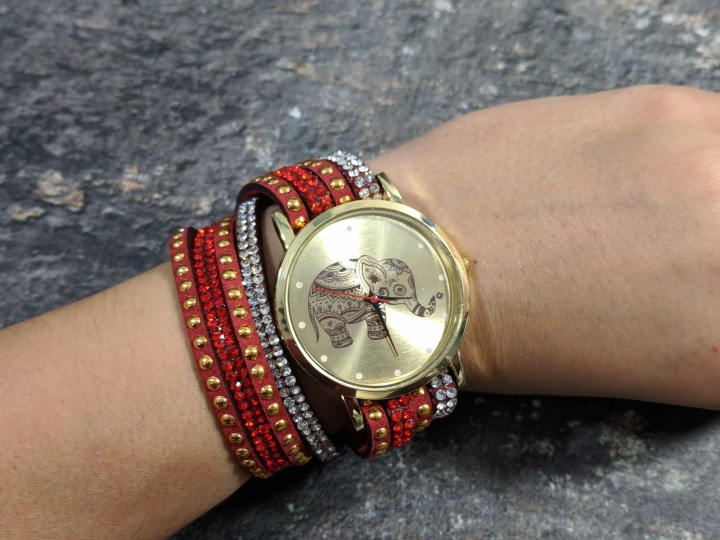 The watch moves along the band. You can easily remove the watch to have a fun double wrap bracelet! This is a lovely bonus to this box.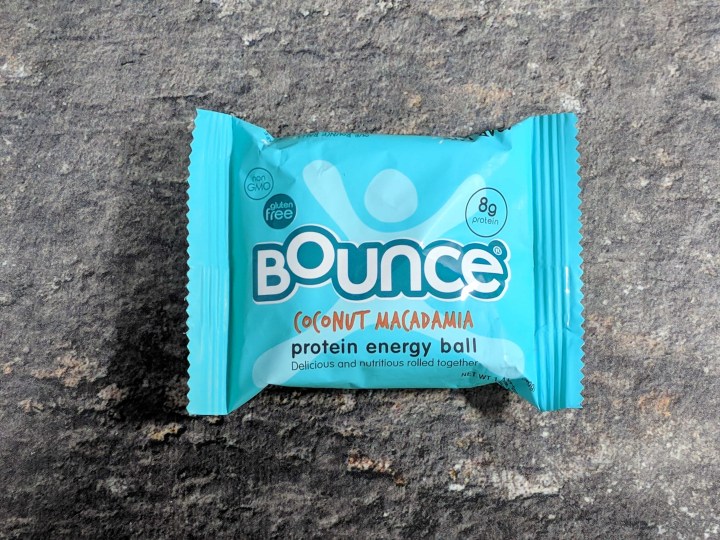 Bounce Energy Ball – Coconut Macadamia ($1.90). I looooooove anything by Bounce, they are so addicting! I'm not a huge fan of coconut, but these bites only have a light coating of coconut flakes, just enough to give a fragrance. It has cashews, macadamia nuts, cranberries, sesame seeds, whey protein and so on. It is soooo good! It's chewy with bits of crunch from the macadamia. This item was chosen not only because it tastes good, but also because theu support several foundations including Magee Rehabilitation Hospital in Philadelphia and the Challenged Athletes foundation.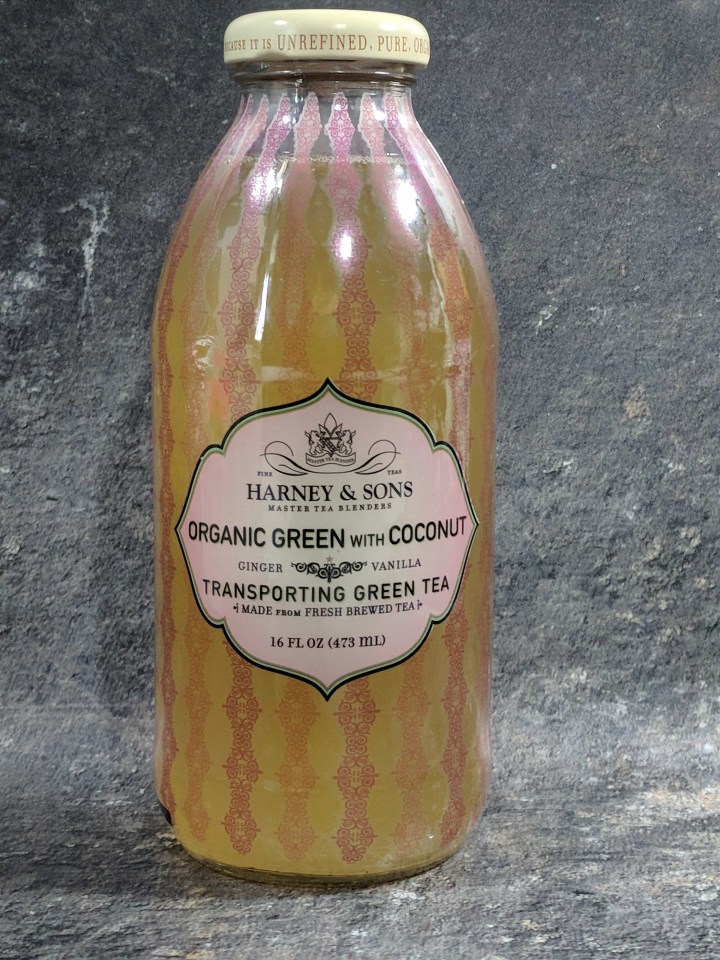 Organic Green Tea with Coconut, Ginger and Vanilla by Harney & Sons. ($2.80). This was a surprising item! A big bottle (473ml) of unrefined, pure, organic and all natural tea.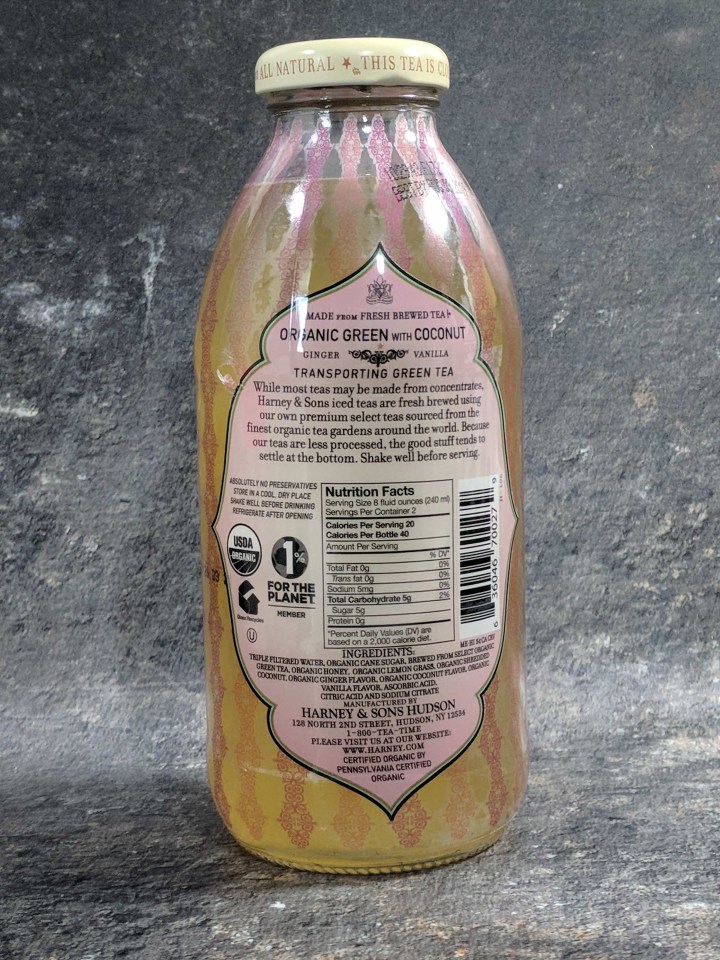 This tea is sweetened with organic cane sugar and organic honey. It's fresh and I'm happy to try it already brewed as I would have tried it hot, and it would not be the same. This tea really shine by being enjoyed cold, with light coconut and vanilla flavor. It's quite unique, but refreshing!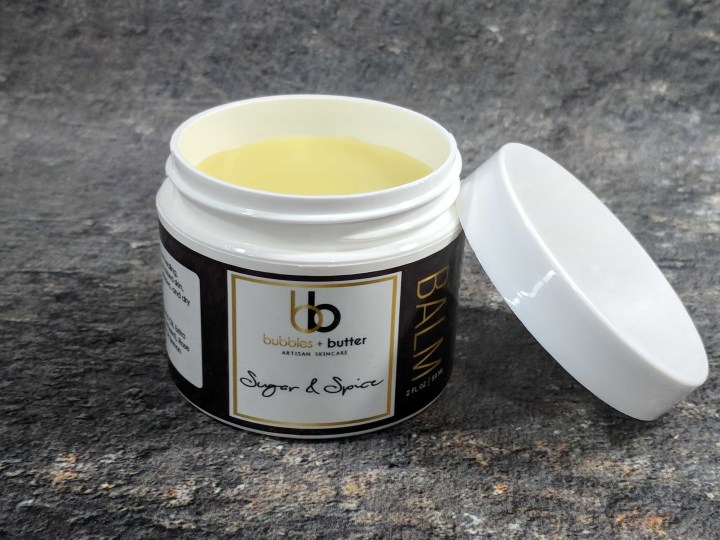 Sugar and Spice Balm by Bubbles and Butter Artisan Skincare ($8). A balm that you can use anywhere your skin needs some help : chapped lips, dry elbows, cracked heels.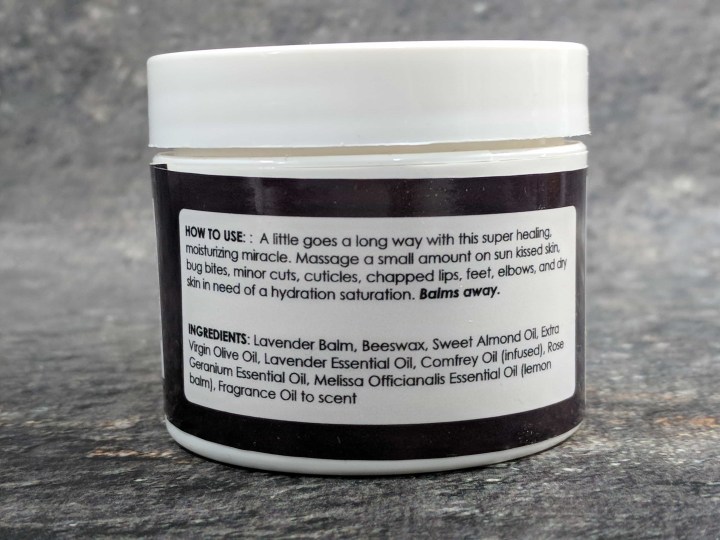 The lavender scent is nicely balanced by the rose geranium and the lemon balm. It melts quickly under the finger and feels really great on the skin. Perfect for winter and dehydrated and dry skin!
Ceramic Salt and Pepper Owl ($10) . I'm obsessed with anything bird related and these are so adorable! The tall owl has three holes, while the smaller one only has two. I will probably use the small one (pepper shaker) for spices instead has I only use fresh cracked pepper.
This month's box was such an improvement from October's box! The value was there, everything had that fun boho vibe, most of the items were handcraft and I like the variety of items, with some edibles, jewelry, home decor and body care. I really liked this box, and this can become a great boho style box in the incoming months!
Have you tried Jade Crate? What did you think of the November's box?