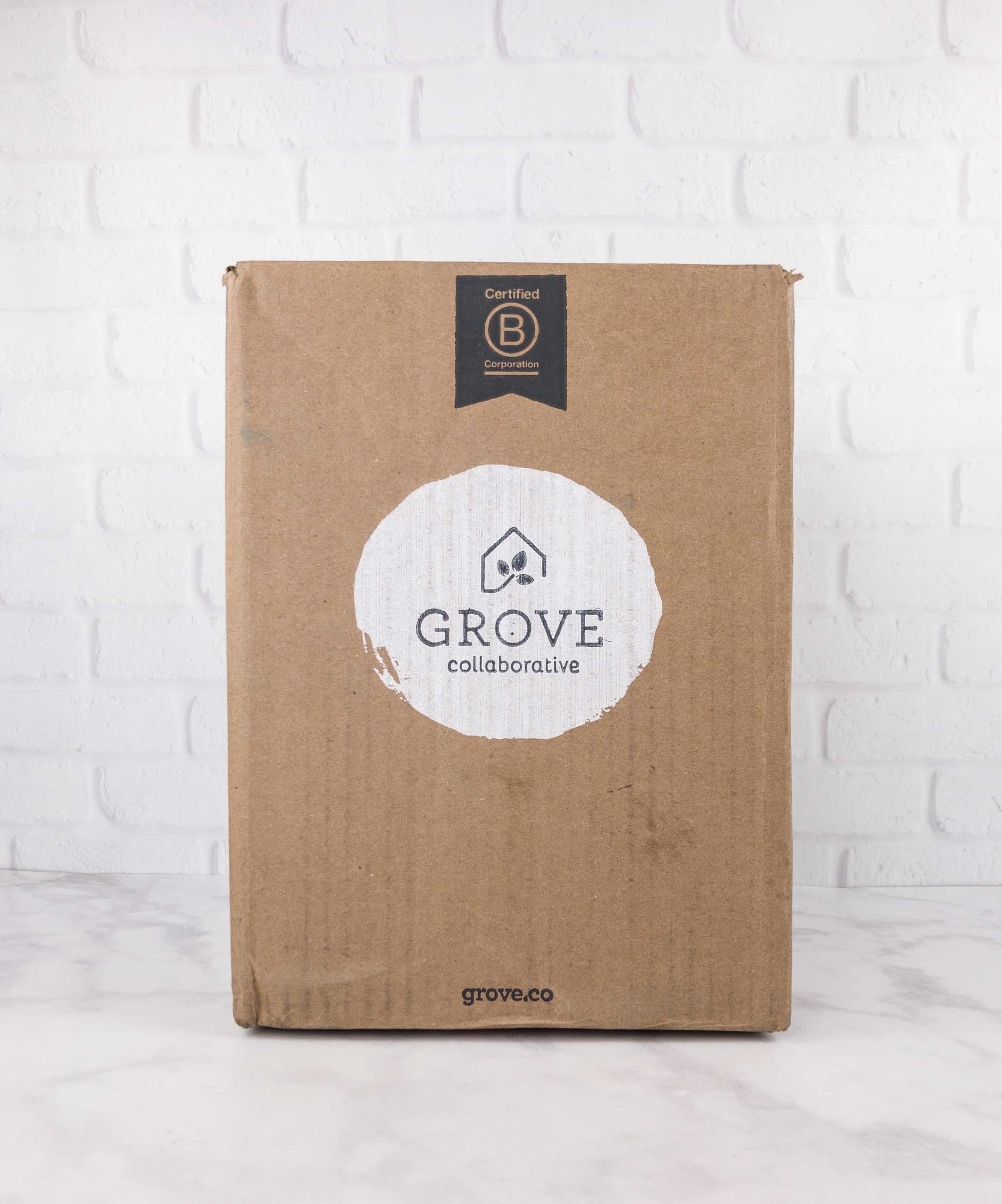 Grove Collaborative (formerly known as ePantry) is an eco-friendly subscription service that allows you to quickly pick your favorite high-quality cleaning and household supplies and set up a customized schedule for their shipment to you. Grove Collaborative carries a variety of brands including Method, Mrs. Meyers, Seventh Generation, Preserve, and more, including their own house brand.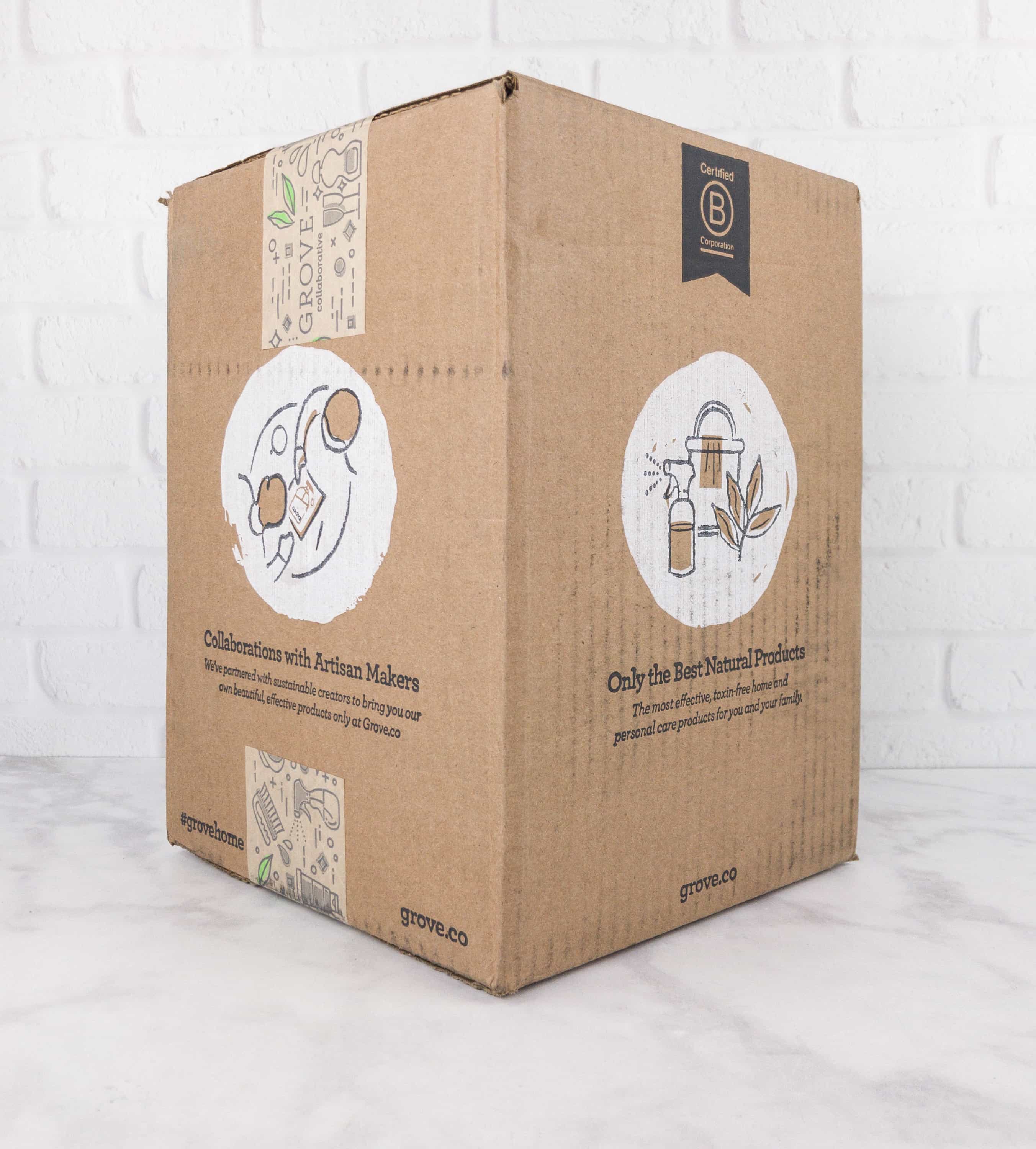 DEAL: When you sign up for Grove right now, you'll get this Mrs. Meyer's Holiday Scents Set FREE with your first order of $20. Valued at $30+! You just need to use this link to activate the offer! EXISTING Subscribers: Get a free Grove walnut scrubber scour sponge – just use this link! Hurry – only lasts through Sunday evening!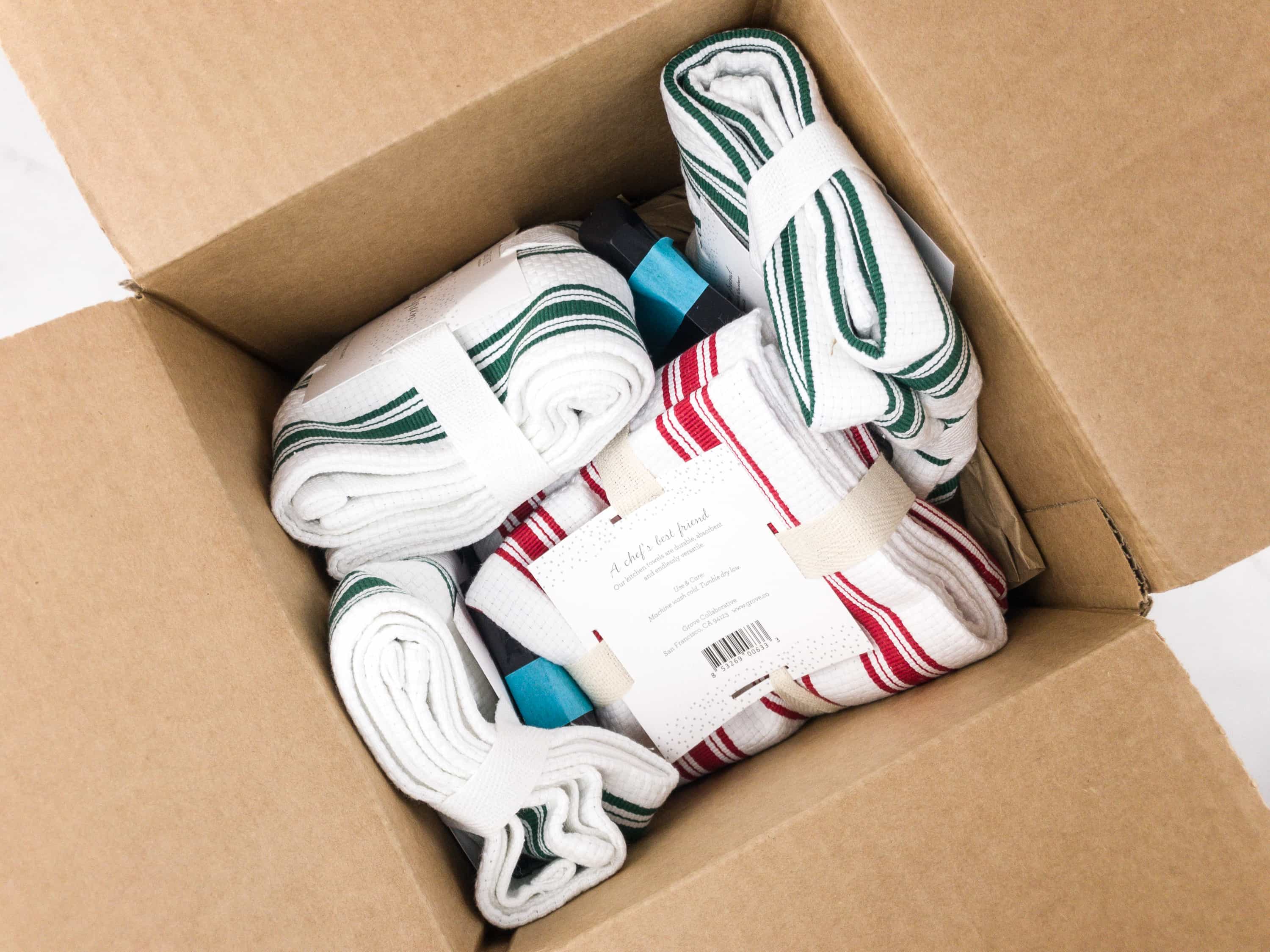 There's a quick quiz so they can create a suggested bundle for you when you sign up, but you can customize it as much as you'd like. See our complete Grove Collaborative/ePantry walkthrough here! Grove calculates exactly how much you need.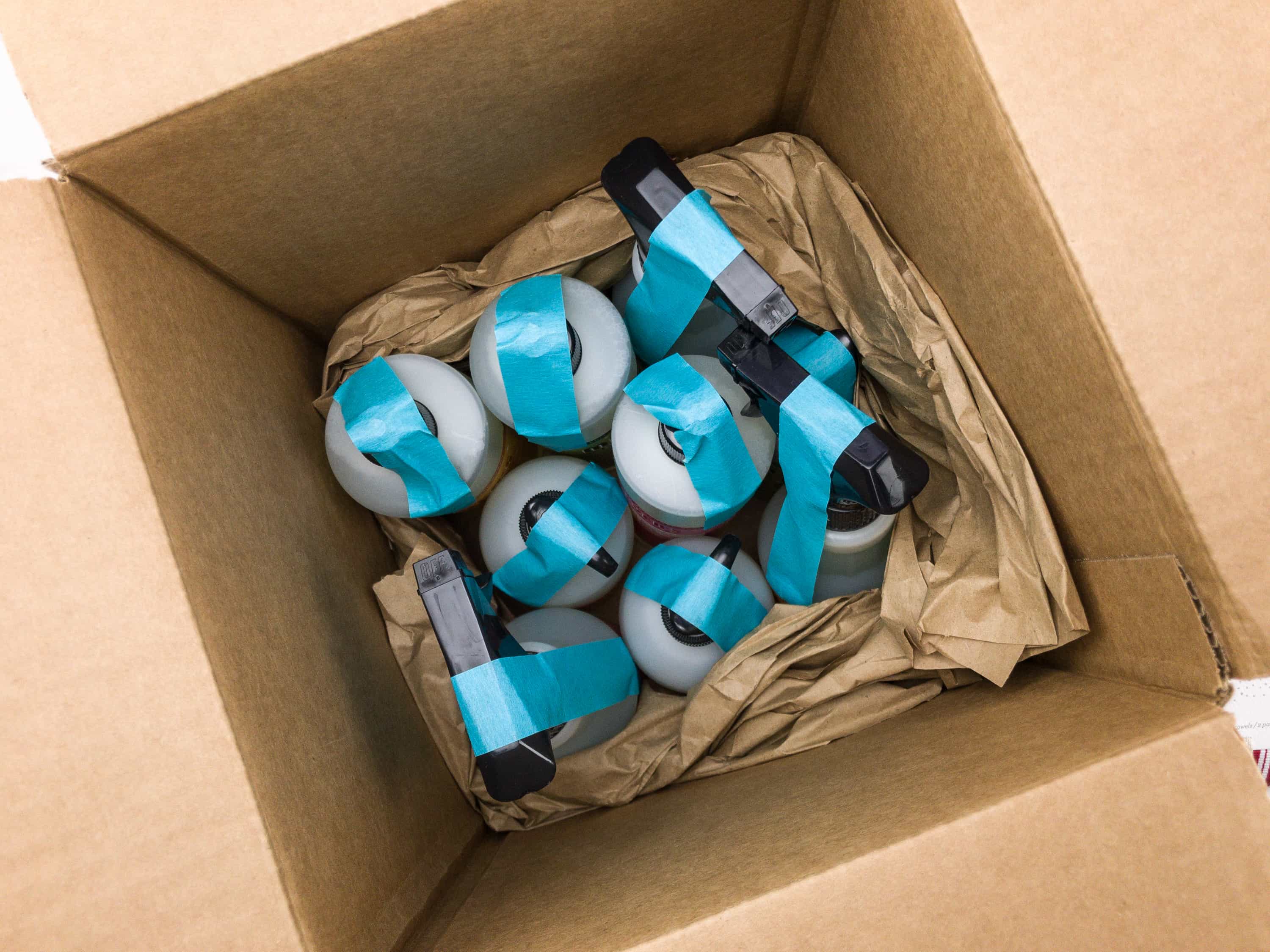 You'll pay the cost of the products (you can see the details on every product on the Grove Collaborative site), plus $2.99 shipping.
All the products are taped up to prevent leaking.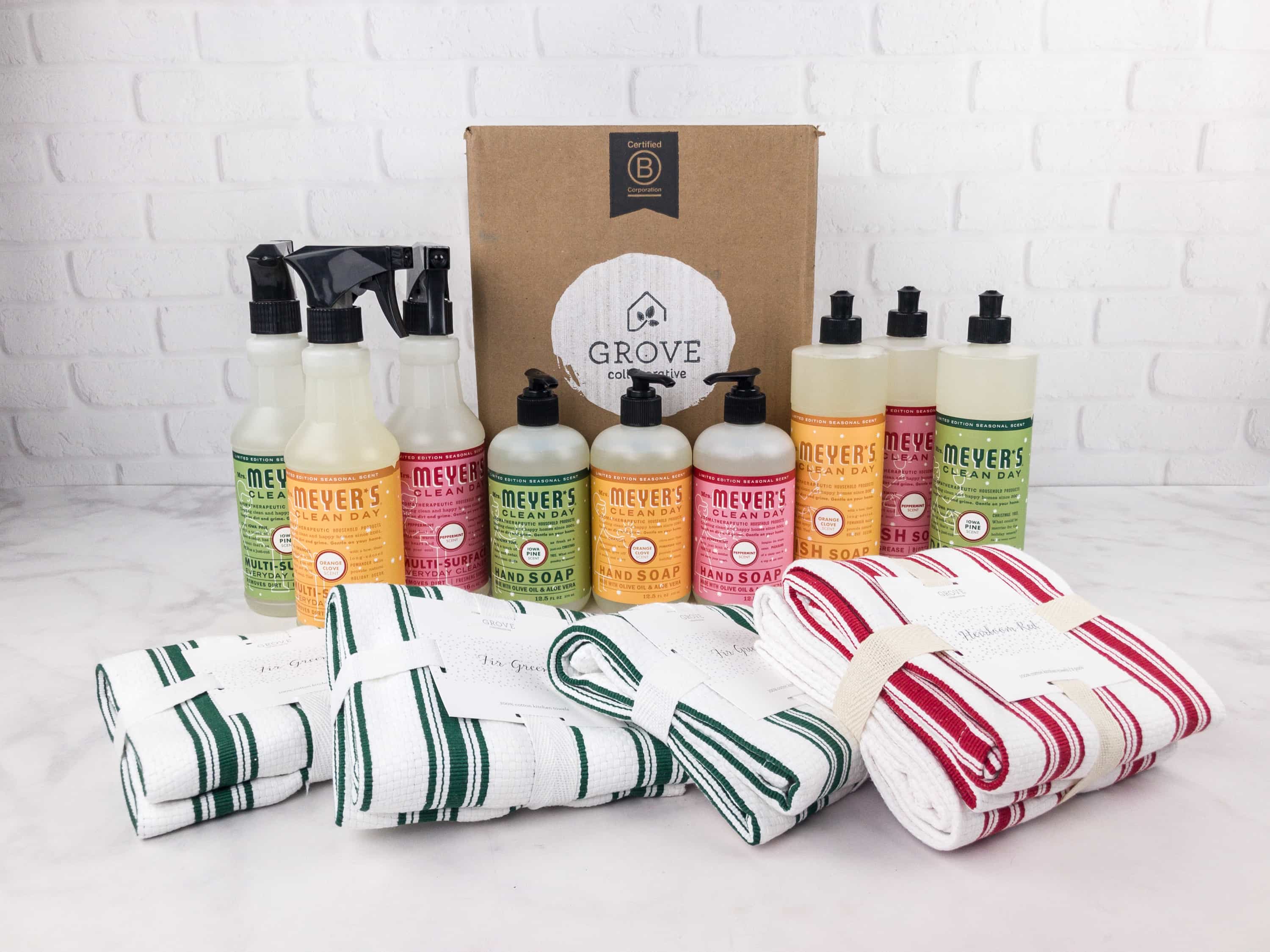 Everything in my box! If you sign up for the special deal you'll get ONE green towel, and one cleaner/handsoap/dishsoap set in a single scent of your choice. Choose from:
Iowa Pine — Augmented with a hint of clove and cedar, this scent has the gentle freshness of pine needles. It reminds me of how it smells right after you first drag in a fresh Christmas tree!
Orange Clove — Bright and vivid, this orange is much sweeter and more pleasant than I'm used to seeing in cleaners. It has none of the astringent orange oil quality, just a lovely marmalade and clove fruitiness.
Peppermint — Tempered with warm vanilla, this scent captures the invigorating freshness of a classic candy cane.
Mrs. Meyer's Holiday Multi-Surface Spray in Iowa Pine, Orange Glove, and Peppermint Scents ($3.89 each on Grove) These multi-surface cleaners come in limited edition seasonal scents. It is made from 98% naturally-derived ingredients from plants and essential oils. It is great on non-porous surfaces and removes odor from the kitchen and bath. We got all the variants! 

Mrs. Meyer's Holiday Dish Soap in Iowa Pine, Orange Glove, and Peppermint Scents ($3.89 each on Grove) Like the multi-purpose spray, these came in 3 seasonal scents for the holidays. The dish soap is made from soap bark extract, an ingredient known as one of nature's best degreasers. It is rich and thick, and all you need is a squirt or two to easily strip off grease from the dishes. 

Mrs. Meyer's Holiday Hand Soap in Iowa Pine, Orange Glove, and Peppermint Scents ($3.89 each on Grove) Another great kitchen basic included in this month's box are these season-scented hand soaps. These are non-drying and softening cleaner for busy hands, especially for the coming festivities. Everything has naturally-derived ingredients and, the best part is, the hand soap lathers well!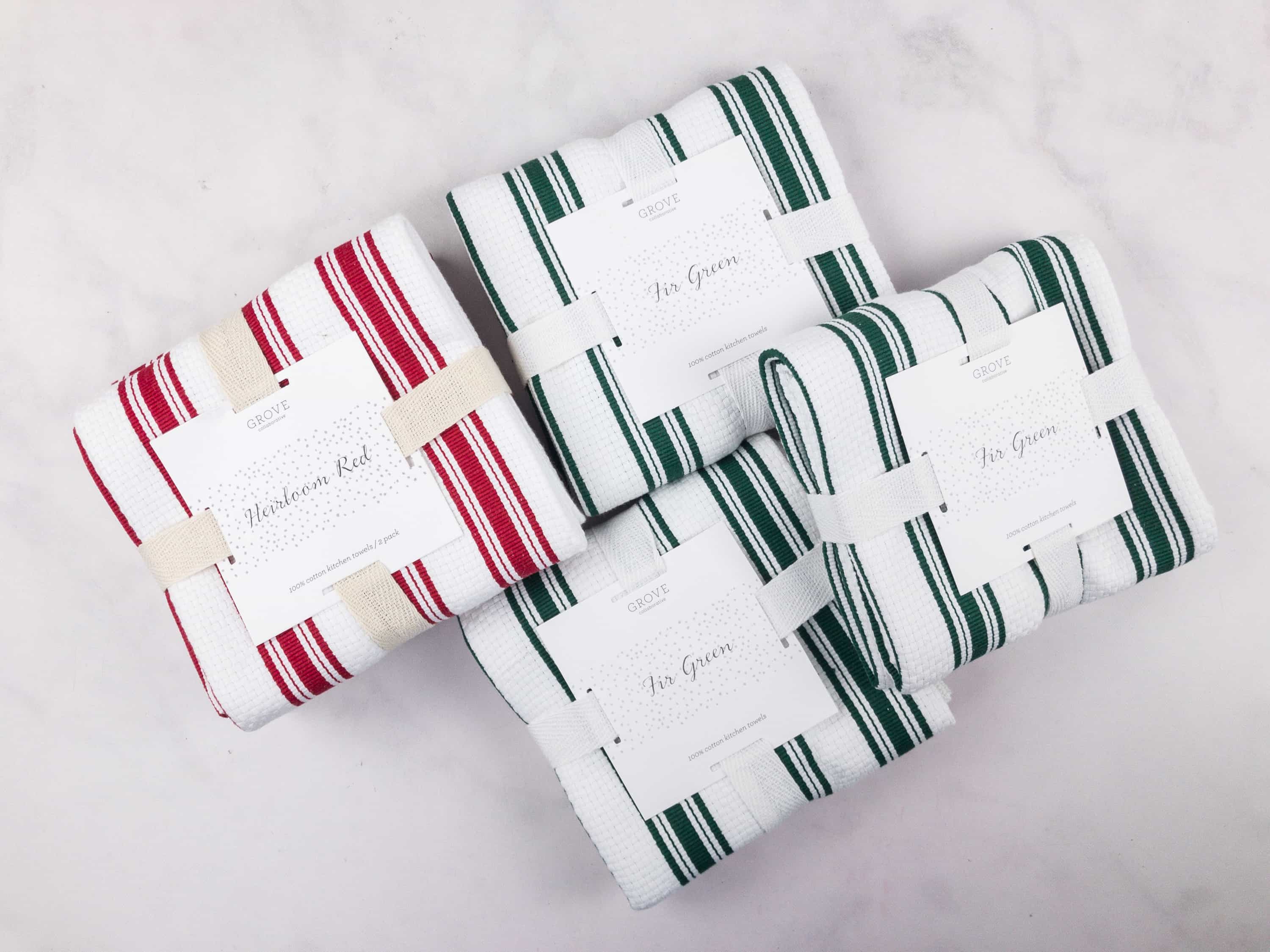 Grove Seasonal Kitchen Towel in Heirloom Red and Fir Green ($9.95 each on Grove) These towels have a festive feel to them! The colors are (heirloom) red and (fir) green!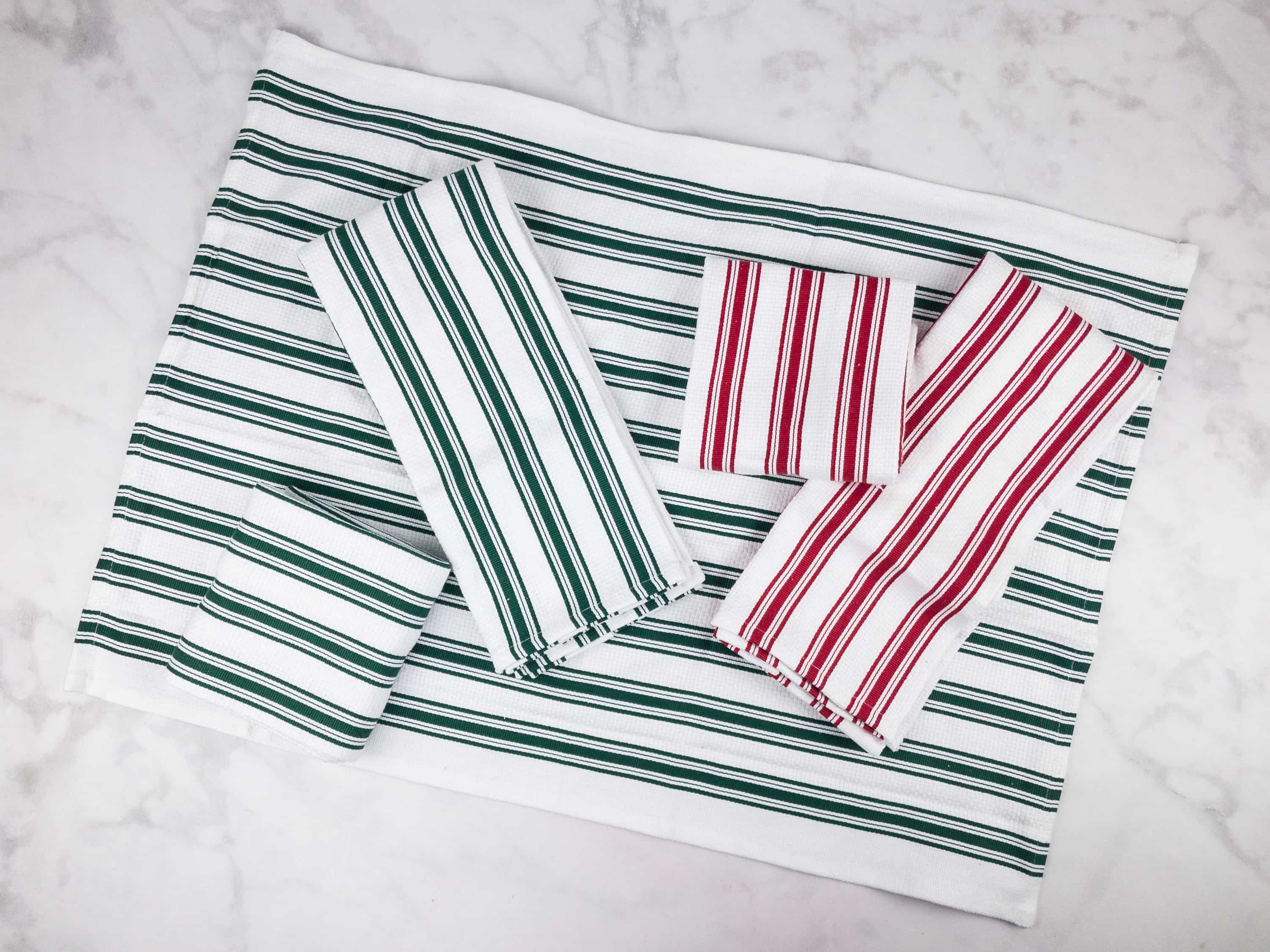 These versatile towels are made of 100% all-natural cotton. They are super absorbent and highly durable. They even have loops in the corner for easy hanging.
This month's Grove Collaborative items are season-inspired. They aren't just perfect home cleaning supplies but would make for perfect holiday gifts too! Another thing we love about this subscription is that we can customize what goes in our box according to our needs at home. Everything is made from all-natural ingredients, so it's really safe to use. It's an ideal subscription that makes up for almost all our household needs!
What's your favorite Holiday scent from Mrs. Meyer's?
Visit Grove Collaborative to check it out and personalize your own subscription!