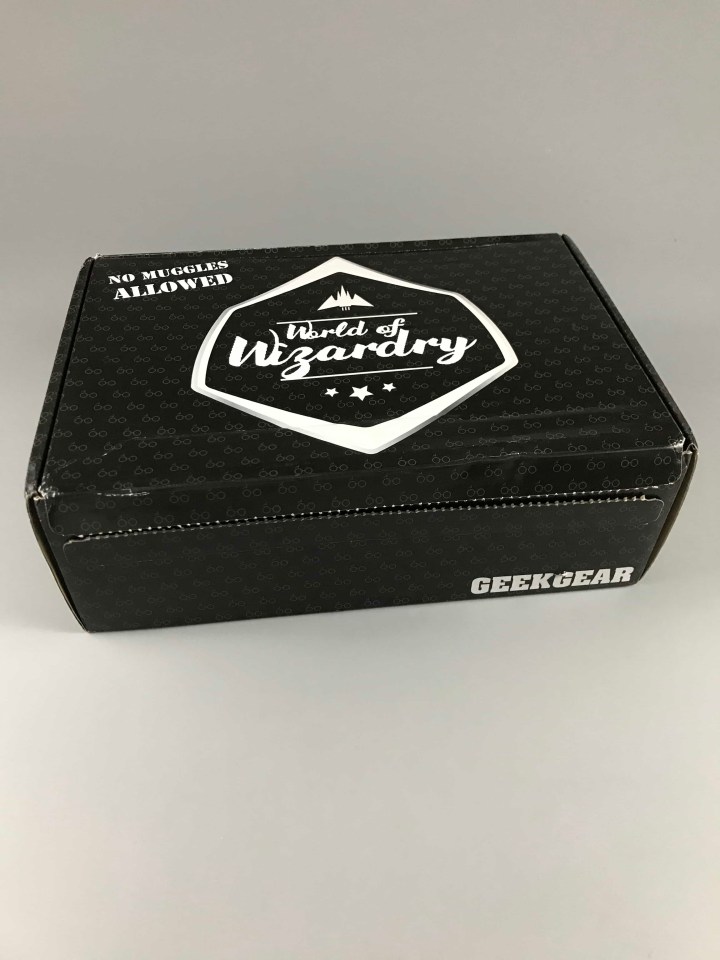 Geek Gear has a special Harry Potter themed edition of their monthly subscription box, now called World of Wizardry! When you sign up, let them know which house you're in, and they'll take care of the rest, delivering a box of magical items to you every month! The items are not authorized or official, but they are good quality and very creative.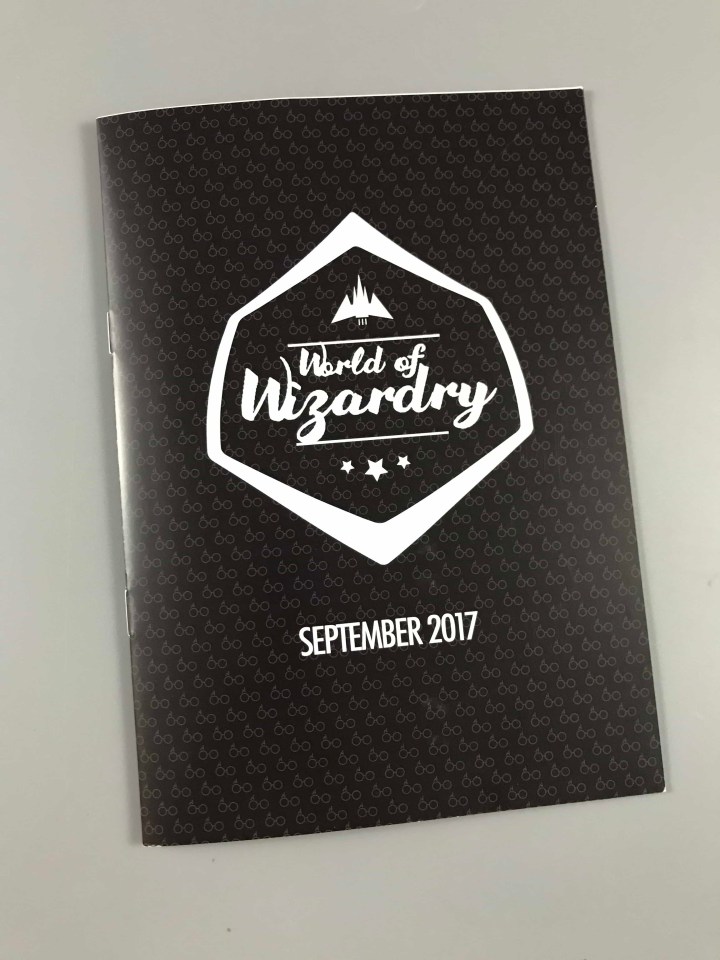 A bigger and better product book, doesn't give much information but has beautiful photos.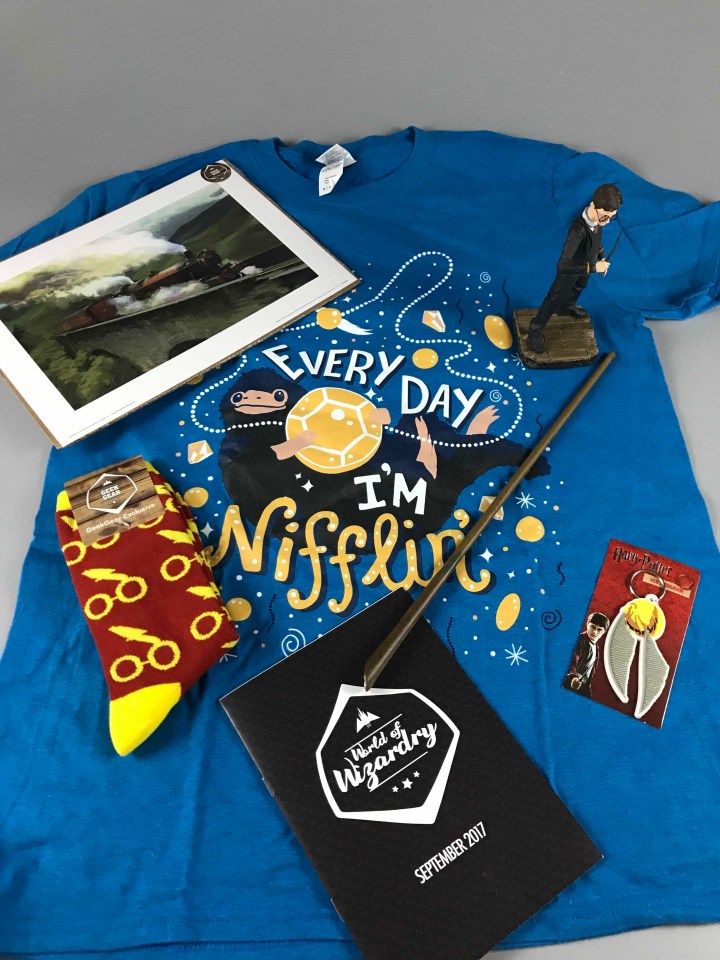 All of these amazing Harry Potter themed items in one handy subscription box, I'm in love!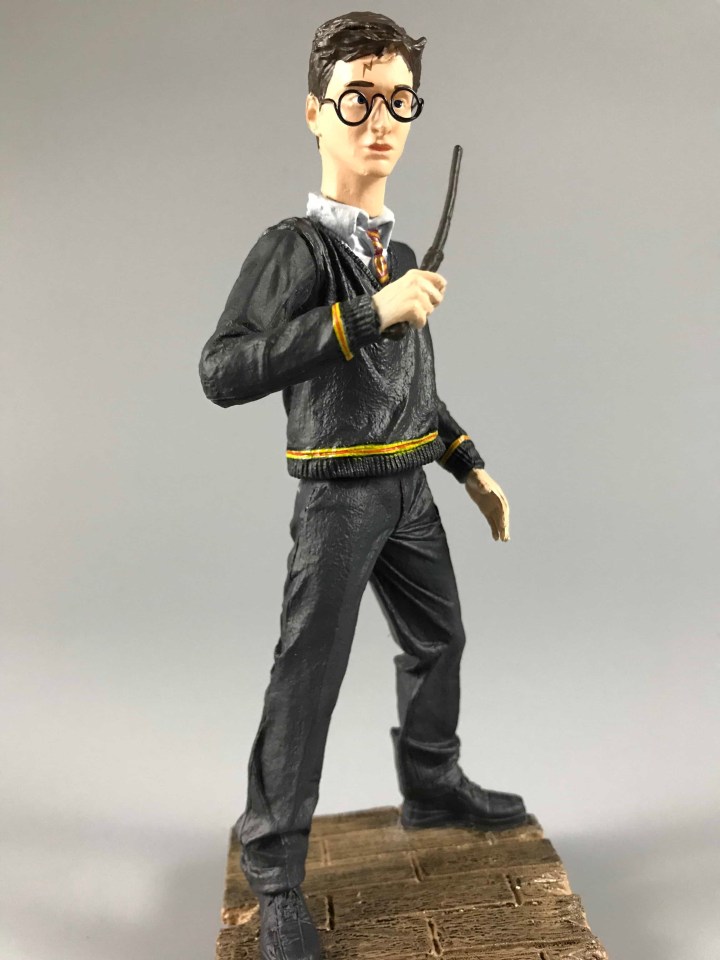 Exclusive Figurine. This exclusive figurine of everyone's favorite wizard is absolutely amazing. The details are wonderful and make this a great addition to any collection. My husband who is not a huge HP fan even found this figurine to be wonderfully made and he is looking forward to helping me create a dynamite display with Harry and the wands I have received from this subscription. I hope they make a series of these figurines featuring all of the main characters…it would be the most wonderful thing since pumpkin spice in my book.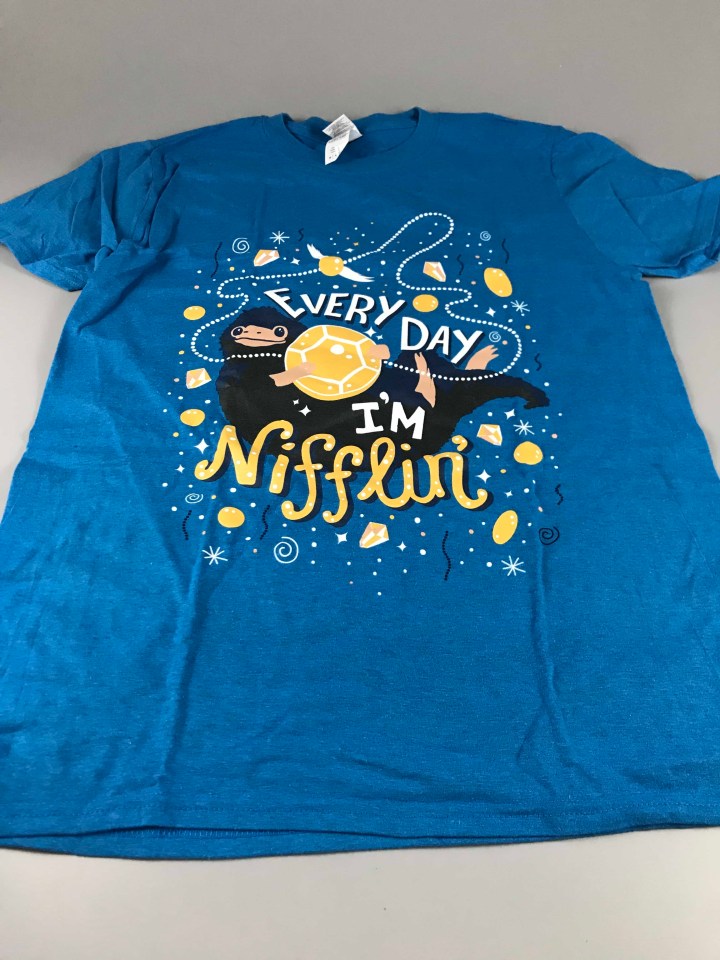 Nifflin T-shirt designed by Risa Rodil. This captures everyone's favorite sticky fingered beast in the act. My daughter loved this shirt and stole it the moment it came out of the box. I love that the color I received is bright and bold, in my opinion it's a perfect representation of all things magical. Please keep in mind that the color could vary depending on the size t-shirt you ordered. Also I would like to point out that World of Wizardry is giving credit to it's artist and I think that is fantastic.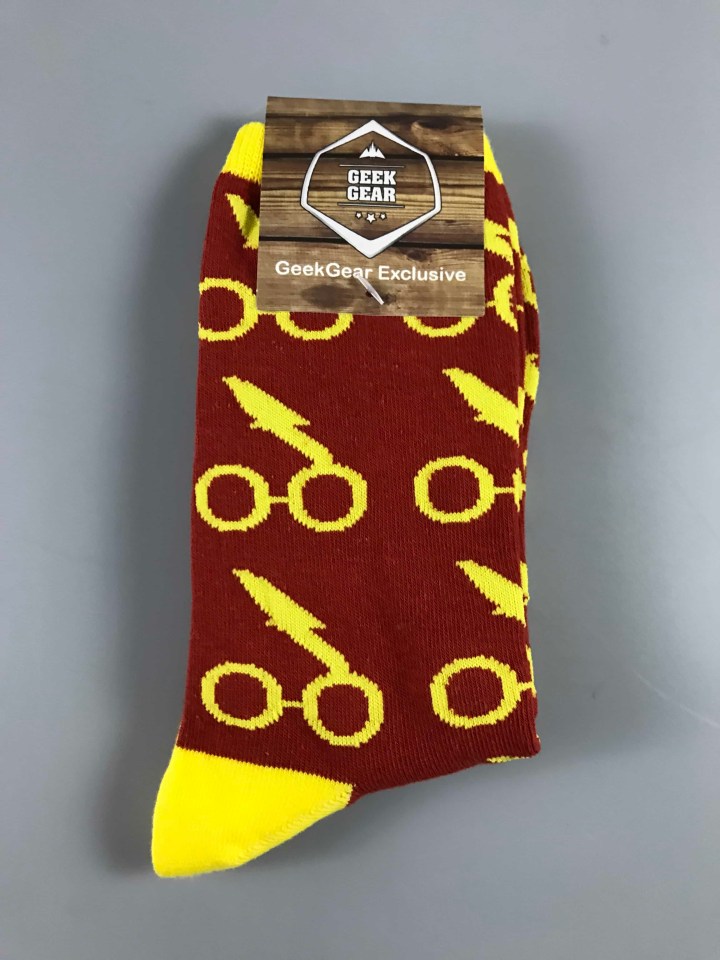 Exclusive House Themed Socks. First I have to say that I am in love with socks and getting a pair that screams my favorite literary character only makes them better. The bright red Gryffindor background with bold yellow glasses and lightening bolt are the perfect match to my dark boring work clothes. I have small feet and these fit me perfectly, needless to say I could not wait to wear them and I have showed them to all of my fellow Harry Potter loving coworkers. I have to admit I wish I could get this box in every house just to have every color of socks. World of Wizardry makes showing your house pride so simple, thank you for that!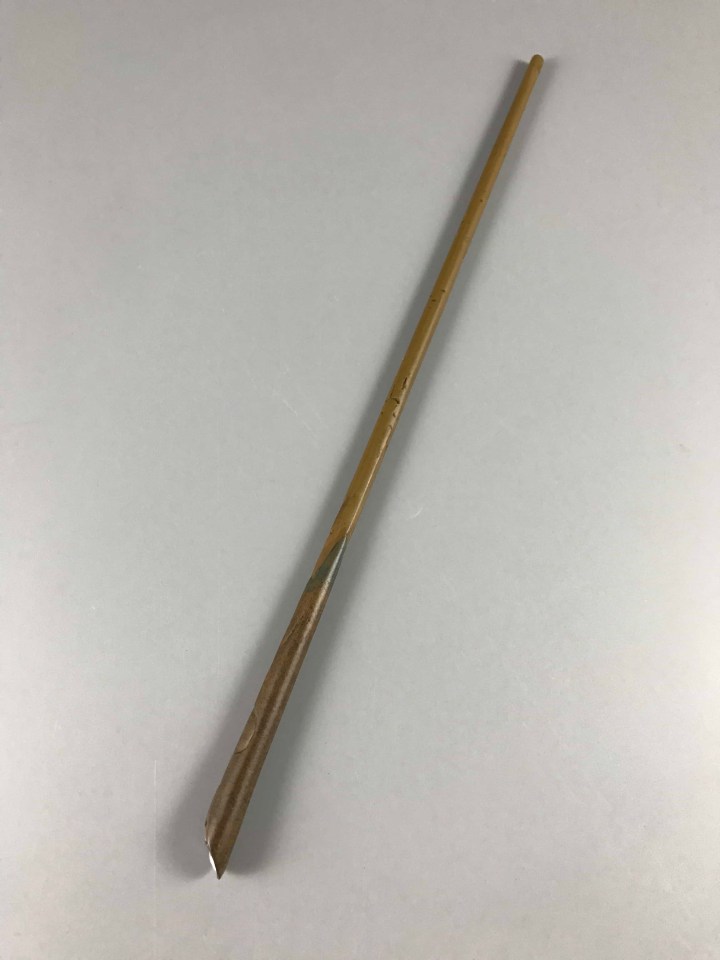 Traveling Wizard Wand. This month we got a wand known for it's traveling all over the world in seek of rare and fantastic beasts. I love the wands I get in this subscription, they are beautiful and made with such detail. I almost want to dress up for Halloween and be a wizard so I can show off my amazing wand collection. I will admit I'd like a little more details on the wands owner because the wands pick their owners not the other way around, it would be kind of a cool thing to add to the display case so that everyone can see the differences in each wand and handler.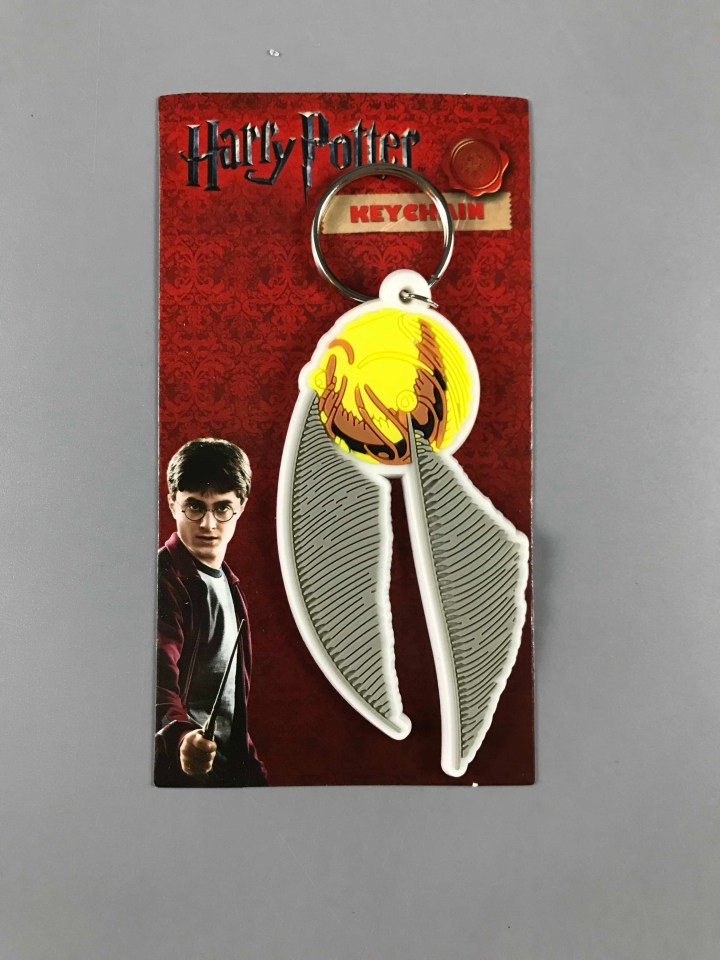 Licensed  Keyrings. I got the golden Snitch! Normally I am not a huge fan of keyrings but this is so cute and it bends easily without breaking. I love that it's light weight and doesn't add any heft to my already full set of keys. The Hogwarts Crest is my favorite keyring but I won't complain.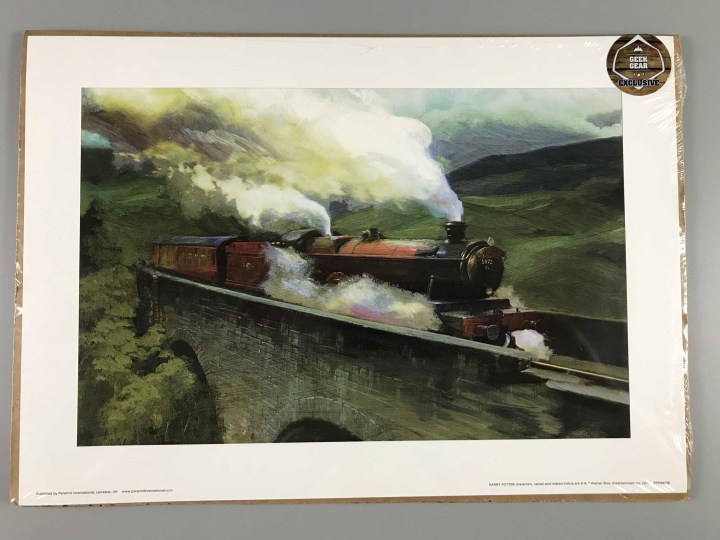 Exclusive Licensed Hogwarts Express Print. This print is exclusive only to world of wizardry subscribers thanks to licensing by Pyramid International.  I love the billows of smoke that are lifted into the air as the train speeds along the tracks, it's reminds me of something you'd see on a puzzle box. I really enjoy these prints that show a little more imagination surounding some of the best parts of the wizard world. I also really appreciate that they are now coming with a cardboard backing and wrapped for extra protection, since this change my prints are arriving perfectly in-tacked and ready to be displayed.
As always I love this box! Anything inspired by my favorite escape from reality is amazing in my opinion. This month my favorite item was the figurine, it's so different than the normal items that come in this box. As much as I love the exclusive pins I am happy that this month they weren't found, it's nice to change up the box from time to time, keeping me from getting bored.
What did you think of this month's Harry Potter Geek Gear box, and what house would you be in at Hogwarts?
Visit Geek Gear World of Wizardry to subscribe or find out more!