Fit Snack is a monthly subscription box delivering healthy nutritious snacks directly to your door. Every month, expect 7-10 full-size items plus samples of delicious and healthy snack foods. Fit Snack curates its boxes according to the following criteria:
Each product always containing two or more of the following: GMO-free, high in protein, low in sugar, gluten free, organic, raw, vegan and all natural.
Plus, we add in bonus items such as energy boosters, nutritional supplements, or refreshing beverages.
Finally, we find a little space for exclusive workouts, workout gear or other active lifestyle inspiration.
In previous months, I've been disappointed with Fit Snack because the 7-10 items were either not full-size or not snack foods, but instead things like supplements or gum or beverages or the like.  Recently, Fit Snack has been a bit better…but this month is another disappointment.  Only one or two items would actually qualify as a snack.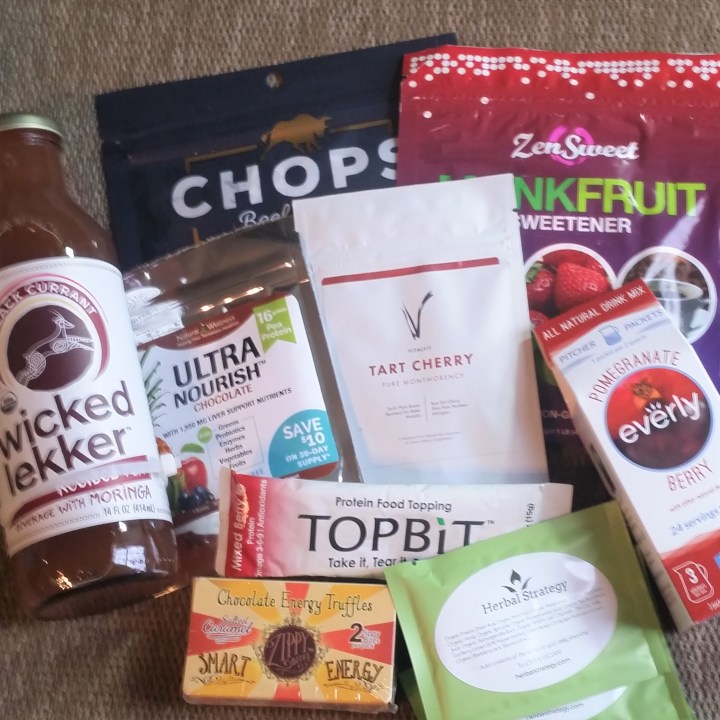 Here's a look at everything in this month's box.
DEAL: Save $3 on your first box! Deal applies automatically, just visit and subscribe.
Each month includes an information card – on one side of the card, Fit Snack provides a workout for the month.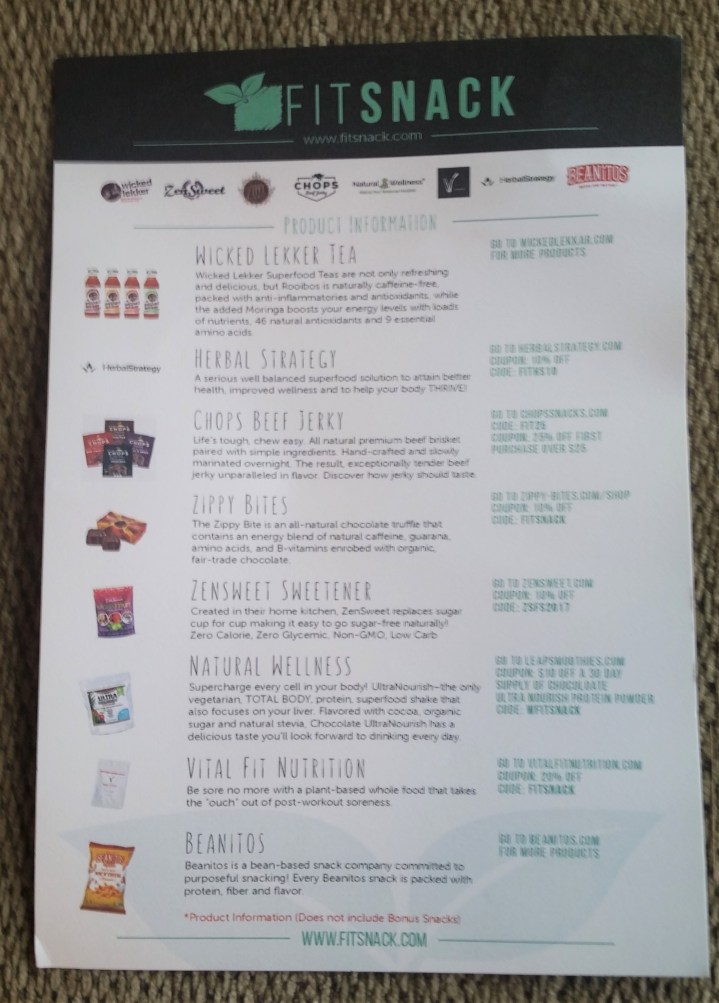 On the other side of the information card, there are details about each of the items (and lots of times, a coupon code for buying more of what you like).  There are often "bonus items" not listed on the card – there were two in this month's box.  Unfortunately, even though it was listed, there were no Beanitos in my box – which is too bad, because I actually like those and they are a snack.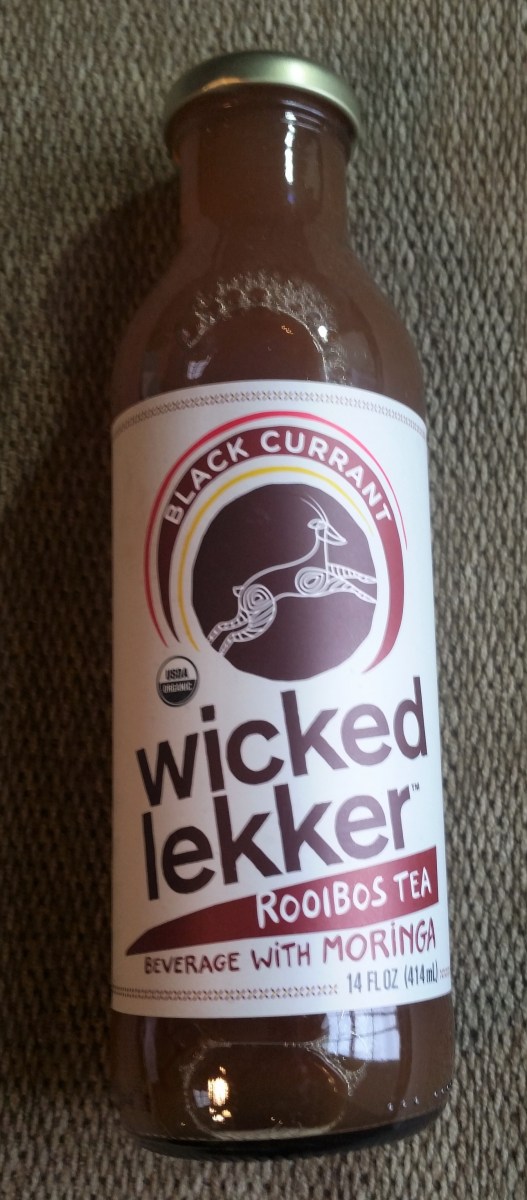 Wicked Lekker Tea:  I'm not much of a rooibos tea drinker – I tasted this, but it wasn't really for me.  Additionally, a drink isn't really a snack in my mind – and the selection criteria for Fit Snack indicates that beverages will be included as a bonus item.  Unfortunately, it was one of the few full-size items in the box – so it seems it was included as an actual, not bonus, item.
Herbal Strategy:  I'm not exactly sure what this is – the website from the information card (and on the product itself) doesn't seem to offer or describe this product.  The packet says to add to a daily smoothie – but that's about all I know.  A powder to add to a smoothie is definitely not a snack, plus I don't like that the website associated with the product doesn't seem to have anything to do with these little packets.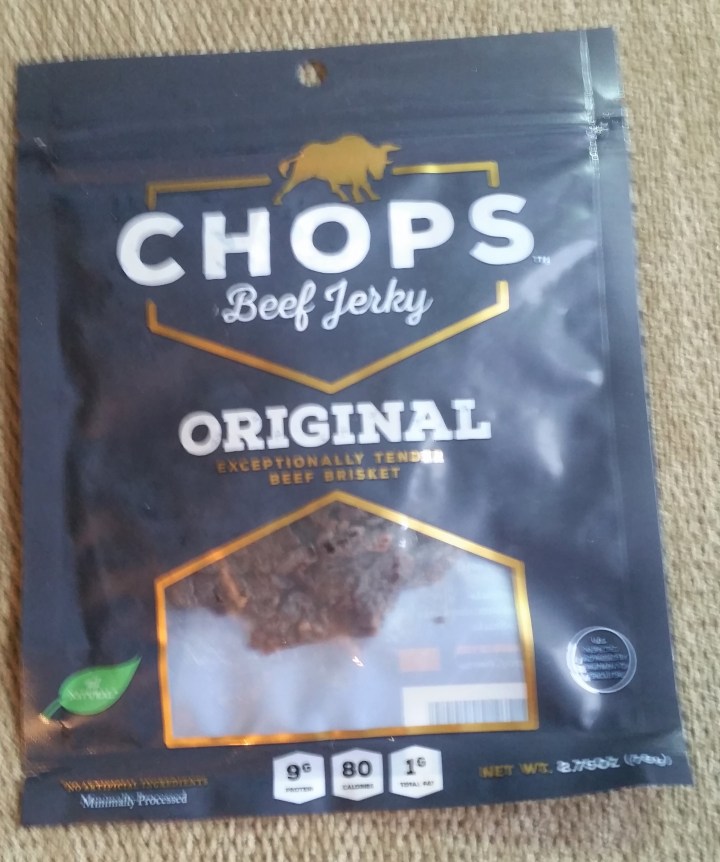 Chops Beef Jerky:  Finally, a real snack!  I've had Chops Beef Jerky before and it is delicious.  Chops makes an incredibly moist and well-seasoned jerky.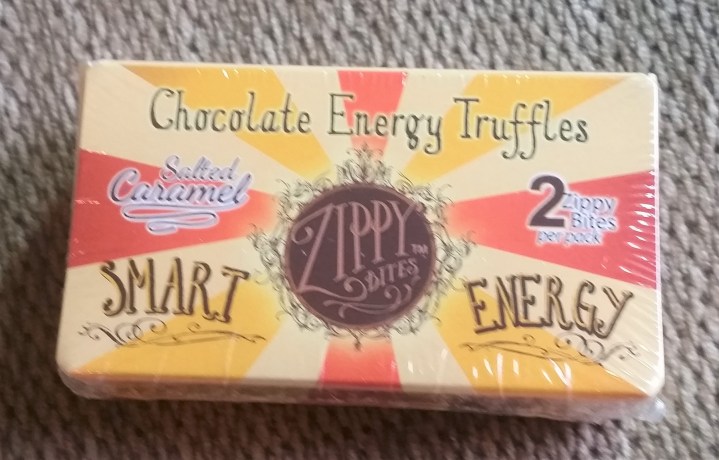 Zippy Chocolate Energy Truffles:  I've also had these truffles before – this variety is salted caramel, which was very yummy.  In addition to delicious chocolate and caramel, these truffles have caffeine and guarana for a little extra boost.  While I don't generally consider candy bites to be a snack, this isn't as problematic to me as the herb packets above or the sweetener below.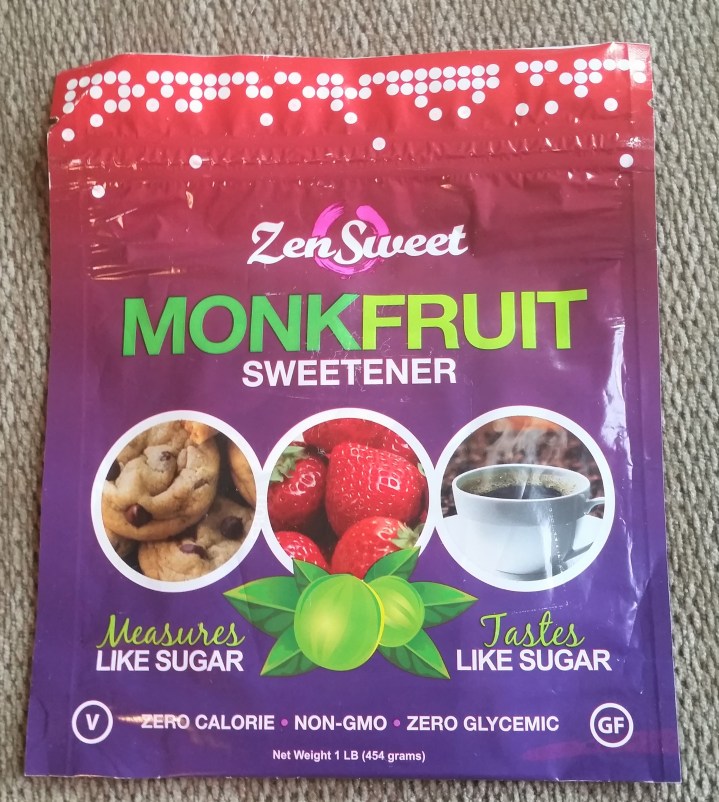 Zen Sweet Monkfruit Sweetener:  Sugar substitute is not a snack.  Sugar substitute is not even a product I'm very interested in.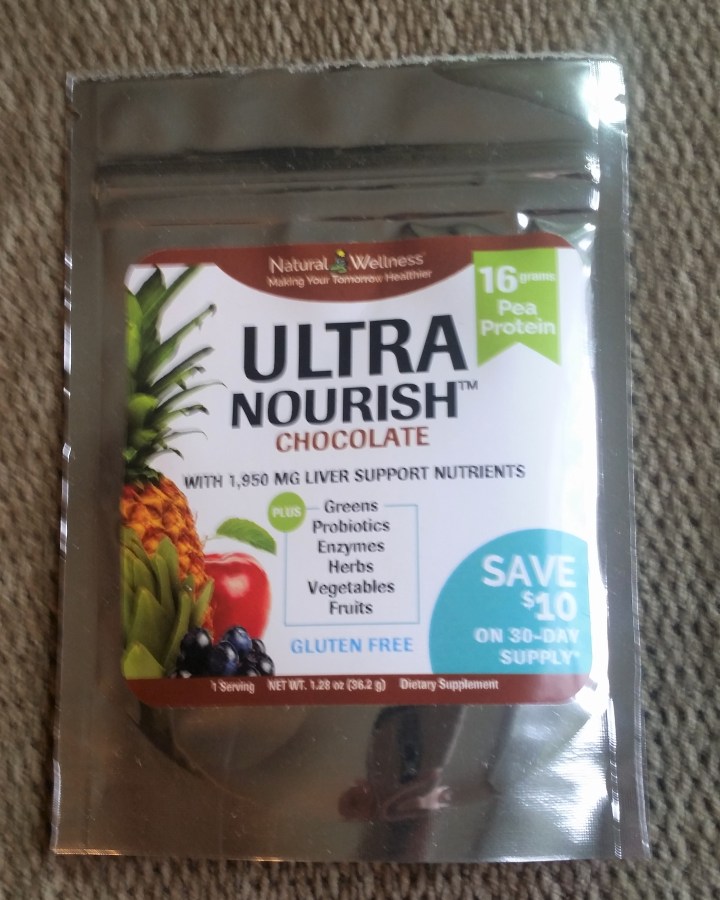 Ultra Nourish Protein Powder:  I do regularly drink protein smoothies.  This is a new brand for Fit Snack to include – there is usually at least one smoothie or protein powder packet in each month's box.  The flavor of this powder is fine.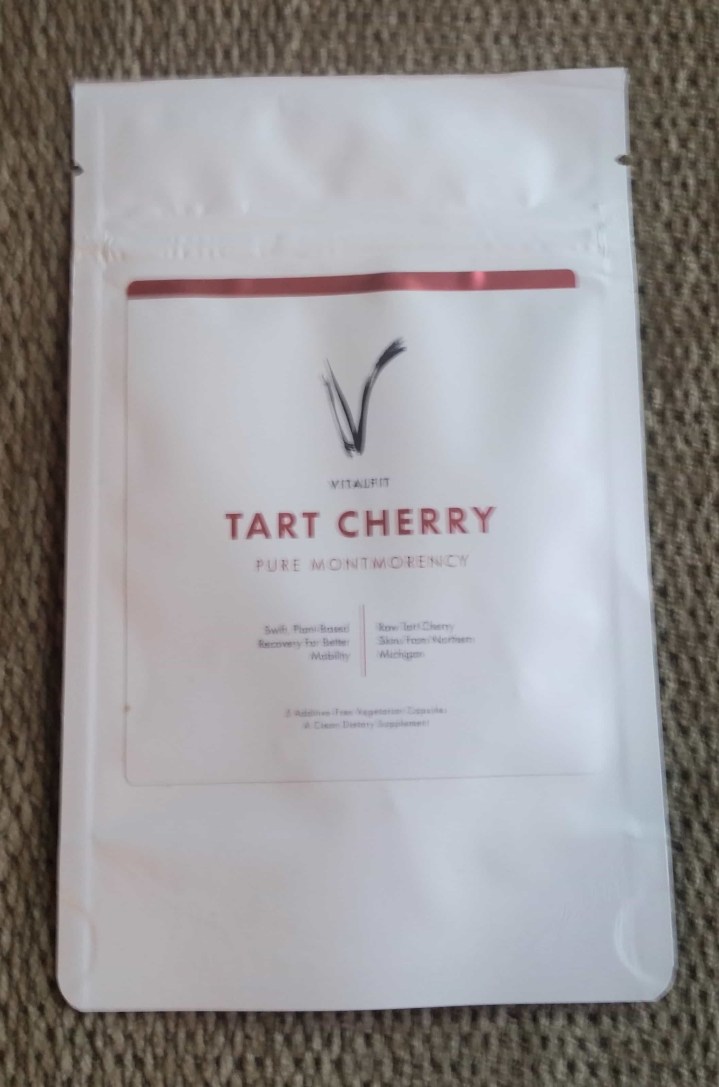 VItal Fit Tart Cherry Powder:  I drink tart cherry juice as part of my recovery from training.  I appreciate its value as a supplement, but I don't consider this sample of cherry powder to be a snack.  It can be mixed in with water, other beverages, or even foot – it has a very mild flavor.
Beanitos:  The box, according to the information card, was supposed to include this snack…but this item was missing from my box.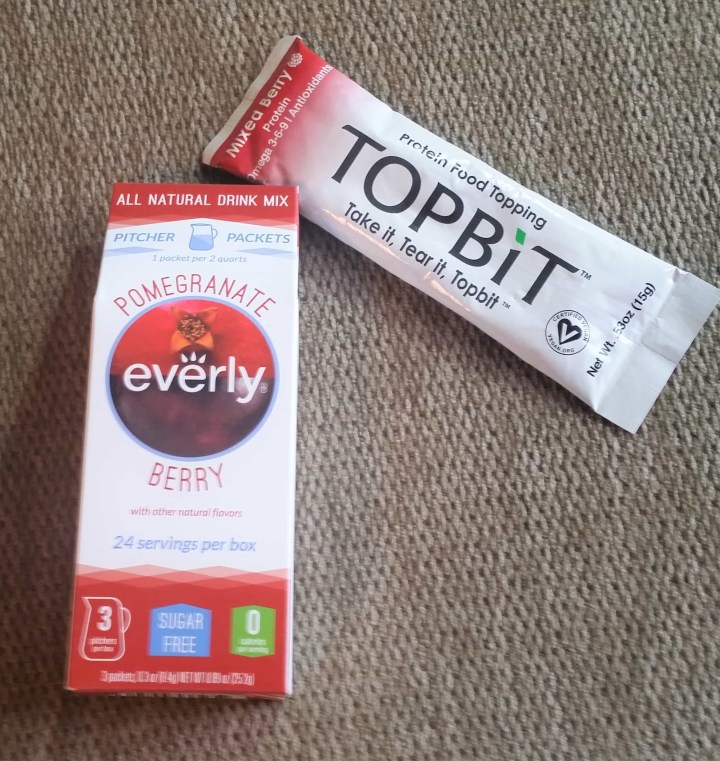 Bonus items – Top Bit Food Topping and Pomegranate Berry Drink Mix:  Neither of these are snack items, but it bothers me less since they are specifically bonus items (not on the information card.  Both items have been included before in a previous Fit Snack box.
The October box is a giant step backwards for Fit Snack.  I'm incredibly disappointed in how far they have diverted from their promise of including 7-10 full-size snacks with bonus supplements.  Basically this was a box full of supplements with 1-2 snacks.  I hope that Fit Snack gets back to their stated mission, as they had in the last few months.
What do you think of this month's box?