Ecocentric Mom is a monthly subscription box that delivers curated goodies for mom & baby – or pregnancy or mom & toddler or just mom! Each month you will receive 5 full size / lifestyle products perfect for a green & gorgeous lifestyle with a mix of practical and pampering and a mix of items. Depending on your box type, your product categories will include beauty, bath, home, pregnancy/baby care, wellness, snack and lifestyle accessories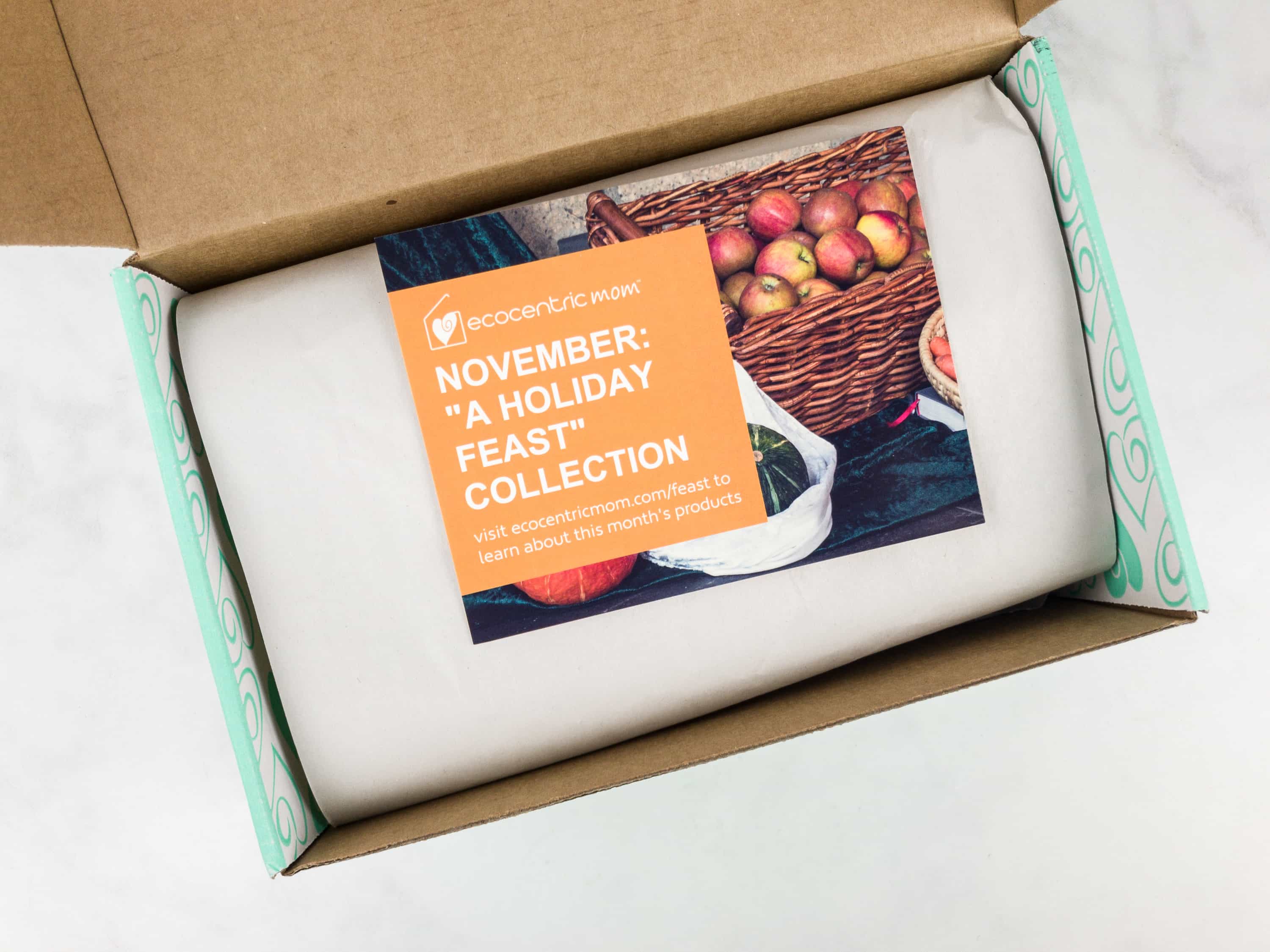 The theme for November is A Holiday Feast.
DEAL: Save $5 off first monthly box. Use coupon code HELLO5.
The information card gives you a list of all the items in the box.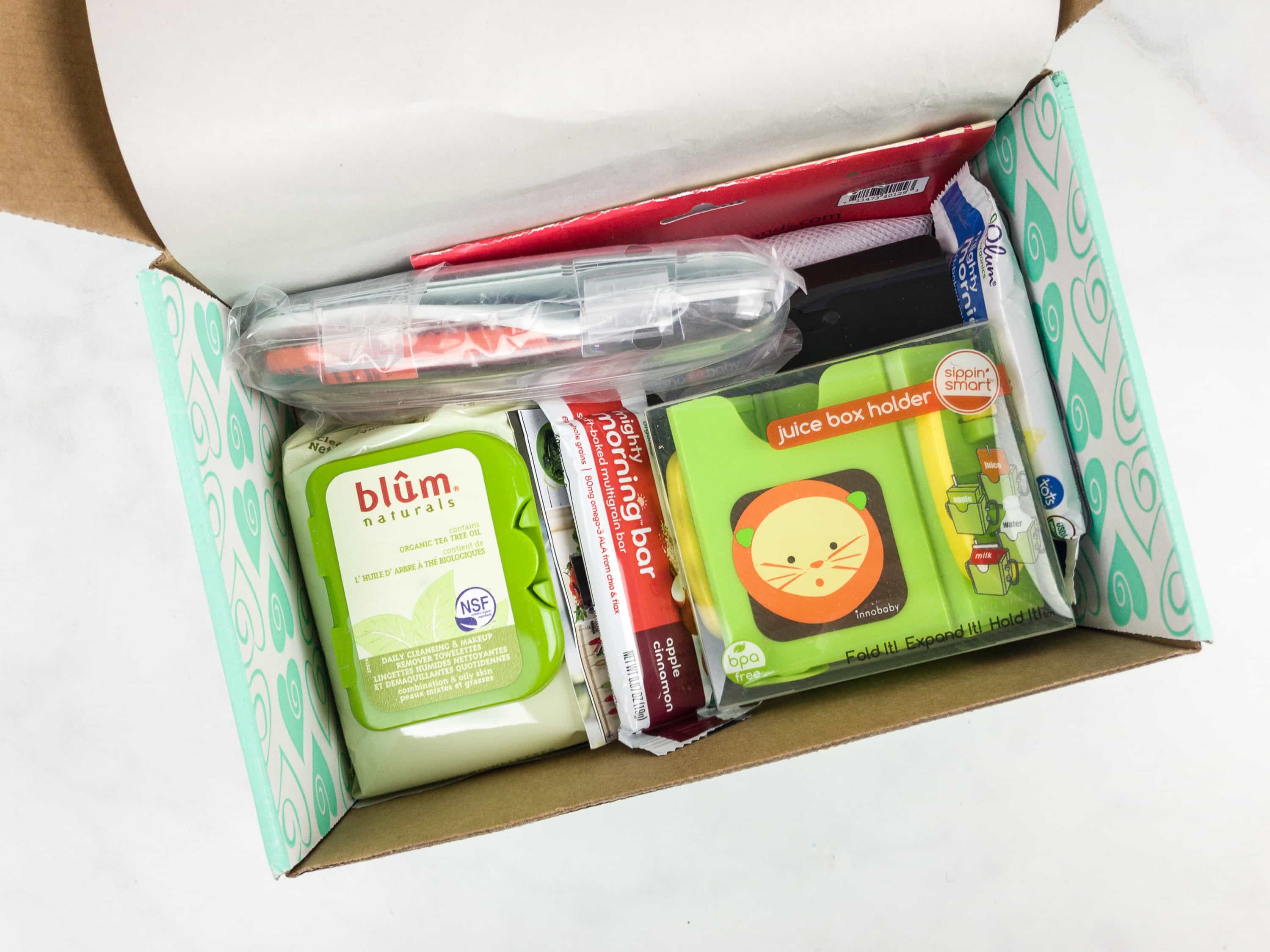 This box is packed!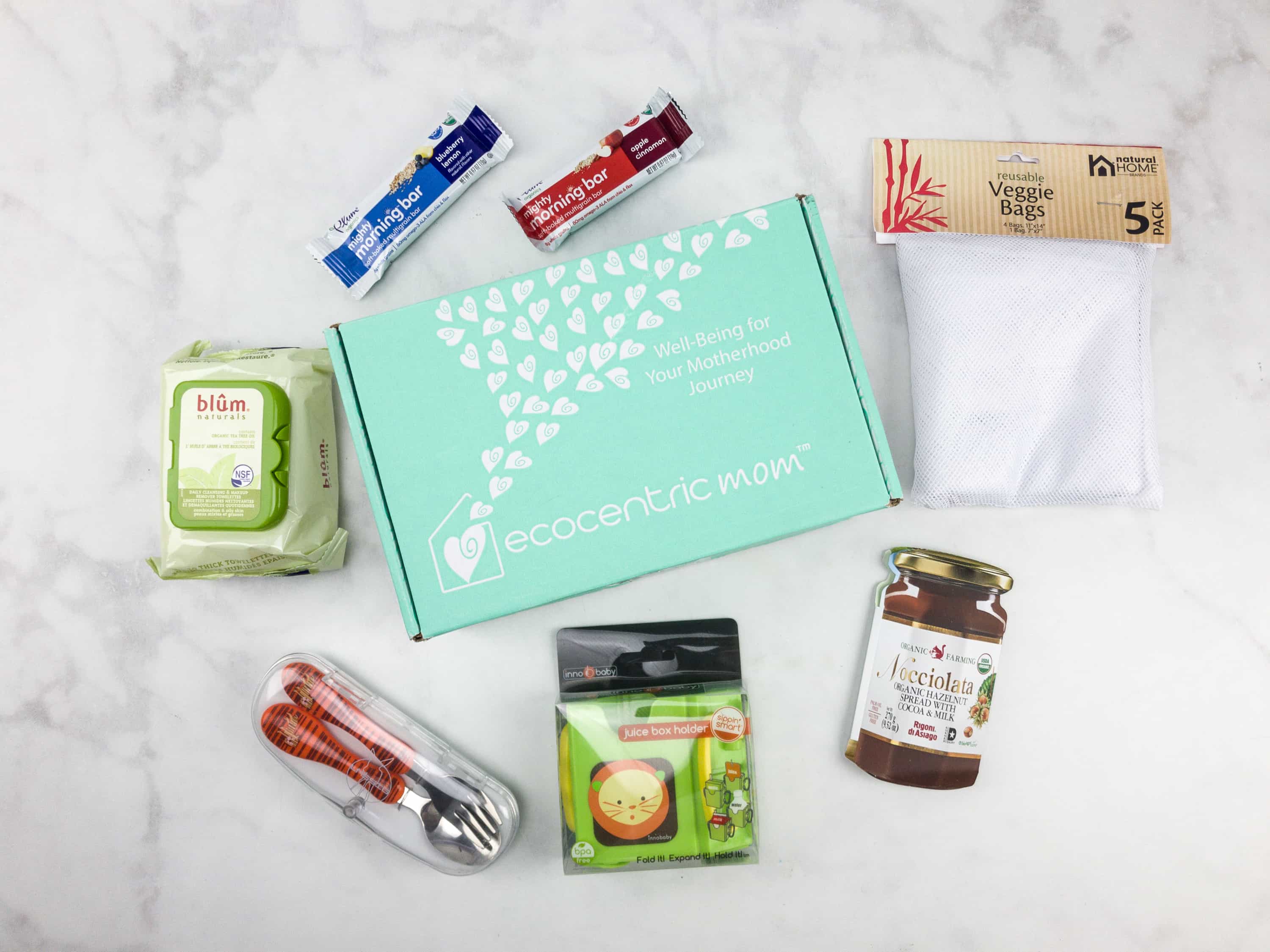 Everything in my box! All products in Ecocentric Mom boxes are eco-conscious. They may include products for one's home, health, beauty, and baby.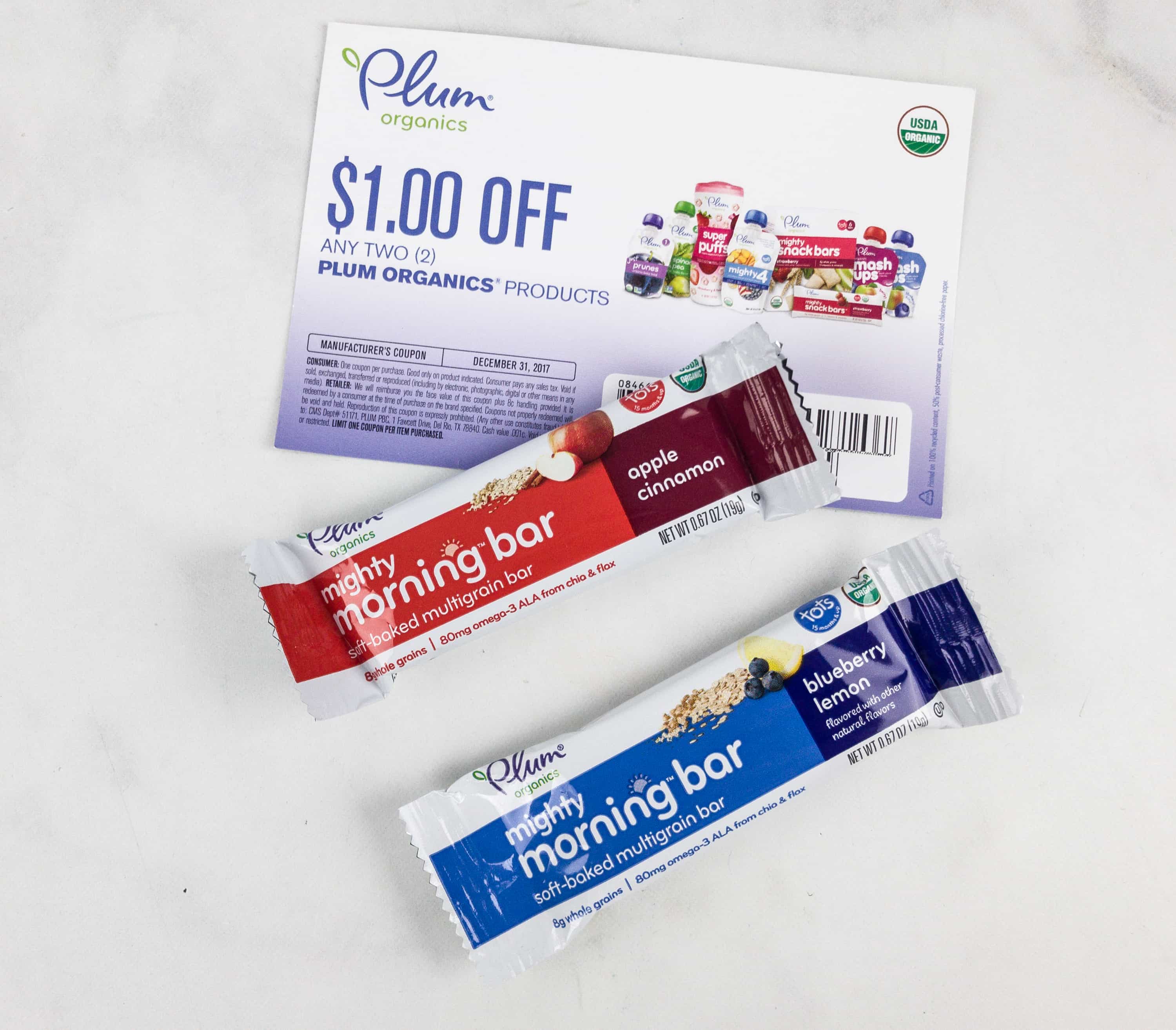 Plum Organics Mighty Morning Bar in Apple Cinnamon & Blueberry Lemon ($1.89 each) These soft-baked multi-grain bars are great on-the-go snacks and can also be paired perfectly with milk, yogurt, or fruit. Perfect for toddlers or kids.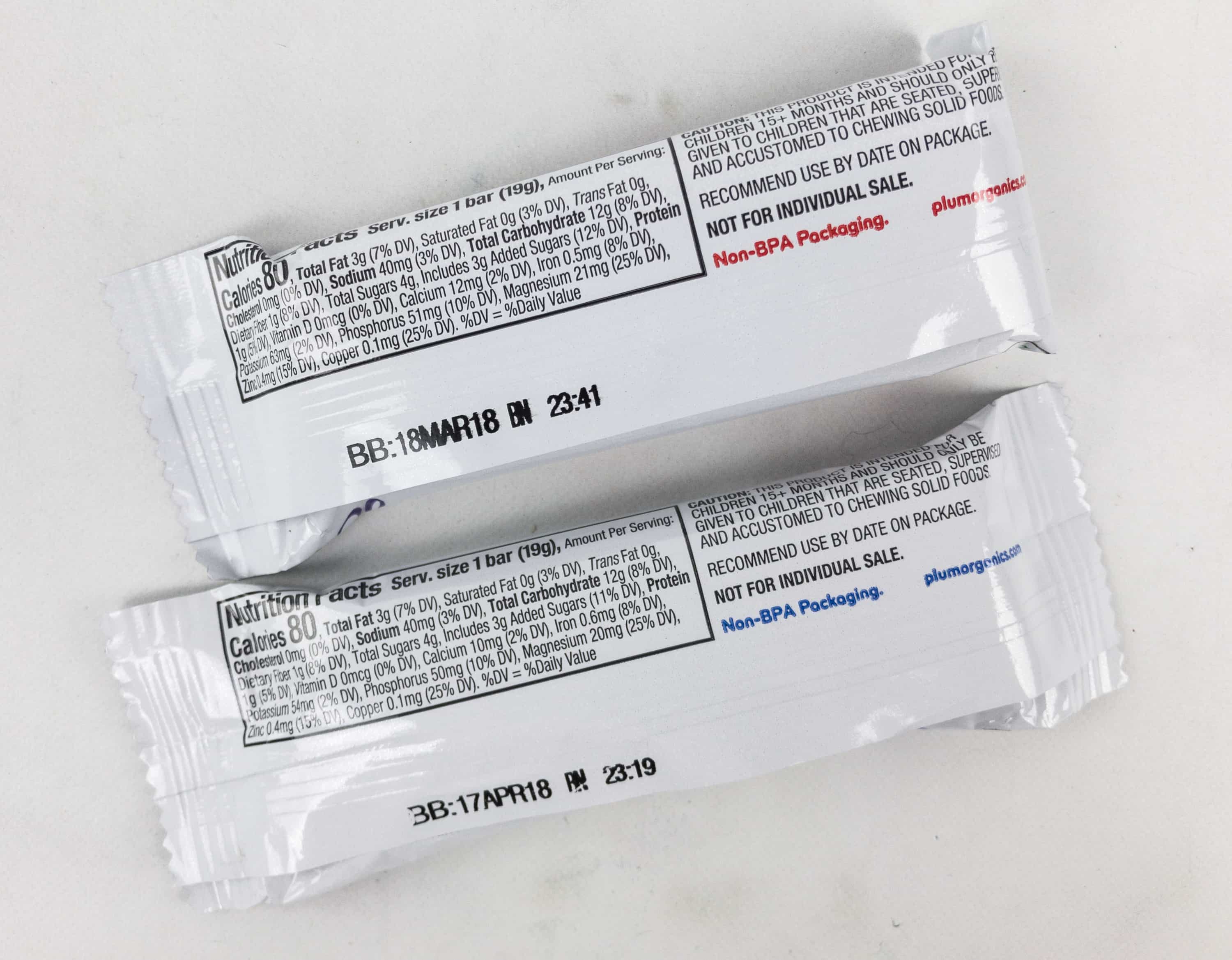 Made with whole grains, chia seeds, and flax that contains Omega-3 ALA. So good for the heart!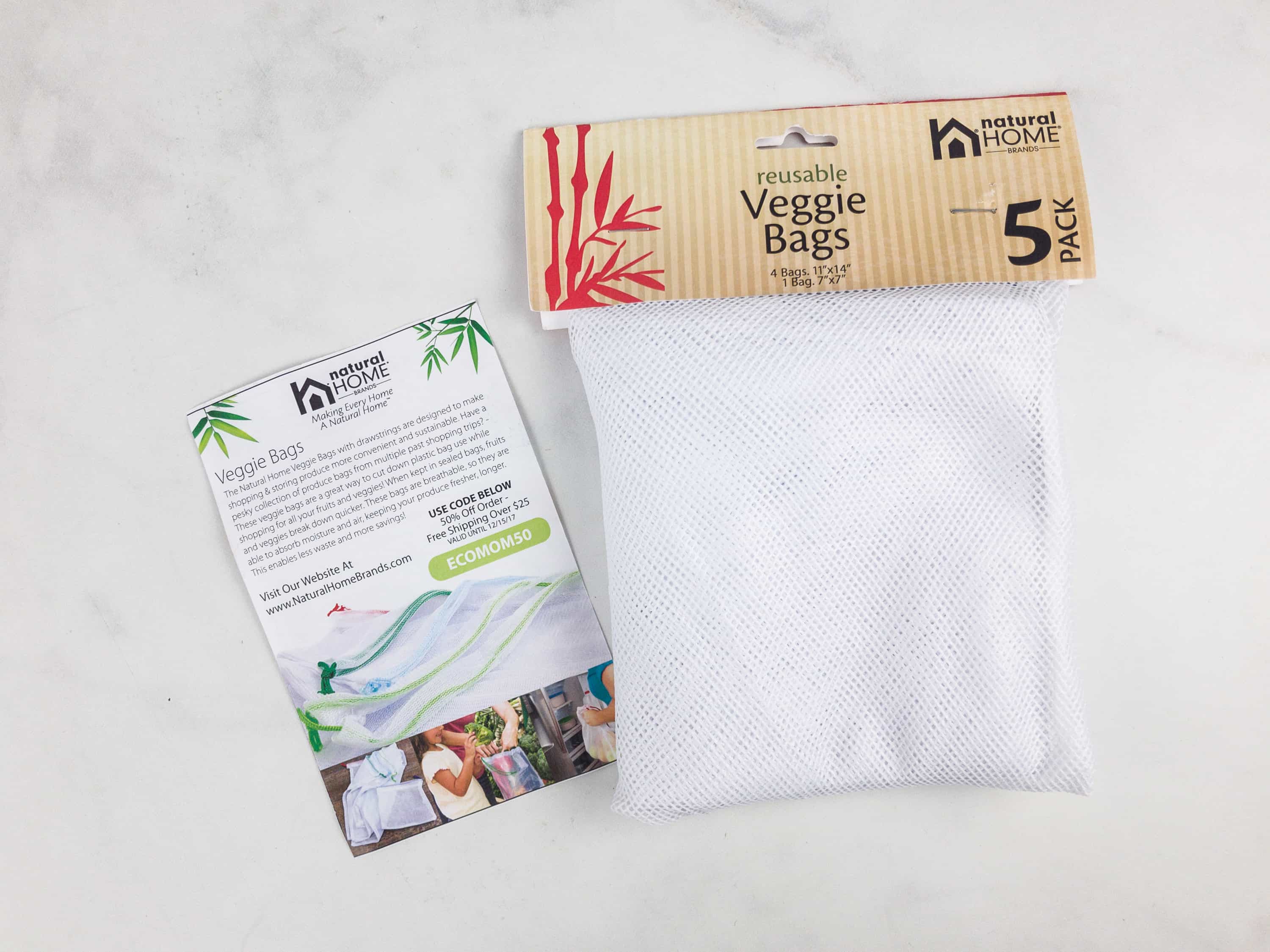 Natural Home Reusable Produce Bags ($8.83) Environment-friendly and multipurpose bags! This will be useful for any kind of household.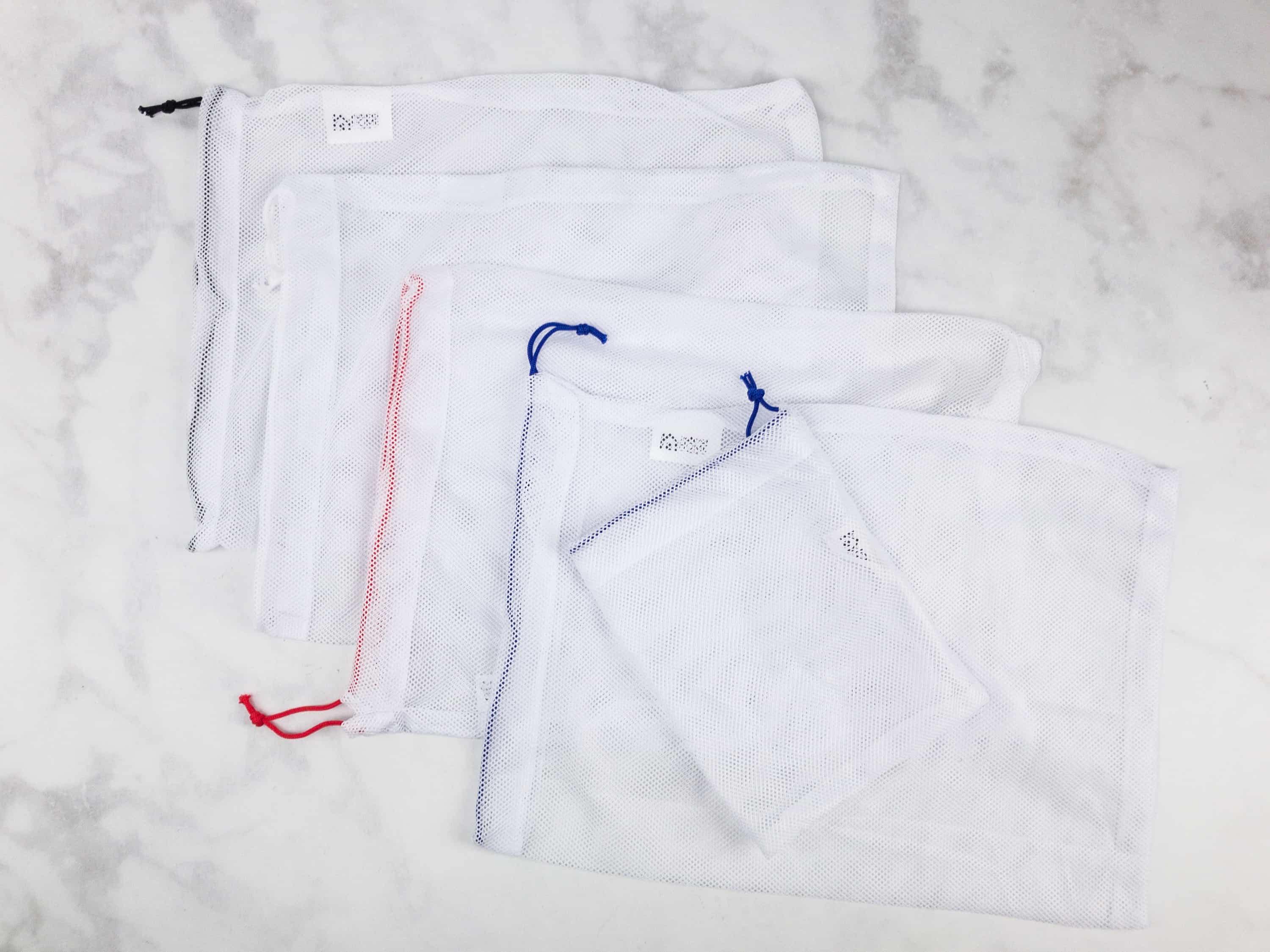 Made of polyester and has drawstrings to secure the contents. Washable and reusable too!
Lassig Kids Stainless Steel Cutlery Fork and Spoon Utensil Set ($10.95) This utensil set is made of high-quality stainless steel and melamine. It also comes with reusable storage case.

It's suitable for kids over 1 year of age. These are perfect feeding companions especially to those who just started using cutlery during meals.
This set has cute orange and brown striped handles, just like a tiger's! The other designs are wildlife turtle, birdie, giraffe, rhino, and elephant.
Organic Farming Nocciolata Organic Hazelnut Spread With Cocoa & Milk ($0.67) This creamy and chocolate-y sweet spread is more liquid-y than other choco-hazelnut spreads.
It's also palm oil free and gluten free! A perfect addition to toasts and crackers, but you can also just get a spoonful and enjoy it by itself. Just be wary of your sugar intake as it contains more sugar that makes it sweet rather than hazelnutty.
Blum Naturals Organic Tea Tree Oil Towelettes ($4.83 These cleansing towelettes contain tea tree oil that combats oily skin, leaving the face feeling fresh and supple.
Sippin' Smart Juice Box Holder In Lion Green ($5.99) A compact travel and feeding companion perfect for moms and babies on-the-go. This innovative drink sleeve is spill-proof too!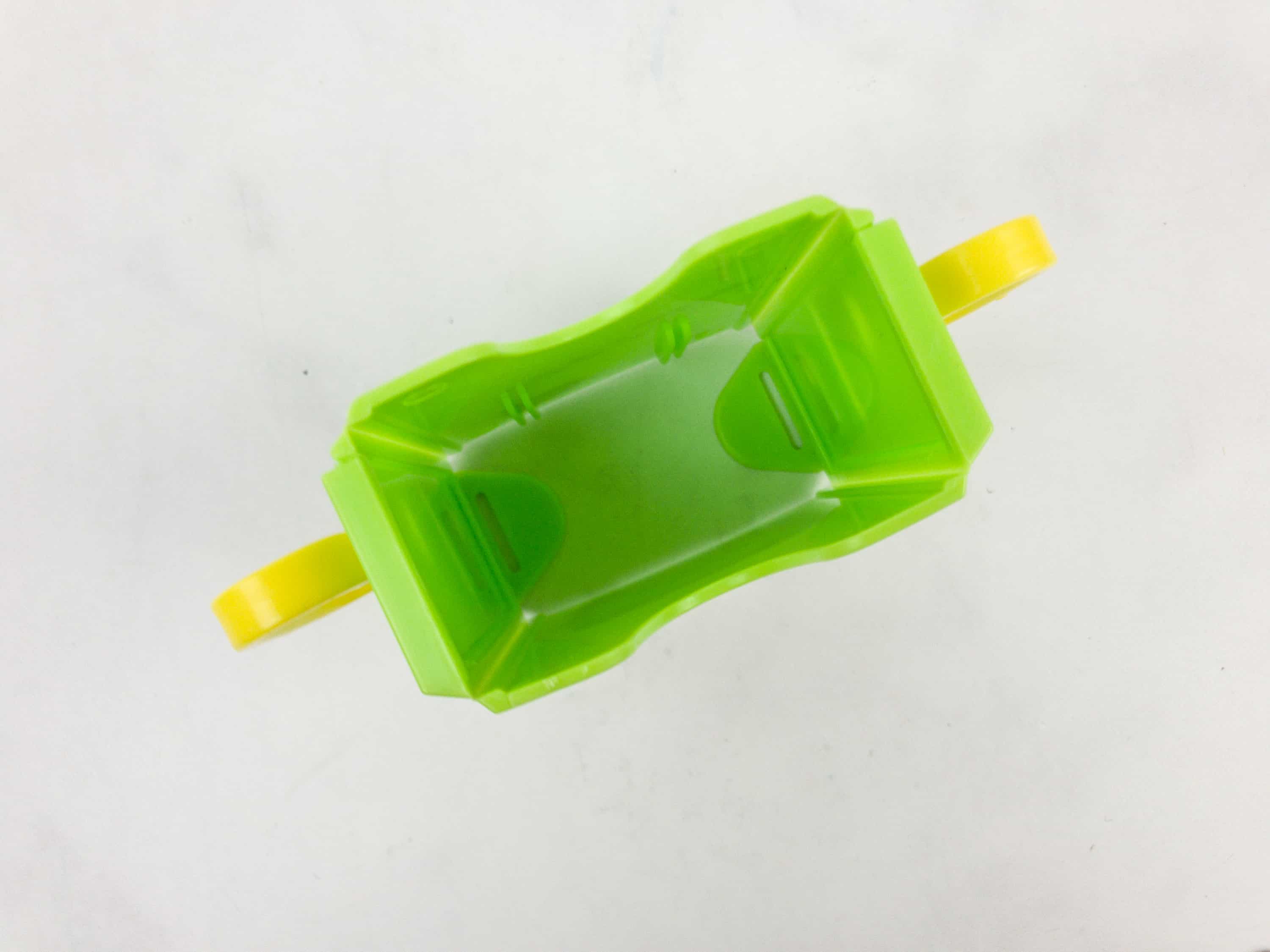 It also expands to hold multiple types of drinks and folds down for compact storage.
It has a cute lion design! The handles also make holding the drink easier for the little ones.
It can be collapsed and folded for easy, space-saving storage.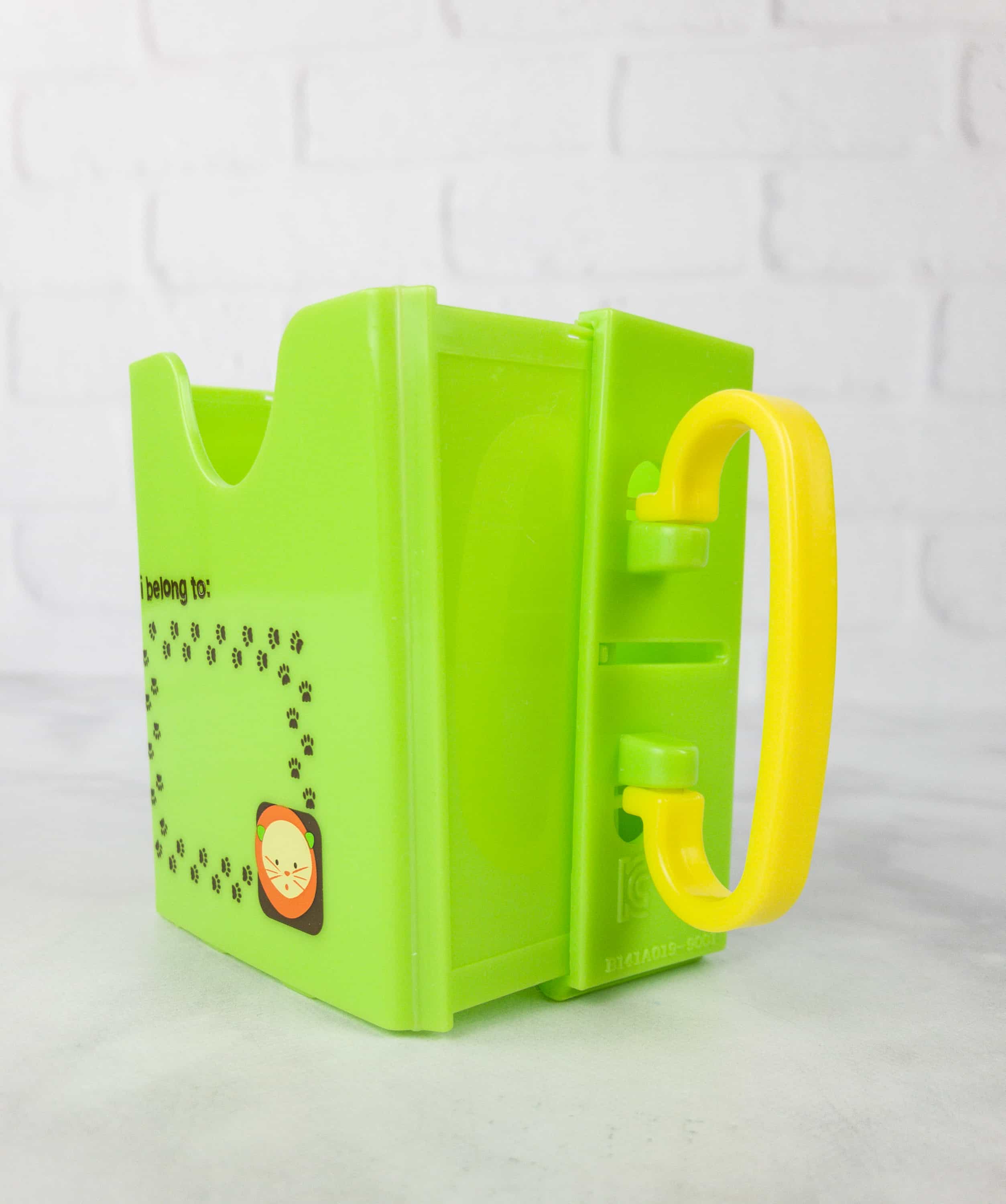 Such a kid-friendly product! It's a big help especially for kids who are just starting to learn how to drink with milk boxes, juice boxes, juice pouches, water bottles, and even small cups.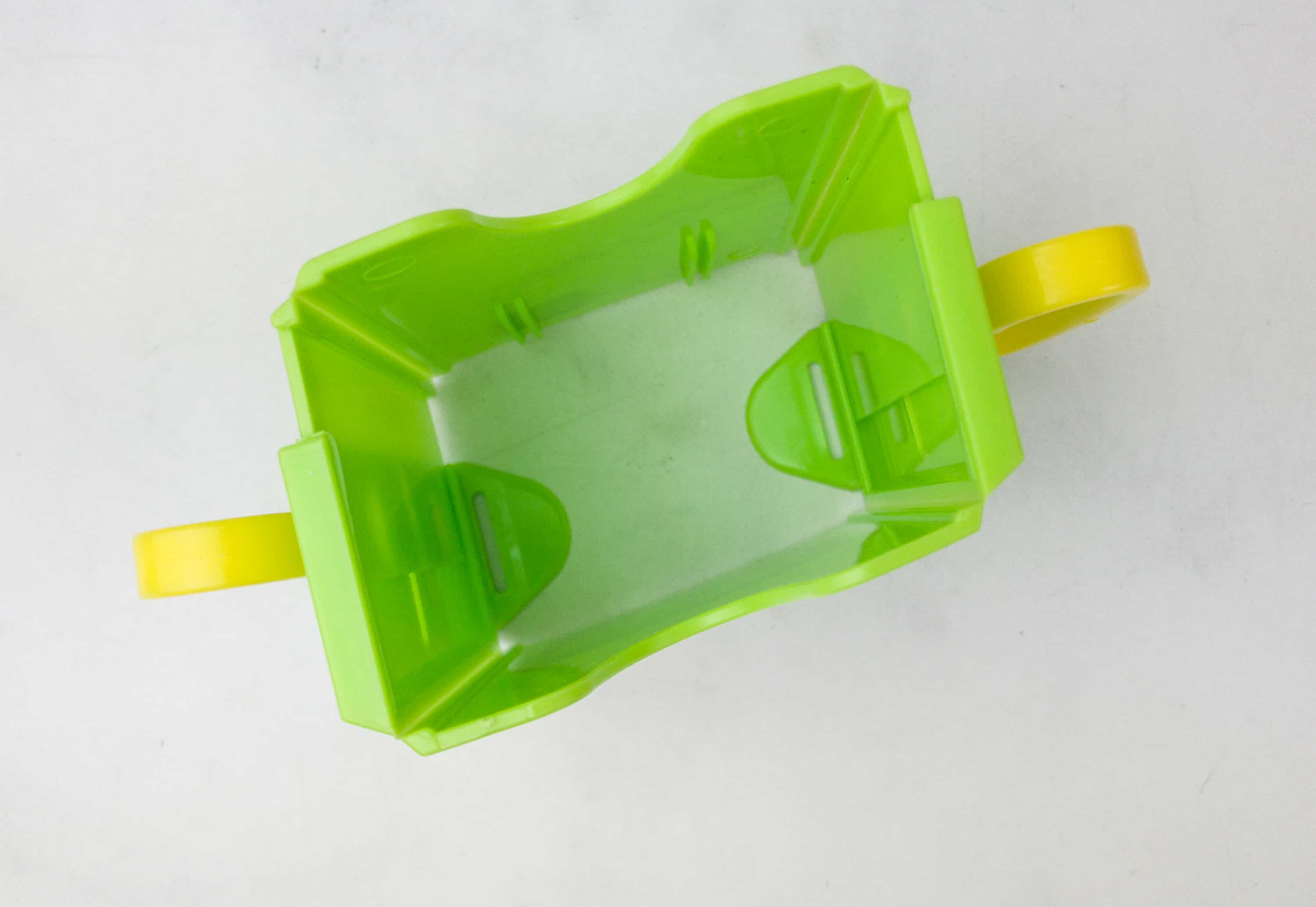 The unique snug design keeps drinks in place.
Another great selection for moms and babies! I like that they included dinnerware and reusable produce bags, while the the kids are delighted with the cute designs on the cutlery and the juice box holder. This is such a valuable subscription for money-savvy moms who want the best for their home!
Have you tried Ecocentric Mom? What do you think about the box?