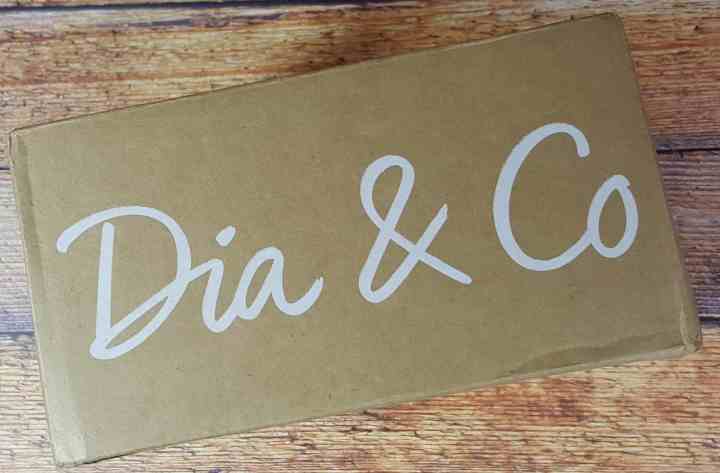 Dia & Co. is a monthly personal styling subscription for plus-sized women. It's like Stitch Fix, but for plus sizes. Fill out your profile and sizing information, pay a $20 styling fee (refundable against anything you choose to keep), and have 5 items selected by a stylist sent straight to your home to try on. Dia & Co. includes free shipping each way. If you keep all 5 items from your box, you'll receive a 25% discount.
The invoice for Dia & Co. shows the price of each item plus my potential discount if I opt to keep all of the pieces.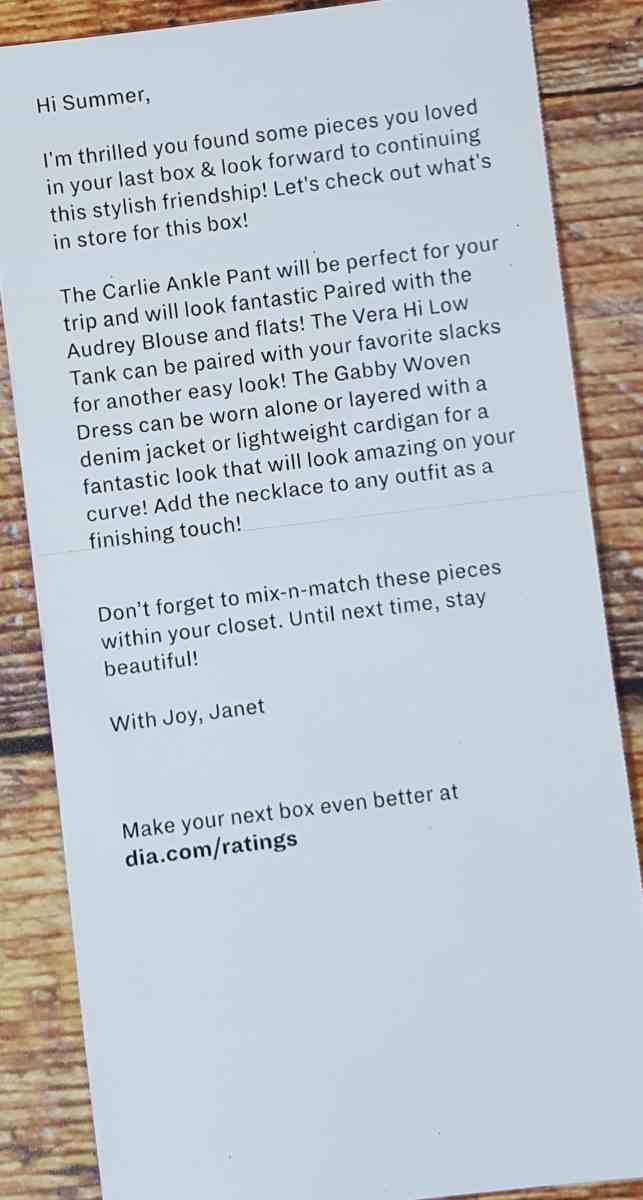 The stylist's note introduces you to your stylist, provides insight on the selections, and offers suggestions on how to style the garments.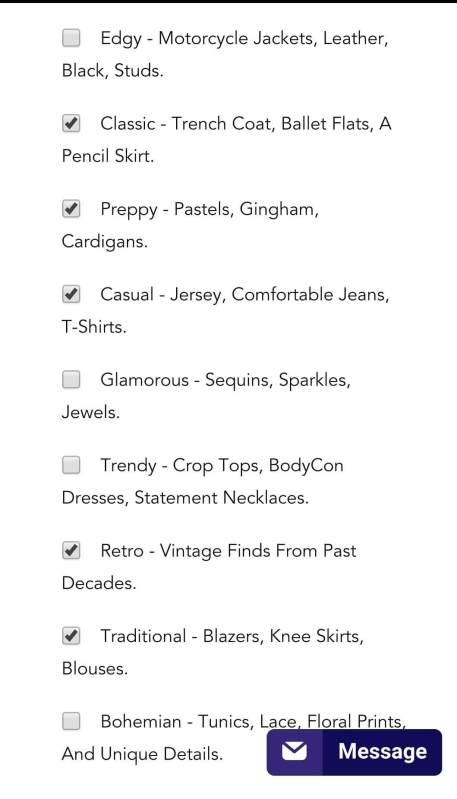 These are the looks that I told my stylist I wear or like via my fashion profile. I made it a point to emphasize that although I work in an office, I spend a lot of my work day outdoors and live in Florida where it is VERY humid, so I need clothes that are climate friendly and easy care.
Note:  This month, I ended up with both my Dia box and someone else's. Luckily we were the same size, so I picked and chose between the 2 boxes to make up my items for the month. I notified Dia & Co. of the issue, and they adjusted both accounts accordingly.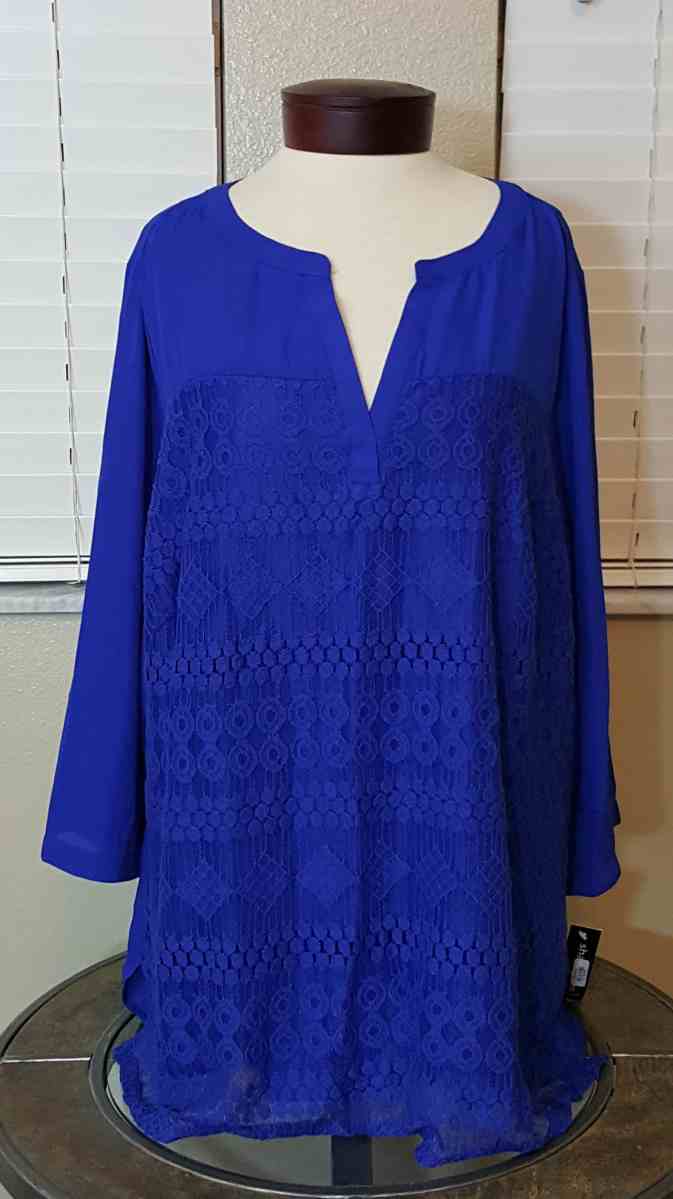 Sharagano Sportswear | Audrey Detailed Blouse – Royal Blue ($49.00):  I had to do a double take with this top. It seems both stylists thought this was a good pick. One was in each of the Dia boxes. I love royal blue, so this had a good chance of staying with me. The top is light enough for the humid weather here in Florida, and the longer sleeves make it a good fall transitional piece. Plus, the lace detail was really pretty.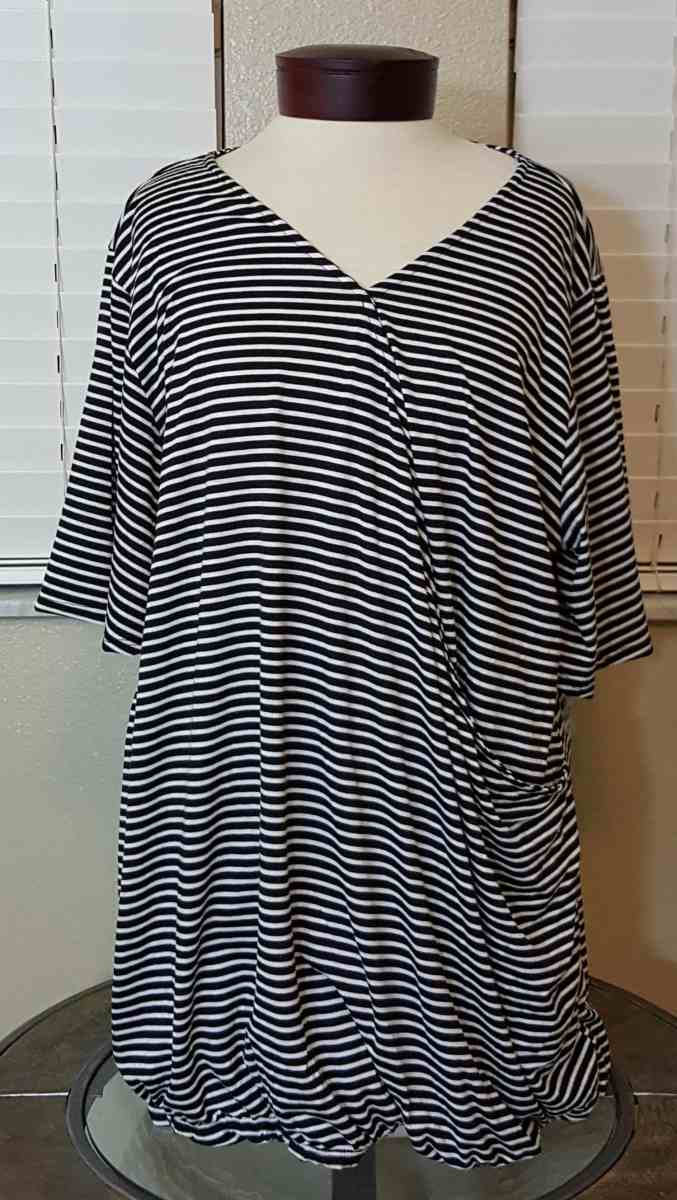 Molly & Isadora | Emery Striped Crossover Tee – Black / White ($45.00): This is a cotton blend tee with crossover detail on the front and a bubble hem. It also features dolman sleeves. I liked the basic color scheme of this shirt because it pairs with nearly everything. Although, I did have to watch the crossover because the fabric does actually crossover and it did move around my bra. Thankfully, there's enough fabric to prevent a wardrobe malfunction.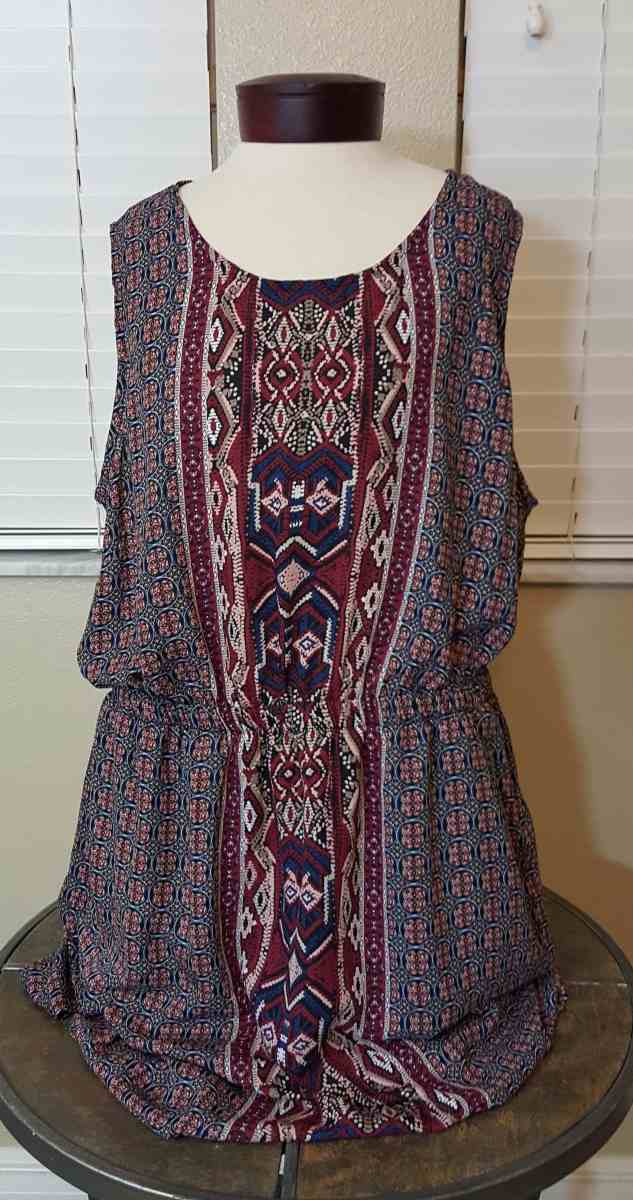 B. Curvy | Gabby Woven Tank Dress – Magenta??? ($65.00):  Um, I think the color description is kind of off on this piece. Anyway, this was my favorite item for the month. I love the colors and pattern on the dress. It's one of those pieces that can be dressed up or worn casually. The bolder print down the center helps to elongate the body and draw attention inward. The dress hits just above my knees. I paired this with some camel colored pointed-toe flats and a denim jacket. Bonus, the dress has pockets too!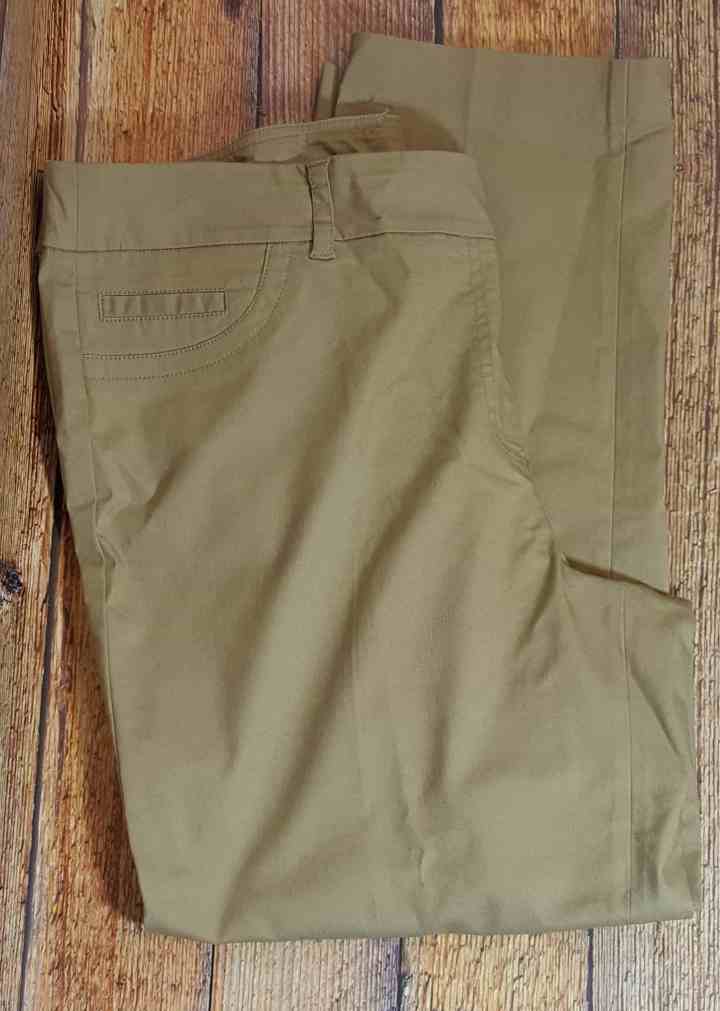 Sharagano Sportswear | Carlie Ankle Pant – Tan ($65.00):  These were an odd pant… sort of a stretch khaki, but the fit was way off. The crotch fell low and the hips were too wide. Overall, they reminded me of uniform pants and were simply not flattering in any way.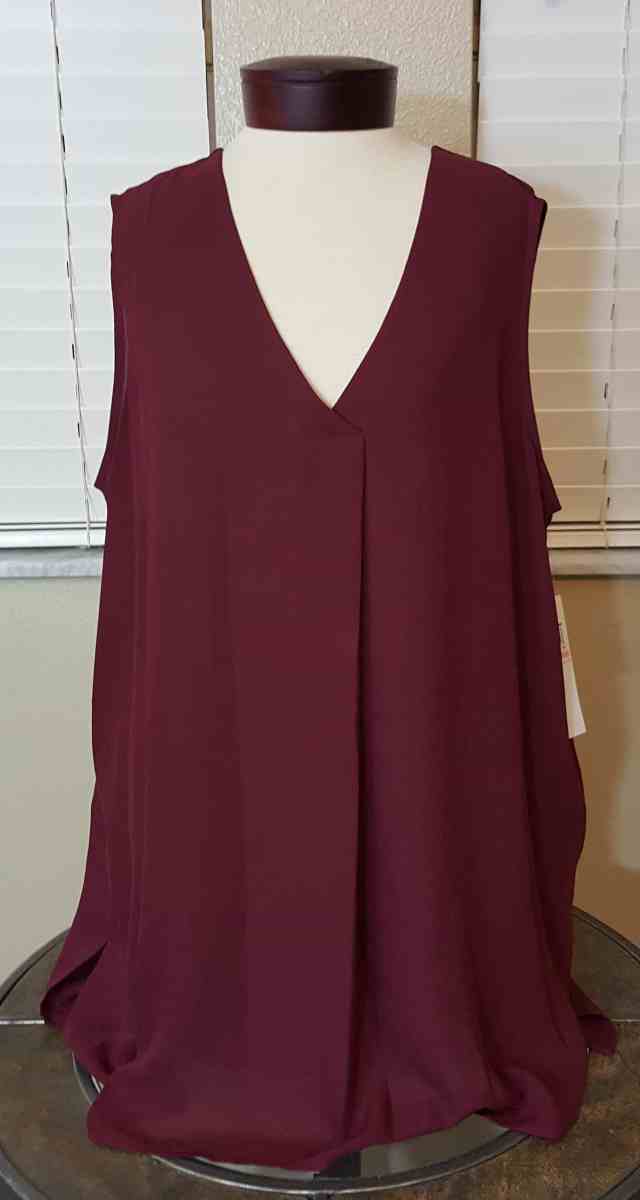 London Times | Vera Hi-Low Tank – Burgundy ($49.00):  I wanted to like this top. Burgundy is one of the colors that looks good on me, and I like V-necks. However, the pleat in the front would not drape correctly across my chest and just looked weird.
Each of the boxes that came to my home this month also contained necklaces, but both were sent back. After going through my jewelry, I realized that I have way too many long pendant necklaces (which is what came in the shipments). I actually could use a few shorter chains… I'll have to let my stylist know this for my next Dia & Co. box.  Between the 2 boxes, I kept 3 pieces – two were from the box styled for me (blue blouse and tank dress) and one was from the accidental box (black & white striped tee). Since I didn't keep 5 pieces, I did miss out on my 25% savings.
Hoping that there are no issues next month and that I like more of the pieces that arrive. Remember, Dia & Co. does price match, so if you find something cheaper, let them know!
So, what did you think of my pieces from Dia & Co.? Share a comment below and let me know.