Candy Club is a premium candy subscription box that delivers old fashioned candy store candy to your front door. Their boxes promise an amazing variety of gourmet quality candies for your snacking enjoyment.
DEAL: Save $20 on your first box! Just use this link to activate the offer.
OR You can instead use 50F-candydeal – 50% off and free shipping for a total of $14!
The box includes info cards for our candy – they include nutrition information (in case you were wondering about nutrition while gobbling the candy).
The lovely box has a cardboard stand with holes cut out to hold the candy-filled plastic tubs in place. It really made for a nice display when you opened the box. Each tub is sealed with a plastic shrink wrap, so nothing pops open in transit!
Everything in my box!
The candies come in a cool covered round plastic tubs/containers. I love that they have a wide top, so you can pick out your favorite color gummy or cherry-pick the largest cookie dough bites, if you're in to that sort of thing.
Smarties Candies: This classic will definitely satisfy your sweet cravings! As always, the little discs are peanut-free, gluten-free, fat-free and dairy-free. Each color has a different ultra-sweet, tart and tangy flavor.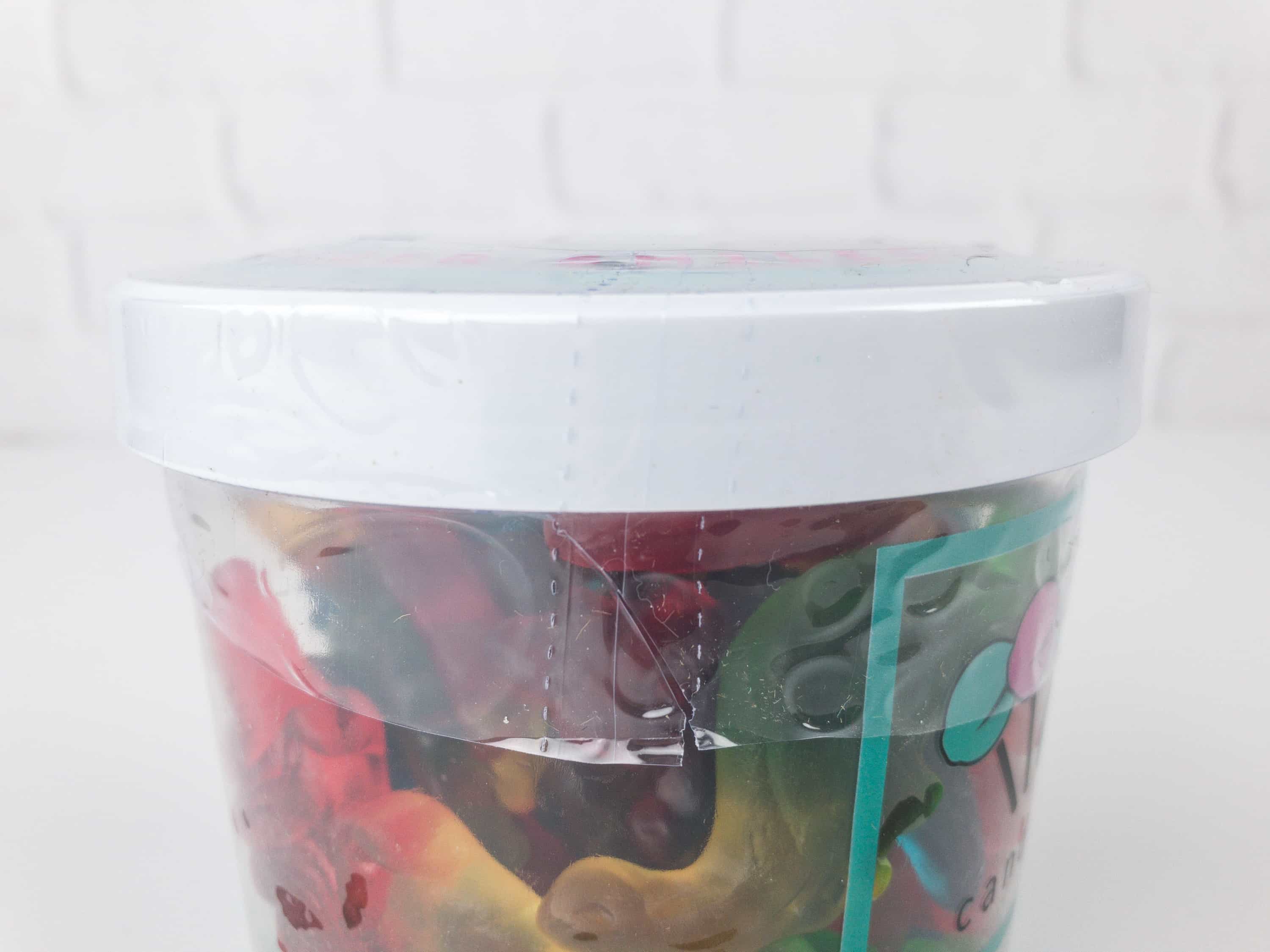 Haribo Gummy Dinosaurs. These gummies come in Banana, Black Currant, Mango, Melon and Strawberry flavors. Haribo is pretty much the name in gummies, so the texture is smooth and delightful. 
Really, a blast from the past. This pack has Brontosaurus, Tyrannosaurus Rex, Triceratops and Stegosaurus gummy dinosaurs. They are really roaring with gummy and fruity goodness, and definitely fun to eat or play with! I love the detail on the dinos!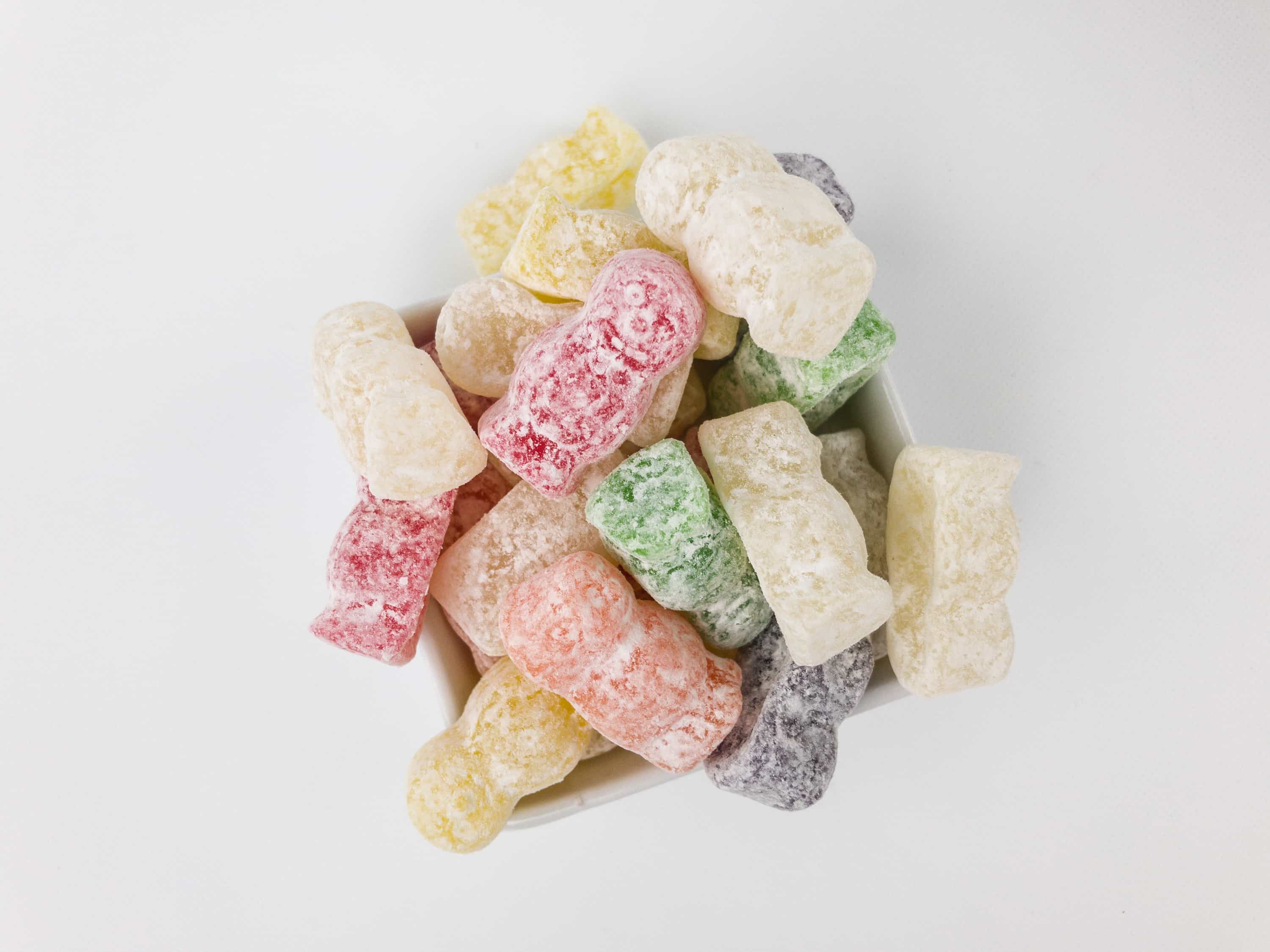 Gustaf's Jelly Babies. "These classic UK-produced candies were a favorite of Beatle George Harrison. "Come Together" with all your friends over their unique texture and tasty fruity flavors. Non-GMO."
These baby-shaped gummies are so stinking good! They are kind of like a gummy, but not quite the same. They have a firmness that is more reminiscent of a baked good. They are dusted with powdered sugar which seems to soak into the outside edges and firm them up, but doesn't quite reach the middle, which is still chewy and more gummy. And it comes in five fruity flavors: black currant, green apple, lemon, raspberry & banana. 
Taste Of Nature Cookie Dough Bites Chocolate Chip. I find it a little ironic that the "Taste of Nature" product is the one item in the box that is not fruit flavored, but instead tastes just like cookie dough picked fresh in the wild. Seriously, though, they are absolutely delicious! These bite sized "raw" cookie dough are covered in rich and smooth chocolate-y goodness. And these sweet treats may leave an impression that these are raw dough but they're definitely safe to eat, just like any baked goods. It's also certified Kosher and USA made. This is a perfect and delectable treat for  the whole family.
It's always fun to have Candy Club Subscription Box around. Nostalgic candies or new ones, getting this haul of candies in the mail makes it feel like Halloween as a kid.  I like the fact that you can pick your own candies from their monthly selections, so you get precisely what you want. This is also a wonderful subscription to share the sweetness with family and friends!
Have you tried Candy Club? What has been your favorite candy?