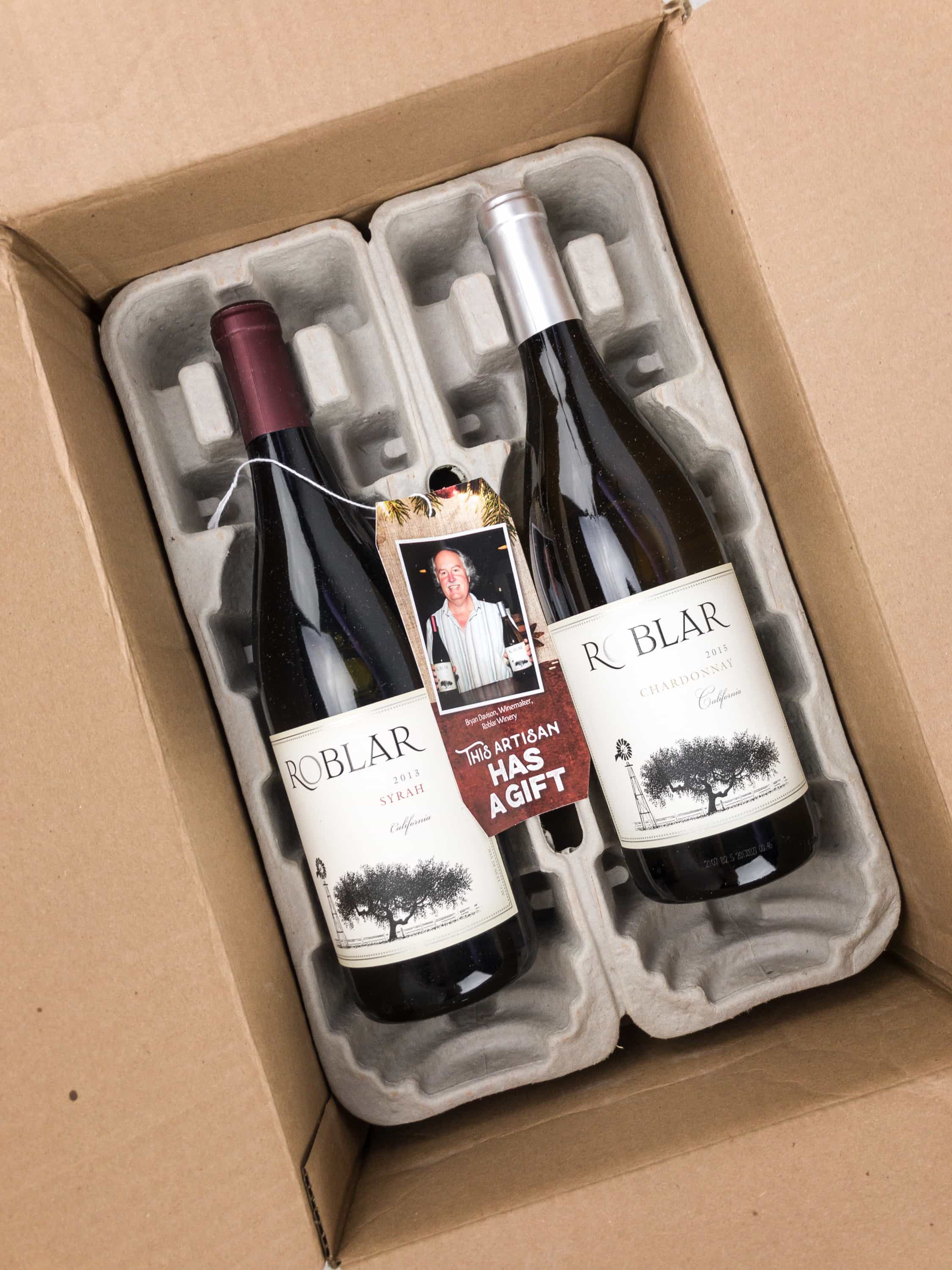 California Wine Club is a monthly subscription that sends two (or more) bottles of wine from California to your house every month. They specialize in wines made from small producers (those who release less than 10,000 cases each year). Although they have five official wine clubs, they are happy to provide their customers with a club that is specially curated to their customers' needs. In fact, club members receive their own Personal Wine Consultants who can help tailor the club to meet their needs. This review features wines in their Premier Series.
The Premier Series is $39.95/month plus $14 shipping for the two bottle a month subscription, but if you love the bottles that you receive, you can order more from the club at a significant savings.
The box comes with Uncorked magazine, featuring the selected winery of the month – Santa Barbara's Roblar Winery. I'm honestly not sure whether they have alternate versions of the magazine with covers tailored to the different series, but the wineries in our series always seem to make the feature article!
DEALS: Join the Premier Series Club + get 2 bonus wines + $25 wine credit! Use coupon code  2EXTRA and Use this link to subscribe. Expires 12-31-2017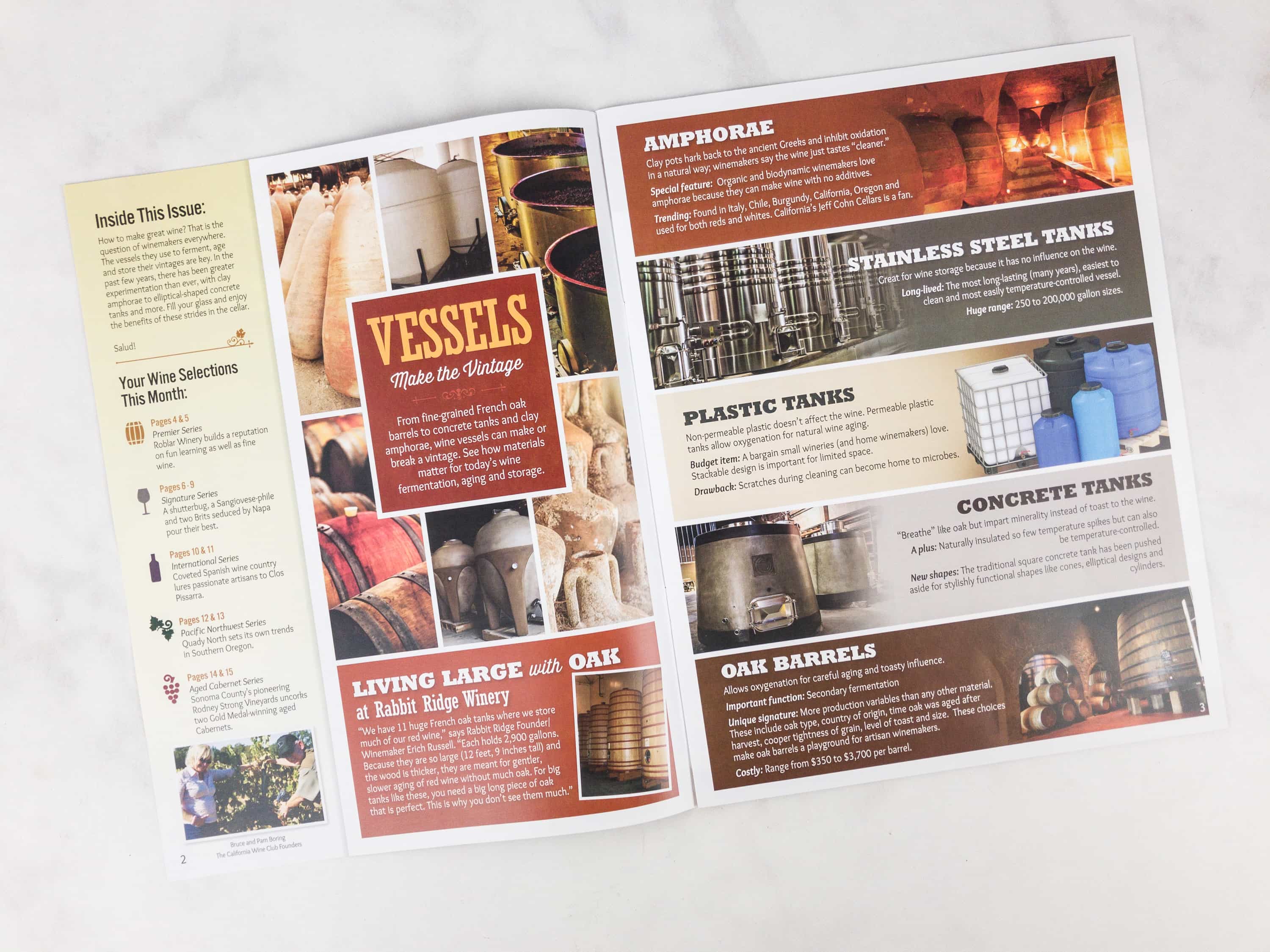 Most of the magazine is dedicated to discussing the selections, wineries, and winemakers featured in California Wine Club's various wine series, but there is also some other fun info, too. This month's mag explored the various types of vessels used to store wine prior to bottling. it covered everything from ancient amphorae to modern concrete and plastic vessels. Impressively, they noted the actual effect on the maturation of the wine, so now you can intelligently factor production vessel into your wine selection criteria.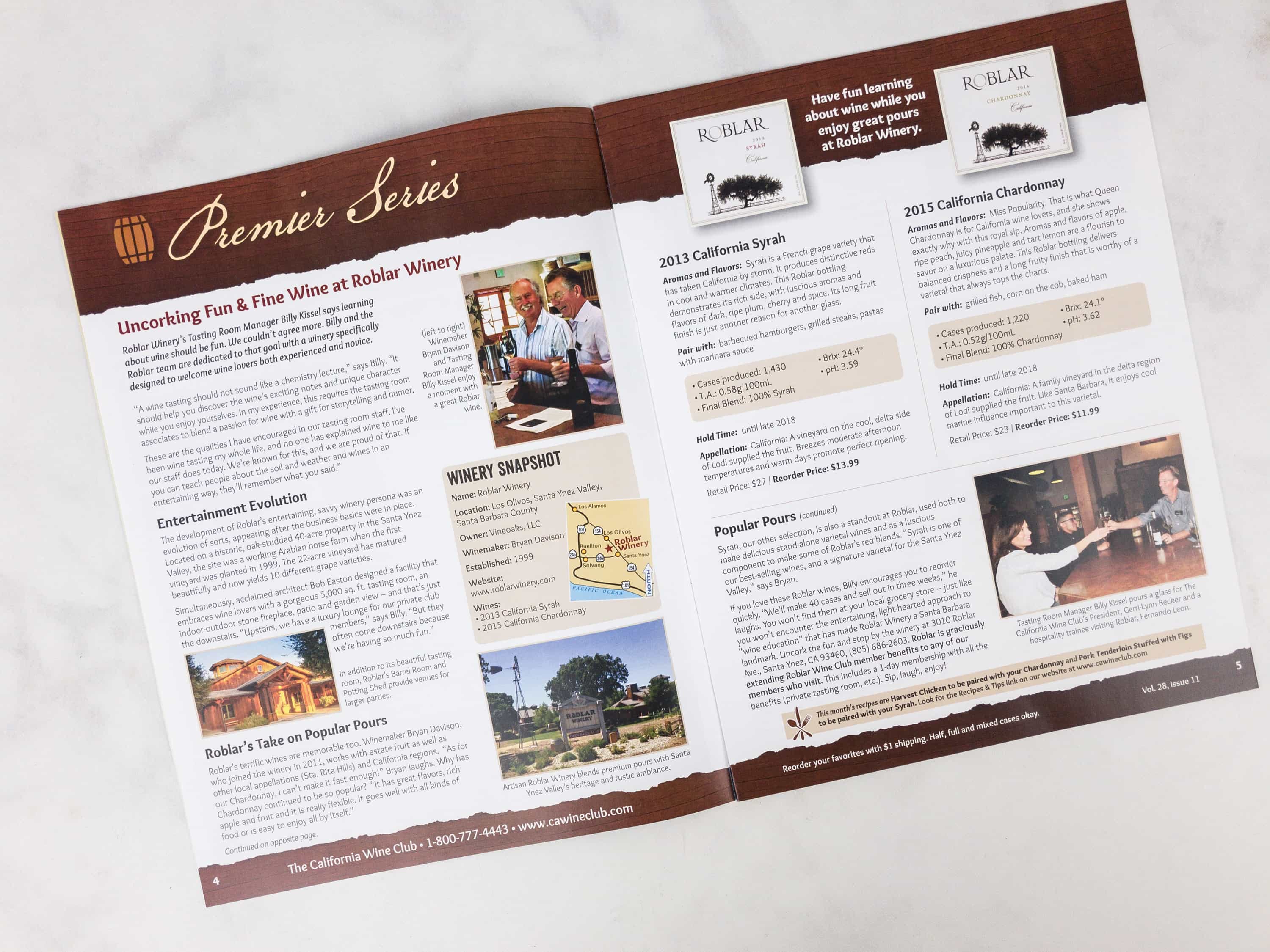 Our selections are from the Premier Series. Information is provided on each wine in our box. This includes the varietals used, the appellation (specific geographic origin of grapes), recommended cellaring time, production quantities, and some tech specs for wineheads — Brix, titratable acidity, and p.h. — basically measures of the sugars and ripeness of the grapes. Some selections even have recipes in the book, others are available on the CWC website.
Uncorked has a two-page spread for each of the series CWC offers. In addition the Premier Series, California Wine Club offers a Signature, International, Aged Cabernet, and Pacific Northwest series.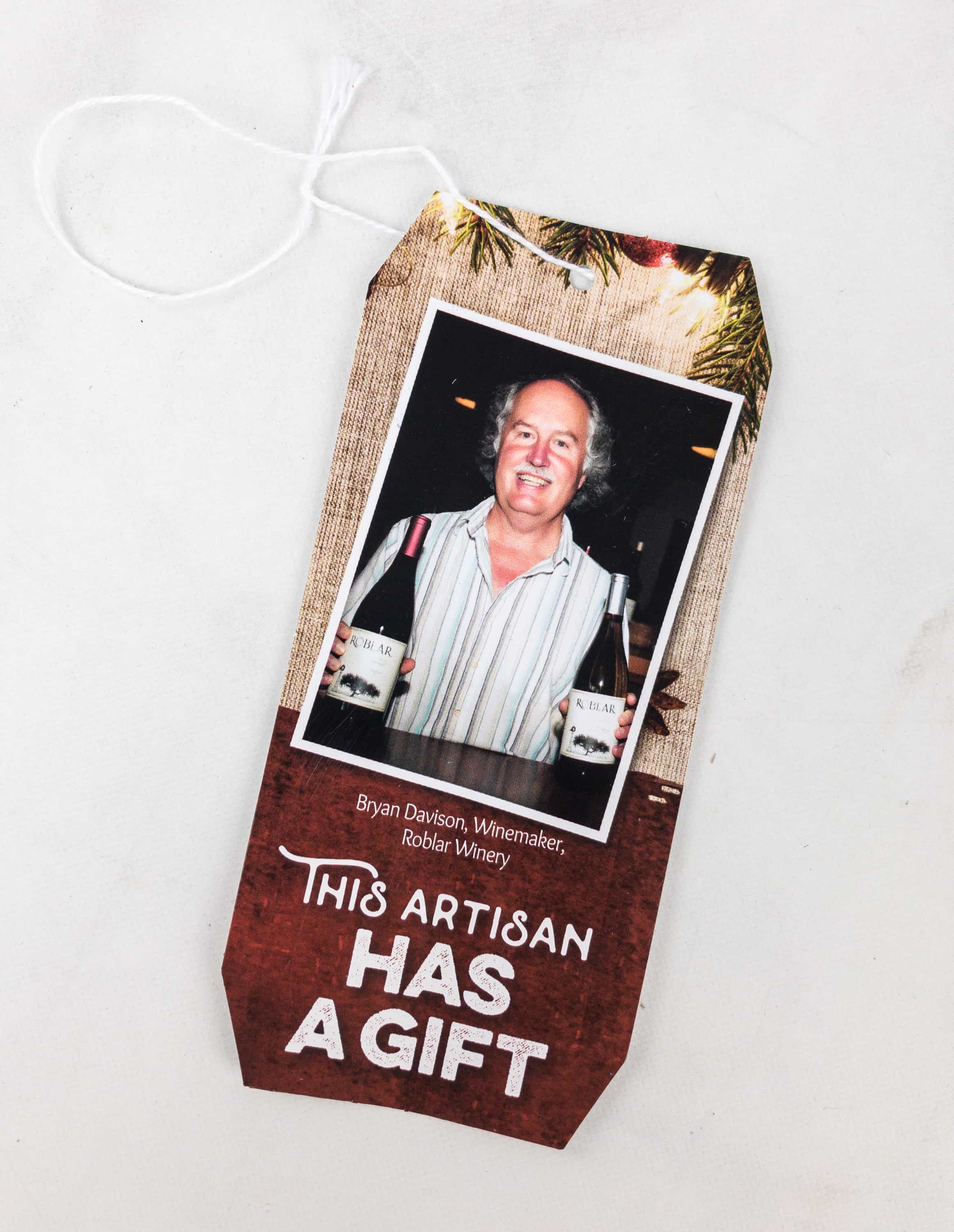 The bottles arrived with tags attached celebrating some of the peculiarities of the CWC selections. Past tags have spoke to the use of screw caps and winemaker selection. This one plugs the club as a great gift, grabbing the endorsement of Winemaker Bryan Davison from Roblar Winery.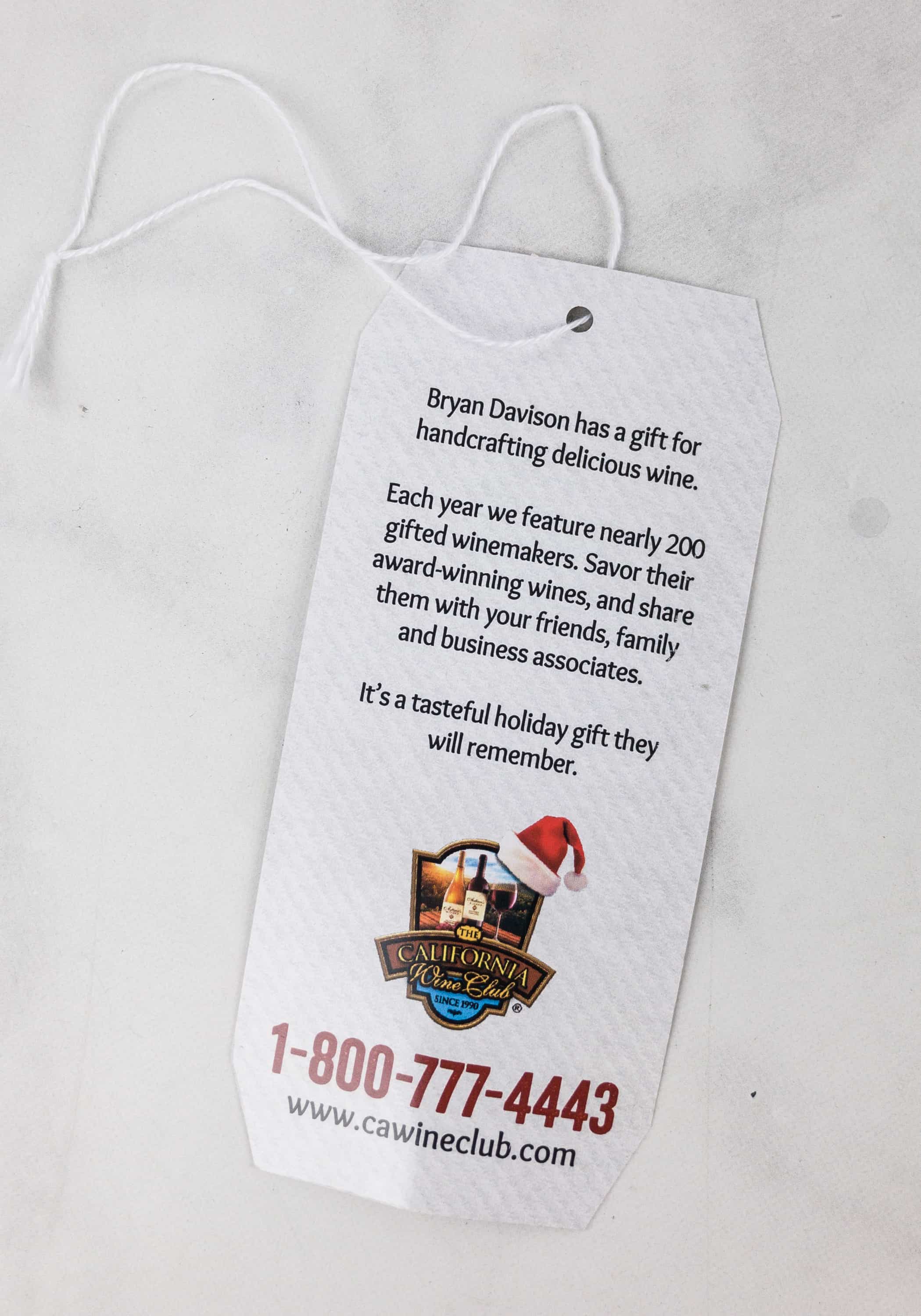 I don't find the tags to be annoying like randomly thrown in vendor literature, because they take the time to customize each month's tags with the current winemaker.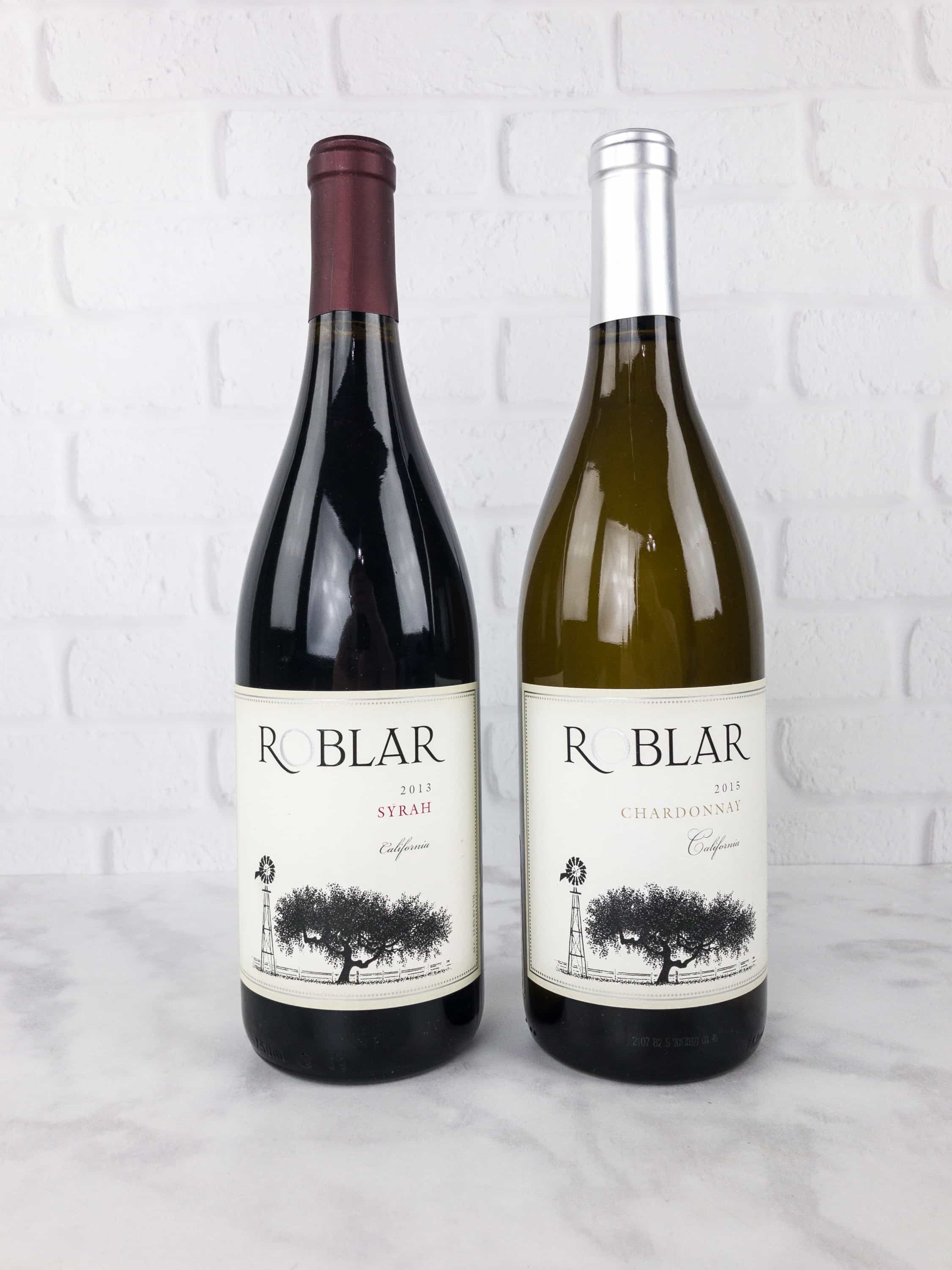 The October 2017 Premier Series selections! Both are from Roblar Wines, giving us a taste of the fun-loving spirit of this Santa Ynez Valley winery. They take pride in explaining terroir and tasting in a way that makes sense to both novice and expert. Their tasting rooms were designed for luxury, but they have become known for a lively, party atmosphere. We may not get to experience that in person, but we get to taste what all the fuss is about!
2013 Roblar Winery California Syrah: This mainstay red is popular as a stand alone and as the backbone of their red blend. A French varietal, Syrah has become the signature grape of the Santa Ynez Valley.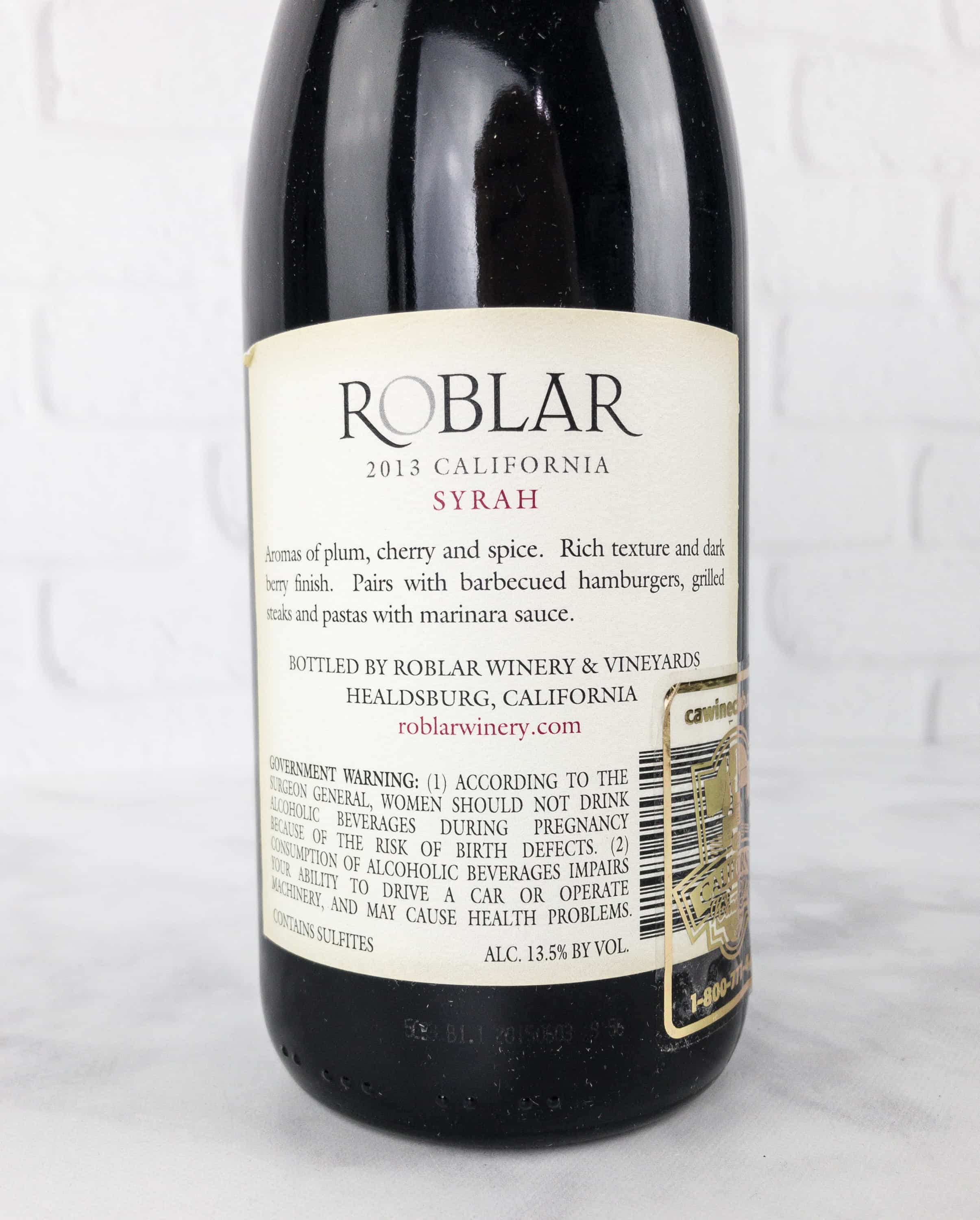 It has a spicy quality, with lots of rich plum and cherry. The fruit finish shows off the full-ripening that results from the vineyard's location on the cool Lodi delta.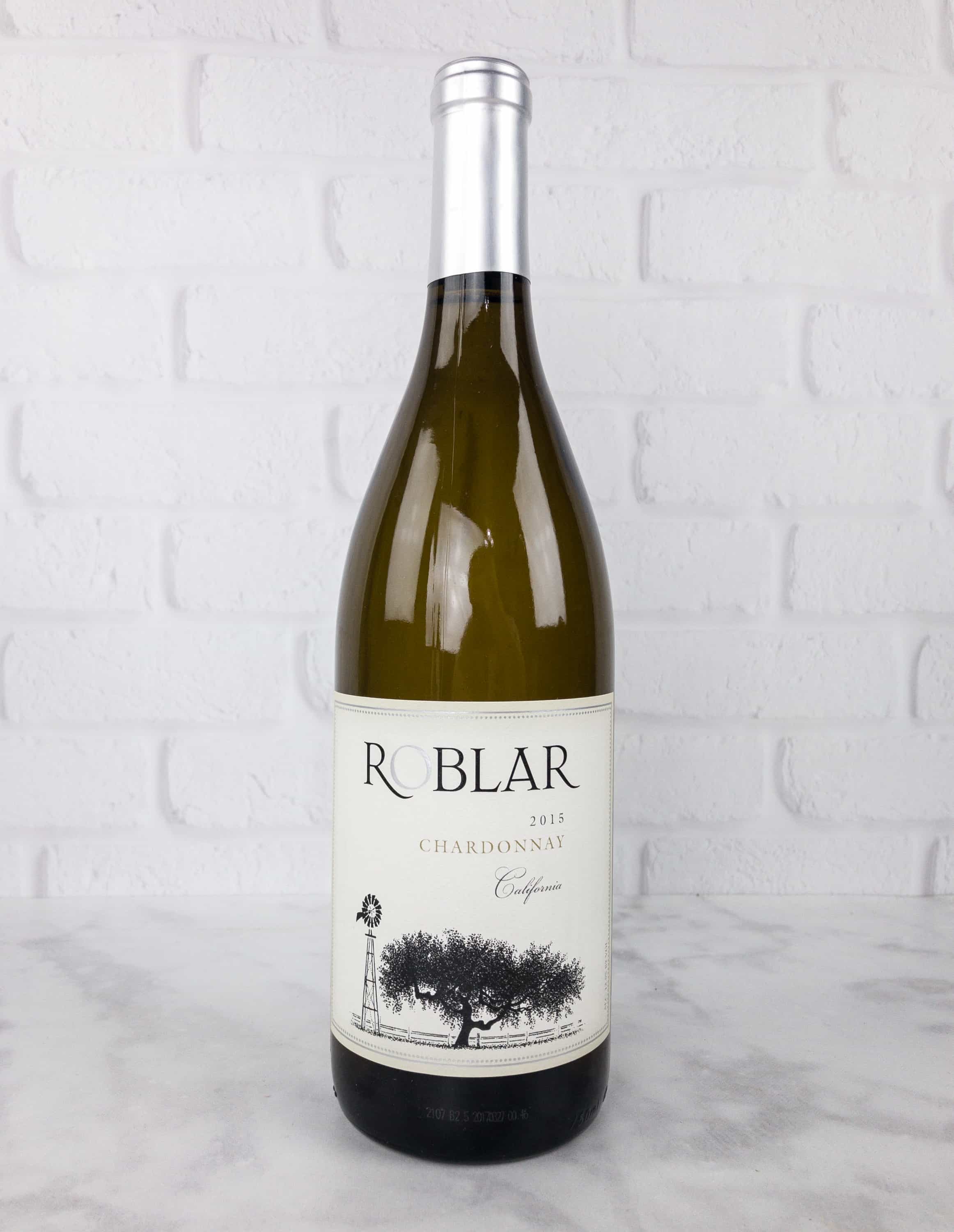 2015 Roblar Winery California Chardonnay: Their most popular wine, this Chardonnay has great fruit notes, primarily apple, peach, citrus, and tropical fruits.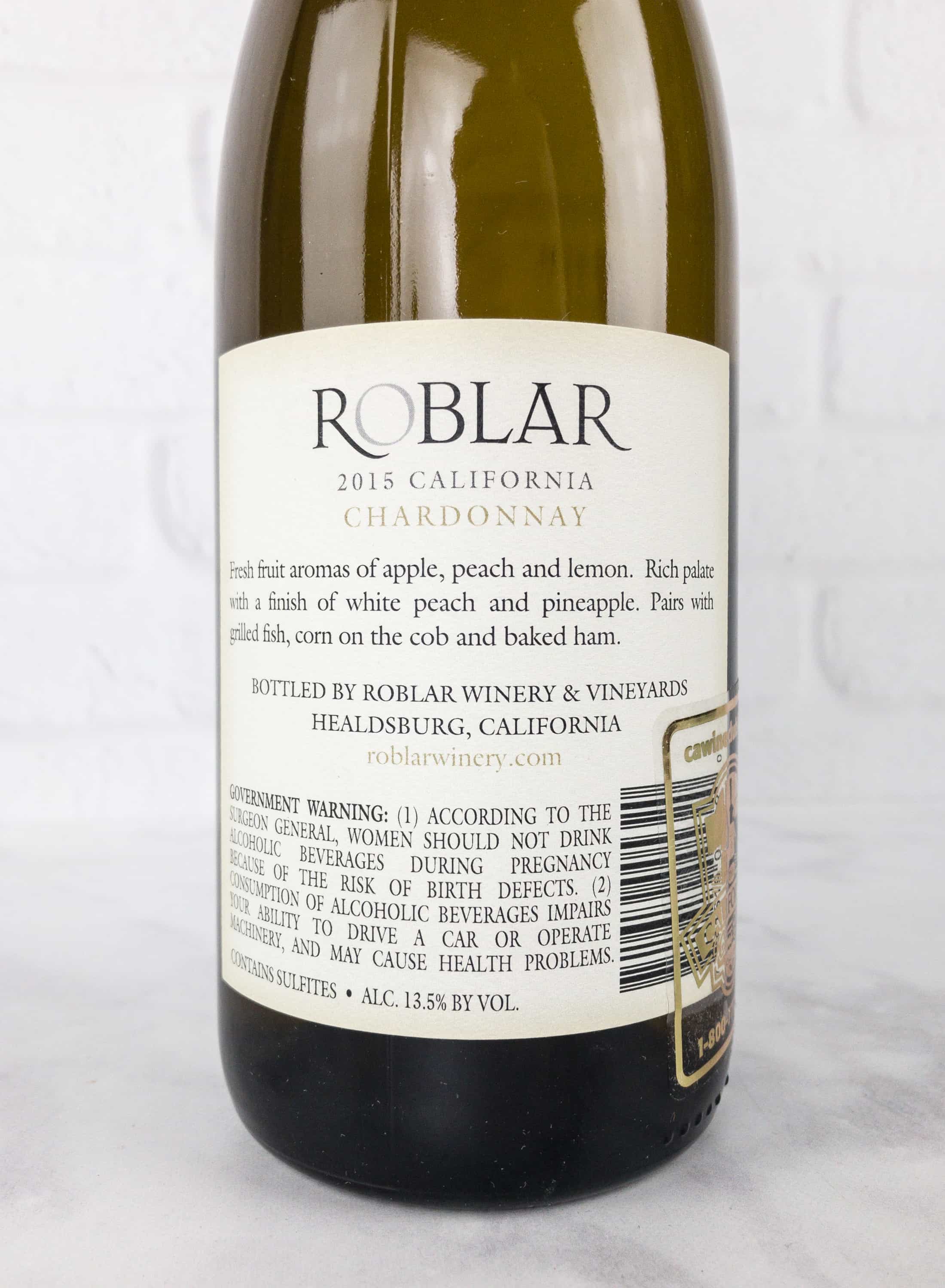 The wine is noted for it's versatility and numerous pairing options. It is emblematic of the Roblar approach to wine — make it enjoyable, accessible, and make it speak to everyone.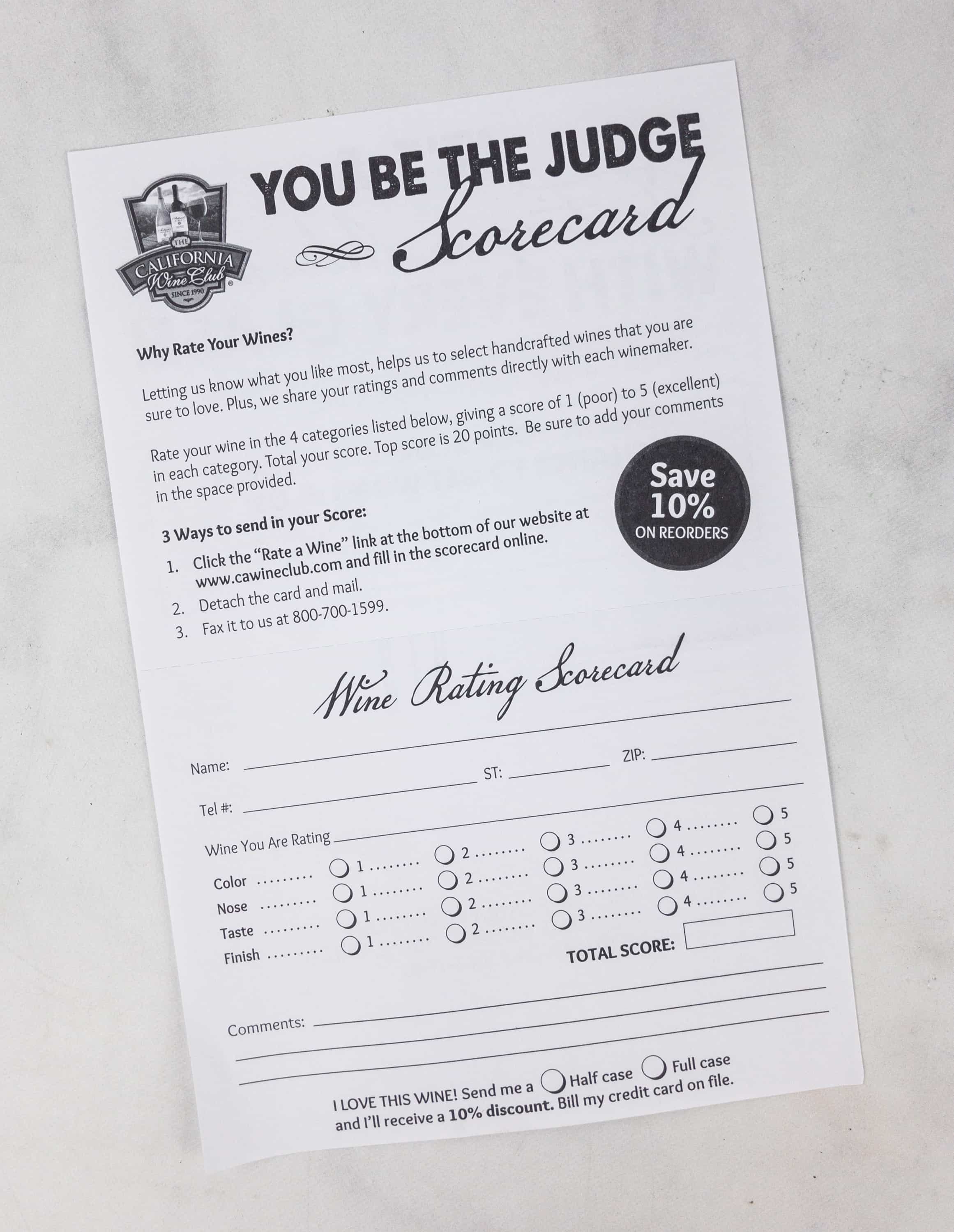 A rating card is included to help CWC continually evaluate its selections.
The Club is an ideal gift for any wine-lover. The selections are of superb quality, and you get to drink small-production vintages you may not otherwise get your hands on.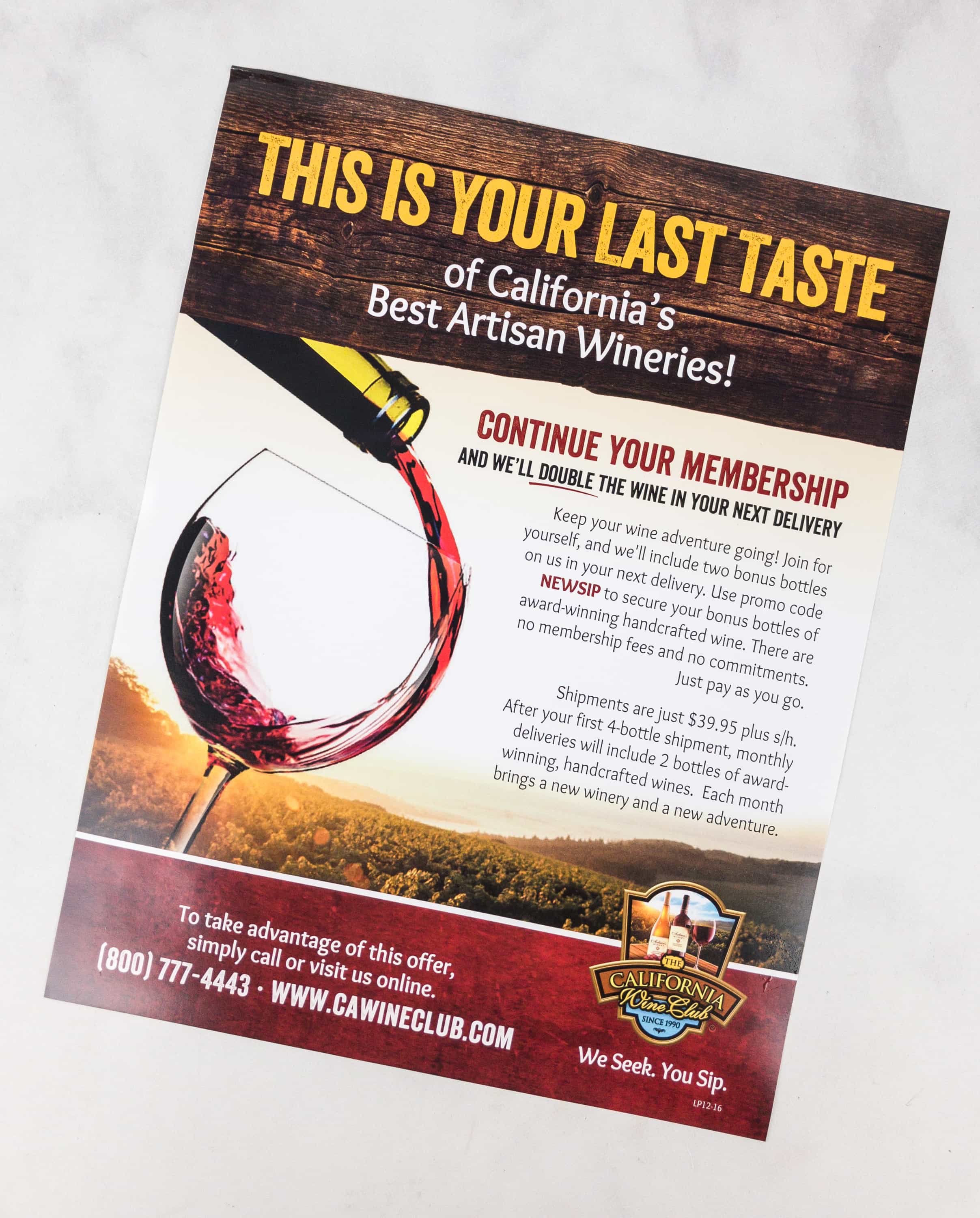 They also have an awesome renewal bonus, doubling your wine next month!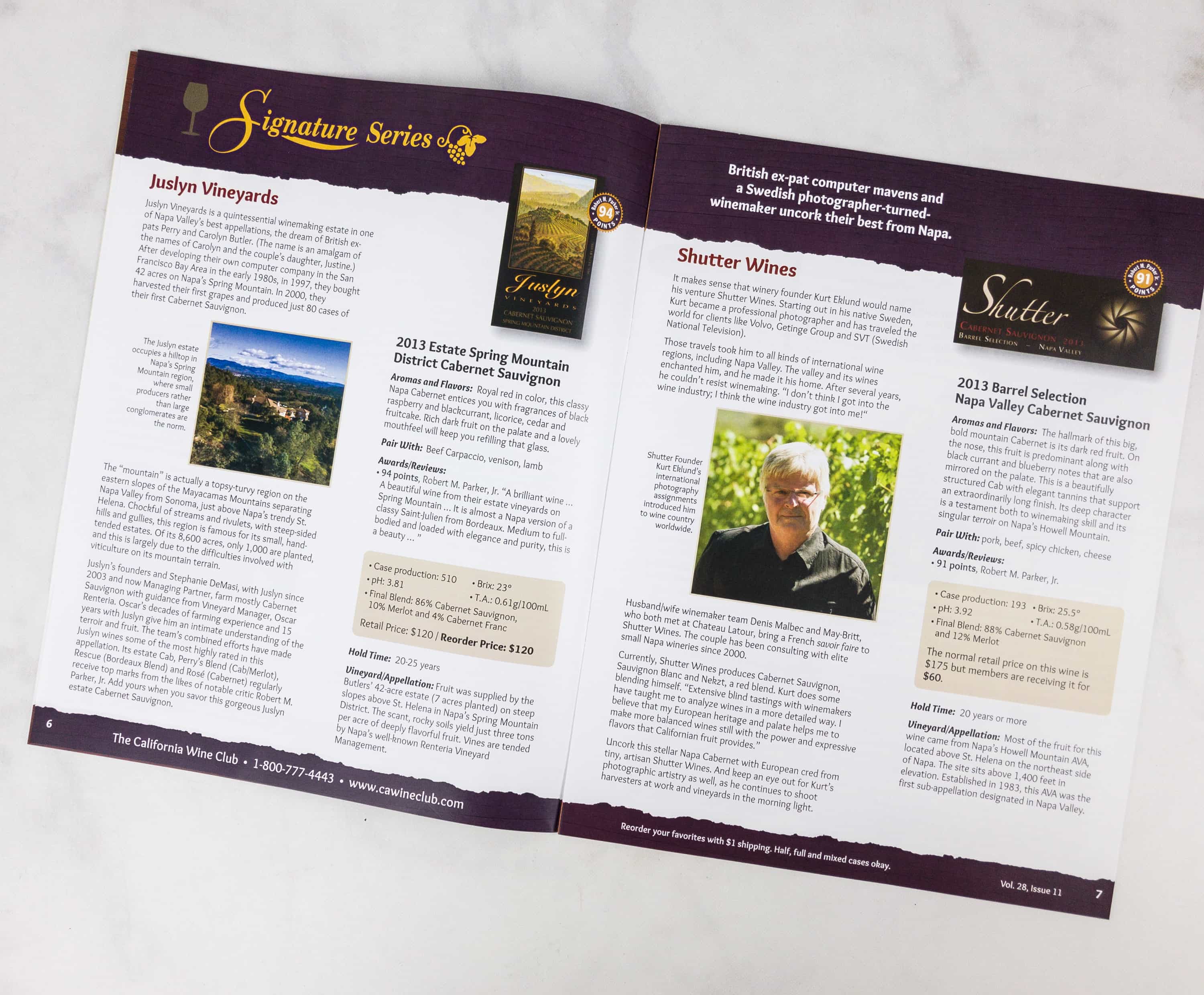 The magazine is a great read, and you can learn a lot about wine and winemaking just by reading through the entire issue. They include a full spread for each of the available wine series.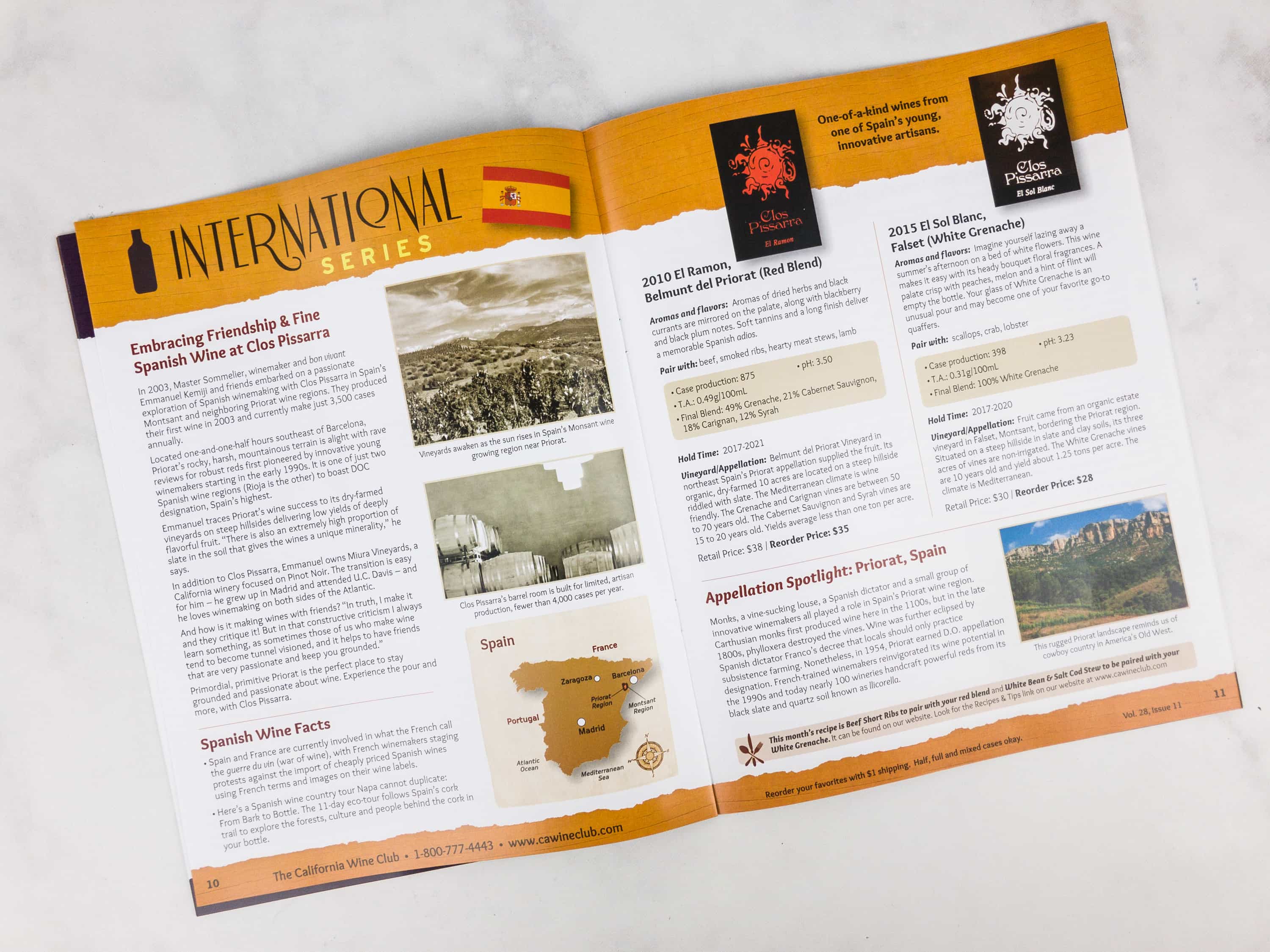 Don't let the name fool you — California Wine Club also has an International Series…
And a Pacific Northwest Series, too!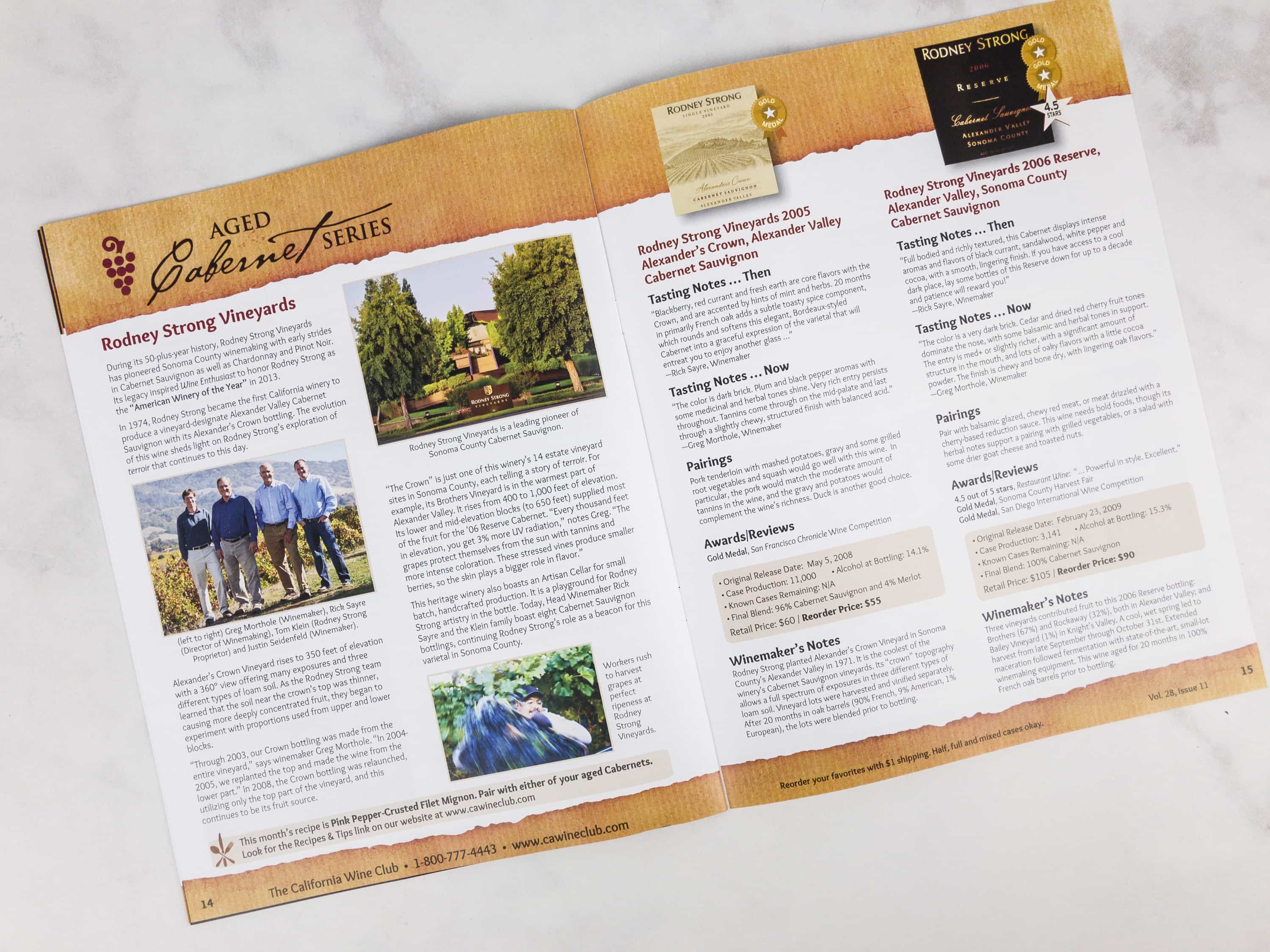 They even have a high-end Aged Cabernet Series for a real treat. I think it is very cool that they include notes from tastings both when first bottled and after several years aging.
We've always been exceedingly happy with California Wine Club's Premier Series wines. I love that they focus on smaller, high quality producers – they go off the beaten path, but they never sacrifice quality for novelty. The wine's are consistently top-notch, and I can tell that they taste each wine with an eye to overall enjoyability prior to committing to distribution. The magazine is truly a fun resource, too – the info on the selections is what you would expect to find, though it offers a few technical stats that are likely only appreciated by sommeliers. I like the consolidated format, because you get to see what wines are shipping in the other series from CWC. Maybe my favorite piece of info is the reorder price – some wines are offered to club members at half of retail price!
What do you think of the October box?