Boxed For You is a monthly care package tailored for either a student or a senior. It's a great way to close the distance between you and your loved ones, sending them thoughtful goodies and practical items to let them know you're thinking about them. The box is $55 CAD a month. Shipping in Ontario is $10 and to the rest of Canada is $15.
This is a review of the Student box! I was asked for my gender and birthday.
The information sheet is attached under the lid. It has a pretty wide variety of items! Several items are Canadian or UK brands so I have converted all prices to USD.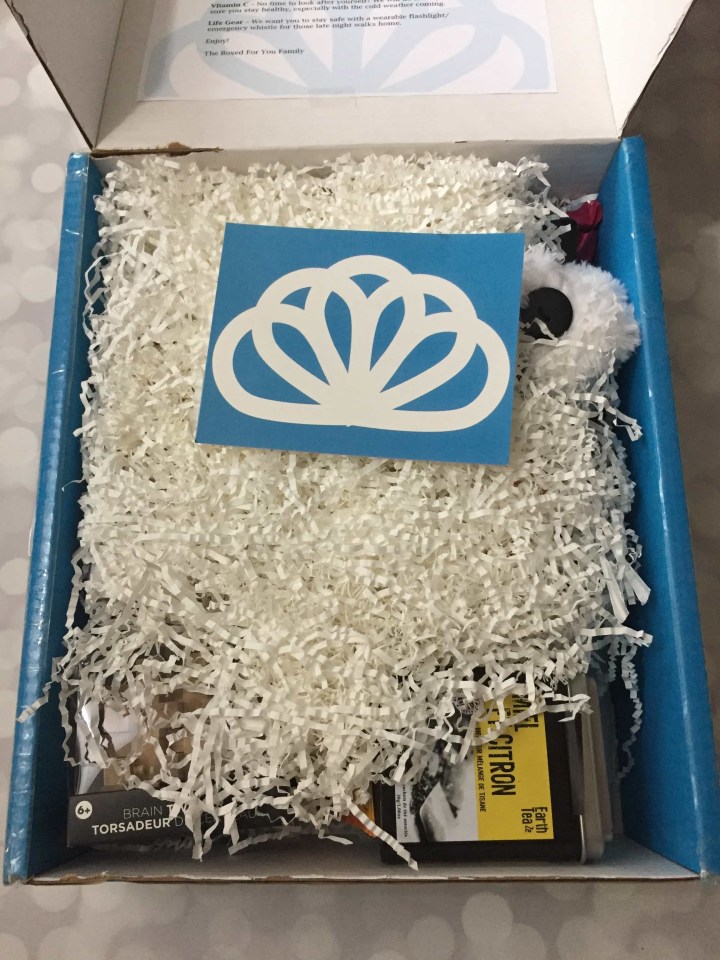 Everything is packaged in a mountain of paper squiggles which keep everything from shifting too much.
Each box allows for a special message for the recipient, which is a really nice and simple touch!
Studio Dry Hair Turban ($11) — I loooove hair turbans, and I needed a new one. This one is so soft and fluffy and will dry hair faster than cotton or even microfiber. It has a button to secure the turban until your hair is dry.
Coconut and Monoi Foaming Sugar Scrub ($4.70) — A 97% natural sugar scrub. This is a UK brand and all their products are free of parabens, sulfates, and are cruelty free.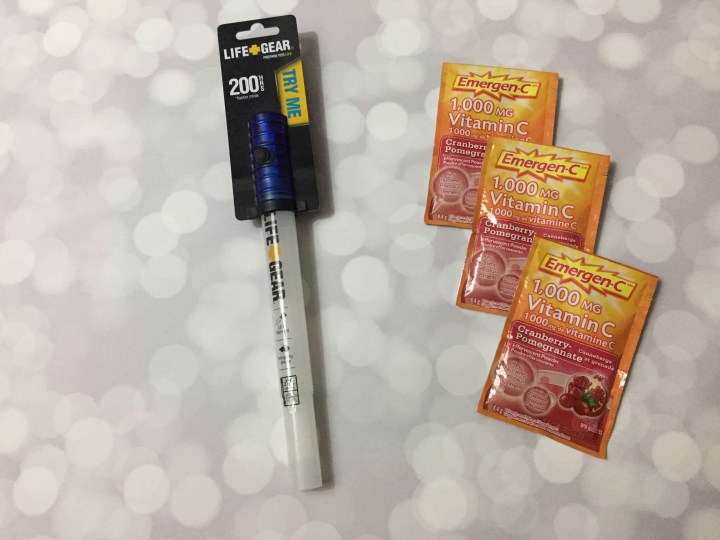 Life Gear Flashlight & Whistle ($7.99) — This is a very good item to include. It's a flashlist/glow stick/whistle combo. The flashlight can either light up the barrel like a glowstick, the head with an LED light, or both at the same time. It also does a flashing pattern. Additionally it includes an emergency whistle. A great item to have in your purse in case you're out after dark, whether it's on campus or just out and about.
Emergenc-E Vitamin C Supplements ($0.94) — An easy way to get your vitamin C in as well as a glass of water too! I hate plain water so I'm always adding in some sort of vitamin C or mineral. These also help ease the symptoms of a cold, and it's definitely that time of year.
Cranberry Seed & Nut Bar ($8.99) — Gluten free granola bars loaded with nuts and dried cranberries. Sweetened with brown rice sugar.
Honey Lemon Herbal Tea ($4.70) — A nice herbal tea to help soothe a cold, especially a sore throat. Warm and soothing, this is perfect for a chilly night.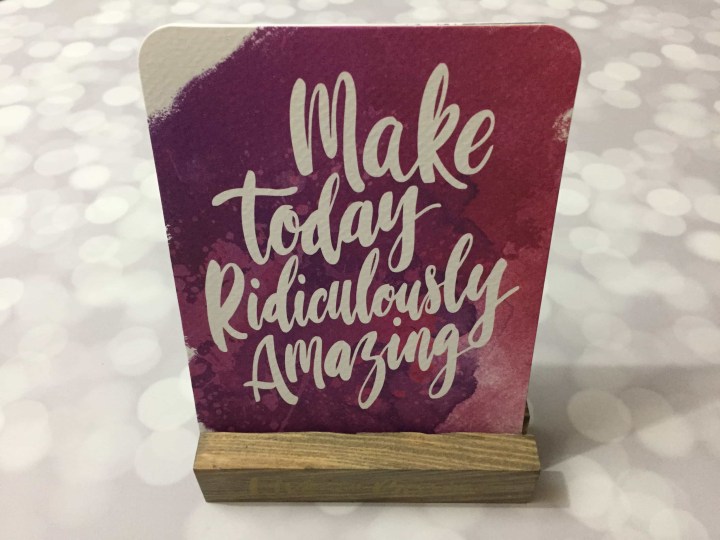 Motivational Desk Display ($17.99) — A super cute art display with six different motivational phrases. The cards are 8×10 so you could easily slot in a personal photo as well into the holder.
Here are the other cards!
Brain Teaser 3D Puzzle ($10.49) — I've linked a similar puzzle. I am soooo bad at puzzles like these… but they definitely get your brain working!
I enjoyed opening my box from Sent with Love. I think it would be a great gift for a student living away from home. The value I came up with is around $65 USD though it was hard to get an accurate value on a few items. I think the mix of beauty, practical, snacks, etc is a good rounded out curation and isn't too heavy on one area.
What did you think of the Boxed For You Student box?