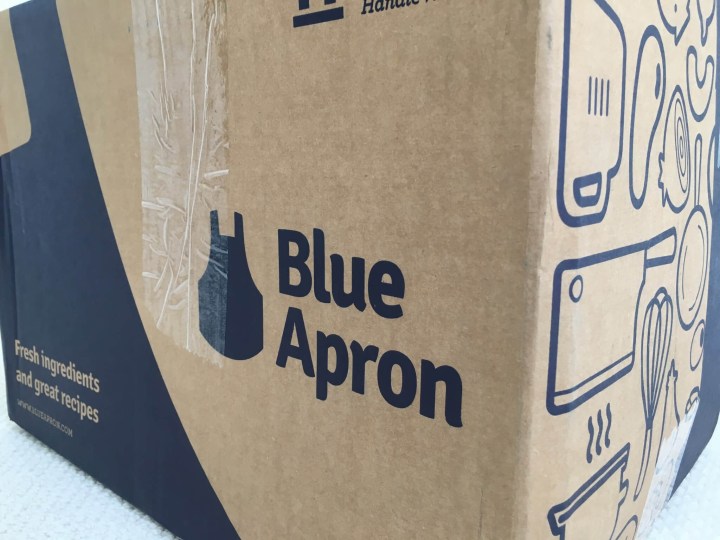 Blue Apron is a subscription box for making great meals at home. If you're like me, you periodically find yourself in a serious cooking rut. You make the same things every week, but the thought of researching a recipe and acquiring all of the ingredients is just too much work. Blue Apron is the solution! Each week, Blue Apron sends you a refrigerated box with all the fresh ingredients you need to make the included recipes. You can select the 2-person plan – 3 meals a week of 2 portions each – or the family plan – 2 to 4 meals a week of 4 portions each. The menus are set, but you can ask Blue Apron to avoid ingredients you don't eat – shellfish and lamb, in my case.
We got the Family Plan for 2 meals. I set the delivery date and it arrived right on time, securely packaged in a heavy-duty box. All of the ingredients are wrapped in an adorable insulated blanket and cooled with ice packs. Mine took a day to arrive and sat on my porch for 3 hours, and everything was perfectly cool inside.
Pricing: 2-Person Plan – $59.94 for 3 recipes. Family Plan (serves 4) – $69.92 for 2 recipes, $139.84 for 4 recipes. 
The box is generally divided by meal, which reduces time needed to sort the ingredients. Nice! Though I am sometimes puzzled as to what goes into the bags (black beans, tomatillos) and what doesn't (udon noodles).
DEAL: Save $30 on your first order! Use this link – no coupon code required!
The meat is at the bottom, surrounded by still-frozen gel ice packs. The chicken package was also bagged in a zip-top bag, so no concerns about leakage. The produce was all in good shape this month, as it has been for the last few. Great!
To celebrate its 5 year anniversary, Blue Apron is rolling in some customer favorites from years gone by. The first of our recipes was one of these, the Cheesy Chicken &  Black Bean Enchiladas with Salsa Verde. Anything enchilada-related is a hit at my house, so I knew this would be good. We made it on Saturday to go with our college football.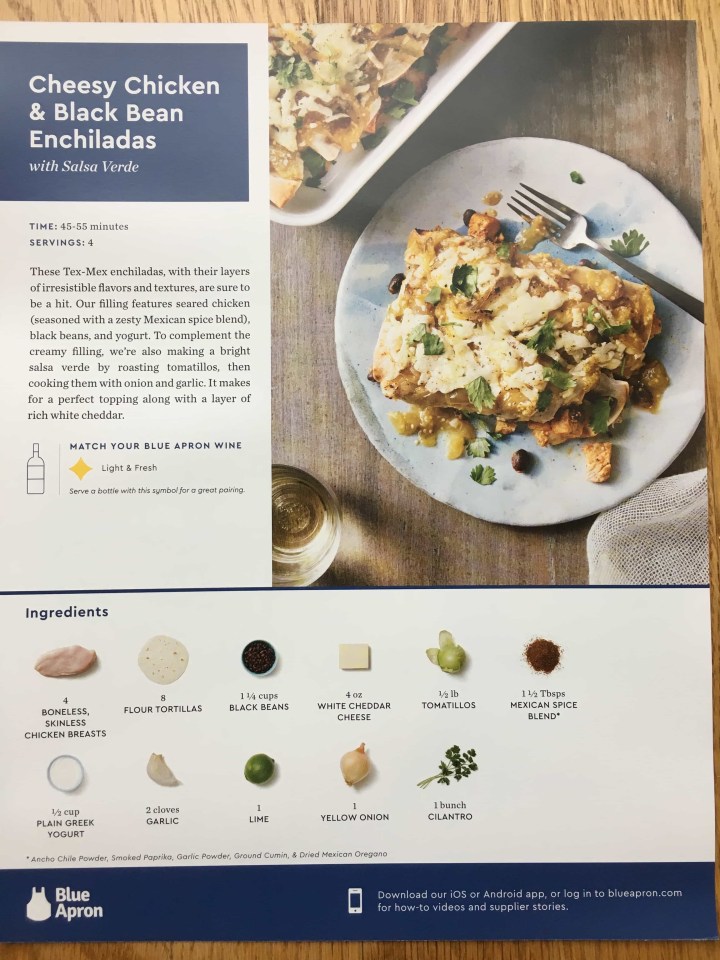 As usual, all of the ingredients were included. Nothing too exotic here, except maybe the tomatillos, depending on where you live. The chicken is hormone-free and humanely-raised.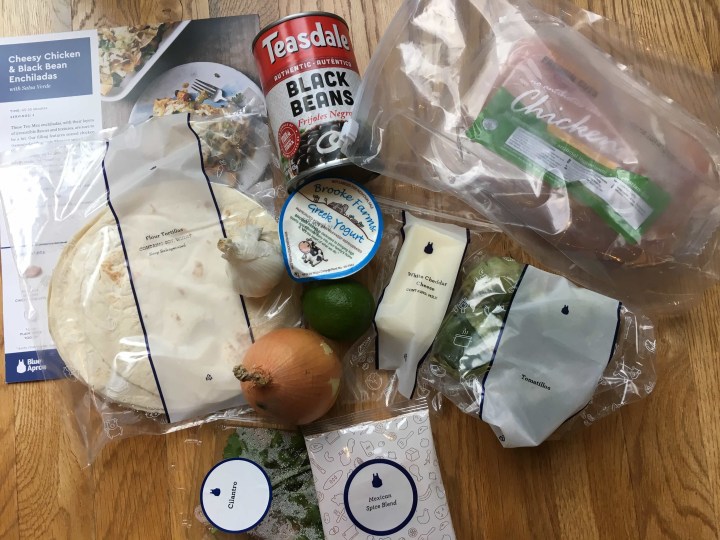 The meals come with nutrition info and ingredients. Know what you're eating!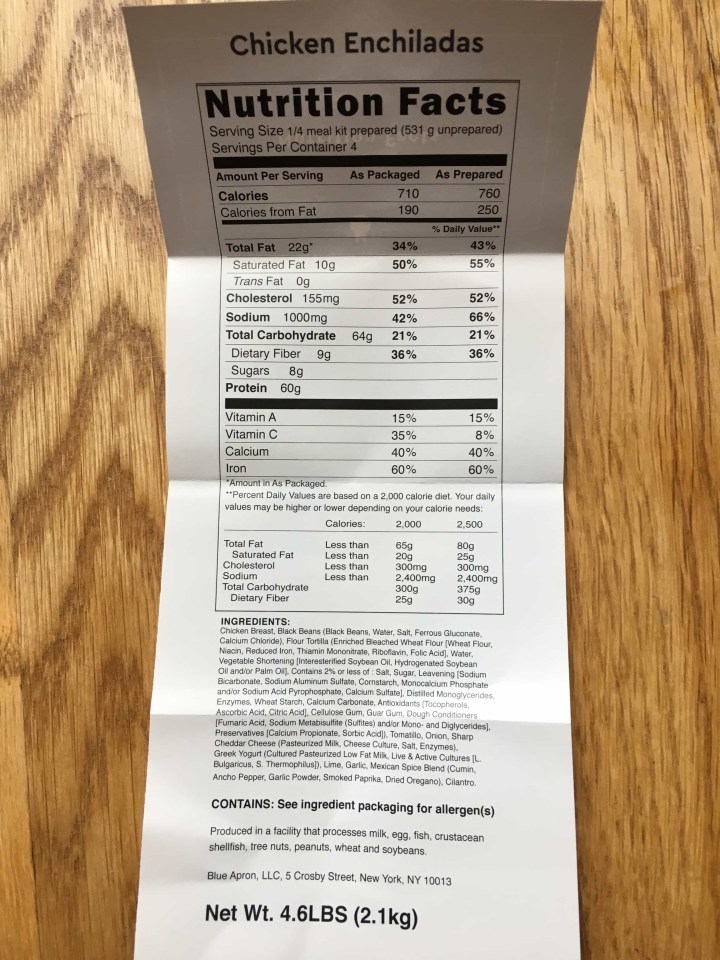 All of the directions are straightforward. This prep was fairly intensive in time, but nothing was difficult about it. I baked the chicken breasts earlier in the day instead of trying to cook them on the stove while other things were going on. 30 minutes in the oven unattended for even cooking beats pan-cooking any day.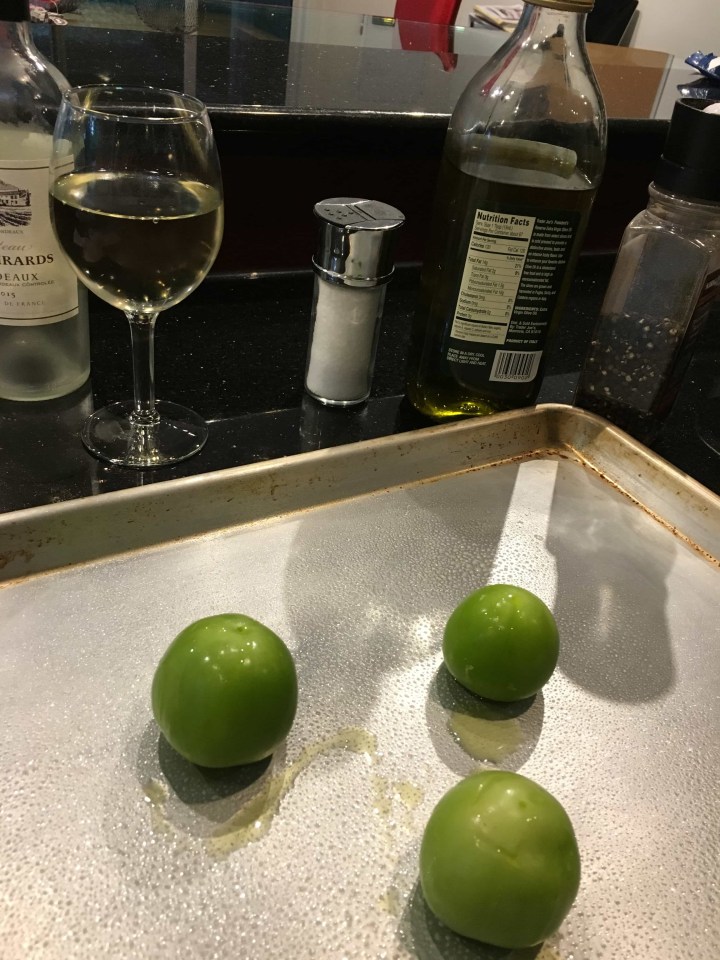 Roasting the tomatillos whole was kind of funny-looking, but it worked. And, yes, that's a Blue Apron wine subscription glass of wine over there.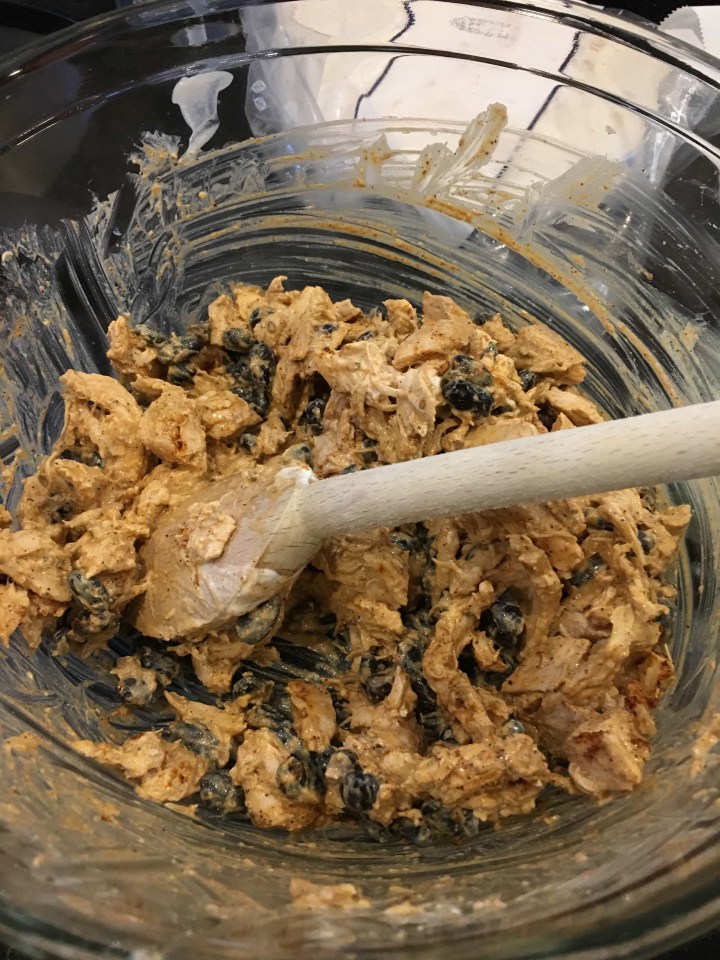 The filling for the enchiladas was just chicken, beans, yogurt, and the spice mix. This is definitely a recipe you could make on your own, but that's the great thing about Blue Apron — it wouldn't have occurred to me to try it until I saw how easy it is.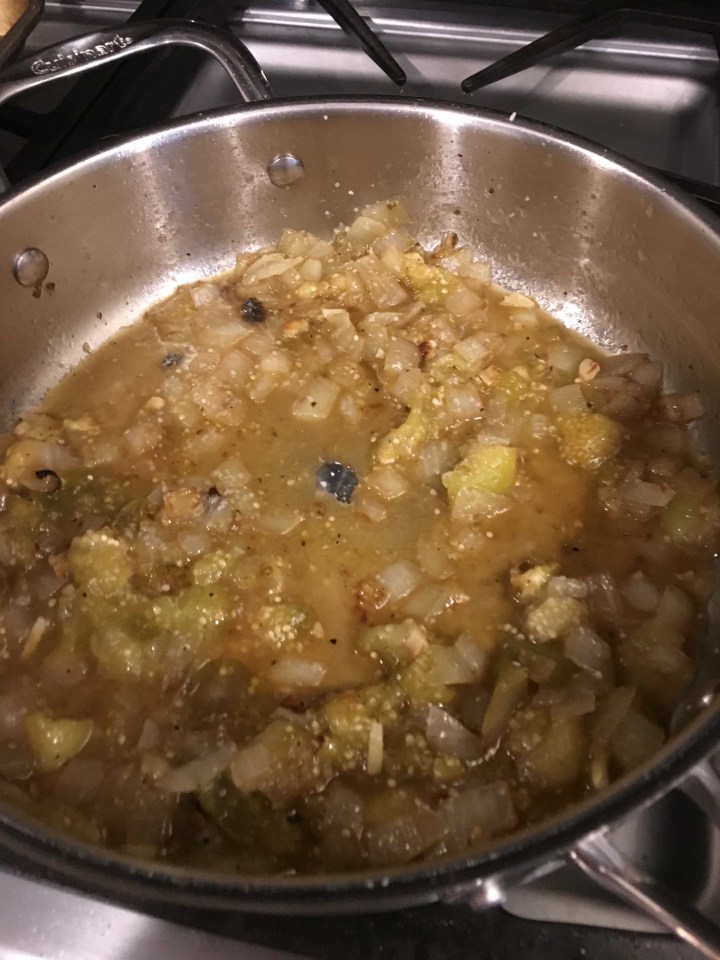 The homemade salsa verde was tasty, if a bit onion-heavy.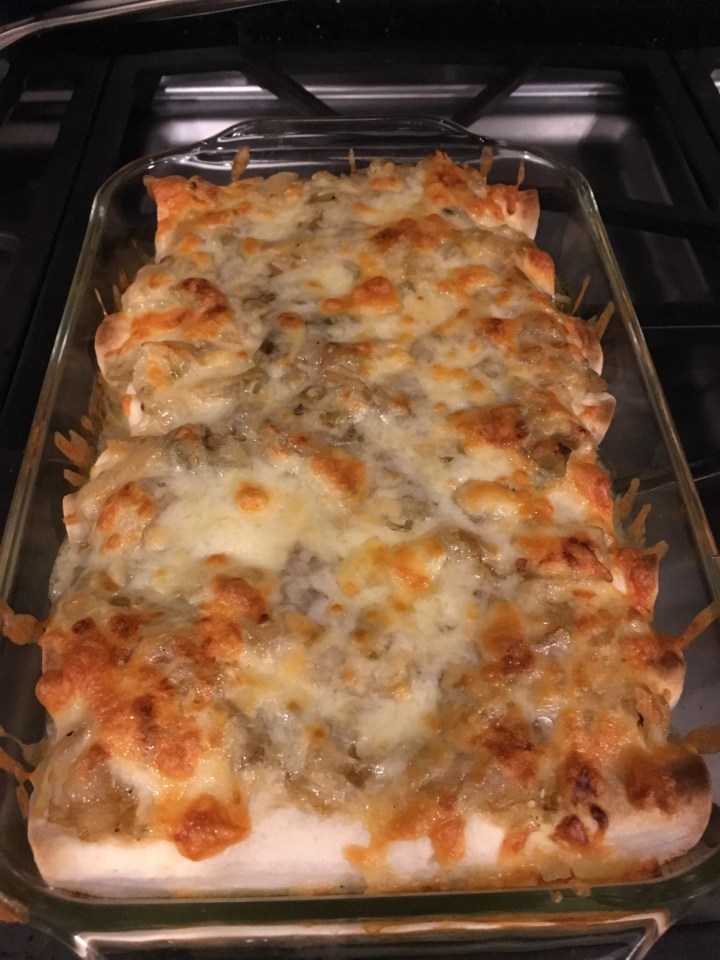 I mean, how amazing does that look?! I hit it with the broiler for the last few minutes of heating through to get that nice browned top.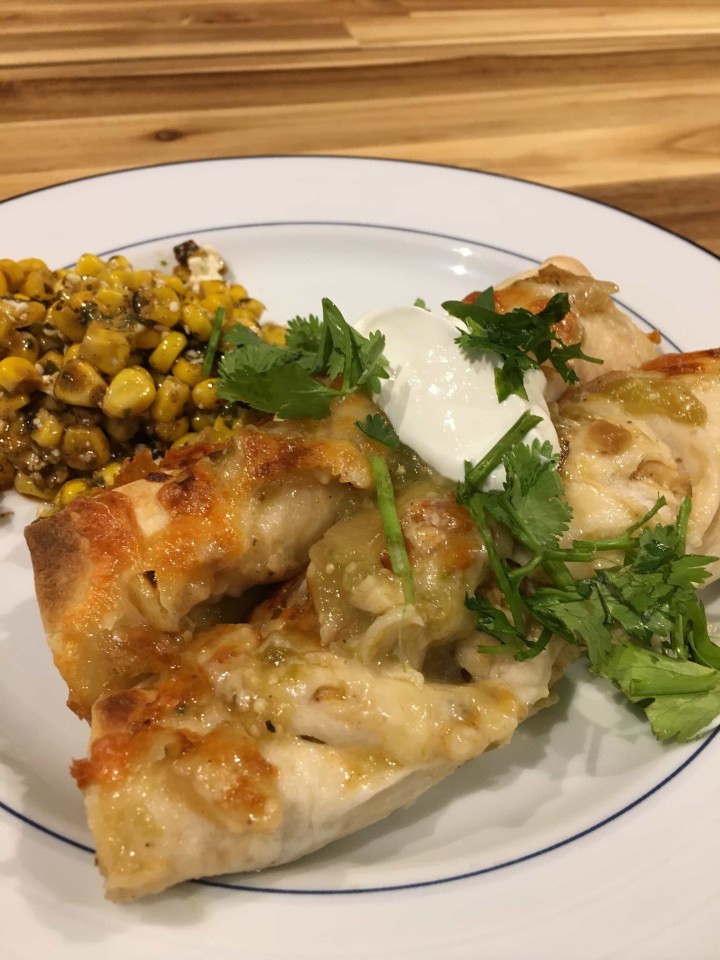 These were terrific! One of the best Blue Apron meals I've had. We added a little cojita street corn on the side, because I like some obvious vegetable matter on the plate. We had plenty of food for leftovers the next day. Two thumbs up!
Our next meal was a little out of the box for us with the Bok Choy & Sweet Pepper Lo Mein. This meal was advertised as a 30 minute prepper, so I made it on a busy Tuesday night after soccer practice.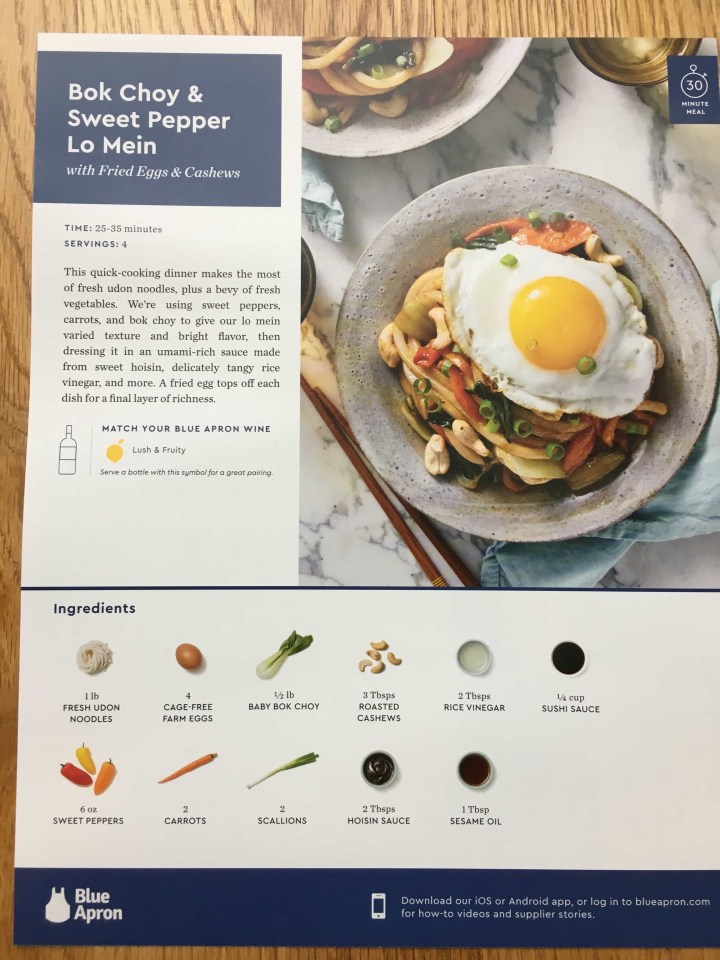 Lots of tiny bottles of sauce for this one, which you combine to make one big bowl of sauce.
As usual, Blue Apron does a great job of sending you just the amount you need for the recipe, so you don't waste anything; nor do you have to think about how much to add to the recipe. My kids were a little disappointed to find out that "sweet peppers" are not some new exotic varietal, but just baby non-green bell peppers. (Smaller package, same amount of seeds! Not my fav to prep.)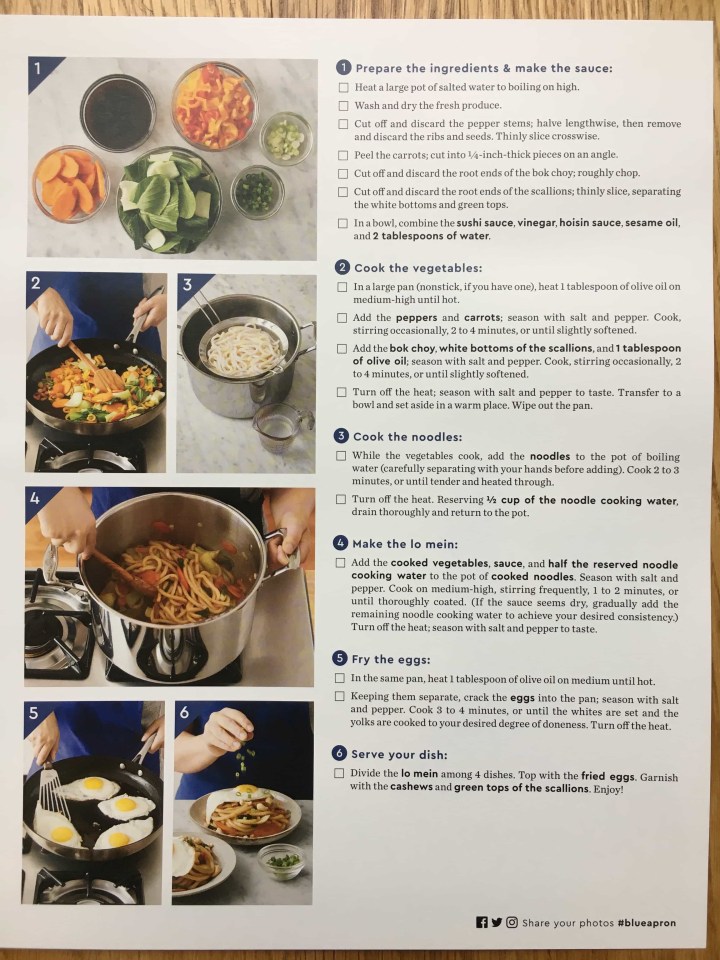 Each recipe comes with these easy-to-follow instructions. Even if you are new to knife skills, you will be able to do everything on this list. Use kitchen shears to save yourself some heartache on chopping the bok choy and green onions.
No eats a bowl of pasta because they thought about the nutrition facts. Yes, that sodium is pretty high.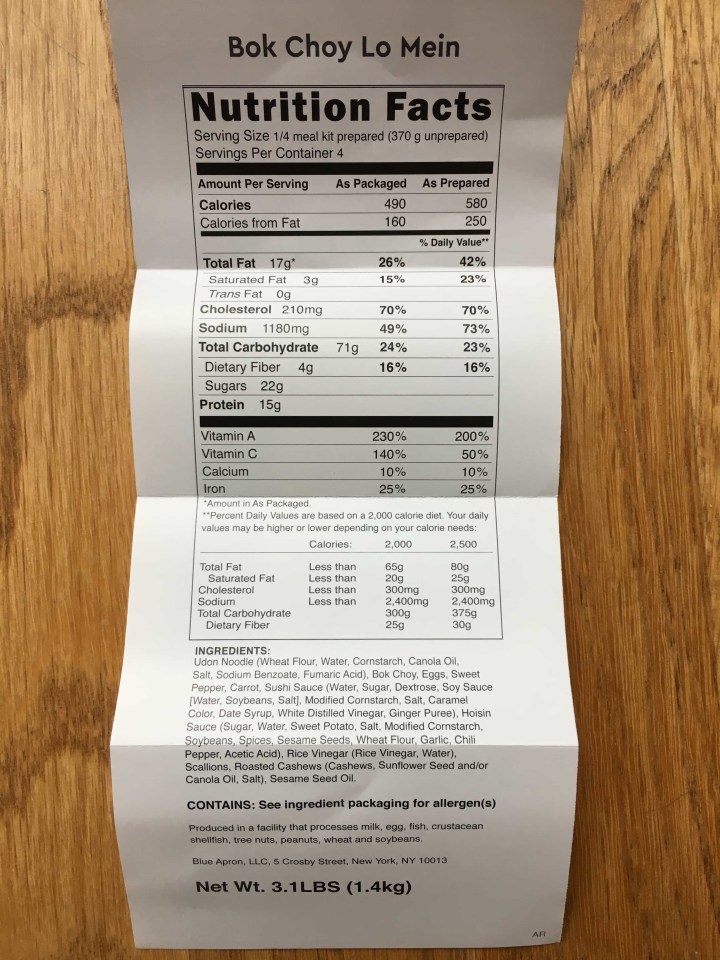 This meal was straightforward to make. Let us take a moment to contemplate the fractal beauty of the tiny bok choy leaf.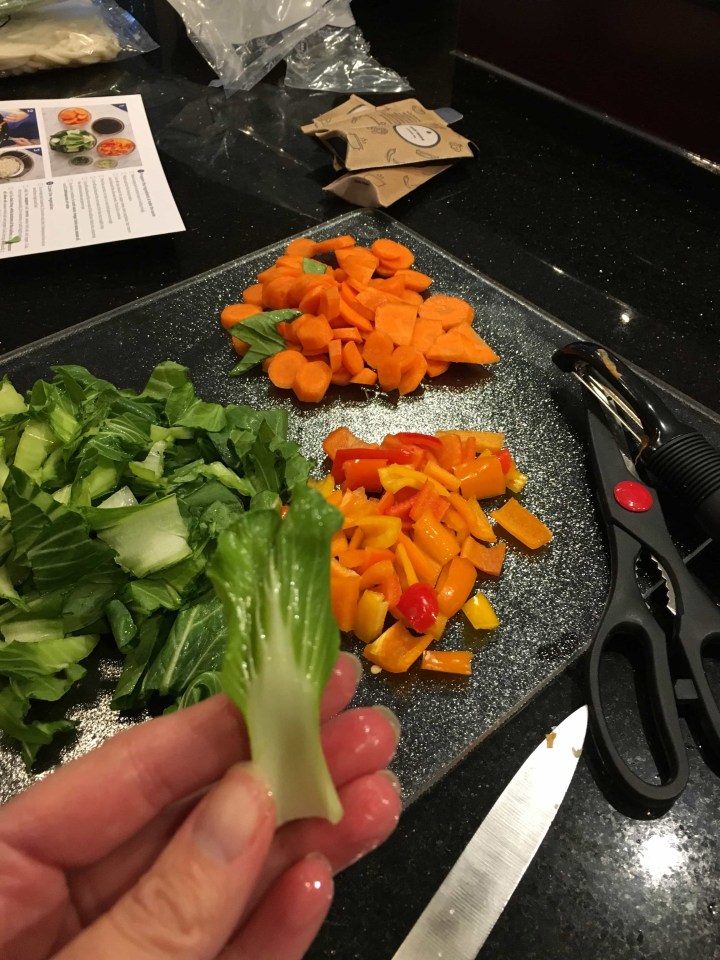 Got the husband to toss the veggies with the noodles and sauce while I fried a couple of eggs. I'm so glad eggs are okay to eat again!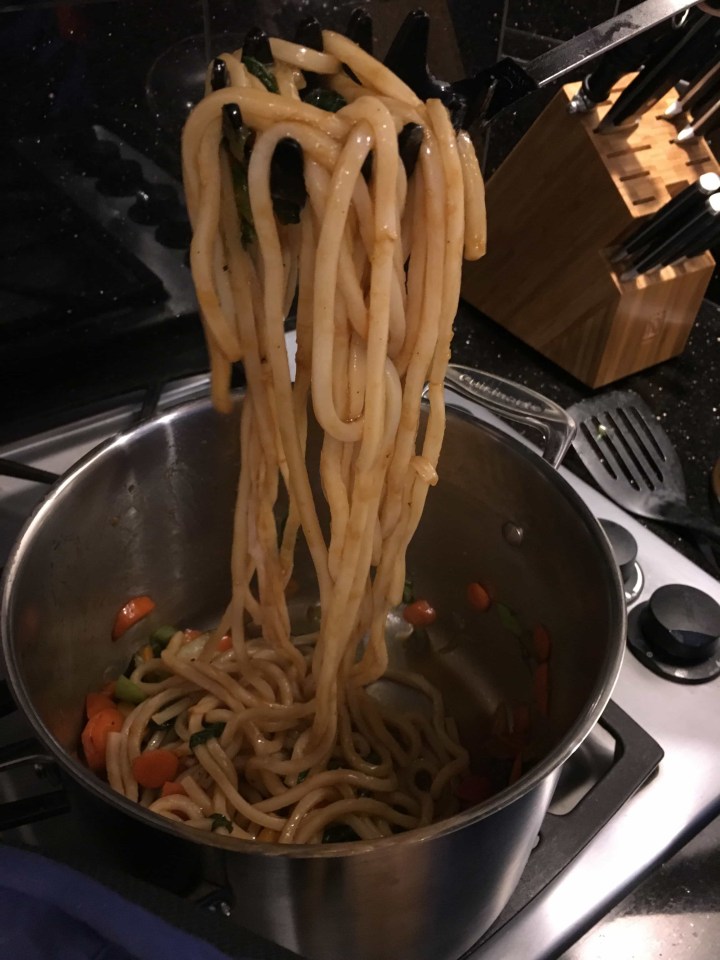 This was really tasty! I mean, it's noodles with salty-sweet sauce and a fried egg on top, right? My husband wasn't really expecting to like this, and he did! That said, it's probably not quite enough veg for the amount of noodles in the recipe. I pulled some of the noodles out to use in another recipe later this week (love an udon noodle!) and it still felt too carby to me.
That said, the flavors were great, and it was fun to eat something a little different. If you could lay your hands on an easy sub for the sauce, you could make this any day of the week with frozen veg and the pasta in your pantry. Great ideas in the box this month.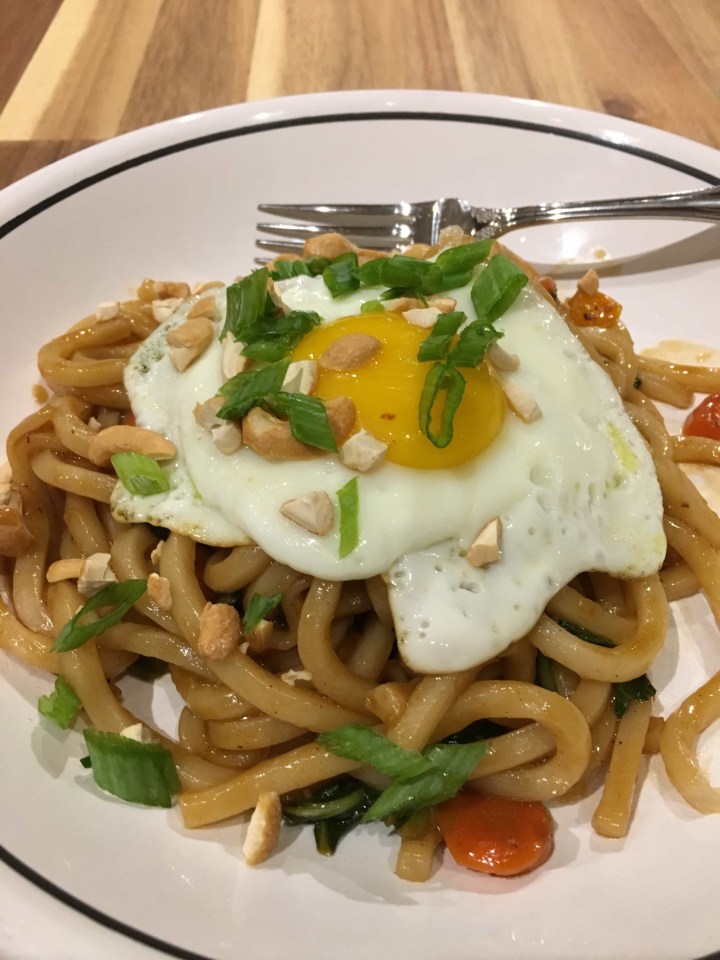 Hey, did you know that Blue Apron has a wine program now? It's super easy to match your wine to your meal, even if the wine is new to you, like that tasty L'Atelier white I had with the enchiladas.
It's nice to not have to decide "what's for dinner" all the time. Overall, Blue Apron has been enjoyable and gets us out of our boring dinner routine. Honestly, you can forget how fun cooking can be. Interesting ingredients, easy recipes, and delicious food. We can't wait to see what we get next time!
Are you back on the eat-more-eggs train? Let us know in the comments below!