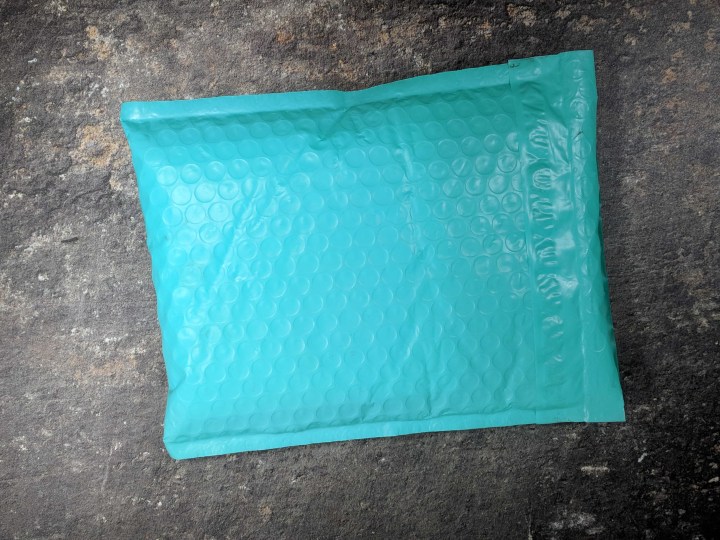 Bargain Bead Box is a monthly bead subscription service. Each month, you'll receive over $40 worth of top-quality jewelry supplies. It can be a mix of loose beads, bead strings, findings, and pendants. You can share your creation on their social media for a chance to win a $25 gift certificate for their sister store Bead Box Bargain. Boxes are $15.95 per month. Shipping is free in the US and $7.50 to Canada. Even if it's technically a subscription box, it comes in a teal bubble mailer, which is less expensive than a box so they can send more beads! And more beads is more fun!
All the beads are packed in well-labeled plastic bags and tucked inside an organza bag. On the reverse of the introduction letter (that I have misplaced this month), we get a description of all the items in this month's box, with some gemstones once again!
Each month is curated around a different theme and all the beads and findings are coordinated. This month's theme is "Steampunk Style," with Antique Copper Finish Findings! You also get a discount code for their sister store. I've used it a couple of times and it's totally worth it!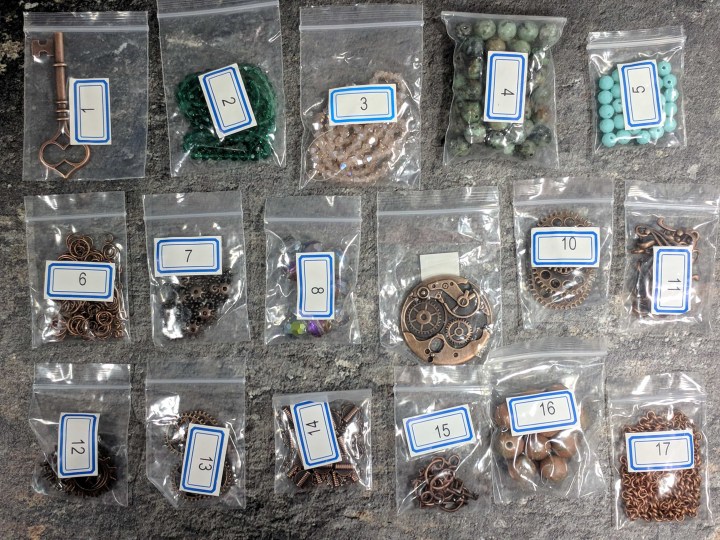 This is such a pretty palette! I love teal, turquoise and antique copper.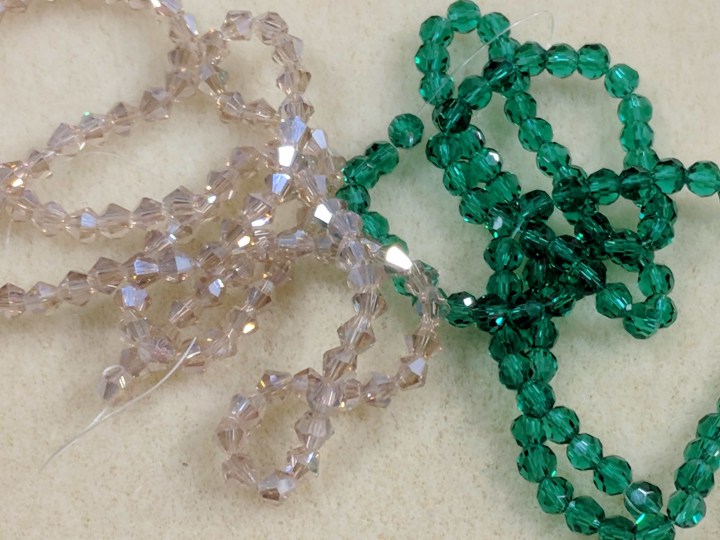 98 Pcs 4mm Chinese Crystal Round Beads, Teal. This is more of an emerald colour than teal, but it's a lovely colour nonetheless! We usually get a lot of bicone crystal with this subscription, so it's nice to have different shapes once in a while. They would had lovely contrast to all the antique copper we got in this box.
100+ Pcs 4mm Chinese Crystal Bicones, Wheat AB. 4mm Bicones are a staple in this subscription, and I love the light colour of this one. Once again, bicones are so versatile to add a lot of sparks in any design, without being too much.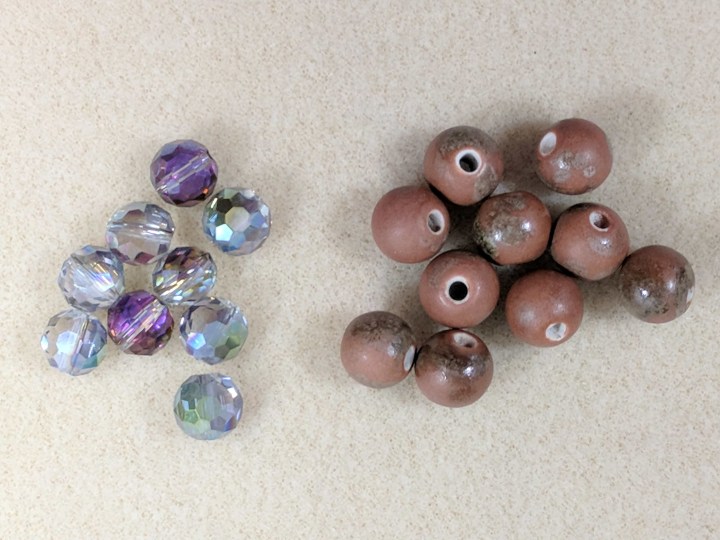 9 Pcs 10mm Chinese Crystal Coin Beads, Vitrail. One side is grey, and the other side is a lovely purple. They are slightly flat, and would make nice earrings! 
10 Pcs 11mm Dual-Glazed Ceramic Round Beads. They almost look like terra cotta beads! I like the earthy tone with the copper, and the hole is big enough to thread cord trhough them for a boho design.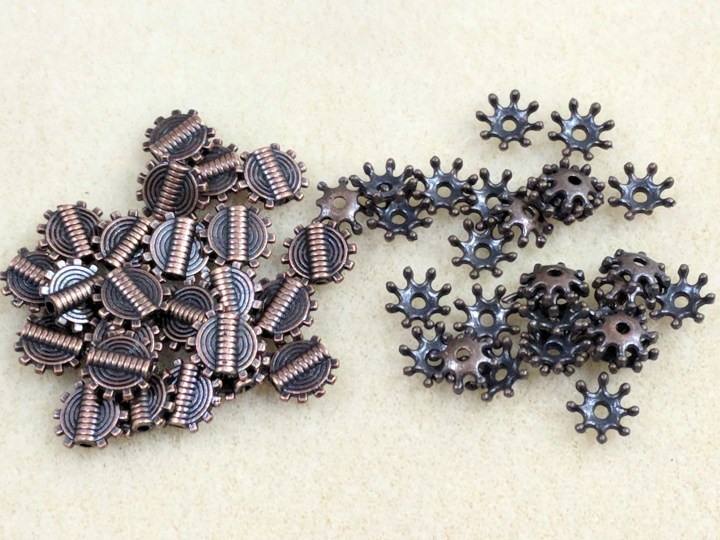 30 Pcs 8 mm Dotted Bead Caps. Don't they look like little round gear? They fit perfectly on top of the ceramic beads and the gemstone beads. They are fun and bead caps always add a finishing touch to beads!
24 Pcs 9.5mm Industrial-Style Spacer Beads. Spacer beads and bead caps are staples in Bargain Bead Boxes, and they are always perfect for the theme. These ones look like gear, with a spring or a pipe in the middle. I was thinking of using them as links, but I ran out of antique copper head-pins and wire…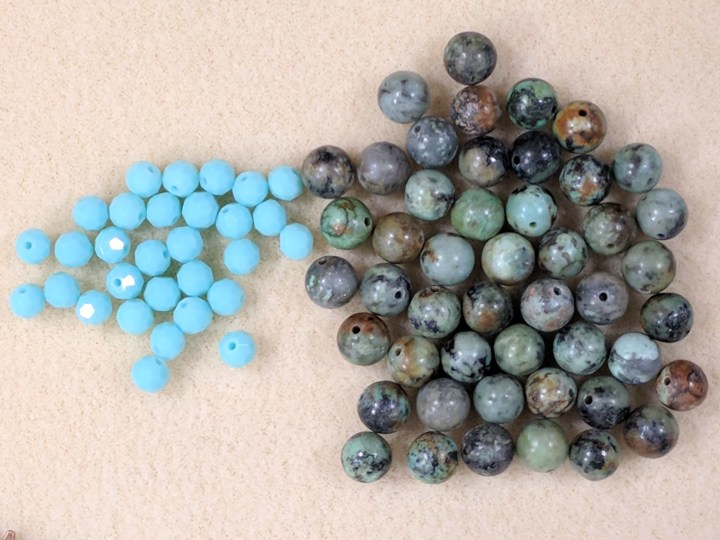 48 Pcs 8mm African "Turquoise" Jasper Round Beads. I love gemstones, and even though these ones are not actual turquoise, they are a type of jasper, I love how they can replace turquoise in vintage designs. The bead caps fit them perfectly, and gemstones are so versatile to ground a design, to make it more earthy even when also using very sparkly faceted beads.
30 Pcs 6mm Chinese Crystal Round Beads, Turquoise. Like the bicones and the other round beads we got in this month's box, these beads are versatile and will brighten up a heavy design. All the copper can be dark, while these cute beads will make it more airy and fun.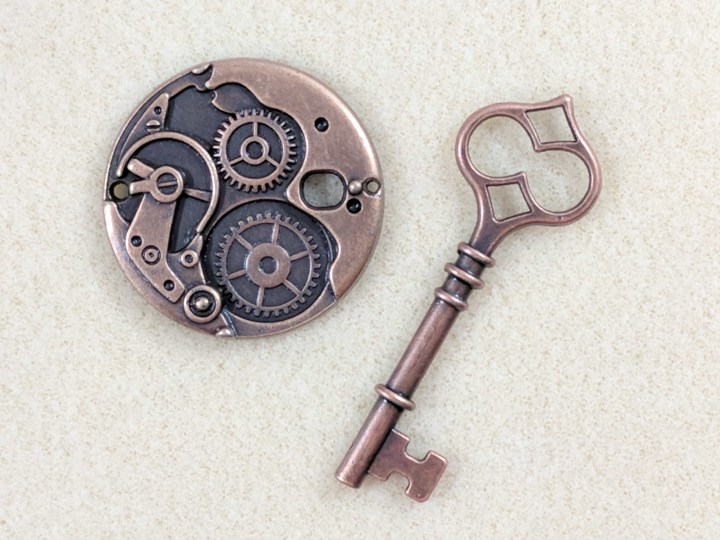 60 mm Antique Style Key Pendant. I love keys, I want to work with keys, but it seems like I'm just adding them to my collection without doing anything with them, waiting for THAT moment!
38mm Steampunk-Style Round Pendant. This is an interesting pendant. It has so much details that I wish that the "components" would freely move! There's hole on the top and bottom of the pendant, so you can hang chains from it, or could be used as a central pendant on a chain instead of a pendant.
10g Mixed Size Copper-Finished Steel Jump Rings. We don't usually get jumper rings, but I'm so glad we did! I love the variety we received, it really helped me with my design as I find antique copper jump rings harder to find in my local bead stores. They were also of good quality, with both side aligning perfectly with each others. 
1m of 4mm Steel Rolo Chain, Antique Copper. Most of the time, we also receive chains, and this one is fun and surprisingly light! I was able to use it all in this month's necklace without feeling like I was getting chocked by its weight!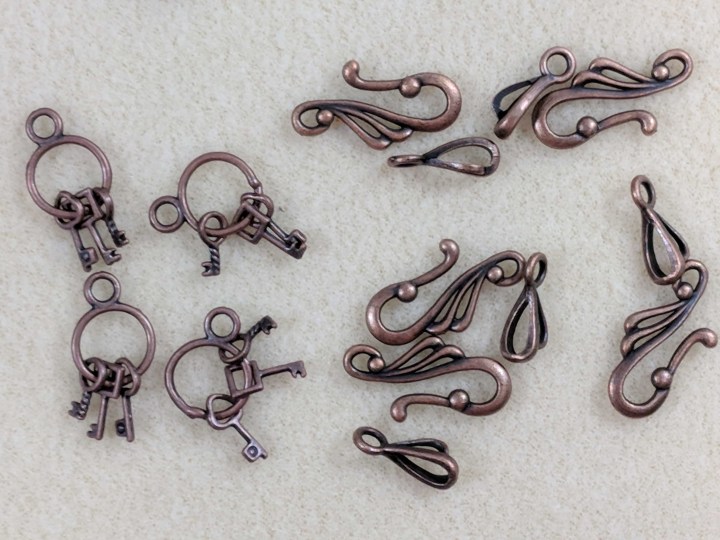 3 Pcs 27 x 12mm Key Ring Charms. All three little keys are different, and they are so cute! They can be used as pendant, or for earrings!
5 Sets 25 x 16 mm Fancy Swirl Hook and Eye Clasps. We always get some form of clasps to finish up a design, and although these ones don't scream "STEAMPUNK", they are lovely! I can see myself using them with leaf charms and green beads for a fall look.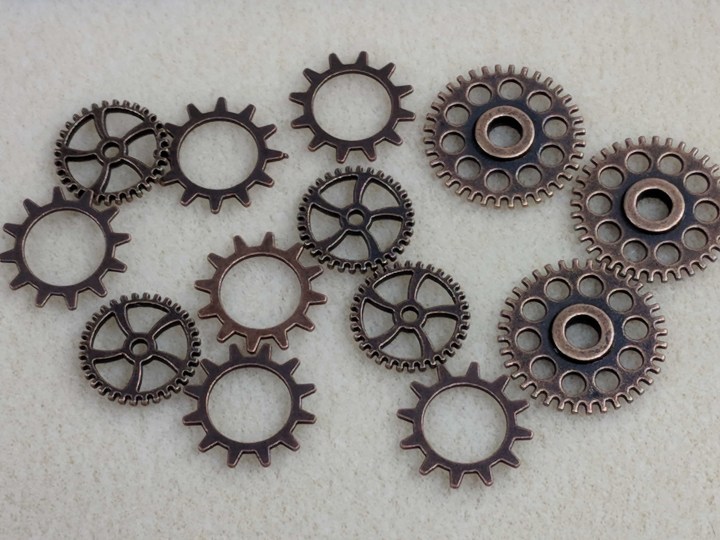 3 Pcs 26mm Gear Findings, 6 Pcs 20mm Gear Findings, 4 Pcs 18mm Gear Findings. It wouldn't be a steampunk inspired box if there were not gears involved! I love all the details on each of them, and they would make fun earrings (mine didn't turn well though…) and some of them could be glued together for a chunkier pendant or statement piece.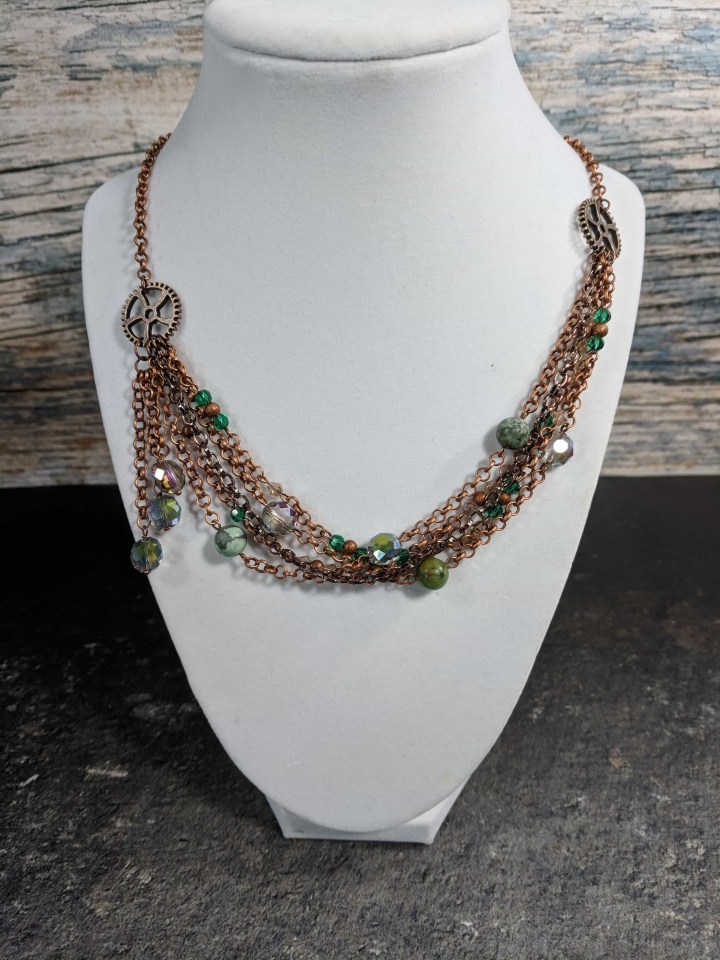 Even though I like the Steampunk Esthetic, I have a hard time coming up with something even remotely steampunk, so I went with a design I love to do: lots of chains! I made links with the wheat colored bicones and the teal round beads, that I added to a lot of chains. I also did the same thing with some of the gemstones and the coin beads.
I love how every month, the theme is well represented through all the beads and findings. This month was quite heavy on the metal, and I was happy to get jump rings for a metal I'm not using that often!
What did you think of this month's Bargain Bead Box?