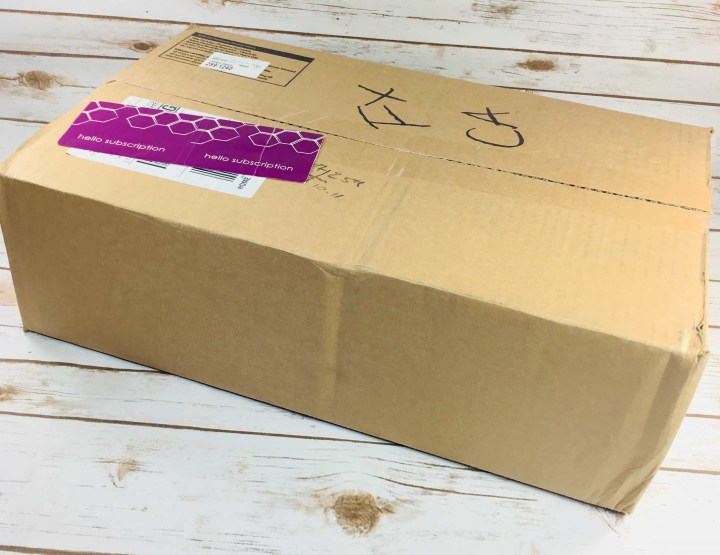 Wine Awesomeness is a wine club subscription box – great wines thoughtfully curated around a fun theme. You can choose reds, whites, or mixed. You can adjust your preferences to style, frequency, and even skip a month right in your account. The 3-bottle box costs $45, and the 6 bottle box is $75.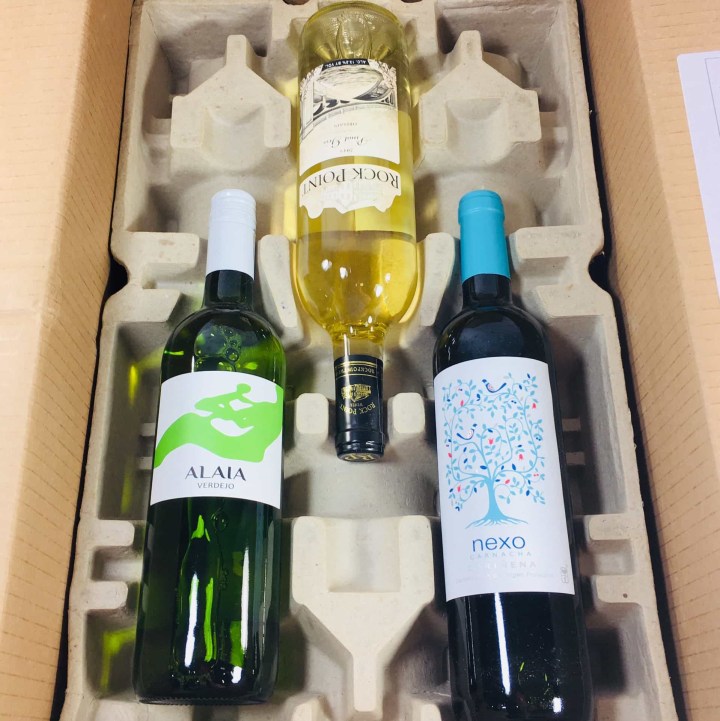 DEAL: Get $10 off your first club 6-pack box! Use this link and coupon code YAY10to get the deal.
I go through one bottle of red and one bottle of white wine a month so the Variety Box is the best choice for me!
October's theme was Book Club. Each wine was paired with a book, which seems like a book club meeting in the making!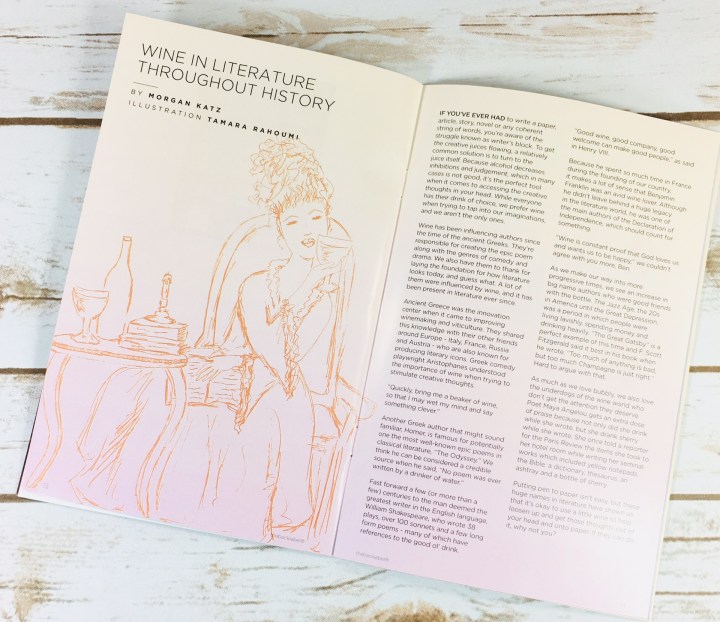 The Back Label is a mini-mag full of cool stuff – full-page intros with details on the wines, paired recipes for each, and even several articles on the theme and its relation to wine culture. I'm a newbie when it comes to wine appreciation and enjoy the insight this helpful magazine provides.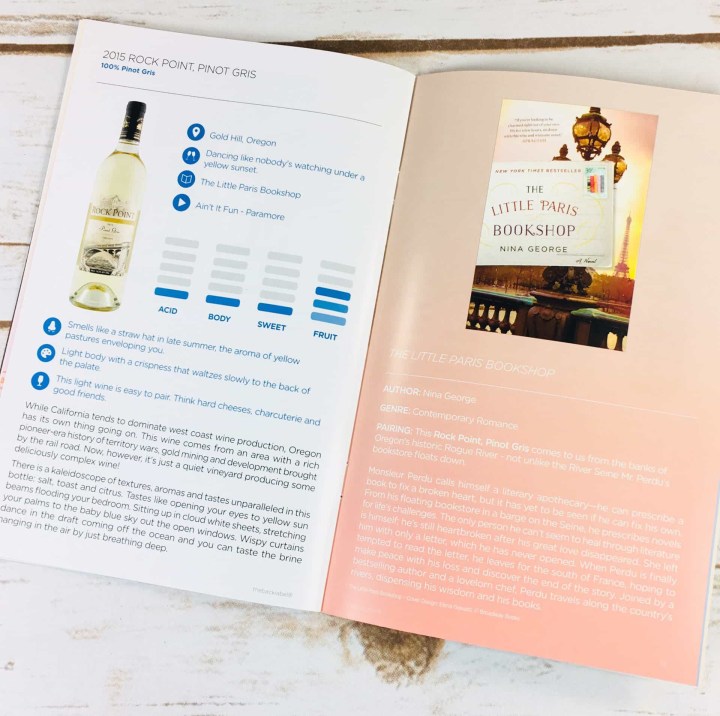 This month skipped the recipes and paired the wine with books instead. I added a couple of them to my reading list!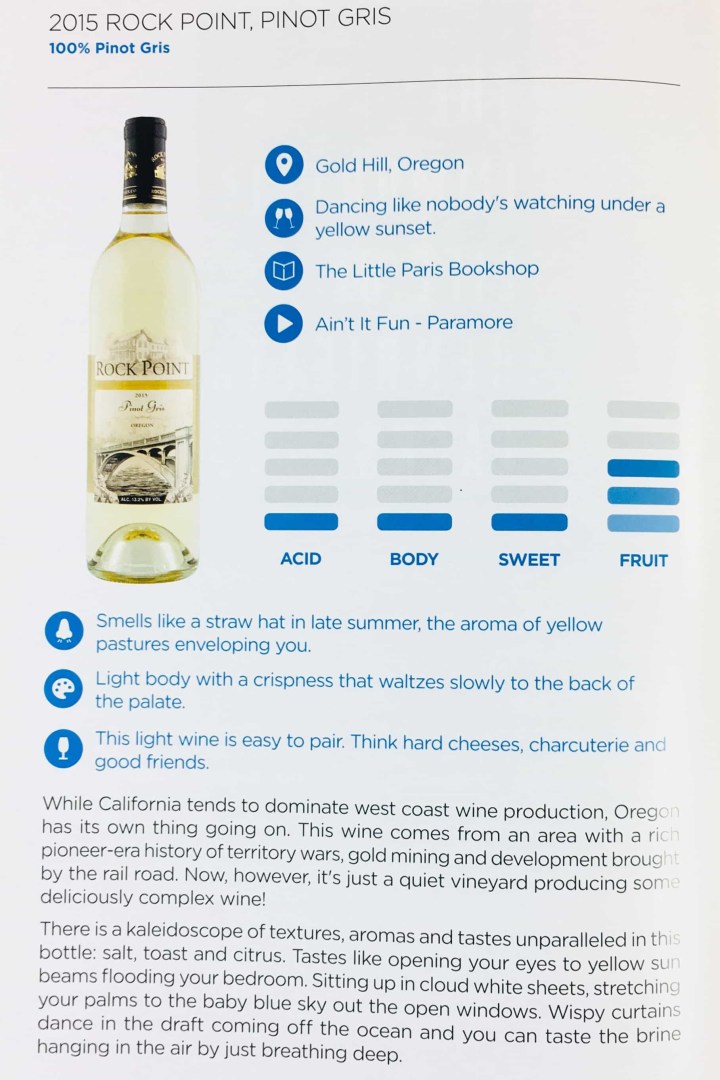 Each wine has its own information page including the following:
Wine Name
Grape
Location
What you should do while drinking this wine (many tongue-in-cheek)
What to eat with the wine
What to listen to while you drink the wine
A cool chart showing a visual on the Acid, Body, Tannin, and Fruit of the wine
Wine Bouquet
Tasting Notes
Description
Recipe
I received the following wines in my October box:
2014 Alaia Verdejo is from Northern Spain and is made with Verdejo grapes. It is similar in style to Sauvignon Blanc or Pinot Grigio and has a medium body and citrus & stone fruit flavor. Serve with a main dish salad or something fishy.
2015 Nexo Garnacha is made with Garnacha grapes and hails from Spain. The vines that produced the grapes are 45 years old! This ruby hued wine has a medium body and flavors of jammy fruit and spices. Serve with a flavorful, meaty meal.
2015 Rock Point Pinot Gris is made with Pinot Gris grapes in Oregon. This light bodied white features pear and melon flavors and would go perfectly with a cheese plate.
I love white wine so this was a great month for me, not so much for my husband, who prefers reds! I thought it was interesting that Wine Awesomeness paired the wines with books this month for a change of pace. I feel like I've learned a lot about wines in the past few months and a lot of that is due to this subscription! I find myself enjoying less-sweet wines more every month and don't have to mix my wine with fruity Italian sodas any more! The convenience of having wine delivered to my home is a big bonus but keep an eye on tracking because an adult 21 or over must be there to sign for the box, or you can arrange to pick it up at another place of business (mine is a grocery store.)
What did you think of this month's Wine Awesomeness? Let me know in the comments!