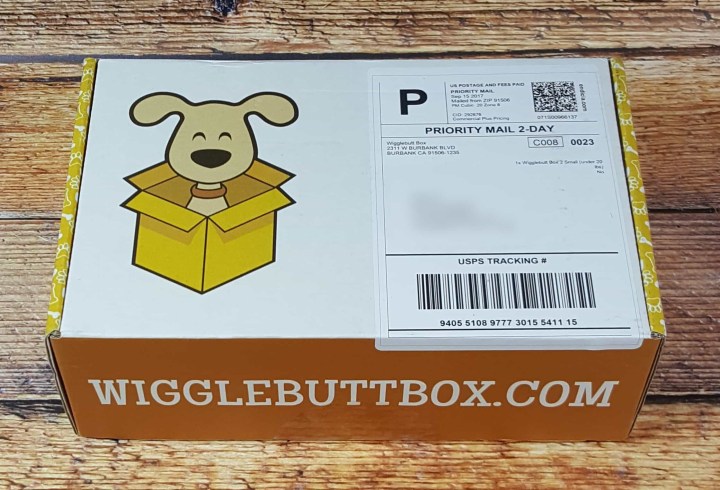 Wigglebutt Box is a subscription box of "yummy and fun surprises for you and your dog that are delivered right to your door every month." Each box contains a seasonal kerchief, a roll of poop bags, and a combination of 3-5 toys/treats/accessories. Boxes are tailored to your pet's size and toy treatment. Pet parents are not forgotten either; there's a gift included for you too! Plans start at $35/month, but you can increase your savings by choosing a longer subscription option (3-month, 6-month, and annual plans available). Plus, a portion of the proceeds from every box sold will go towards an animal charity.
I got the small dog/average play Wigglebutt box for my fur babies, Lily and Lexi.
It's fall, y'all! Mia and April look like they are ready for a little apple picking before heading back to school.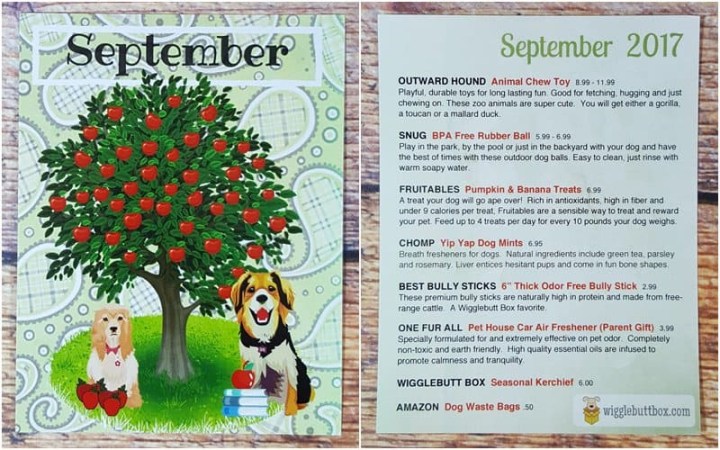 The information card has a list of box contents along with a brief description and prices. Unless noted otherwise, the prices below are the same as on the card.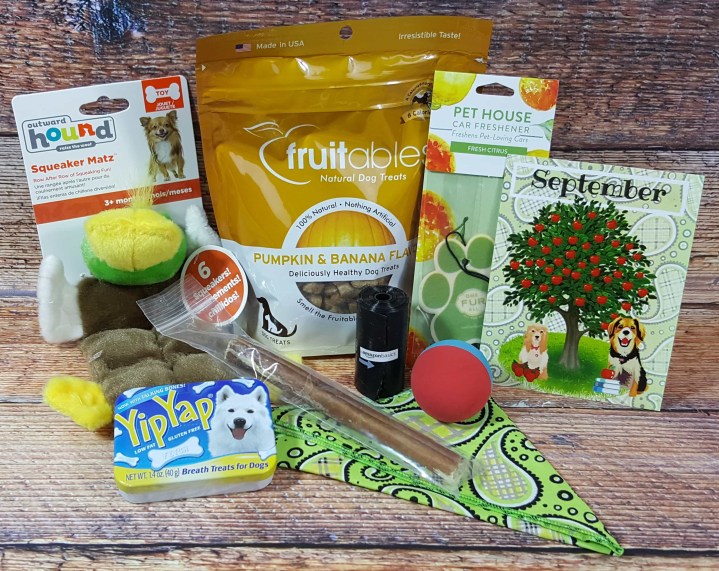 Check out the September Wigglebutt Box. I'm curious about the Yip Yaps.
Outward Hound | Squeaker Matz – Small Mallard ($8.99 – $11.99): This toy comes in 2 sizes, so I am assuming the price range covers both the small and larger pieces. This plush duck features multiple squeakers down his body. Thankfully, they are softer sounding because I don't think I could handle this with blaster squeakers. The girls had another toy similar to this duck, but they managed to puncture all of the squeakers. They seemed excited by this, and I hope it lasts a little longer. BTW, the small toys are currently on sale on the Outward Hound website.
Here's a look at the mallard's face. If you ask me, he looks a little scared of what's to come. LOL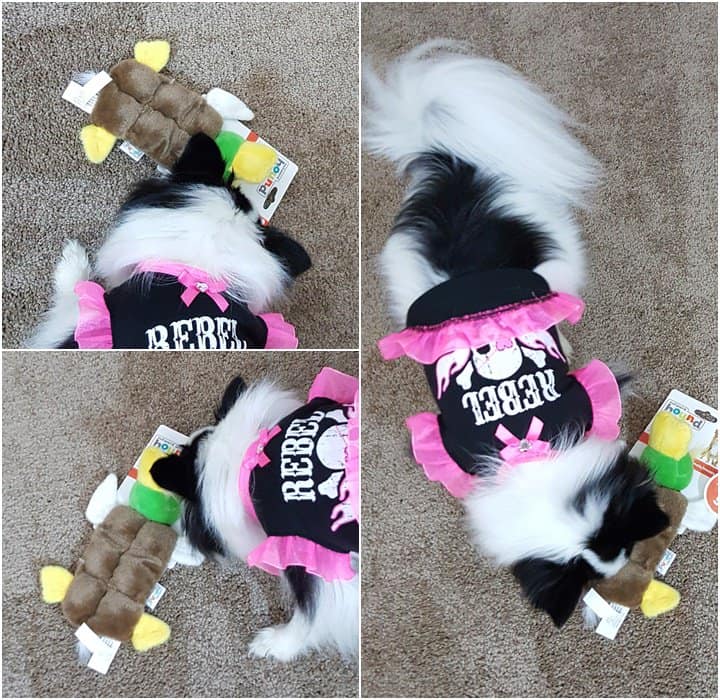 Lily is the keeper of the plush toys. I caught her stealing this from the box after I photographed it. Her shirt is jacked up in the back, but it says "Rebel Child" and that is most definitely an apt description.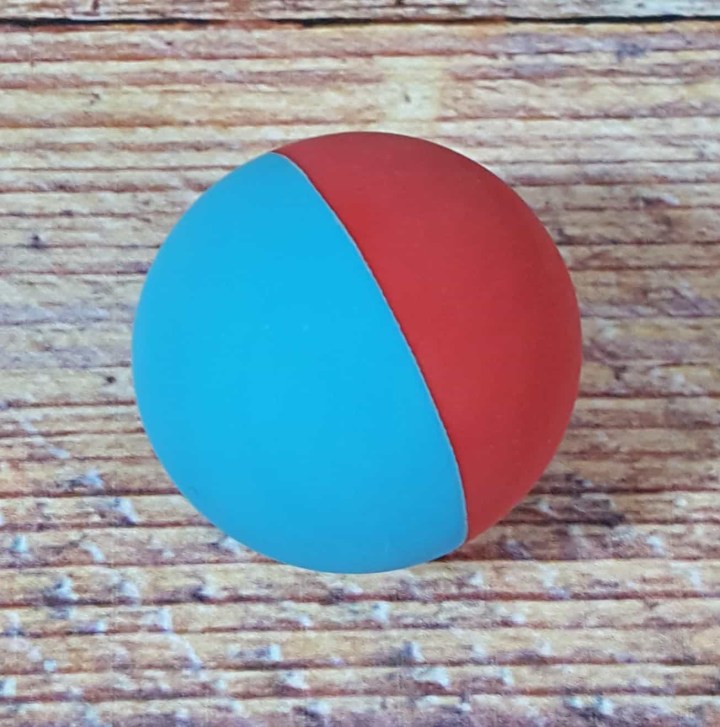 Snug | BPA Free Rubber Ball ($5.99 – $6.99): What you see is what you get with this toy. It is a solid rubber ball. The only one that I could find online was about the size of a tennis ball. The ball that came in the box is slightly smaller. Again, I'm assuming the price range covers multiple sizes. Also, I could only find these sold in packs of three. So, based on the price of a 3-pk, one ball would be just over $3.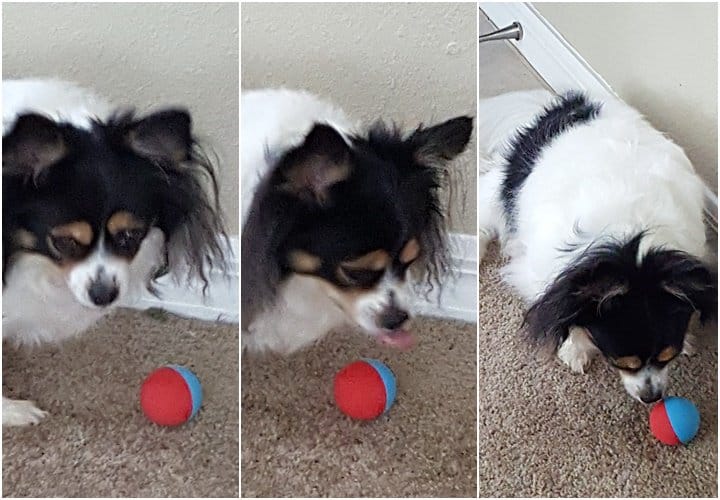 And here's my ball fanatic. This didn't get as much love as her favorite Beco ball, but Lexi made sure to take this and hide it from Lily.
Fruitables | Pumpkin & Banana Treats ($6.99): Pumpkin is the first ingredient in these all natural treats. They also contain oats, barley, potatoes, and banana. These treats smelled amazing through the bag but will be gifted to a friend. We've tried several Fruitables products (as well as a ton of other biscuits), and the girls just play with them. If you're worried about your pup's weight, each of these treats under 9 calories.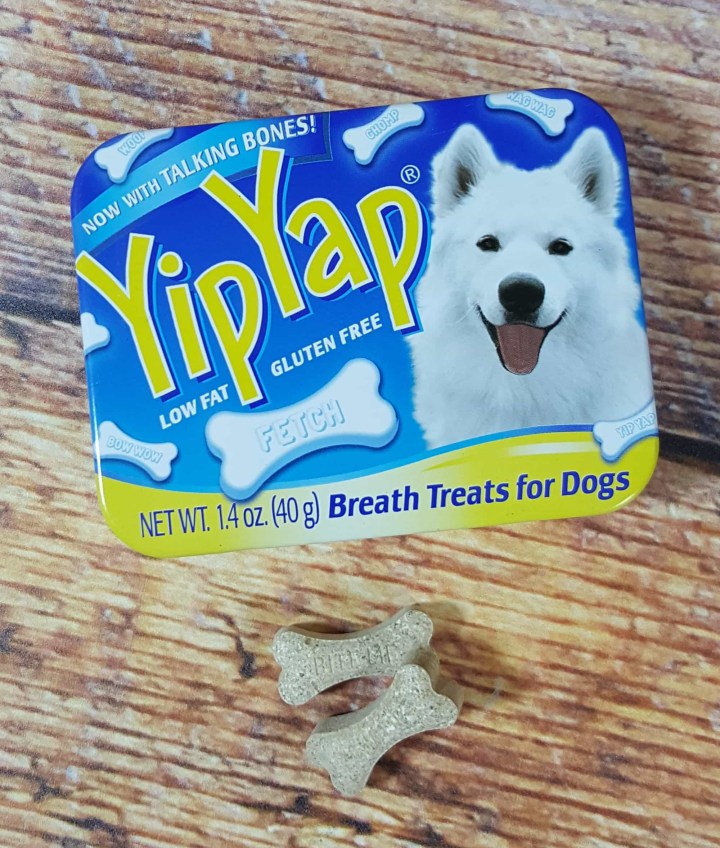 Chomp | Yip Yap Dog Mints ($6.95): The dog on the cover of the tin made me smile because it reminded me of the American Eskimo we had when I was growing up. These treats use a blend of rosemary, parsley, and green tea to freshen your pooch's breath. I can't say that I noticed a difference in the girls' breath, but I was excited that they actually ate these. Each of the bone-shaped treats also has a phrase stamped on it.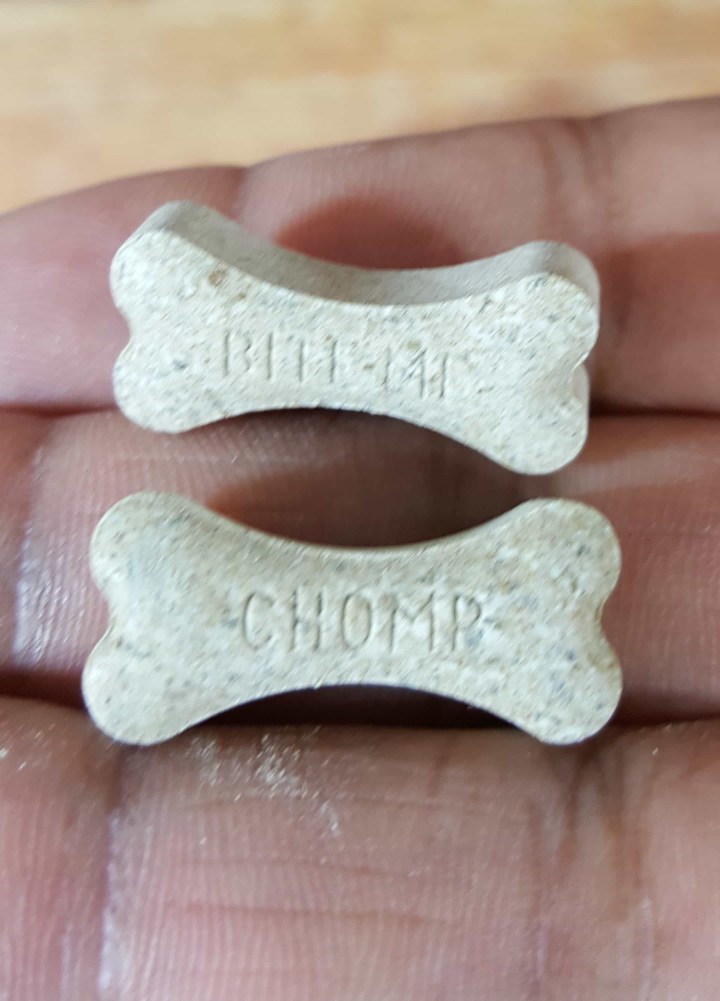 The top bone say "BITE ME" and the bottom says "CHOMP".
Best Bully Sticks | 6″ Thick Odor Free Bully Stick ($2.99): Best Bully Sticks are a good single-ingredient alternative to rawhide and naturally free of chemicals and preservatives. They satisfy your dog's craving to chew and help to keep teeth and gums healthy. The 6″ size keeps my girls occupied for a while. It's a little gross to think about it, but they trade off chewing this throughout the day.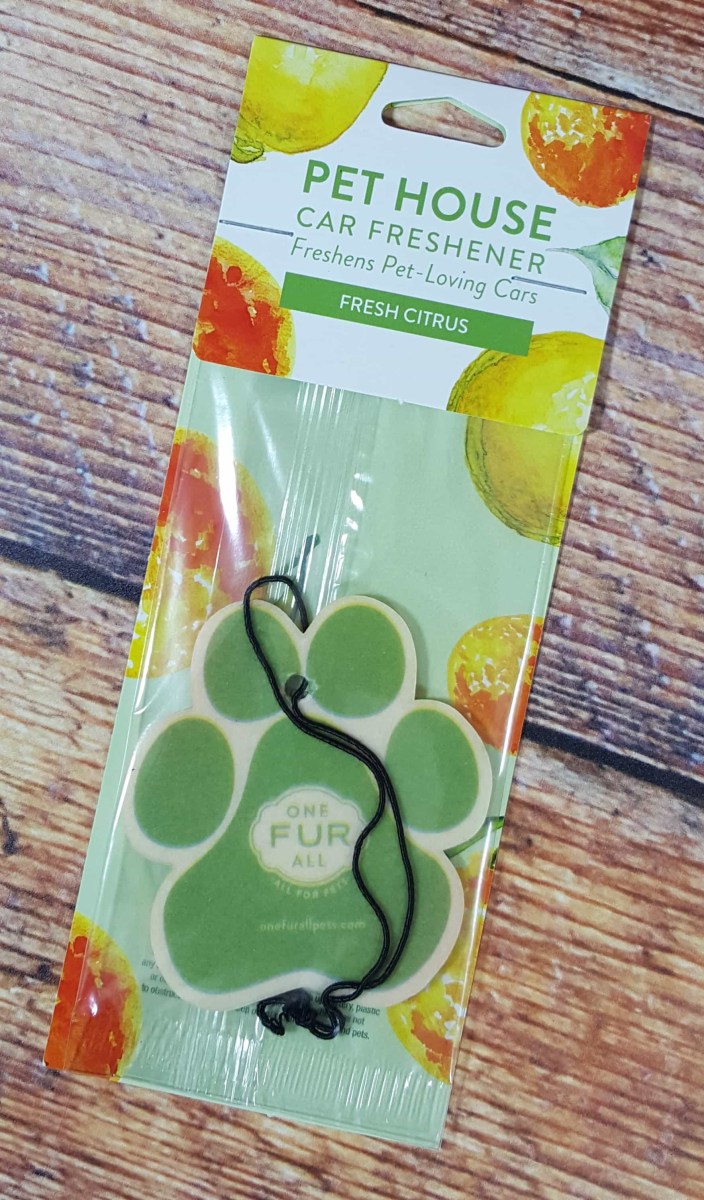 **Parent Gift ** One Fur All | Pet House Car Air Freshener ($3.99): The Fresh Citrus scent is a blend of orange, lemon peel, and sweet vanilla sugar. Personally, citrus scents remind me of clean, and I was happy to get this. It is specially formulated for pet odors and made with an odor neutralizer. I'm actually using this in my hall closet rather than my car. It is listed for $2.99 on One Fur All website.
Seasonal Kerchief | Wigglebutt Box ($6.00): I love this bright lime paisley design! It's a nice pop of color for dreary fall days.
Dog Waste Bags | Amazon ($0.50): A must-have staple for walks. Thanks to Wigglebutt Box, we never have to worry about being without a roll in our leash dispensers. 
I'm such a mean pet mom. Lexi absolutely hates wearing any clothing or accessories. This is the 2nd or 3rd month that I've made her model the scarf. It was hard to get her to sit still – she kept pawing at the scarf and trying to step out of it.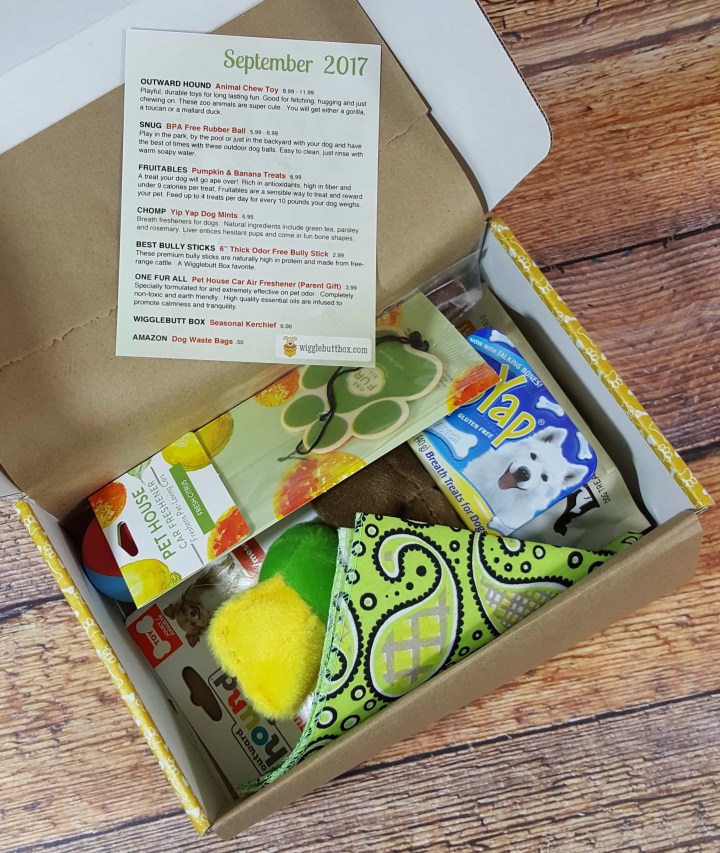 The September Wigglebutt Box had a value around $42. This is using the lower end of price ranges. Overall, I was happy with the items in this month's box. We'll share the Fruitables, but everything else will be used. I appreciate that the Wigglebutt team takes the time to choose items geared towards my girls (if left to me, they wouldn't enjoy the boxes nearly as much). However, I'd like to see a larger difference between the the value in the box versus the cost of the box so that I feel I'm getting more bang for my buck.
And, onto some gratuitous pictures of the girls with their new toys.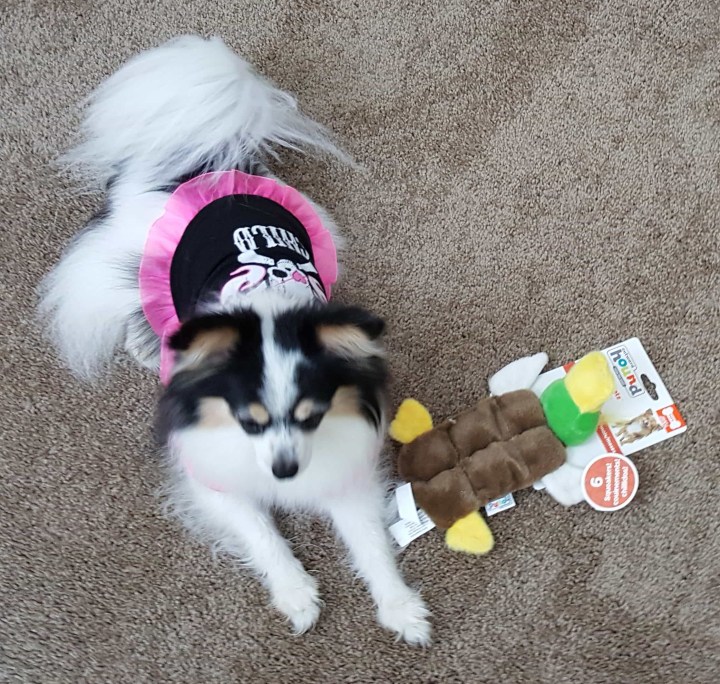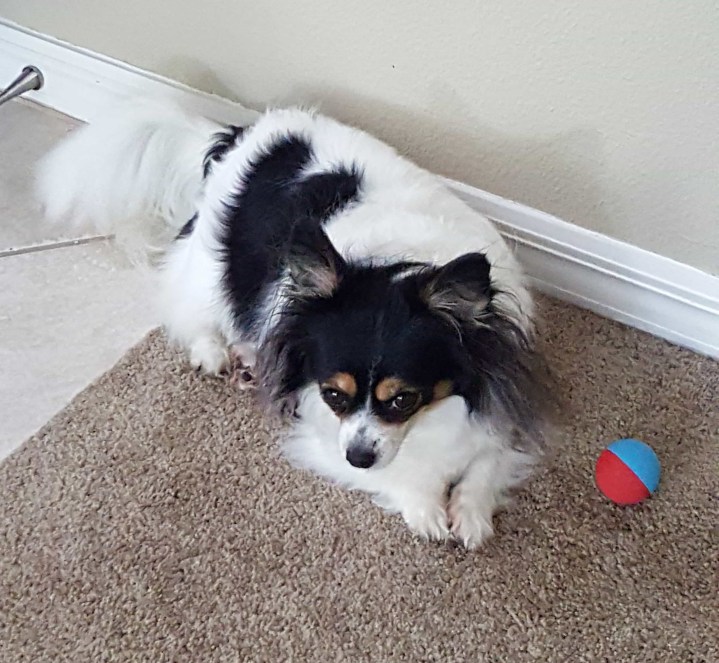 What did you think of this month's Wigglebutt Box? Leave a comment below and let me know.