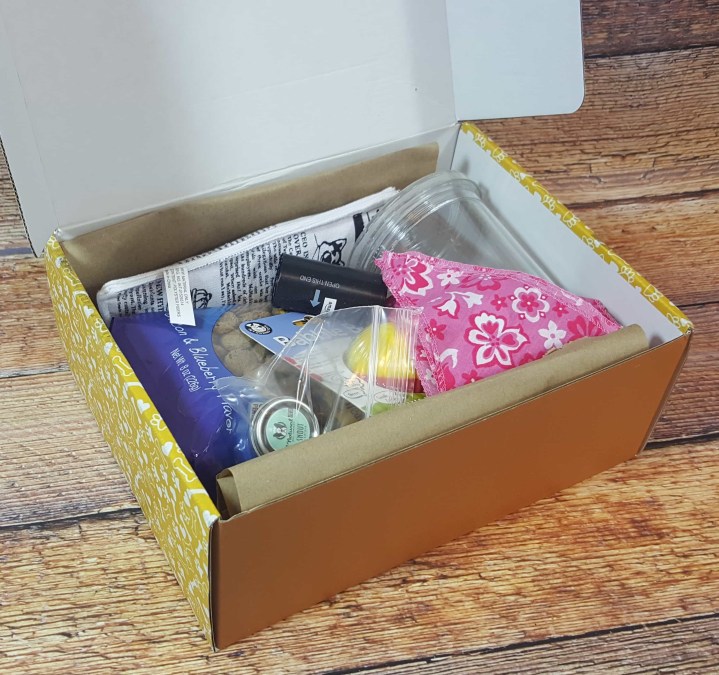 Wigglebutt Box is a subscription box of "yummy and fun surprises for you and your dog that are delivered right to your door every month." Each box contains a seasonal kerchief, a roll of poop bags, and a combination of 3-5 toys/treats/accessories. Boxes are tailored to your pet's size and toy treatment. Pet parents are not forgotten either; there's a gift included for you too! Plans start at $35/month, but you can increase your savings by choosing a longer subscription option (3-month, 6-month, and annual plans available). Plus, a portion of the proceeds from every box sold will go towards an animal charity.
I got the small dog/average play Wigglebutt box for my fur babies, Lily and Lexi.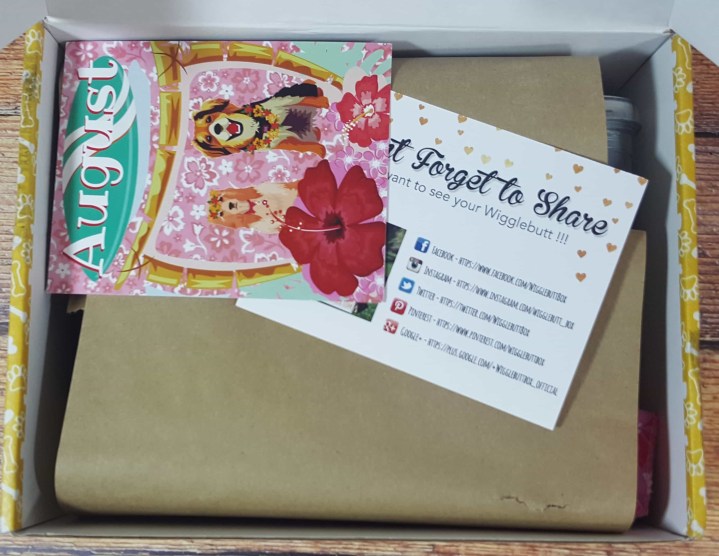 I'm getting some tropical vibes from August's box.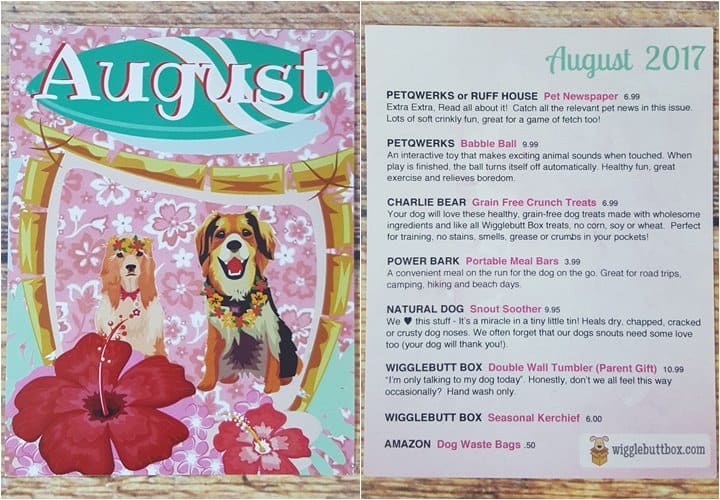 The information card has a list of box contents along with a brief description. Wigglebutt Box is now including pricing for box items. Unless noted otherwise, these are also the prices used below. BTW, how cute are Mia and April in their leis?!?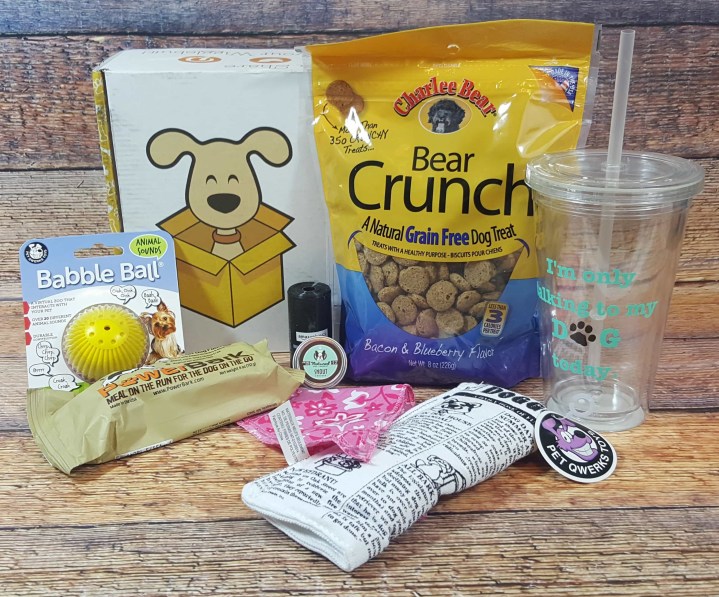 Here's our August Wigglebutt Box. Very curious to see how the babble ball works.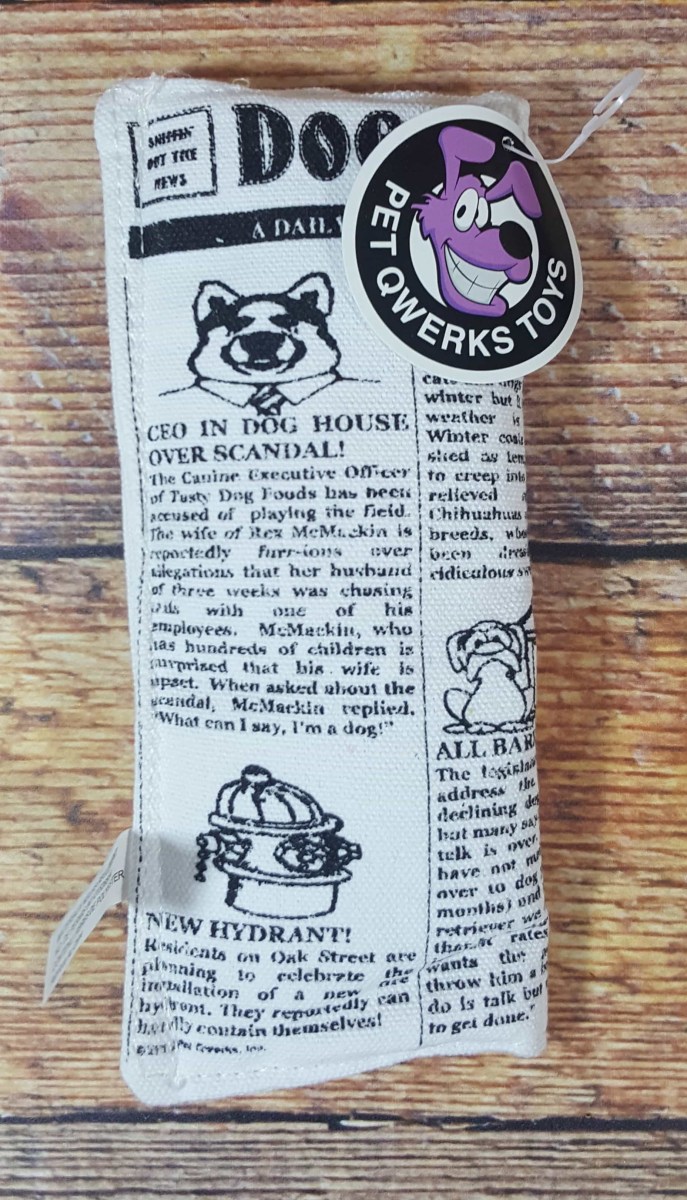 Pet Qwerks | Krinkle & Squeak Newspaper Toy ($6.99): This is a plush-filled canvas toy with a squeaker that is covered in fun doggy news headlines. The canvas makes this durable when the girls play together (lots of tugging). Lexi and Lily already have a similar toy that they received a while back from another subscription, so I'm going to hold onto this for now.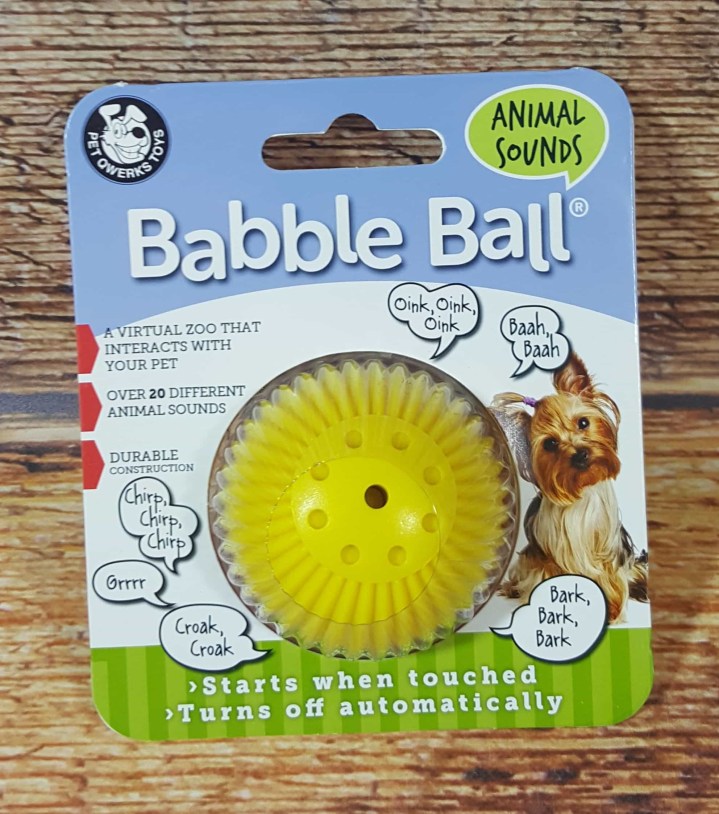 Pet Qwerks | Babble Ball ($9.99): Pet Qwerks describes this toy as the iPhone of the dog world because it can keep your pet distracted for hours. LOL! I will say that it is definitely interesting to watch Lily play with this. The ball is touch activated and makes over 20 different animal sounds. Yes, batteries are replaceable. Before I even gave this to the girls, I shook it a bit to see their reactions to the sounds. Lexi wasn't interested, but Lily barked at the ball and ran from it. As soon as it was on the floor, she pounced and went crazy playing with it. I wish I could've figured out how to upload the video because it is hilarious. This was definitely my favorite item in the box. This is priced at $7.99 on Chewy.com.
Charlee Bear | Grain Free Crunch Treats – Bacon & Blueberry ($6.99): These wholesome treats are made without wheat, corn, soy, or artificial ingredients. And, at less than 3 calories per treat, your pup can feel like their getting a lot with only a little impact. As with most biscuit treats, my girls were hesitant to try these. So, while they aren't gobbled up right away, they do get eaten by the end of the day.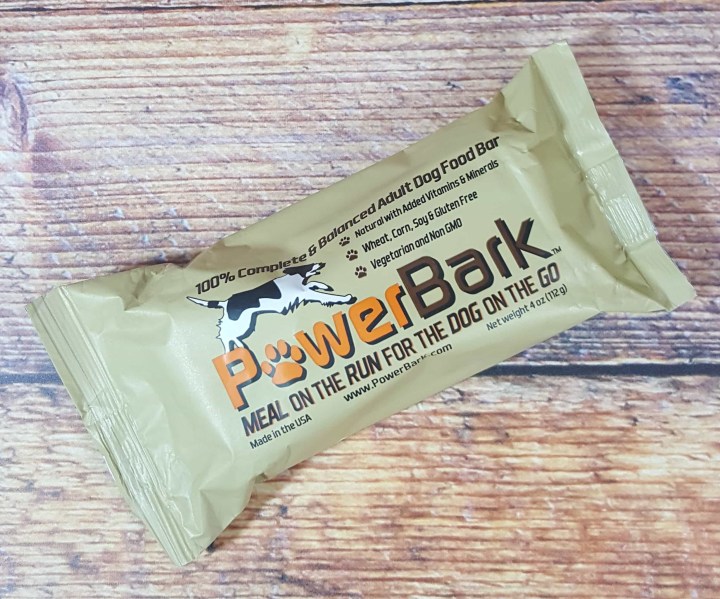 PowerBark Portable Meal Bar ($3.99):  Perfect for the dog on the go, this is a convenient meal replacement option. Each package contains two bars, which are scored for easy portioning. One 4 oz. PowerBark bar feeds a 30 lbs. dog twice daily and is equal to approximately one cup of kibble. Saving this for the next road trip I take with the girls. They don't like to eat at rest areas, but they might eat this if they think it's a treat.
Natural Dog Company | Snout Soother ($9.95): This is a travel-sized tin of balm to help heal dry skin on your pooch. It can be used to treat dry/chapped noses, hyperkeratosis, canine dry eye, and more. The scent free formula contains a blend of several soothing oils such as coconut, jojoba, and kukui. This is priced at $5.95 on NaturalDogCompany.com.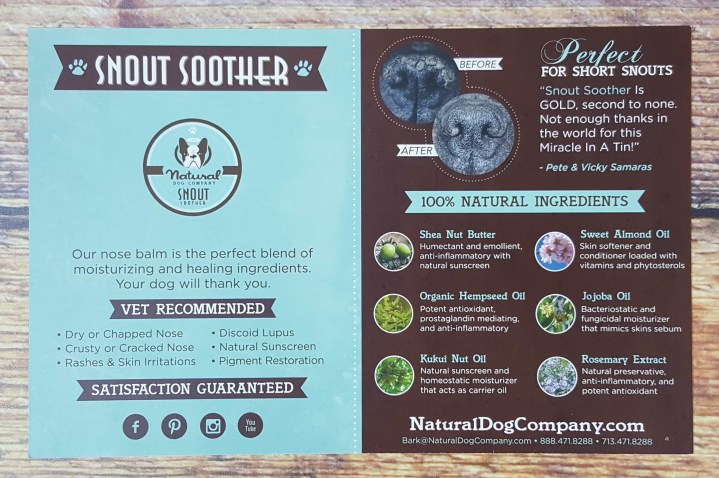 The information card provides some additional information on the ingredients and their uses.
**Parent Gift **  Double Wall Tumbler ($10.99): Perfect for those days when you're just not wanting to be bothered. Because, seriously, there are times when your pup makes you happier than the people around you. Hahaha!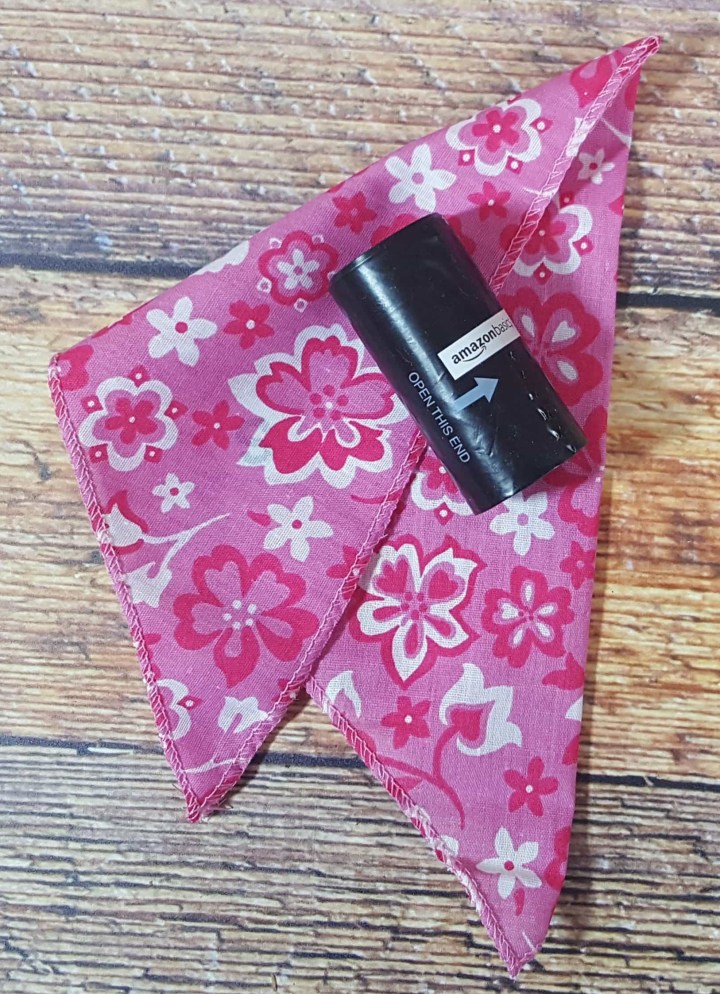 Seasonal Kerchief | Wigglebutt Box ($6.00): Now, the tropical theme makes sense. The hibiscus flowers on this pink scarf are so pretty. It will truly stand out against the girls' white fur.
Dog Waste Bags | Amazon ($0.50): A must-have staple for walks. Thanks to Wigglebutt Box, we never have to worry about being without a roll in our leash dispensers.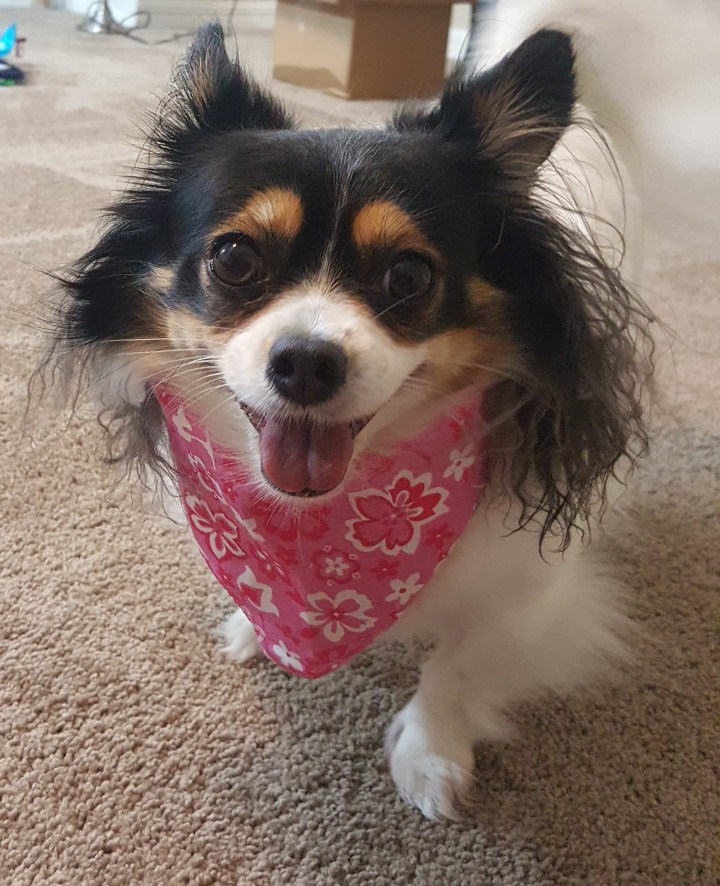 If only you knew how much Lexi hates to wear any type of clothing or accessories other than her collar. I'm amazed that I got a smile in this picture.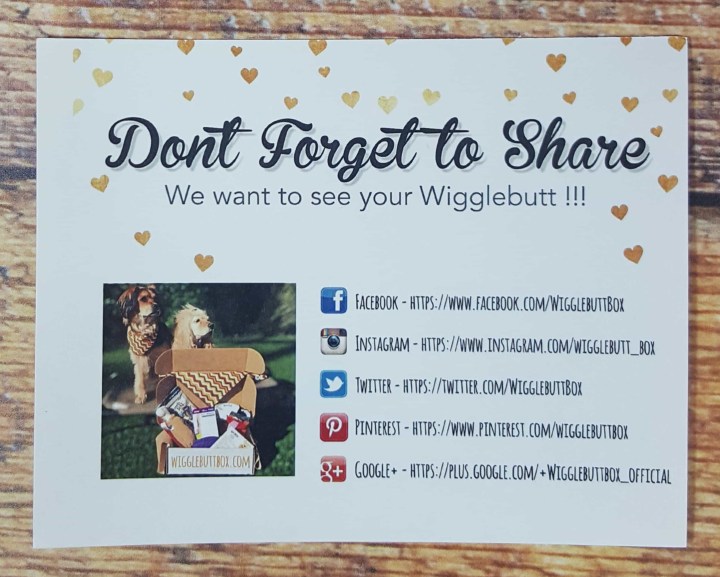 Don't forget to share pictures of your Wigglebutts via social media.
August's Wigglebutt Box had a listed value of $55, but I calculated $49 by shopping different sites. I was happy that the girls liked or would be able to use all of the items in this month's box. The Babble Ball has provided me with so much entertainment already that I feel it was worth the box alone. I can't wait to see if it will be topped.
What did you think of August's Wigglebutt Box? Leave a comment below and let me know.