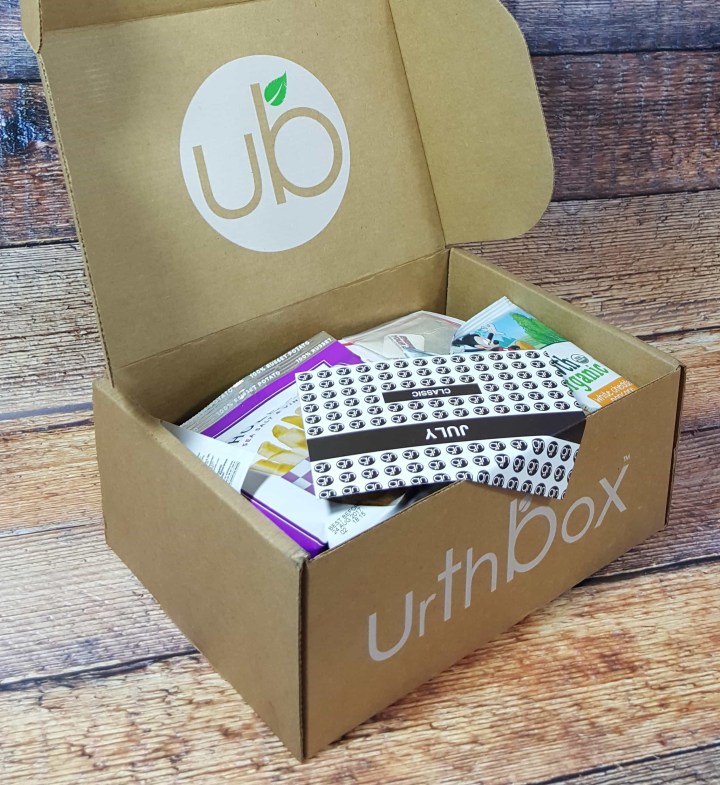 Hello and welcome to UrthBox! Until recently, this was a review of Bestowed Box; however they were recently acquired by UrthBox. Hence, the new (from me) review. UrthBox is a healthy food subscription box. In this monthly box you get snacks, beverages, and other goodies with a focus on Non-GMO, Organic and All Natural items. Choose between classic, diet, vegan, and gluten-free, as well as between four sizes of box.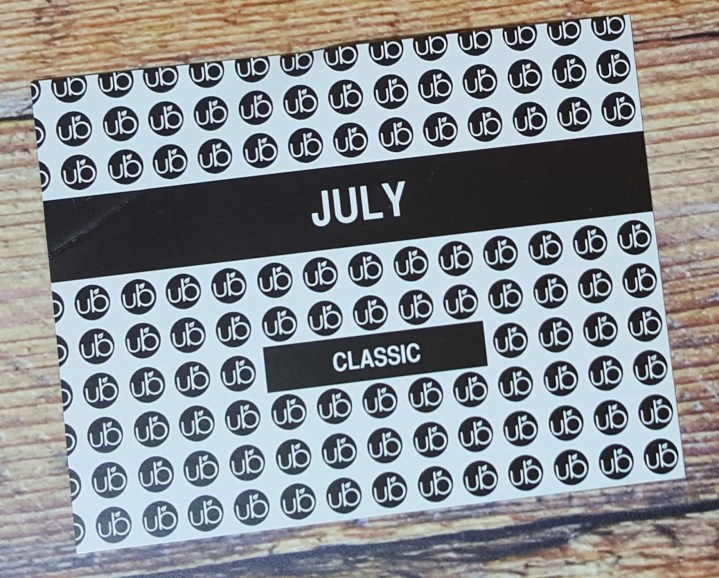 This is a review of the small (12+ snacks) classic UrthBox.
DEAL: Get $10 off your first box. Use coupon code SNACKBOX10.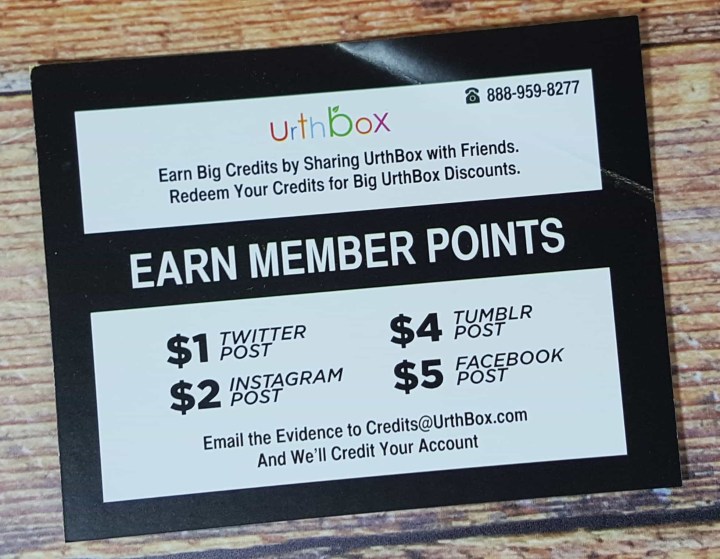 Instead of a product information summary, the card insert provides details on how to earn credits towards future boxes. Use your social media accounts to earn big discounts.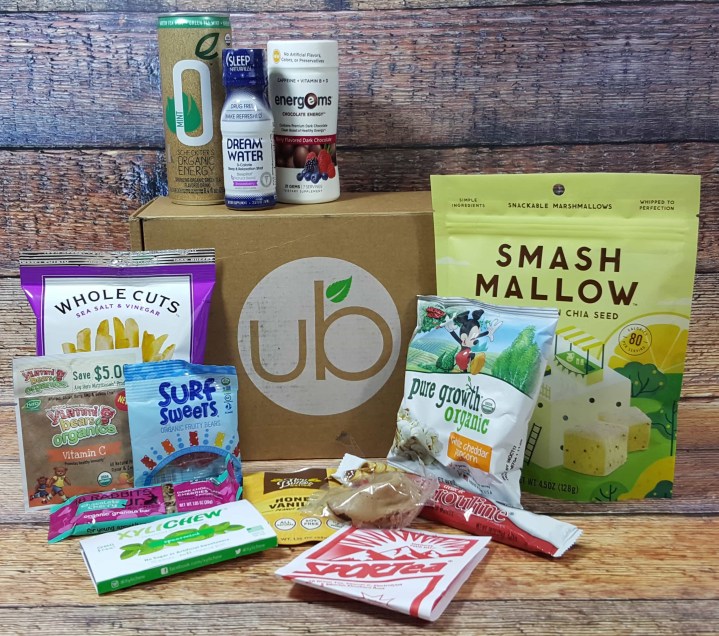 Here's a look at the July UrthBox. Those Smash Mallows are calling my name.
18 Rabbits | Jr. Organic Granola Bar – Cherry Chocolate ($1.33): 18 Rabbits granola products are organic, non-GMO, and kosher. The Jr. bars are also nut-free, making them school friendly. In addition to the cherries and chocolate in this bar, there's also some extra goodness in the form of pumpkin, chia, and sunflower seeds. This is very tasty. The slight tartness from the cherries helped cut through some of the sweetness.
Nut Butter Nation | Peanut Butter – Honey Vanilla ($1.00): This portable peanut butter pouch is packed with 7g of protein per serving. Nut Butter Nation's products are free of preservatives and artificial ingredients. I don't go on a lot of outdoor adventures, but this would be perfect to pack for a bike ride or hiking trip. For me, the packet is a handy way to carry peanut butter in my lunch bag for an afternoon snack with some crackers.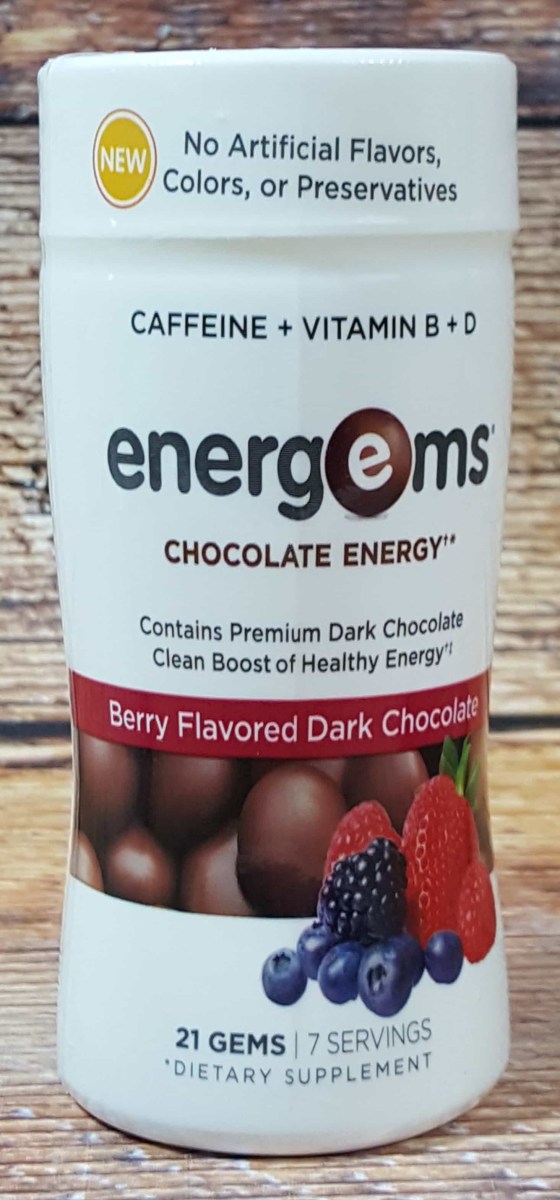 Energems | Chocolate Energy – Berry Flavored Dark Chocolate ($22.00): Considering the bottle only contains 21 pieces and 3 make a serving, this is a pricey energy supplement. One serving contains 133mg of caffeine – the same as a large cup of coffee. Along with caffeine, the gems contain a dose of Vitamins B and D plus antioxidants.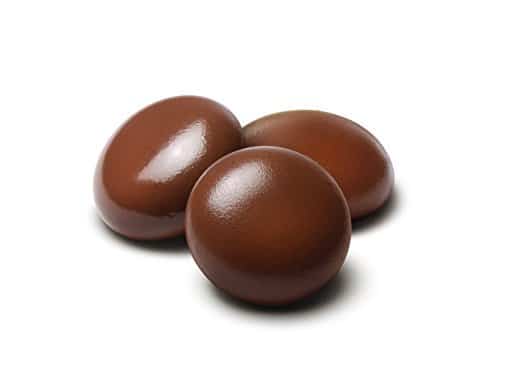 Unfortunately, I did not get to try these out. The gems in my bottle melted around the cotton stuffing. Darn, the Florida heat! Here's what they should have looked like.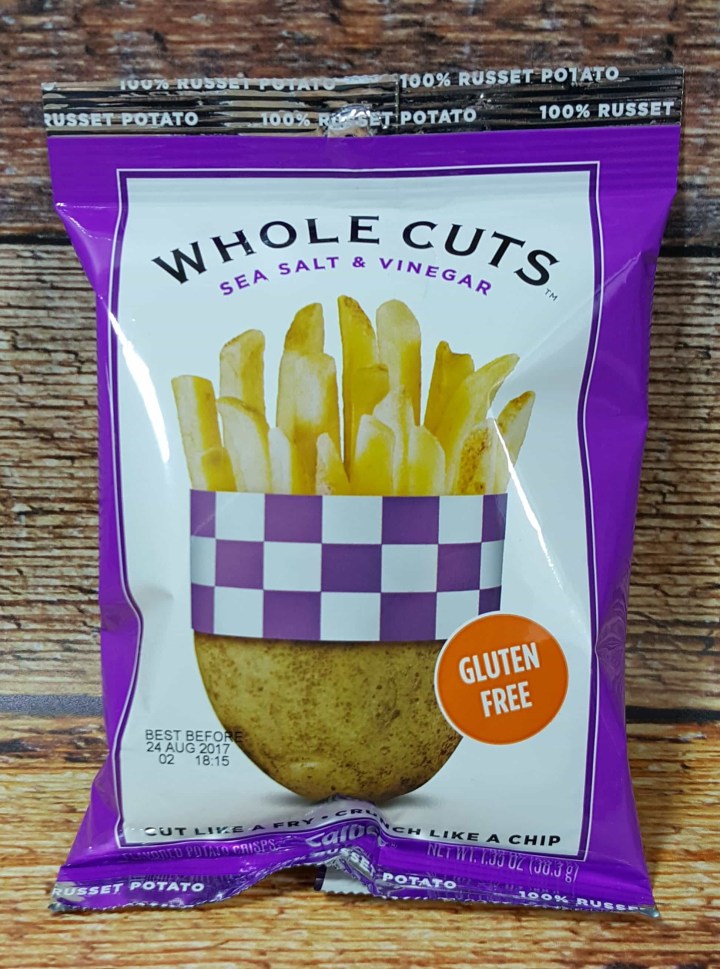 Calbee | Whole Cuts – Sea Salt & Vinegar ($2.33): Cut like a French fry but crispy like a chip. These chips are made from whole potatoes. They reminded me of overcooked fries without the burnt taste because of their shape. I mean that as a good thing. The vinegar on these wasn't as strong as most salt & vinegar chips, making them easier to eat (usually my tongue goes numb from the vinegar). I'd definitely buy these again.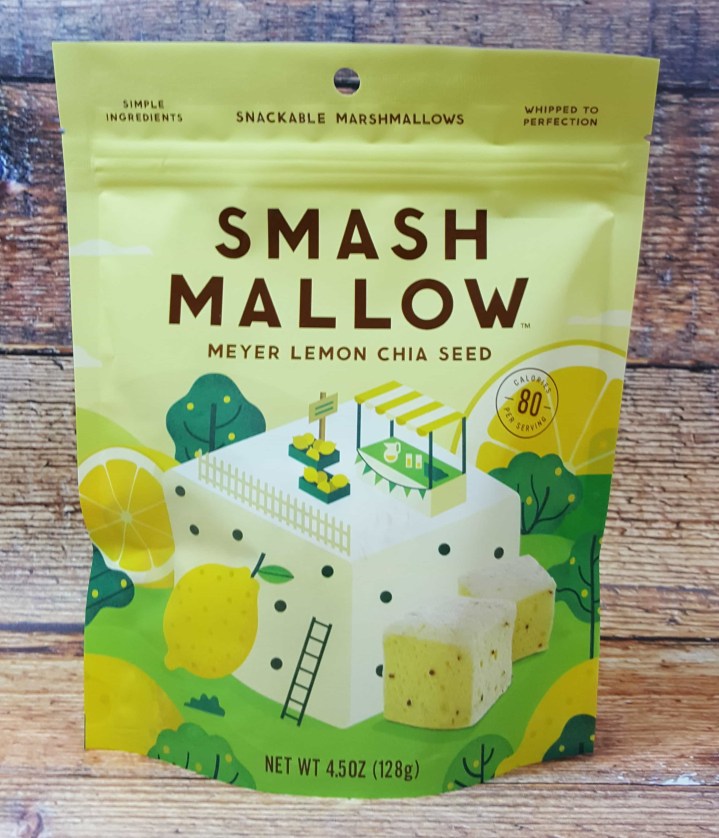 Smash Mallow | Snackable Marshmallows – Meyer Lemon Chia Seed ($4.00):  Each serving of 4 marshmallows is only 80 calories! The Meyer lemon flavor comes through nicely, and the seeds add a nice crunch to the pillow soft marshmallows. I enjoyed this adult/gourmet take on one of my favorite childhood treats. On the Smash Mallow site, it seems this flavor has been switched up with poppy seeds replacing the chia seeds.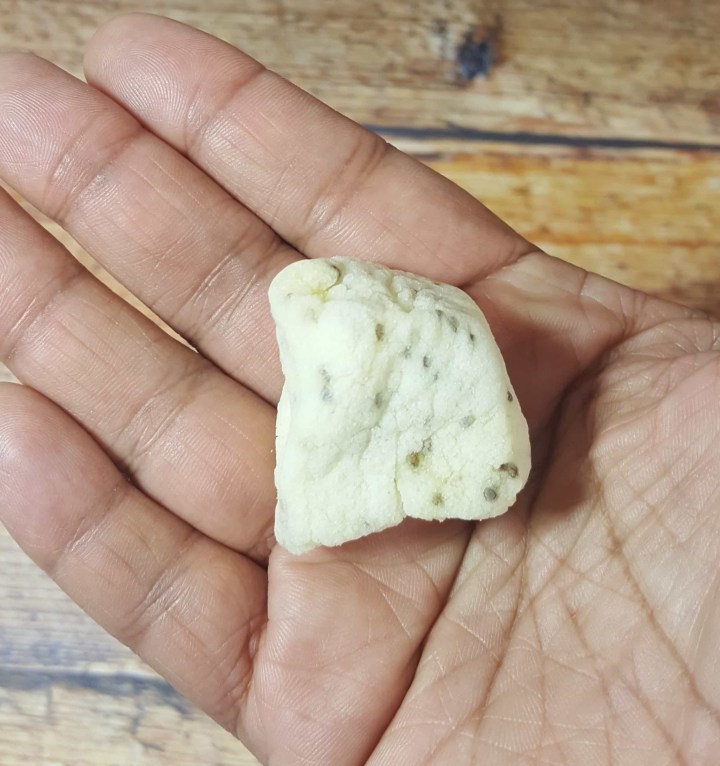 Here's a look at one of the marshmallows. Each piece is roughly a 1″ cube or about the size of a large standard marshmallow.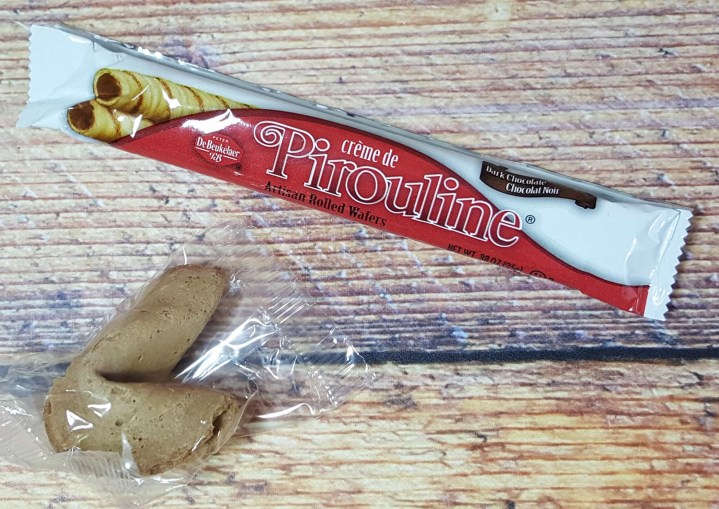 DeBeukelaer | Crème de Pirouline – Dark Chocolate ($0.71): I am so glad this came in a 2-piece pack. I have been known to eat half a tin in one sitting. If you've never had one these, it's a rolled wafer cookie filled with dark chocolate creme. They are light, crispy, and delicious.
Fortune Cookie – Chocolate Flavor ($0.15):  There was no labeling information on this cookie. The chocolate flavor added a different, but still yummy, twist to the classic fortune cookie.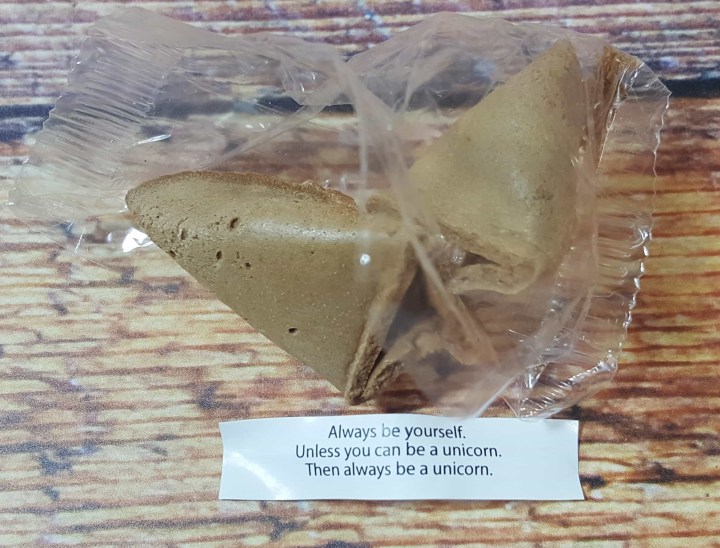 The fortune made me literally laugh out loud when I read it.
Pure Growth Organic | Mickey Mouse White Cheddar Popcorn ($2.16):  I love white cheddar popcorn (Smartfood is one of my faves), and Pure Growth's version was a healthier option than I would normally choose. The popcorn had good cheese flavor, but didn't leave me with powder coated fingers. Made from organic ingredients and real cheddar cheese, this 90 calorie bag was a perfect afternoon snack.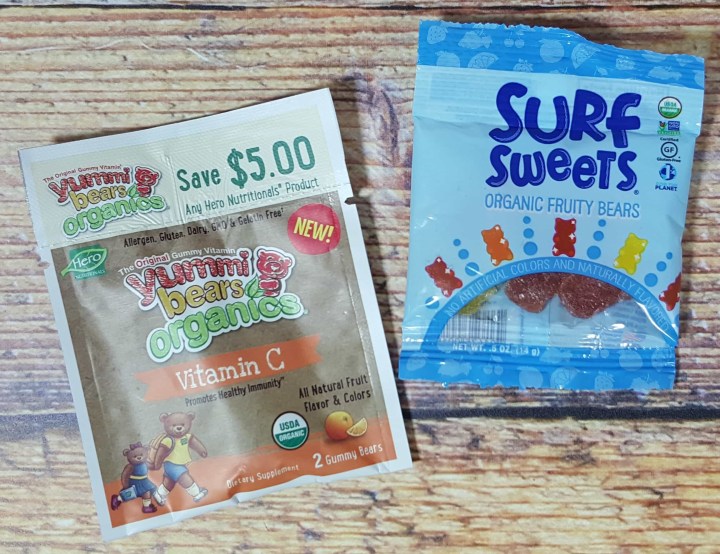 Hero Nutritionals | Yummy Bears Organics – Vitamin C ($0.30): Gluten and dairy free, each serving of 2 gummy bears provides your child with 150% of their daily value of Vitamin C. With the school season coming up, these can help boost immunity against illness.
Surf Sweets | Organic Fruity Bears ($0.36): These gummy bears are made with fruit juice and contain no artificial colors or flavors. Each 8 piece serving contains 100% of the daily value for Vitamin C. The bears are also free of the 10 most common allergens. Each bag contains a blend of cherry, grape, lemon, orange, strawberry, and grapefruit bears. I am a huge gummy bear fan (I've been known to have a bag as my lunch. Not healthy, I know, but very satisfying). These were good, but I wish that there were more.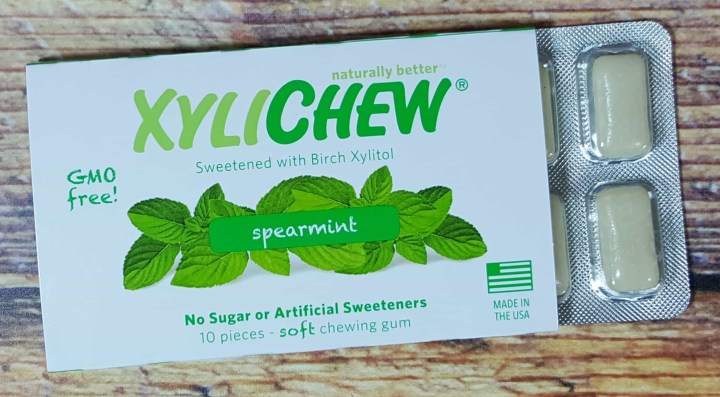 Xylichew | Soft Chewing Gum – Spearmint ($1.74):  Xylichew uses birch Xylitol to naturally sweeten its gum. Xylitol also helps balance pH levels in the mouth as you chew, reducing the risk of tooth decay. I am not a fan of spearmint gum, so this went to my sister who liked the soft texture and flavor.
Scheckter's | Organic Energy Drink – Green Tea Mint ($2.22):  I think mint green tea is a great palate cleansing drink when warm. However, I didn't enjoy the cold carbonated version nearly as much. Maybe somethings should not be carbonated?!? The drink contains a blend of green tea, guarana, ginseng, and raw coffee extract (caffeine) to give you an energy boost without the crash. I will say that this left me feeling more alert and didn't taste weird after I brushed my teeth.
Dream Water | Sleep & Relaxation Shot – Snoozeberry ($5.33):  This is a zero calorie, 2.5oz melatonin shot to help you relax and fall asleep. I didn't notice that this helped me sleep any faster, but I did have a better quality of sleep. I liked that this didn't leave me feeling groggy the next morning, like some sleep aids do.
SporTea ($0.52):  Sportea was designed to be a high-performance alternative to coffee, soda, alcohol, and sugary drinks. In addition to the black and green teas used as the base, it also contains Siberian gingseng (stamina enhancer), ginger (promotes circulation), Brazilian maté (appetite suppressant), Vitamin C (antioxidant), and potassium (electrolyte). These ingredients work together to energize through overall body performance improvement. I recently started to cut back on my daily coffee intake and will have to substitute this for my cup of Earl Gray.
Sportea comes in a standard filtered tea bag.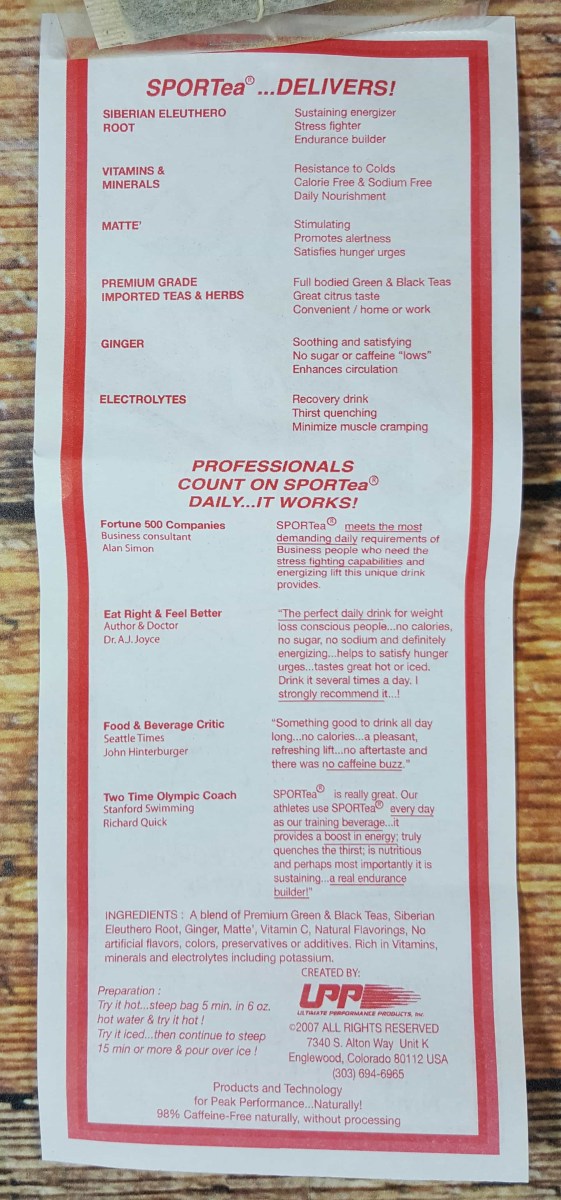 The flyer provides more details on the ingredients and their benefits.
The July UrthBox had a value just over $44, covering the cost of a single month's box. I was a little disappointed that half of that value came from one item which I couldn't use (Energems). Overall, I enjoyed the curated products and felt a bit better about my snacking options for the week. Compared to the items in my old Bestowed Box, I would have liked to see another supplement or even a higher value in the items received; half of the items were $1 or less. This was my initial box, so I'll stay positive that future boxes will cover my concerns.