My Texas Market is a monthly subscription that sends a curated collection of small batch artisanal goods produced in Texas to your home. These are items you might find while browsing the local farmers market – and I occasionally DO spot some of these makers while on my rounds at the local FM near my home in Austin!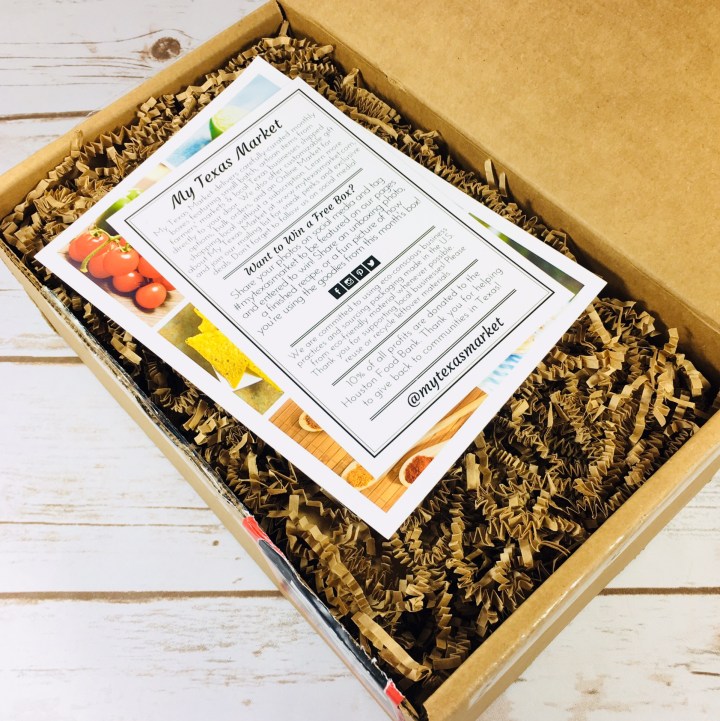 DEAL: Save 10% on your first box! Use coupon code 10FIRST.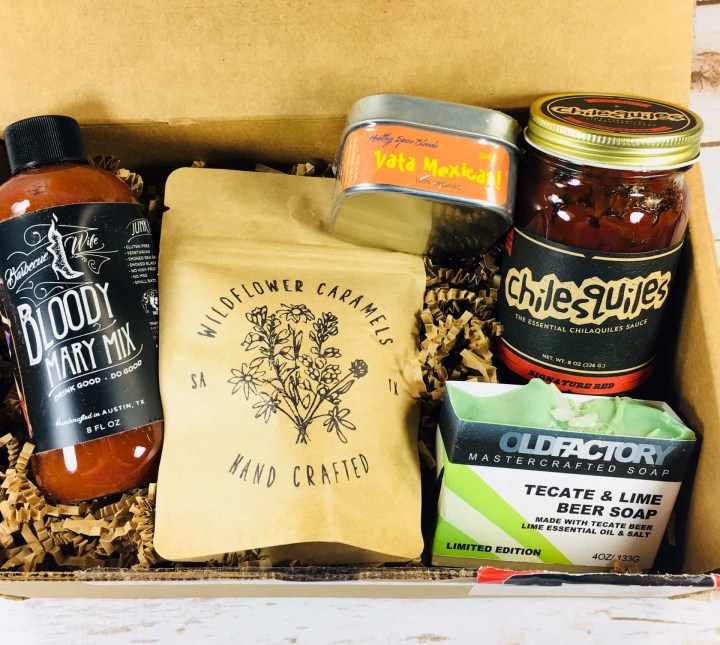 My items were snuggled in shredded brown paper and the glass item was wrapped in bubble wrap for safety.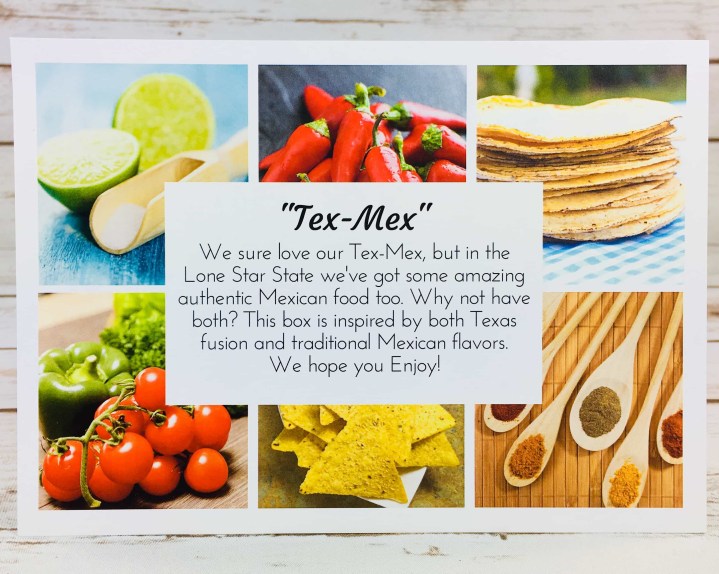 September's theme was Tex-Mex! I love me some good Tex-Mex!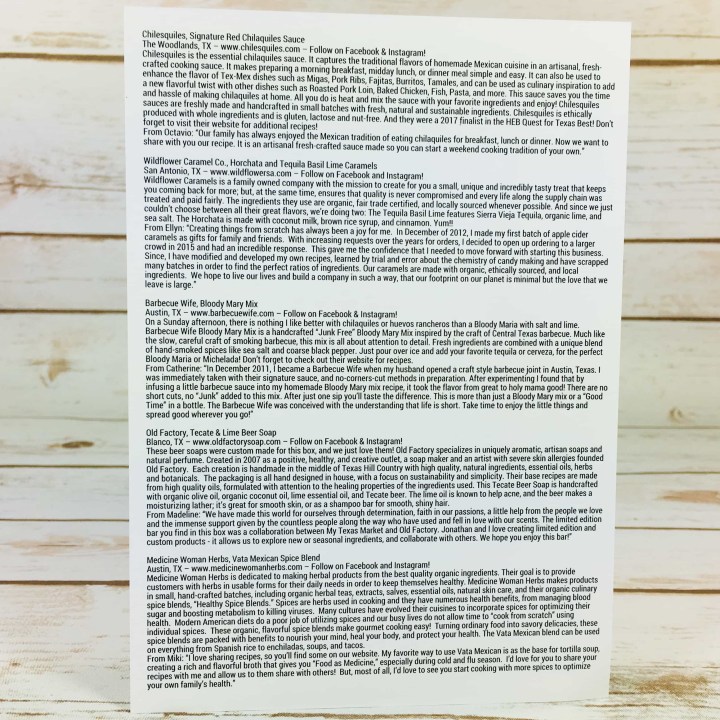 The back of the card gave some info on the suppliers and products.
Everything in my box! I love how My Texas Market sources small batch, artisan goods from farmers' markets and local Texas businesses each month and gives 10% of their profits to the Houston Food Bank!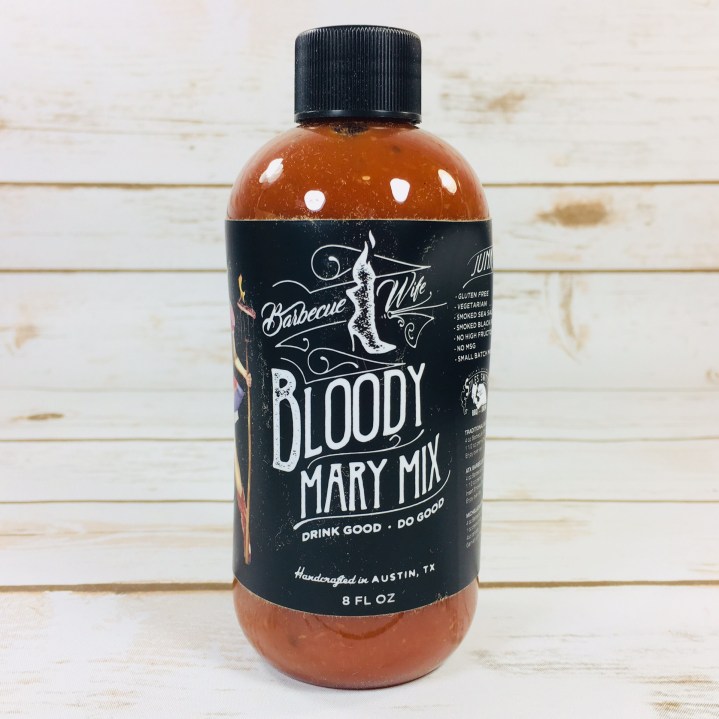 If there's one thing Texan's know better than Tex-Mex, it's BBQ, and Austin-based Stiles Switch is on the top 50 best BBQ joints in our state. Barbecue Wife Bloody Mary Mix was started by the wife of the owner of Stiles Switch and features their BBQ sauce as one of the ingredients! The ingredients sound pretty good too, no weird stuff like MSG or corn syrup. Not into Bloody Mary's? Use some of this stuff in your next batch of chili!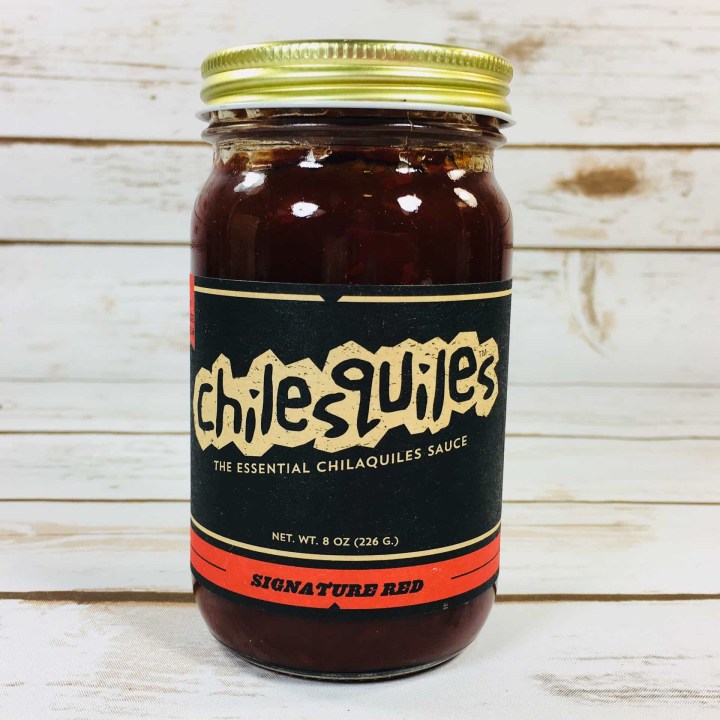 I have never found chilaquiles on a restaurant menu but it turns out it's pretty easy to make at home with Chilesquiles Signature Red Sauce. I found several recipes on the Chilesquiles website and there are two that caught my eye. I plan on making them soon with this blend of Roma tomatoes, guajillo peppers, ancho peppers, onions, garlic, water, colima sea salt, and Mexican spices.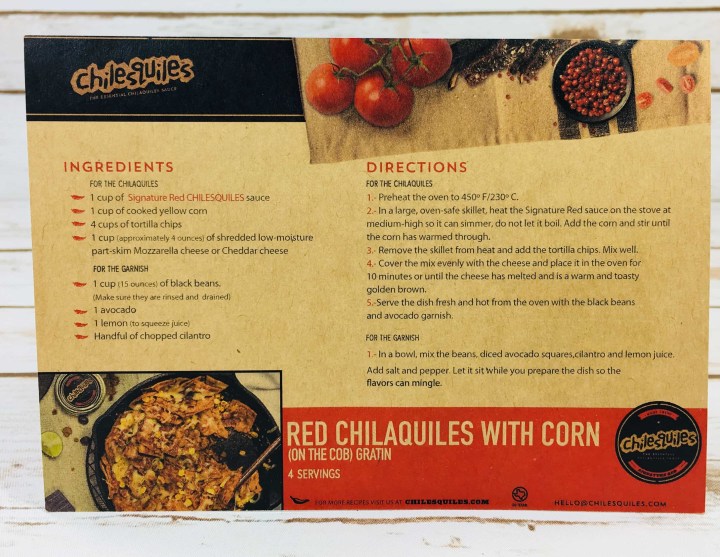 Chilesquiles even included a recipe, but I plan on making either enchiladas or traditional chilaquiles. Based out of The Woodlands.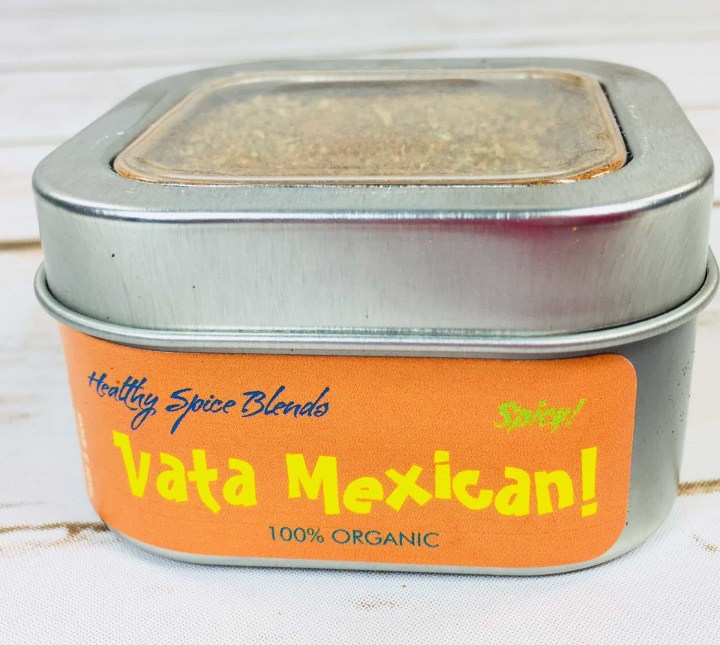 Medicine Woman Herbs Vata Mexican! Healthy Spice Blend Socrates said "Let food be thy medicine and medicine be thy food" and I think that's the idea Medicine Woman wants to get across. Herbs and spices are full of healthy stuff and I love to add them to my recipes.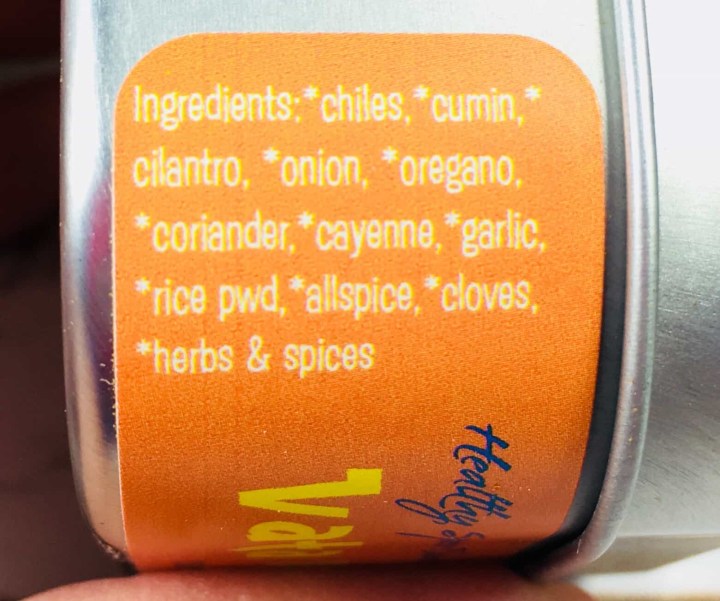 All kinds of yummy herbs and spices are in this mix that tastes delicious and smells like taco seasoning, but without all of the salt and weird things like maltodextrin and ethoxyquin, whatever that is.
This stuff smells amazing! I am making Taco Soup this week, and I usually add some taco seasoning mix but I'm switching to this stuff instead. Austin-based.
Wildflower Caramels in Horchata and Tequila Basil Lime are made in San Antonio and have an interesting flavor profile.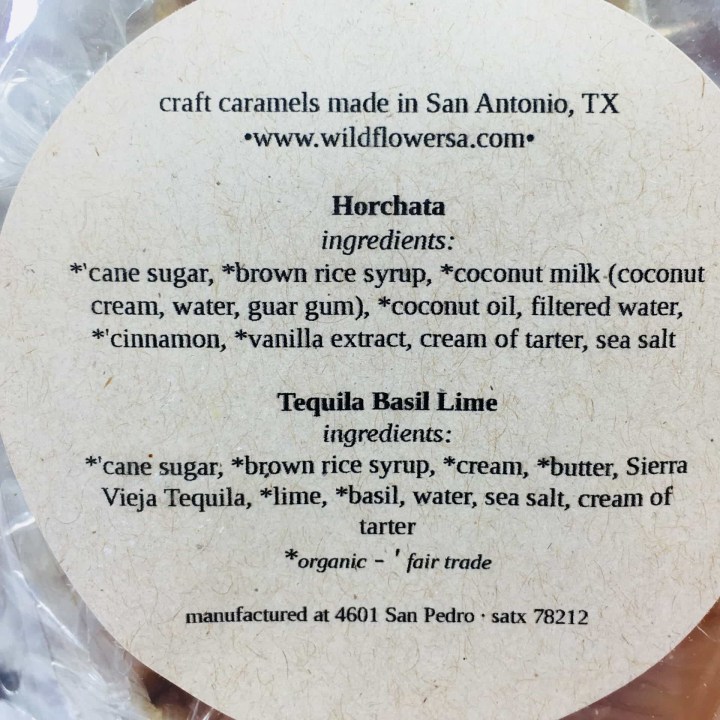 Horchata is coconut-milk based and vegan and was a very smooth, sweet caramel. Tequila Lime Basil is made with Sierra Vieja Tequila and was heavy on the basil. It tasted too much like spaghetti sauce! Once the weirdness faded it tasted much better, buttery and salty and the lime came out to play.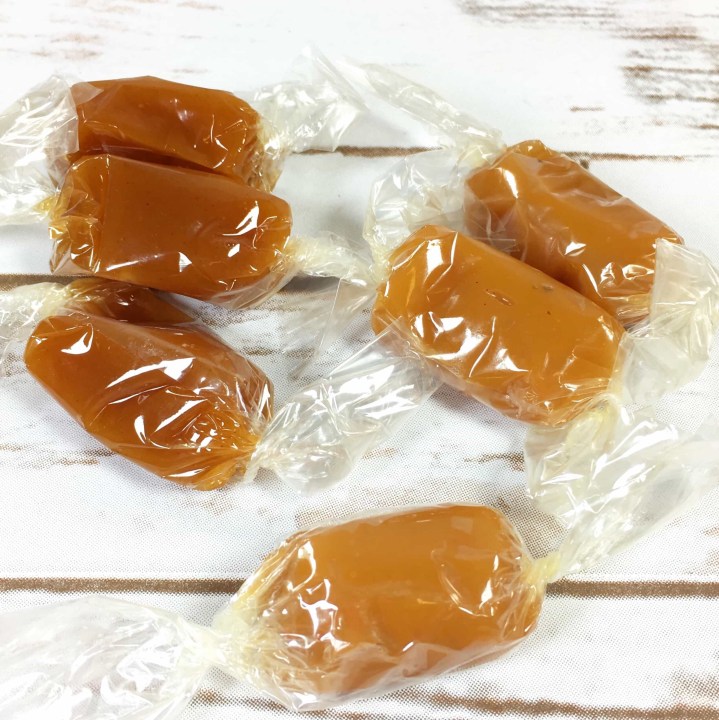 I received three of each flavor and shared with my co-workers.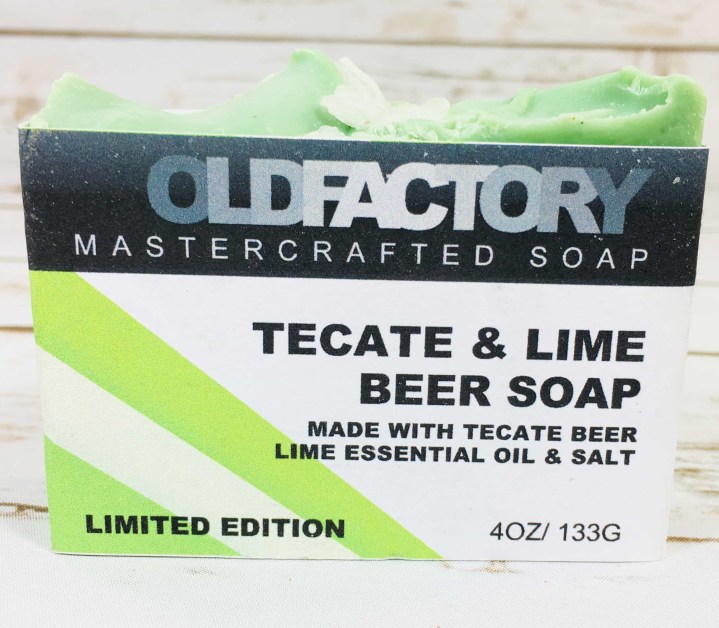 Old Factory Tecate & Lime Beer Soap was made especially for this box but there are lots of other amazing scents to choose from on the Old Factory website.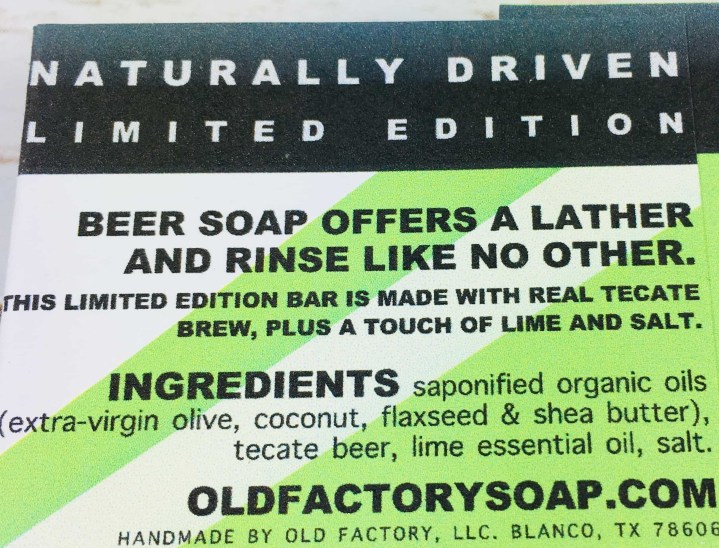 I was intrigued by the promise of "a lather and rinse like no other" as natural soaps and my hard water make for a weird feeling on my skin. I was surprised at how well it lathered and it did indeed rinse clean.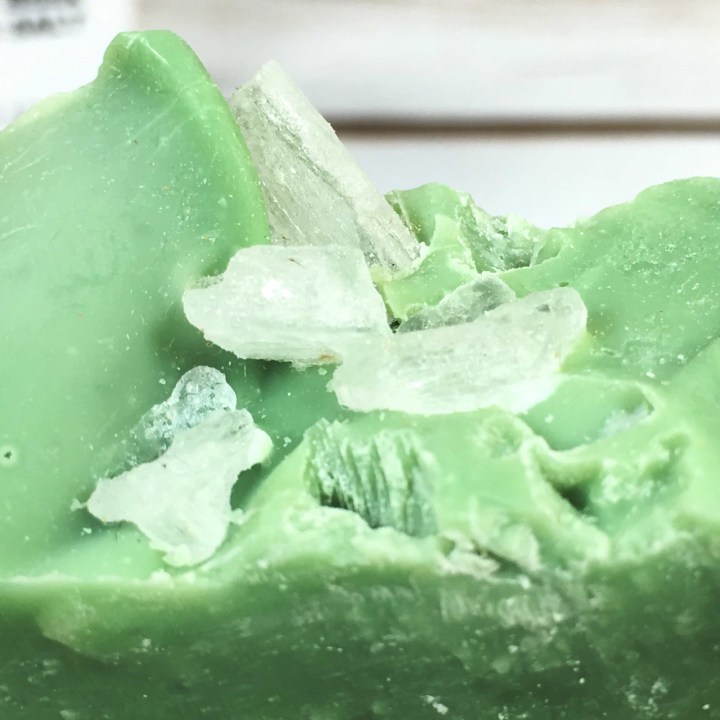 Look at those rocks! That looks like rock salt to me and it just fell off onto the shower floor before going down the drain. Made in Blanco.
I always enjoy the products from My Texas Market. Yes, I live in Texas so I may be partial to our state's marvelous makers but these products really are fantastic, well-made, and, in the case of food, tasty. The September theme was awesome and I can't wait to get to cooking/drinking with my new products. The soap has been used and the caramels are gone. I'm always excited when I come across some of these vendors at the farmers market and love to tell them how I tried their product in my box. If you like to get products from some amazing producers or just want a little taste of Texas then give My Texas Market a try!
Have you tried My Texas Market? What did you think of this month's selections?