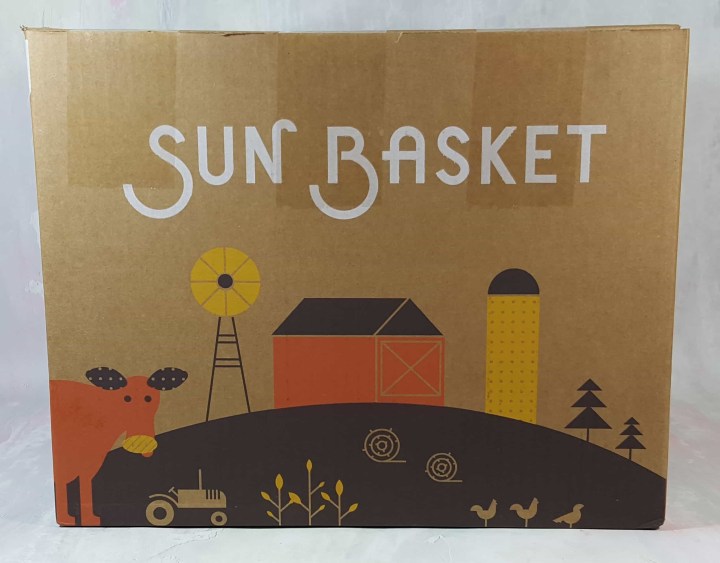 Sun Basket provides chef-developed and nutritionist-approved recipes focused on helping people create delicious, healthy meals using quality ingredients and globally-inspired flavors. Recipes are created by Chef Justine Kelly, formerly of The Slanted Door. Meals are between 500–800 calories per serving and use certified organic produce and responsibly sourced meats and seafood (free from antibiotics and added hormones). Pick and choose 3 recipes between the following meal plan menus for your weekly selections: Chef's choice, Paleo, Gluten-free, and Vegetarian. You can also opt for the Rise & Shine menu which consists of two dinner recipes and two 5-minute breakfast recipes. Sun Basket is now providing 20-minute meals as part of the weekly selection for those short on time.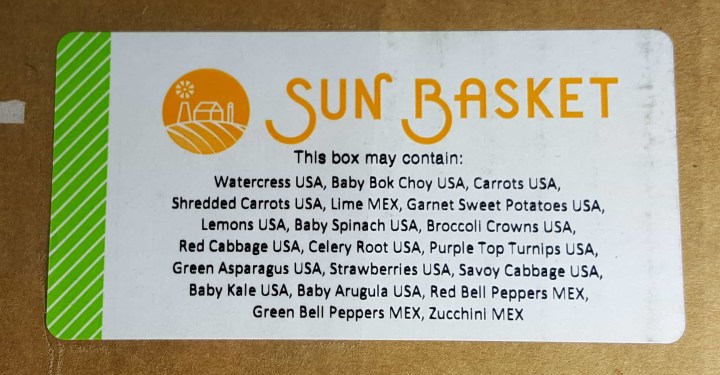 The outside of each box contains a label identifying origin locations for all of the produce. Should any food issues arise, you can use this label to quickly see if your ingredients may have been affected.
DEAL: Get 50% off on your first delivery! USE THIS LINK to get the deal.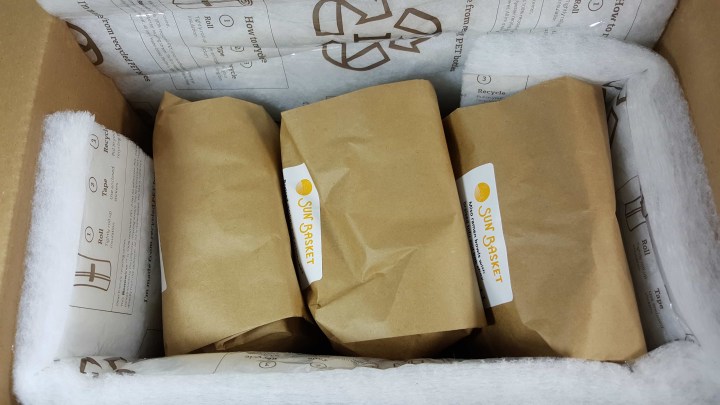 Recipes are separated into individual bags. Meals are packaged to stay fresh in the box for up to 8 hours after delivery. Note from Sun Basket: recipes with delicate greens and fresh mushrooms are best used within 4 days of delivery.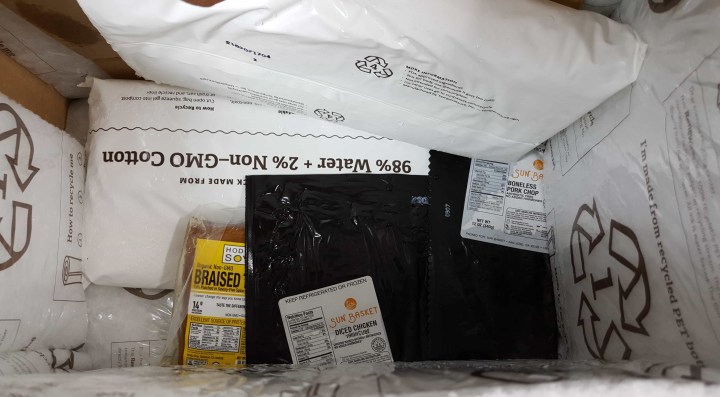 Proteins are located at the bottom of the box, sandwiched between ice packs. Make sure that you look here after removing your bagged ingredients.
Sun Basket provides most of the ingredients needed for your recipes, but there are a few pantry staples that you'll be asked to add such as olive oil, grapeseed or sunflower oil, plus salt and freshly-ground pepper. Occasionally, you'll be asked for wine or butter as an optional recipe item.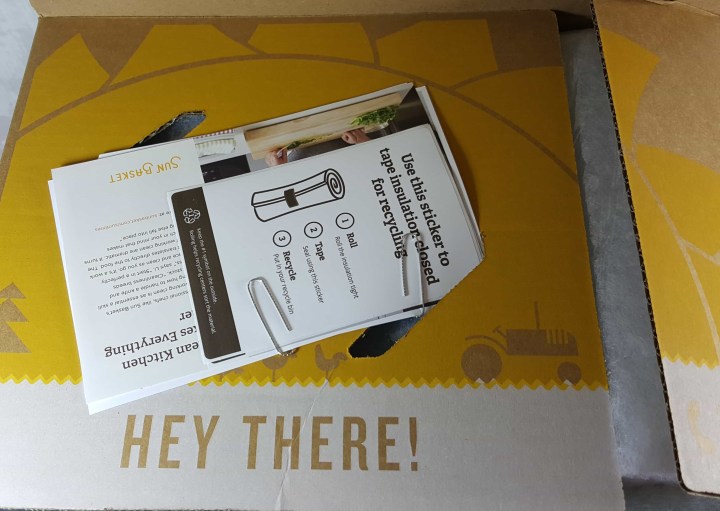 Recipes have been moved from inside of the box to the top. The side flap now conveniently holds the Sun Basket recipe booklet and recycling stickers.

Each recipe features a full color picture of the final dish and step-by-step directions with ingredients/quantities.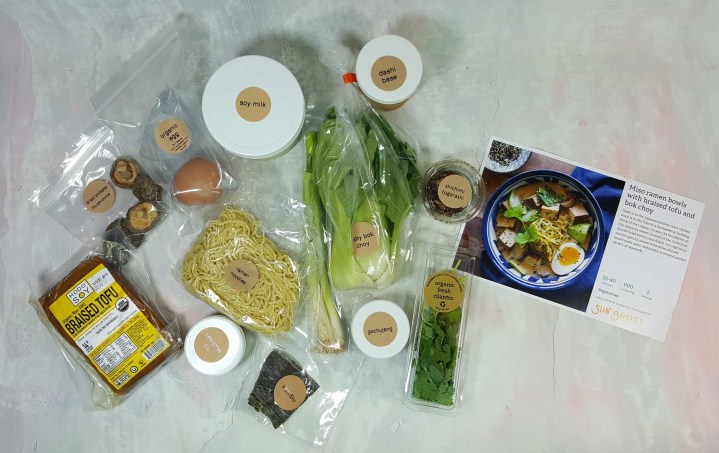 Here's an example of how each recipe started… Or as some would say, here are the ingredients.
Week 1
Miso Ramen Bowls with Braised Tofu and Bok Choy:  Ramen is comfort food for me, and I was drawn to this recipe as soon as I saw it on my options list. The broth was slightly creamy from the soy milk that was in it and had good flavor from the shitake mushroom liquor and kombu used to make the base. The bok choy was wilted but still had a nice crunch. Firm tofu and shitake mushrooms gave a mouth feel that resembled meat. And, the poached egg on top was the perfect finish for me. I've always added egg to my ramen – it was the way that my mom fixed it for me growing up. This dish was full of umami and different textures. Yummy! (Even dad, a die hard meat and potatoes man, gave this a 9 out of 10 rating. ?)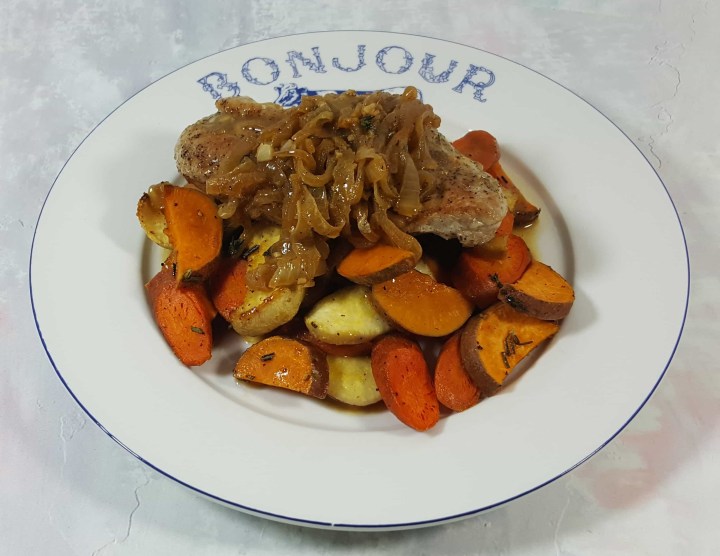 Pork Chops with Caramelized Onion and Honey-Roasted Root Vegetables: I loved every part of this dish. Let me start by saying that I LOVE roasted root vegetables and feel that caramelized onions should always be a side dish option (I've been known to add an entire caramelized onion to my steak, just sayin'). I was worried that the honey on the veggies would be overpowering, but they weren't overly sweet. The dish had a nice balance of sweet and savory. Plus, my pork chop came out tender and moist. This is definitely comfort food.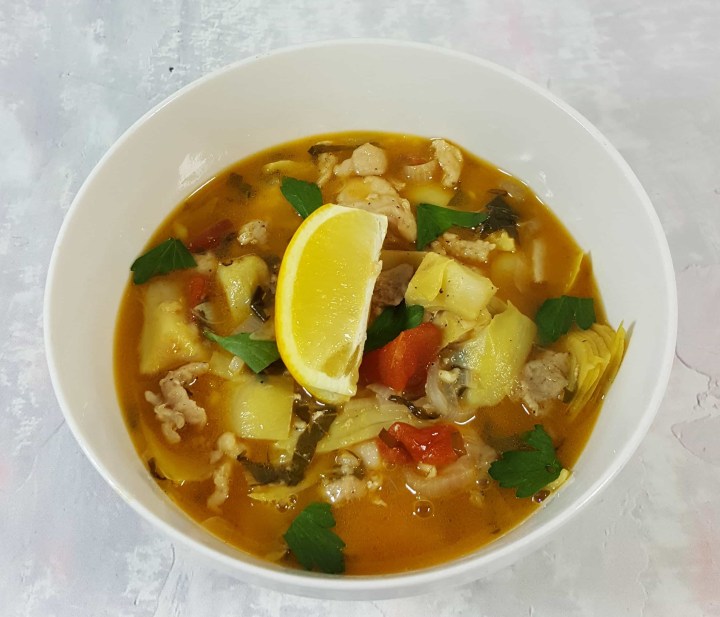 Braised Chicken and Artichokes: This dish surprised me. I wasn't quite sure how this was going to turn out, but I knew that I liked the ingredients and Mediterranean feel of the recipe. This was very light but filling. The artichokes had a slight tart and briny flavor, but the lemon cut through and gave a brightness to the dish. This would be nicer served as a late spring/early summer meal.
Week 2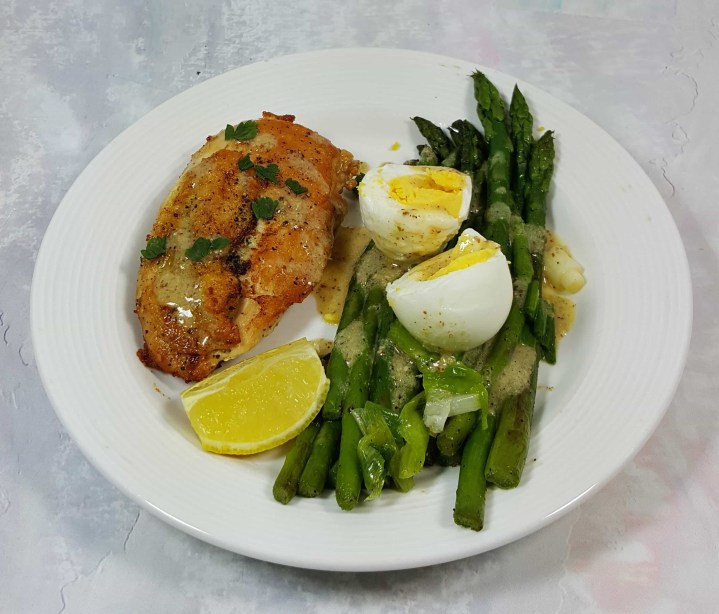 Herbed Chicken Breasts with Asparagus and Soft-Cooked Eggs: I was very happy that this recipe did not require me to make a Hollandaise sauce. However, the elements for the sauce are there with the mustard-lemon vinaigrette and soft cooked egg (my egg came out a little harder cooked, though). I always worry about either undercooking or overcooking chicken breast, but these came out perfectly with crispy skin. This was a fairly easy dish to make, and it will return to my kitchen. Next time, I might try pounding the breast and using less scallions.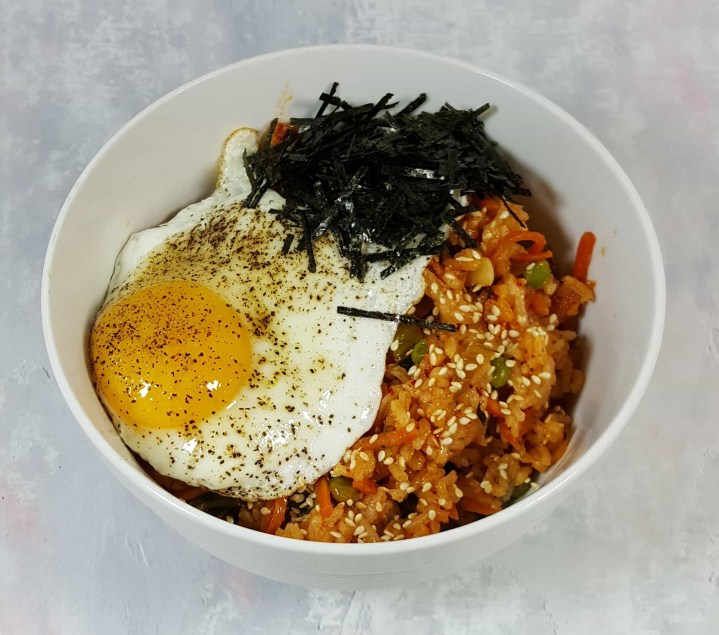 Spicy Kimchi Fried Rice with Peas, Nori, and Eggs: Being part Korean, kimchi fried rice is something I know well. That said, there were 2 things that I took issue with in this recipe. First, was the jasmine rice. It is not the same as the short grain rice traditionally used in Korean cuisine (Brandy will agree with me on this). The other issue I had was the use of sambal oelek instead of gochujang. Sambal is seen more in Indonesian and Singaporean cooking, but gochujang is uniquely Korean and has been included with other Sun Basket recipes. OK, peas were my 3rd issue, but I let that go because Koreans do love legumes with their rice. Anyway, outside of those things, this dish was pretty good. It was definitely more dressed up than my normal kimchi fried rice.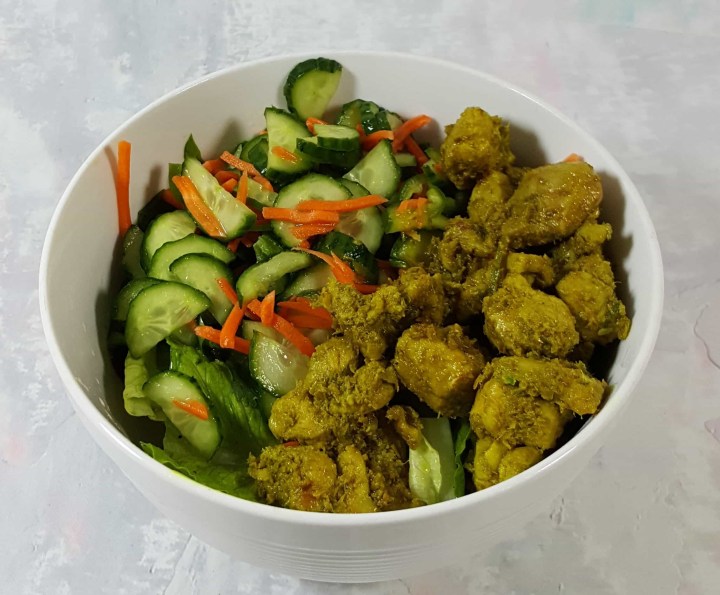 Banh Mi Chicken Salad with Quick Pickles and Sesame-Miso Dressing: My finished dish looks like curry chicken with a cucumber salad. LOL! Seriously, from a looks standpoint, this would be considered a Pinterest fail. I liked this meal because I had all of the flavors of a Vietnamese Bahn Mi sandwich but significantly less carbs (no bread). The pickles were able to take on a lot of flavor in a short time. I was able to get 3 portions out of this, and it was more filling than you'd think for a salad.
Week 3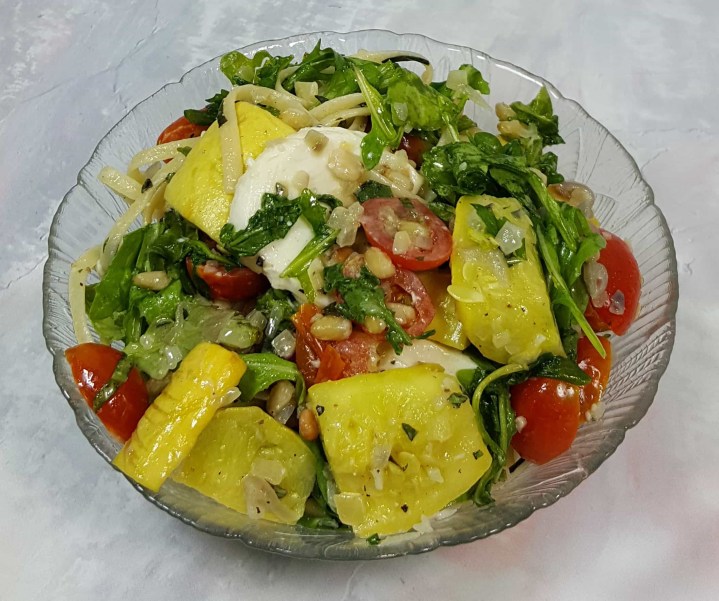 Linguine with Summer Squash, Tomatoes, and Fresh Mozzarella: As a fan of Caprese salads, I was excited for this dish. It had most of the same components, plus some pasta to make it filling, and squash and pine nuts for texture. The flavors were light, but I kept feeling like something was missing because I wanted balsamic vinegar. So, I added a little to my bowl and it made all the difference to me. Dad thought that it was fine as is.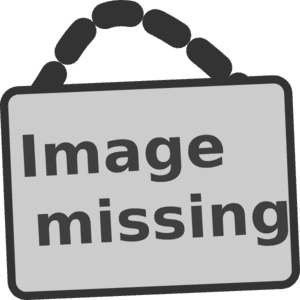 Bibimbap with Snap Peas, Carrots, and Fried Eggs: No picture and no review for this meal. Unfortunately, when this shipped, something leaked over the ingredients and they did not survive the journey. I contacted Sun Basket with information on the shipment and pictures, and they were able to provide a credit for the meal. I was really disappointed at losing this meal because bibimbap is one of my favorite dishes. I order it at Korean restaurants almost as much as I order the barbecue.
Spinach-Feta Scramble & Cinnamon-Maple Overnight Oats with Currants:
I decided to try some breakfast options. Let's start with the Spinach-Feta scramble. I am a feta fan, but I felt that it was overpowering in this dish. The amount that is provided with the recipe added too much saltiness and sharpness for my tastes. I liked the fresh veggies, though. The ingredients made me think of the omelets that I ended up turning into scrambled eggs because I couldn't get them to flip correctly.
Now, onto the overnight oats. I don't know why I got this. I only like oatmeal in my cookies, but I force myself to eat oatmeal as a breakfast item because I know it's good for me. This dish was OK. Definitely warm it up a little before you eat. It will help take some of the raw oatmeal taste away. Plus, warm oatmeal is better than ice cold oatmeal.
As you can see with this Sun Basket review, there are a wide range of cuisines/flavors for you to choose from each week. Since I know I am partial, I really try to make myself branch out when choosing my meals. I've been pleasantly surprised by some of the dishes added to my weekly baskets. One of my favorite things about the meal service is that everything is reviewed by nutritionists and dishes are portioned – great if you're trying to make healthier choices.
Sun Basket meals breakdown to $11.49 per person, which is similar to eating out at a casual restaurant. There is also a $5.99 weekly delivery fee. You can choose between the 2-person or 4-person plans (weekly $74.93 and $143.87, respectively). Skip or cancel at any time. Sun Basket has an expanded delivery area. However, they do not deliver to the following states: AK, HI, IA, KS, LA, MN, MO, MT, NE, NM, ND, OK, SD, TX, and WI. They only deliver to parts of AR.
Have you tried Sun Basket yet or any other meal service?

Visit Sun Basket to subscribe or find out more!