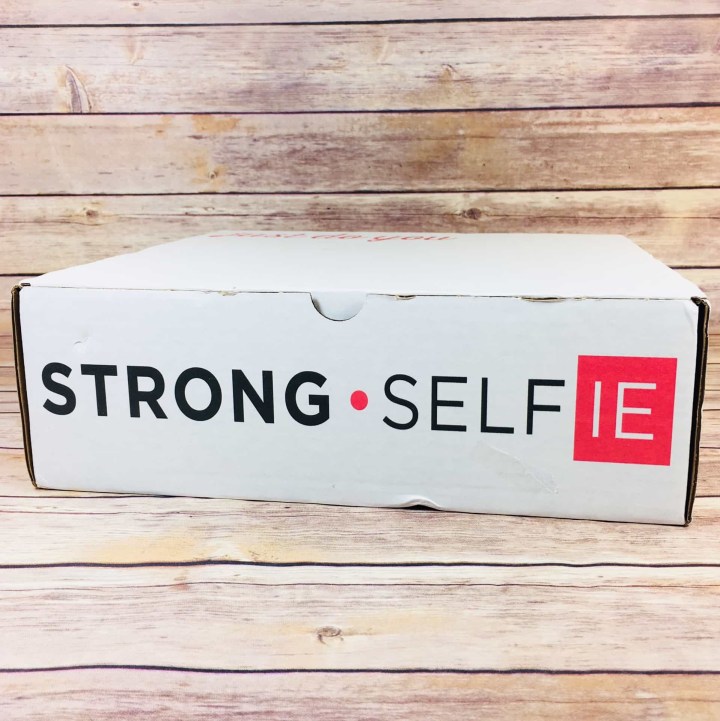 STRONG self(ie) is a quarterly subscription box that helps empower young girls to be their best self! There are two boxes to choose from: the BLOOM(box) is for girls ages 8-12 and the BURST(box) is for girls ages 13-17. I have a 14 year old daughter, who helped me review the BURST(box)!
So much more than a quarterly subscription box – STRONG self(ie) is building up a community of STRONG girls by delivering handpicked items that are purposeful, positive, and powerful.

Every STRONG self(ie) box features trendy products that represent the four corners of self(ie) strength, and includes an inspirational message for girls, along with an envelope of resources for parents.

You will receive 4-6 of our favorite seasonal products that we think support strong girls. Our goal with each box is to provide you with a meaningful, inspiring message to help you be your STRONG-est self(ie)!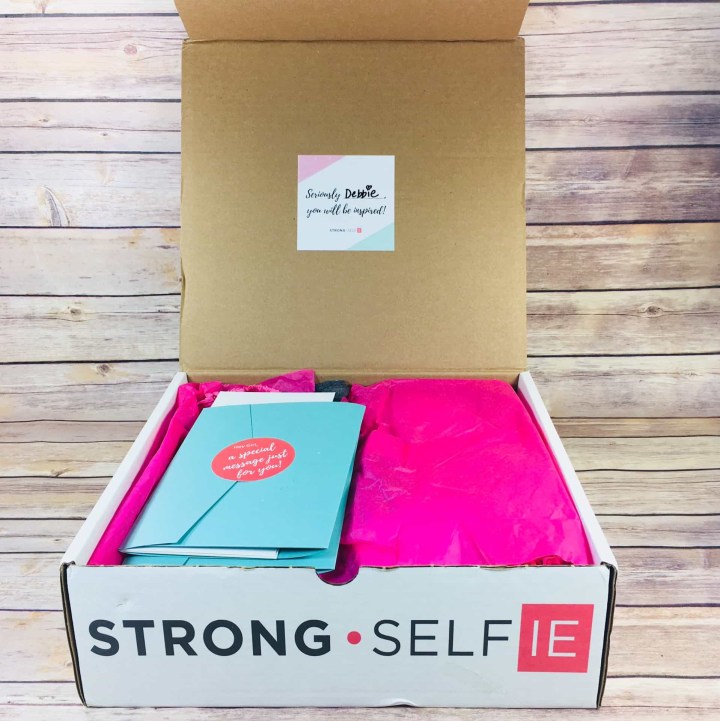 First look! I love the colors, a bit of pink, a bit of blue.
DEAL: Get 20% off your first box! Use coupon code Hello20.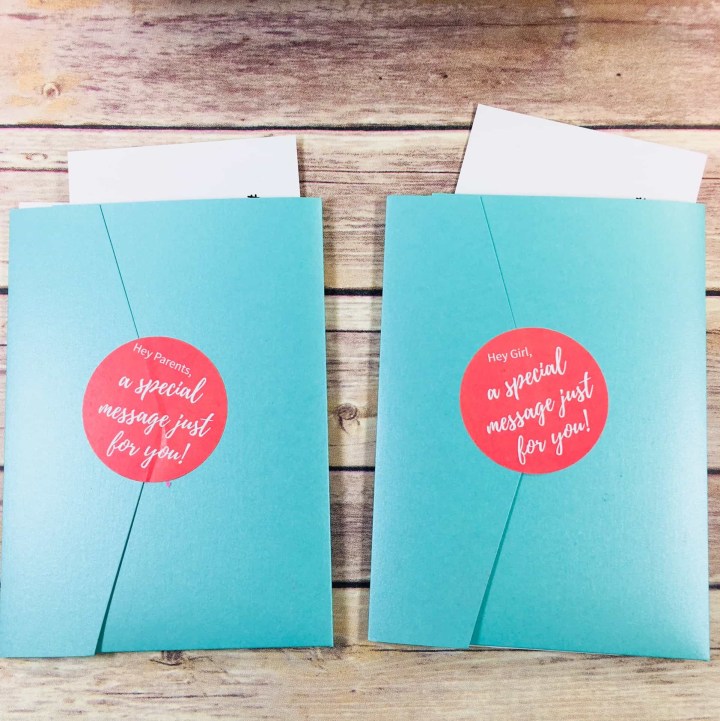 There were two envelopes inside, one for parents and one for the intended recipient of the box.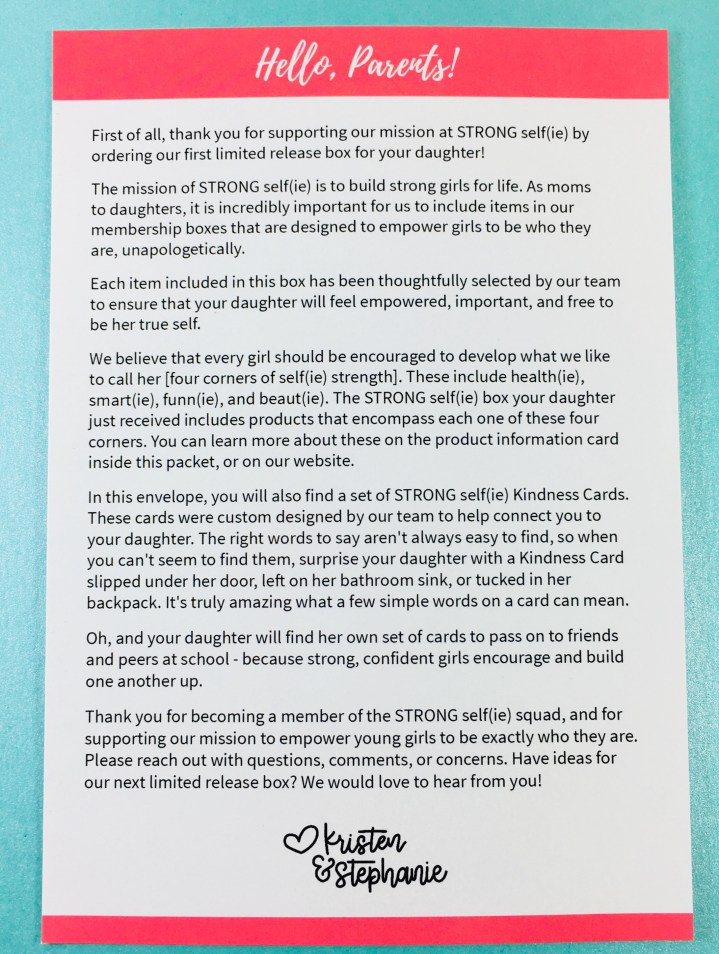 There was some info for parents on how to use the included Kindness Cards (shown below) and informs that STRONG self(ie) hopes to encourage girls with items that promote four self(ie) strengths: health(ie), smart(ie), funn(ie), and beaut(ie).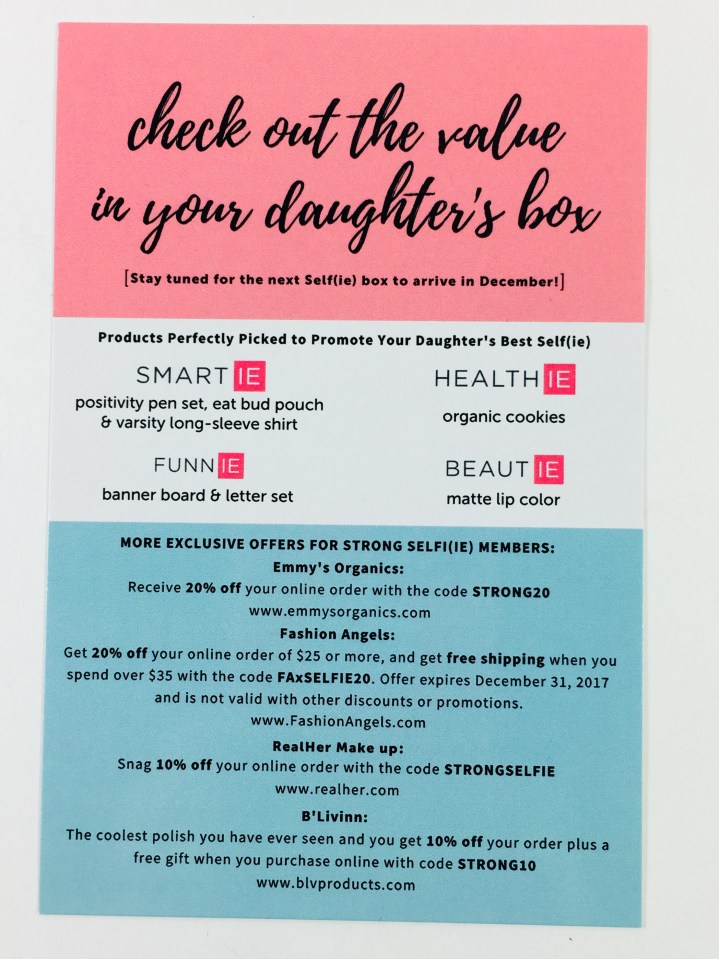 Next was a product info card showing which core strength each item enhances. There were also discount codes included.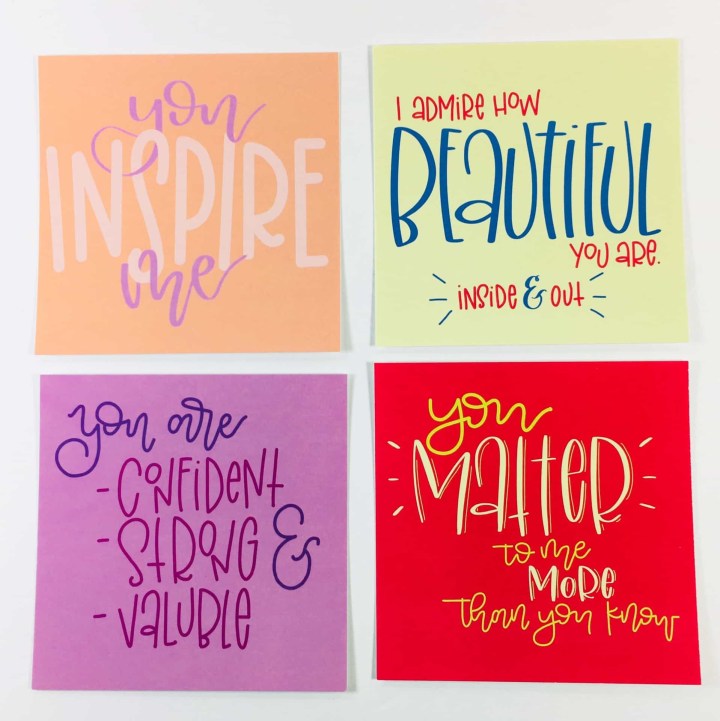 There were four inspirational cards that you can slip into your daughter's backpack, place next to her sink, or prop on her pillow.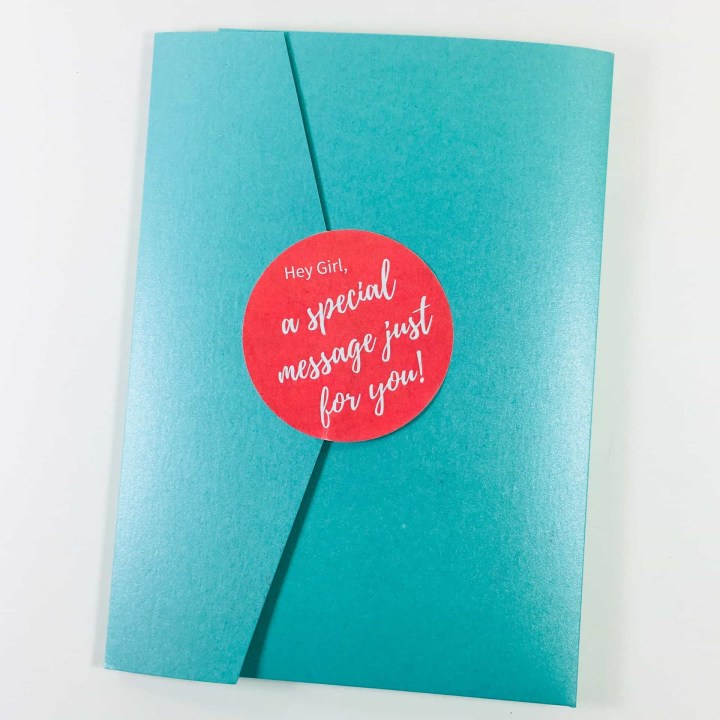 My daughter received her own envelope.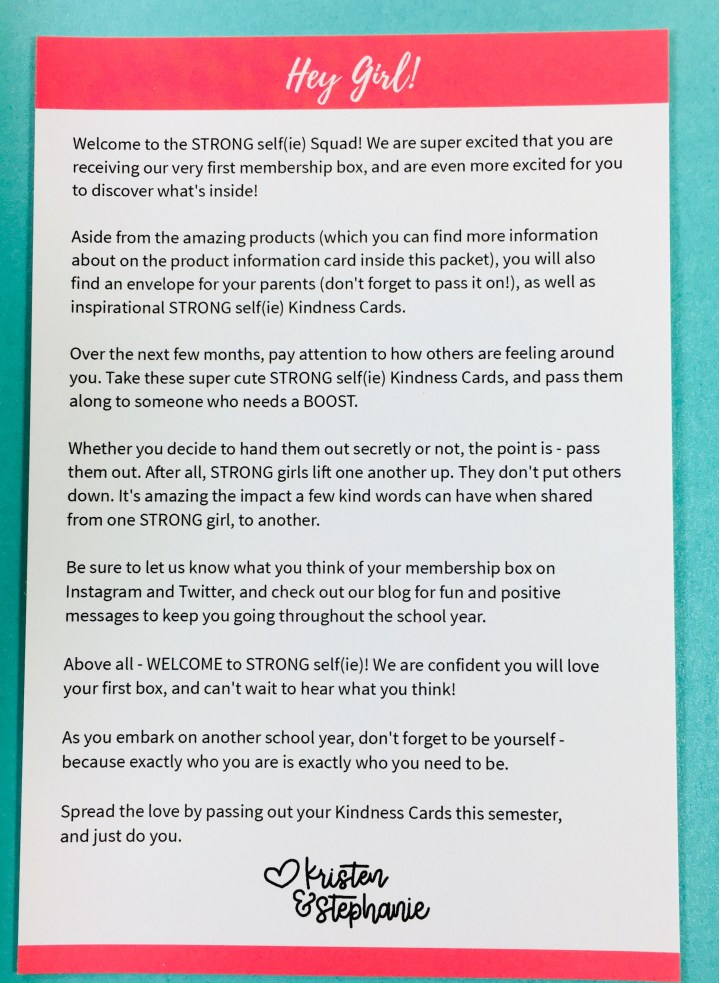 Karina's card had info on how she could share her own Kindness Cards with others, as strong girls help, not hurt, each other.
It also included another product info card.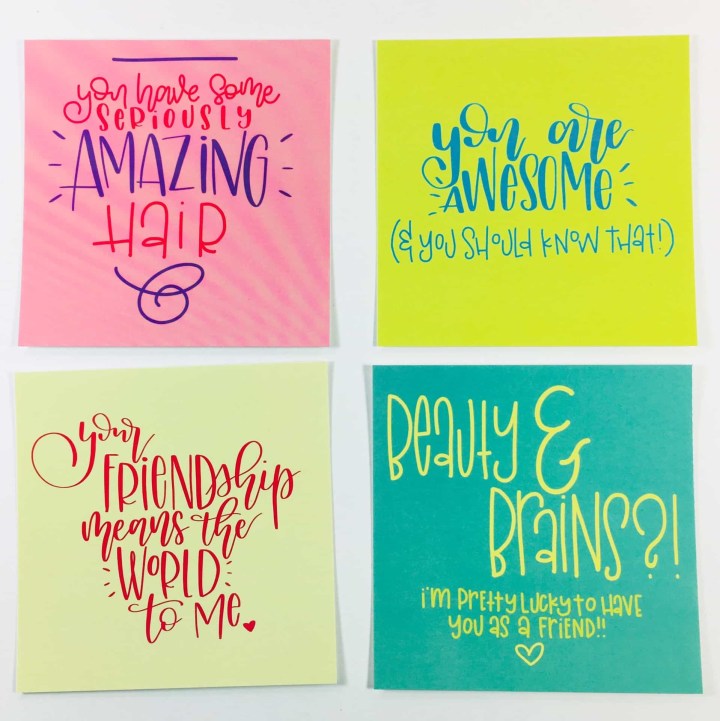 Here's what the Kindness Cards look like!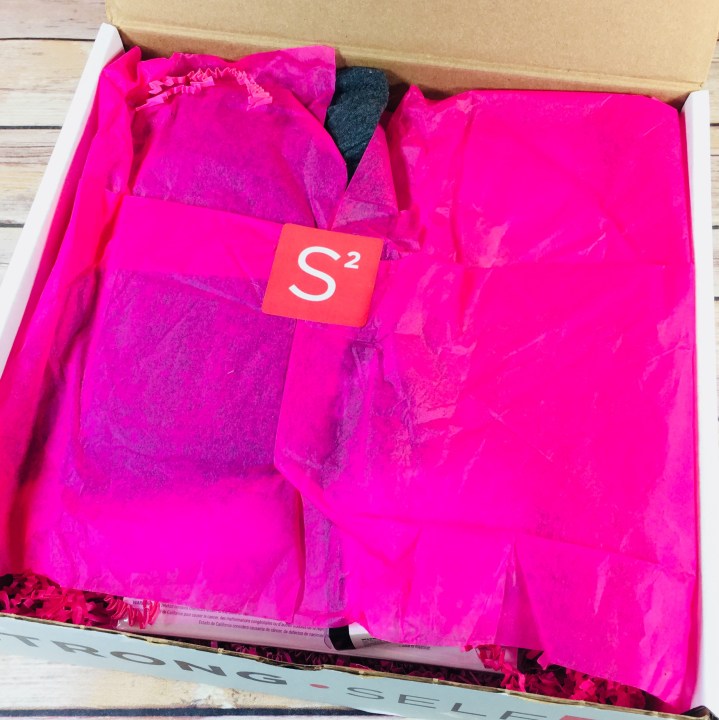 The items were wrapped in pink tissue paper and were sealed with an S² sticker.
Pink tissue paper squiggles kept everything safe on the journey. Ooh, is that a shirt? Looking good!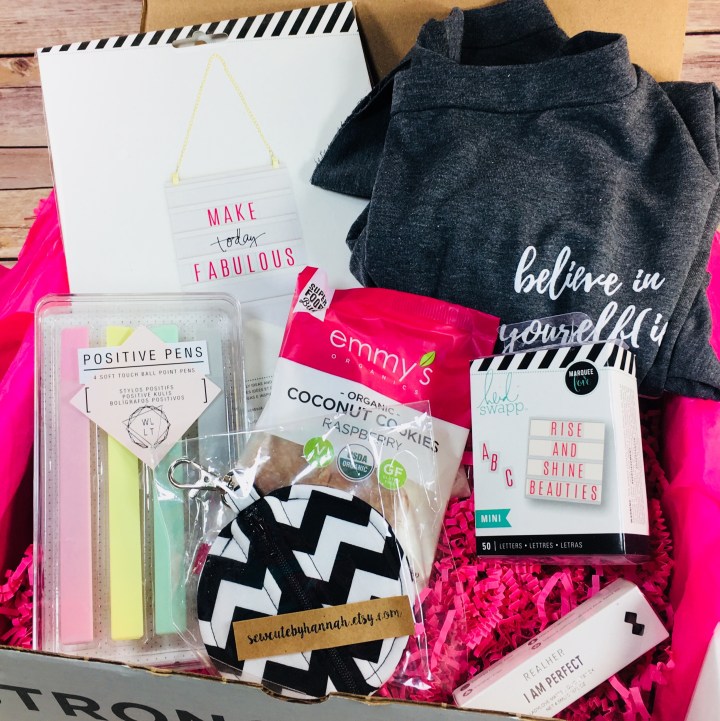 The presentation was perfect. Even though my daughter isn't a huge fan of pink, she thought this was pretty cool.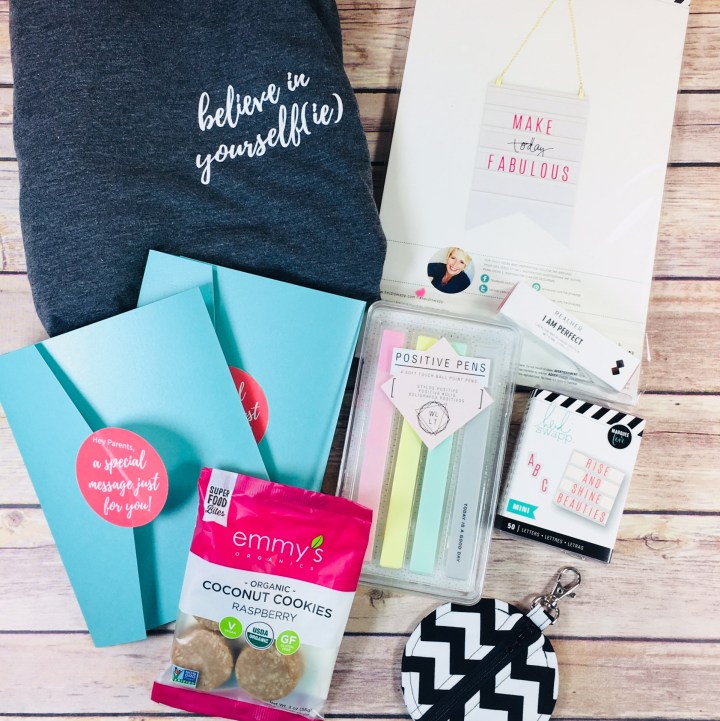 Everything in the box!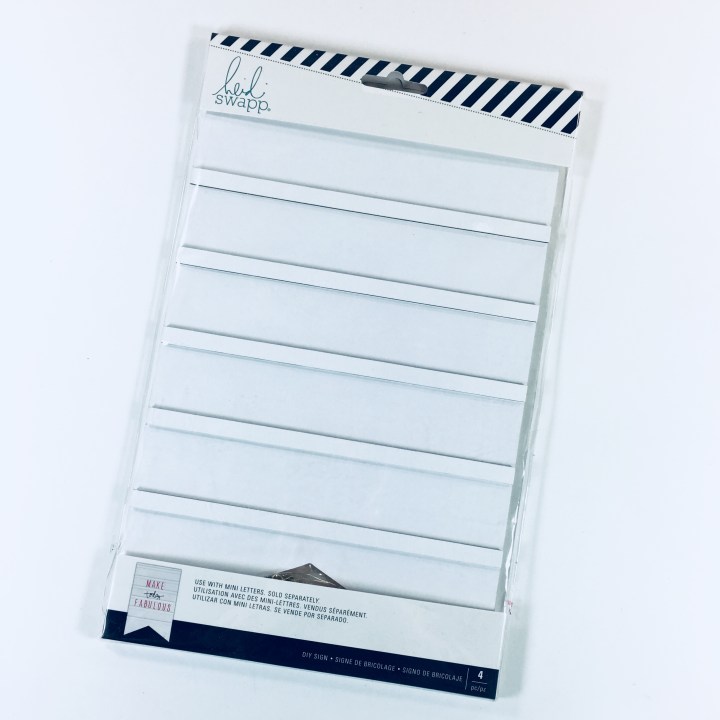 First up is the Heidi Swapp Lightbox DIY Banner Sign ($9.99) which Karina put to use immediately.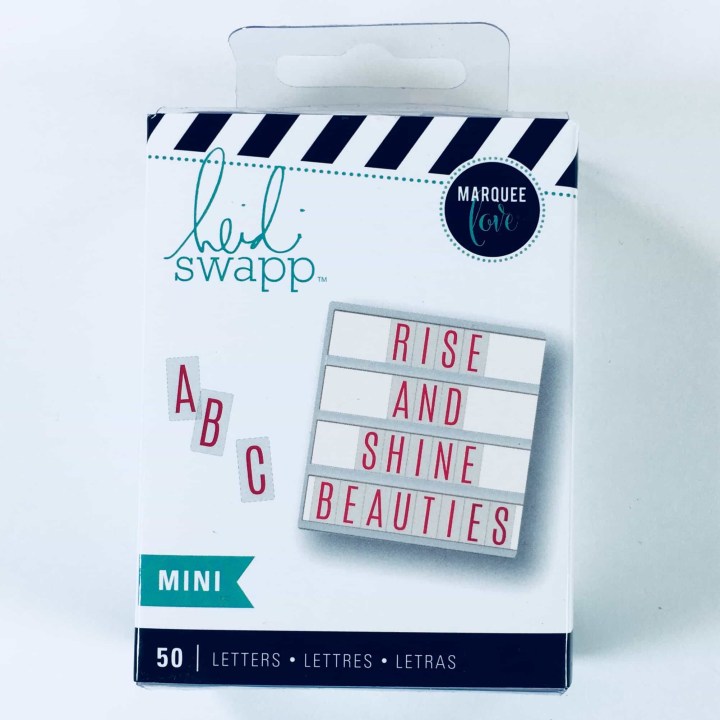 Heidi Swapp Lightbox Mini Alphabet Inserts ($7.88) 50 pink letters were included so that users can change their banner anytime.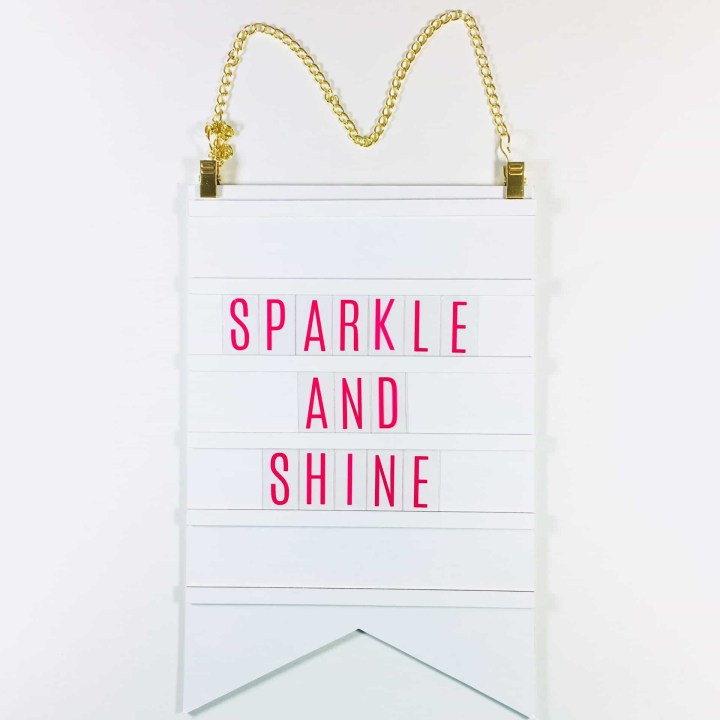 Here is Karina's sign, which I noticed now displays song lyrics. She really likes this sign!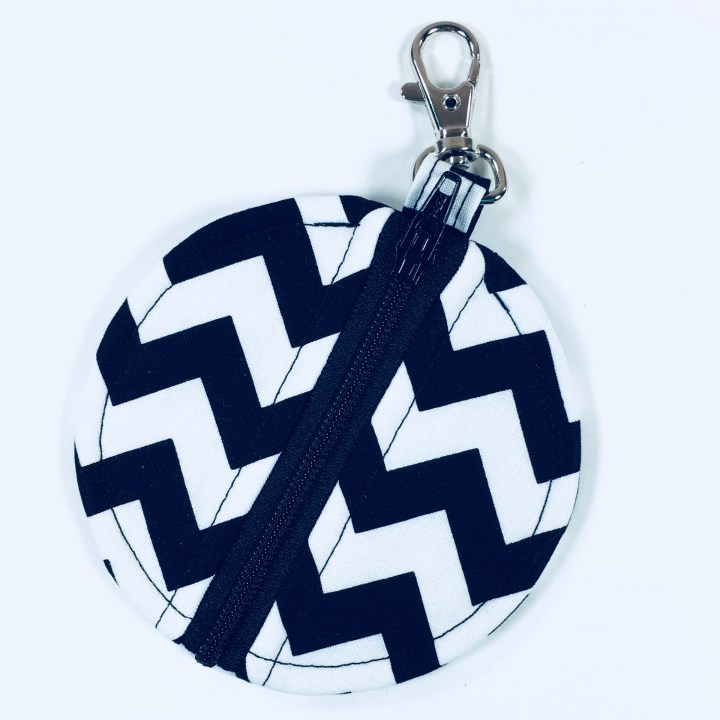 Isn't this Black and White Chevron Earbud/Coin Pouch by Sew Cute by Hannah ($7.50) adorable? It has a lobster clasp and is handmade by an Etsy seller and would also hold lip balm or other small items.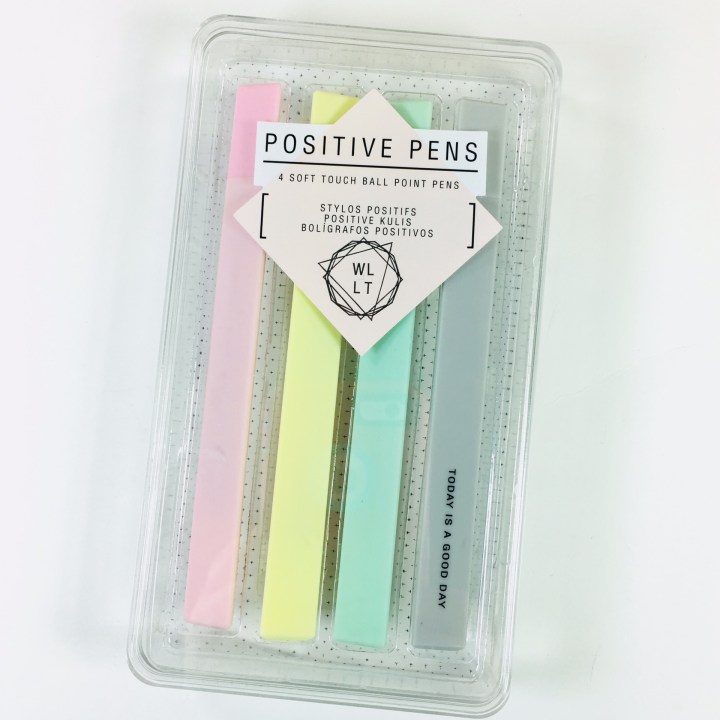 NPW Positive Pens ($12.49) are triangular, soft, and come in pastel colors.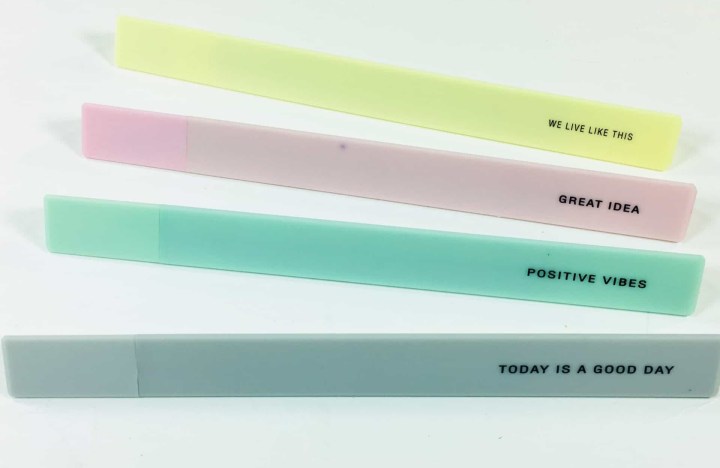 They are regular ball-point pens on the inside but the outside features positive messages.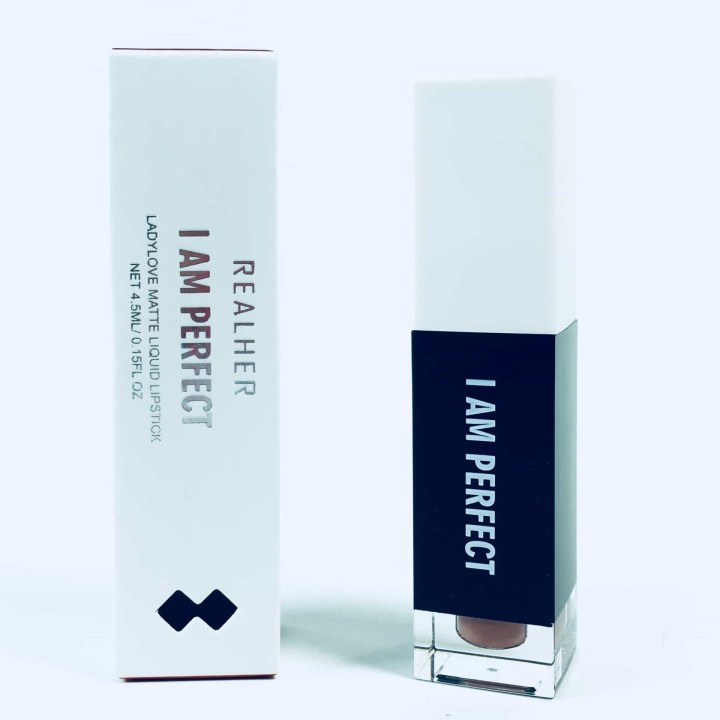 Realher Matte Liquid Lipstick in I Am Perfect ($18) is cruelty-free and features hyaluronic acid for moisture. The shade is described as "true nude."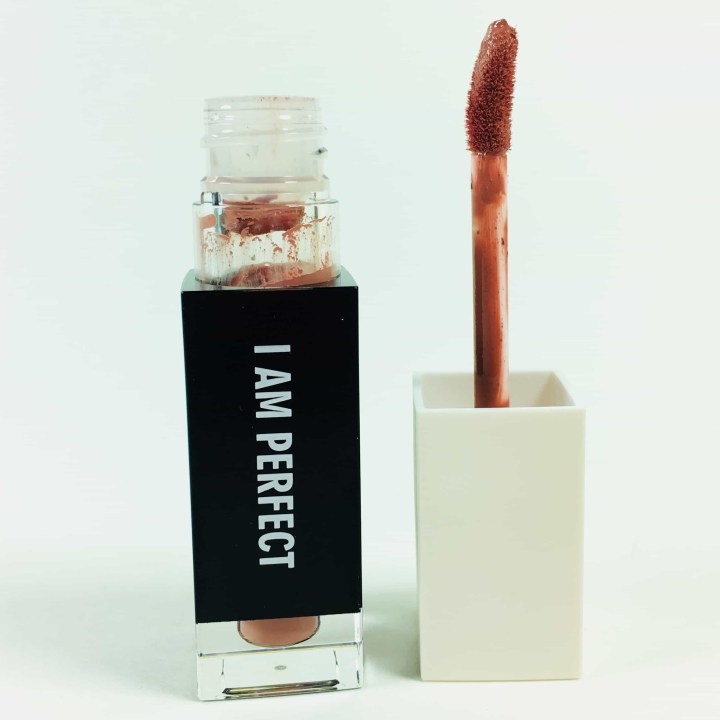 Karina didn't care for the shade or formula, but then she rarely wears makeup and always carries a lip balm with her. I tried it out and although I didn't care for the color, it dried quickly on my lips into a flat matte and then didn't budge. It felt like I had nothing on my lips.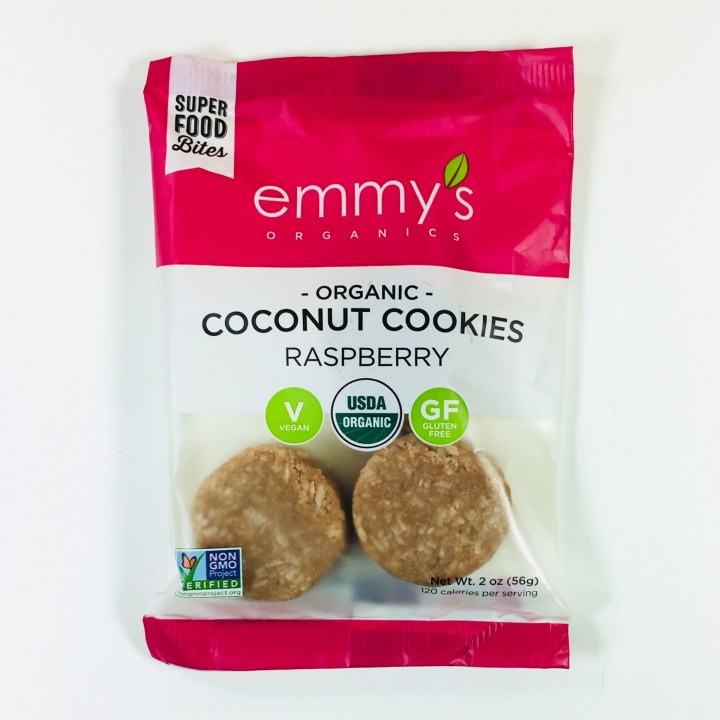 Karina shared one of Emmy's Organics Organic Raspberry Coconut Cookies ($4.33) with me and it was awesome! It's like a macaroon and has coconut, raspberry puree, and sea salt as well as a few other natural ingredients. This is the best flavor I have tried of this brand's cookies, it was fresh and sweet and fruity. Yum!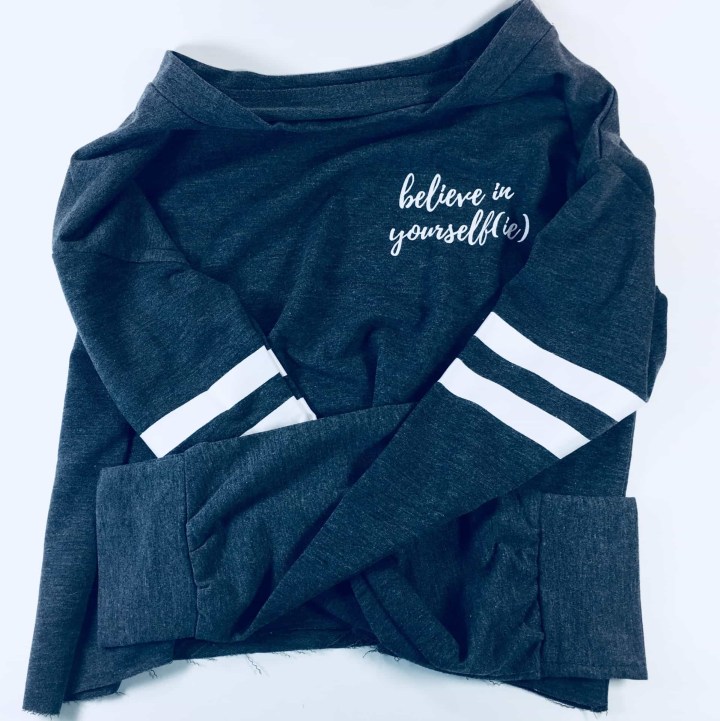 Our final item is an exclusive believe in yourself(ie) Varsity Long Sleeve Shirt ($25, based on similar styles). It is dark heather grey and features white stripes on the sleeves and is cut and left unfinished along the bottom.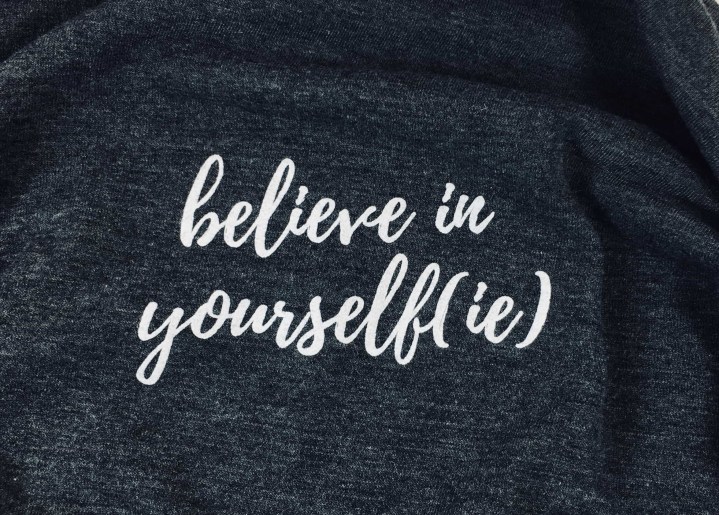 It says "believe in yourself(ie)" and Karina has been living in this shirt.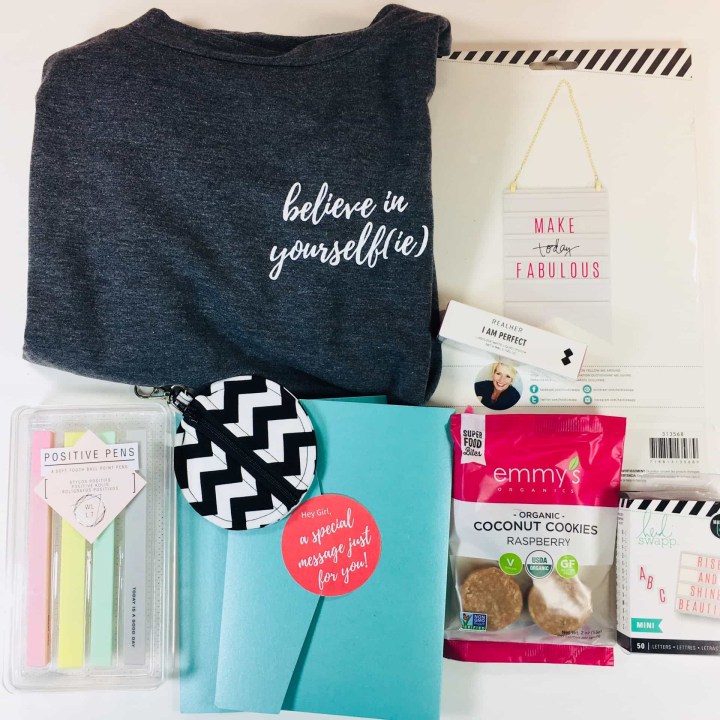 What an wonderful box! Karina really enjoyed each product in her STRONG self(ie) BURST(box) and I have been amazed that she uses these items now in her daily life. I watched her pull one of the pens out of her binder and the banner board is hanging on her wall. The shirt makes it through the laundry rotation regularly and the cookies are long gone. The only product she didn't care for was the lipstick but overall this box was practically perfect in every way. STRONG self(ie) put a lot of thought and care into this subscription and it shows.
What do you think of STRONG self(ie)? Let me know in the comments!