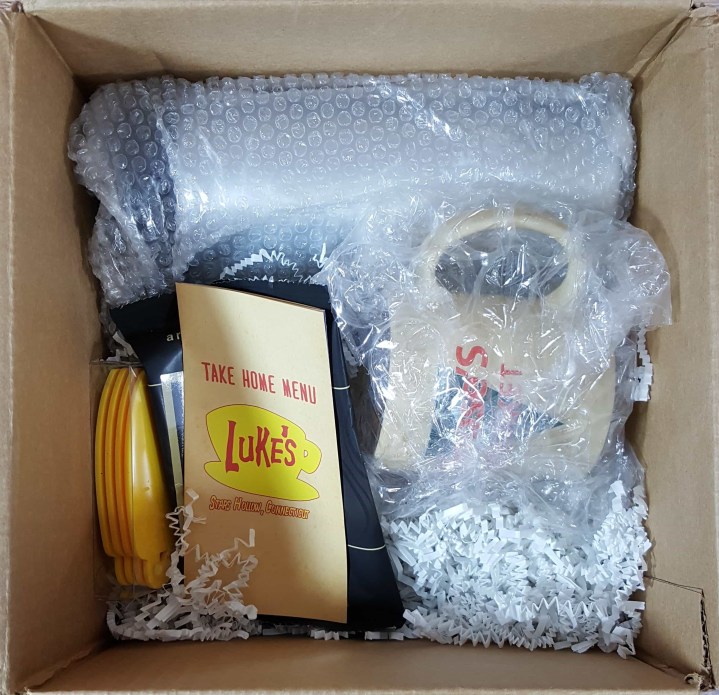 Stars Hollow Monthly will feature 3-5 products which are inspired by the Gilmore Girls and the fictional town of Stars Hollow. (Inspired by, meaning items that relate to, are inspired by, or are artistic renderings of the show and its inhabitants/characters.) For $34.90, you can expect anything from tee shirts (on occasion), home decor, fashion accessories, bath & body items, and much much more.
The goal for the Stars Hollow Monthly Box is to send subscribers items they will adore as fellow Gilmore enthusiasts, but also items anyone would enjoy – high-quality items that won't gather dust in a drawer somewhere.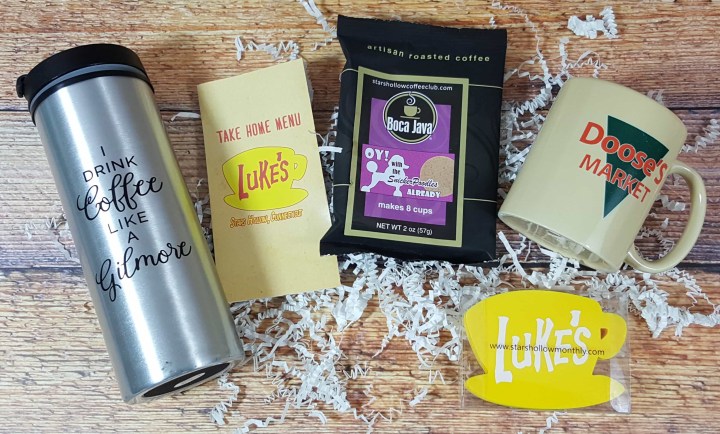 Super strong coffee theme for August's Stars Hollow Monthly Box! Whether you drink it at home or take it on the go, there's an option here for you.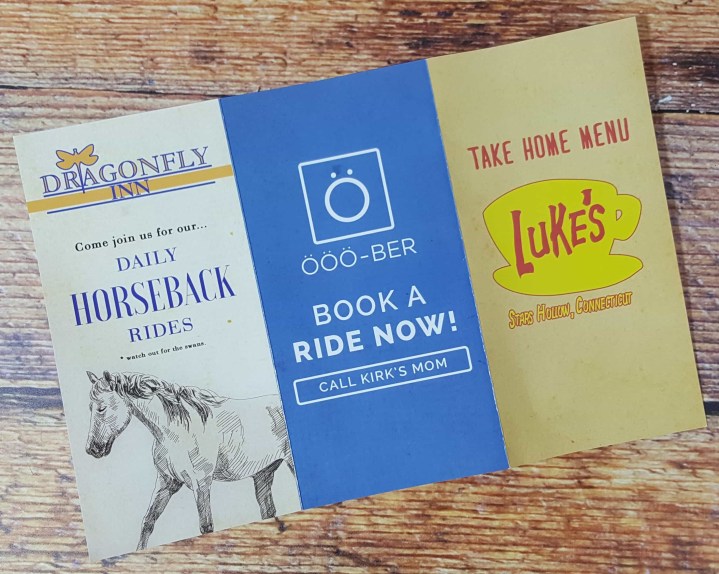 The outside of Luke's menu features ads from around Stars Hollow. Again, this month we get to see ads for the Dragonfly Inn and (now defunct) ÖÖÖ-BER. The ads change every few months, and I love trying to figure out what will be highlighted next.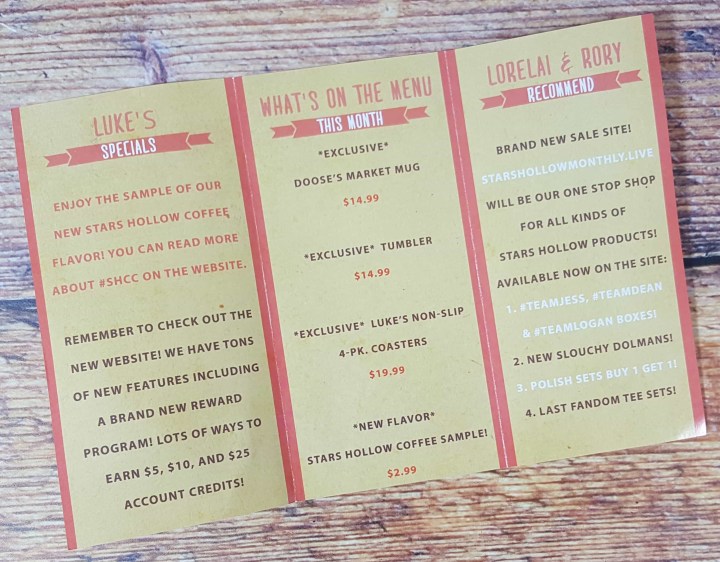 The inside of the menu contains a list of the box contents with pricing, as well as discount codes and offers for other Gilmore Girls related products. StarsHollowMonthly.Live is a new site to grab your favorite Gilmore Girls products. Be sure to check to check the sales and giveaways on the site too!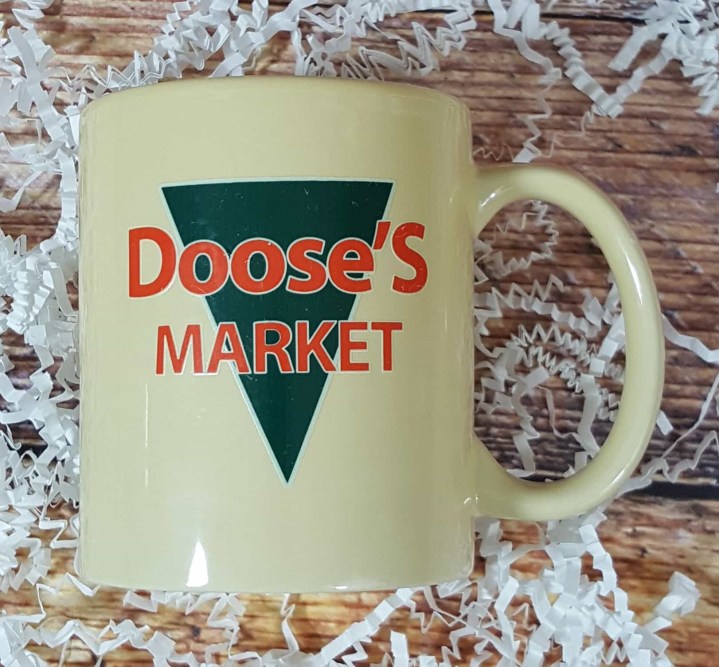 *EXCLUSIVE* Doose's Market Mug ($14.99): An 11oz ceramic mug featuring the logo of Stars Hollow's only grocery store, Doose's Market. I hope Taylor doesn't get mad that it's in the box… I'm sure he'd appreciate the free advertising. LOL!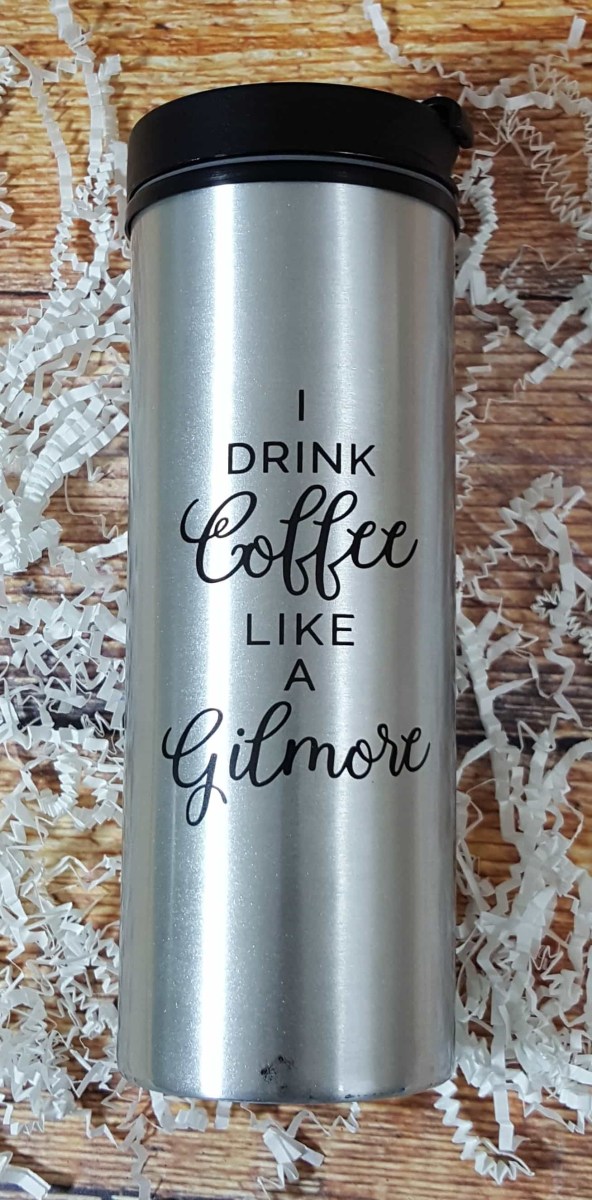 *EXCLUSIVE* Tumbler ($14.99): This lightweight tumbler is perfect for making sure that, like Lorelei and Rory, your coffee goes where you go. I've seen this phrase on a few coffee mugs and thought it was cute. So you can imagine my happiness to get this in my subscription. Too bad my tumbler has a little blemish on the bottom. ?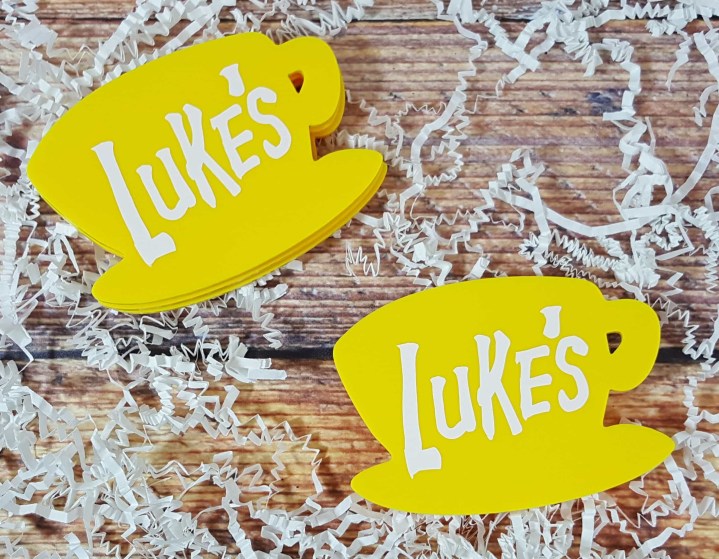 *EXCLUSIVE* Luke's Non-Slip 4-pk Coasters ($19.99): These acrylic coasters feature non-slip feet so they won't slide across your table. And, of course, they are cut in the shape of the coffee mug from the Luke's Diner logo. Just wondering why Luke's is written in white instead of red??? Regardless, I love these and can't wait to use them.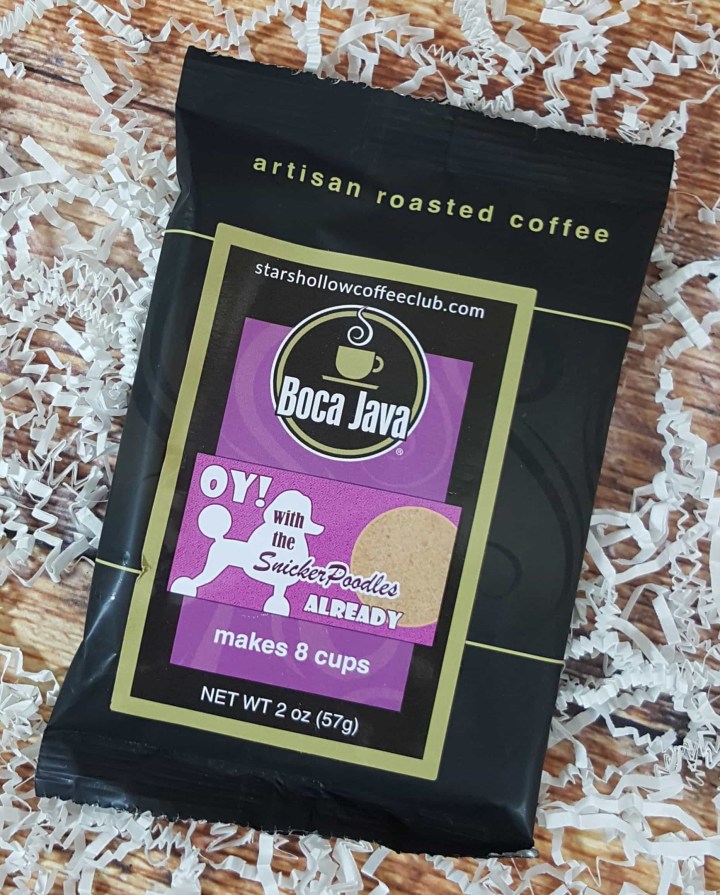 *NEW FLAVOR* Boca Java Coffee Sample – Oy! With the SnickerPoodles, Already ($2.99): Yes, the flavor is a riff on the well known phrase. And yes, the coffee has a snickerdoodle taste. According to Boca Java, "this cinnamon and sugar tasting coffee will surely shut up a person that is talking non-stop and will have you smiling every time you brew a pot." For more fun coffee varieties, be sure to join the Stars Hollow Coffee Club.
August's Stars Hollow Monthly Box had a listed value of $53. I liked the curation's coffee theme and will definitely be using both pieces of drinkware. Plus, I'm sure the coasters will be a conversation piece if I ever throw the housewarming party I've been planning. Maybe a cup of coffee will get me going.
What was your favorite item this month? Leave a comment below and share your thoughts.