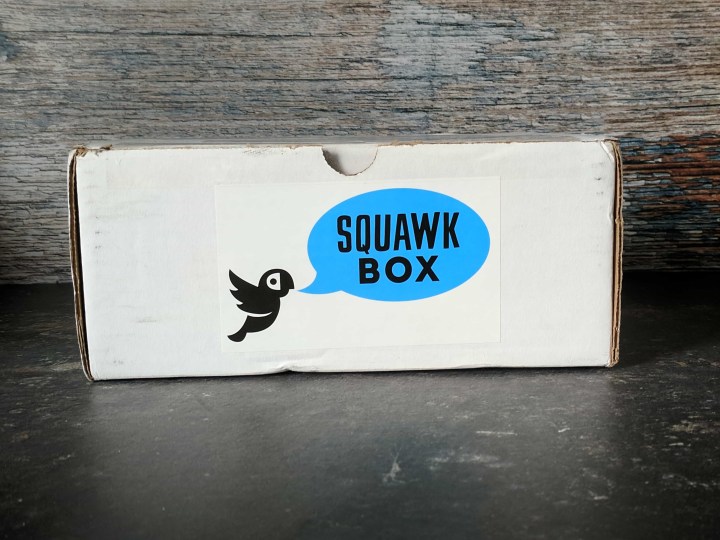 Squawk Box is a monthly birdie care package of 4-6 bird treats, toys, and more delivered straight to your door. Because parrots, big and small, need a great amount of stimulation to thrive, Squawk Box will deliver a new selection of toys every month. Every crate is carefully curated to keep our feather friends happy and healthy!
The box is available in three sizes: Little Birdie (great for Lovebirds, Parrotlets, Cockatiels, Parakeets, Green Cheek Conure sized), Middle Birdie (great for Quakers, Conures, Senegals, Pionus, Timneh Greys, Caiques, some Mini Macaws & some small cockatoos), and Big Birdie (Macaws, Amazons, Cockatoos, Eclectus, and Congo African Grey sizes). The monthly subscription starts at $24.95 for the Little Birdie to $34.95 for the Big Birdie, with significant discounts for longer subscriptions. Knowing that parrots have a long life ahead of them, and that they will destroy everything around them, the longer subscription is definitely a must!
Also, for each Squawk Box ordered, a percentage goes to parrot rescues. Not only do you provide fun new treats to your own bird, but you help other parrots as well!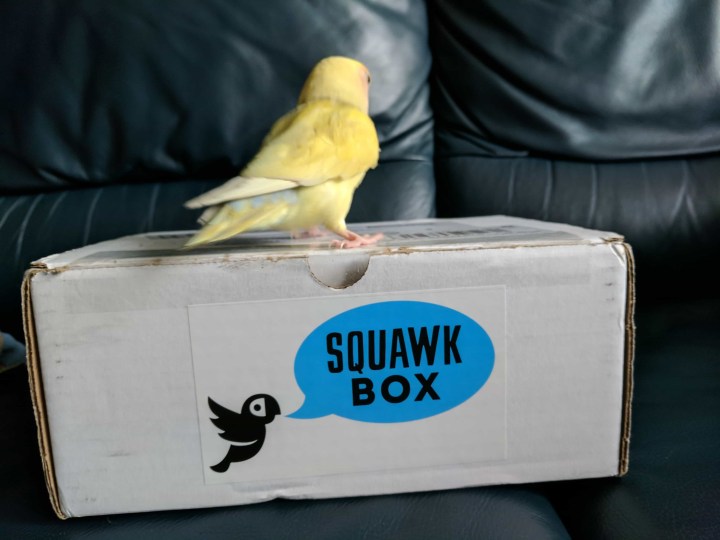 This review is for the Little Birdie. My assistant reviewer is Kiwi the lovebird.
Everything is hiding under layers of paper squiggles, perfectly safe for the bird to play with!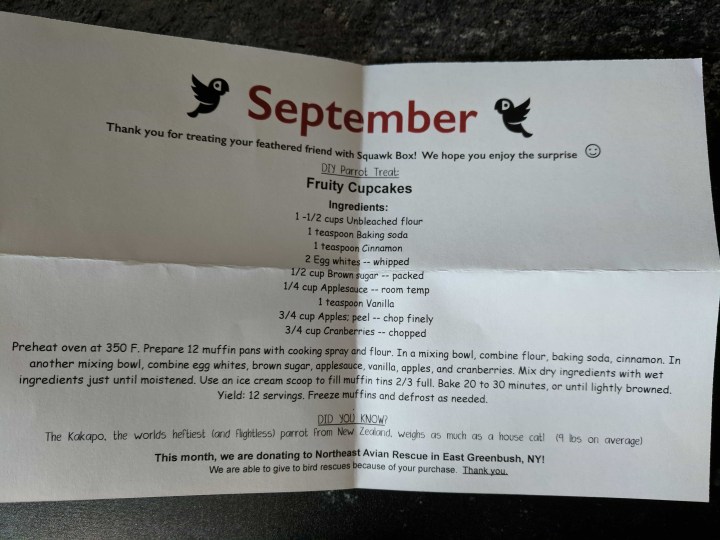 There is no information on the content of the box, but you get a nice DIY Parrot Treat that you can share with your favorite Human (Fruity Cupcakes), a Did You Know about the Kakapo, and the Rescue of the Month. For September, part of the money from the sale of each Squawk Box goes to Northeast Avian Rescue in East Greenbush, NY!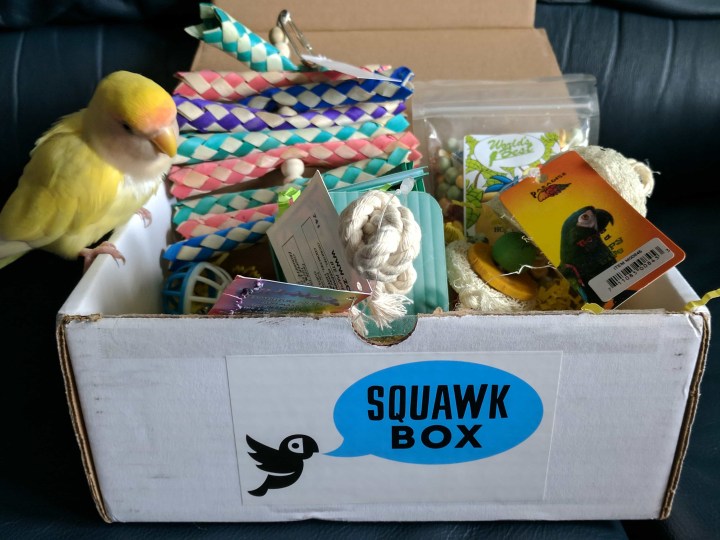 Everything in the box. Kiwi has spotted something awesome right away.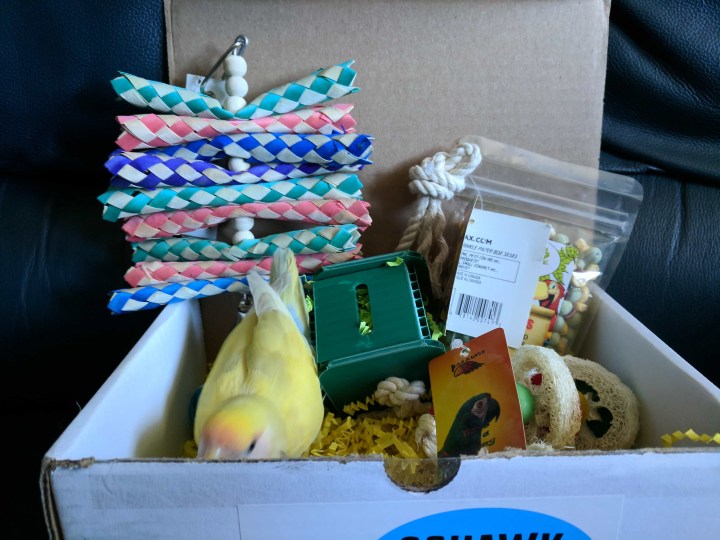 She found something with a bell.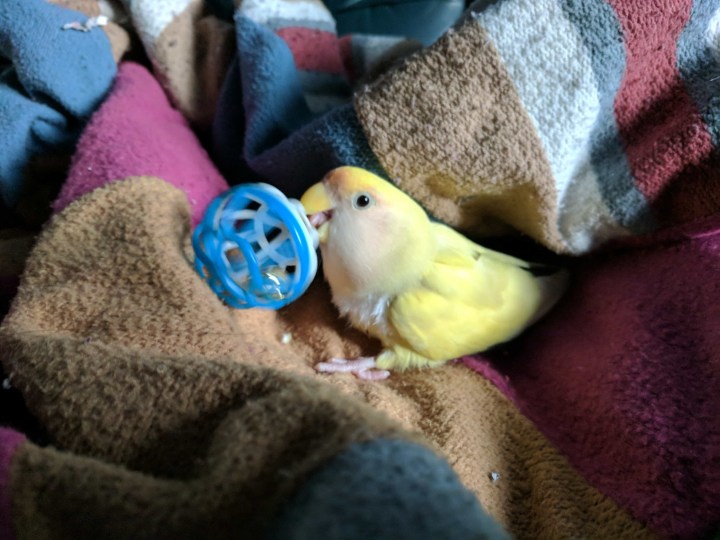 And she moved it with gusto.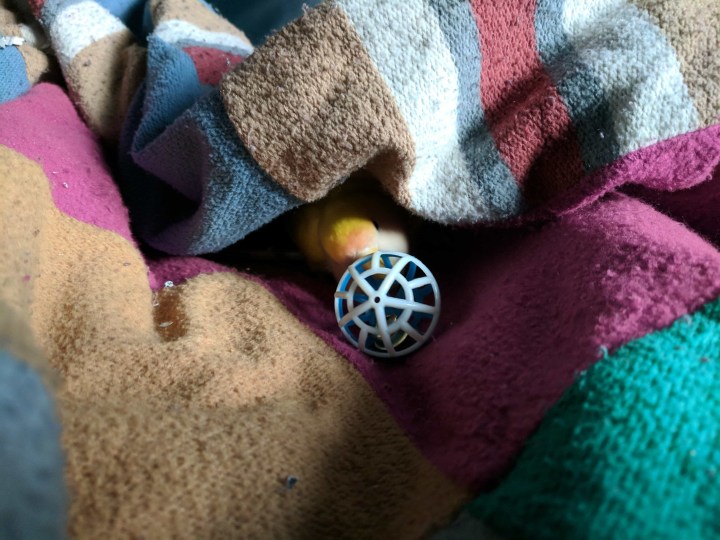 To her cave (she likes to hide in the blankets on the couch).
Lattice Ball. You can find this ball in any pet shop (look in the cat toys section) or on amazon. They are inexpensive, but they pack a lot of hours of play! In Kiwi's first Squawk Box, there was a similar toy and she loved it so much that we ordered more. We leave one inside her cage, there's about 4 or 5 under the couch (she retrieves them often and push them under my foot…). This is a winner!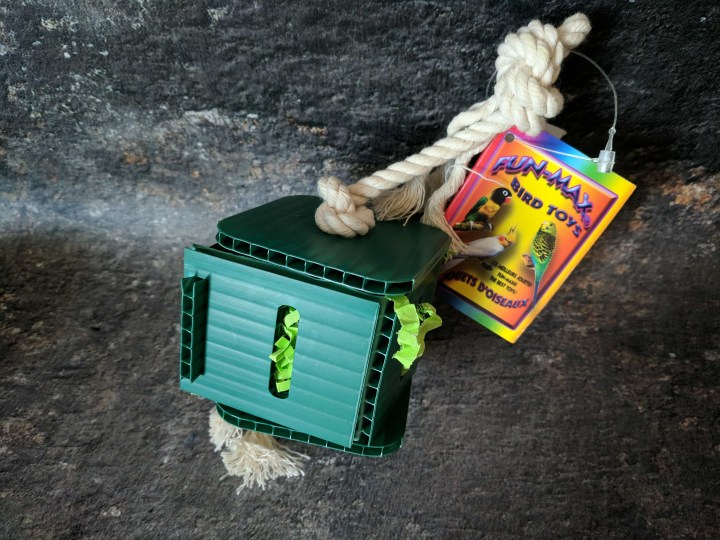 Fun Max foraging toy. This is a fun toy to get your bird thinking! The top rotates around the rope, so you can hide treats among the paper or by itself. Close it back and then your bird will spend a while trying to figure out how to get to the delicious treat. Some bird might understand right away (and get their treats within a couple of minutes) other will take longer.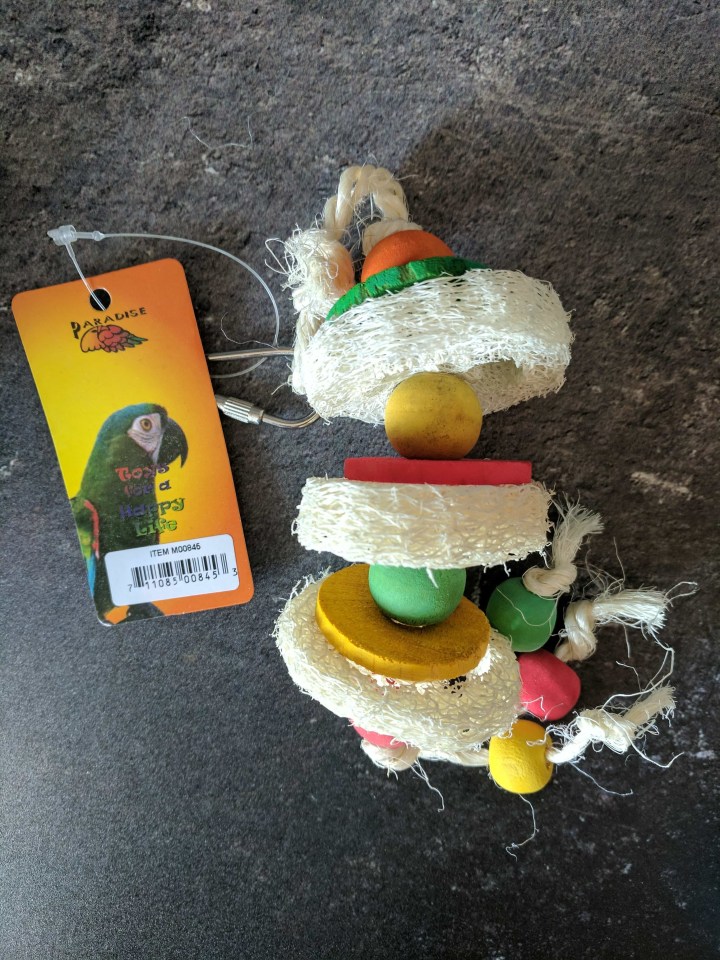 Tri Loofa Stacks Toy by Paradise. This one will take a while for Kiwi to get use to, but the wooden disks are one of her favorites so she'll get there at some point (I'll say about three months). Yes, you have to be patient with birds! You could also put some smaller seeds in the loofa to make it a foraging toy (and get the bird to trust it a bit more!)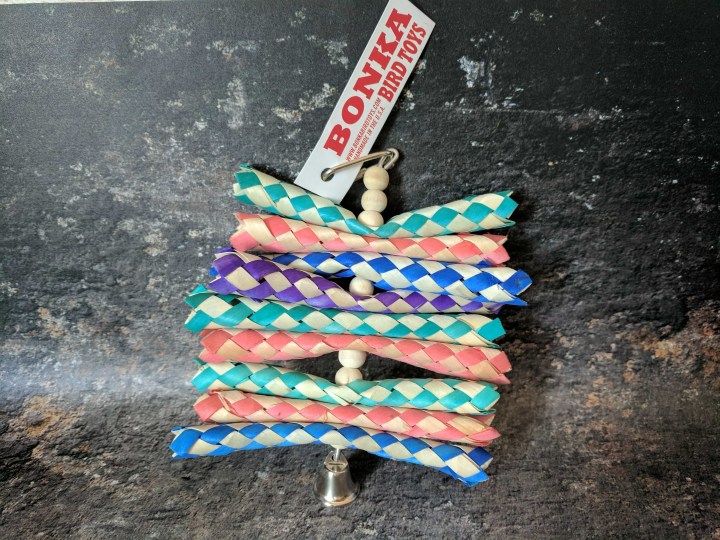 Shredburst by Bonka Bird Toy. This is a shredding toy with a lot of paper! You can hide treats in the finger traps, or just let the bird goes wild on it. Kiwi already likes the bell. She's an addict to bells.
This month's treat is the Freeze Dried Hot Veggies by World's Best. It's a mix of corn, carrots, peas, tomatoes and capsicum peppers. You can give a bit mixed to their normal food, or as a treat. It's crunchy, so Kiwi might taste some of it, as soon as she stops hissing at them.
This month's Squawk Box was a hit with Kiwi, probably due to the ball that is now MIA (I will so step on it at some point!) She actually tasted some of the peas from the treats and she wasn't insulted by it, so that's totally a win! Yay for veggies in her diet!
Kiwi and I love Squawk Box as it is great to discover new toys, and maybe new favorites. I'm impressed by the variety of toys available out there as Kiwi has been subscribed to Squawk Box for a while now and she hasn't received the same toy twice! It's fun to get a box of new toys and treats to discover, instead of spending countless hours at the pet store in front of a very limited selection to end up buying the same toy over and over again!
Chirp!