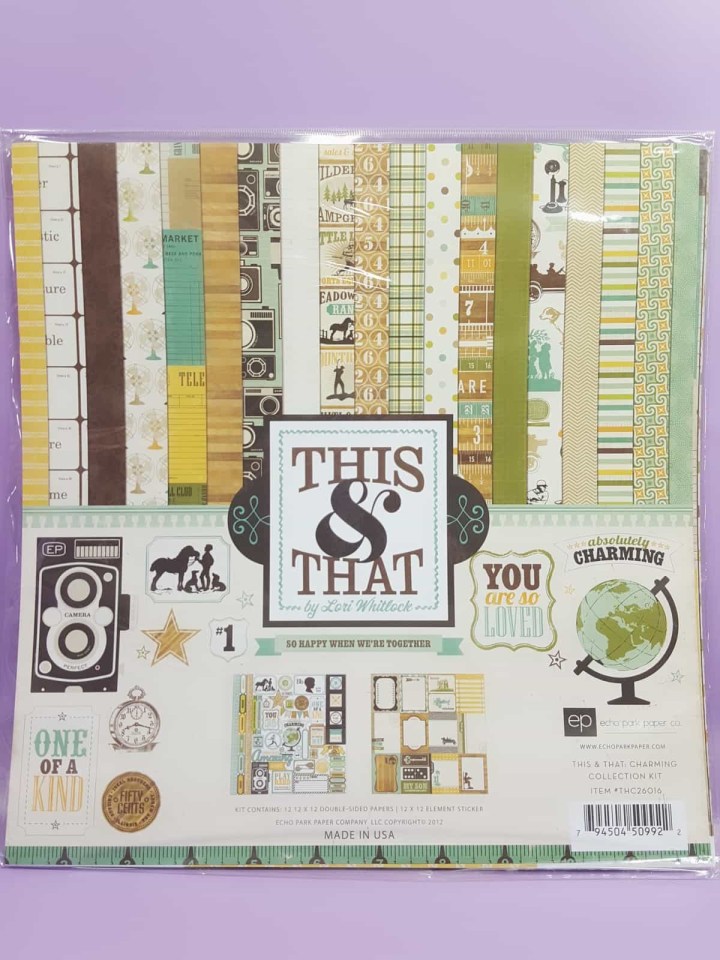 Scrapbooking Store is a monthly scrapbooking subscription uniquely designed & selected just for scrapbookers! Each month we receive a beautiful, themed scrapbook kit complete with 12×12 pages, stickers, cutouts, or other embellishments. Members can upgrade their subscription to receive 2-3 extra embellishments such as buttons, stickers, jewels, brads and more. This is the perfect subscription for avid scrapbookers since you can take their supplies and easily add from your own collection of embellishments and goodies.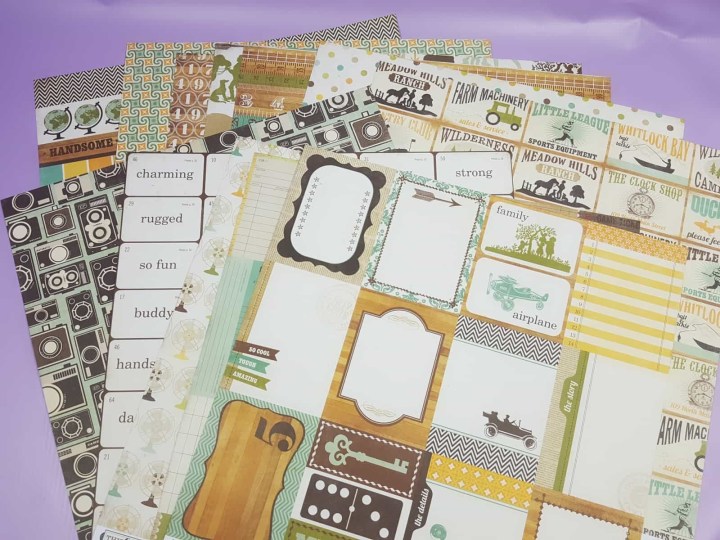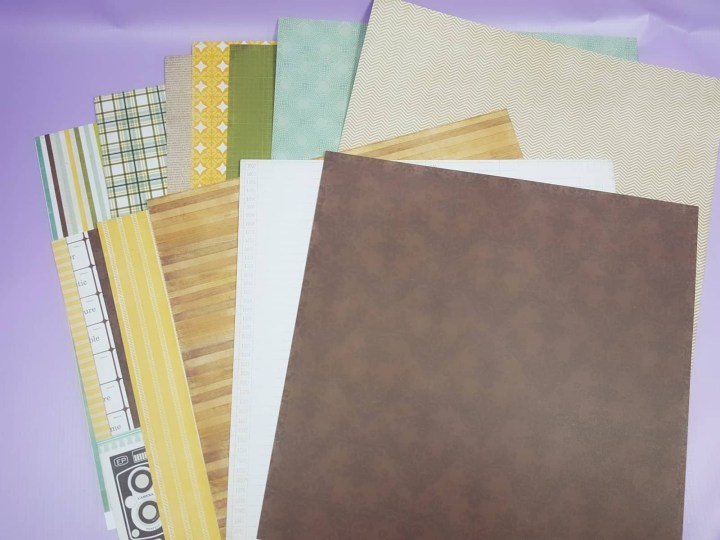 The papers come in a plastic bag and then all of the supplies are in a large cardboard envelope. The above pictures show the two sides of the papers. This month we got kit from Echo Parks This & That collection with 12 – 12″x 12″ sheets and a sheet of Element Stickers.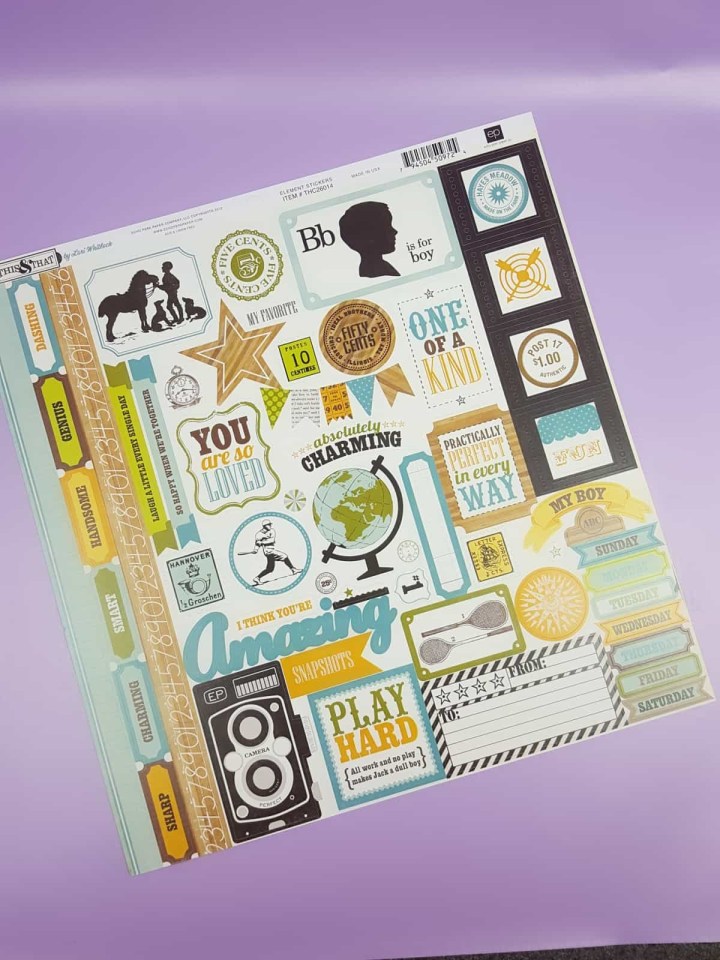 Here is the element sticker sheet that go with the collection.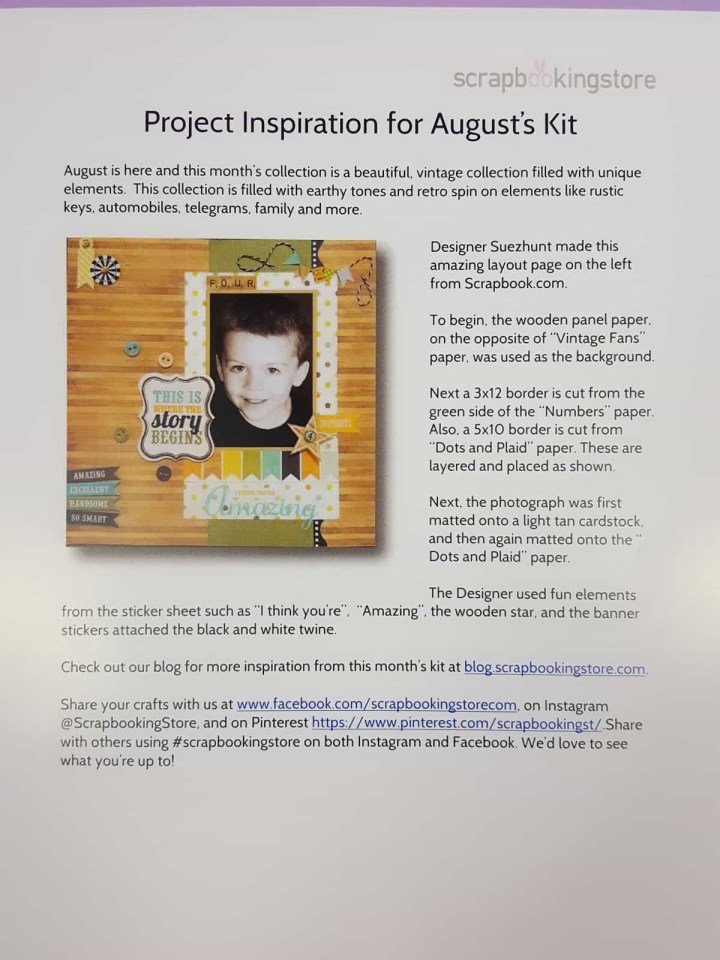 On one side of the information sheet is an inspiration page and information about the layout. I'm the mom of two little boys so I was drawn to the boyish colors of this kit right away.
The back of the inspiration card shared the contents of the kit and what you would get if you got the upgraded package.
I took the kit this month to create a two-page spread to start from when my son broke his arm.
The first page was created with inspiration from the idea sheet that was included with the kit. I took their idea and then worked it with the supplies I had with me.  I loved the word on the cards that were actually a page of the paper. I just cut out the ones that I wanted to use and scattered them on the page.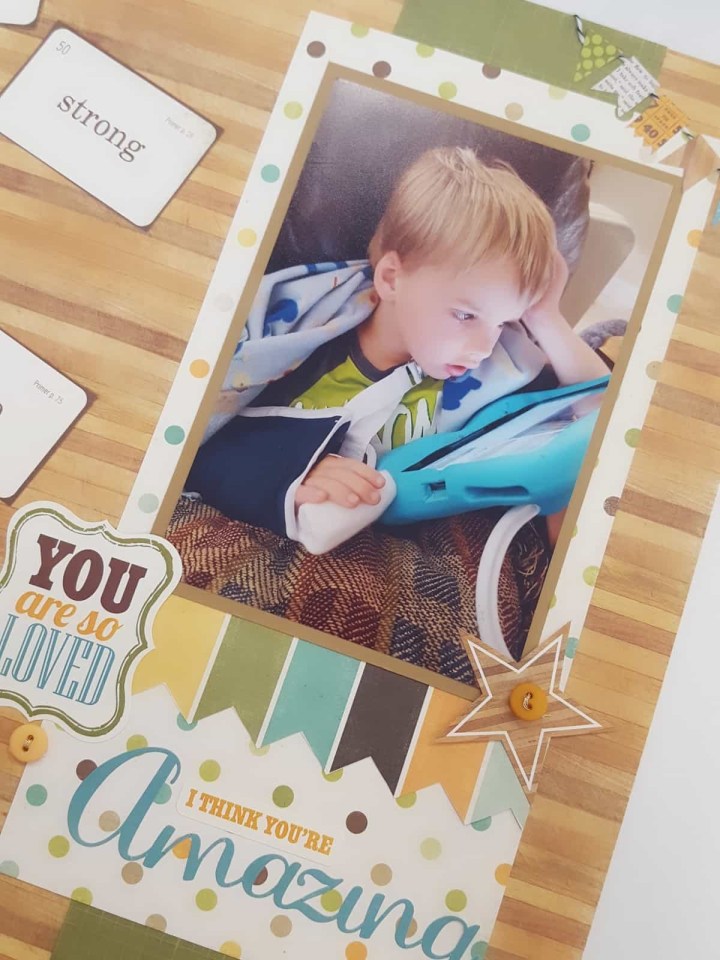 Just a little look at the detail. I'm a bit obsessed with the hardwood floor looking paper and I might really need to get some more of it. It is such a great neutral without being so washed out. The banner was created by cutting out more of the paper and then I added some buttons and stickers to round out the page.
I knew for my second page I wanted to do a "during and after cast" picture so I started with the two pictures and the journal card I cut from a sheet of the paper. From here, I grabbed some more pattern paper and laid it out. The banner was what was left from the previous page and then using buttons ties it in even more to the other page.  Since I knew I was going to have these pages together, I wanted them to have a cohesive feel.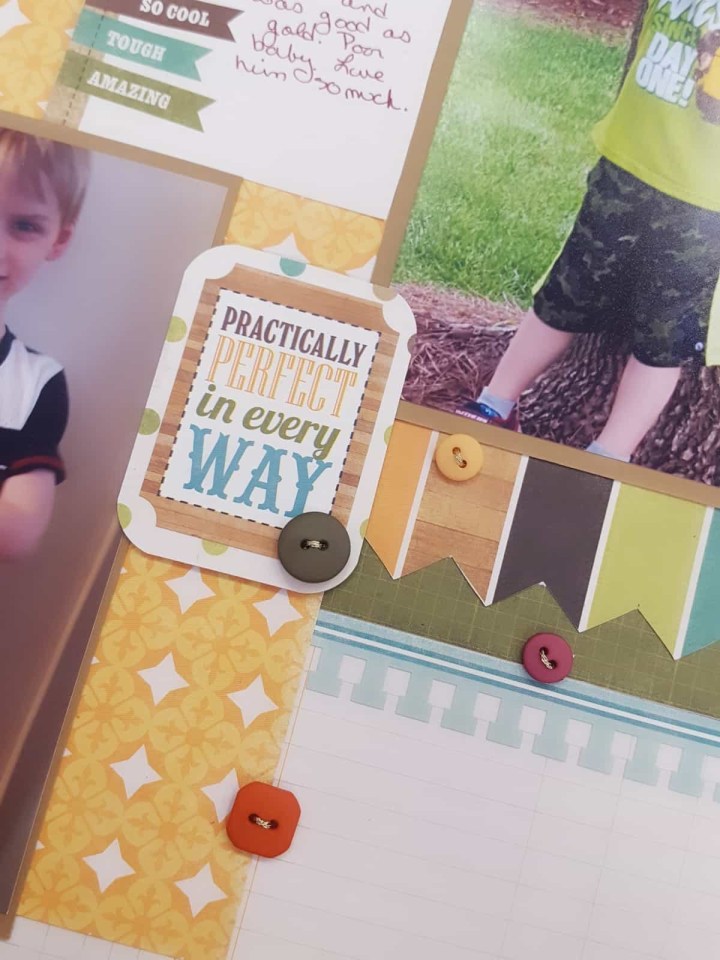 I am just laughing at this saying. I know its more of a Mary Poppins thing but it made me chuckle since I was doing a broken arm spread so I had to include it. I like to take these stickers and pop them up off the page with dimensionals.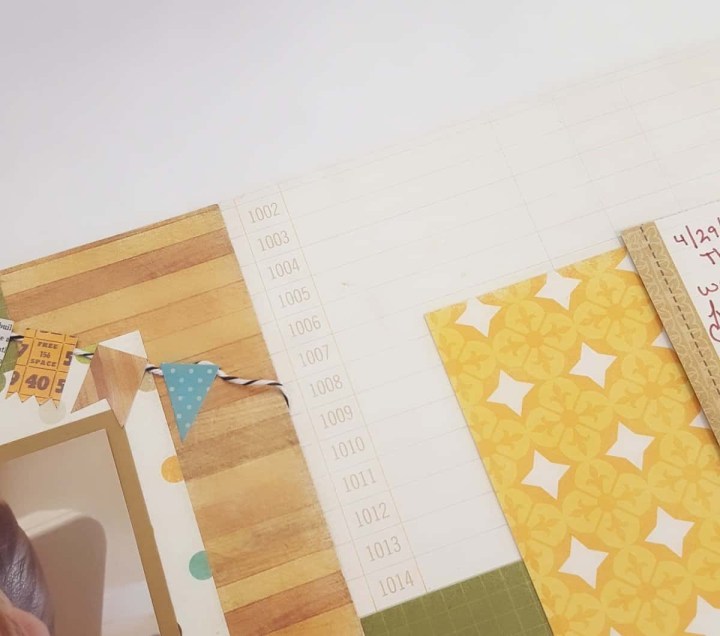 It's hard to tell in my larger pictures but my second page is not just a vanilla page. The paper is actually lined and has a ledger look to it.  It gives a nice background accent and some character to the page.
Scrapbooking Store sent another great box this month. These are my colors to a 'T' and I can't wait to use the rest of the papers. This kit is more for an experienced scrapbooker who has some supplies at home and embellishments to work from. So far I've loved their inspiration pages and they have really got me going on my layouts. The papers they send are a great thick quality which is so important when creating layouts. No one wants flimsy paper for a background. I can't wait to see what collection they send me next month.
Do you like to scrapbook? Do you have a favorite paper this month?