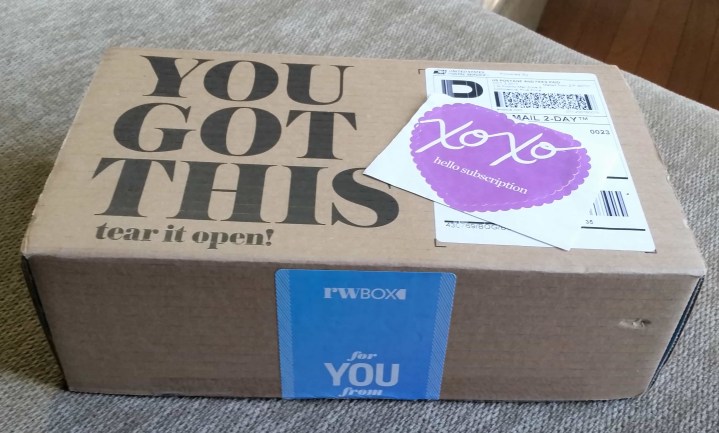 Runner's World Box is a subscription box curated by the editors of Runner's World magazine and promises to be filled with running gear, accessories, nutritious snacks, and other cool stuff. This is one of my favorite sport boxes.  Every month, I've enjoyed every single thing that was in the box.  Each item is absolutely perfect for runners (and other active folks) – whether it be an old favorite that I already use or a new favorite that I just hadn't found yet.
Subscriptions are $29.99 plus shipping/month. Let's see what great things came in this month's box!
Here's a look at everything in the September box. I am so excited for all of it!
On one side of the information card, there's a "letter" from one of the Runner's World editors. Sometimes, it's providing a theme for the month. Other times, it's telling you about some of the awesome things in the box. This month the letter explains how they pick the items for each box.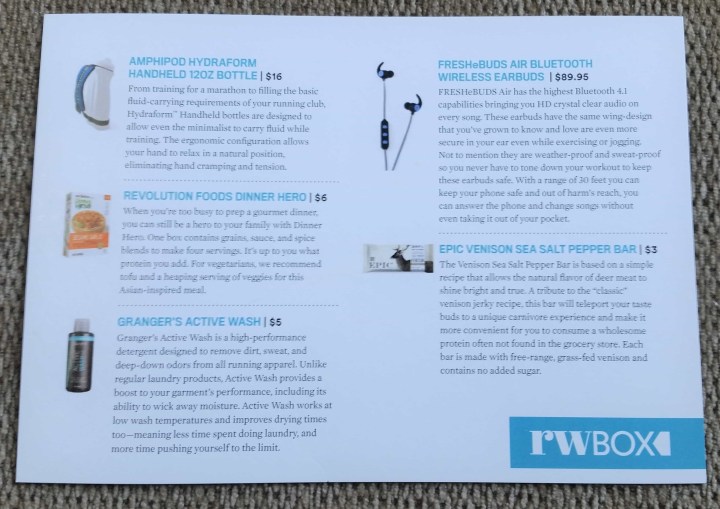 The reverse side of the information card describes the enclosed items, along with suggestions for use and suggested retail price. Let's see what's in the September box!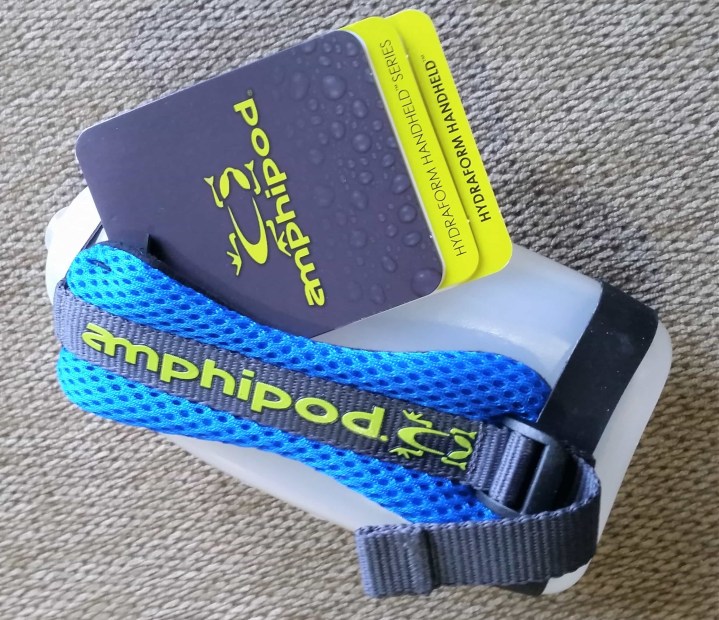 Amphipod Hydraform Handheld Bottle ($16): I'm a big fan of handheld bottles and I love Amphipod products, so this item made me really happy. It's a full 12-oz bottle and the bottle strap is padded and super comfortable.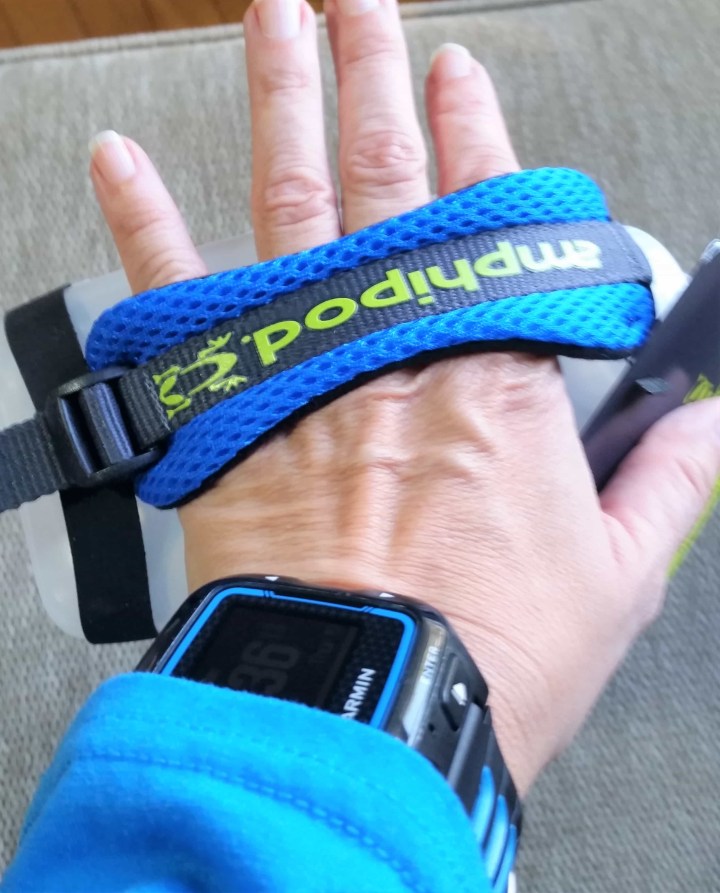 Here I am modeling the bottle before heading out for a run.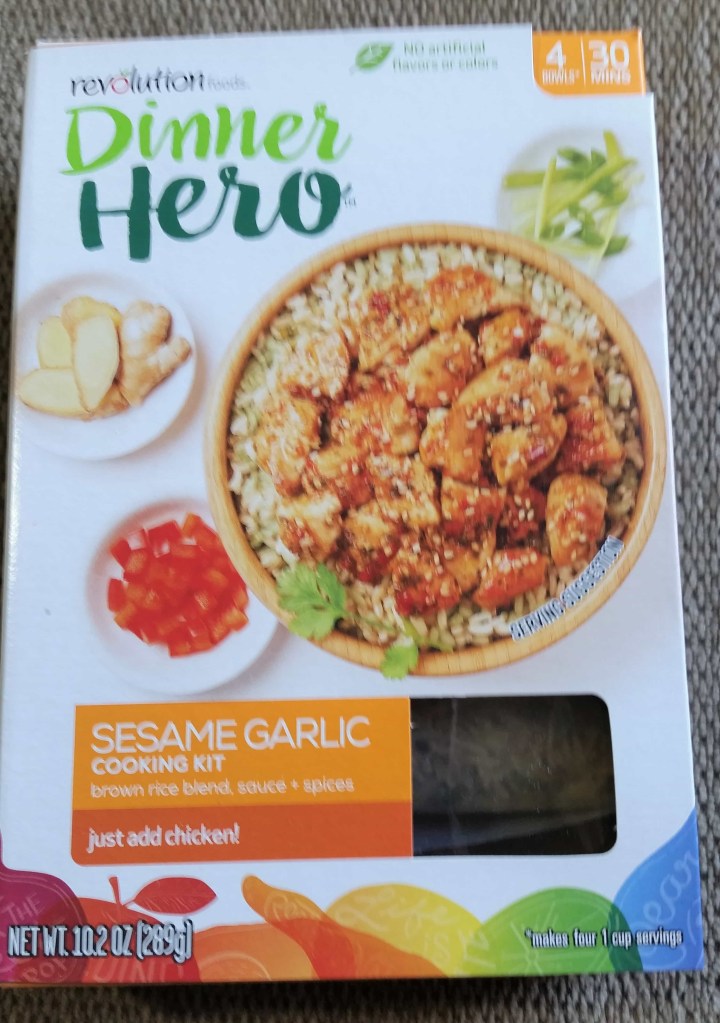 Revolution Foods Dinner Hero ($6): Even though this isn't a traditional "runner" thing, I love that Runner's World included this in the September box. This kit from Revolution Foods is like a healthier, grown-up Hamburger Helper. It's a cooking kit that includes everything except meat – there's yummy sauce and healthy grains and it makes it very easy to put dinner on the table. What busy runner wouldn't love that?
Granger's Active Wash ($5): I've tried a number of different laundry detergents for active wear… some work and some don't. This nice sample size bottle from Granger's is one of the one that works – it definitely got the funk out of tech-tee material, even when I washed a load on cold (which my awesome new winter leggings suggest for washing instructions). Stinky clothes in cold water? Yep. Granger's will work for that. I'm definitely going to buy some more of this detergent.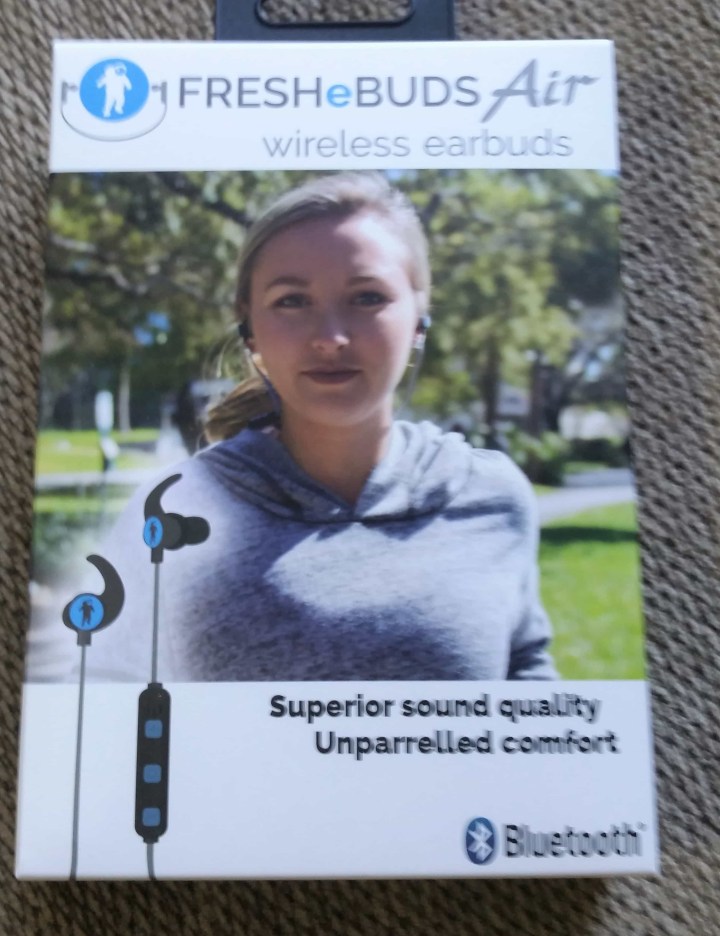 FresheBuds Bluetooth Wireless Earbuds ($19.95): I think there's a huge typo on the information card… it lists these earbuds at $89.95, but the FresheBuds website says $19.95, so we'll go with that. I've used wireless earbuds before, but mine eventually died, so I was excited to get a new set in this month's Runner's World box.  So convenient to be wireless! These worked great.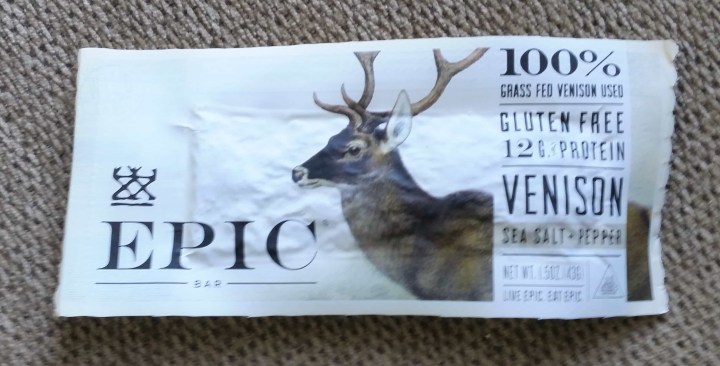 Epic Venison Bar ($3): I have heard podcasts advertise Epic bars, but I hadn't tried one yet, so this was fun for me.  I've had homemade venison jerky, which this is reminiscent of – a little gamy (in a good way) and simply seasoned with salt and pepper. A great high protein snack!
I can't say enough good things about Runner's World box! Everything in it, as promised, is picked with the runner in mind to be useful and fun. Runner's World has nailed it again this month. If you're a runner or enjoy other endurance sports, you should give Runner's World box a shot!