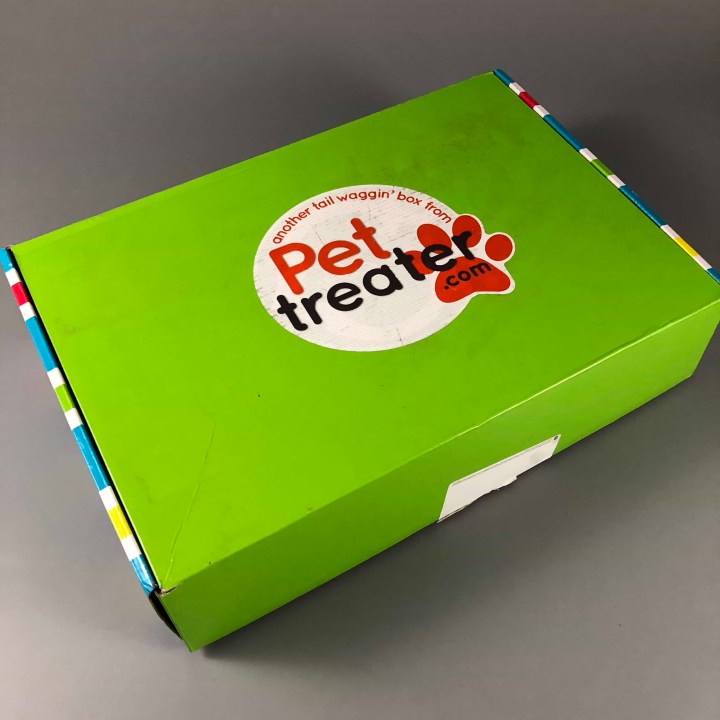 Pet Treater is a monthly dog treat, toy, and accessory box. Each box shipped results in a bag of treats, toy or accessory donated to a shelter in need. Choose from 3 size options (based on weight) to find the right fit for your furry friend – Small (0-20 pounds), Medium (21-50 pounds), and Large (51 + pounds).
This is a review of the large dog box.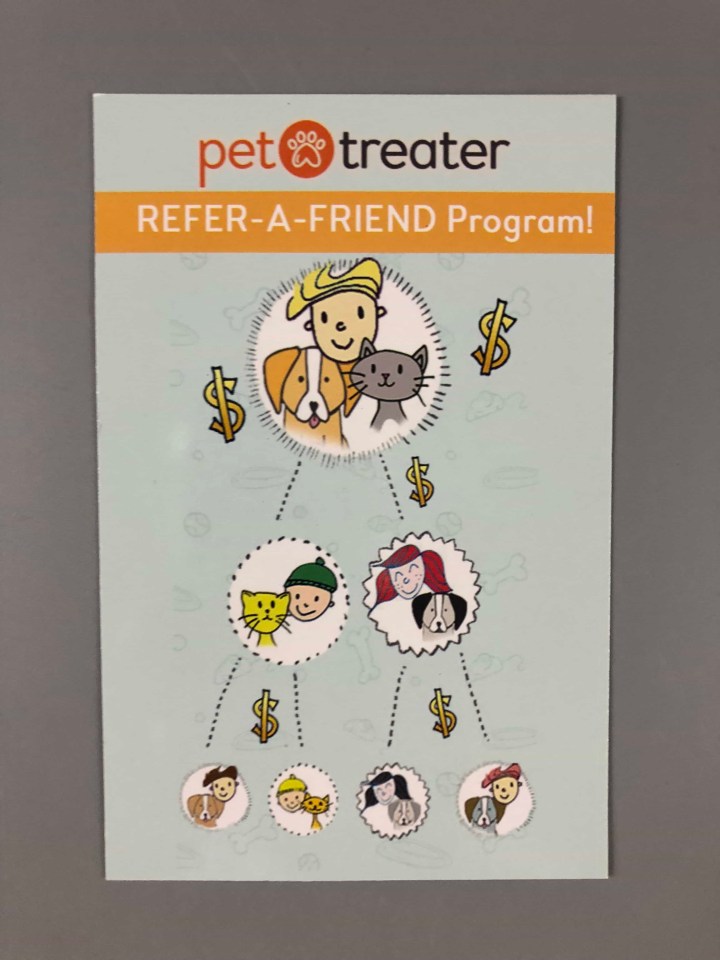 There's an information card containing mechanics for Pet Treater's Refer-A-Friend program.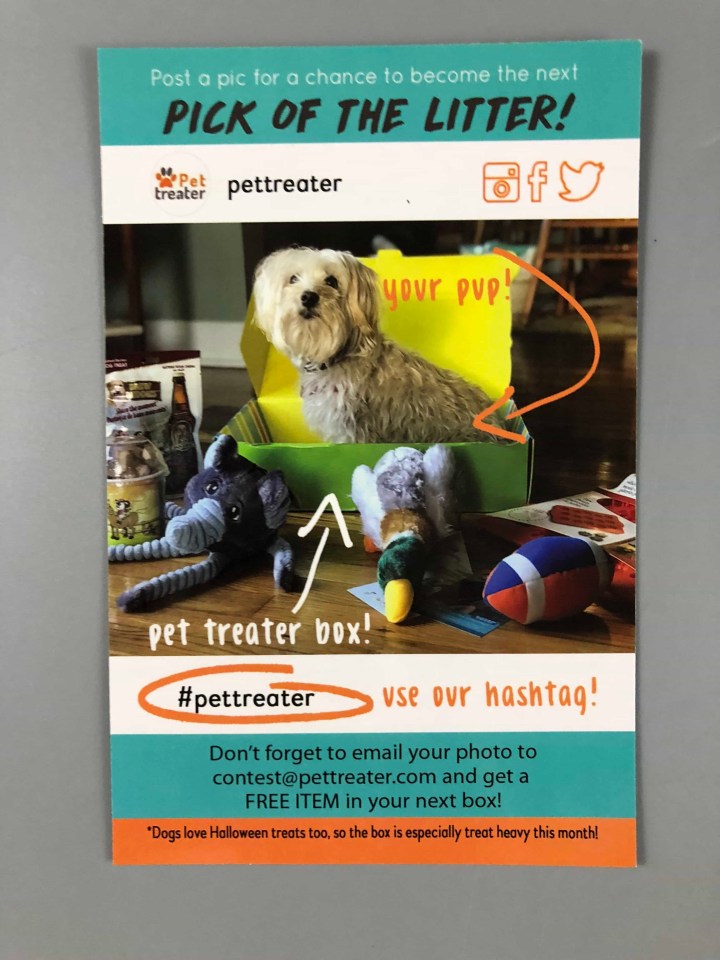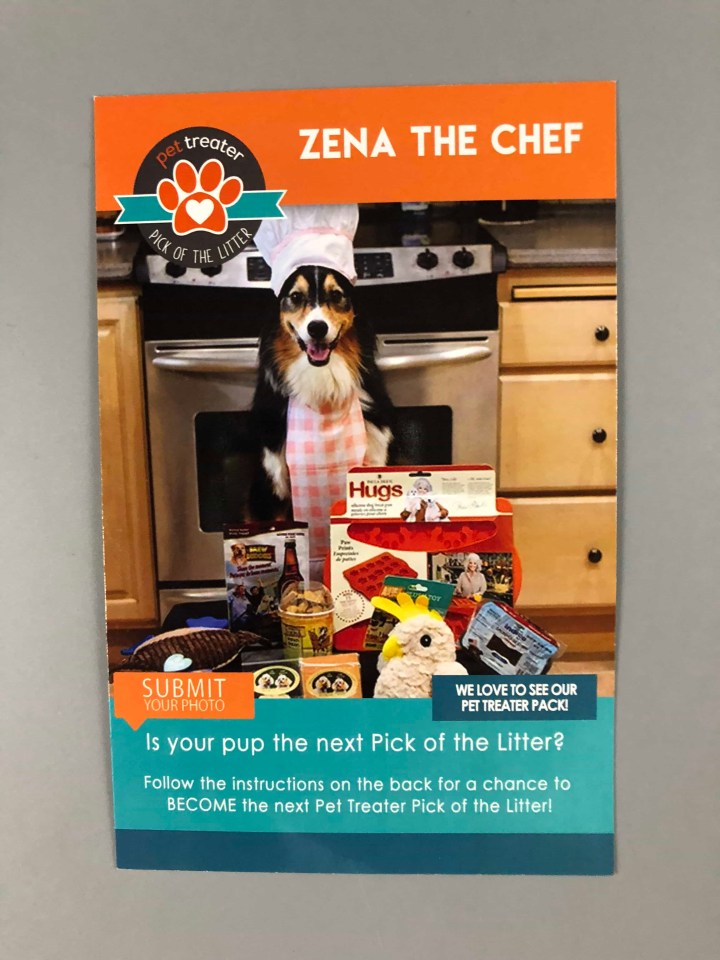 DEAL: use coupon code  LOVE-PT5 to take $5.00 off your first box.
Codes cannot be combined, and are only valid on your first box.
FYI: FIRST TIME subscribers will receive a first time box, which is full of past favorites and will NOT be a themed box.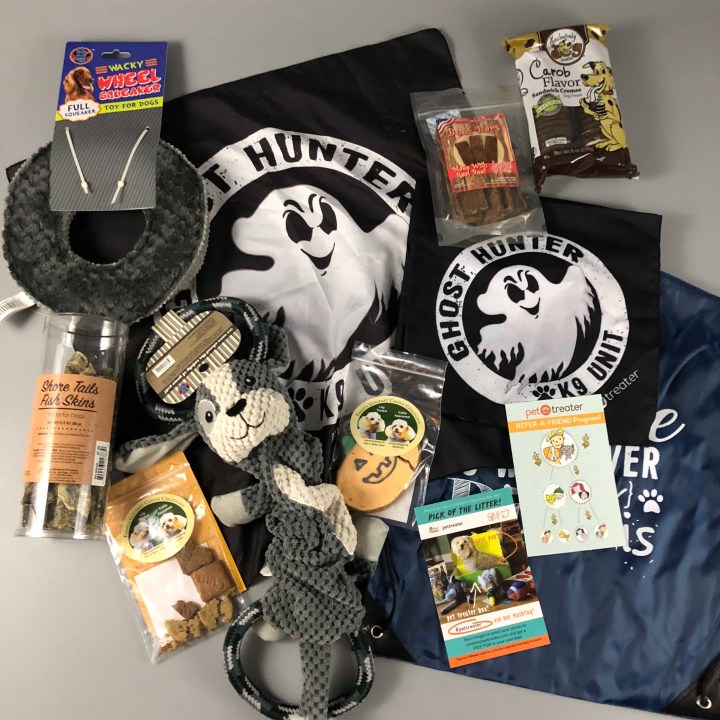 Our October Pet Treater box!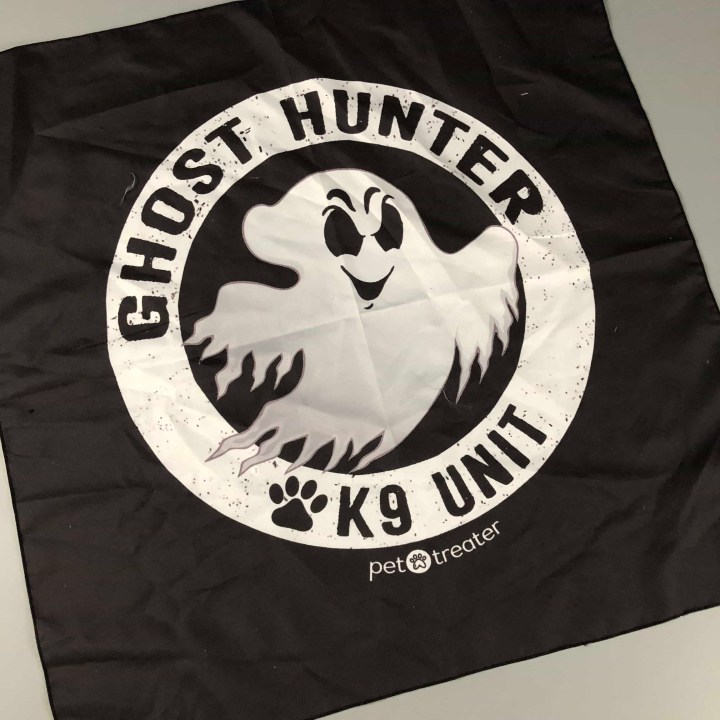 Ghost Hunter K9 Unit Square: It's not quite a bandana (that's the next item). It is pretty cool though.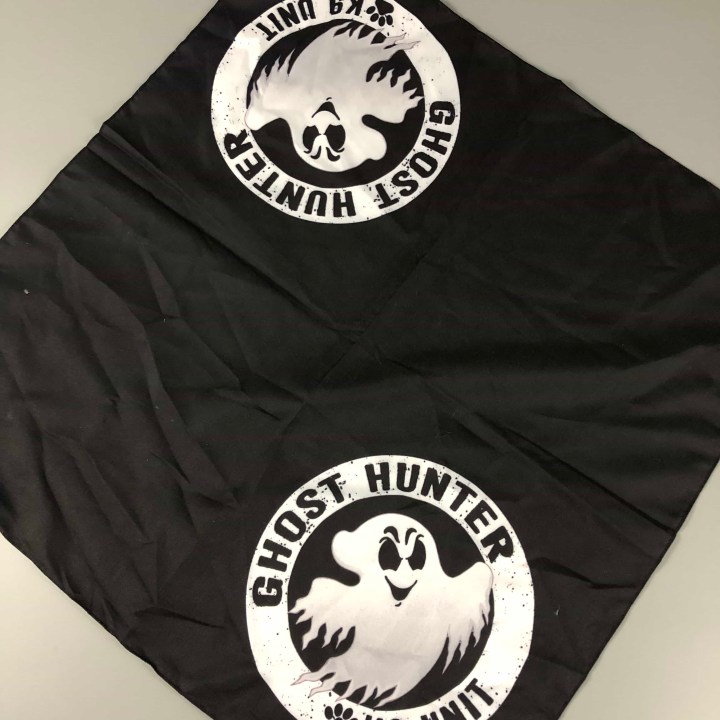 Ghost Hunter K9 Unit Bandana: I'm not big on dressing dogs up but Payson probably wouldn't mind wearing a bandana(he usually gets one from the groomer).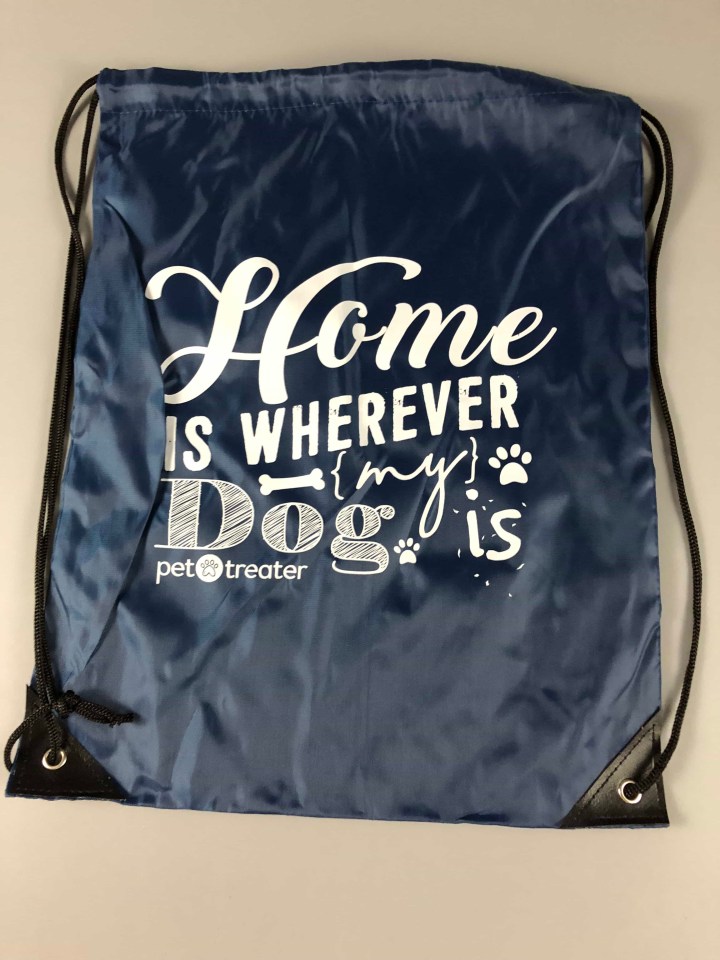 Home is Wherever (My) Dog Is Drawstring Backpack: These backpacks are perfect for trick-or-treating so my daughter got this just in time!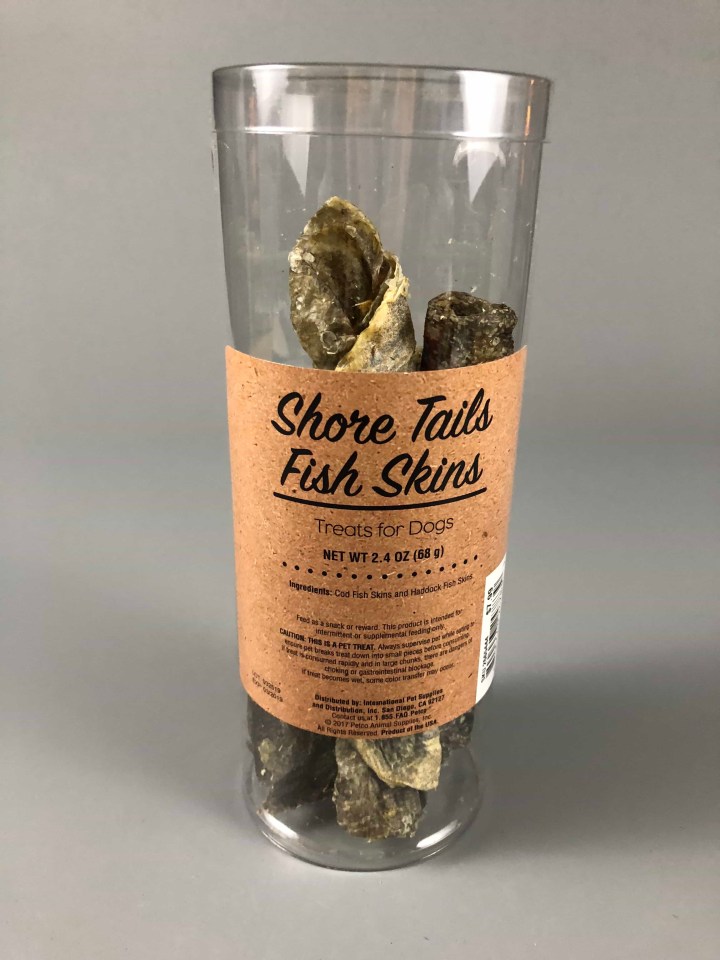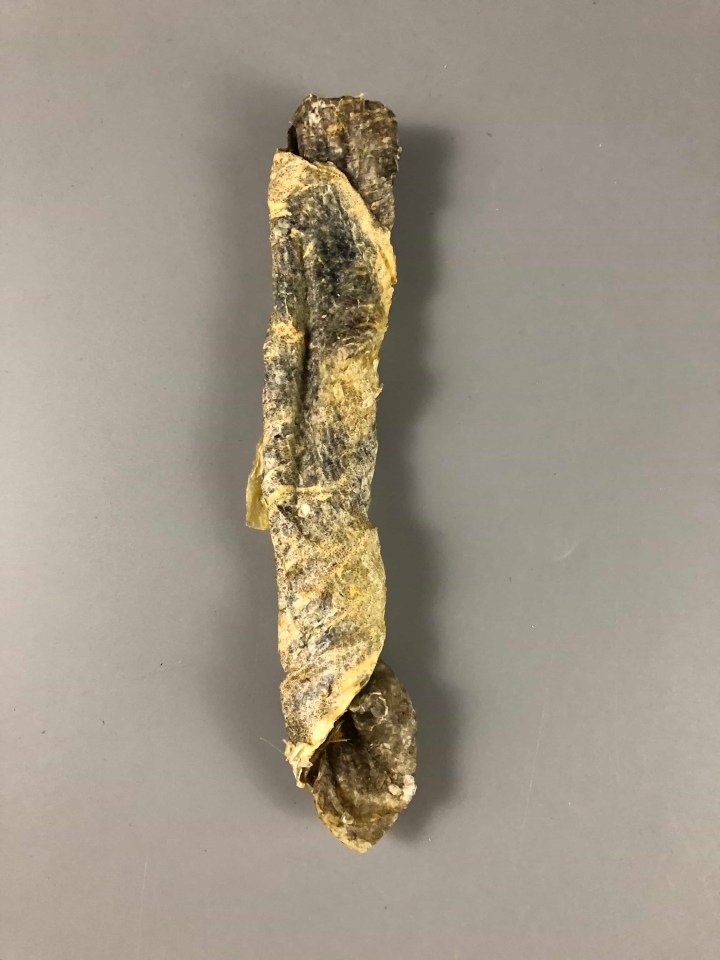 Shore Tails Fish Skins: You may want to open these outside. They stink!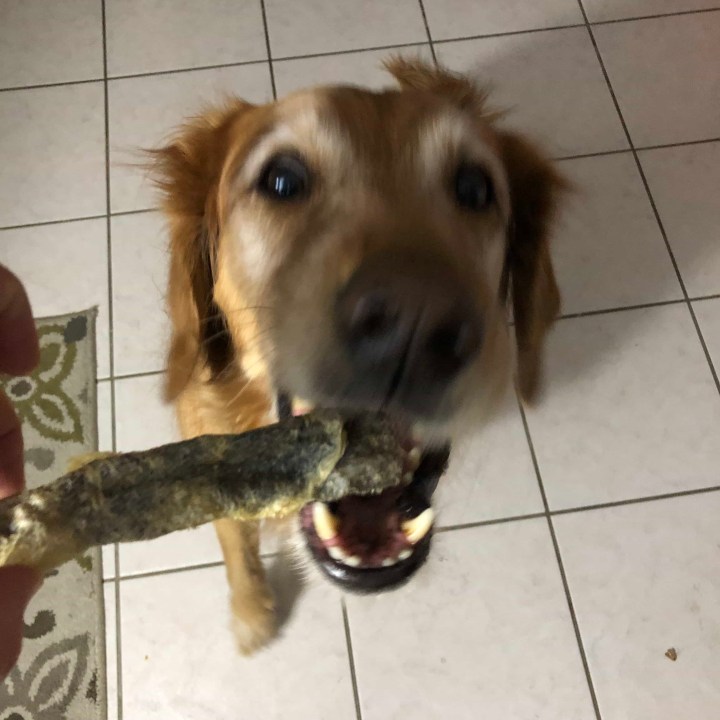 Payson didn't mind the smell. He devoured the fish skin.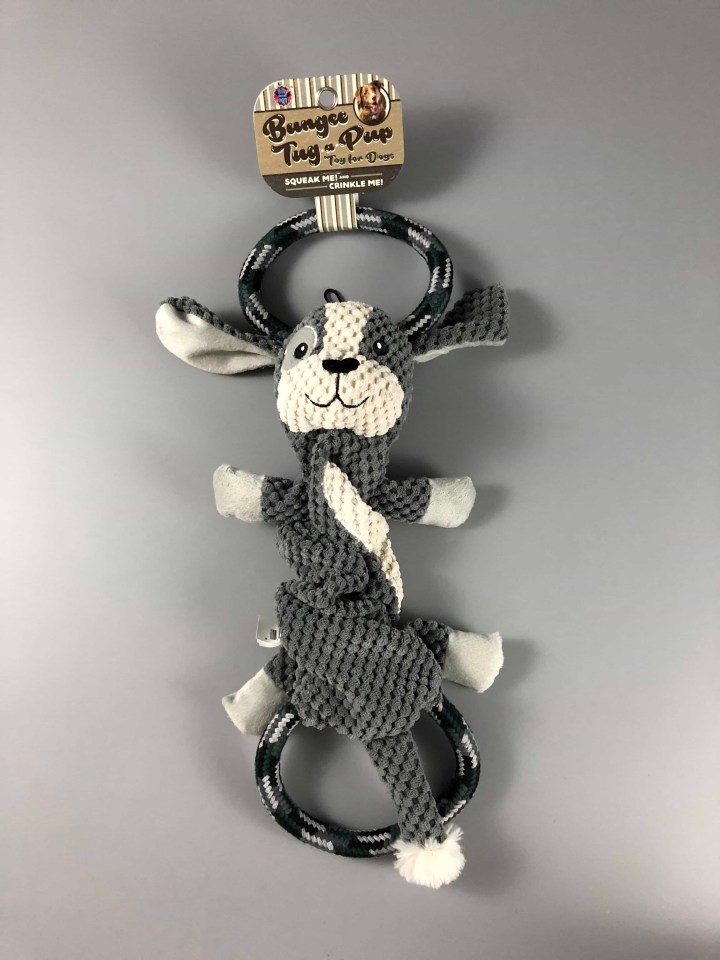 Bungee Tug for Pups: This is a tough toy that makes fun noises. Throw it, tug it or squeak it.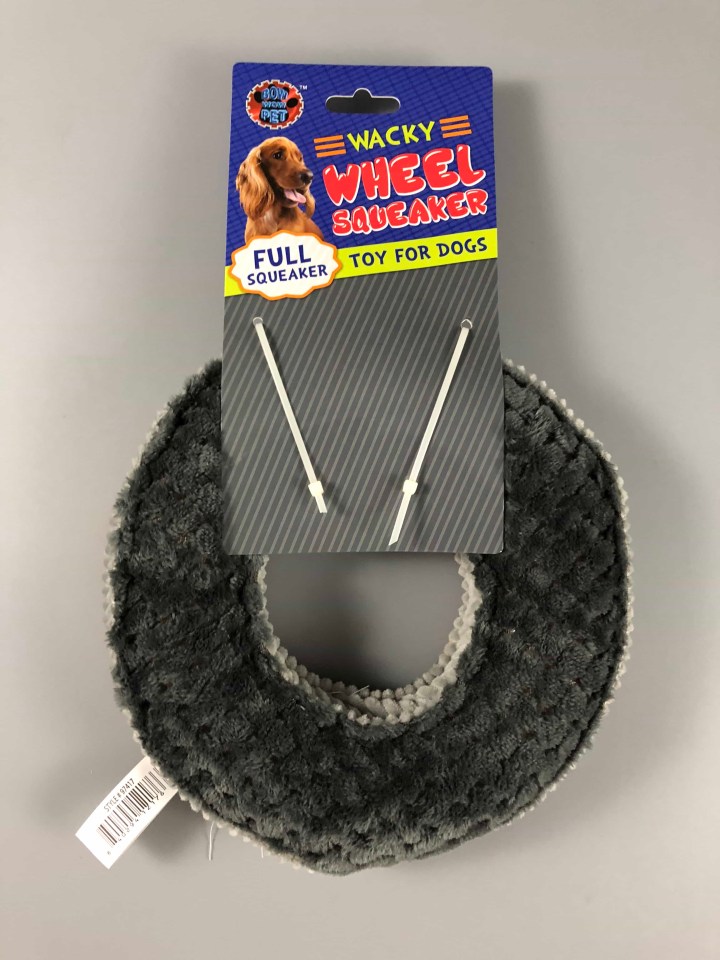 Wacky Wheel Squeaker: The squeaker in this toy is pretty loud and really got Payson's attention. He then smelled the food that came with the box so we had to get into that before he would play.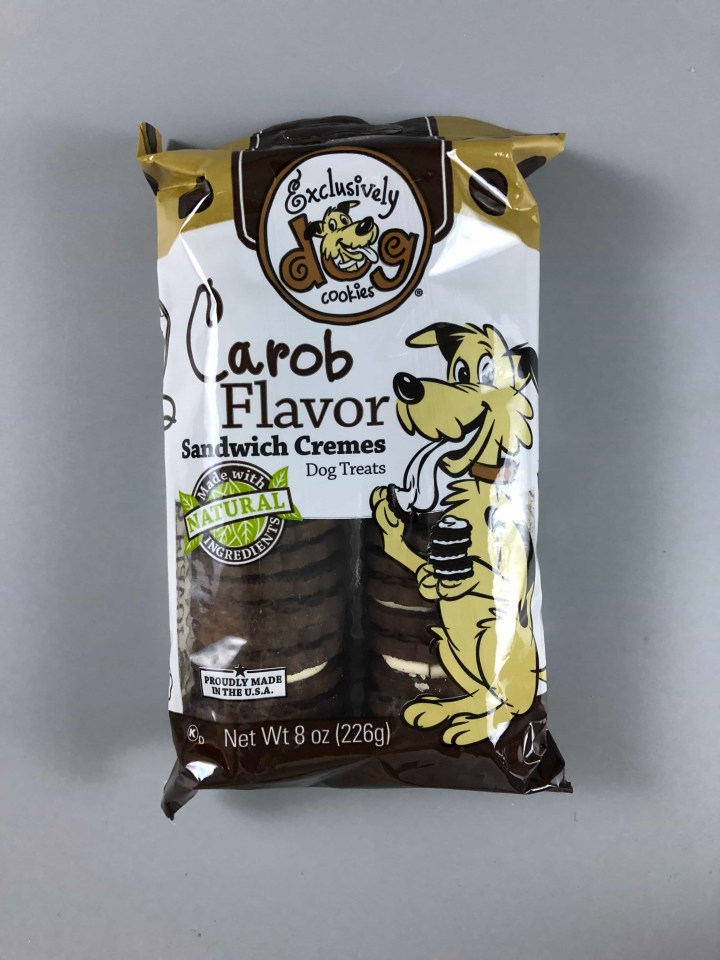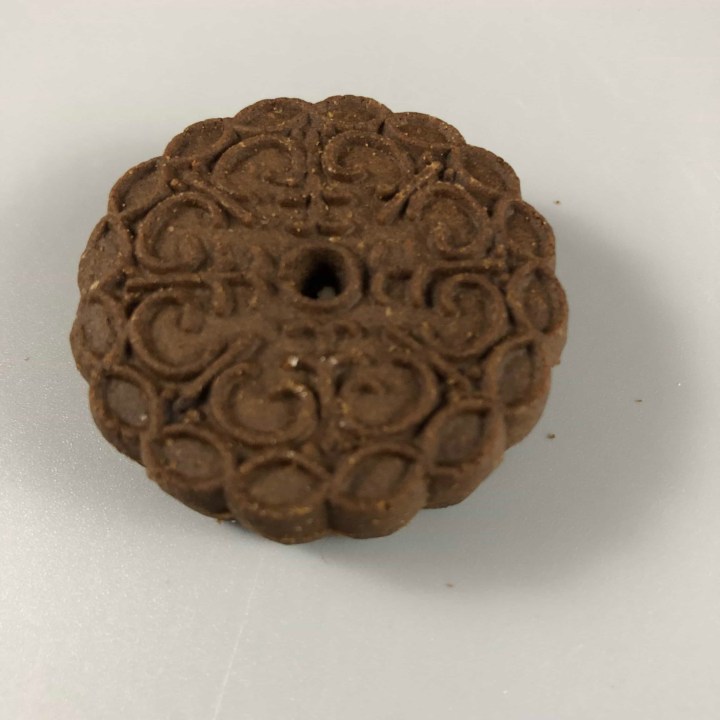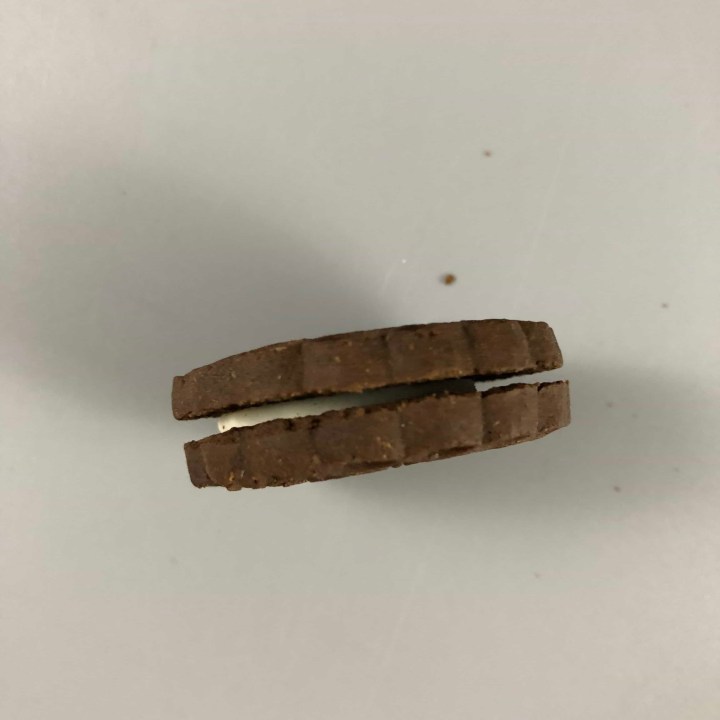 Carob Flavor Sandwich Cremes ($3.44): They look like regular cookies but I'm sure they don't taste the same.  Let me know if you taste them.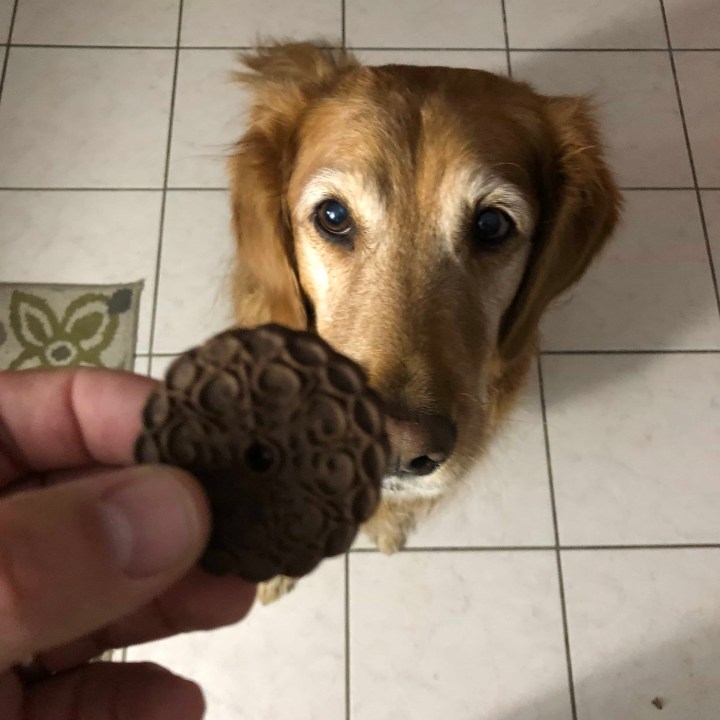 Payson thinks it tastes great.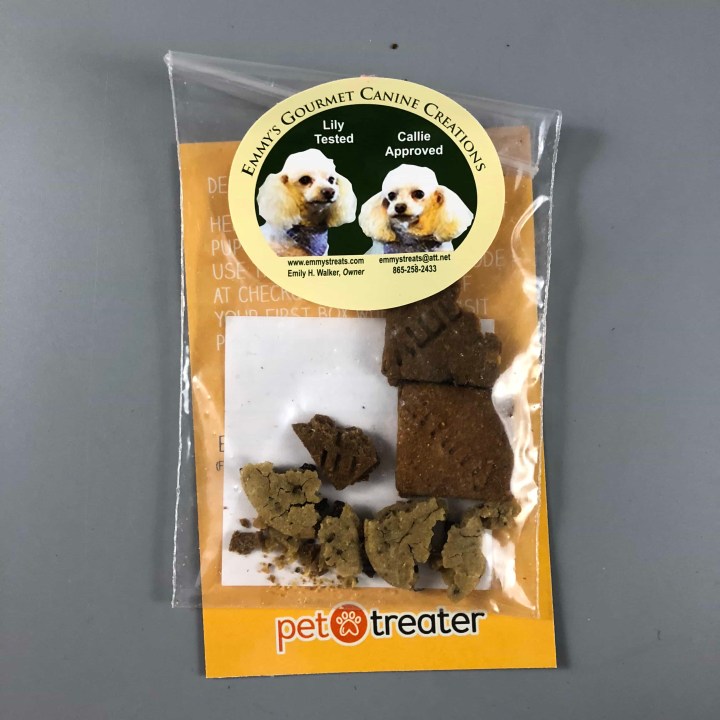 Emmy's Gourmet Canine Creations: This little bag is a sample of the yummy treats that Emmy's Gourmet Canine Creations has to offer.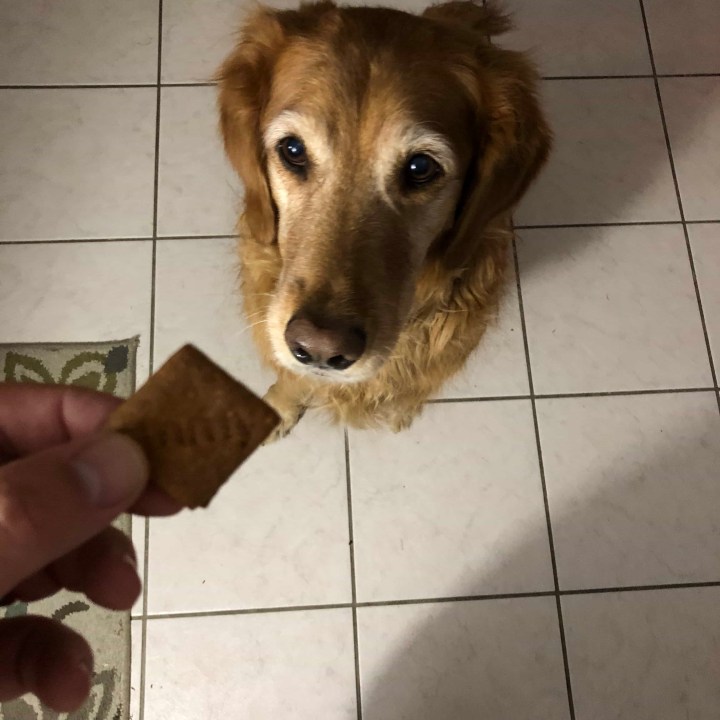 Payson gladly volunteered to taste test.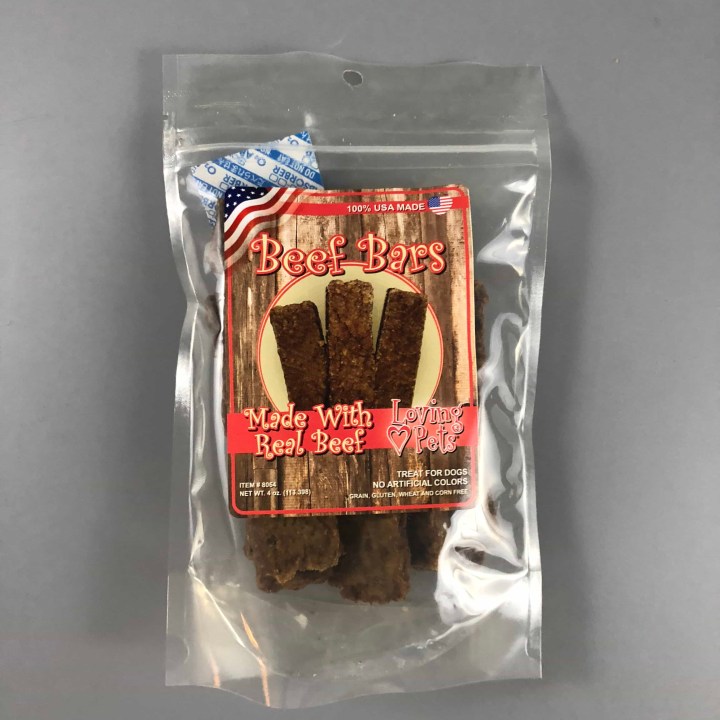 Loving Pets Beef Bars: These may have been Payson's favorite. I saw other items online from Loving Pets, but not these in particular.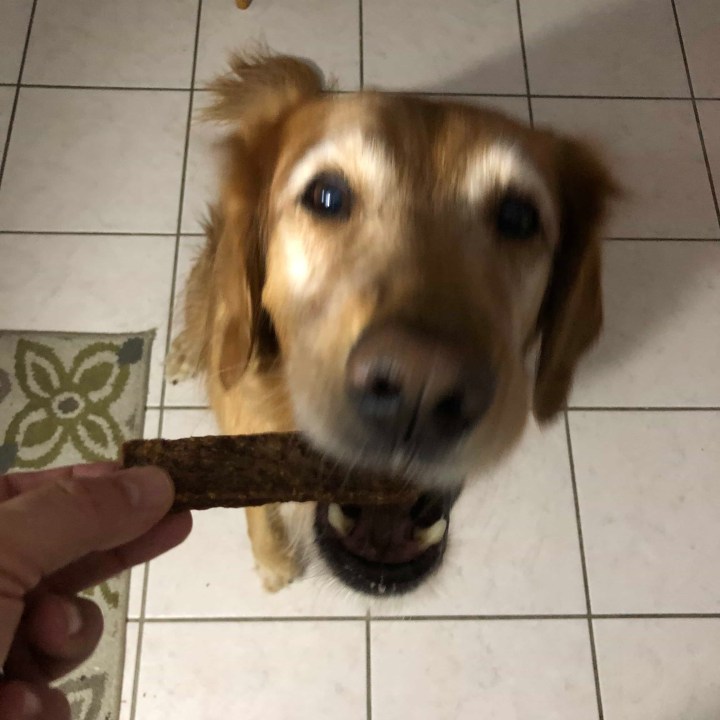 Another satisfied customer!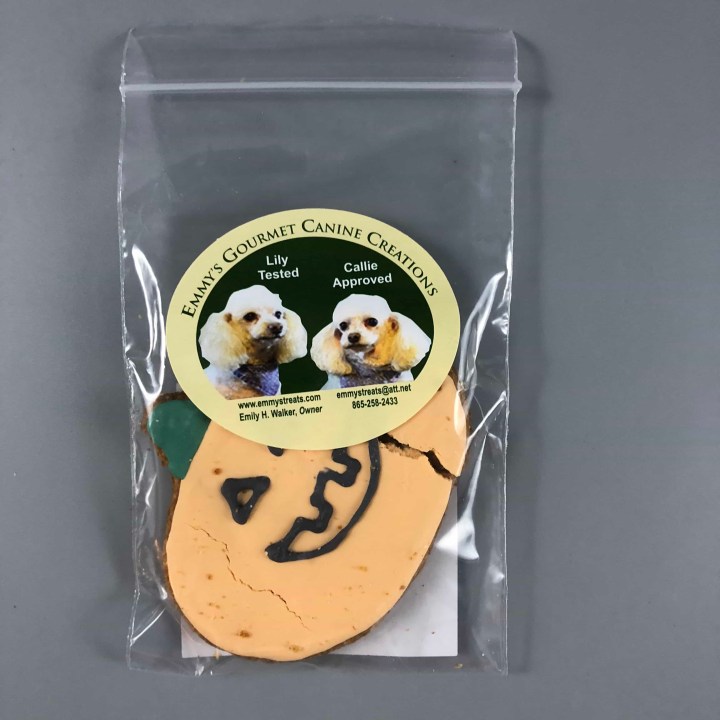 Emmy's Gourmet Canine Creations: We have a sample of one of their creative cookies.  Sorry Payson, you've eaten enough for today.  Time to play with those toys and you can have this one later.
October's Pet Treater box is valued much higher than what the box costs. It seems the value of the boxes is improving even more – the last few have been around the $60 mark.
Have you tried Pet Treater yet? Share your thoughts with a comment below.