Orange Peel Box is a monthly aromatherapy box for your body and home featuring artisan made products that are clean and all-natural. The full sized box (reviewed here) is $49.90 a month and will have 4-6 full-size products while the Orange Slice Box is $35.90 a month and will have 2-3 full-sized items. Shipping is free in the U.S. and will vary for other countries.
Each box will allow you to explore the diverse and growing world of aromatherapy products. The box will contain aromatherapy products for your home and your body such as: full size candles, diffusers, misters, body oil, shaving cream, shampoo, deodorant, balm, perfume, bath salts, inhalers, jewelry, and much more. Each month's selection will be based on the previous months selections, so you will not receive too much of one type of product and will have time to enjoy the products. Create the mood in your room or give yourself a little boost during the day.
DEAL: Get 10% off your first box when you use code: ORANGE10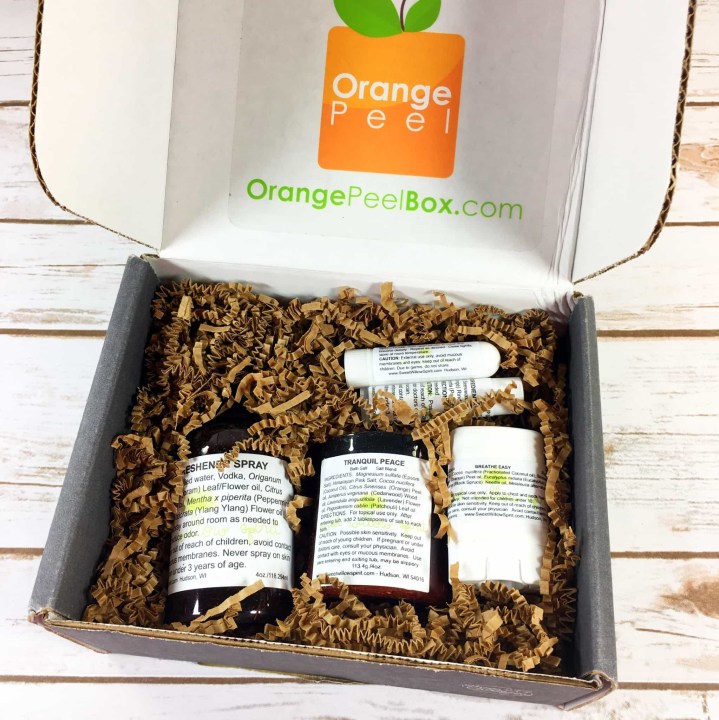 When I opened the box, I found all of the items safely tucked away in brown paper squiggles.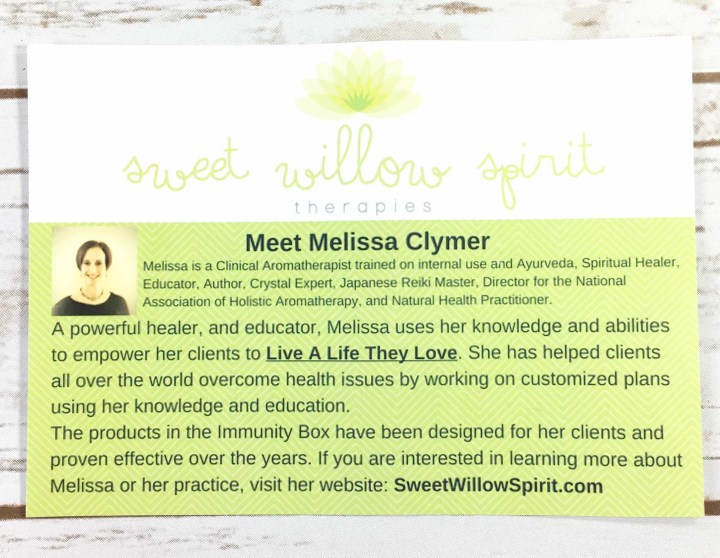 I found a card introducing Sweet Willow Spirit Therapies, whose products are featured exclusively this month.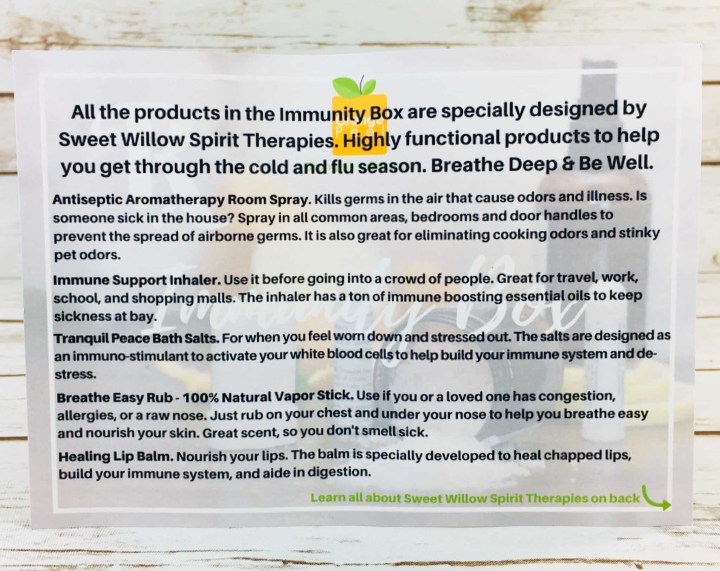 The back of the card listed each item and this month's theme, which was Immunity. I work with young children in a germ factory (AKA school) and get sick frequently throughout the year. Anything that helps boost my immune system is a blessing.
Everything in the box! I found all kinds of different products, all designed to help me get through the next few months in a happy and healthy way!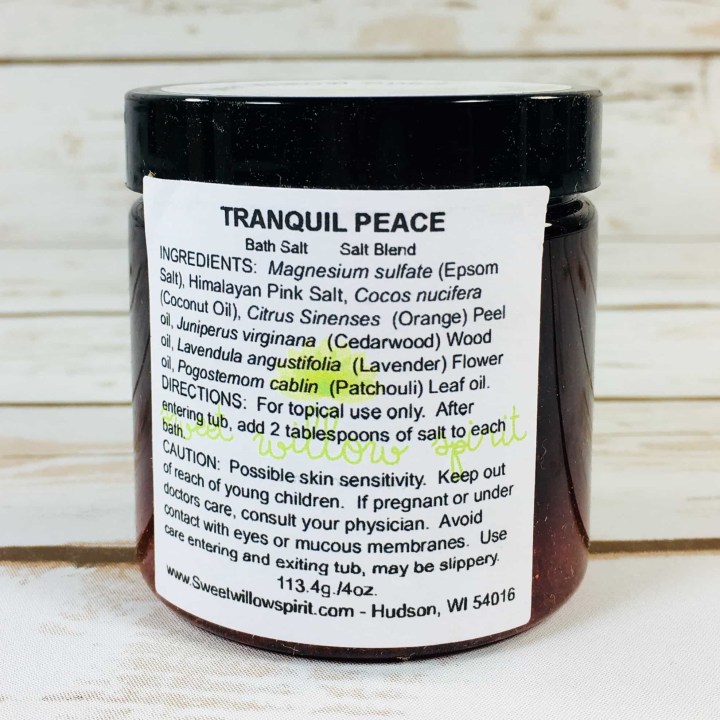 Tranquil Peace Bath Salts ($13) features a mix of Himalayan pink salt and Epsom salts, along with coconut oil and a blend of essential oils.
The essential oils listed are orange peel, cedarwood, lavender, and one of my favorites, patchouli. These bath salts are designed to help activate your white blood cells to help fight infections, and the smell is absolutely amazing.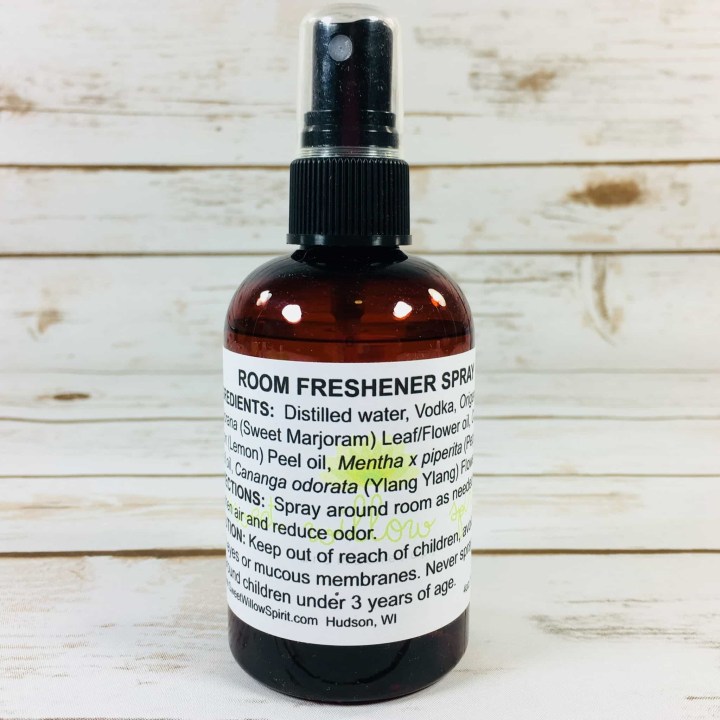 Antiseptic Aromatherapy Room Spray ($25) was created especially for this box! Distilled water, vodka, and a blend of essential oils (sweet marjoram, lemon, peppermint, and ylang ylang) can be sprayed around the room to help reduce odors and provide a refreshing scent.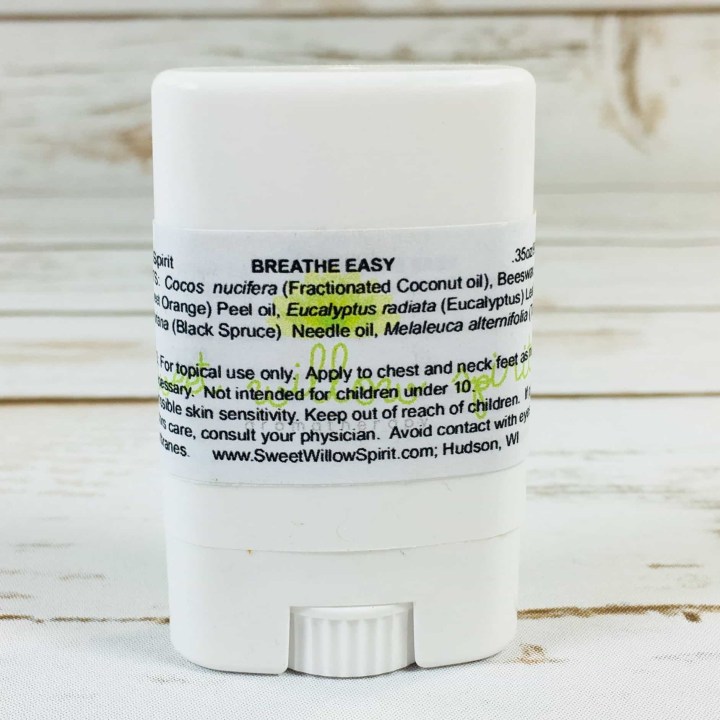 Breathe Easy Stick 100% Natural Vapor Rub ($11) is a sort of all-natural vapor rub, without the petroleum jelly and turpentine oil. It has a base of coconut oil and beeswax plus features eucalyptus, sweet orange, black spruce, and tea tree oils.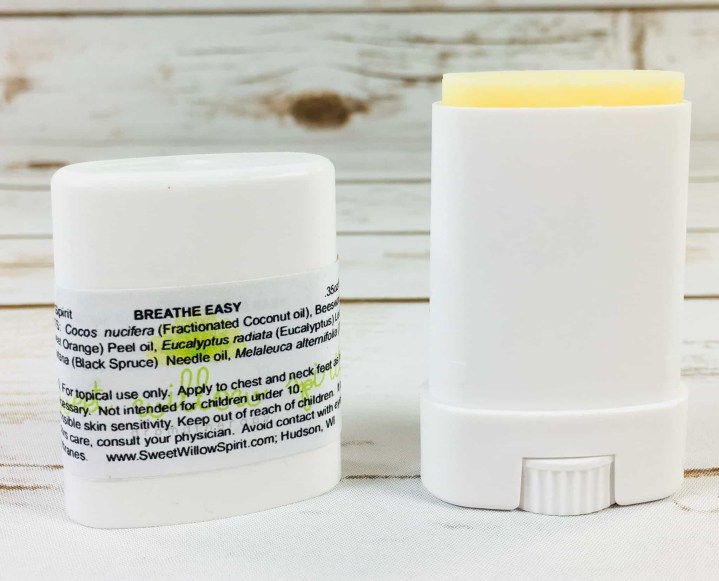 You can rub this onto the chest, neck, or feet to help open up airways during a cold. This product is not to be used on children under the age of 10 – you can custom order one that uses cedarwood in place of the eucalyptus. I am placing this in my medicine cabinet for future use, but I can tell you it smells so good.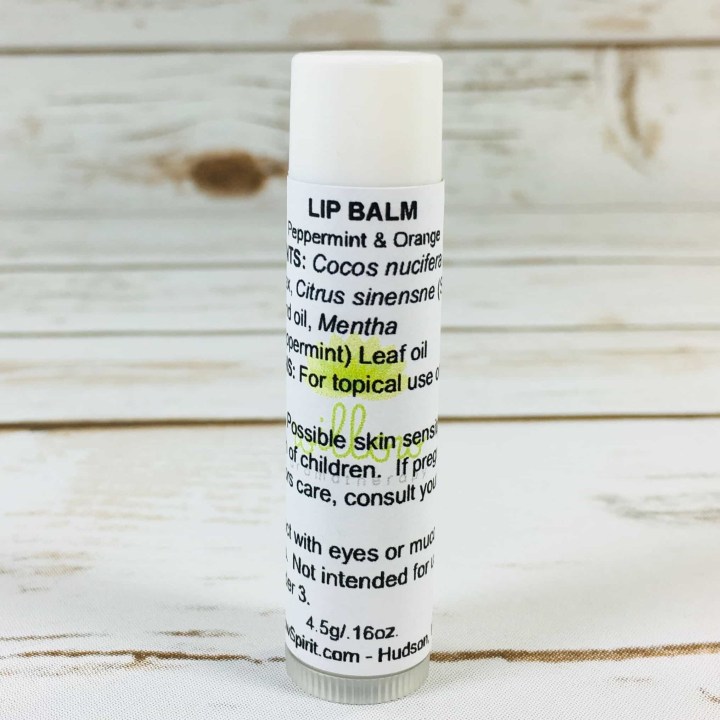 Healing Lip Balm ($6) is made with coconut oil, beeswax, and peppermint & orange essential oils.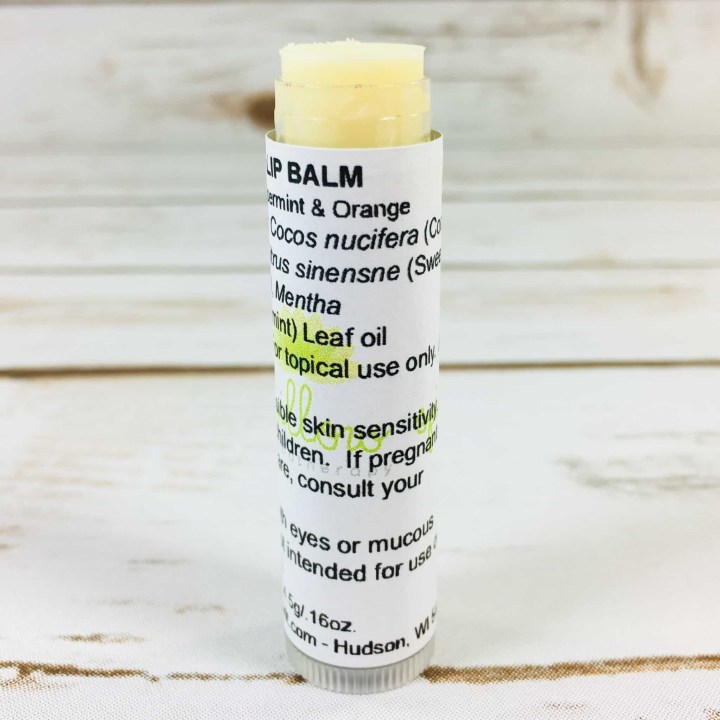 It went on so smoothly and left my lips soft for hours. I am already experiencing chapped lips as the weather changes so I am keeping this one nearby to help heal my lips.
Immune Support Inhaler ($10.50) is designed to be used by one person and should last about 6 months.
This inhaler is filled with lemon, cedarwood, black spruce, and juniper berry essential oils and you place it in your nostril and breathe deeply. Smells like Christmas!
I am ready to face cold season head on with my box of aromatherapy essentials from Orange Peel Box! I love that the products are all natural, high quality, and hand made. They smell wonderful and the oils used are perfect for stimulating the immune system. The products retail for around $65.50, which is well over the price paid for the box. I'm not looking forward to getting sick, but it is inevitable and I now have some awesome products to put to use when it happens!
What do you think of Orange Peel Box? Let me know in the comments!