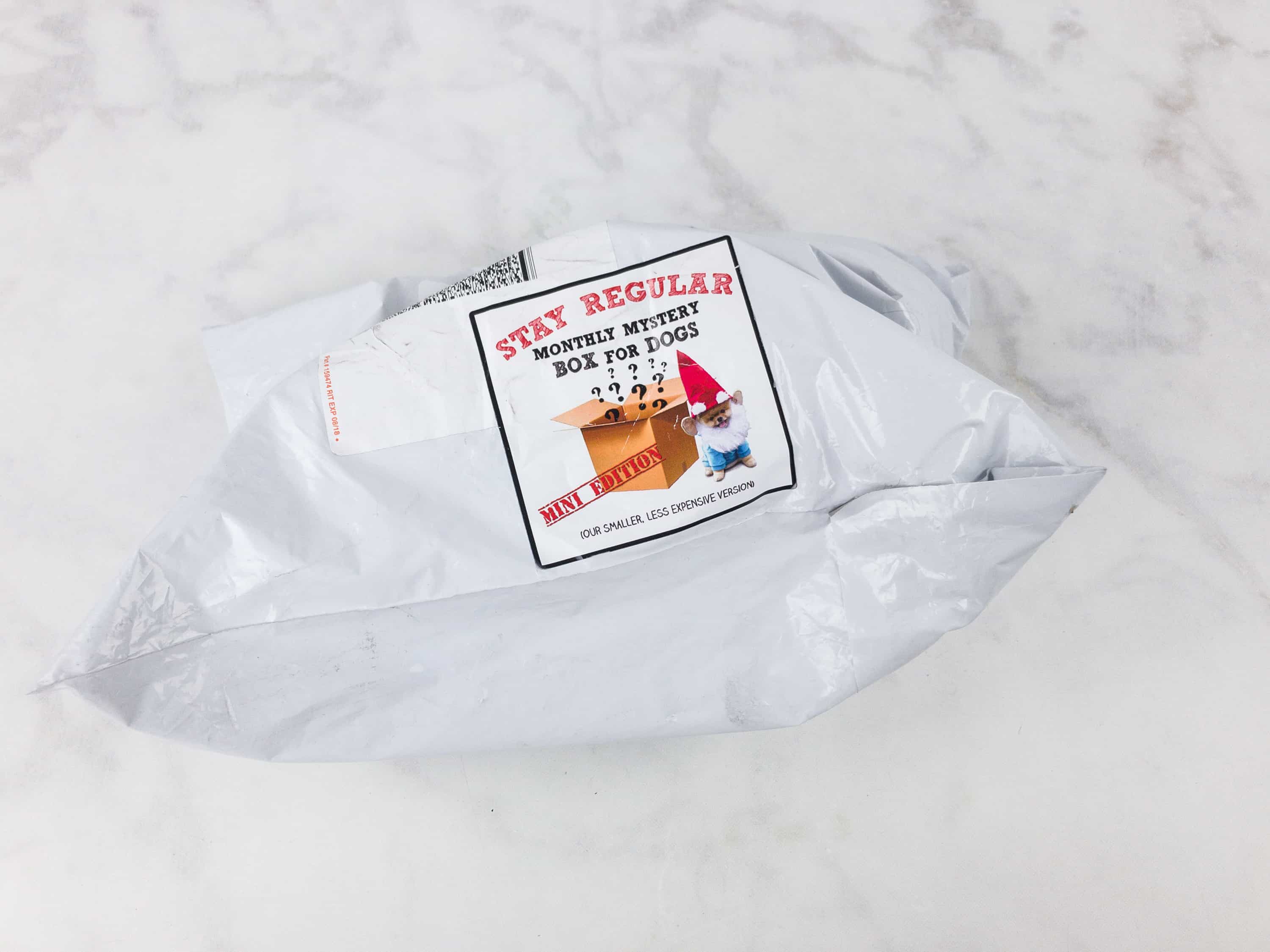 Mini Monthly Mystery Box for Dogs is a monthly smaller version of Pet Treater Box. You'll receive at least one bag of treats made in the USA or Canada along with one toy each month for $9.99 and free shipping. Small, medium, and large dog options are available. Subscribers have access to secret deals and add-ons.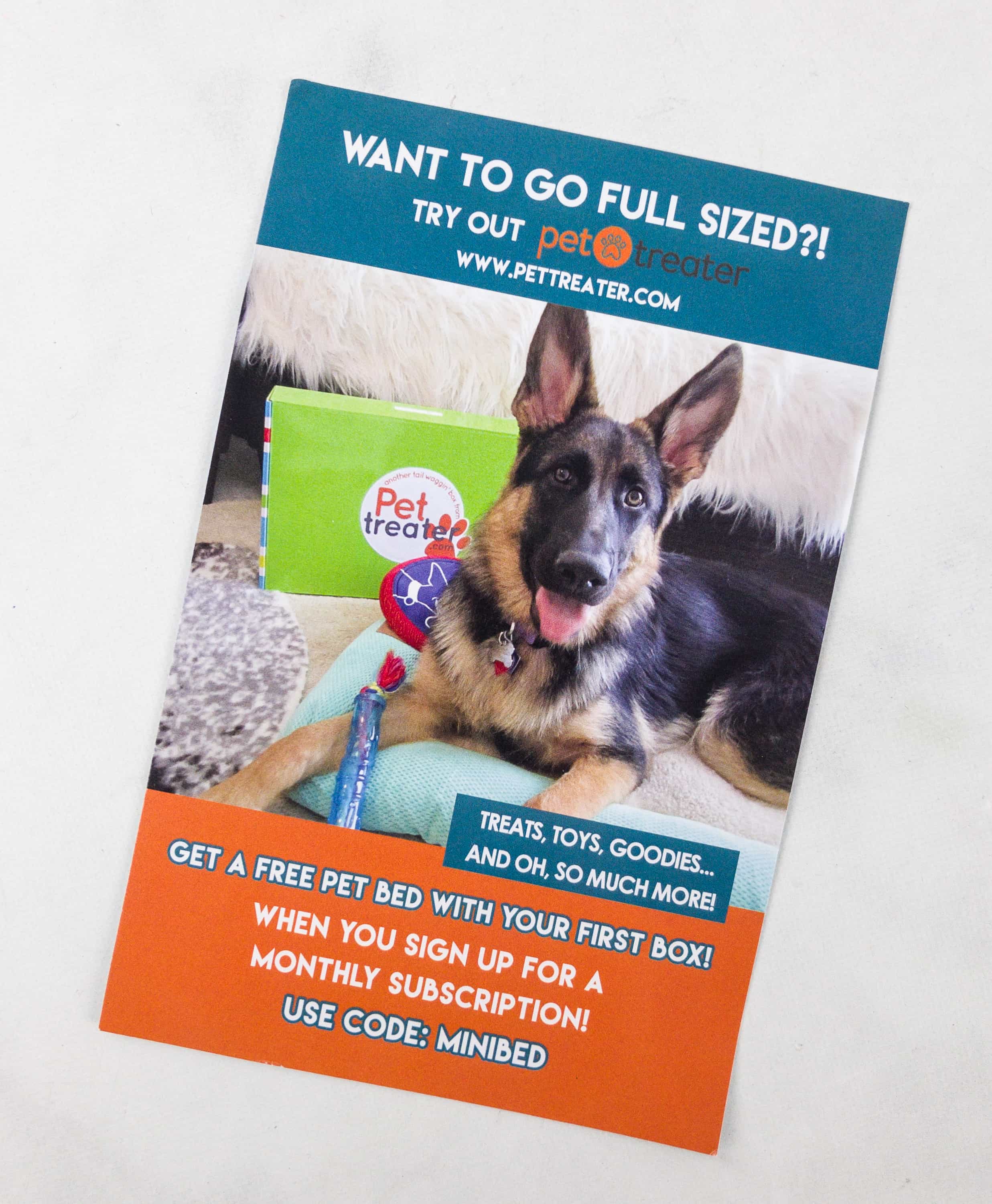 There's an invite to grab full-sized box with a free pet bed – use MINIBED to get a free pet bed with your first Pet Treater.
DEAL: Use LOVE-PT5 to take $5.00 off your first Pet Treater box (their full size monthly subscription) or code MINIBED to get a free pet bed with your first Pet Treater.
They always throw in some coupons or promotions. This month also had a $100 voucher for Nakedwines.com!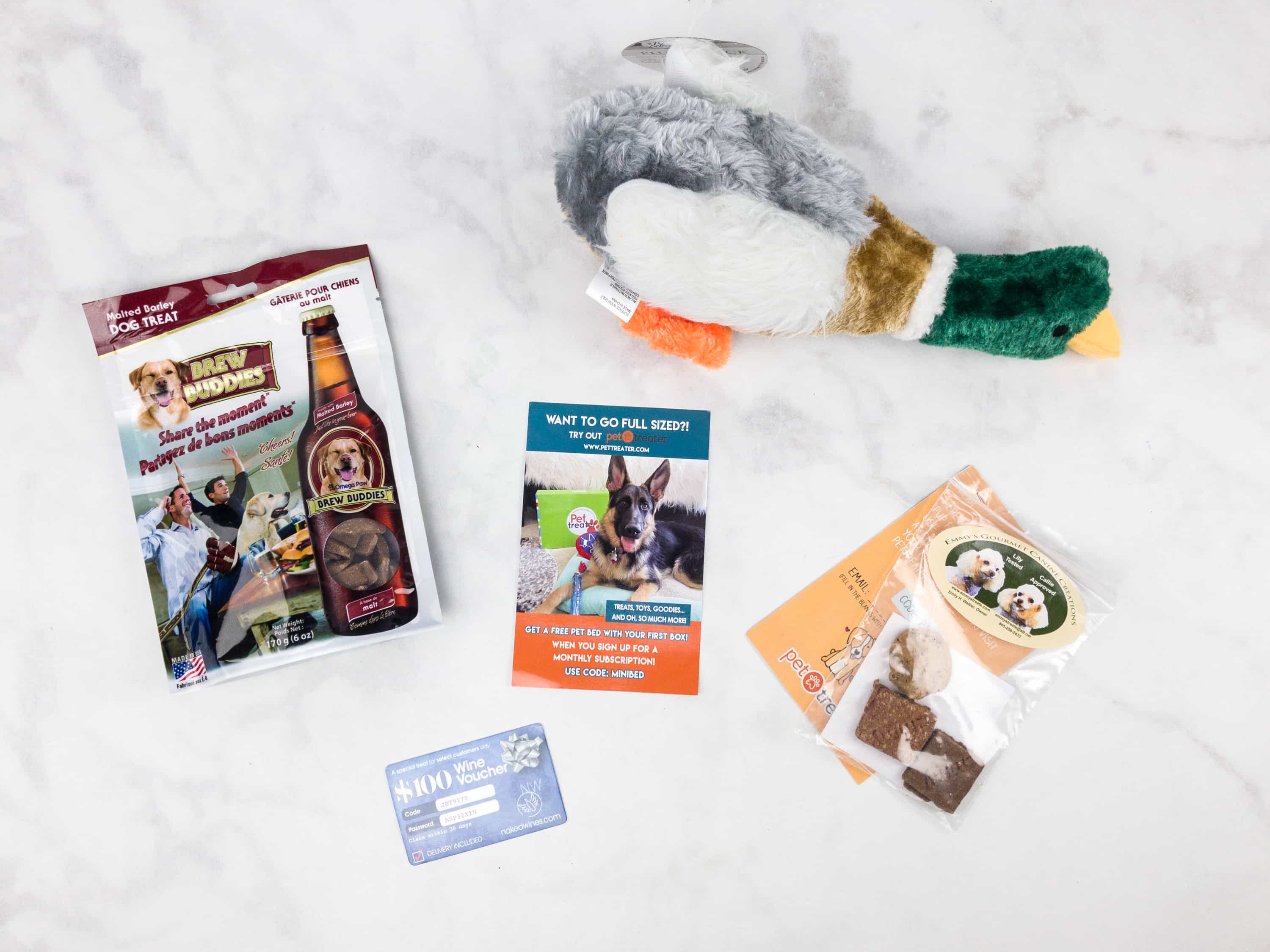 The contents of the October Mini Monthly Mystery Box for Dogs. This is the box for Small Dogs.
A simple glossy card with a dog meme to brighten your day.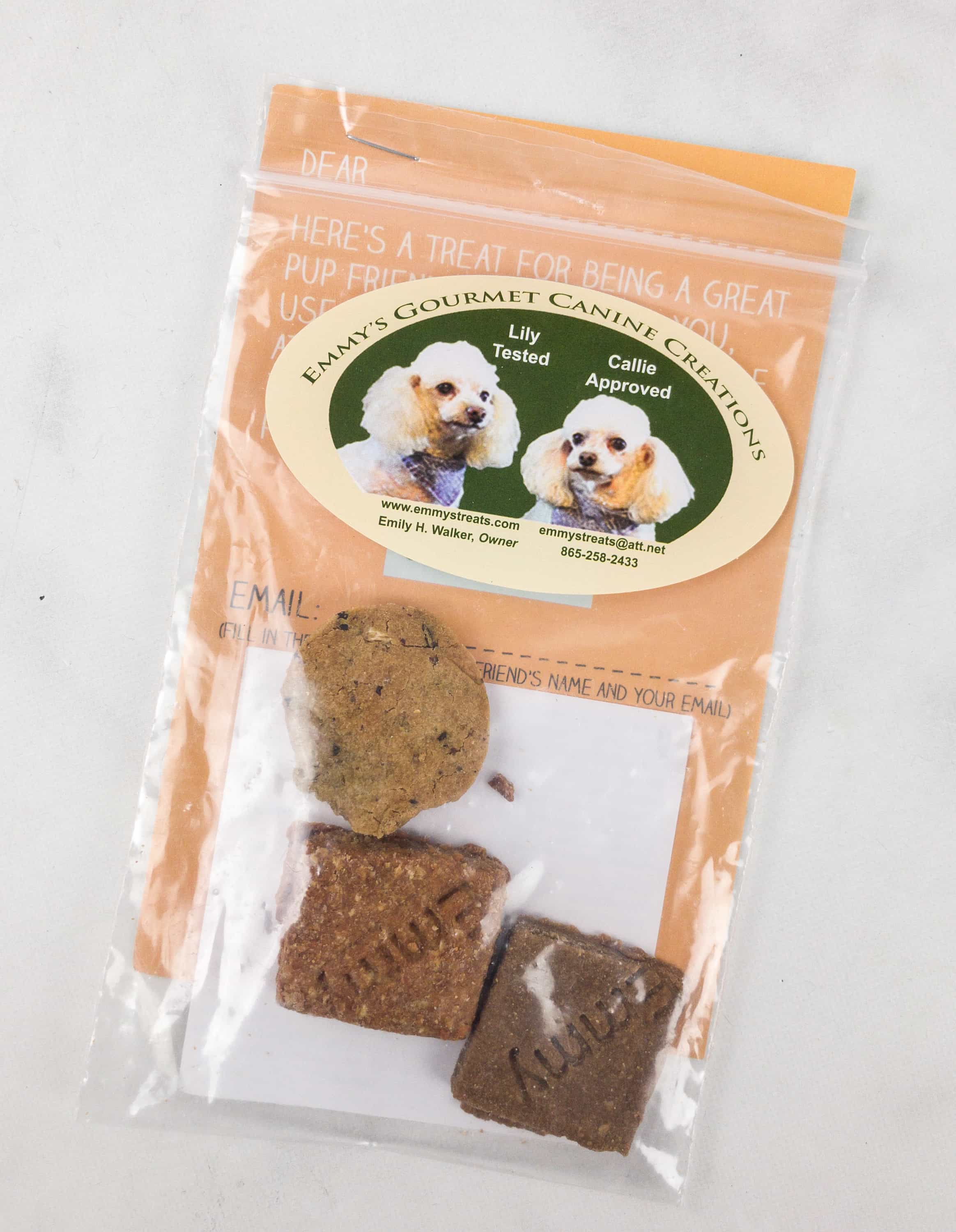 Emmy's Gourmet Canine Creations Three Cheese Pleasers, Carob Panut Butter Crunch, and Liver Snax Dog Treats ($1?) All-natural artisan-crafted doggy snacks!
It's great that they included a list of ingredients on the back.
I looked at that top cookie before reading the package and said omg is this a carob chip cookie?! And it was! The dogs went wild over these snacks – we just wished there were more!
They included a coupon code, just in case your dogs can't get enough of these yummy treats. All you have to do is enter the code and your email at the checkout to get 20% off your first box.
Pet Select Plush Duck Dog Toy ($7.50): This duck plush is 13″ long and features a realistic quacking sound as its squeaker.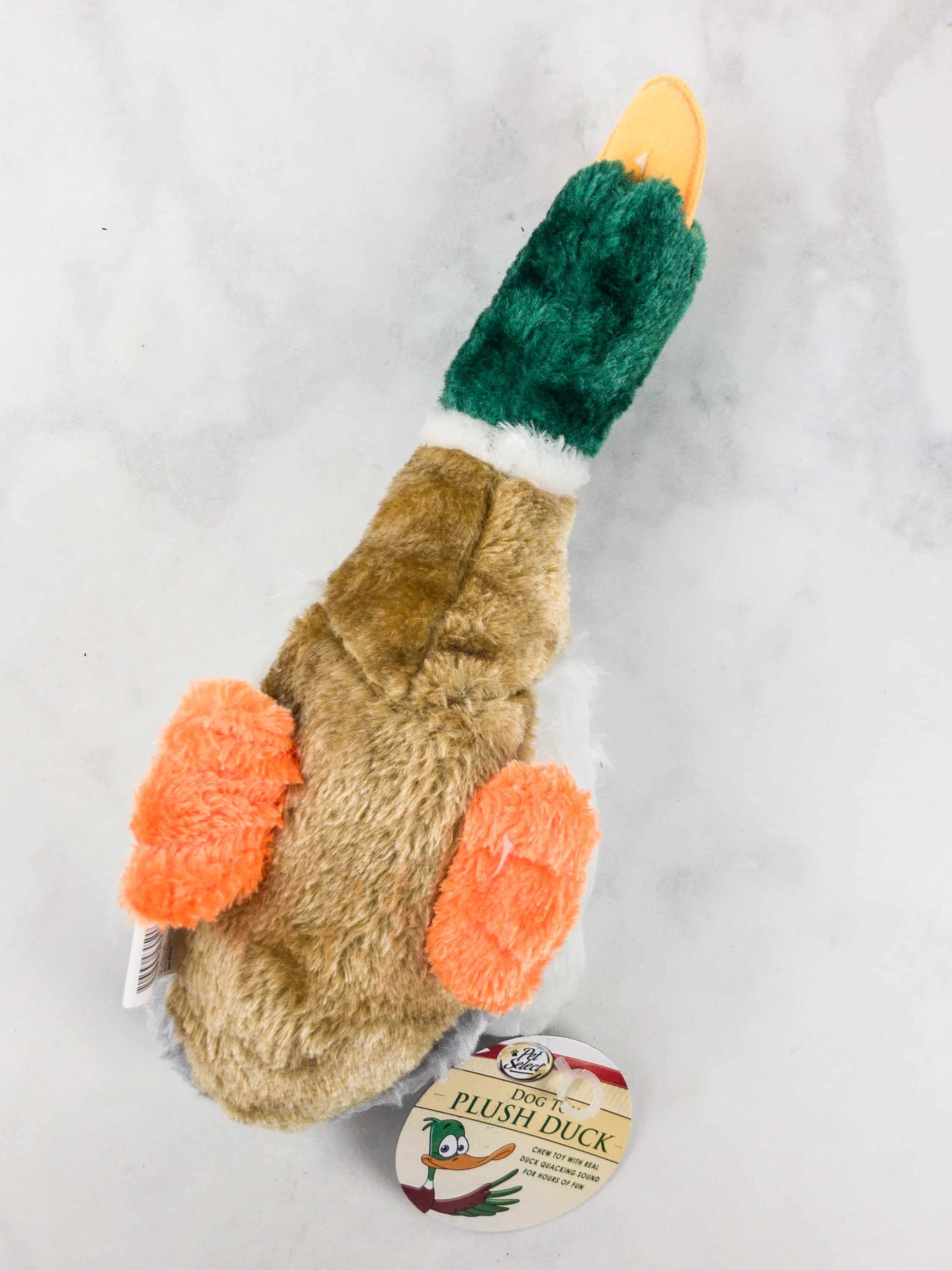 I had to laugh at the pups' reaction to the squeaker – there were some confused looks.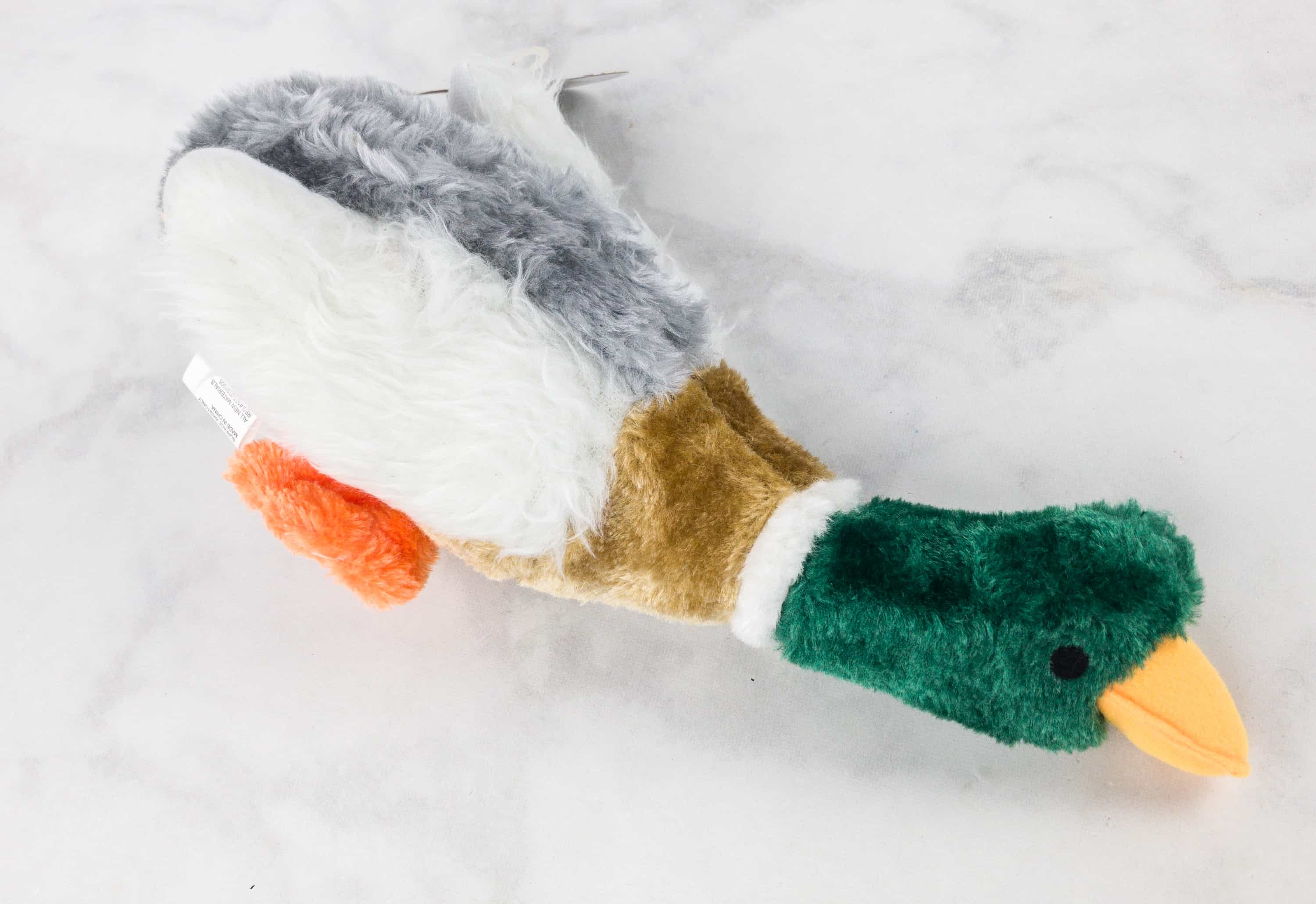 Once they understood that the toy was not harmful, they were completely ready for play time.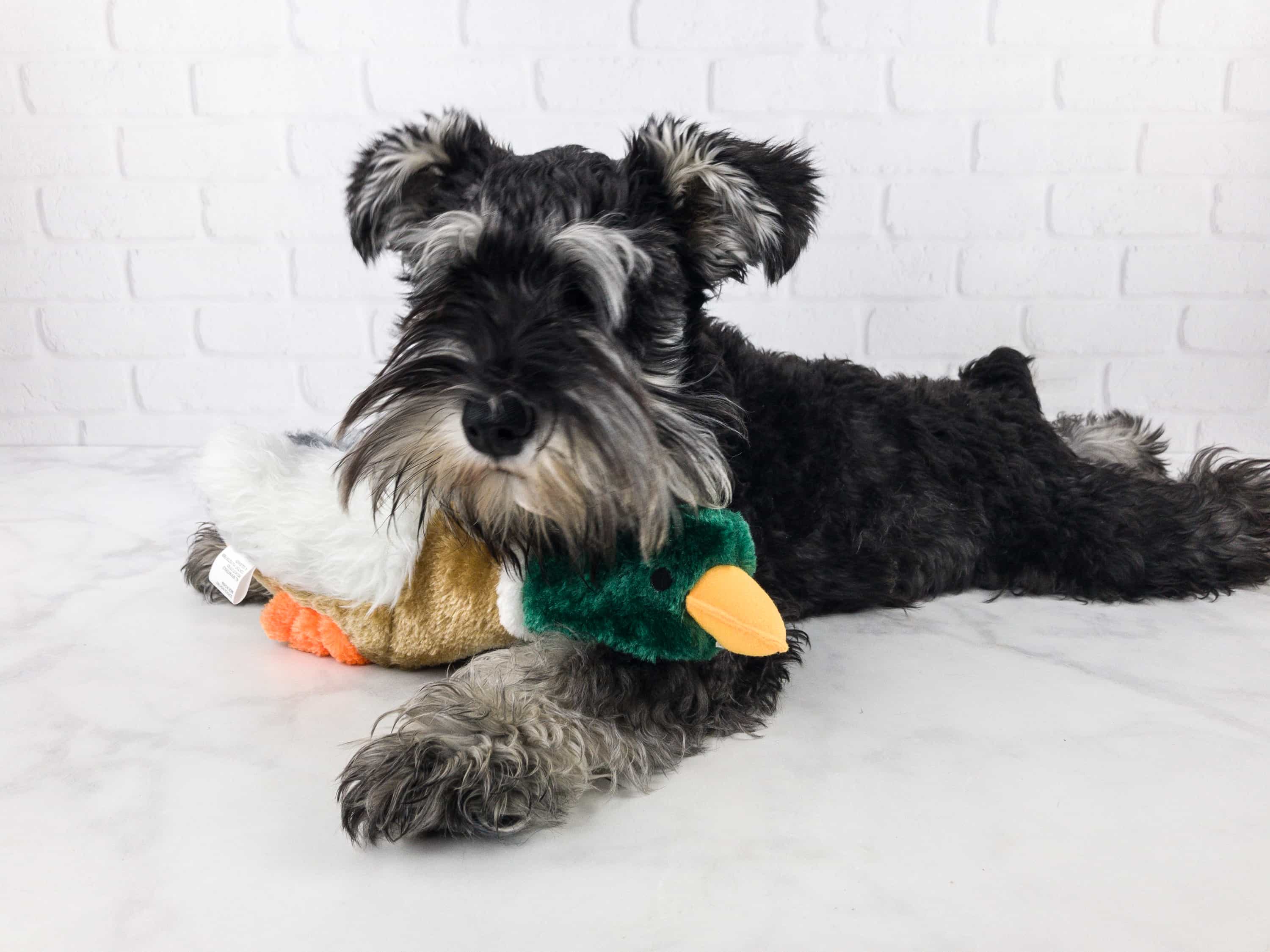 Dean loves it! It's like a bowling pin he can cuddle with.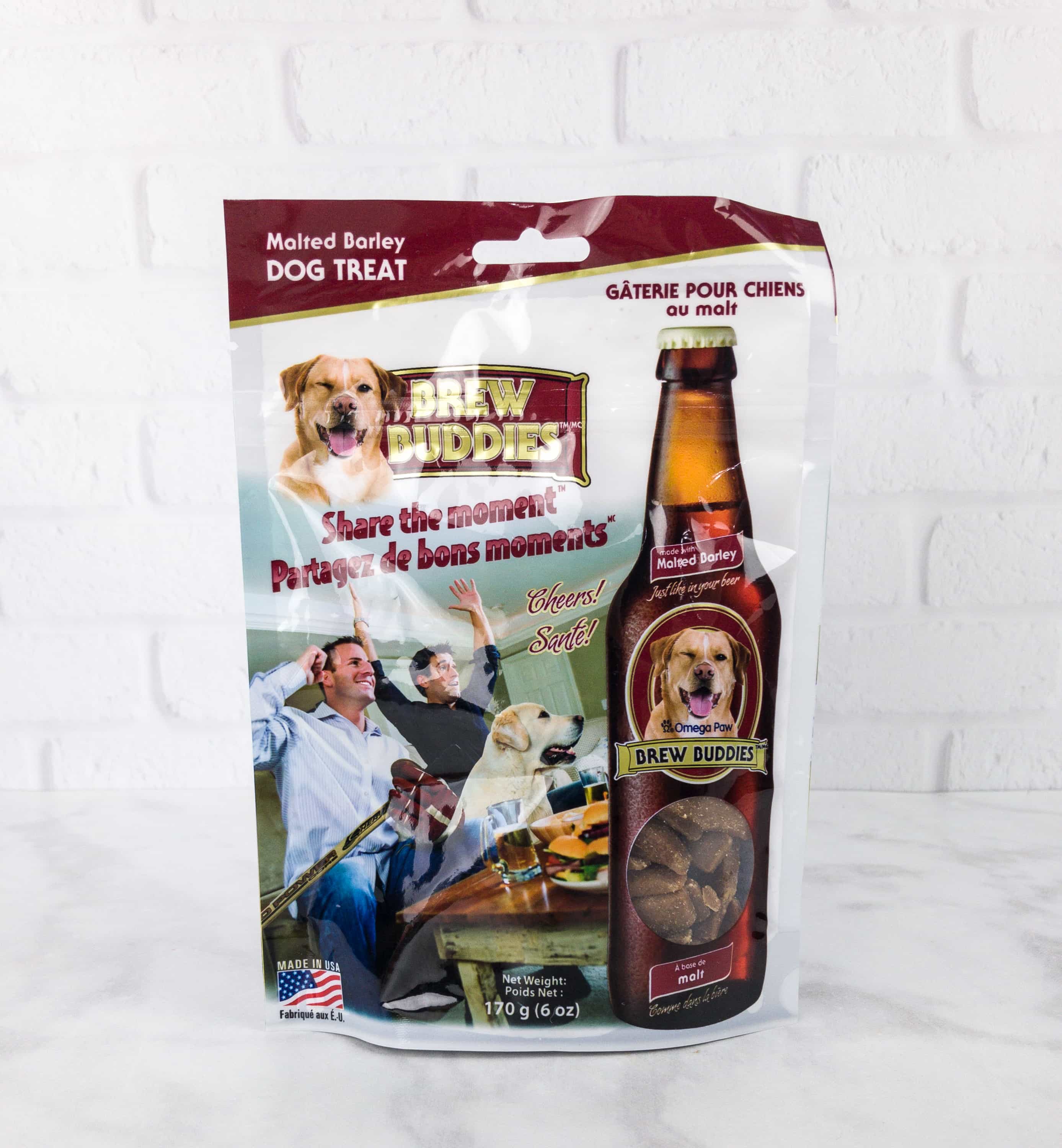 Omega Paw Malted Barley Brew Buddies Dog Treat – This dog treat is made with malted barley. Yup, that malted barley used in beer-making! I thought the branding on the package was hilarious. Obviously targeted at dudes who are otherwise tempted to give their dog a beer. My only question is – what sport are these guys watching? Hockey or football?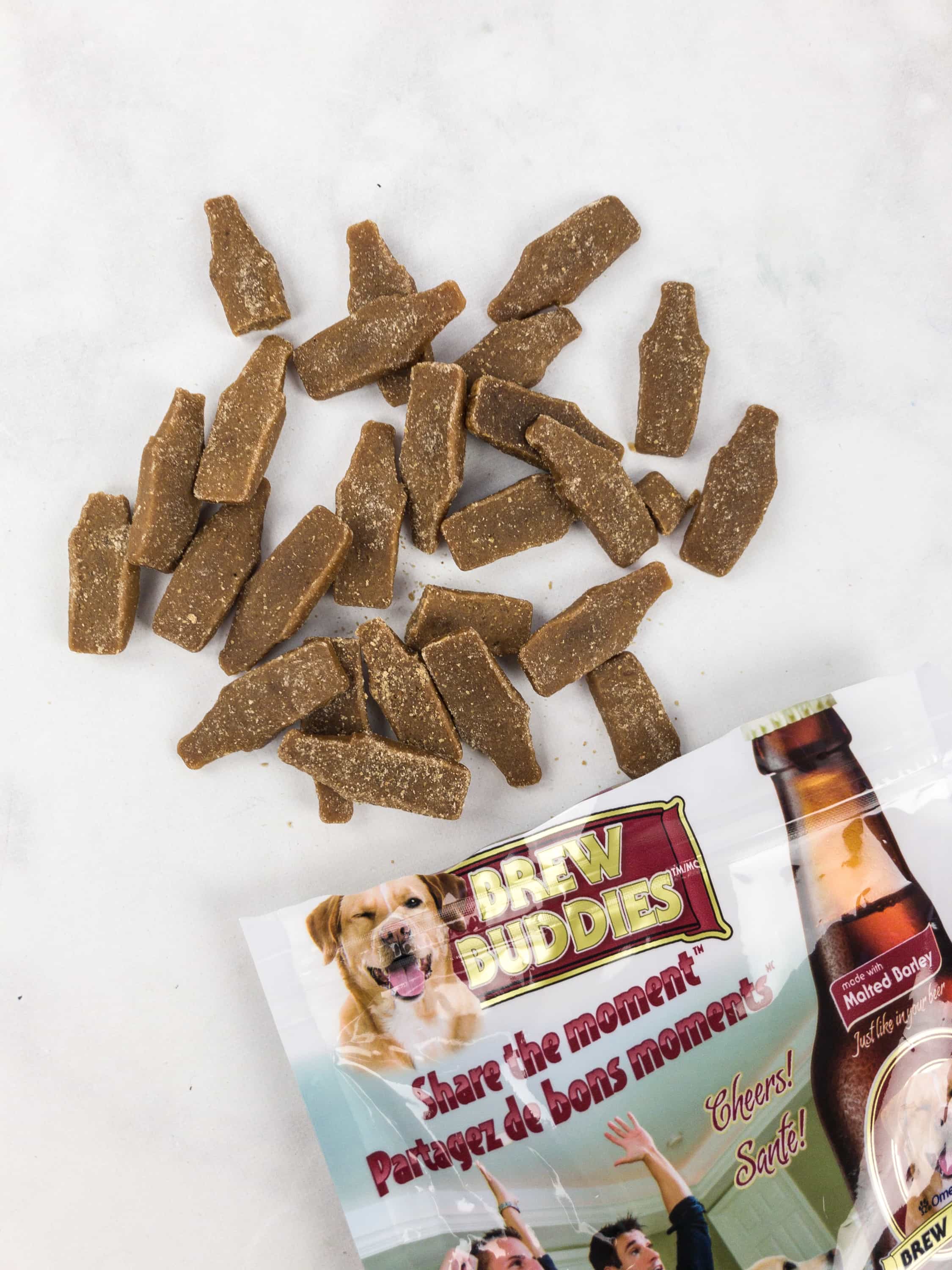 The pieces were even shaped like beer bottles.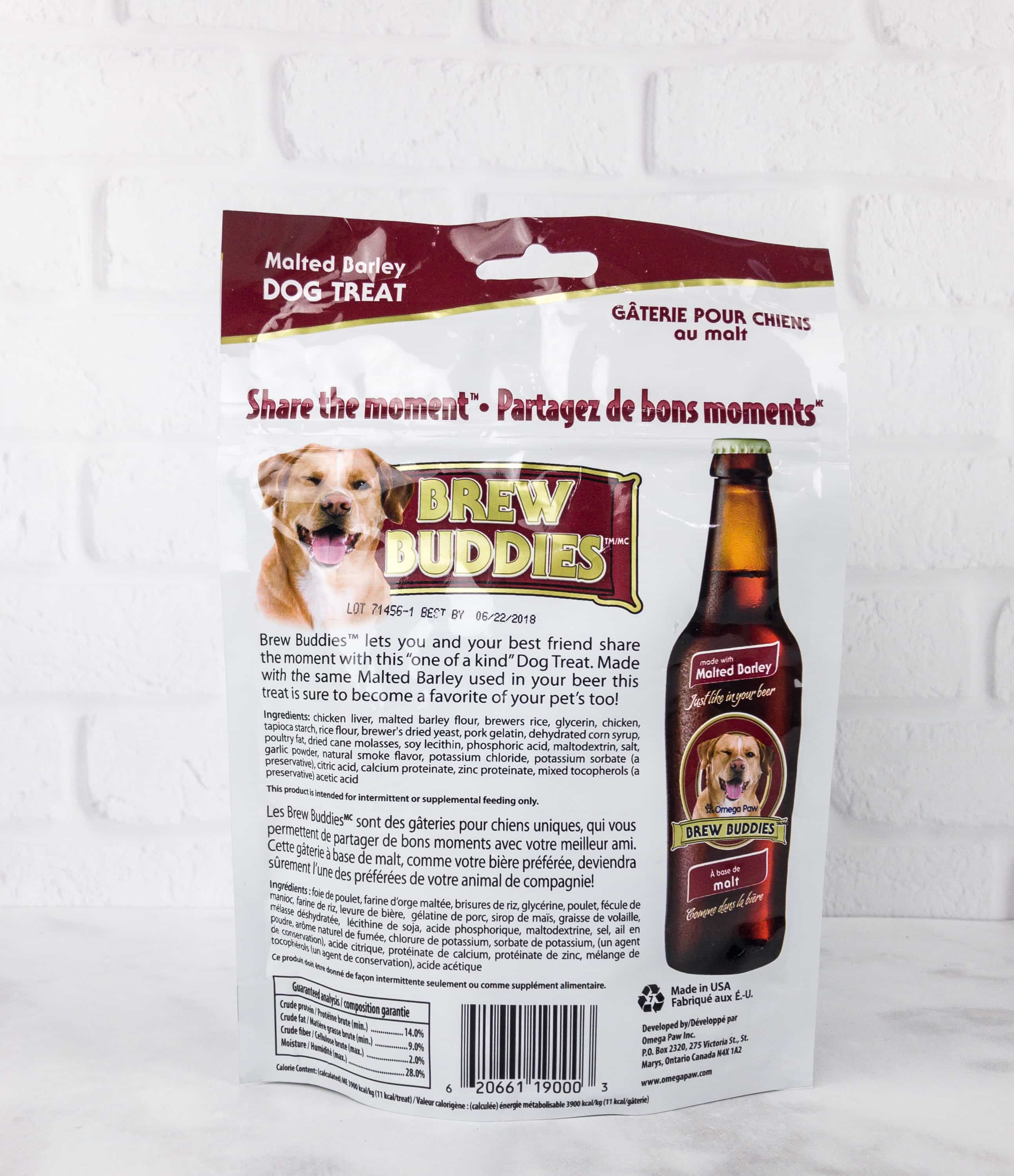 Barley is a nutritious component of most canine chows so there's no need to worry if your pup decides to munch on them all, it's really safe and healthy!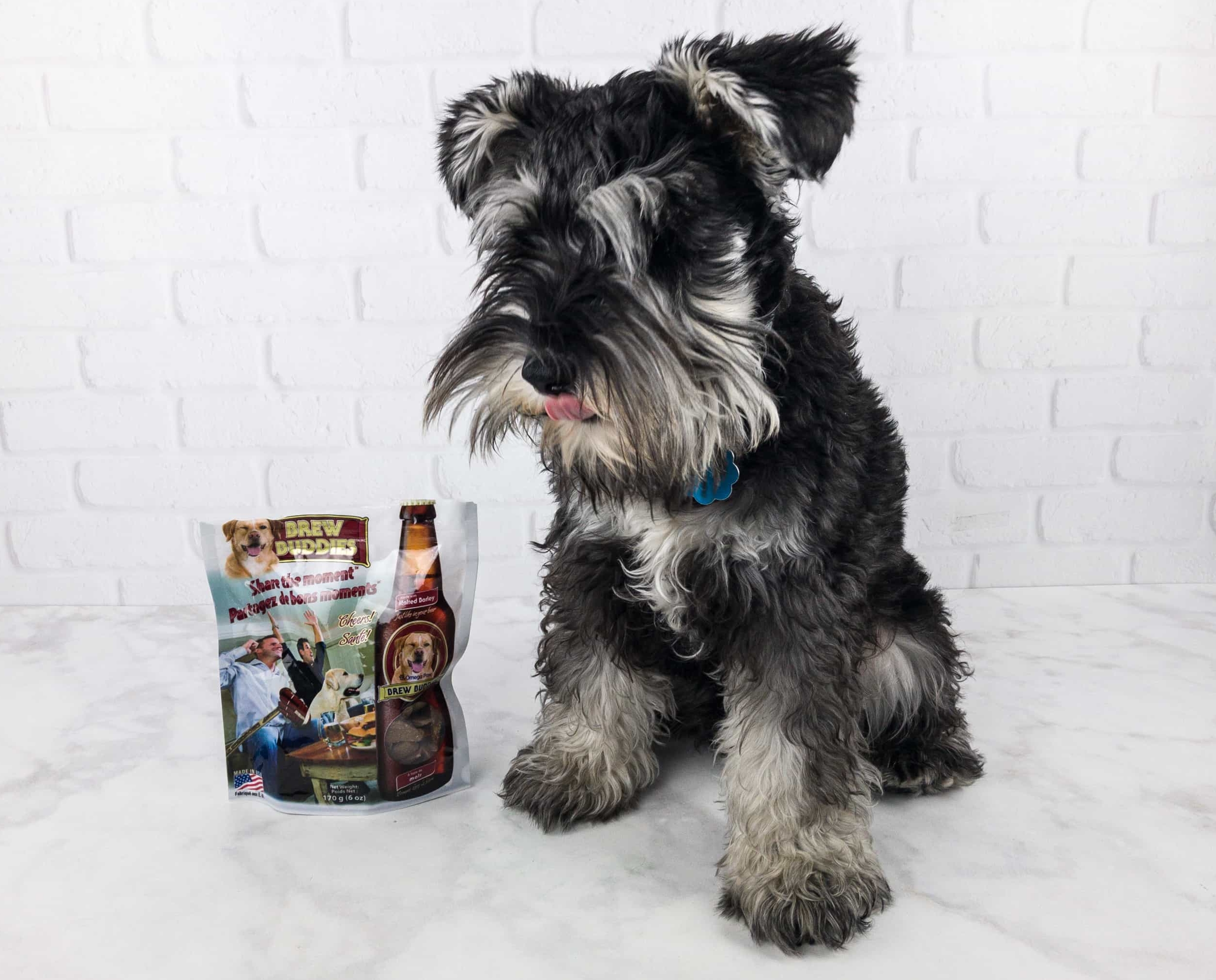 Dean thought they were yummy!
This month's box is not just fun, but tummy-filling for my pup too. It included a fun duck toy that my pup really loves to play with, and dog treats (there were 2) that he's really excited to munch on! Being a low-cost pup subscription box, this subscription sure knows how to treat fur babies like royalty.
Visit Mini Monthly Mystery Box for Dogs to subscribe or find out more!