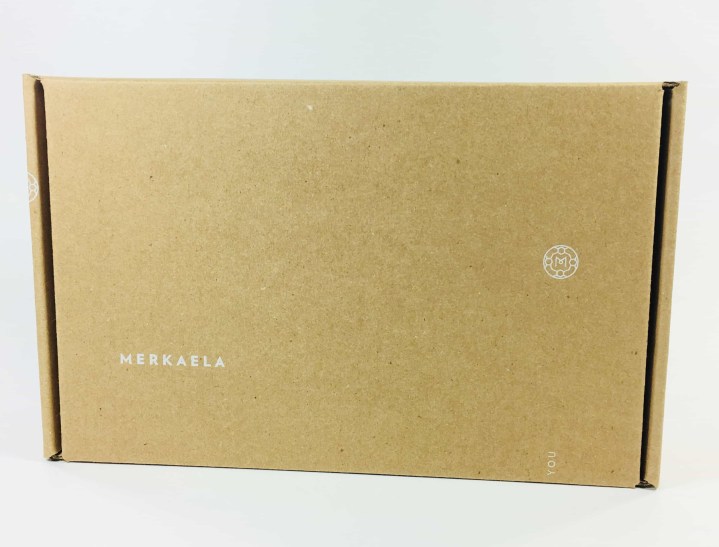 Merkaela is a quarterly box that sends 7-10 natural bath and beauty products curated to a theme as well as the season. Merkaela's items are made in-house although they may occasionally send an item from high-quality collaborators. All of the items are cruelty free and there is a vegan option that you can choose at sign up. The ingredients are clean and in some cases organic. You can feel good about putting these items on your skin!
Merkaela empowers people by giving them tools to help their self-care needs. Our Subscription Box includes products handcrafted by us and formulated to balance the mind, body and spirit.

Each quarterly curated collection is built on a theme and includes wellness products, thought-provoking content and music — everything you need to be on your way to a holistic approach to a clear mind, body and spirit.
This box has a simple yet beautiful presentation and the items coordinated wonderfully. The containers had classy white labels and inspirational instructions for their use. This is a luxe box, designed to pamper and delight all of the senses. I look forward to receiving this quarterly subscription and couldn't wait to try out these items!
DEAL: Use code ALIVE20to save 20% on a prepaid annual subscription or code ALIVE15to save 15% on a quarterly box.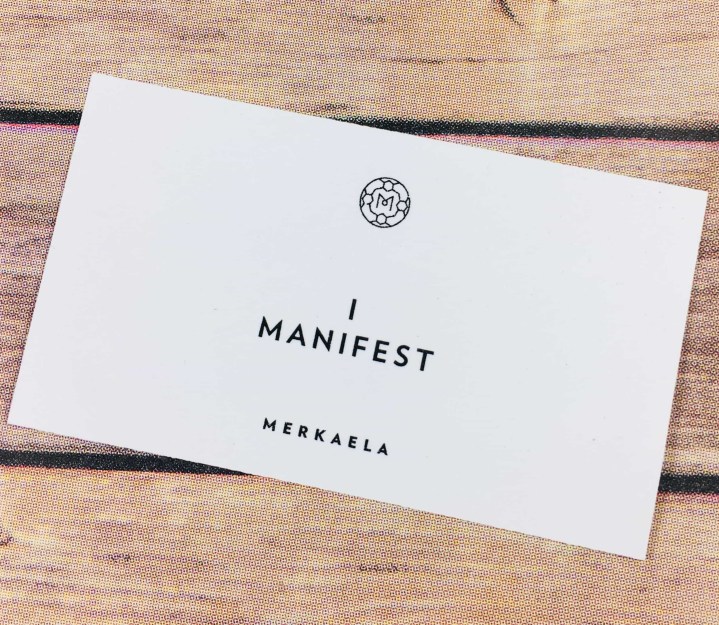 There was an affirmation card that helps you set your mind to a spiritual thought and make it come true.
Simply stated, manifestation means that what you think is what you welcome into your life. I have several words that would work well here, but "peace" is at the top of the list!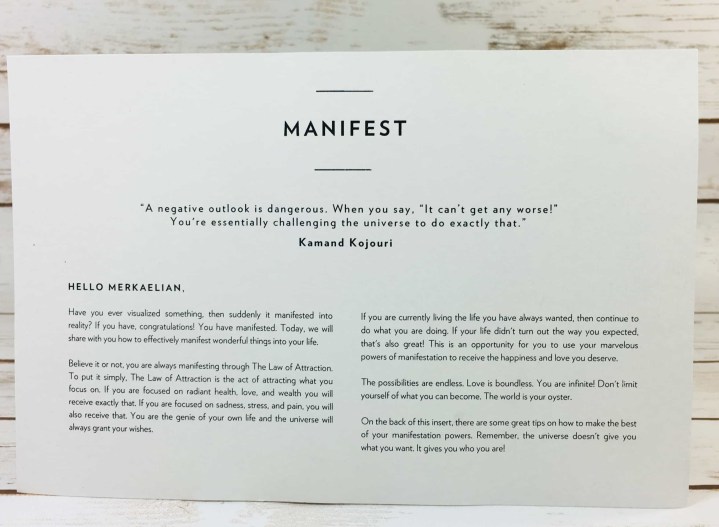 Next was the front of the product info card with the intention of this particular box. This quarter's box theme is Manifest, or the power of positive thinking.
There were tips on how to help the universe provide what you need for your life.
This is a very descriptive info card, with each product's intended use. They even provided a Spotify playlist, which I listened to while writing this post.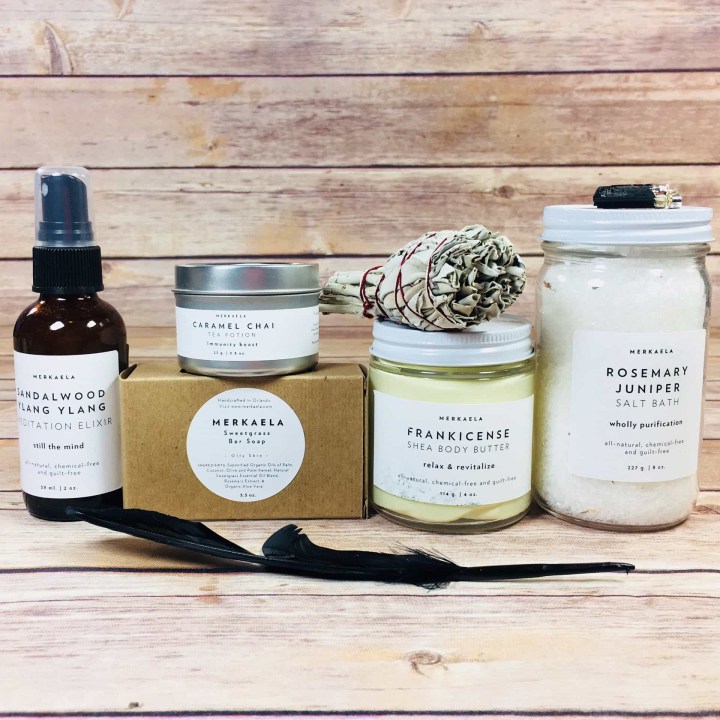 The packaging is simple yet elegant and looks classy and natural at the same time. These items are not in the Merkaela shop, so check here if you are interested in purchasing these luxurious items when or if they become available.
Frankincense Shea Body Butter "Give your body love. It listens." Shea butter, hemp oil, and olive oil are combined with Frankincense and orange essential oils and lavender oil, along with a few other pronounceable ingredients.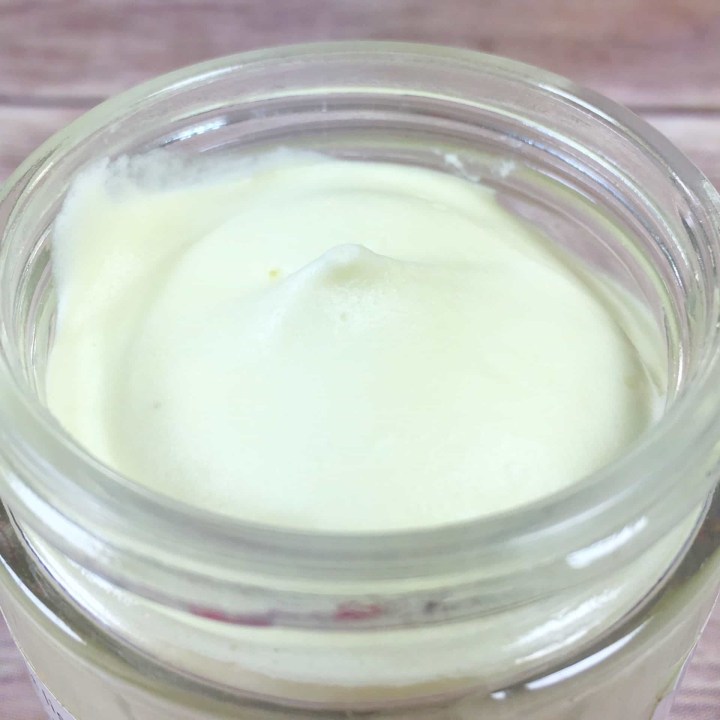 This was the smoothest body butter yet from Merkaela! I used it after a shower and although I was kind of "moist" at first, like a basted chicken, it quickly absorbed and I didn't feel greasy at all. The scent was subtle and faded fast but my skin stayed soft for hours. Bonus: Frankincense may help reduce signs of aging!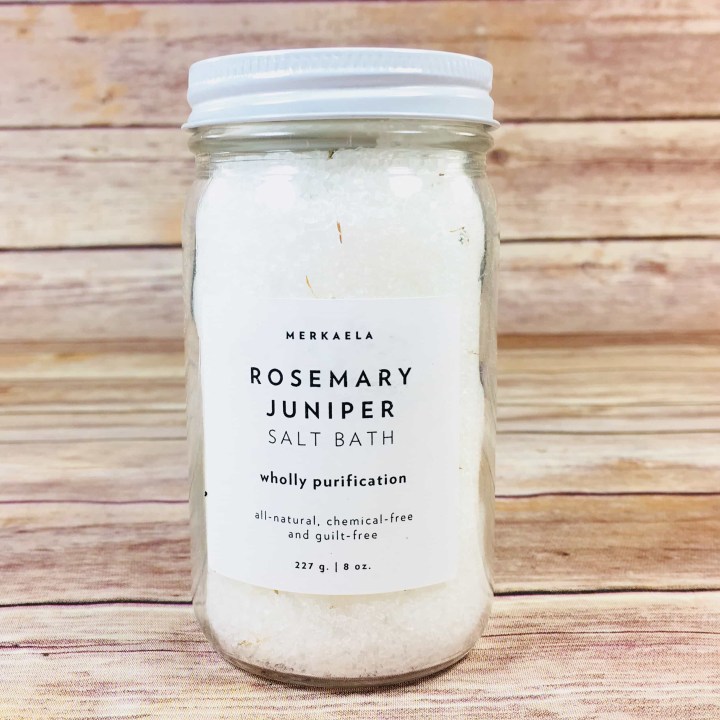 Rosemary Juniper Salt Bath "Purify the mind, body & spirit!" European sea salt, Epsom salt, Dendritic salt, and essential oils of juniper and orange are combined with arnica flowers and rosemary.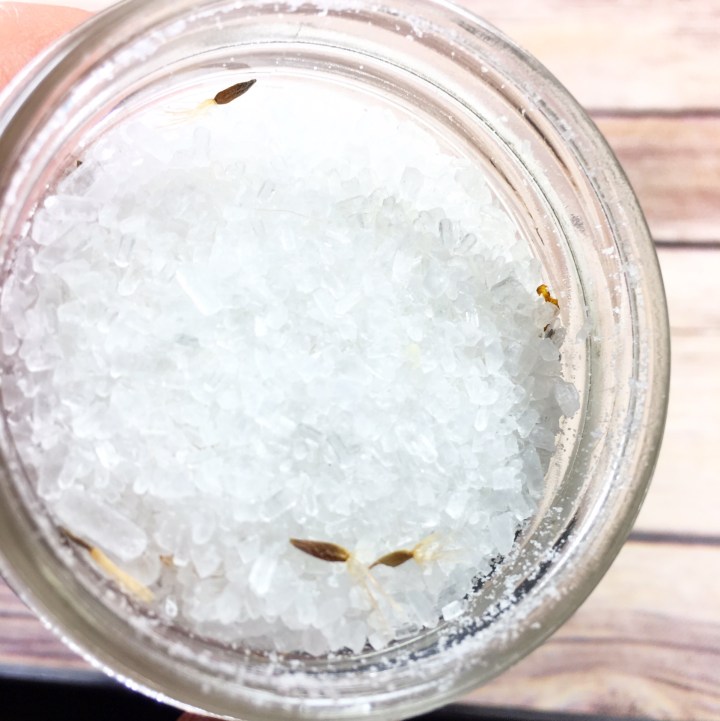 I'm keeping this in my medicine cabinet since one whiff was enough to open my sinuses and clear my head! Arnica can help relieve sore muscles while the scent promotes clarity. This is perfect for soaking in during cold & flu season.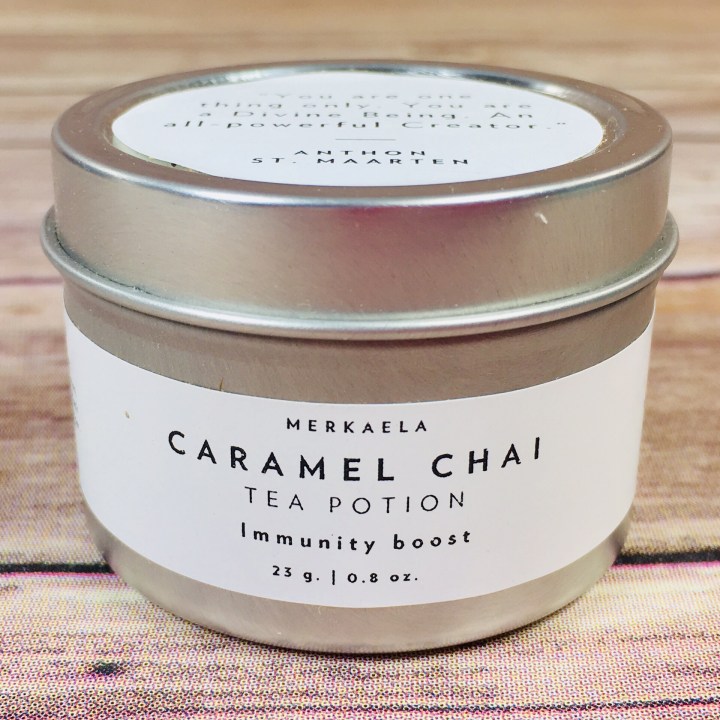 Caramel Chai Tea Potion "If you can image it, it's possible!"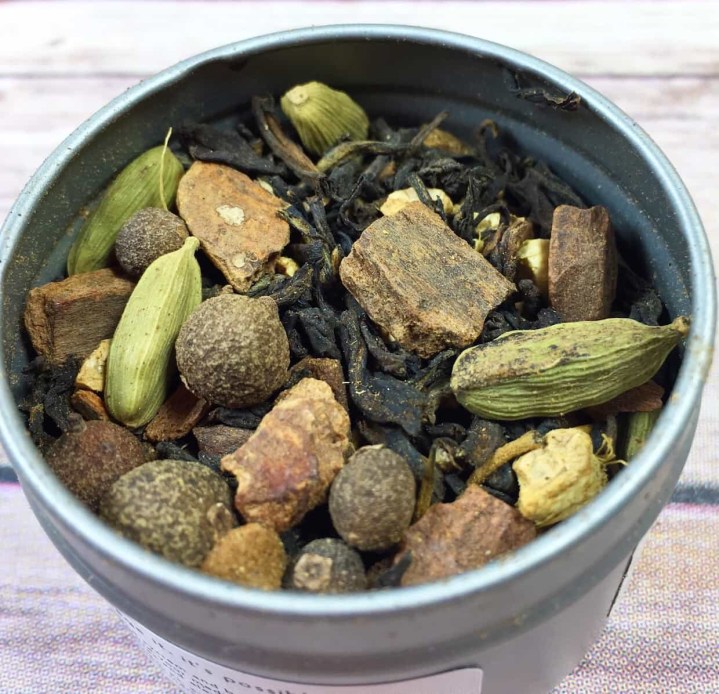 This stuff smells amazing! Look at those spices – cinnamon, nutmeg, ginger, cloves, cardamom, allspice, and black pepper are mixed with caramel, black tea, and pu'erh tea. I love tea and followed the directions to steep this cup. I was worried at first, it looked a bit weak, but I added sugar and milk and enjoyed one of the best cups of tea ever!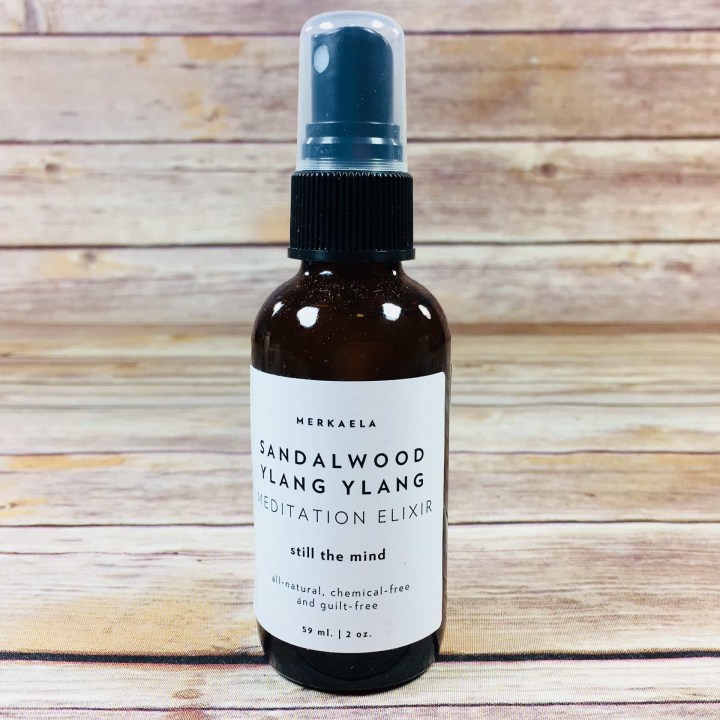 Sandalwood Ylang Ylang Meditation Elixir "Still the mind." This spray is very fleeting but has a pleasant, warm scent and may be used as an antibacterial spray for your yoga mat. I sprayed on my head and wrist and breathed deeply.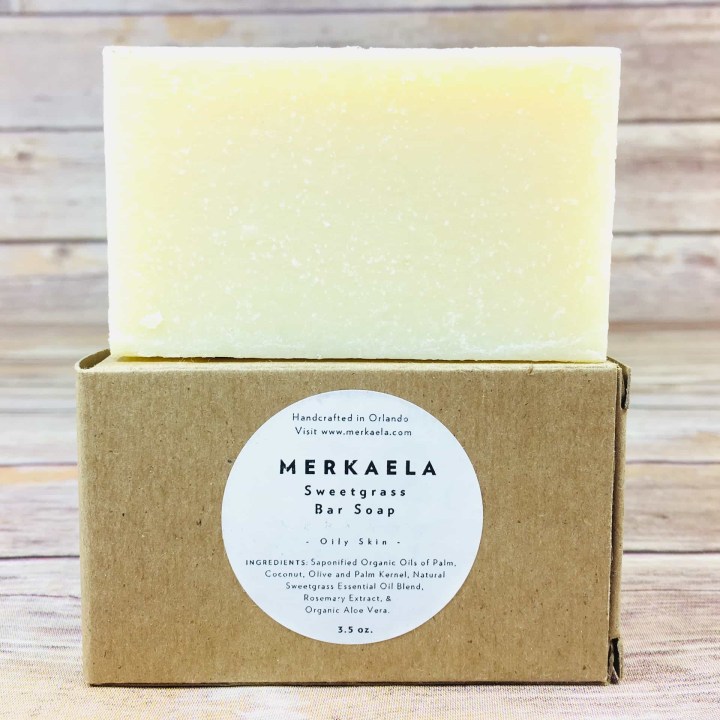 Sweetgrass Bar Soap has a lovely warm, sweet scent. This is meant for oily skin but I plan on using it as a body bar. Saponified natural oils, essential oils, aloe vera, and rosemary extract are the simple ingredients in this bar.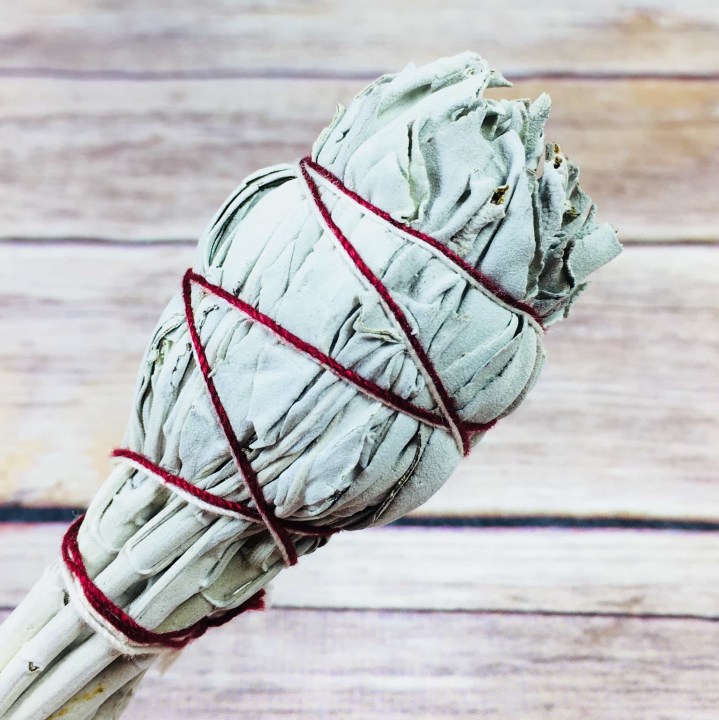 Sacred Sage Smudge Stick is a bundle of sage leaves that can be used to purify the air and in house blessing and other rituals. Clear your mind of negative energies and think positive thoughts before lighting your bundle. Merkaela included a black feather that can be used to fan the smoke through the house.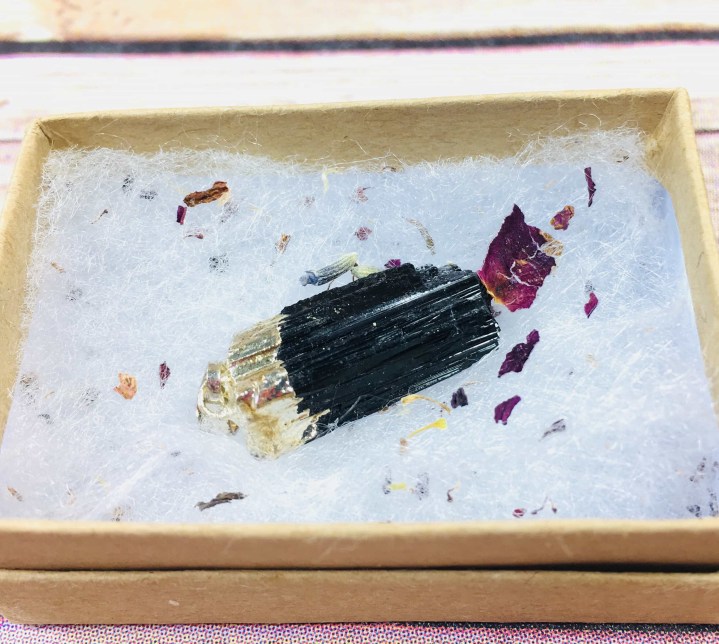 Black Tourmaline Pendant (similar found here) is useful for grounding, protection, and purification and can be used to cleanse the aura. Feeling scared? This can help you feel brave. Wear it and think positive thoughts. I have a draining day job and wearing this may protect me from "energy vampires." I plan on wearing it this week to see if it helps!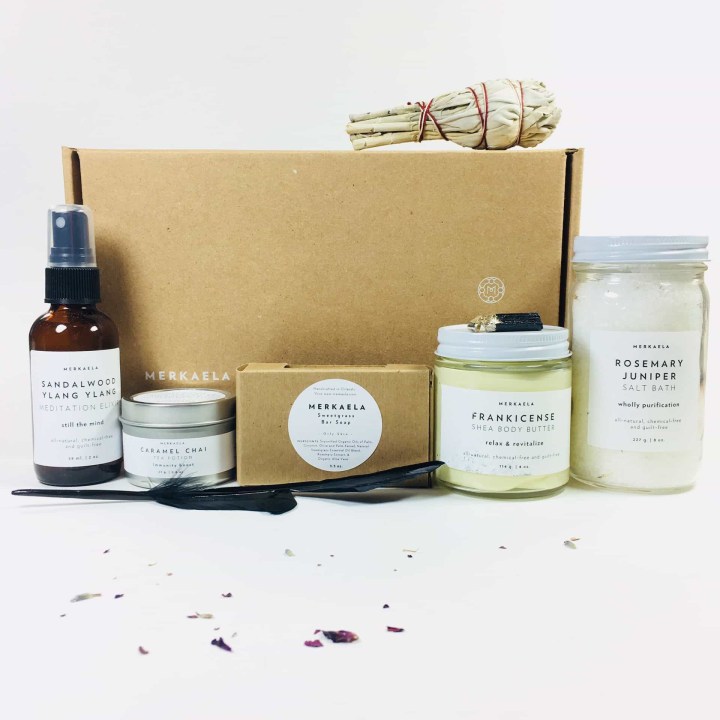 I know I'm in for a real treat when I find this amazing box in my mail! It is a super special box and I appreciate how it connects all of my senses and helps keep me grounded, at least for a bit. The beauty products are natural and luxurious plus the tea and bath soak are reminders to take the time to relax and recharge. The stones are pretty and help me stay focused while cleansing rituals using sage or palo santo are now a regular occurance in my home. Merkaela members receive 15% off the price of shop orders so keep checking the site if you would like some of this month's products! Need a fabulous gift for someone special? Send them this box!
What do you think of the Merkaela Fall Manifest Box? Let me know if it helps you connect your mind, body, and soul in the comments!