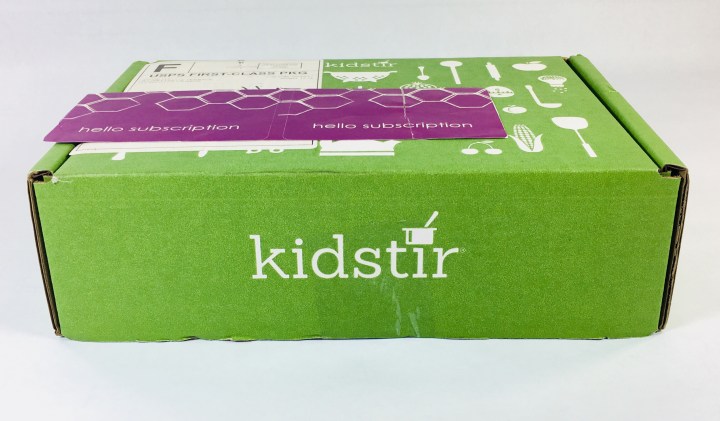 Kidstir is a kids' monthly cooking subscription box that aims to help your child learn age-appropriate cooking techniques while building a cookbook. You get a themed cooking kit sent to your door every month. Every box includes 3 recipes and accessories – 2 kid-sized tools and a special extra. If you sign up for the 12 month plan then your first box comes with a great recipe binder (shipped separately) to store all the recipes in so you can revisit your favorites.
DEAL: Save 20% off on the first month of your subscription! Just use this link and coupon code AFHELLO20!
Plus, when you subscribe to an annual subscription you'll also get a FREE cookbook binder! Plus all subscriptions get a bonus 2 years to select print magazines!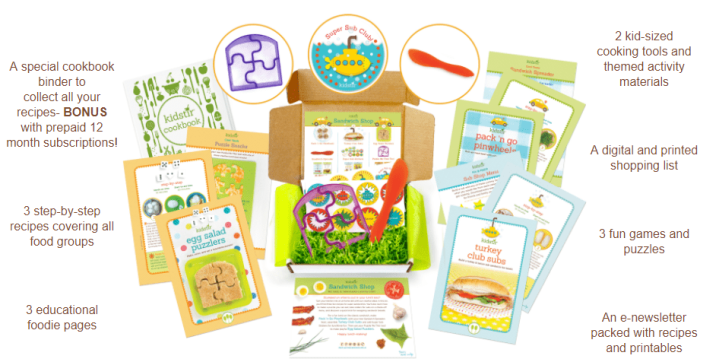 When you sign up you can choose from 1, 3, 6, or 12 months and they will auto renew until all 12 kits have been received.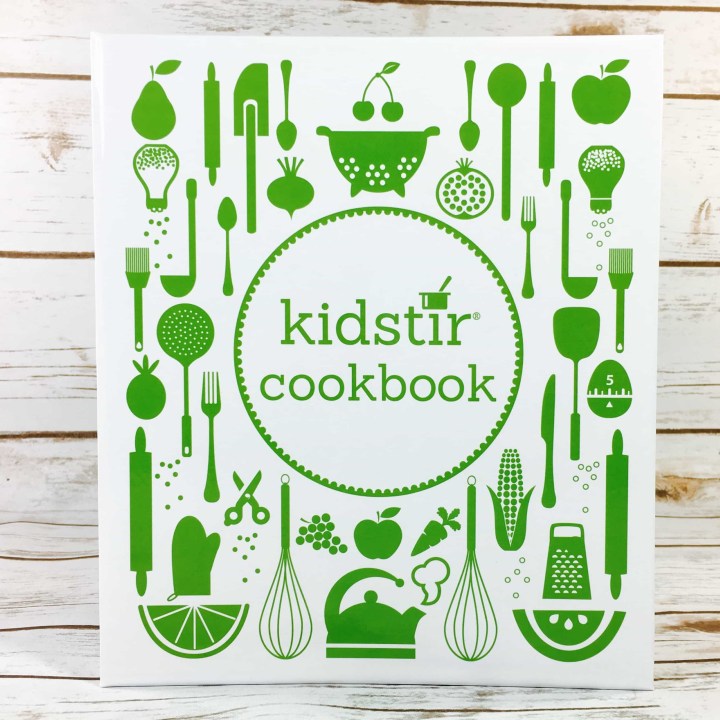 When you prepay for a 12 month subscription you will receive a recipe binder, which shipped separately.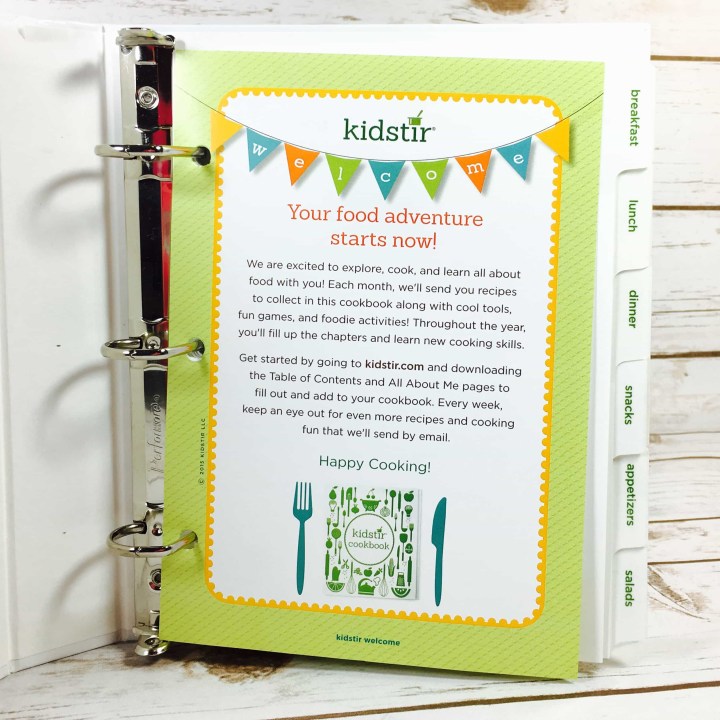 Inside there were dividers for sorting each month's recipes.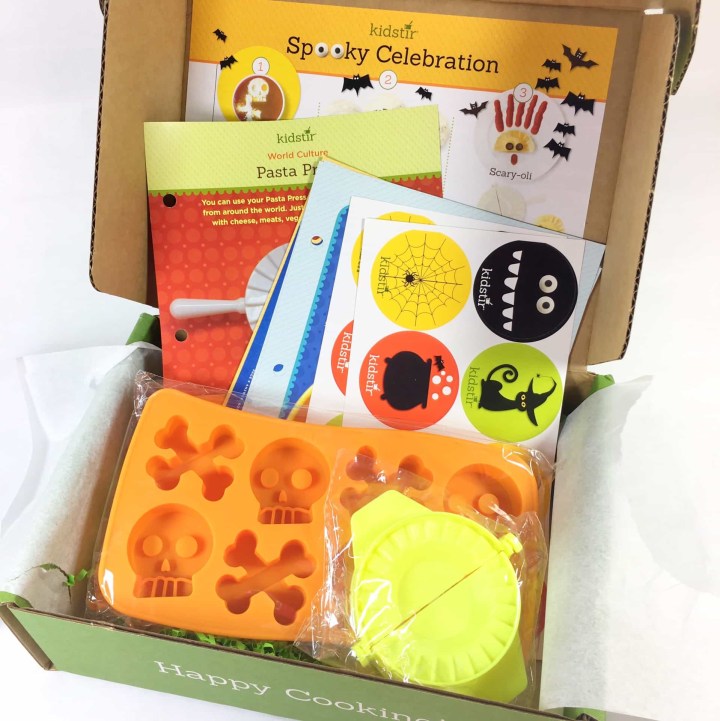 Everything in my October KidStir box! Kidstir is recommended for boys and girls between 5-10 years old, but younger and older kids can get some use out of these items too. Younger kids will need more help, older kids may be able to do everything themselves.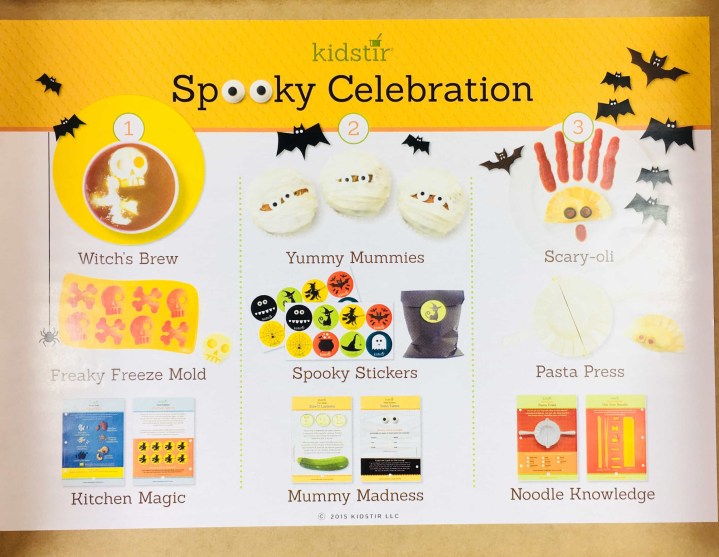 The inside of the box lid had a quick guide to what I would find inside.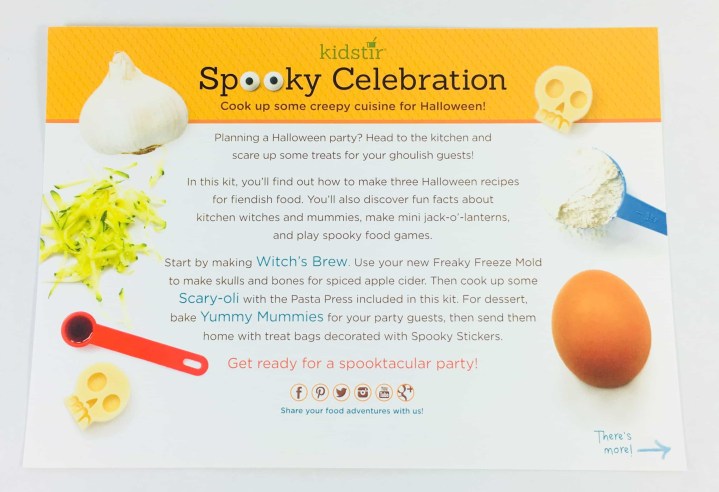 It's October, time for a Spooky Celebration!
Planning a Halloween party? Head to the kitchen and scare up some treats for your ghoulish guests!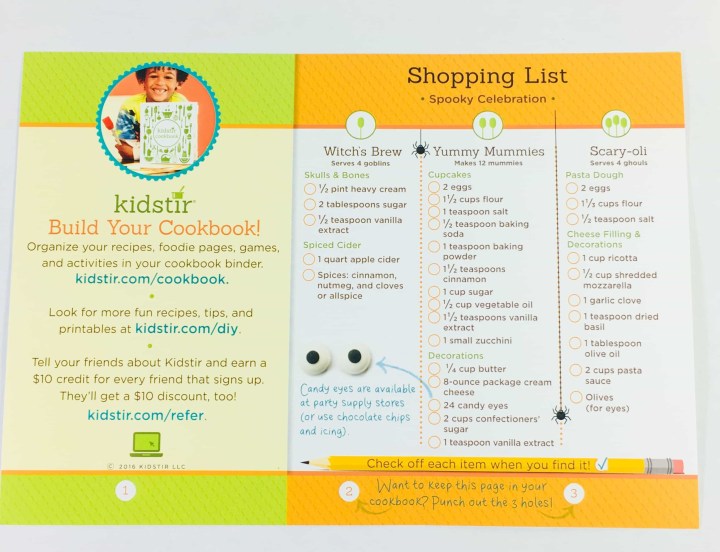 The back of the info card has a shopping list. Let your child check items off of their list while at the grocery store and they will feel very important!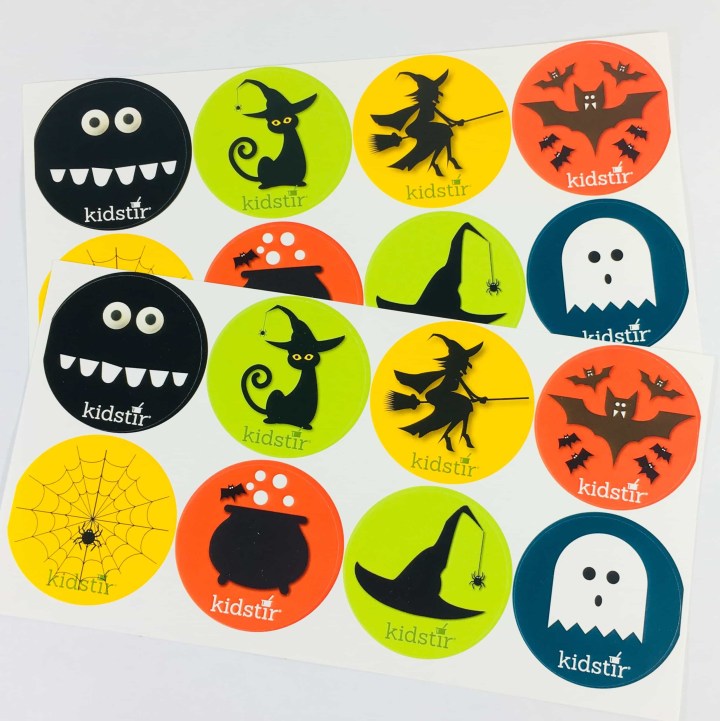 We received some Spooky Stickers, which Kidstir suggests placing on treat bags.
Included are two kid-friendly kitchen tools. There was a Skull and Crossbones Mold that can be used to make ice cubes or a fun addition to the recipe for Witch's Brew, plus a Pasta Press for making ravioli.
The recipes were already punched with holes and had a lot of information on their pages. They also have a spoon rating – three spoons is going to require more adult help than a one spoon recipe.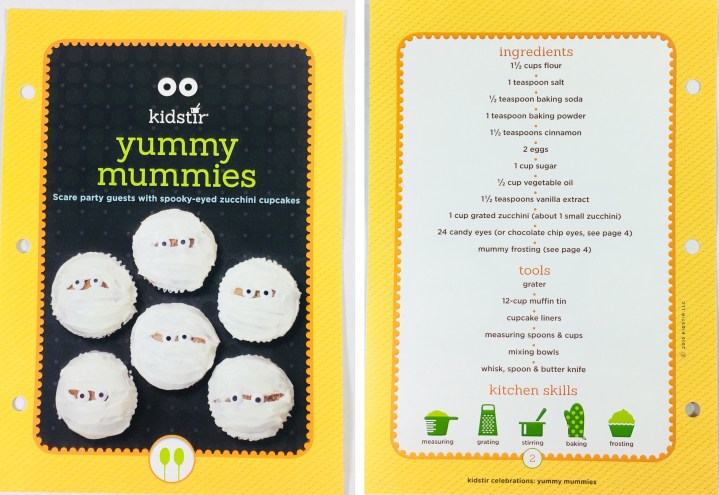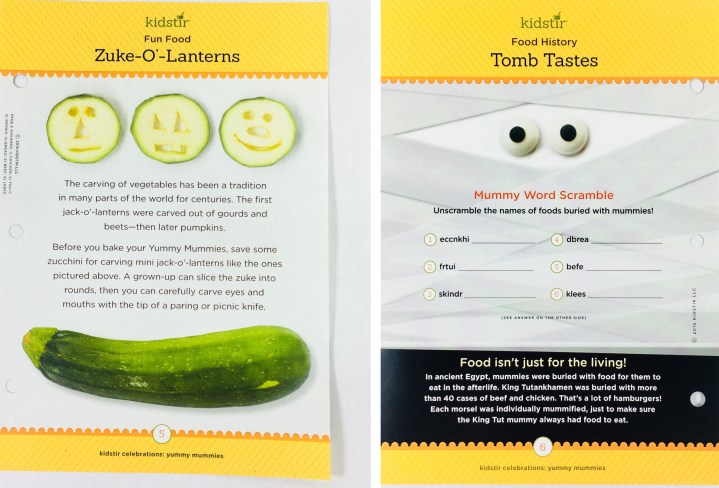 Step-by-step directions with pictures are very helpful – I still prefer cookbooks that have an awesome layout similar to these cards. The final sheet included a puzzle. There were two more recipes included.
I think KidStir is a great way to get your kids in the kitchen! I teach preschool students and every Friday we make a kid friendly snack which incorporates language as well as measuring, mixing, etc. I plan on using some of the tips, techniques, and tools, along with the recipes, with my students. I like that the box focuses not only on technique but on nutrition and is adaptable for those with food allergies. The recipes are clear and concise and I even learned a new trick or two!
Have you cooked with KidStir? Let me know what you think in the comments!